Vico's Revolutionary Thinking on Metaphysics, Machiavellian Political Analysis, and Historicism
"What is Truth?–Pontius Pilate
[yt_dropcap type="square" font="" size="14″ color="#000″ background="#fff" ] W [/yt_dropcap]e live in an Orwellian world of "post-truth" and "alternative facts" wherein the famous question of Pilate to Christ is repeatedly heard: "what is truth?" In effect it means that we no longer believe in truth and consequently we no longer believe in metaphysics, which is essentially a belief in, and a search for truth, as difficult as that may be.
Truth has become something "esoteric," kind of ancient quest which has now been superseded by a positivistic world based on empirical quantifiable science based on sheer utility. Truth is a commodity we can no longer afford in our "enlightened" modern times.
What seems to be one of the major preoccupations of current political analysis is the Machiavellian quest for power based on a philosophy that asserts that "might is right" and the "end justifies the means," that there are winners and there are losers. The winners bend facts and reality to their own convenience, at best they believe in relative useful short term truths, while the losers believe in metaphysics and its universal transcendent truths, a la Plato. In other words, Plato is passé and Machiavelli is in vogue. Take your option.
But there is a philosopher of the 18th century, the Neapolitcan Giambattista Vico, who offered another alternative to these two extremes. Yet many, even in his native land, have no clue of his philosophy of history, or simply ignore it. What good can come out of a Naples? Let's take a brief look at it.
Vico's New Science (1725) is a watershed to modern historicism. He was however too far ahead of his contemporaries to have any direct impact on them. They had already embarked on a Cartesian paradigm of reality which now pervades modern culture. We modern men can hear Vico's wake up bell much more clearly in the wake of what rampant rationalism has wrought on us.
For all the modernity of his philosophy, Descartes shared with the ancient Greeks a bias against history which held that history is not the proper subject of science; that it represents a dimension of being in which the question of truth has neither purpose nor answer. Within this historical tradition searching for absolute certainty there is no place for any knowledge based on the particularity of sensory experience and contingent historical events. Tradition and the senses are seen as sources of permanent deception and truth is not found in them.
Descartes was convinced that he had found the final basis of certainty in his thinking "I" (the famous "cogito ergo sum") which is beyond history and all its contingencies and delusions. The only way this "I" and its related ideas can get back to the physical world is with the help of mathematical ideas that determine it. There the true language of nature is to be discovered. In other words, truth is to be found in nature, not in history.
This ancient Greek tradition was now living under the cover of the Christian West. Descartes was trapped within it. The Greek world could not, and in fact never produced any kind of philosophy of history. It could not since it held that the contingency of historical events did not yield truth and could not therefore be the content of authentic philosophical reflection. When truth was sought in the empirical world, it was derived from the calculability and rationality of nature. Moreover, this drive to see truth only in what is uniform and not in what is contingent and changing (well symbolized by Plato's world of timeless unchanging ideas, the transcendent forms) led Greek historians to look for laws and continuities in history and to treat them as analogies to the uniformities of nature.
Herodotus finds in history the "law" that human hubris brings down divine punishment. This is analogous to the idea that there are limits within nature beyond which no man dare venture beyond. Thucydides, on the other hand, is even more radical in his pursuit of uniformity. He finds the historical process dominated not only by objective factors in politics and economics but also by impulses and passions driven by subjective psychological emotions. Thus the movement of history is subsumed to the movement of cosmic occurrences. The driving forces for both is the same.
Here Plato's remarks in Georgias is relevant. There he proclaims that a mathematical relation (based on timeless laws) governs the relation between gods and humans. Thus Thucydides also believed that regard for the timeless laws of historical movement gives a better view of what happens and what will happen, for it will always be in accord with human nature. In other words, to see the timeless in time makes prognosis possible and enables us humans to plan for our future.
The above, broadly outlined, was the classical view of history that greatly influenced Descartes. On one hand it holds that history is contingent, that it cannot be part of the orderly course of the cosmos and thus it is ultimately irrelevant to the question of truth. On the other hand, it also holds that history may be integrated into the cosmos but has to be seen in mere analogy to processes that are controlled by natural laws. Either way history per se is robbed of its driving force and is discredited scientifically.
The geniality of Vico's conception of history is that he turns the above upside-down. He calls his philosophy of history a science since for him history is not only a possible, but also a privileged object of science. In fact, for a noetic standpoint, he sees the natural sciences as burdened by a lack of truth. At least in the West, this is indeed a reversal of the usual movement in the search for truth. It has taken us modern and post-modern men some three centuries to realize that it is truly revolutionary.
Not that Vico rejects everything that preceded him. He accepts much that is normative in tradition, borrows from what is universally acknowledged and then makes new unexpected inferences. His beginning point is an idea for which he can formally appeal to Aristotle. Simply put, the idea is that real knowledge of something is present only when that something is understood to be caused and its causes and origins are known.
From this idea Vico draws a revolutionary conclusion and it is this: if knowledge is knowledge of causes and we can speak of truth only in as much as we can establish those causes, then properly speaking we may know fully only what we ourselves have made. That is to say, we can only do justice to the Aristotelian equation of truth and knowledge of causes when we ourselves are the cause of something. Therefore, since history is the sphere of human achievements wherein we function as causes, we can attain there to true knowledge as in no other sphere.
In this concern of Vico, to demonstrate that even the shadows of the most distant past may prove to have more truth than the exact sciences, we begin to sense the far reaching implications of his speculation. Let us explore briefly the most important of these implications. In the first place it is worth noticing that after Vico the very facticity despised by the Greek world is worth knowing and can in fact be accorded the privilege of truth.
For Anselm, the cosmos that God conceived and made (one and the same operation for God) was the object of truth. In other words, the truth consists of knowing the logos content of the world. Its content are not facts but their reference to the Logos. As we have observed, for Descartes the ontic giveness of the thinking I is truth of the first order, while deduced truths are secondary. So, in both Anselm and Descartes a form of being is the truth. In the former being as a conceived and made totality; in the latter being focused on the existing subject of thought. Something is true because it has a share in being.
With Vico it is otherwise: historical facticity is privileged to be the content of possible truth. We know this truth and its causes because we ourselves are the causes. Here the thesis is this: something is true as, and because, it is made by us. Secondly, Vico dares to light up even mythical prehistory with the torch of truth, despite the fact that objective knowledge of events is largely ungraspable in this sphere. He can do so because he is convinced that he has found a new and modern form of knowledge; a form of knowledge by now familiar to us as hermeneutics, a truth that is disclosed in the grasping of causes; a truth of "understanding" which is present when something that is related to us reveals itself to us.
For example, when we encounter another personal life that affects our own personality. Admittedly it is rare but it constitutes the essence of true friendship hardly graspable in a cold objective fashion. That is what Vico means when he says that we may find the principles of the prehistoric world within the modifications of our own human spirit. In other words, there is an analogy between prehistory and us that makes it intelligible.
This should intimate that properly speaking Vico is the grandfather of modern hermeneutics even if little or no credit is accorded to him in courses on mythology or history of religions. It is on the basis of Vico's speculation that Bultman attempts later the feat of demythologization and Jung that of the interpretation of myths and the archetypes of the human mind. Even if Vico does not use the term "understanding," it is obvious that he has entered the field of hermeneutics to break through to new modern aspects of human experience: humanity can comprehend history because history derives from it.
Vico's speculation is nothing less than the proclamation of the historicizing of the understanding of reality. The modern age is the story of the implications deriving from such a view of reality. This view was so novel that it went largely ignored.
Here we should take notice that throughout his speculation Vico's anthropology remains always anchored to a theological base. That such is the case can be gathered from his restriction of the human knowledge of truth to the knowledge of history. The world of nature remains accessible only to the divine insight, since God created nature, not us, and therefore only God can see it as his work.
Even when Vico asserts that we may know history as "spirit of our spirit," he never means to say that history can be regarded wholly as our own creation. On the contrary, he says that treating the historical past as a kind of objectification and echo of our own spirit is possible only because our spirit is privileged to have a part in the divine Spirit and is thus put in a position to see in history the providence of God and the thoughts of his divine spirit. In other words, the meaning of history is manifest to our spirit to the degree that we look to providence.
A corollary to the above view is Vico's rejection of a conclusion that one may be tempted to draw from his anthropological outlook, namely that within modernity philosophy can replace theology as the representative of the human spirit. Vico expressly opposes the notion of the rationalistic philosopher of history Polybius (second century B.C.) that religion becomes unnecessary when philosophers undertake the explanation of the world. Vico argues that philosophers did not suddenly fall from heaven but emerged from an intellectual tradition rooted in religion.
By taking an anti-Cartesian stance Vico is basically saying only a belief in providence can relate us to the orders of family, tribe, and nation. It is only when these institutions are transparent and let the divine planning that is operating in them shine through that they can bind us together. The very semantic meaning of the word religio in Latin is "to bind together." So, despite Vico's important principle that things are true and perceptible only for those who cause them, humanity is never for him the wholly autonomous lord of the history that it creates. His concept of providence give things a different aspect: humanity meets itself in history because it is built into it as the agent of providence and therefore it can perceive the earlier self-manifestation of providence.
Vico's most important hermeneutical insight is that human beings cannot be explained objectively, they can only be "understood." The element of freedom in human nature resists the reduction to object of observation. Indeed, understanding is radically different from explaining. I can only understand and empathize with the personal life of another only because I have the same personal structure of being. Since I have a responsible relation to the meaning of my existence (i.e., to its logos), I am able to understand others in a similar relation. I can be affected by the boredom and emptiness, the failure or success of others and can understand that other beings are also called, like myself, to grasp their own destiny (in theological language, their salvation) with the same fear and risk of failure, the same hope of success.
This solidarity is underpinned by the same life-agenda, the same human journey from cradle to tomb. The journey into the self is a universal journey as Dante too well understood. Moreover, the ability to understand rests on a relationship or analogy between those who understand and those who are understood. In more literary terms, this idea of congeniality is the psychological superstructure of the basic Vichian literary, anthropological insight that readers and/or commentators are in solidarity with an author. Simply put, this is the solidarity of a common humanity. Both reader and author are bearers of personal life and marked by the gift and fear of freedom.
The most basic Vichian principle that we can derive from this hermeneutics is that people, being intrinsically free, cannot be explained, they can only be understood. In turn this means that in practice I first need to understand myself if I am to understand others. How can I possibly speak seriously about the guilt of others if I loath to face my own? So the question becomes: how do I get to know myself? As per the above outlined Vichian hermeneutical principle, self-knowledge cannot be reached by mere self-analysis focusing obsessively and narcissistically on my self (as much self-help literature would suggest), rather I will begin to discover it in as much as I get to know the world in me and myself in the world.
Sadly, the me-generation of the seventies and eighties and beyond, so concerned with its "life-style," has yet to discover that Christianity is psychologically much more sophisticated in its insistence that paradoxically one finds oneself when one loses oneself, and that narcissism inevitably leads to selfish egotism. Presently we have a president in America who exemplifies that kind of narcissism.
As I encounter others, they become mirrors for me in which I may more clearly see myself. Medieval and Renaissance Man had no problem understanding that we know ourselves only in humanity, and life teaches us what that is. Action is needed to affect the world and in turn let the world affect us. In other words, we can never know ourselves directly by contemplating our navel in a lotus position. The process of self-knowledge begins with a detour, via and encounter with history. The basic reason for this detour is that we are never "objects" of knowledge, not even of self-knowledge.
Only free beings can understand other free beings. We understand ourselves only in as much as we attempt to understand others. Which is to say, the world is a macrocosmic reflection of me and I am a microcosmic reflection of the world; the inner and the outer are analogous. I receive self-awareness by encounter with the world. This is particularly true of the world of history which as the human sphere is my direct analogue. Even more simply expressed, my life-history reflects the history of human-kind. Only thus can the Bible or others' autobiographies have anything to say to me personally. Vico for one wrote his autobiography with such an hermeneutical principle in mind.
It should be stressed here that this Vichian understanding of one's humanity as grounded in historical reality is very important in the writing of a human history, i.e., in the writing of what Man has achieved in the world, be it the history of science, or of art, or of law, or government, or of any other cultural artifact. In other words, when an author writes such a history he has to keep in mind that in relation to history Man cannot document himself as a mere object. As an historical being I am constantly included in my understanding of history.
We experience ourselves only by the detour of encounter with history, but the opposite is also true: we experience history only by the detour of self-understanding. That is the Vichian hermeneutical circle. As Vico himself aptly puts it: while it is true that Man makes history, it is also true that history makes Man. The way I see myself is influenced by the course of history. Such a course may produce a Hegel with the vision of Man as a spiritual being, or a Marx with the vision of Man as constituted by economics but marching toward some ultimate purpose, be it only social justice. These pre-judgments are practically inevitable for they are directed by Man's understanding of himself.
The understanding of history can never be "presuppositionless." When the historian claims that he has broken free from the presuppositions of his self-awareness, he is no longer viewing human history but a degenerated form of pseudo-nature. Only as a bearer of freedom can the historian understand history as the sphere of freedom. But that freedom ought not be understood as an abstract kind of "choice."
"Pro choice" by itself is a meaningless statement, for choice always implies commitment to something. Choice without responsibility and commitment transforms freedom into license. Confusion about this important distinction abounds in so called free democratic societies, but calling ourselves free ought to mean an ability to pursue a goal, to actualize ourselves by grasping our destiny as humans, for in the final analysis, what we know or don't know of our nature and the goals of such a nature inevitably affects the way we view and interpret other people and even history as a whole.
As an historical being the author of a human history has to bring himself to the understanding of history. Many scientists find this kind of Vichian hermeneutics uncongenial. They shun it since their pride and joy is Cartesian rationalism in tandem with a condescending attitude toward what is alleged to be a "retrograde and primitive" mytho-poetic mentality steeped in magic (usually understood as mere superstition) and religion. They have no use for authors such as Nikolai Berdyaev who always keep in mind the non-objectifiable element of freedom in history and present myth as a deeper reconstruction of life; for indeed myth grasps a dimension of human life that is simply inaccessible to an objective scientific study.
An exclusively objective kind of history is inconceivable, for there will always be a need for mystification, a longing for worlds beyond that secretively direct things. That longing derives from the fact that the subjects are included in the history they seek to know and, unless they are mere robots with no feelings and emotions, they are bound to feel and disclose the historical in themselves. Berdyaev for one points out that penetrating the depths of the ages means to penetrate the depths of the self.
As Vico has well taught us, history presents itself from within by recollection of the origin, goal and meaning of our existence. He was the very first philosopher in the West to understand, way ahead of Cassirer, that myth forms an element in all historical interpretation, and that it a nefarious intellectual habit to pose the dichotomy of poetic myth and "objective" history.
It is that false dichotomy that renders many modern history textbooks distasteful to most young students. They have intuited that those texts which present themselves as "scientific" fail to grasp the understanding subjects share non-objectively in historical understanding; that the author and the students of history too are integral part of history; that behind the illusion of complete unbiased documentation and geo-political analysis, there is a human being who is also concerned at some level with actualizing meaning of some kind. The mere writing of a history text points to it. And meaning relates to the totality of being.
Indeed, in all historical understanding of details a preliminary attempt is made to grasp the whole of history and its meaning. Willy nilly, these subjects who choose what they deem important out of the millennial vortex of history, are involved in an "act of faith" which cannot be objectively explained as is the case in science. These geo-political analysts delude themselves that it is all scientific and objective. But there is a bottom rock "act of faith" even on the part of science.
From the above we can confidently assert that since Vico's speculation on history the investigation of human existence and its history in the sense of objective science is no longer feasible and that moreover human existence as a whole is subject to the Vichian hermeneutical law of understanding.
In other words, from Vico on human existence has to be disclosed by way of understanding rather than by way of explanation. It is here that historicism touches the circle of science. Science, on the other hand, in touching the circle of history has to grasp that we can understand humanity and its history only in a venture. Individually, this courage for venturing on a journey of self-knowledge and actualization of meaning can be drawn from the basic realization that the secret of humanity is also our own secret.
Feminism: A Critique of Realism and The Way Forward
In around eighteen countries of the world, for e.g. Bolivia, Iran, Qatar, Sudan and Syria, men can legally stop women from working. Women still need to take permission from their husbands to participate in the labour force of the country. There are around 59 countries yet to regulate laws concerning sexual harassment at workplace and around 45 nations with no laws protecting women from domestic violence. Women, even in the 21st century, are not independent in the true sense. Alone in South Africa, according to a survey conducted by the South African Medical Research Council, approximately one in four men surveyed admitted to committing rape. This alarming oppressive status of women even in the contemporary times leads us to the question, where did this male dominance come from?
It is the colonialism, war and power struggle between the states which resulted into oppression of women even in the regions where women were particularly considered of high status. John Hoffman argues "states themselves are an expression of patriarchal power; leadership itself is monolithic, hierarchical and violent" (Hoffman, 2001) Historically, women had less rights and they were viewed as subordinate. Their role was limited to the household chores. During this time, only men had opportunities by which they participated in economic, social and political activities. Women lacked education and had fewer opportunities. In fact, for several years, women were not allowed to study 'manly subjects' such as science and law.Thus, leading towards a world of man forming a state and representing the interest of men. These manly states, being formed at the time when women had limited or in some places, no civil rights were led by a hegemon. This is also known as masculine hegemony.
Through the lenses of realist theories such as Hans Morgenthau, international society is anarchic in nature and all states function to maximize their state's interest. These state's interest is essentially achieved by power. Power, according to realism, equates military force and war. It revolves around the issues of war and security. It focuses on the role of nation-state and makes a bold assumption that all the states act in accordance to their national interest. It believes that states cooperate with each other solely for selfish national interest. Realist also don't believe that the international organizations can establish peace where state cooperate without selfish interest. Plus, they believed that all the conflicts can be resolved only by coercion. (Morganthau, 1948) However, the emergence of economic interdependence due to globalization has increased cooperation from economic relations based on trade and investment. Furthermore, after the world war two, rise of multilateral institutions such as United Nations, led the world to more cooperative relations amongst states. For instance, realist failed to predict the fall of Soviet Union and peace post-cold war. Hence, due to structural challenges and changes in the international relations, the relations amongst states does not revolve only around the realist issues of war and security.
In the late 1980s, theorist started to examine the role of gender in international relations. According to feminist, the conventional IR theories, realism and liberalism, present a partial view. The feminist theory has evolved through the three major movements, popularly known as waves of feminism. The first aimed to achieve recognition of equal rights, with a focus on suffrage. The second wave further demanded equal rights and treatment, and was marked by the emergence of the study of gender as a social construct. This feminist theory of IR is a critic of realism which focuses on power and considers patriarchy. Realism's pessimistic approach to the international relations ignores the role of individuals. In contemporary times, the feminist theory brings new prospective to the international relations. J. Ann Tickner, a standpoint feminist argues that IR is gendered to "marginalize women's voices". She emphasizes that women have knowledge, perspectives and experiences that should be brought to bear on the study of international relations." (Ruiz). Despite all the gender equality movements, we are still far from achieving the equality in society. Today, Women represent around 50% of the total population of world and only 39% of women globally participate in the labour force. As Emma Watson rightly points out, "How can we effect change in the world when only half of it is invited or feel welcomed to participate in it?" Out of around 193 countries, only 22 countries have female head of the states. According to the feminist, the key roles in international relations of diplomats, policy makers are played by men who come from patriarchal backgrounds. Thus, feminist challenge the Eurocentric and masculine theories of IR who fail to accommodate gender, race, class and ethnicity. Hence, on the contrary, feminism prioritizes development, peace and human security.
In the year 2014, Sweden, for the first time in the world, announced a feminist foreign policy and became the first country in the world to have a 'feminist government'. Six years later, September 2019, Mexico pledged to adopt a feminist foreign policy during the 74th session of the United Nations General Assembly. Earlier this year in January 2020, it became first Latin American country to launch a feminist foreign policy. France, Canada and Norway also expressed interest to set out feminist guidelines of their foreign policies. This indicates a beginning of new approach to the international relations. Feminist foreign policy broadly refers to a state's commitment to adopt policies wherein citizens, irrespective to their gender, live to their full potential. In case of Sweden, the country has recognized a separate gender equality policy since the early 70s. Hence, it was not as shocking for the citizen's as it was for the world. The feminist foreign policy of Sweden emphasizes on three Rs: Rights, representation and resources. Rights refers to combating discrimination and full enjoyment of human rights, representation emphasizes on participation of women in decision making at all levels of the civil society, and resources seek to ensure that the resources are allocated to promote equality and equal opportunities. (Handbook Sweden's Feminist Foreign Policy, 2018)
Feminist foreign policy broadly means the acknowledgment of injustice that exist globally. It emphasizes on building peace promoting organizations and criticizes military alliances such as NATO. The feminist foreign policy also criticizes the five permanent members of the UN security council who are the world's biggest arms exporters. Sweden not only become the "strongest voice for gender equality and full employment of human rights for all women and girls" but also inspired many countries. For instance, global south's first country to have a FFP, Mexico, not only aims to include women's rights but also LGBTQ+ rights, climate change, immigration and trade. (Delgado, 2020)
The FFP of Sweden has made a significant impact. In 2017, Sweden during its presidency at the united nations security council elaborated and emphasized on gender equality. It also played a crucial role in peace talks with respect to Yemen crisis. Yemen crisis is influenced by the Arab spring, an anti-governmental protest, against the president Ali Abdullah Saleh, who is in power since last thirty years. This uprising ended with a political deal, mediated by the United Nations and the Gulf cooperation Council. Thus, president Saleh stepped down and gave power to the vice president, Abd Rabbo Mansour Hadi. Followed by a national dialogue conference, a constitution was agreed to be drafted. This process led to tensions between the parties and the negotiations resulted into escalation in conflict and formation of Saudi led coalition in March 2015 with support of Bahrain, Egypt, Jordan, Kuwait, Morocco, Senegal, Sudan, UAE and Qatar. (they further left the coalition in 2017). The coalition had received arms and intelligence from powerful countries such as USA, UK and France. This has created more conflict since they conducted several air campaigns causing death of civilians and a major humanitarian crisis. As the tensions grew, not only women and children but civilian's vulnerability grew. The UN officials have called this a 'man-made crisis.' Sweden's Foreign Minister as well as one of the architects of feminist foreign policy of Sweden, Margot Wallström, played a key role. She had personally visited Yemen after catastrophic bomb blasts in the country. Khaled Al- Yamini, the foreign minister of Hadi government and Houthi's representative, Mohmad Abdelsalam signed the 'Stockholm agreement.' The Stockholm agreement came in three parts, the first part dealt with ceasefire and redeployment of forces, then the second term of agreement was facilitating the movement of humanitarian aid and lastly, Prisoner swap (reuniting POW with their families). This was a breakthrough agreement as it brought an end to a long pending peace talk. The usage of diplomatic technique of negotiation to resolve a conflict is the practice of feminist approach to the study of IR.
The theory of ecofeminism is a branch of feminism which examines relation between women and nature. Ecofeminist draw parallels between oppression of nature and oppression of women. French feminist Francoise d'Eaubonne coined the name in her 1974 book le feminisme ou la mort (Feminism or Death). She argued that everything is related to everything else. Man dominates the nature for selfish interests and in similar ways women are oppressed and objectified. Thus, liberation of women is essential to bring about the environmental change. Connecting the feminist foreign policy of Sweden and ecofeminism, we can see a positive impact with respect to action towards climate change. Sweden worked to mainstream gender equality in the new Paris climate agreement (COP21). Sweden gained regional support to put women forward and in focus for climate change and climate justice. This led to the establishment of Women's Global Call for Climate Justice. This campaign was supported by over 7700 organizations. Along with this, Sweden has adopted a climate policy, aiming for zero net greenhouse gas emission by 2045. The Swedish government has a specific fund for bilateral cooperation with strategic countries in the field of environment and climate. Currently, cooperation with around ten countries, among others Brazil, Colombia, India, Indonesia, China, Russia, South Africa, South Korea, USA, and Vietnam are financed by the fund. For e.g. The Swedish Environmental Protection Agency has been cooperating regarding India's ambitions to phase down the use of the powerful greenhouse gases hydrofluorocarbons. In addition to peace talks and climate change action, Sweden has taken action to strengthen the human rights of refugee women and girls. According to Linklater, critical theory can be seen as the instrument of powerless to advance more equitable global relations. Sweden has initiated multiple bilateral-multilateral meetings to address the link of migration and human trafficking, prostitution. Sweden has successfully ensured that these issues are included in the UN resolutions and in the declaration of UN summit for Refugees and Migration, 2016. Hence, looking at the feminist foreign policy of Sweden through the lenses of ecofeminism, critical theory and feminist theory, it appears to be the new way forward in IR. (Sweden, 2017)
Besides Sweden, India's declaration of Triple Talaq as unconstitutional, Argentina's vow to legalise abortion and emergence of female state leaders such as Angela Merkel, Jacinda Ardern, Dilma Rousseff and Tsai Ing-wen has introduced world a new feminist leadership. Furthermore, during the extraordinary crisis situation- covid19 outbreak, under the leadership of Tsai Ing-wen, Taiwan recovered exceptionally well. Jacinda Ardern's emotional response to terrorist attack and Angela Merkel's strategic Ukraine crisis' negations with Russia indicates as rightly said by Barack Obama, "If women ran every country in the world, there would be improvement in living standards and outcomes"
Women in leadership 'must be the norm'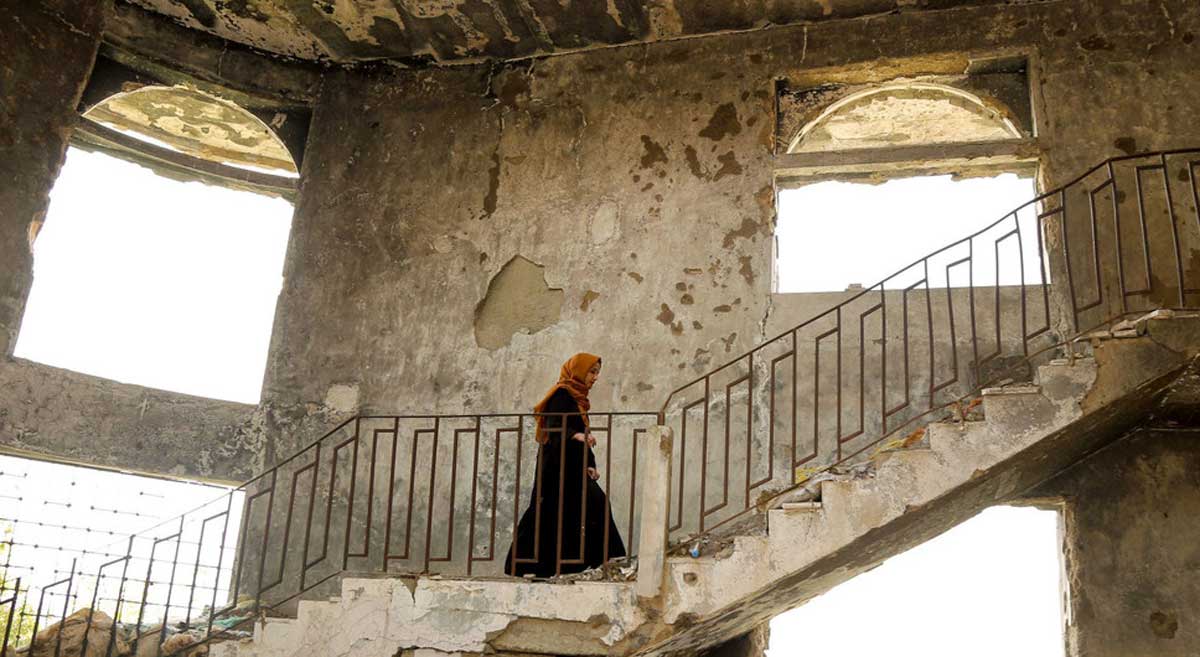 We can no longer exclude half of humanity from international peace and security matters, the UN chief told the Security Council on Thursday, emphasizing the need to fully address the challenges and gaps that continue to prevent women having an equal say.
"Today, women's leadership is a cause. Tomorrow, it must be the norm", Secretary-General António Guterres told the meeting, covering landmark resolution 1325 on Women, Peace and Security.
Frontline women
Having just visited the photo exhibition, In their Hands: Women Taking Ownership of Peace – a collection of inspiring stories of women around the world seen through the lenses of women photographers – he told ambassadors that the exhibit brings to "vivid life" their dedication to "the most important and consequential cause of all, peace".
"From the safety of this chamber, we discuss and debate pathways of peace for countries around the world", said the UN chief. "But the women portrayed in the exhibition are on the front lines of the fight for peace".
He called them peacebuilders, changemakers and human rights leaders, and described their work mediating and negotiating with armed groups; implementing peace agreements; pushing for peaceful transitions; and fighting for women's rights and social cohesion throughout their communities.
Yet, he pointed out, "women remain on the periphery of formal peace processes, and they're largely excluded from rooms where decisions are made".
Disheartening trend
Citing rising rates of violence and misogyny; the extreme under-representation of women in decision-making positions; and a myriad of challenges faced by those in conflict, the top UN official observed that the power imbalance between men and women remains "the most stubborn and persistent of all inequalities".
"In every humanitarian emergency, the clock on women's rights has not stopped. It's moving backwards", he said regretfully.
In Ethiopia, women have been victims of sexual violence; in Yemen, excluded from political processes by the warring parties; in Afghanistan, undergoing a rapid reversal of the rights they had achieved in recent decades; and in Mali, after two coups in nine months, "the space for women's rights is not just shrinking, but closing", Mr. Guterres said.
'Fast-track women'
The UN chief stressed: "We need to fight back, and turn the clock forward for every woman and girl" – the commitment outlined in Our Common Agenda and Call to Action on Human Rights.
"Increasing women's representation and leadership across every aspect of the UN's peace activities is critical to improving the delivery of our mandate and better representing the communities we serve", he said.
But Council's support is needed for partnerships, protection and participation.
Women leaders and their networks must be supported to meaningfully engage in peace and political processes, he explained.
Secondly, women human rights defenders and activists must be protected as they carry out their essential work.
And finally, women's "full, equal and meaningful participation" must be supported in peace talks, peacebuilding, and political systems as countries transition to peace, he said.
"We need full gender parity", underscored the UN chief. "We know it can be done".
Advancing women's rights
Women should not have to accept reversals of their rights in countries in conflict, or anywhere else.
Mr. Guterres said that the UN will double down on "truly inclusive peacemaking" and put women's participation and rights "at the centre of everything we do – everywhere we do it".
The best way to build peace is through inclusion, and to honour the commitment and bravery of women peacemakers we must "open doors to their meaningful participation".
"Let's turn the clock forward on women's rights and give half of humanity the opportunity to build the peace we all seek", concluded the Secretary-General.
Time to say 'enough'
To create a tangible difference in the lives of women and girls, UN Women Executive Director, Sima Bahous, highlighted the need for governments and the Security Council "to step up" to address the way we confront peace and security issues.
For too long violence has targeted females and their rights; and women continue to be marginalized and excluded "in those very places where they can drive change", she told the Council.
"Surely the time has come to say enough", she said.
Open doors to women
While acknowledging a "glimmer of light" resulting from the passage of the original resolution, Ms. Bahous said that while not enough, it must be used in the fight for women's equality.
Noting that vast military spending has been "in bitter contrast" to limited investments in other areas, she advocated for curbing military spending and expressed hope that delegates "share my sense of urgency" on the issue, which impacts other priorities, including women's rights.
The UN Women chief noted that increased participation, combined with curbing the sale of arms in post-conflict settings, significantly reduces the risk of backsliding.
She reminded ambassadors that while "equal nations are more peaceful nations", equality requires higher levels of support for healthcare and related services.
Moreover, Ms. Bahous regretted that women's organizations are poorly funded, noting that without the necessary financial resources, they cannot effectively carry out their work.
Turning to Afghanistan, she shone a light on the women who had collaborated with the UN and whose lives are now in danger, advocating for doors to be opened wider, to women asylum seekers.
Women at the stakeout
Subsequently, former Afghan women politicians took to the Security Council stakeout to ask the international community to pressure the Taliban "to put their words in action" and fulfill their promises made in 2019 in Qatar including supporting girls' education and women's rights.
"The reason we are here today is to meet with different Member States and ask them to regard women and human rights in Afghanistan as a matter of national security of their own countries, because it's not just a political or social issue but it's a matter of security", said Fawzia Koofi, former Peace Negotiator and first woman Deputy Speaker of Afghan Parliament.
Former Afghan Parliamentarian and Chairperson of the House Standing Committee for Human Rights, Civil Society and Women Affairs, Naheed Fareed, questioned whether the world wanted to "register in history" their recognition of "a de facto structure that is in place in Afghanistan", to represent Afghan women, their dignity and desires. "From my point of view, they don't", she told reporters.
Gender Mainstreaming and the Development of three Models
The field of gender mainstreaming plays a central role in the debate of critical feminist International Relations (IR) theorists. Reading the influential work of Enloe 2014 regarding the locations and the roles of women in the subject of IR brings women into the central discussion of international studies. However, some of the feminist IR scholars defy the negligible participation of women in international political theory and practice.
The main aim of gender mainstreaming is to achieve gender equity in all spheres of life (social, political, economic), without any doubt that gender mainstreaming has had a central role in pushing the strategy of realising gender equity since the concept's inception. However, feminist IR scholarship admits that it is not the best approach, or in other words, the right pathway concerning feminist struggle. There are many different approaches and mechanisms in which such dissatisfaction is conveyed; nonetheless, at the axis of Postcolonial Feminist scholars debate, gender main streaming depoliticises the concerns of feminist scholars. Feminist studies show that theoretically, the change of structuring of gender equity determinations from women to gender in gender mainstreaming perhaps contradicted achievements made to bring women from the periphery to the centre of Feminist IR.
The emergence of Models in Development:
Discussion asking to what extent women have been benefited (or not) from the developmenthas given rise to the following three models. These approaches show how men and women are affected in different ways because of the development of how the lives of women, in particular, are affected.
Women in Development (WID):
By the 1970s, the reality that women were subjugated and left far behind in the process of development became clear and widely recognised. In some areas, this recognition even acknowledged development has further worsened the status of women, for example, the exclusion of women from the main development projects. The Women in Development (WID) approach proposed the inclusion of women into programs related to development. WID was a successful initiative that strengthened the consideration of women as an integral part of society. The decade of 1975 to 1985 was even declared the decade of women. However, this approach was problematic, as WID did not focus on structural changes in social and economic systems, which were necessary for discussion. Furthermore, this approach was not enough to bring women to the mainstream of development successfully.
Women and Development (WAD):
Thisapproach was critical and arose in the late 1970s using Marxist feminist (critical) thoughts. As its nature, the Women and Development (WAD) approach criticised WID because of an increasing gap between men and women. According to WAD, the idea of women's inclusion was wrong because women already contributed substantially to society. Yet, they were not receiving the benefits of their contributions, and WID further contributed to global inequalities. The main rationale of WAD was to increase interactions between men and women rather than just implementing strategies of women's inclusion. Besides, WAD considered the class system and unequal distribution of resources to be primary problems, as it's women and men who suffer from the current system. On a theoretical level, WAD strongly endorsed changes to the class system; however, it proved impractical as it ignored the reason for patriarchy and failed to answer the social relationships between men and women.
Gender and Development (GAD):
In the 1980s, further reflection on development approaches started the debate of Gender and Development (GAD). As GAD followed and learned from the weaknesses and failures of WID and WAD, it was a more comprehensive approach. GAD paid particular attention to social and gender relations and divisions of labour in society. The GAD approach strove to provide further rise to women's voices while simultaneously emphasising women's productive and reproductive roles, contending taking care of children is a state responsibility. As a result of GAD, in 1996, the Zambian government changed their department of WID to the Gender and Development Division (GADD). These changes made it easier for women to raise their voices more constructively in an African country. Gender development is a continuous, current phenomenon. Women have choices today that they did not have in prior or even the last generation.
The main point is that instead of discussing whether to mainstream gender or not, it needs to be discussed how it can happen in a better way. Gender mainstreaming is considered a theory of change in GAD.
The above discussion has offered an overview of how gender mainstreaming's theoretical approaches and expectations have met with the praxis; however, some scholars critique the concept of depoliticising and diluting equality struggles. These considerations are also worth inquiry and, accordingly, are discussed below.