Vico's Revolutionary Thinking on Metaphysics, Machiavellian Political Analysis, and Historicism
"What is Truth?–Pontius Pilate
[yt_dropcap type="square" font="" size="14″ color="#000″ background="#fff" ] W [/yt_dropcap]e live in an Orwellian world of "post-truth" and "alternative facts" wherein the famous question of Pilate to Christ is repeatedly heard: "what is truth?" In effect it means that we no longer believe in truth and consequently we no longer believe in metaphysics, which is essentially a belief in, and a search for truth, as difficult as that may be.
Truth has become something "esoteric," kind of ancient quest which has now been superseded by a positivistic world based on empirical quantifiable science based on sheer utility. Truth is a commodity we can no longer afford in our "enlightened" modern times.
What seems to be one of the major preoccupations of current political analysis is the Machiavellian quest for power based on a philosophy that asserts that "might is right" and the "end justifies the means," that there are winners and there are losers. The winners bend facts and reality to their own convenience, at best they believe in relative useful short term truths, while the losers believe in metaphysics and its universal transcendent truths, a la Plato. In other words, Plato is passé and Machiavelli is in vogue. Take your option.
But there is a philosopher of the 18th century, the Neapolitcan Giambattista Vico, who offered another alternative to these two extremes. Yet many, even in his native land, have no clue of his philosophy of history, or simply ignore it. What good can come out of a Naples? Let's take a brief look at it.
Vico's New Science (1725) is a watershed to modern historicism. He was however too far ahead of his contemporaries to have any direct impact on them. They had already embarked on a Cartesian paradigm of reality which now pervades modern culture. We modern men can hear Vico's wake up bell much more clearly in the wake of what rampant rationalism has wrought on us.
For all the modernity of his philosophy, Descartes shared with the ancient Greeks a bias against history which held that history is not the proper subject of science; that it represents a dimension of being in which the question of truth has neither purpose nor answer. Within this historical tradition searching for absolute certainty there is no place for any knowledge based on the particularity of sensory experience and contingent historical events. Tradition and the senses are seen as sources of permanent deception and truth is not found in them.
Descartes was convinced that he had found the final basis of certainty in his thinking "I" (the famous "cogito ergo sum") which is beyond history and all its contingencies and delusions. The only way this "I" and its related ideas can get back to the physical world is with the help of mathematical ideas that determine it. There the true language of nature is to be discovered. In other words, truth is to be found in nature, not in history.
This ancient Greek tradition was now living under the cover of the Christian West. Descartes was trapped within it. The Greek world could not, and in fact never produced any kind of philosophy of history. It could not since it held that the contingency of historical events did not yield truth and could not therefore be the content of authentic philosophical reflection. When truth was sought in the empirical world, it was derived from the calculability and rationality of nature. Moreover, this drive to see truth only in what is uniform and not in what is contingent and changing (well symbolized by Plato's world of timeless unchanging ideas, the transcendent forms) led Greek historians to look for laws and continuities in history and to treat them as analogies to the uniformities of nature.
Herodotus finds in history the "law" that human hubris brings down divine punishment. This is analogous to the idea that there are limits within nature beyond which no man dare venture beyond. Thucydides, on the other hand, is even more radical in his pursuit of uniformity. He finds the historical process dominated not only by objective factors in politics and economics but also by impulses and passions driven by subjective psychological emotions. Thus the movement of history is subsumed to the movement of cosmic occurrences. The driving forces for both is the same.
Here Plato's remarks in Georgias is relevant. There he proclaims that a mathematical relation (based on timeless laws) governs the relation between gods and humans. Thus Thucydides also believed that regard for the timeless laws of historical movement gives a better view of what happens and what will happen, for it will always be in accord with human nature. In other words, to see the timeless in time makes prognosis possible and enables us humans to plan for our future.
The above, broadly outlined, was the classical view of history that greatly influenced Descartes. On one hand it holds that history is contingent, that it cannot be part of the orderly course of the cosmos and thus it is ultimately irrelevant to the question of truth. On the other hand, it also holds that history may be integrated into the cosmos but has to be seen in mere analogy to processes that are controlled by natural laws. Either way history per se is robbed of its driving force and is discredited scientifically.
The geniality of Vico's conception of history is that he turns the above upside-down. He calls his philosophy of history a science since for him history is not only a possible, but also a privileged object of science. In fact, for a noetic standpoint, he sees the natural sciences as burdened by a lack of truth. At least in the West, this is indeed a reversal of the usual movement in the search for truth. It has taken us modern and post-modern men some three centuries to realize that it is truly revolutionary.
Not that Vico rejects everything that preceded him. He accepts much that is normative in tradition, borrows from what is universally acknowledged and then makes new unexpected inferences. His beginning point is an idea for which he can formally appeal to Aristotle. Simply put, the idea is that real knowledge of something is present only when that something is understood to be caused and its causes and origins are known.
From this idea Vico draws a revolutionary conclusion and it is this: if knowledge is knowledge of causes and we can speak of truth only in as much as we can establish those causes, then properly speaking we may know fully only what we ourselves have made. That is to say, we can only do justice to the Aristotelian equation of truth and knowledge of causes when we ourselves are the cause of something. Therefore, since history is the sphere of human achievements wherein we function as causes, we can attain there to true knowledge as in no other sphere.
In this concern of Vico, to demonstrate that even the shadows of the most distant past may prove to have more truth than the exact sciences, we begin to sense the far reaching implications of his speculation. Let us explore briefly the most important of these implications. In the first place it is worth noticing that after Vico the very facticity despised by the Greek world is worth knowing and can in fact be accorded the privilege of truth.
For Anselm, the cosmos that God conceived and made (one and the same operation for God) was the object of truth. In other words, the truth consists of knowing the logos content of the world. Its content are not facts but their reference to the Logos. As we have observed, for Descartes the ontic giveness of the thinking I is truth of the first order, while deduced truths are secondary. So, in both Anselm and Descartes a form of being is the truth. In the former being as a conceived and made totality; in the latter being focused on the existing subject of thought. Something is true because it has a share in being.
With Vico it is otherwise: historical facticity is privileged to be the content of possible truth. We know this truth and its causes because we ourselves are the causes. Here the thesis is this: something is true as, and because, it is made by us. Secondly, Vico dares to light up even mythical prehistory with the torch of truth, despite the fact that objective knowledge of events is largely ungraspable in this sphere. He can do so because he is convinced that he has found a new and modern form of knowledge; a form of knowledge by now familiar to us as hermeneutics, a truth that is disclosed in the grasping of causes; a truth of "understanding" which is present when something that is related to us reveals itself to us.
For example, when we encounter another personal life that affects our own personality. Admittedly it is rare but it constitutes the essence of true friendship hardly graspable in a cold objective fashion. That is what Vico means when he says that we may find the principles of the prehistoric world within the modifications of our own human spirit. In other words, there is an analogy between prehistory and us that makes it intelligible.
This should intimate that properly speaking Vico is the grandfather of modern hermeneutics even if little or no credit is accorded to him in courses on mythology or history of religions. It is on the basis of Vico's speculation that Bultman attempts later the feat of demythologization and Jung that of the interpretation of myths and the archetypes of the human mind. Even if Vico does not use the term "understanding," it is obvious that he has entered the field of hermeneutics to break through to new modern aspects of human experience: humanity can comprehend history because history derives from it.
Vico's speculation is nothing less than the proclamation of the historicizing of the understanding of reality. The modern age is the story of the implications deriving from such a view of reality. This view was so novel that it went largely ignored.
Here we should take notice that throughout his speculation Vico's anthropology remains always anchored to a theological base. That such is the case can be gathered from his restriction of the human knowledge of truth to the knowledge of history. The world of nature remains accessible only to the divine insight, since God created nature, not us, and therefore only God can see it as his work.
Even when Vico asserts that we may know history as "spirit of our spirit," he never means to say that history can be regarded wholly as our own creation. On the contrary, he says that treating the historical past as a kind of objectification and echo of our own spirit is possible only because our spirit is privileged to have a part in the divine Spirit and is thus put in a position to see in history the providence of God and the thoughts of his divine spirit. In other words, the meaning of history is manifest to our spirit to the degree that we look to providence.
A corollary to the above view is Vico's rejection of a conclusion that one may be tempted to draw from his anthropological outlook, namely that within modernity philosophy can replace theology as the representative of the human spirit. Vico expressly opposes the notion of the rationalistic philosopher of history Polybius (second century B.C.) that religion becomes unnecessary when philosophers undertake the explanation of the world. Vico argues that philosophers did not suddenly fall from heaven but emerged from an intellectual tradition rooted in religion.
By taking an anti-Cartesian stance Vico is basically saying only a belief in providence can relate us to the orders of family, tribe, and nation. It is only when these institutions are transparent and let the divine planning that is operating in them shine through that they can bind us together. The very semantic meaning of the word religio in Latin is "to bind together." So, despite Vico's important principle that things are true and perceptible only for those who cause them, humanity is never for him the wholly autonomous lord of the history that it creates. His concept of providence give things a different aspect: humanity meets itself in history because it is built into it as the agent of providence and therefore it can perceive the earlier self-manifestation of providence.
Vico's most important hermeneutical insight is that human beings cannot be explained objectively, they can only be "understood." The element of freedom in human nature resists the reduction to object of observation. Indeed, understanding is radically different from explaining. I can only understand and empathize with the personal life of another only because I have the same personal structure of being. Since I have a responsible relation to the meaning of my existence (i.e., to its logos), I am able to understand others in a similar relation. I can be affected by the boredom and emptiness, the failure or success of others and can understand that other beings are also called, like myself, to grasp their own destiny (in theological language, their salvation) with the same fear and risk of failure, the same hope of success.
This solidarity is underpinned by the same life-agenda, the same human journey from cradle to tomb. The journey into the self is a universal journey as Dante too well understood. Moreover, the ability to understand rests on a relationship or analogy between those who understand and those who are understood. In more literary terms, this idea of congeniality is the psychological superstructure of the basic Vichian literary, anthropological insight that readers and/or commentators are in solidarity with an author. Simply put, this is the solidarity of a common humanity. Both reader and author are bearers of personal life and marked by the gift and fear of freedom.
The most basic Vichian principle that we can derive from this hermeneutics is that people, being intrinsically free, cannot be explained, they can only be understood. In turn this means that in practice I first need to understand myself if I am to understand others. How can I possibly speak seriously about the guilt of others if I loath to face my own? So the question becomes: how do I get to know myself? As per the above outlined Vichian hermeneutical principle, self-knowledge cannot be reached by mere self-analysis focusing obsessively and narcissistically on my self (as much self-help literature would suggest), rather I will begin to discover it in as much as I get to know the world in me and myself in the world.
Sadly, the me-generation of the seventies and eighties and beyond, so concerned with its "life-style," has yet to discover that Christianity is psychologically much more sophisticated in its insistence that paradoxically one finds oneself when one loses oneself, and that narcissism inevitably leads to selfish egotism. Presently we have a president in America who exemplifies that kind of narcissism.
As I encounter others, they become mirrors for me in which I may more clearly see myself. Medieval and Renaissance Man had no problem understanding that we know ourselves only in humanity, and life teaches us what that is. Action is needed to affect the world and in turn let the world affect us. In other words, we can never know ourselves directly by contemplating our navel in a lotus position. The process of self-knowledge begins with a detour, via and encounter with history. The basic reason for this detour is that we are never "objects" of knowledge, not even of self-knowledge.
Only free beings can understand other free beings. We understand ourselves only in as much as we attempt to understand others. Which is to say, the world is a macrocosmic reflection of me and I am a microcosmic reflection of the world; the inner and the outer are analogous. I receive self-awareness by encounter with the world. This is particularly true of the world of history which as the human sphere is my direct analogue. Even more simply expressed, my life-history reflects the history of human-kind. Only thus can the Bible or others' autobiographies have anything to say to me personally. Vico for one wrote his autobiography with such an hermeneutical principle in mind.
It should be stressed here that this Vichian understanding of one's humanity as grounded in historical reality is very important in the writing of a human history, i.e., in the writing of what Man has achieved in the world, be it the history of science, or of art, or of law, or government, or of any other cultural artifact. In other words, when an author writes such a history he has to keep in mind that in relation to history Man cannot document himself as a mere object. As an historical being I am constantly included in my understanding of history.
We experience ourselves only by the detour of encounter with history, but the opposite is also true: we experience history only by the detour of self-understanding. That is the Vichian hermeneutical circle. As Vico himself aptly puts it: while it is true that Man makes history, it is also true that history makes Man. The way I see myself is influenced by the course of history. Such a course may produce a Hegel with the vision of Man as a spiritual being, or a Marx with the vision of Man as constituted by economics but marching toward some ultimate purpose, be it only social justice. These pre-judgments are practically inevitable for they are directed by Man's understanding of himself.
The understanding of history can never be "presuppositionless." When the historian claims that he has broken free from the presuppositions of his self-awareness, he is no longer viewing human history but a degenerated form of pseudo-nature. Only as a bearer of freedom can the historian understand history as the sphere of freedom. But that freedom ought not be understood as an abstract kind of "choice."
"Pro choice" by itself is a meaningless statement, for choice always implies commitment to something. Choice without responsibility and commitment transforms freedom into license. Confusion about this important distinction abounds in so called free democratic societies, but calling ourselves free ought to mean an ability to pursue a goal, to actualize ourselves by grasping our destiny as humans, for in the final analysis, what we know or don't know of our nature and the goals of such a nature inevitably affects the way we view and interpret other people and even history as a whole.
As an historical being the author of a human history has to bring himself to the understanding of history. Many scientists find this kind of Vichian hermeneutics uncongenial. They shun it since their pride and joy is Cartesian rationalism in tandem with a condescending attitude toward what is alleged to be a "retrograde and primitive" mytho-poetic mentality steeped in magic (usually understood as mere superstition) and religion. They have no use for authors such as Nikolai Berdyaev who always keep in mind the non-objectifiable element of freedom in history and present myth as a deeper reconstruction of life; for indeed myth grasps a dimension of human life that is simply inaccessible to an objective scientific study.
An exclusively objective kind of history is inconceivable, for there will always be a need for mystification, a longing for worlds beyond that secretively direct things. That longing derives from the fact that the subjects are included in the history they seek to know and, unless they are mere robots with no feelings and emotions, they are bound to feel and disclose the historical in themselves. Berdyaev for one points out that penetrating the depths of the ages means to penetrate the depths of the self.
As Vico has well taught us, history presents itself from within by recollection of the origin, goal and meaning of our existence. He was the very first philosopher in the West to understand, way ahead of Cassirer, that myth forms an element in all historical interpretation, and that it a nefarious intellectual habit to pose the dichotomy of poetic myth and "objective" history.
It is that false dichotomy that renders many modern history textbooks distasteful to most young students. They have intuited that those texts which present themselves as "scientific" fail to grasp the understanding subjects share non-objectively in historical understanding; that the author and the students of history too are integral part of history; that behind the illusion of complete unbiased documentation and geo-political analysis, there is a human being who is also concerned at some level with actualizing meaning of some kind. The mere writing of a history text points to it. And meaning relates to the totality of being.
Indeed, in all historical understanding of details a preliminary attempt is made to grasp the whole of history and its meaning. Willy nilly, these subjects who choose what they deem important out of the millennial vortex of history, are involved in an "act of faith" which cannot be objectively explained as is the case in science. These geo-political analysts delude themselves that it is all scientific and objective. But there is a bottom rock "act of faith" even on the part of science.
From the above we can confidently assert that since Vico's speculation on history the investigation of human existence and its history in the sense of objective science is no longer feasible and that moreover human existence as a whole is subject to the Vichian hermeneutical law of understanding.
In other words, from Vico on human existence has to be disclosed by way of understanding rather than by way of explanation. It is here that historicism touches the circle of science. Science, on the other hand, in touching the circle of history has to grasp that we can understand humanity and its history only in a venture. Individually, this courage for venturing on a journey of self-knowledge and actualization of meaning can be drawn from the basic realization that the secret of humanity is also our own secret.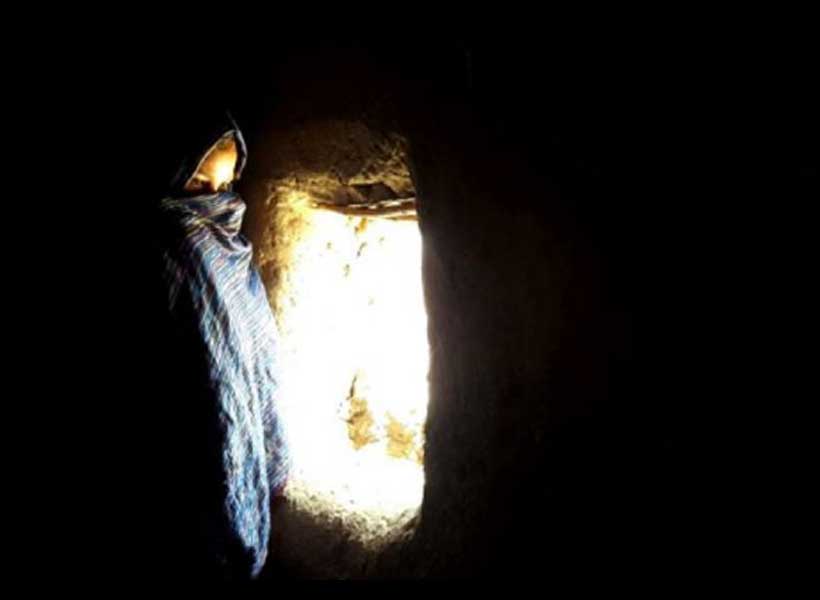 The olive eyes of Shaista peep between the bandages covering her burnt body, for she, like so many other Afghan women from the city of Herat, decided to escape her life by way of fire.
Shaista arrived at the hospital burning between wisps of hair and fabric, and her 19-year-old body is now a landscape of lava.
Tears seep between the gauze and the passageways of her blistered skin. Compassion is the closest thing to love that she will experience, and the hands of the man who changed her bandages are amongst the few that didn't strike her.
She set herself on fire for a crime she didn't commit, one that doesn't exist, or one that everyone else appears to see except her. Her crime was being born a woman.
According to Oxfam, 8 out of every 10 Afghan women suffer either physical, sexual or psychological violence.
In 2015, the Independent Afghan Commission for Human Rights registered 5,132 gender crimes and between April and June 2016 the Ministry of Women's Affairs reported 600, but many go unreported.
The women who go to the police are at risk of being raped before being returned to their families. Those who escape for more than 48 hours face accusations of adultery, the punishment for which is either facial mutilation or death. Passed between relatives, offered to others to pay debts or settle disputes, raped and subjected to acid attacks in the streets; these women lose their mental stability and take their own lives in the most brutal way.
They usually come from lower social groups and as they don't have access to guns or money to buy barbiturates, they drink rat poison, hang themselves, jump into rivers or set themselves on fire.
Although the families declare a 'domestic accident', it is easy to identify a suicide, as the majority are aged between 14-21 years old and are soaked in kerosene, when in fact most people use firewood or gas to do the cooking at home.
85% of Afghan women are unable to read or write and thus out of ignorance believe that they will die quickly. But instead they suffer for days before dying. Many pour boiling oil over themselves or drizzle it over their abdomen in order to raise attention to their plight, but sometimes the flames envelop them.
One of the most influential thinkers and leading Afghan practitioners in the field, Dr. Djawed Sangdel says: "Education is a key. This country needs a thorough horizontalisation of education for all."
80% of those who arrive in hospital perish because of a lack of means to treat them, and if they do survive, they suffer lifelong consequences, for it is difficult to follow a course of treatment whilst carrying water and looking after numerous children.
Almost 40 years of war brought with it misery, poor health and lack of governance, under which the patriarchal system flourished; a system which made Afghanistan an open-air prison for women, causing them irreparable psychological damage.
The country's laws tolerate tribal codes and 60% of girls under the age of 15 are forced to marry men double their age, according to the Revolutionary Association of Women in Afghanistan.
Studies from the UN Fund for the Development of Women reveal that the majority of widows sell their bodies or turn to begging in order to survive, and 65% of them see suicide as the only solution to their misery.
Herat, once known as the Pearl of Khorasan, is today a ghost town, with a horizon dotted with adobe houses, obsolete war munitions and faces hidden from the world behind the grille of a burka.
After a week in hospital, Shaista's mother-in-law escaped with her to hide her at home, as her son simply didn't deserve the shame of a suicidal wife.
Almost a month after the fire, she returned with wounds all over her body and without any feeling in her arms due to large necrotic areas. She did, however, survive – one of life's cruel jokes.
Now with the same fears as before, scars from the fire on her skin and with only one arm to carry her daughter, Shaista is back in the place that she so wanted to flee.
The Modern Tragedy of Child Marriage
Authors: Pooja Shah & Russell Whitehouse
"And just like that, my mother was married to the village chaiwala when she was 14!" I distinctly recall my grandmother saying as we sat together on the front porch, warmed by the mid-summer breeze."14? She's a child!" I gasped out of horror. "How can she be married? Her parents allowed it?" I ignorantly continued.
It was July 2011. I was visiting my now-late grandmother in Ahmedabad, Gujarat after a two-month writing excursion through Mussoorie. The first few days of my stay were filled with pleasantries and questions about school and life in "Amreeka", quickly followed by the incessant questioning of when I would get married and if I found a suitable companion yet… Of course, to a 19-year old college sophomore student barely at the cusp of adulthood, marriage felt like an intangible figment of my imagination, as it did for most of my peers back home who were too occupied by finalizing our majors and what party to attend next weekend. However, as my grandmother spoke, summoning stories of her own mother, it became dauntingly obvious that not only marriage was the traditional norm, but marrying early was the expectation in the era she grew up in.
12% of girls in the developing world will be married off before the age of 15; in many of the world's poorest countries, like Bangladesh, over half of girls will be married off before the age of 18. According to the IWWC, over 400M women aged under 50 years old are survivors of child marriage. .Western countries aren't exempt from this scourge: over 200k girls have been married in this current century in the US.
Although theoretically child marriage is outlawed in India, in many rural areas, impoverished families will often "give away" their children in exchange for fleeting economic security. Rooted deeply in religious, traditional and cultural norms, and often motivated by economic factors, many families view child marriages as a means to end their economic suffering.
My grandmother confided in me that her mother, a child herself, gave birth at the age of 16 with a husband who was nine years her senior. Dadi dismissed my shocking reaction and confirmed, once again, that this was not atypical. I began to realize over the course of our conversation the very limited rights and personal choices these children, particularly young girls, have. Their lives are a mere transaction: exchanging their livelihood and existence for a few rupees on their families behalf, all while being forced to forego their educations, childhood, hobbies, and sense of independence.
This commodification of the lives of girls reinforces a culture of deep misogyny. Being married off while school-age tends to end a girl's education; less than half of child brides have completed primary (let alone higher) education. This can create economic shackles for a girl in a marriage; without even a basic education, a girl or young woman is unlikely to find a job that can create any level of financial freedom. Being saddled with a child from a young age also impedes a girl's ability to leave the house to find work. With this reality in mind, it's no shock that child brides are 9% more likely to experience physical or sexual abuse (generally by a husband or parent in-law) than women. A young lady with little education is less likely to be aware of legal options to end this suffering, like filing a domestic abuse complaint with the police or filing for divorce.
Such a culture is likely to continue other degrading practices, like female genital mutilation and widow ostracizing, as well as create whole generations of traumatized girls and young women. The systemic rape of young girls inevitably moves the social Overton window, making the rape of women, men and boys seem less important or even noteworthy. Growing up in a household featuring such disparate power dynamics is liable to create a twisted sense of self-esteem and justice among children of child brides. Mothers are one of the primary sources of the pedagogy of a child. Thus, girls who were taken from their schools to get married would be less well equipped to contribute to their children's education. This would be especially apparent in terms of sexual education; a culture of child brides is intrinsically less able to teach its children about health topics like STDs and birth control, to say nothing of ethical issues like consent.
My dadi also revealed how her own mother suffered multiple miscarriages throughout her youth, as her body was not fully equipped to bear pregnancy. This is unsurprising; young girls aren't biologically ready to go through the physical traumas of pregnancy and giving birth. Pregnant girls under 15 have quintuple the maternal mortality rate of women; 88% of them suffer obstetric fistulae, which often lead to permanent disability. Girls are also disproportionately likely to receive cervical lacerations during intercourse, which can lead to cervical cancer down the line. The children resulting from these underage marriages suffer similar hazards. Babies born to child brides are 28% more likely to die within their first 5 years of life than babies born to women.
When confronted by my bachelorette status (as I often was when I visited India), I remember I would always counter with "I have to finish school first", acknowledging the privilege I had to control my education and career aspirations. When it comes to these child brides, often times marrying at a young age will likely mean an end to their education, and in turn, will hinder their ability to obtain the skills and knowledge that is vital for income-generating employment.
That day I was enraged by the fact that child marriage continues to exist in the 21st century, as well as my personal lack of awareness on the issue. It has been over eight years since that enlightening conversation, and thankfully due to the tireless efforts of activists, legislators, and advocates there has been movement towards ending child marriage. In fact, UNICEF and Indian Wedding Buzz joined forces earlier this year on Valentines' Day to #EndChildMarriage, demonstrating that one of the most crucial steps in eradicating this humans right issue is to stand against it. By utilizing their global social media platform and influential magazine, the #EndChildMarriage initiative was aimed at raising awareness of the implications of child marriage and more importantly, how we, collectively, can help put a stop to it. The campaign further empowered young girls in many South Asian and African countries (i.e. Bangladesh, Burkina Faso, Ethiopia, among nine others) with the information and resources to understand the implications of what they are being forced into. Furthermore, the program continued to develop national strategies with the efforts of government investments, religious leaders, and of course our community. This social media sensation, backed by Indian Wedding Buzz, demonstrated their respective commitment to being part of the change, so that we as South Asians, as Americans and as humans can follow suit to be part of this revolutionary movement. After all, there is strength in numbers.
Marcia Andrade Braga: A 'stellar example' of why more women are needed in UN peacekeeping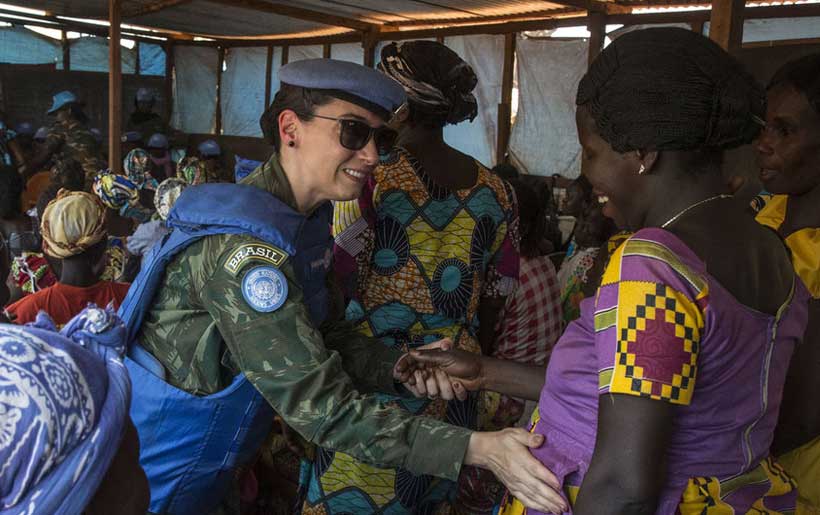 Training gender advisors and focal points in the Central African Republic (CAR) has earned a Brazilian United Nations peacekeeper a special gender advocate award, it was announced on Tuesday.
Secretary-General António Guterres will bestow naval officer, Lieutenant Commander Marcia Andrade Braga, with the UN Military Gender Advocate of the Year Award during the 2019 Peacekeeping Ministerial conference due to be held at UN Headquarters in New York this Friday.
"UN Missions need more women peacekeepers so local women can talk more freely about the issues that affect their lives", said Lt. Cdr. Braga.
"I am so proud to be selected", she said, upon receiving news of her award, also expressing gratitude to her colleagues in the UN Stabilization Mission in the Central African Republic (MINUSCA).
Serving as the Military Gender Advisor at MINUSCA Headquarters since April 2018, Lt. Cdr. Braga has helped to build a network of trained gender advisors and focal points among the Mission's military units and promoted mixed teams of men and women to conduct community-based patrols around the country.
These "Engagement Teams" were able to gather critical information to help the Mission understand the unique protection needs of men, women, boys and girls, which in turn helped develop community projects to support vulnerable communities.
Projects include the installation of water pumps close to villages, solar-powered lighting and the development of community gardens to cut down the distances women have to travel, to tend their crops.
Lt. Cdr. Braga is also a driving force behind MINUSCA leadership's engagement with local women leaders, making sure that the voice of Central African women is heard throughout the ongoing peace process.
Moreover, as a former teacher she has also helped train and raise awareness among her peers on gender dynamics within the Mission.
Jean-Pierre Lacroix, who heads the UN Department of Peace Operations, spelled out: "Marcia Andrade Braga is a stellar example of why we need more women in peacekeeping: Peacekeeping works effectively when women play meaningful roles and when women in the host communities are directly engaged".
Created in 2016, the UN award recognizes the dedication and effort of an individual peacekeeper in promoting the principles of UN Security Resolution 1325 (UNSCR 1325) on women, peace and security, which underscores the "3 Ps", to prevent conflict; protect women and their rights during and after conflict; and to increase the numbers of women participating in all mechanisms, to prevent and resolve conflict.