Smearing campaigns lead to Trust Crisis
[yt_dropcap type="square" font="" size="14″ color="#000″ background="#fff" ] P [/yt_dropcap]ropaganda was originally about propagating faith, a task given in the 17th century to a committee of Catholic cardinals, the Sacred Congregation for the Propagation of the Faith. Gradually, propaganda became synonymous with biased information promoting a political agenda.
Over the 20th century, propaganda was charged with a new meaning, serving as a soft weapon for psy-ops. Today, armed conflicts have no start nor end. We live in some sort of permanent war where world powers fight for their place in a yet-to-be multipolar world. Consequently, all statements are considered as propaganda and have led to a Trust Crisis, directly impacting on elections world-wide.
More than words
The 'raison d'être' of any given language is to convey information. To do so, some languages do not used words. For instance, bees communicate the exact location of a flowers' field by performing a figure eight movement. So far, we have no records of bees purposely transmitting wrong information to keep all the pollen for themselves or simply to crack a good joke on their fellow bees. A very different situation with human communication.
If words were a translation of reality, accounts of events would be the same. Unfortunately, for any given story, there are many different narratives. A story can be true or false. In 1938, historian Allan Nevis wrote that "a widespread and sleepless conspiracy exists against history", as human beings tend to shape the past to benefit their own reputations. Many other historians and politicians corroborated his opinion: history tends to be written by the victorious power; or one's freedom fighter is another's terrorist. Conclusion: It is all about a question of perspective!
The Power of Symbols
All leaders understand the power of words and narrative creation. Some do not hesitate to resort to dubious etymology to support their views, as epitomized by Muammar Gadhafi, who tracked the origin of Shakespeare to an Arab named Sheikh Zubeyr.
Propaganda relies on the power of symbols. It uses strong images and violent contrast to enforce ideas. Where best might a Soviet anti-religious propaganda museum be opened but in the Cave Monastery of Kiev, the cradle of Orthodox monasticism? How ironic is it that the word propaganda was first referring to propagating faith, when Soviet propaganda targeted faith!
Scientia Vincere Tenebras
In 'Particles Fever', a documentary on the Higgs boson, Savas Dimopoulos discloses the reason that prompted his decision to become a physicist. As a young adult, he says, he was confused listening to extreme-right and extreme-left politicians holding contradicting opinions, yet both claiming to be true. To solve this conundrum, he "decided to focus on a field where the truth did not depend on the eloquence of the speaker, but where the truth was absolute". For scientists, nothing is taken for granted. A scientific theory is first tested and remains valid until demonstrated otherwise. Unfortunately, such a rationale approach cannot be applied to other aspects of social and political life where opinions and decisions largely depend on personal choices and beliefs. Information falls beyond the realms of science, or does not pass Karl Popper test of falsifiability.
Propaganda and Indoctrination
In January 2017, Brunhilde Pomsel passed at the age of 106. For three years, she had been a secretary of Joseph Goebbels, the Nazi Minister of Propaganda. Pomsel's job was to doctor statistics and to her grave she went protesting her innocence, claiming she knew nothing about the extermination of Jewish people. Like many others, she believed in the rhetoric of the system and her views were truncated by propaganda blinkers that she contributed to shape. Ignoring or denying reality creates a comfortable environment of self-delusion and blind peace of mind. "Repeat a lie enough time and it becomes the truth", as Goebbels used to hammer.
To be efficient propaganda needs to be in tune with its audience, to resonate in the minds of the gullible public and to keep feeding its mental map with logical – yet biased – viewpoints. The sad news is that we are all vulnerable to propaganda as we do not have the means to validate all pieces of information. Our brain accumulates information, gradually laying out a psychological print – 'our' truth. We might not recall the exact details of a story but we keep a residual broad understanding of a situation or a person.
Information Noise
The information Big Bang triggered by the internet has created a gigantic infosphere that keeps expanding. The positive outcome is that our access to information has never been so easy and free. The negative aspect is that the infosphere generates noise. Huge quantities of obstreperous information are being channelled in all directions on information highways. The infosphere resembles an open canvas on which everybody is free to paint. The resulting picture is a rather chaotic impressionist piece, made of millions of info-dots or pieces of information. When looking at this infosphere, we see little harmony and many contradictions. And if we want to be heard, it is not good enough to be right; one needs to be louder than others.
"Trust me, I'm lying"
Media strategist, Ryan Holiday unveiled the dark side of content manipulation and news creation. In his book "Trust me, I'm lying", he reveals ways to create and spread information. To survive, blogs and news outlets need to generate traffic and accumulate more page views than their competitors. Ryan Holiday explains that news makers exploit poor bloggers by paying them to post information that will increase their visibility. When an information has gained large coverage in blogs and secondary media, it attracts bigger media. Then, the information piece moves to a higher stage. Validated by major media, the piece of information enjoys stronger credibility and touches a larger audience. In this layer of the infosphere, volume of data and fast information exchange act as an echo chamber for any propaganda campaign. Once an information is out there, it gets amplifies and cannot be contained. It's viral!
The dialectic of 'Fake news'
Such volatile environment has increased reputational risks for companies and politicians. Smearing campaign, documents leaks, trolling can cause serious damages and major profit losses. Campaigns to besmirch individuals and politicians are daily, especially during election times. So, when an information attack (true or false) is launched, PR departments embark on swift counter-attack operations to limit damages. There is no time for evidence-based explanations or law suits, too lengthy and too complicated to offer a serious defence mechanism in information wars, where the principle of 'innocent until proven guilty' is completely disregarded. To mitigate the risk, the only approach is to divert the negative force onto a particular aspect of the scandal. For instance, PR specialists will distract the audience from the scandalous revelations by focusing on the origin of a leaked a document. 'Much Ado About Nothing" simply created a smoke screen to empty any topic of its true substance.
Alternatively, the old adage remains valid: If you can't convince them, confuse them! The expression "Fake News" is associated with President Donald Trump's assessment of many media outlets. But "Fake News" is also a project of anti-Trump counter-propaganda launched by David Brock. The former right wing commentator turned to an influential operative in the Democratic Party, masters Hegelian dialectic. Under the lemma 'Fake News', we have now to understand a thesis and an anti-thesis, two statements affirming opposite content. To make sure that everybody is confused, the glamorous leader of MediaWatch has launched a 'Fake News' campaign to fight President Trump's fake news!
And the giant Facebook has stepped in with its 'disputable hashtag' to flag Fake news and encourage fact-based information. But this attempt to separate the wheat from the chaff is not tackling the core issue. People will dispute the validity of this hashtag as a mean to frame opinions. Facebook is a commercial organization after all.
StratCom: EU vs Disinformation
Individuals, companies, States are all vulnerable to information-related risks. In November 2016, the European parliament adopted a resolution on EU strategic communication to counteract propaganda against Europe by third parties, namely ISIL/Daesh and Russia. The resolution states that hostile propaganda is a threat for the EU and strategic communication constitutes a defence mechanism in this information warfare. For instance, the EU East StratCom task force publishes a weekly Review on Disinformation.
The approach has long been known in Aikido teaching: revert the energy of the slam onto the face of the assailant. Thus, it is of no surprise that the EU team working on counter-propaganda is called the samurais!
The resolution was voted but as the minority opinion points out, there is a paradox in calling for independent medias supported by the EU.
The truth is out there
At the end of the day, civilians are the prime targets and the victims in this information battlefield. Permanent mesmerising resulted in a Trust Crisis, as the 2017 Elderman Trust Barometer showed. Propaganda and counter-propaganda are equally detrimental to the truth and furthermore, they polarize the population drawn in conspiracy theories. Today, 'Fake News' means one thing and its opposite. How confusing! And where is the 'Real News' then? Hopefully, the last Hegelian stage of synthesis is yet to come. To move away from the current 'post-truth era', we need to bring to light the intention of the speaker. The drivers of the speakers and the motivational forces behind the narratives constitute an analytical grid to decipher the content of any given account.
Human, All Too Human!
It's Hard to Find a Black Cat in a Dark Room, Especially If It Isn't There: RAND on the Search for Cyber Coercion
What is cyber coercion and how have states used cyber operations to coerce others? These are the questions addressed in the RAND think tank's recent report "Fighting Shadows in the Dark. Understanding and Countering Coercion in Cyberspace". The authors discuss cyber operations conducted by four states — Russia, China, Iran and North Korea — and try to determine whether those activities amounted to cyber coercion.
Starting with the study findings, we will highlight the following points. Cyber operations intended to coerce are a small subset of overall cyber operations globally. Espionage remains the predominant purpose of states' cyber operations. Despite that, the authors think that states like Russia and North Korea appear to be more likely to have used cyber operations as a coercive tool than China and Iran. The authors also find that, contrary to what coercion theory would predict, states do not make distinct threats with unambiguous demands for changes in behaviour often. Instead, they deny responsibility, hiding behind proxies. Despite the low probability of success, the authors anticipate states will continue to use and may, in fact, come to employ cyber operations more often in the future to coerce. To prepare for this outcome, the United States and its allies need to work now to develop methods to discern cyber coercion as it emerges and strategies to deter and counter it in the future.
Even though the report has certain scientific value, the authors have left quite a lot of space for criticism. First, we need to examine several serious methodological issues. Second, setting aside the fact that the study was sponsored by the United States Department of Defence and its affiliated entities, the authors specifically mention that they only used data from open sources. Indeed, the evidence is mostly taken from reports published by companies such as Mandiant and its eventual buyer FireEye, whose leadership has certain connections both with the Department of Defence and with the U.S. intelligence community. So the evidence of countries' involvement in cyber operations cannot be seen as objective. Finally, it is lamentable that the ways suggested by the authors for solving problems are strikingly one-sided and do not contain the slightest hint of any possible affirmative action.
Coercion
The authors attempt to base their methodology for defining coercion in cyberspace on the seminal work by the American economist Thomas Schelling Arms and Influence, among other things. They claim that Schelling described two forms of coercion: active coercion (compellence) and passive coercion (deterrence). In their words, the former involves the active use of force in some form to compel action by another. In contrast, the latter involves the threatened use of force to either motivate action or refrain from a particular activity. Schelling himself says the following:
"… partly deterrence has been a euphemism for the broader concept of coercion, as 'defence' has replaced words like 'war' and 'military' in our official terminology. It is a restrictive euphemism if it keeps us from recognizing that there is a real difference between deterrence and what, in Chapter 2, I had to call 'compellence,' that is, a real difference between inducing inaction and making somebody perform." [1]
"… brute force succeeds when it is used, whereas the power to hurt is most successful when held in reserve. It is the threat of damage, or of more damage to come, that can make someone yield or comply. It is latent violence that can influence someone's choice — violence that can still be withheld or inflicted … The threat of pain tries to structure someone's motives, while brute force tries to overcome his strength. Unhappily, the power to hurt is often communicated by some performance of it. Whether it is sheer terroristic violence to induce an irrational response, or cool premeditated violence to persuade somebody of your intent and willingness to repeat, it is not the pain and damage itself but its influence on somebody's behaviour that matters. It is the expectation of more violence that gets the wanted behaviour, if the power to hurt can get it at all." [2]
It is obvious that Schelling draws a clear line between deterrence and coercion and, more importantly, points out that coercion implies limited use of force: force plays a secondary part, while the central condition is threatening damage.
Further, while describing the logic of coercion, the authors quote several scholarly works that repeat the key points made by Schelling. In one of them, coercion is summarized with the phrase "if you do not do X, I will do Y." [3] Another work states that a coercive action or threat "demands clarity in the expected result … [and to] be accompanied by some signal of urgency." [4] These appear to be true and ought to have been taken as the basis. Yet the authors of the report choose another path: they declare that the observed practice differs from the theory of cyber coercion (which, it should be noted, was inferred from practice) and claim that demands and threats expressed as part of such coercion are sometimes ambiguous, as identification of the threatening party can be. But what remains of coercion if its defining characteristics are removed? Large-scale cyber-attacks are not just a show of force but achievement of specific objectives, so they have nothing to do with coercion.
The above seems to challenge the accuracy of the question asked at the beginning of the paper under review: "What is cyber coercion?" Let us first consider what coercion is. It appears to be primarily a form of policy aimed at maintaining or changing the existing order of distribution of power and wealth in the global community [5]. From this standpoint, the essence of coercion is to change the political behaviour of other actors in the global political arena with the possibility of a limited demonstration of force that does not escalate into full-scale warfare. To some extent, the essence of coercive policy is described in the Art of War by Chinese General Sun Tzu: "Therefore the skilful leader subdues the enemy's troops without any fighting; he captures their cities without laying siege to them; he overthrows their kingdom without lengthy operations in the field." Even so, coercive violence is also possible: discussing this, Schelling cites an example from the history of the Wild West: raids on some Indian settlements were intended to break the resistance of and subjugate all tribes. But here the Indians were clear about the source of the threat, the possible consequences of resistance and the demands that were put forward, as well as the ways out — either to submit or to retreat.
If we base our discussion on the above premise that coercion is a form of policy, a more appropriate question arises: can cyber-means be used to implement a coercion policy and, if so, how effectively? Based on the definition of coercion, its implementation generally requires A to demand that B change its policy in a specific way — with a demonstration of force that can be used to its full extent if the demand is not satisfied. In individual cases, demands, threats or demonstration of force can be implicit. Still, it is evident that the victimized party needs to be aware of such risks and understand them correctly. This imposes certain conditions on the means used for implementing a coercion policy.
The ICT environment has a number of properties making it an attractive medium for influence. First of all, it offers anonymity and action across borders, which complicates attribution, i.e., identification of the source of influence. The "plausible deniability" of involvement in cyber-attacks is one of their most significant benefits as a military-political tool. Experience shows that cyber-attacks can be used to project and demonstrate power. Still, the party that uses them for coercive purposes has to assume responsibility or reveal its involvement in some other way. According to some statistics, numerous cyber-attacks are carried out against the Russian public infrastructure every day (2.4 billion hostile actions were detected in 2017, rising to 4 billion in 2018). Recognizing a demonstration of force or a demand to change one's policy within such a torrent of events appears impossible. Using the possibility of a cyber-attack as a threat also seems ineffective because it allows the potential adversary to prepare for the attack and to fend it off.
Public Policy
The authors of the report claim that, as the development of more connected and interconnected information systems and networks proceeds, the potential for actors to use cyber operations to exert influence and impact the economic, political, and social wellbeing of other states is incresing. When examining possible episodes of cyber coercion, however, the authors confine themselves to just four key global political actors identified by the U.S. Government: Russia, China, Iran and North Korea. For each country, open-source research was conducted to develop an overview of their capabilities, published doctrine on cyber operations, as well as available data on government-affiliated cyber operations groups.
The authors' research into doctrines and documents disclosing states' positions concerning operations in cyberspace is incomplete, inconsistent and sometimes merely erroneous. For example, when quoting strategic planning documents of the Russian Federation, the authors state that "[a]lthough Russia sees its adversaries conducting such [information] operations against it, these writings indicate how Russia thinks about the potential role for cyber operations in its operations as well." Here it would suffice to consult the Russian Federation Armed Forces' Information Space Activities Concept, which reads: "Cyberspace conflict settlement shall be carried out in the first place by means of negotiation, conciliation, addressing to the U.N. Security Council or regional agencies or agreements, or by other peaceful means." The authors also quote Chinese experts, who point out a whole range of disadvantages of network deterrence and coercion operations, above all the fact that the ambiguous nature of cyber operations may reduce their efficacy [6]. Successful deterrence and coercion results from effective signalling — the adversary must first be aware of the source and motivation for the influence for it to take actions expected by the attackers. The authors conclude that China "is taking a more circumspect approach to using cyber operations for coercive purposes, focusing largely on stealing data or silencing critics of the regime. China may, however, seek to expand its use of cyber operations to coerce in the future." It is an entirely groundless conclusion, especially considering all the disadvantages the Chinese experts have pointed out.
As for the specific cyber capabilities of each state, the work done by RAND is not based on concrete facts. For example, as corroboration of the claims of Russia's involvement in cyber-attacks on Montenegro in 2018, they refer to an article stating that: "Three international I.T. security companies say the emails [containing malware] came from APT28, also known as Fancy Bear, which U.S. intelligence services say is connected to the Russian military intelligence service, GRU." China's involvement in cyber-attacks on South Korean networks and systems, as well as other episodes of cyber influence, are proven similarly. A case from 2017 is mentioned, when the U.S. Department of Justice brought cyber-espionage charges against three employees of the Chinese company Boyusec. Even though federal prosecutors deliberately avoided the question of whether Boyusec was affiliated or connected with the Chinese government, private sector representatives noted that they assumed that Boyusec had been working for the Ministry of State Security of China. Myths are born from repetition and persistent emphasis on facts long disproven. For instance, Russia is alleged to have carried out cyber-attacks on Estonian government agencies in 2008, even though this allegation has long been refuted: an independent investigation confirmed that the operation was, in fact, the work of activists with no government affiliation.
The RAND report relies on a biased selection of evidence provided by entities associated with the United States intelligence community, and it gives the impression of stretching facts to create a negative image of Russia, China, Iran and North Korea as malicious actors in cyberspace. Meanwhile, it is the current U.S. strategic planning documents that articulate a clear vision of a threat to freedom and democracy and set the goal of ensuring peace using force. This implies identifying adversaries and exerting influence using all available means. Coercion policy has already become the norm in the United States. Take, for example, this summer, when The New York Times published a piece claiming that the U.S. secret services have carried out offensive operations against the Russian electricity grid and power plants. The purpose of that publication is still unclear: was it a leak and, if so, was it intended? Or was it disinformation? U.S. President Donald Trump accused journalists of treason, and representatives of the U.S. National Security Council said there were no risks to national security. If we take the lead from RAND, however, and look at the broader context, we see that, against the backdrop of tension between Russia and the U.S., this publication was a clear signal of coercive policy.
Establishing peace through force does not provide a mutually acceptable mechanism for reducing tensions in the ICT sphere. And though, as the authors themselves note, not all of the cases examined in the report are explicit acts of cyber coercion, it is necessary to develop the means to detect early signs of cyber coercion and to craft deterrence and resilience strategies. It is assumed to be enough to respond successfully to cyber coercion. The authors see no ways of solving the problem other than developing strategies to counter this phenomenon (it may be assumed that those will include all available means, including "public attribution").
In conclusion, the authors repeat the message that cyber operations may not be accompanied by clear signalling of a threat or expected behaviour, let alone means that can be used for coercion. It is also challenging to determine what exactly cyber operations carried out against another country are aimed at. Maybe the argument would benefit from Occam's methodological principle: "entities should not be multiplied without necessity." Indeed, just as the authors state, ICT tools are widely used by many states to accomplish military and political objectives. Yet, if an action is not aimed at changing the political behaviour of another country and if there is no direct threat or use of force (which would be a violation of the United Nations Charter, by the way), should we speak of so-called coercion or is it just regular cyber activity, which is now commonplace? A vivid example of a coercive policy that is mentioned, but not discussed by the authors, is the cyber-attack on Iranian nuclear programme facilities in 2010. First, specific countries demanded that Iran wind down its nuclear programme. Second, there was talk of a possible strike if the conditions were not fulfilled. As we know, Iran did not change its policy, and the cyber-attack that followed was not an act of coercion or a limited demonstration of force but fulfilled particular tasks: Iran's nuclear programme was slowed down considerably.
What we need is not strategies against cyber coercion, which RAND experts call for, but international frameworks for precluding conflicts in cyberspace. One such framework could be built up from the norms, rules and principles of responsible behaviour in the ICT environment formulated by the international community through the United Nations Group of Governmental Experts.
From our partner RIAC
1. Thomas C. Schelling, Arms and Influence, New Haven, Conn.: Yale University Press, 1966., P. 174–175.
2. Ibid. P. 3.
3. Erica D. Borghard and Shawn W. Lonergan, "The Logic of Coercion in Cyberspace", Security Studies, Vol. 26. No. 3, 2017, pp. 433–34.
4. Christopher Whyte, "Ending Cyber Coercion: Computer Network Attack, Exploitation and the Case of North Korea", Comparative Strategy, Vol. 35, No. 2, 2016.
5. For a definition of policy, see Kokoshin A.A. Global politics: theory, methodology, applied analysis [Mirovaya politika: teoria, metodologia, prikladnoy analiz]. Komkniga, 2005. ISBN 5484000874 (in Russian).
6. Shou Xiaosong, ed., The Science of Military Strategy [战略学], Beijing, China: Military Science Press, 2013, p. 194.
A Resurging Possibility and an Increased Hope for a United Balochistan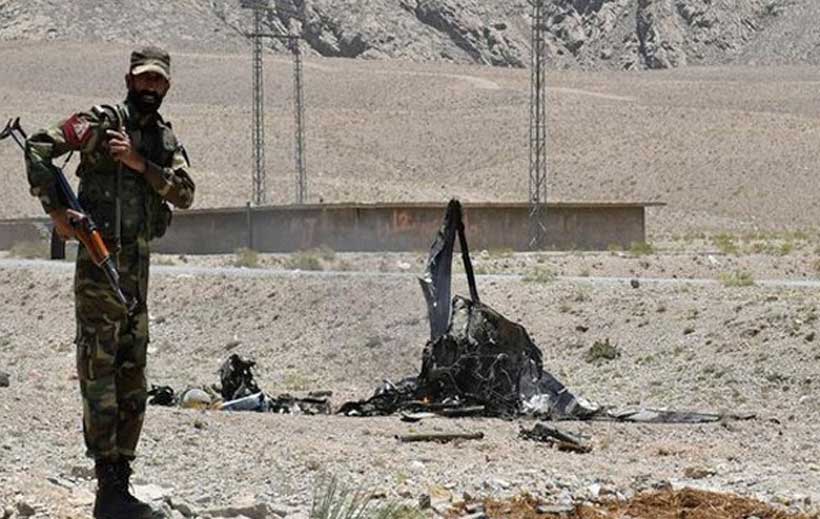 According to the Balochistan Liberation charter formulated under Hyrbyair Marri, the division of Balochistan into several parts is a legacy of the British Empire. The ultimate aim of the Baloch Liberation Struggle is to reunify the divided territories of Balochistan into one country and to grant full sovereignty to a single national Baloch state. Balochistan has for long been cheated out of its sovereignty and faced discrimination within Pakistan. Insurgencies against the Pakistani government started after Pakistan annexed the Baloch state of Kalat in 1948. This state is now divided between Iran and Pakistan. Along with continuous suppression of the Baloch in Iran by the government, Pakistan has been accused of committing genocide in the Balochistan region by Baloch Leaders such as Naela Qadri Baloch, a politician who fled Pakistan and in 2016 even asked India to intervene and free Balochistan.
Many, however, call the movement dead or dying and lack of media coverage in the region has shown a lack of detailing of the current Balochistan movement. This movement has not died down in actuality and there seems to be a spike in the number of attacks carried out around the region by its proponents, most of the recent ones centered around Quetta. A majority of these attacks have been aimed at either the military, paramilitary or police forces. Claims have appeared for most of the major attacks especially by the Baloch Raaji Aajoi Sangar, a coalition of the Balochistan Liberation Front, the Balochistan Liberation Army and the Balochistan revolutionary guards which have been designated as terror groups by the Pakistani Government. However, there have been no claims against the recent attacks in Quetta which are seemingly random in nature. The attacks may lack in intensity but definitely not in frequency.
This Liberation movement for Balochistan does not only occur in Pakistan but in the Iranian provinces of Sistani and Baluchestan as well. However, there are two different, distinct groups on either side. The Baloch on the Pakistan side find support in the BLA and BRAS and the Iranian side finds its support in Jaish Al-Adl. Their attacks are mostly in retaliation to the Suppression on either side. The Jaish Al-Adl was formed in 2012 by Salahuddin Farooqui and has carried out attacks in the Southeastern province of Iran in retaliation to the oppression of Sunni Muslims. According to reports the BRAS and the Jaish Al-Adl have their differences mostly in regards to Jaish Al-Adl's religious motivations. The aims of both the groups concerning each other are unclear as there have been skirmishes on the border between them. An alliance between the two seems unlikely as the BLA are beneficiaries of Iran's ignorance of the group, whereas the Jaish Al-Adl are active fighters against Iran.
On September 9th 2019, banners appeared in front of the venue for the 42nd session of the UN Human Rights Council in Geneva, highlighting the acute violation of human rights in Balochistan. There have been massive efforts to internationalize this movement in the past as well, but it has always been impeded by the lack of autonomy the people possess. Suppression and extensive military operations have been carried out against the "insurgents" by the Pakistani army in Balochistan, which has been justified on the same basis. However, as mentioned previously, after 30 years of suppression the Baloch still fight on which is apparent in the spike of their continuous efforts against the suppression. These attacks are highlighted in the table below.
| | | | | | |
| --- | --- | --- | --- | --- | --- |
| Date | Death count and attack | Attack details | Location | Perpetrator | Reason |
| 30/8/2018 | 3 Chinese engineers injured | Suicide attack by son of Baloch leader | Dalbandin, Pakistan | BLA | |
| 16/10/2018 | 12 Iranian Revolutionary Guards (IRGC) | Kidnapped from border outpost | Mirjaveh, Iran | Jaish Al-Adl | In response to previous attack on 4 Sunni militants by IRGC |
| 23/11/2018 | 4 people (Indian police and civilians) | Hour long shoot out at the Chinese consulate | Chinese Consulate, Karachi, Pakistan | BLA | Against Chinese occupation and CPEC |
| 6/12/2018 | 5 dead + 44 wounded | Suicide car bomb | Chabahar, Iran | Jaish Al-Adl | |
| 14/12/2018 | 6 Pakistani Soldiers + 14 wounded (Frontier Corps) | | Kech District, Pakistan | BLA, BRAS | |
| 29/1/2019 | 3 police wounded | Double bombing | Zahedan, Iran | Jaish Al-Adl | |
| 29/1/2019 | 9 Killed (5 police+ 4 civilians), 21 injured | Bombing plus firing | Office of deputy Inspector General, Loralai, Pakistan | Terrorists? | |
| 2/2/2019 | 1 IRGC killed and 5 wounded | | Basij Base, Nik Shahr, Iran | Jaish Al-Adl | |
| 13/2/2019 | 27 Iranian border guards killed | Suicide vehicle attacks Bus | Between Zahedan and Khash, Iran | Jaish Al-Adl | |
| 16/2/2019 | 2 Frontier corps Killed | | Loralai, Pakistan | Unknown | |
| 18/2/2019 | 4 Frontier corps Killed | | Panjgur district, Pakistan | BLA | |
| 29/3/2019 | Several Chinese engineers and workers killed | 22 vehicle envoy attacked by remote controlled bomb | Hamdard University, Karachi | BLA | Seeking termination of CPEC- Coincides with Pakistani Prime ministers visit to Gwadar |
| 18/4/2019 | 14 (10 navy, 3 air force, 1 coastguard) | 15 attackers stop bus | Makran coastal highway, between Karachi and Gwadar, Pakistan | BRAS | |
| 12/5/2019 | 5 killed (4 hotel workers and naval officer) | Bomb on 5-star hotel | Gwadar, Pakistan | BLA | Retaliation to Chinese projects in Balochistan |
| 20/7/2019 | 1 policeman killed, 10 injured | | Double road, Quetta, Pakistan | Unknown | |
| 30/7/2019 | 5 killed, 32 injured | Bomb near Police station | Quetta,Pakistan | Taliban | |
| 26/9/2019 | 3 policemen wounded | | Bypass, Quetta | Unknown | |
| 29/9/2019 | 3 killed and almost a dozen injured | Bomb | Chaman, Pakistan | Unknown | |
| 16/10/2019 | 1 police killed, 5 injured | | Bypass, Quetta | Unknown | |
| 21/10/2019 | 3 killed, 9 wounded | | Spinny road, Quetta | Unknown | |
| 30/10/2019 | 1 policeman killed | Suicide bomber on Motorbike | Loralai, Balochistan | Unknown | |
| (Source: Multiple news agencies based in Pakistan, Iran, India, Saudi and US) 16/11/2019 | 3 paramilitary troops killed | Roadside Bomb | Kalach, Quetta | Unknown | |
Source: Multiple news agencies based in Pakistan, Iran, India, Saudi and US
The general increase in the attacks in the Balochistan region is pretty clear through the data on the aforementioned table. The attacks in Quetta consist of multiple unknown attacks where no groups claimed responsibility. The responsibility of such attacks is generally claimed within one week of the attack but the perpetrators of these attacks are yet to come to the forefront. Seeing that Quetta is the prime factor in Balochistan, being termed as its capital, these attacks must be motivated by the BLA and the BRAS, if not directly carried out by them.
2019 has also seen attacks by the Balochistan against Chinese sponsored enterprises which are part of the China Pakistan Economic corridor. Balochistan sentiments angle away from the investments citing it to be more detrimental to the Baloch rather than beneficial. Hyrbyair Marri, the leader of the Free Balochistan Movement, said that the allegiance of Pakistan to CPEC would be another step in turning Balochistan into a Military Garrison for China. The Baloch now don't only have to deal with the Pakistanis that have destroyed their sovereignty but also the Chinese influx into the country as well.
The fight for international support has also been on the rise where advertisements have been released in certain prominent papers in the US. A particular advertisement placed by the World Baloch Organization and the Baloch Republican Party in July 2019 in the Washington Post sought support from President Donald Trump. This advertisement addressed to the President calls on the US support in addressing Human rights exploitation, economic deprivation and political exclusion in Balochistan. It also called on the US to bring restriction to the use of US-supplied weapons used on the Baloch nationalist group which were meant to help suppress religious extremist groups rather than them. However, the US government has not issued any official statement regarding the same and it doesn't seem like it will. The US recently branded both the Jaish Al-Adl and the Baloch Liberation Army as terrorist organizations and seem to classify the entire movement as being motivated by these "terrorists". Even an appeal from Members of the European Parliament regarding the deteriorating situation in Balochistan in a letter in July 2019 has not received a response from the US government.
On the Iranian side, the Jaish Al-Adl seem to be motivated more by the Sunni identity of the Population rather than the Baloch identity. And therefore, apparent cross border conflicts with the group and the BLA have emerged as well with reports of it being caused due to the over-emphasis on the religious identity. Especially with allegations that the Sunni militant group has support from the Pakistan government, it is unlikely to partake in a unified movement. At odds with Pakistani support, the BLA apparently enjoys covert support through the lack of Iranian attention whereas all the Jaish Al-Adl's attacks are aimed at the Iranian government. These groups are on two opposing ends of the spectrum not only in terms of their allegiances but also on the basis of religion. The Balochistan Liberation movement in Pakistan aims at a secular Balochistan nation which is at complete odds with Jaish Al-Adl's Sunni leanings.
The spike in attacks indicates the possibility of a mass resurgence of the Balochistan Liberation Movement. Leaders of the multiple movements have become even more active on twitter such as Hyrbyair Marri, Mehran Marri, Naela Quadri Baluch who have also shown support for the Kurdish cause and the Indian stance on Kashmir in defiance of Pakistan. There has also been a resurgence of protests outside the UN and across cities seeking a Free Balochistan. The Balochistan republican Party in London and the Balochistan Voice Association in other major cities including outside the UN in Geneva have actively protested for Balochistan.
Select active leaders of the Baloch Freedom movement
Hyrbyair Marri
Hyrbyair Marri was born to the family of Baloch national leader Nawab Khair Baksh Marri in Quetta, capital of Balochistan. He completed his early education in Quetta and then moved to study journalism in Russia. In 1997, he was elected to the Balochistan Provincial assembly and became the Education minister of the province. In 1999, after his father was arrested and charged with the murder of Balochistan high court judge, Justice Nawaz Marri, he left Pakistan. He traveled to Europe and was granted political asylum in the UK in 2011. He is the leader of the Free Balochistan movement and Pakistan alleges he is the head of the Balochistan Liberation Army. He has accepted the invitation of, Bharatiya Janata Party's senior leader and president of Delhi Study Group, Mr. Vijay Jolly to travel to India. On the 10th of December 2019, he will address a seminar on 'Human Rights in Balochistan,' in New Delhi.
Mehran Marri
Mehran marri is the sixth son of Baloch nationalist leader Khair Bakhsh Marri and is believed to be the current leader of the United Baloch Army (UBA). He is the brother of Hyrbyair Marri. The UBA was classified as a terrorist organization by Pakistan and also Switzerland. Since being banned in 2013 by the Pakistani government, the group has been largely inactive with no resurgent attacks on any news websites. Marri was arrested at Zurich Airport and put under a lifetime ban on entry to Switzerland on the 16th of November 2017. He was later deported from Switzerland and currently resides in the United Kingdom. Mehran Marri is active on Twitter and continues to show support for the Baloch insurgency in Eastern Pakistan.
Brahumdagh Bugti
Brahamdagh Khan Bugti or Brahumdagh Khan Bugti is the founder and leader of a Baloch nationalist political organization, the Baloch Republican Party which broke away from his uncle Talal Akbar Bugti's Jamhoori Watan Party in 2008. After the assassination of his grandfather Akbar Bugti, a Baloch nationalist politician, he fled his hometown Dera Bugti in Balochistan in 2006. Initially, he lived as a state guest in Afghanistan and was then flown to Switzerland in October 2010 where he has been living in political asylum with his family. In 2018, India was in talks about granting him citizenship. India would have also given citizenship to Brahumdagh's key lieutenants in Switzerland, including Sher Muhammad Bugti and Azizullah Bugti, his trusted aides. The BRP has held campaigns all over the UK under the banner of End Enforced Disappearances in Pakistan. The month of June saw an increase in campaigns all over London, resulting in newspaper advertisements, billboard signs and joint awareness campaigns with the World Balochistan Organization. These campaigns also included the flying of "Free Balochistan," Banners during a Pakistan Afghanistan match at Headingley Stadium, London on June 29th this year. On the 27th of August 2019, Brahamdagh Bugti delivered an address during the martyrdom anniversary of Shaheed Nawab Akbar Bugti saying, "We do not mourn this day but rather celebrate it, for it reminds us, the Baloch in Balochistan and abroad, how Shaheed Nawab Akbar Bugti founded this movement with his blood." The Baloch Republican Party held events across Balochistan and overseas in places like London, Switzerland, and Busan in South Korea, and his speech was broadcast in the same. He is also believed to be the head of the Baloch Republican Army by Pakistan.
Khalil Baloch
Khalil Baloch is currently the chairman of the Balochistan National Movement (BNM). This party was one of the strongest in Balochistan during the 1990s. It still retains a stronghold and according to its manifesto will actively form a political coalition outside of Pakistan's National Assembly. It has pledged its support to the Balochistan freedom fighters under this released manifesto. In an email interview, he stated, "The recent escalation in militant attacks is a direct reaction to Pakistan army's growing atrocities in Balochistan and China's relentless plunder of Baloch resources." This interview was published on the 15th of July 2019, and since then there have been multiple attacks again as can be seen in the table above. He also stated in the same interview that the Baloch National Movement is no longer ready to negotiate autonomy in the Pakistani political system but in fact, will fight for a separate state altogether. Dil Murad Baloch, the cultural secretary of the BNM is also a key proponent against the Pakistani forces and atrocities carried out by them. He posts regularly on Twitter as well, condemning the Pakistani armed forces, recently calling out the kidnapping and continuing torture of BNM member, Rafiq Baloch.
Dr. Allah Nazar Baloch
Allah Nazar Baloch is the founder and the chief of the Balochistan Liberation Front. He was born in Mashkai, Awaran District in 1968 and has a premedical degree. He heads the BLF which was designated as a terror organization since being one of the prime fighting groups seeking Balochistan Liberation. In an interview published on 22nd July 2019, when asked about why democratic means have not been used to resolve grievances with Pakistan he said that there is no democracy in Pakistan and the Baloch are compelled to rebel against the oppression and slavery. In a statement, he said that the Baloch liberation movement was moving towards the right direction and every supporter of the Pakistani state are enemies of the envisioned Baloch nation.
Implications of a Resurgence
This resurgence of activity surrounding the Balochistan Freedom Movement can only signify a shift in the lull it had experienced for a while. Though many may call it dead, a united Balochistan may still be in the making. Details of any resurgent movements in Iran's Sistan and Balochistan is lacking but it is clear that the movement in Pakistan has begun to regain traction. Coinciding with the increase of attacks in the Balochistan region, active protesting across the world in multiple organizations has emerged. The call for help from India has increased especially since Prime Minister Modi showed support in a speech indirectly instigating Baloch Activists to actively seek help.
Quetta has been termed as the home base of the Balochistan Liberation movement seeing that it is the apparent capital of Balochistan. The increase of attacks in this very city emphasizes the significance of the movement's resurgence. Perhaps, not all attacks accounted for are carried out by either the BLA or the BRAS but the unrest in the city is apparent, further egged on by the heightened international movements surrounding the Balochistan freedom struggle. The Baloch are spread from Iran to Pakistan and even in southern Afghanistan and an integrated new Baloch nation would lead to an uproar in South Asia. Whether the fight for a unified Balochistan would materialize in success is yet to be seen and if so, how much of the region would actually fall to them is another cause for speculation. A proposed map of Balochistan (image 1.0) shows it to possess a landmass almost equaling that of current day Pakistan. It is very unlikely that any of the countries involved would give up their territory as has been clear in the failures of the previous resurgences in the 1970s and 1980s, but the fight for autonomy and sovereignty still persists. The success of a resurgence in Pakistan would depend greatly on successful movements across the border in Iran. Though the council of Independent Balochistan formed in 2009 under Mir Suleman Dawood the Khan of Kalat did not lay claim to the Baloch dominated region in Afghanistan, who is to predict what new demands may or may not be made.
A new country would not only ruffle a good many feathers of these three neighboring states but also of other countries who have vested interests in the current region, the most prominent of which is China. The China Pakistan economic corridor would be the worst affected which is clear in the Baloch hate for the country and its investment in the region. A unified Balochistan or even a radical resurgent movement would bring a complete halt to all the infrastructural under the CPEC. The total CPEC project was valued at about $62 Billion as of 2017, which has definitely been surpassed as of 2019. The Gwadar International Port along with its international airport and the East-Bay Expressway which fall under this CPEC project, all run through the Balochistan region and have been the site of multiple attacks. Interestingly, unified Balochistan will not only contain this port of Gwadar but also the Chabahar port on the Indian side.
Though this resurgence would be highly detrimental to the CPEC corridor and Chinese investments in the Larger One Belt One Road initiative, it is important to acknowledge an important outcome of the same which is the gains that another particular country would make. India has for long been accused of supporting the Balochistan cause in Pakistan and a resurgent Balochistan movement serves to bolster support for India in laying claim to an extra ally in the region. Whether Prime Minister Narendra Modi's reference to Balochistan in his speech was meant as anti-Pakistan rhetoric concerning the Kashmir issue or actual support for the movement is yet to be understood. However, it is clear that many vested interests in the region will serve to either bolster the fight or open increased fronts against the Balochistan Freedom Movement. Though the movement seems to be increasing in intensity one can still question the optimism that the Baloch and its supporters can afford to have in seeking their sovereignty.
Lesson to be Learn from Monsanto's Involvement in the Vietnamese War: The Agent Orange
Monsanto is an American multinational company founded in 1901 by John Francis Queeny, a thirty-year pharmaceutical veteran married to Olga Mendez Monsanto, for which Monsanto Chemical Works is named. In the 1920s Monsanto expanded into industrial chemicals and drugs, becoming the world's bigger maker of aspirin and acetylsalicylic acid, which was found toxic. During this time period, the company introduced their polychlorinated biphenyls (PCBs), an oil that wouldn't burn, resistant to degradation and with limited applications. Eventually, its use was banned after fifty years for causing such devastation, but it is still present in almost all animal and human blood and tissue cells across the globe and is considered one of the most dangerous chemicals on the planet.
The Vietnam War (1961-1975) is most known for the extensive bombings of North Vietnam. More dangerous, however, yet less well-known to the general public, was the chemical war carried out from 1961 to 1971 against South Vietnam. The involvement of the U.S. government escalated over a period of twenty years, peaking in 1968 and ending with a complete withdrawal of troops in 1973. During this period, it engaged with the companies Dow Chemical and Monsanto, which were assigned the task of designing herbicides that would contaminate the jungles where the North Vietnamese forces operated. The project, known as ''Rainbow Herbicides'' included Agent Pink, Agent Green, Agent Purple, Agent Blue, Agent White, and Agent Orange. As a result, a total of 20 million gallons of herbicide have been sprayed across Vietnam for ten years, that is until scientific research studies had proven that the dioxin present in Rainbow Herbicides, caused cancers in laboratory rats.
American air forces, the navy as well as tanker trucks, and men with backpack sprayers, diffused 72 million liters of the chemical Agent Orange to spoil the coverage of communistic North Vietnam, as well as destroy the rice fields. Their goal was to pursue from the jungle the combatants taking shelter there, to cut the Ho Chi Minh trail by which supplies, weapons, and medication arrived down from the North, to facilitate surveillance of roads, coastlines, and waterways and to destroy the rice fields, depriving the guerrillas of food and aid.
The contained dioxin TCDD in Agent Orange was classified as "super poison" and as a consequence 3 million people got sick, and 150,000 children were born with disabilities. Even today there are still 3,500 children a year who are born disabled according to the aid group Green Cross. Lavallard claims that to the millions of Vietnamese victims, must be added the American veterans and their Canadian, South Korean, New Zealand and Australian allies who used defoliants without knowing they were dangerous. Herbicides were delivered separately, and mixtures were made on the scene before being loaded into tanks, without provision and without protection. Military bases and they're encircling were regularly sprayed with defoliants to remove the bush growth. Furthermore, soldiers saved rainwater for drinking or washing in empty drums and prepared barbecues in them. Indeed, veterans have experienced same pathologies as the Vietnamese, and their children have also been affected.
An immense environmental disaster and a human catastrophe taking different forms, including health, economic as well as socio-cultural, which had dramatic consequences that are still felt today. For years, a conspiracy of silence has ulterior the toxicity of the defoliants used. Agent Orange was one of them, a chemical containing two herbicides, one of which turned out to be contaminated with a highly toxic strain of dioxin.
According to official and unofficial documents about the history of the dangerous defoliants, the U.S. chemical companies that made the Rainbow Herbicides as well as the government and military authorities who ordered its spraying on Vietnam, knew the human health cost it could take. Indeed, a review of the documents related to the use of Agent Orange, a dioxin-laden herbicide, including public papers from the companies that manufactured it and the government that used it, provides compelling evidence that those in charge also covered information about the devastating effects it could have on people.
Nowadays, Monsanto is a known agricultural company, claiming to help farmers grow food more sustainably. From seed to software, to fiber and fuel, they are developing tools to assist growers in protecting natural resources while providing sustenance to the world. With it headquarter in St. Louis, 69 subsidiaries across the world, including over 20.000 employees, Monsanto believes that in the face of a changing climate and other environmental challenges, it is helping to ensure that the agricultural system continues to suit the needs of everyone.
In regard to legal and non-legal responses, the international community has done a lot to hold the company liable, however without results. In fact, many lawsuits have been filed against Monsanto, and various activists and organizations worldwide had and are still fighting against the atrocities committed. The greatest accomplishment was, therefore, the establishment of the ad hoc International Monsanto Tribunal, which aimed to include the crime of ecocide in the Rome Statute that would allow the prosecution of individuals and legal entities suspected of having committed this crime. Yet, without positive outcomes.
Monsanto, being one of the largest and most powerful companies in the United States, is an ambitious target for non-profit organizations and protests groups. Moreover, their direct cooperation with the government makes it even more difficult to prosecute. As Derricks points out for the last 50 years, the company has gotten away with this crime. However, I believe justice can and must be done with the right resources and support of the international community. Indeed, with the support of different governments worldwide programs such as Agent Orange Education can be set up to share awareness about the wrongdoing.