Metaphysics and strategic analysis
[yt_dropcap type="square" font="" size="14″ color="#000″ background="#fff" ] S [/yt_dropcap]peaking about metaphysics today seems almost an insult to the standard Western culture, all based on Reason and Feeling and on empiricism without a subject. On the contrary, this does not happen in the political civilizations currently emerging in the world. Inevitability pertains to losers while the culture of reality transformation pertains to winners.
And currently the West is an Accident compared to the great phenomena of global change, halfway between a Chinese empire emerging victoriously from the post-1989 Americanization and the Russian Federation creating an unavoidable and leading role for itself in the Middle East.
The losers believe only in few obvious facts, while the winners bend them to their will.
In China, in the military academies and intelligence services' specialization schools, Taoist and Confucian traditions and classic martial arts – designed to fight both against the external and the internal enemy, the old empirical self – are taught.
On the other hand, as René Guenon used to say, the Tao is the esoteric aspect of exoteric Confucianism.
It is worth recalling that the spiritual Knowledge is always linked to a warrior culture: the Taoist-Buddhist Hagakure of Japanese Samurai is at the origin of classic geopolitical analysis, with the still very useful book entitled Dai Nihon by Karl Haushofer, the founder of German and European modern geopolitics.
Or it is linked to Sun Tzu's "Art of War".
The Soviet intelligence defectors were particularly surprised that in the US and NATO military academies there were not those classics they had to carefully analyze.
Historical science is Wisdom and therefore it combines a multiple and value-based dimension with the collection and analysis of facts.
Furthermore, in India, the Hindu religion is particularly widespread among young people living in the cities, while governments use the Hindu tradition to rebuild an identity-based political culture.
In Russia, the traditional Slavic nationalism of the Orthodox Church currently merges with Vladimir Putin's Eurasian project.
When the Russian leader went to visit Pope Francis, he brought as a gift the icon of Our Lady of Vladimir, namely the holy image that Stalin secretly flew over Moscow in the hardest moments of the Nazi siege.
Finally nothing can be understood of Iran's politics and strategy without the Twelver Shia Islam of today's Iran.
The fact that the Twelfth Imam, a descendant from martyr Husseyn Ali, returns – as he has always been alive – to the visible world and converts to Islam the whole world, as well as Christians and Jews, by definitely destroying the Antichrist's works, is a myth that tells us more about Iran's foreign policy than a thousand descriptions of its missiles and weapons.
In short, the laicité that the West is flaunting from the rooftops, as if it were some kind of novelty, is a sign of weakness, not of strength.
It is accounting, not mathematics.
Those who are currently winning the globalization war always unite the people around myths, strong ideas, symbols, rituals and identity, while those who are losing the "Third World War in pieces" – just to use Pope Francis' phrase – live their own history according to the Enlightenment myth. Indeed this, too, is a myth.
In fact, while it is believed that only myths and religious identities lead to wars, as claimed by the theorists of contemporary laïcité, it should be recalled that – in the case of the great slaughters of history – the revolutionaries waged war against the Europe of Kings under the tripartite motto Freedom, Equality and Brotherhood, thus turning a nation of 27 million people, as was France at the time, into a wasteland inhabited by approximately 9 million people.
The same holds true also for the Bolshevik Revolution which, according to the speech delivered by Solzhenitsyn before the Duma in 1994, upon his return to Russia, exacted a toll of 60 million victims in the period between the beginning of "Trotsky's coup" and the end of Stalinism.
The current myth of laicité is a myth whereby, before the 1798 French Revolution, there was "darkness" while, after the largest massacre in modern history, the Enlightenment – and hence Reason – would come, thus destroying every myth – and hence Metaphysics, foolishly considered similar to Religion.
Hence, a value-based curvature of foreign policy emerges: if "they", namely the emerging countries' peoples, are as "we" are, enlightened and rationalist, it is fine, whereas if they are still in the grip of old myths there can only be war.
Just think of the fact that decades of war have left Afghanistan still in the hands of the Taliban or that the actions in Iraq have created a failed state which currently only serves the interest of the Iranian leadership.
While, as you may recall, in 2003 the US Governor of Iraq, Paul Bremer Lewis, adapted the chaotic flow of vehicles in Tehran to Boston's traffic rules.
The West has long been viewing the Other as if he/she were himself/herself, obviously a more "primitive" and less "secular" Self.
And this is the biggest mistake, the pathological narcissism of the West which, in politics, leads to the same situations as those occurring in psychology: a "grandiose" self, leading to manipulative tactics vis-à-vis the others.
In fact, the West interprets the jihad as if it were "terrorism", while the Islamic "holy war" certainly uses terror, but as part of its strategy, not as an end in itself.
"I will cast terror into the hearts of those who disbelieved, so strike them upon the necks and strike from them every fingertip!" (Sura Al-Anfal 8:12).
But, if we studied the traditional Islamic law compared to jihad, at least 32 major rules from the Qur'an and an endless number of interpretations would further complicate the practice of the "holy war".
In the Sunni tradition, the jihad is always defensive, but it is anyway intended to expand the community of believers. It is a complex political theology that does not only regard war as such, but also propaganda, Islam's internal organization, its economy and its law in peacetime.
How can we indicate the Other as simple and primitive, when Islam, in its ferocity, is organizing an entire society against the "infidels", by using the oil market, soft and hard propaganda actions, demographic penetration and a very wise manipulation of the most helpless and unarmed Western political system?
Moreover the West interprets Putin's new Russia as a return of the Stalinist and Communist repressed aspects, thus forgetting that a country with eleven time zones and over 24 ethnic groups spread over 17 million square kilometers must be ruled in a centralized way or cannot be ruled at all.
Would a Eurasia "of autonomies and self-governments" – as unfortunately envisaged by Zbigniew Brzezinski some years ago – be more democratic and less dangerous for the Eurasian peninsula, namely for us?
Later the United States thought that the forced liberalization, developed in Yeltsin's time, would lead Russia to be a peripheral country, but it was wrong.
While, as likely, the KGB defector to the USA, Anatoli Golytsin, was not entirely wrong, his theory developed in an old and useful book entitled New Lies for Old is that supposedly the USSR transformation and the end of the CPSU were carefully planned within the KGB First Chief Directorate.
Destroying the Party that blocked the State, bring fresh capital where there was none any longer and make Russia participate in the new "great globalization game".
Clearly a country such as Russia cannot be studied by only checking – with the famous Reason – what the record of "democracy" or "human rights" is.
In the case of China, after an initial period in which Westerners were inebriated for the implementation of liberalizing reforms – because they believed them to mark the end of the Communist system – later they realized that the Four Modernizations of Deng Xiaoping (and, earlier, by Zhou Enlai) saved the Party from collapse, while the Chinese society remained strongly and often spontaneously Communist.
Hence there is no correlation between the "bourgeois" – and hence enlightened – "freedoms" and the political system, as indeed Benedetto Croce had already taught us.
Nevertheless, how can we avoid this "critical" and rationalistic thinking in foreign policy, which make us not understand the Other and obliges us, as Westerners, to always accept the fait accompli?
Etymologically krisis is the act of discerning, separating, judging and assessing.
Criticism and critique comes from krino, which is the art of judging – based on the values of beauty, justice and goodness – works and actions, as well as the people performing them.
However, how can the firm principles, the initial and final values of the kritikè teknè, namely the art of separating and hence judging, be created ? Obviously, metaphysics does so.
The West – and hence certainly Heidegger was not wrong – is characterized by the forgetfulness of Being in its "concealment", which reveals itself only in its appearing, in its being temporary "semblance".
Like a wave reveals the sea or the wind tells us about the air, by making us perceive and feel it.
Therefore, according to our interpretation, the Western krisis is currently lacking because its kritikè teknè has forgotten its foundations, the criteria which enable it to operate by separating appearances and leading them back to an original and initial principle.
As Wisdom, and not teknè, art and technology, philosophy is not only theoretical, abstract and hence partial knowledge, but it means knowing simultaneously "for us" and within the "actual reality of things", which are both useful for fully guiding our lives.
Therefore foreign policy cannot be judged only based on one single aspect – be it military, economic or diplomatic – but by comparing all the aspects of a phenomenon.
In this regard, for example, suffice to think of the current Chinese rearmament, which is relevant both for domestic policy and for the Chinese project in the Pacific region, and finally for protecting the future Belt and Road Initiative, etc..
If we rationalistically consider one single aspect – the first which springs to our mind or we like – we isolate it and make it absolute, we only create a new myth, not a manifestation of Being.
Hence, metaphysics prefers an overall and global vision, the search for the cause or reason why – since nothing ever appears without a reason or, more exactly, a cause, and every cause always prompts the same metaphysical question: "why is this happening or is so and not otherwise?"
Moreover metaphysics knows that things and events have a meaning.
For Husserl, who was Heidegger's professor, the distinction between sense and meaning "responds to the distinction between experience and what is lived and experienced" – hence, along the lines of his professor, in his book Being and Time Martin Heidegger tells us that the "sense is the possibility of action offered by the world we understand".
Hence no formulas good for each phenomenon, for each partial unveiling of Being, as always happens in rationalistic geopolitics – in this regard, just think of Russian "militarism" or "bottom-up" democracy in the Maghreb region, which has strengthened al-Qaeda rather than the usual "pluralists" – but phenomena interpreted according to their sense, i.e. according to the scope of the objective correlations they generate.
Certainly, today metaphysics does not enjoy a good reputation. The Enlightenment has hidden it, more or less in the same way as the tutor in Rousseau's Emile, or On Education cunningly and artfully hid, in the woods, the tools that the protagonist believed to discover by chance.
It is worth recalling that the term was coined in the first century A.D. by Andronicus of Rhodes, who had placed – in the library of Alexandria – Aristotle's books on the "first philosophy", namely metaphysics, after those on Physics, tà metà tà physikà.
Metaphysics – in Aristotle' meaning, that the position chosen by Andronicus of Rhodes entails – goes beyond physical research by using the same methods as those used in research among particular beings.
In this connection, Giorgio Colli would have said that in the "Greek wisdom", i.e. among the Pre-Socratics – the Being needed a faculty other than research into the world but, unlike modern rationalism, Aristotle's intention is to use the investigating rationality in the whole sphere of Being.
Hence our knowledge is always abstract and there are no primitive or original languages – or even more inherently "true" languages than others – as the logical neo-Positivists and hence also the Empiricists imagined.
There exists no original or essential fact around which all the others are structured, as thought by all those who imagine an action from which everything begins – be it the liberation of Paris on August 25, 1944 or the signing of the "short armistice" in Cassibile on September 3, 1943.
There is no objectively original fact – only the rationalists and wizards believe so.
Hence we extrapolate from the "metaphysical" analysis what is common to various facts; later we check the story of these facts and their actual connection. Then we extract-abstract from the various phenomena studied what can be subjected to a rational analysis, i.e. their number and their form.
Finally, we define the rules of things and of their being in that way and not in another and then we define their absolute necessity which – as also Kant taught us – cannot be based only on empirical experience.
Empiricism tells us about the constancy of phenomena, not about their necessity.
Hence we rise to metaphysics when we do not refuse to think specifically of the condition thanks to which we think everything else.
In historical terms, this means when we analyze all the contexts in which the facts occurred and, hence, their "not being otherwise".
The metaphysical consciousness has no other objects than daily experience, this world, the others, human history, truth and culture.
However, instead of considering them as already existing, as empirical data available to everyone, or as consequences without premise – and hence as if they proceeded magically by themselves – metaphysics rediscovers their being alien to the world and the miracle of their appearing.
This means that metaphysics is the opposite of the "system".
Therefore let us think about what might happen if we applied this way of thinking – not mutilated as the poor wretched rationalism of our times – to history and strategic analysis.
The perception and efficacy of all our evaluations would change: the Chinese policy, for example, would no longer be a sort of adaptation to the "market" economy, but the joint effort of a country to win the so-called globalization war.
Or the public debt would no longer be analyzed as an alternative between "austerity" and default, but as a universal financial market like that of all other securities.
And again, we would start to perceive – with "astonishment", as Plato taught us, because reality is so and not in another way – the great future geopolitical tectonics, such as Africa's transformation, the overlapping between technology and new mysticism or even the great subjectivization of our Western political culture, between Orwell's 1984 and a new configuration of primary instincts.
The relations between Malta and Libya and economic crimes inside Libya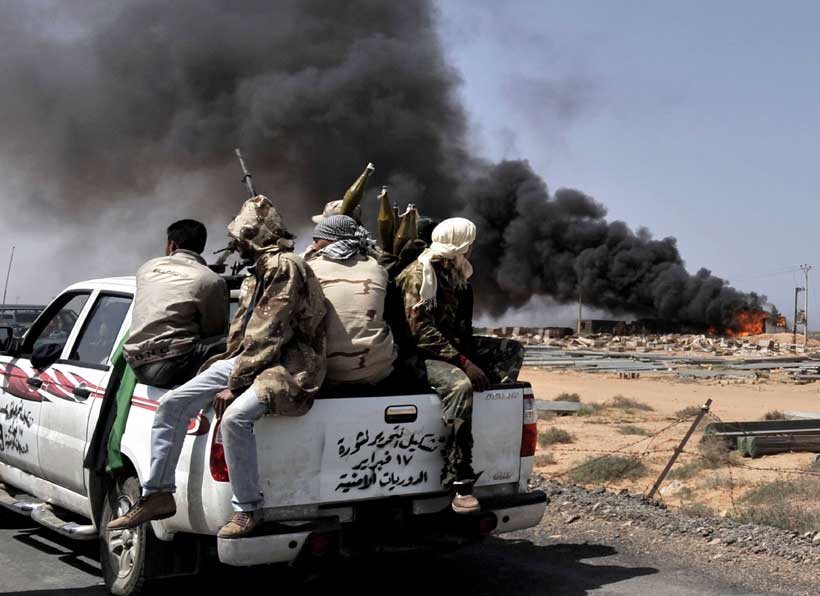 Since the beginning of hostilities against Gaddafi, operations – carried out mainly by the French intelligence services -started from Malta to send weapons, intelligence, instructors and trainers to the "rebel" forces in Cyrenaica who were fighting the Rais.
The French military reached the coast of Benghazi with two nuclear submarines and the Brigade Action of the intelligence services, while the links had already been established abroad, and sometimes just outside Rome – even with the help of the United States.
I also watched the first internal documentaries of the anti-Gaddafi rebel forces, trained with materials and means which were usually available to the best hit squads of the Western intelligence services.
It was hard to believe how the Libyan "rebels" were so able to use very refined weapons.
The French agents also used "covert" flights to monitor the arrival and distribution of weapons, especially to avoid they could end up in the hands of the wrong people. Since the first attacks in Tripoli, the French agents had also provided to their "rebels" as many as 9.1 billion US dollars of weapons and had later continued to supply other weapons to their local champions, for large sums of money and always using Malta as a base.
The preferred channel of the French agents was General Abdul Fatah Younis Al Obeidi, who had been the Head of the Libyan National Liberation Army, a force of Cyrenaica made up of approximately 13,000 soldiers originated from a tribal rebellion within Gaddafi's army.
Yunis Al-Obeidi, however, had been murdered on July 28, 2011 near Benghazi.
As reported at the time, he had probably been killed by jihadists, who had already penetrated the pro-Western "rebel" armies – a 1968-style stupid terminology that immediately reveals what the operational and intelligence culture of Western politicians is.
Nevertheless, according to Wikileaks data, the United States also knew that Yunis was a very secret contact with Saif Al-Islam Gaddafi, while it was very likely that the 9 billion US dollars for the French weapons sold to Malta came from Gaddafi's frozen accounts in Belgian banks – accounts not yet fully investigated.
On the one hand, France was afraid that – after the fall of Gaddafi's regime, the various Libyan "revolutionaries" could carry out a series of terrorist actions directly in France, but hence why promoting the anti-Gaddafi insurgency? We will never know.As Ennio Flaiano used to say, also stupidity has its mysteries and unfathomable depths.
On the other hand, France heavily controlled the migrant networks, already active at the time, and finally selected their forces of reference mainly to avoid the US hegemony in the fight against Gaddafi.
Nevertheless, everything started from Malta, which always acted as a support base and a remote intelligence and economic control area.
In fact, since its establishment, the Government of National Accord (GNA) secretly granted to France 35% of Libyan oil to thank it for its support in the "liberation" struggle. A 35% which added to the already used 15% of oil processed regularly by Total, much more linked to the French intelligence services than ENI is to the Italian ones.
France officially supports the National Transitional Council of Libya (NTC) (as well as Khalifa Haftarin Cyrenaica) and, in fact, believes that the issue of migrants – which financially also takes place in Malta – shall be central to Libya's future economy: in fact, France believes that the issue must be solved only on the spot, namely in Libya.
This means that the refugees present on the Libyan territory, who possibly passed through the areas controlled by the French Armed Forces to Agadez and elsewhere between Chad, Niger and Mali, can be divided as it still happens today: since 2011 as many as 696,000 migrants have fled to neighbouring countries, such as Tunisia, Egypt, Niger, Chad, Algeria and Sudan, while other 30,000 ones have left, by sea, to Italy or to Malta.
The migration issue that is solved on its own and to Italy's detriment – this is the French strategic idea.
Many other migrants have reached Italy through other ways, often certainly not unknown to many of its traditional allies in Europe.
Great Britain, the other actor of the anti-Gaddafi conflict besides France, carried out a set of military actions between Zilla and Southern Libya – starting from Malta and with a series of forward bases along the coast – to collect and expatriate mainly non-British oil workers – the imaginary core of some hit squads active in the anti-Gaddafi "revolution".
Coincidentally, the airlift – useful for 150 foreign operators in the Libyan desert – was always based in Malta.
The Libyan oil smuggling from the coast of Tripolitania and Sirte to many small ports in Malta continues – a trafficking that, under the cover of the Sicilian Mafia and of some Maltese politicians and members of Parliament, has permitted annual earnings of over 82 million euros.
This was exactly what the investigative journalist Daphne Caruana Galizia had been dealing with before being killed in a car bomb attack – a technique well known to the Sicilian Mafia clans.
The oil is supposed to come from the port of Zuwara, mainly with the support of Ben Khalifa's Libyan militia, but the oil hidden in vessels suitable for fishing and later sent off Malta's coast – with ship-to-ship transfers – arrives at the ports controlled by the same Maltese company and is distributed throughout Europe in a traditional way.
The Maltese fishermen of Marsaxlokk have often noted how the ship-to-ship exchange of oil cargoes has never been stopped by the Maltese maritime police authorities, while the (fake) certificates held by the oil traffickers refer to products originating from "Saudi Arabia".
Moreover, the Italian law enforcement agencies have well-grounded reasons to believe that the fake certificates have been regularized by a Maltese notary public and also signed by a Director of the Maltese Ministry for Foreign Affairs.
All this in favour of well-known Mafia families and clans from Catania.
According to local insurance experts, oil smuggling costs Libya at least 750 million US dollars a year, which is equivalent to the commercial tampering of 35-40% of the Libyan oil extracted every year.
Another issue to be analyzed in depth at the next conference on Libya.
Furthermore, the Italian and non-Italian investigators report that the Maltese smugglers, jointly with many Libyan ringleaders, always devise new traffic routes and new methods to conceal their trafficking, with a route that currently prefers the small ports in Southern Spain so as to later head for Cyprus.
Initially, until 2011 hashish left mainly from the Moroccan coast, with small ships (as is currently the case for migrant trafficking) and arrived directly on the Southern or Eastern-Southern coasts of Spain.
After the famous "revolution" against Gaddafi, currently all hashish leaves from Tobruk, where the big stacks of hashish for smoking are stored and protected by local militiamen.
Then the Sicilian Mafia clans distribute these loads in Italy and in the rest of Europe.
Nowadays, however, there is still something new: while, in the past,drugs were brought to Europe by large ships, often owned by Syria, now the small loads of drugs are transferred from the Libyan to the European coasts by Italian or Maltese fishing vessels, which later leave their royalties in the Maltese banks.
The mechanism is always the same: on the high seas, hashish is transferred from smaller to larger ships.
The same holds true for the illegal trafficking of cigarettes- an old Mafia business which, however, is always a source of excellent profits.
In this case, the third port used by smugglers is still the port of Bar in Montenegro.
It was the area where Slobodan Milosevic was hidden, while everyone was looking for him elsewhere, although NATO knew where he was.
In the past, smuggling – somehow permitted by Gaddafi for his most trusted friends – was mainly related to lawful goods, but rare on the Libyan market, while – after 2011 – smuggling has been no longer focused only on goods not available on the Libyan market, but rather on clearly illegal goods (weapons, drugs) and migrants.
The Libyan economy, however, is still a war economy, where the predatory and violent actions prevail over all the others.
Nevertheless, it is above all the smuggling of migrants that is still essential for Libya's internal economy, regardless of the area considered.
In fact, in 2017 the Libyan factions obtained almost one billion US dollars from migrant trafficking, while in the current year they have already gained 985,000 dollars of net income, by using other routes and other methods.
According to the Libyan offices, 30% of the oil used for transport is traded illegally, with as many as 105 phantom distributors, while the oil for other types of consumption is traded illegally via Darfur or South Sudan to the sub-Saharan rich marketnot covered by large distributors.
Diesel is usually stolen at sea and later sold to Italian and other European distributors by people in contact with the Libyan gangs.
Every year 18% of the proceeds from Libyan oil is hence left in the hands of smugglers.
With specific reference to drugs, after 2011 Libya has become a point of transit, but also of consumption (as is currently the case with Afghanistan), particularly for heroin and cocaine, while there are signs that the internal market for methamphetamines is spreading, which are widely traded also towards Italy and the Spanish ports.
Moreover, the executives of the Central Bank of Libya in the Tobruk Parliament have accused as many as 24 foreign companies and 44 Libyan companies of being involved in currency trafficking from the areas for cash collection in Libya to the Maltese banks and, sometimes, to Cypriot and Spanish banks.
Hence this is the link between the EU illegal economies and the criminal economies of Libya, divided into factions fighting one another at military, but above all at economic levels, while the State disappears or is divided into two parts.
Cyber Terrorism and its Securitization in Pakistan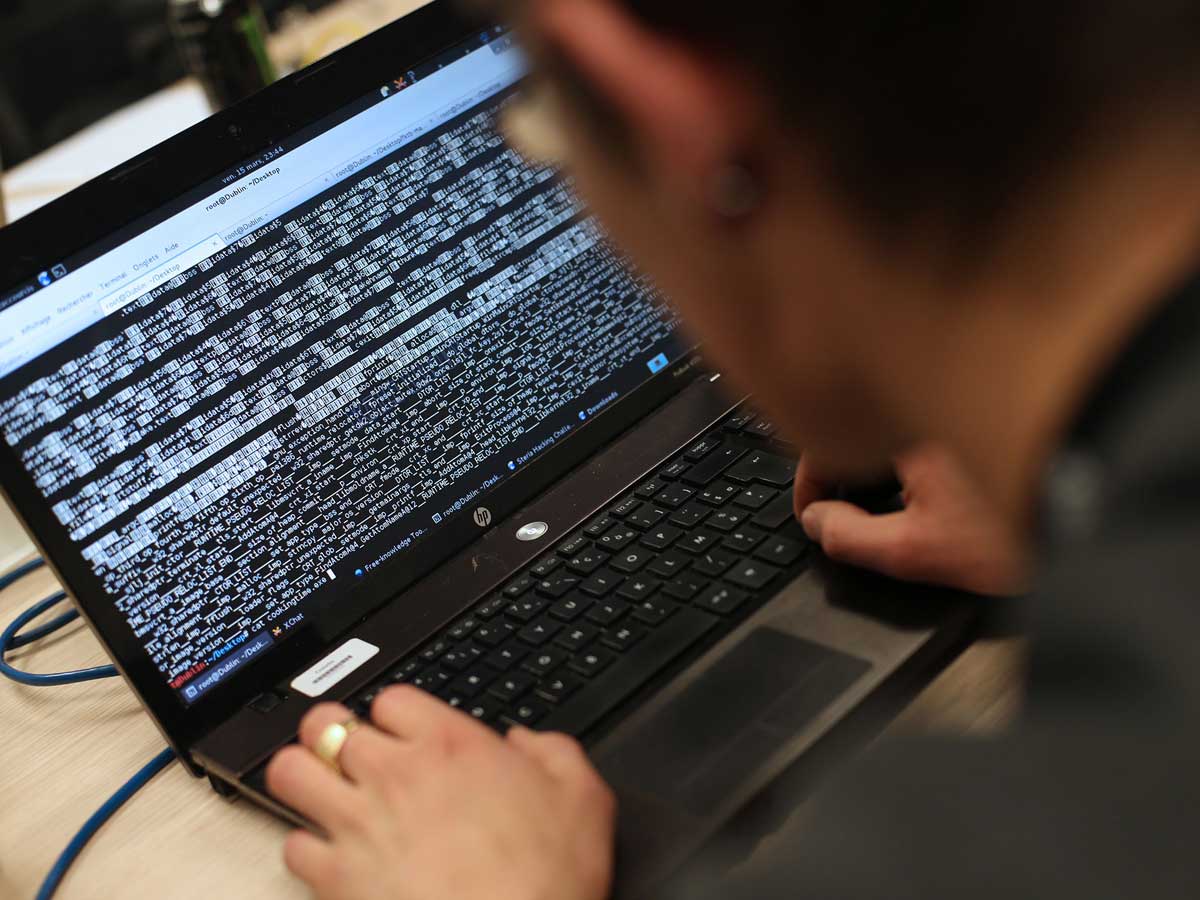 One of the biggest threat of 21st century is terrorism, all states whether developing or underdeveloped are equally getting affected by it.  The alarming new component of terrorism is its spread in cyber space. Cyber space is a virtual world where all essential sectors of national life of state have presence and thus, it makes it an attractive target for terrorist groups which are driven by political agenda. The common difficulty in identification of terrorist is that they blend in with general population and are thus harder to identify. This benefit of anonymity is also present in cyber space that terrorist are utilizing all over the world to spread their ideology, carry out their recruitment process and to generate funding.
In this era of globalization cyber space allows a person sitting in one end of the world to carry out action in other part of the world without even being identified.  All person might need to carry out such an action is access to information technology and knowhow. Owning to the fact that information technology is easily accessible and its knowhow is not some secret, makes it excellent medium for state and non-state actors to carry out malicious activities against other states and non-states actors. Threat of terrorism or cyber terrorism is from which no country is safe, even most secure countries with world largest armies. However, countries such as Pakistan which are unfortunate to be located in a region that is prone to all types of conflicts whether they are traditional or non-traditional; are more exposed to threats like cyber terrorism. According to scholars cyber terrorism could be defined as "Cyber terrorism is socially or politically illegal attack on computers, network systems and stored information for political gains".   Although, there are no mass events of cyber terrorism reported in Pakistan but according to former NSA contractor Edward Snowden, Pakistan is the second most spied on country and NSA has intercepted more than 13.5 billion pieces of information from Pakistan. But, if one talks about cyber terrorism specifically in Pakistan, many terrorist organizations are running their recruitment pages and financial set-up electronically.
These groups and their online presence is serious issue because through these pages, websites, blogs and video they spread hate, sectarianism, violence and messages to overthrow the governments. Absence of strong filters and blocking mechanisms is helping these organizations to carry on their malicious activities. Pakistan is already fighting against terrorism by conducting military operations on state level. In future when it would become harder for terrorists to launch physical activities against state they will move towards the unguarded territory of cyber space. So, it is necessary for Pakistan to nip the evil in the bud.
So far to stop the cyber terrorism different govt. in Pakistan have taken few actions but most of these actions are to regularize different crimes that are taking place in realm of cyber space. Such initiatives include Pakistan Telecommunication Reorganization Act 1996, Electronic Transaction Ordinance 2002, Payment systems and Electronic Fund Transfer Act 2007, Electronic Crime Ordinance 2007, Cyber Security Strategy Bill, Prevention of Electronic Crime Bill and National Action Plan.
However, due to lack of proper institution handling emerging threats in cyber space implementation of these legislative measures is very weak reason being the politicization of the issue of cyber security rather than its securitization. It is true that security measures taken by states in arena of cyber security fall under the grey area where they step on the human liberties but security comes with the price. To securitize Pakistani society from the evil of cyber terrorism it is necessary that strong executive measures shall be taken, separate institutions shall be made to handle all threats emerging from cyber space because one small branch under one federal investigation authority is not dynamic enough to handle threat of cyber terrorism.
Killing of Mulana Samiul Haq and Afghan Peace Process
On 2nd November, Jamiat Ulema Islam-Sami (JUI-S) chief and former Senator Mulana Samiul Haq was assassinated at his residence in Rawalpindi. According to reports he stabbed multiple times. Samiul Haq's spokesperson Mulana Abdul Majeed said there was no one present at the residence when he was killed. He further said "We do not know who attacked him. He was alone, the person who was supposed to be with him had gone to the market."The assassination of Maulana Samiul Haq, chief of his faction of the Jamiat Ulema-e-Islam (JUI), has sent shockwaves and sorrows throughout the country. The respected religious scholar exercised significant influence through his seminary Darul Uloom Haqqania based in Akora Khattak, which produced many leaders of the Taliban movement in Afghanistan. He also wielded political weight, having served as a senator for many years, and was currently aligned with the ruling PTI. He was also connected to the politics in Afghanistan and was sought after for advice by many stakeholders.
The assassination of Mulana Samiul Haq is considered as a big loss for peace process in Afghanistan. Along with it everybody in Pakistan is gloomy on the brutal killing of the Mulana. Indeed he was peace loving person. Despite his hardline religious and political views, the 80-year-old Samiul Haq was a patriot and upheld the national cause in the face of external and internal threats. He opposed taking up arms against the state and instead advocated the use of peaceful means to work for enforcement of the Islamic law in Pakistan. He strived to be on the right side of the civil and military establishment despite differing with them on certain issues, such as Pakistan's close relations with the US in the past, particularly in the aftermath of the 9/11 event when Islamabad broke ties with the Afghan Taliban under pressure from Washington. His dedication for peace in Pakistan and especially in Afghanistan will never forgotten.
According to experts on Afghanistan affairs his death is the huge setback for Afghan peace process. Mulana Samiul Haq was known as "Father of Taliban" and interestingly he took much pride in this title. It was because his seminary of the Deobandi school of thought and alma mater to some of the most prominent of the Taliban, including their leader Mullah Muhammad Omer, Mullah Akhtar Mansour and Jalal ud din Haqqani. Mulana Samiul Haq was much influential on Taliban leadership in Afghanistan and that is why that delegations twice led by the Afghan Ambassador himself asked him to play a role in initiating the peace process. In post 9/11 period till his assassination he remained involved in many negotiations between Taliban leadership and Afghan government. Last month there were at least five known meetings between him and Afghan delegates. In meetings he had suggested that the religious leaders from Pakistan and Afghanistan meet without the inference of the United States. Suggesting that the peace process should be locally initiated, he had stressed that there should be a clear timeline on the withdrawal of NATO forces. While many considered the Mulana's influence had decreased with time, his stature was best known by the people who came to seek his advice. Many times Afghan government and even Western diplomats approached him in the hope that he would be able to persuade the Afghan Taliban to stop fighting and start talking peace.
According to different reports the killing of Late Mulana will halt and hurt Afghan peace process. Different experts on Afghan affairs denote that the people as well as organizations which want to sabotage peace process in Afghanistan will benefitted. There are reports that the killing of late Mulana was plotted in Afghanistan. Basically it was the revenge of Kandahar Police Chief General Raziq and NDS Chief of Kandahar province. After the killing of notorious General Raziq his brother Tadeen Khan took charge as police Chief and determined to continue Raziq's 'mission'. NDS, RAW and CIA nexus is taking all kind of steps to sabotage peace in Afghanistan. Disreputable 888 brigade remained involved in counterproductive activates in Afghanistan. Killing of Mulana is linked with 888 brigade which is known as the cover organization of RAW CIA and NDS. After his killing it is quite evident that CIA, RAW and NDS are not willing to resolve Afghan issue. This unholy nexus is responsible for the killing of thousands of innocent Afghanis. In this scenario it is the obligation of international community to raise voice against unholy nexus of NDS, CIA and RAW which are involved in terrorist activates in Afghanistan and in the whole region.