Lula vs Bolsonaro: The populist moment in Brazil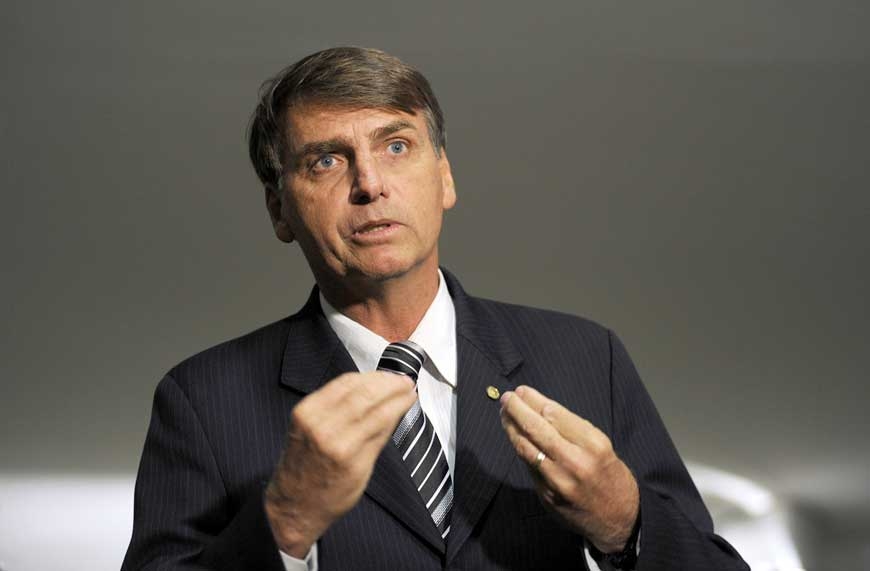 [yt_dropcap type="square" font="" size="14″ color="#000″ background="#fff" ] S [/yt_dropcap]ince the election victory of Donald Trump, many have tirelessly talked about populism. It is not a first appearance. This phenomenon has been recently experienced in Latin America, it has also been the spirit of the interwar period of fascism in Europe and it has happened in Russia in 1917. In fact, it has happened many times, in many different places.
Since the emergence of so-called left-wing populism in Greece and Spain, with SYRIZA and "citizen platforms" in union with Podemos, up until more recent right-wing populism from the National Front in France, Donald Trump and the Alt-Right, and Brexit and the UKIP, Geert Wilders (in addition to Austria, Hungary, Switzerland, Norway) etc; the "western" world seems to be haunted by the specter of populism. Finally, has Brazil, which lived its personal drama between the reelection of Dilma Rousseff (November 2014) and her impeachment (August 2016), also achieved this international trend?
Crisis, House of Cards, and more crisis.
In Political Science, especially in International Relations, a large technical vocabulary is used to refer to Brazil's position in the International System. It has varied recently from the euphemistic use of the term "peripheral nation" to the ambitious "emerging power." In both cases attention is drawn to the geography and mechanics used. It is almost unnecessary to point out that these are relational terms; Someone is peripheral to something or someone, as well as who emerges, does so from one environment to another. It is derived from this physics that waves originating in the "center" propagate to the "periphery", as well as that turbulences in an environment can transfer to a neighboring environment.
President Lula da Silva, for example, referring to the 2007-08 Financial Crisis, once said that it was a "tsunami" in the United States, but Brazil would only have a "marolinha" (a wavelet). History proved him wrong, but the analogy still holds some value, after all something arrived in Brazil at last, although late. One can propose another vision for the mechanics envisaged by Lula if only we look back at the major historical events of the last century. Namely, that the great historical characters and facts, according to Marx, seem to repeat themselves – first as tragedy, then as farce.
Does this mean, for instance, that the tragedy of the 1929 Crisis and its "superstructural" (political and ideological) effects on international politics, of a transnational populist "moment" in the 1930s and 1940s simply returns today as a farce? Difficultly. World political history does not seem to follow a single unvarying and identifiable flow. In fact, those who are well acquainted with history and politics in general know that there are flows and reflows, movements and counter-movements, revolutions and counter-revolutions. But the ebbs don't ever mean a return to the exact previous status quo, but rather a dialectical and historical overtake. The "movement" of history, therefore, is more like a war of position, of trenches, of gains and losses, rather than a frontal, immediate and unequivocal irruption, as Gramsci would say.
Yet, just as so-called "right-wing populism" spread throughout the European scene of material scarcity and personal hopelessness in the first half of the last century, something similar (but not the same) is happening today in Europe itself and in the United States. But how has the "wavelet" arrived in Brazil?
Let us make a rather superficial summary of the last years of Brazilian political life, justified only by the impracticability of dealing fully with the historical conformation of the Brazilian crisis conjuncture. In 2010, Dilma Rousseff (PT) is elected president after running against José Serra (PSDB) in the second round. In her campaign, Rousseff presents herself as a continuation of her and President Lula's party policies (such as the welfare program Bolsa Família, which aimed at providing financial aid to poor Brazilian families on condition that children attended school and are vaccinated) – as Lula leaves the presidency with a record approval rating of 87%. What followed was a slowdown in the Brazilian economy during her first term (2011-2014), a desertion from the counter-cyclical measures taken by the PT government since the end of the Lula administration to combat the international crisis and finally the great protests of June 2013 (Jornadas de Junho). Nevertheless, Rousseff is re-elected at the end of 2014, defeating Aécio Neves (PSDB), also in the second round, with a difference of only 3% of valid votes.
From the beginning of 2015 onwards, what took place was politics in its purest form. In addition to a dramatic intensification of the effects of the international crisis in Brazil (greater than a wavelet), Brazil experienced an endless series of unpredictable events of greater drama than the Latin American soap operas themselves. In short, it was part of the everyday life of the Brazilian citizen (and it still is), when opening the newspaper in the morning, to come across: Some new arrest of a high-influence politician or a billionaire from the construction industry as a new phase of Operation Car Wash (Operação Lava Jato); Some new plea bargain agreement that compromises politicians of almost every party; Conspiracy theories involving people of the executive, legislative, and judicial branches; Leaks from secret audio recordings of these same people which would prove right or wrong some of the theories; Accidents and tragic deaths of key figures in the investigations; More conspiracy theories; Motions for impeachment directed to the President of the Republic (Dilma Rousseff); Motion to remove the President of the Chamber of Deputies (Eduardo Cunha, PMDB) who ironically had just accepted the motion against Rousseff and eventually got arrested by Lava Jato; A suspension order issued by Justice Mello to the President of the Senate (Renan Calheiros, PMDB) who simply decided to ignore it; Impeachment motion directed to the governor of Rio de Janeiro (Luis F. Pezão, PMDB) and the arrest of two former governors of the same state (Garotinho, PR, and Cabral Filho, PMDB); Protests against the government; Protests supporting the government. Finally, an almost endless chain of events resulted in the Senate vote in August 2016, for the removal of Dilma Rousseff from office. This marks the start of then Vice President Michel Temer's (PMDB) presidency, raising a heated public debate about the legitimacy of his government.
Populism in Brazil: There and Back Again
On February 15, 2017, the National Transportation Confederation (CNT) and the MDA Research Institute announced the results of their poll regarding voting intention for the 2018 presidential elections: Lula da Silva (PT) leads with 30.5%, followed by Marina Silva (REDE) with 11.8% and, most impressively, Jair Bolsonaro (PSC) with 11.3%.
What is surprising? The accumulation of forces of right-wing populist Jair Bolsonaro. Although it's true little attention has been given to Marina Silva, this is justifiably so. Silva is a former senator from the Amazonian state of Acre, with moderate or unclear positions on most major political issues. Located at the center of the political-ideological spectrum, Marina Silva is affiliated with the hardly relevant REDE, a party with environmental outfits, but with little theoretical formulation or practical action. The senator's performance most likely results from her performance in the 2010 and 2014 presidential elections, ranking third in both and presenting herself as the "middle way" between left and right. Her seasonal appearance every four years in Brazilian electoral politics usually fails to build up momentum and hardly presents her as a viable political alternative.
The 30.5% obtained by Lula does not fail to impress. As it is widely known, Lula was president of Brazil for two terms: 2003-2006 and 2007-2010. His name is both the most controversial and the strongest of the current political left in Brazil. The progressive field also counts on probable candidates that are critical of Lula. Namely, Ciro Gomes (PDT), former governor of the state of Ceará, a national-developmentalist, owner of an eloquent and aggressive discourse. Lastly, it is likely that a new candidate will still be announced by PSOL, a party that is more ideological than PT and PDT, but of little strength outside the intellectual and academic circles.
The big news, however, is the inclusion of Jair Bolsonaro in the list. His rise to third place outperforms all other leaders traditionally associated with the political right, such as former candidates Aécio Neves and José Serra (both from PSDB). But who is Bolsonaro? Member of the Christian Social Party (PSC), Bolsonaro is a former captain of the 8th Artillery Group of the Brazilian Army, a federal deputy for the state of Rio de Janeiro and father of the also politicians Eduardo, Flávio and Carlos Bolsonaro. The Bolsonaro family, in general, is unquestionably associated with far-right ultraconservatist politics and they carry out polemic statements ranging from the defense of the Military Dictatorship in Brazil (1964-85), to positions considered intolerant, sexist and homophobic. In 2015, for example, when asked about an Amnesty International study of the country's public security crisis (in 2014, more than 3,000 people in Brazil were killed by the police), Jair Bolsonaro literally stated: "I think the Military Police of Brazil should kill more". It is unnecessary to clarify that Bolsonaro is critical of the notion of Human Rights and regards it as the creation of socialists seeking cultural hegemony.
In this electoral framework, with no intentions of underestimating Marina Silva, what strikes the attention is the dispute between the populism of Lula and that of Bolsonaro. Is it an "old" populism of the South American Pink Tide against a "new" far-right populism? What do they have in common? And more importantly – what is populism?
Definitions and non-definitions
Many definitions and interpretations have emerged or been recalled since Donald Trump's victory. Namely, in December 2016, after the outcome of the American presidential election, Time magazine devoted an entire article, "The Populists" by Simon Shuster, to deal with the populism of Donald Trump and Nigel Farage (UKIP), however, without caring about defining or explaining the phenomenon. This lack of conceptual clarity on populism is not exclusive to Time. As Ernesto Laclau explains in his book "On Populist Reason" (2005), most of the time, intellectual understanding is replaced by appeals to an "unspoken intuition" or by descriptive enumerations of a variety of "relevant characteristics".
Appealing to intuition and enumerating "relevant characteristics" is precisely what Forbes does, in its January 24, 2017 article entitled "Why Populism Is Rising and How To Combat It" and signed by IESE Business School. Astonishingly enough, the article begins with the statement: "Readers relax, I'm not going to talk politics." What follows are some painful paragraphs of pure ideological verbiage and, finally, a list of characteristics that, in short, associate populism with a deviant practice that divides people between "us" and the "elite".
Examples multiply. We could also mention the part of the specialized media that tried to deal with the subject with less common sense. Foreign Affairs, in the article of the well-known Fareed Zakaria "Populism on the March" of November / December of 2016. Zakaria points out to economic factors are not the most important to explain contemporary populism, but cultural factors are. Problems arise here concerning the idealistic ontological foundations of Zakaria. Why, for example, is populism manifesting only now if the cultural components of Western democracies have not changed since the recent past, and more importantly, if these cultural components have recently changed, what made that happen?
We are finally left with a definition that seems to embrace the different types of populism in geography and history as well as to understand it from a process that is historical, conjunctural and comprises changes. On November 9, 2016, Pablo Iglesias, Secretary General of the Spanish left-wing party Podemos (and a populist himself), describes populism in his article "Trump y el momento populista" in his column "Otra Vuelta de Tuerka" at "Diario Público". According to Iglesias, populism is not an ideology nor a "pack of public measures", but rather it is a way of constructing the political from an "outside" which expands in moments of crisis. He also claims that populists are outsiders and they can be located anywhere on the political spectrum. However, that should not suggest that the "extremes" (right and left) join together or are similar in any way.
"Trump is not close to Sanders", Iglesias explains. Rather, Trump's immigration policies are close to the ones of the Republican Party and the European Union. Therefore, populism doesn't define political options but political moments. Trump simply took advantage of the moment.
Conclusion – Back to Brazil
The clash between Lula and Bolsonaro is therefore not simply a Brazilian peculiarity. It is contained within a larger logic. One that results from a conjunction of historical factors that go beyond abstract constructs like national boundaries. It is not our intention, as opposed to cultural variables, to present the international political economy as the "ultimate determinant" of the populist phenomenon, but to understand it as the construction of the political. Tautologically, it emerges when the conditions for it emerge, that is, it occurs in its moment. This moment, indeed, is constantly found between an "old" and a "new" world orders, that is, between different "historical blocs".
No doubt an "old" social, political, and economic arrangement has already died in Brazil. The "Jornadas de Junho" in 2013 were a prelude to its deterioration, all the mobilization and all the conspiracies that followed the 2014 elections indicated a worsening of its clinical condition and its death was finally declared by the impeachment in August 2016. Any deeper analysis to be made of this moment must therefore consider the hegemonic dispute in question. That means it should be taken into account the dialectics "structure" and "superstructure" in the context of a serious economic crisis, as well as the dialectics "political society" and "civil society" in the context of a populist dispute for "empty signifiers".
In conclusion, some theses can be proposed about the current Brazilian situation. Firstly, the political form based on the polarization PT vs PSDB has reached exhaustion, just as the economic and neo-developmental form ends in the neoliberalism of Michel Temer. Secondly, Lula's strength is greater than the strength of his party, and it has to do with his populist political construction, which again finds a favorable moment. Lastly, the emergence of Bolsonaro has little to do with the content of his politics and policies, but only with the populist moment.
Only in the coming months shall we see the development of our crisis, little can be anticipated. Variables that intervene to any predictions may arise from the most diverse possibilities; from a new Lava Jato arrest (and there are those who guarantee that Lula is next in line) to some event that sparks the political violence that lies latent in Brazil. In any case, politics continues in Brazil as it has never ceased to be: the farce of tragedy and the tragedy of farce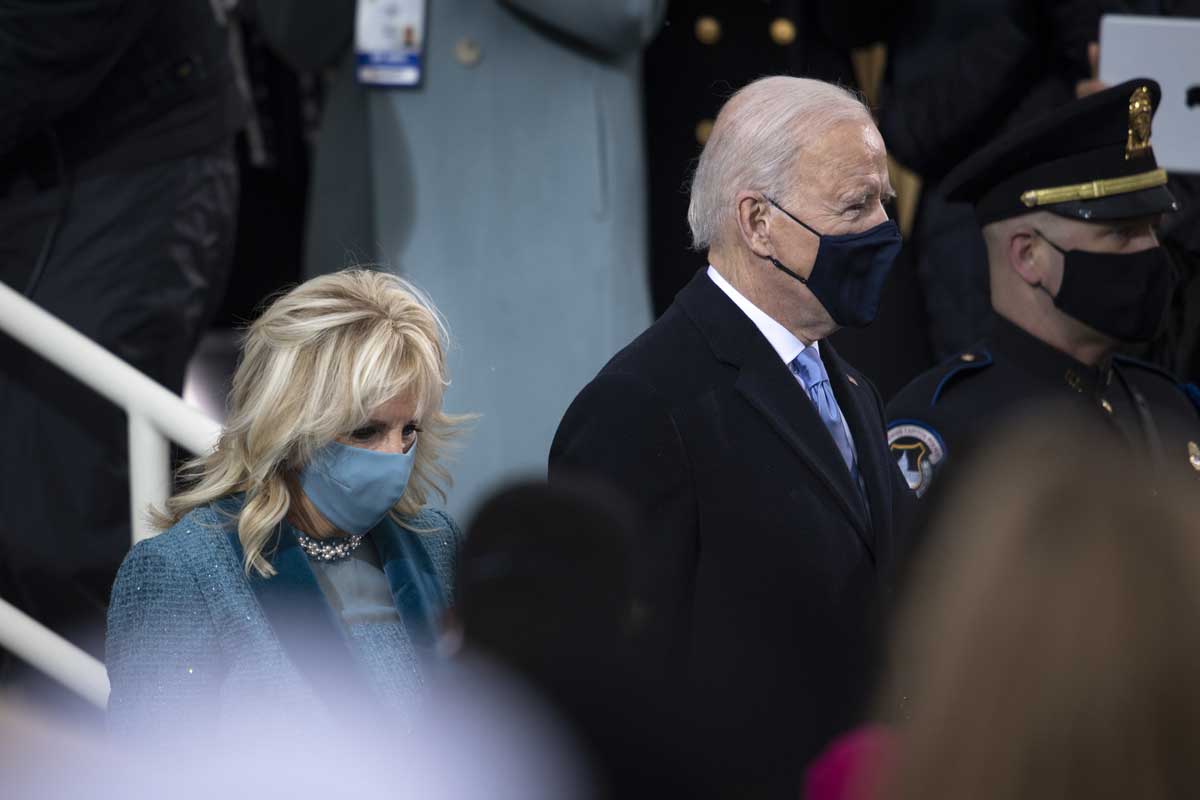 Sic transit gloria mundi — thus passes worldly glory, which seems an apt phrase for the peaceful transition of power from one administration to the next.
Joseph Robinette Biden, Jr. became the 46th president of the United States at noon on January 20th, and earlier Donald J. Trump departed the White House quietly for Florida — his last ride on Air Force One as president — leaving behind a generous and gracious letter for Biden. So it is described by Joe Biden himself. Trump did not attend the inauguration, the first president not to do so since Woodrow Wilson in 1921, who remained inside the Capitol building because of poor health while his successor Warren G. Harding was installed.
It was a most unusual inauguration this time. There were no crowds on the lawns outside; instead row upon row of American flags representing them. The official attendees all wore masks and included three former Presidents (Obama, the younger Bush and Clinton). President Carter, who is in his 90s and frail, sent his apologies.
The usual late breakfast before the ceremony and the lunch afterwards were also cancelled — one cannot eat with a mask in place! No evening inaugural balls either. These were sometimes so many that the new president and his lady could only spend a few minutes at each. In their stead, there was a virtual inaugural celebration hosted by Tom Hanks the actor. It consisted mostly of pop-singers who supported Biden plus a disappointing rendering of Amazing Grace by Yo-Yo Ma on his cello.
Biden's first act was to sign a series of executive orders to undo some of Trump's policies. He announced the U.S. would not leave the World Health Organization (WHO) and would continue to contribute to it. On climate change a complete policy reversal now means the U.S. will abide by the Paris climate accord.
Biden's other executive orders totalling 15 responded to the coronavirus crisis with the goal of giving 100 million vaccine shots by the end of April. He proposes to establish vaccine centers at stadiums and community facilities and also plans to speed up production of the supplies required for making vaccines.
The U.S. now has lost 406,000 lives (and counting) from COVID-19. That number is noted to be greater than U.S. deaths during WW2. The virus has so far infected 24.5 million people. However, the problem is more complicated than simply inoculating everyone.
Swedish authorities report that 23 people, mostly elderly and having other health issues, have died after being given the Pfizer vaccine. Its side effects apparently can be severe and mimic the disease itself. Thus given a choice, one would prefer the Moderna vaccine.
Old age is a poignant sight to behold. Biden the ex high school football star now having difficulty lifting his feet to walk. Very gamely, he even tried a jog or two to say a quick hello to bystanders during his short walk to the White House. We wish him well and hope for a successful presidential term. Thirty-six years as senator and eight years as vice-president certainly make him one of the most experienced to sit in the White House Oval Office. Good luck Mr. President!
Is Sino-Russian partnership posing a strategic threat to U.S. and democracy worldwide?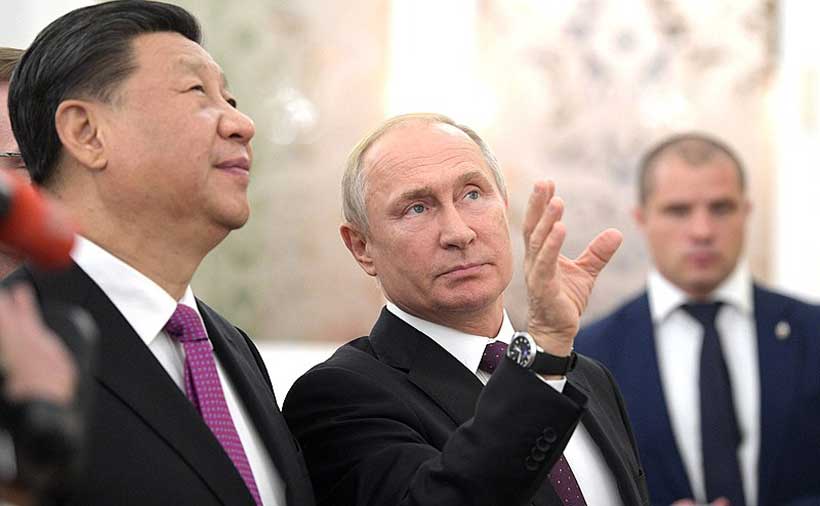 Despite significant divergence between China and Russia in both regional and international arenas, the countries have striven to expand their cooperation in several directions namely in diplomatic, political and defense realms. China and Russia consider the US as a challenge to the national security of both Beijing and Moscow. The countries are bearing in mind that alignment between Moscow and Beijing is thought to be the best possible measure to deter US hegemonic policy. Russia and China are working together to the fill the gaps of their military capability, accelerating their technological innovations, supplementing each other's defense competency to emasculate US global leadership, challenging US dominance in strategic regions as well.
Their joint naval drills are supposed to be projected as a counter-measure to minimize the US capability, and to defy US regional scenario. Furthermore, the countries accelerate their cooperation to erode US military advantages. In order to enhance their efforts, Russia provides China with advanced weapons to remove the US from their backyards. Their joint efforts have put America under immense pressure to reconsider its defense budget and its alleged commitments to advocate a free and open Indo-Pacific. The countries are doing their best to counter American Democratic measure in form of "color revolutions", substantiating each other to defend their interests in multidimensional environments, creating norms around cyber and internet sovereignty, and augmenting anti-American elements even radical Islamists to gain the power and expand their territorial control. They legitimize each other's conducts to persuade swing states to abandon the US.
Moscow and Beijing consolidating their efforts to inter to the new spaces more likely Artificial Intelligence, they strive to offer diverse digital system and other technologies. They also joined hands to disqualify American financial measures in the global economic arena especially bypass the US sanctions and minimize the US ability in financial realm as part of the US foreign policy objective.
They have long before tried to de-dollarize the world finical system, which will in turn curtail the US capability in the area of export control.
America's counter measures
Nonetheless, the US has launched counter measures to limit Sino-Russia cooperation and the threats they pose to Washington. In response to Sino-Russian partnership, the US stationed and installed vigilant technologies all around the countries to curb their liabilities. Additionally, in response to the Sino-Russian joint-partnership, the US adopted a new maritime strategy in December 2020 the three maritime services of the US military – the US Navy, Marine Corps and Coast Guard. The strategy elucidates both China and Russia as resolute adversaries, who pose a long-term strategic threat to the national security of the US in the global arena particularly in Indo-pacific domain. In comparison to the old strategies, the new strategy presses on the importance of sea control, which ascribes the possibility of armed conflict with at maritime level. Moreover, the strategy signifies the importance of Coastguard as a part of main element to deter multidimensional threats posed by Sino-Russia. The new strategy also implies and stress on building partnerships and cooperation with other countries to defend the US global perspective. It clarifies as well that current US defense capability is not sufficient. Thus, the maritime forces ought to be modernized in order to counter Sino-Russia maritime strategy. According to the new strategy, the size and shape will boldly change to answer the current and future challenges.
Are China and Russia strategically associated?
Even so, due to American Air, Land and sea superiority, in global level and particularly in Indo-pacific, Asian and African regions, which is considered as threat to the national security of China and Russia. Therefore, Moscow and Beijing agreed upon to build up partnership and cooperation along with filling each other's gaps in term of defense, aerial, sea and digital technologies, to rule out American Maritime strategic challenges. In addition, kick out the US military forces from their back yards. It is worthwhile to note Sino-Russian cooperation or partnership is not strategic, because is not built on natural basis, rather it instituted on a tactical measure to deter American aggression. It is very conventional term that the enemy of my enemy is my friend, which means Beijing and Moscow have a common enemy "the United States". Therefore, they disregard their border dispute for the time being, which will definitely be brushed up, when the US is out of the race in the global arena.
According to the management criteria, partnership or cooperation is based on three terms; short term, midterm and long term in other word operational, tactical and strategic, taking in to account the mentioned terminologies the Sino-Russia partnership is operational and tactical then to be strategic/long-term. While China has been shifting its soft strategic measures, the country tries to apply hard power in Central Asia "Russia's back yard". Beijing considers stationing military forces in the region to defend the country's Belt and Road initiative extended to the region. China wants to safeguard its geo-economic and geo-political objectives thru future military installations in Central Asia. Therefore, Beijing's motives are irreconcilable with the foreign policy objectives of Moocow for the region, because China pursues to advance trans-Eurasian transportation corridor in order to bypass Russia. Furthermore, China recently built an airport in Xining-Uyghur autonomous district close to Afghan and Tajikistan borders, which is the first airport of such kind in the mountainous area of Badakhshan. China's initiative in this form, offers Beijing enjoying upper hand to get hold on Natural resources of the disputed region. The country undertook to build extra 25 airports in the region in order to expand its military buildup. Hence, Russia reconsiders its partnership with China, because the balance between Beijing and Moscow is changing in the region.
In addition, Sino-Russian partnership is depended on China's commitment to full carbon neutrality by 2060. Beijing will reduce consumption of all fossil fuels, including natural gas, which will definitely play a significant role in future cooperation and partnership between Moscow and Beijing.
China has recently made public that the country will almost be carbon neutral in 40 years; means the country will reduce 65% of its oil consumption and 75% of its natural gas consumption. These assertions will disqualify forthcoming efforts to run a mega-pipeline "Power of Siberia-2" in order to pump Russian natural gas to China. In order to minimize its dependency on Russian Natural Gas, China has diversified its efforts to import natural gas from centrals Asian countries. China made a technological breakthrough in domestic natural gas production, which will in turn reduce Chinese dependency on Russia. In couple of decades, Russia will totally lose its fuel and gas advantages to leverage China. Between 2050.2060, China will independently handle its energy needs, and develop its defense, maritime and digital technology including artificial intelligence. China will increase its defense budget up to 1 trillion dollars. Until 2060, the US will completely be out as a major element of world order. So there would be no need for Sino-Russian cooperation, China alone would be in a position to police the world and Russia will become Beijing's number one geo-political enemy.
Sino-Russian rift
China and Russia enmity goes back to the Chinese Eastern Railway(CER) conflict took place in 1929 between Soviet Union and China, which was the bloodies conflict of its time. Joseph Stalin played a significant role to neutralize Chinese efforts to recapture the Railway. In order to attain its goals China used both conventional and asymmetric approaches to eliminate Soviet Union control over the Railway. Obtaining green signals from Japan, Stalin forcefully trespassed the region and pushed back Chinese armed forces, which was connoted as a sign of aggression, and ended up with border dispute. Throughout, the history both countries unsuccessfully endeavored to find a peaceful and acceptable solution to the border conflict. Consequently, in 2003 Russia and China signed an agreement to resolve the border dispute. In 2005, Moscow and Beijing finalized the border issue, nevertheless, Chinese leadership still claims that Vladivostok Russia's Fareast city is part of Chinese territory, besides Beijing asserts that Russia has annexed 350.000 square mile of Chinese territory.
Taking into account the above said facts, Sino-Russian partnership will break up some times in the future (2050-2060) and will change to armed conflict. Furthermore, Russia is not a solemn geopolitical adversary of the United States as China is. After the collapse of Soviet Union, both Russia and America were on the right path to normalize their relationship. Throughout, the different administrations no matter democrats or republicans leadership, Moscow and Washington achieved a lot to be aligned. For goodwill they even signed a new start to reduces their nuclear warheads and stop arm race. Due to the US eastward expansionism, Russia was driven into the arms of Beijing to establish partnership and cooperation.
Is Beijing or Moscow a national security threat?
The National Counterintelligence and Security Director Bill Evanina in his Fax News interview shed light on that no country poses a broader more severe threat to America than China. He added that Beijing's malign influence campaign against America would be one of the bigger challenge for Biden administration. He asserted from a threat perspective, Russia is a significant adversary particularly with regard to cyber intrusions, malign influence, and sowing discord in American democracy, but China poses a broader, more severe intelligence collection to the United States. According to Evanina, China continually engaged in highly sophisticated malign influence campaign against America, because America is a democracy, and democracy is bad for China. Evanina clarifies that challenge for Biden administration will be to understand the scope and scale of Chinese threats in the American landscape, domestically, and what is the best course to defeat that.
He added that part of China's malign influence has focused on politicians and elected officials, leveraging them to be engaged in promoting Beijing's scenario. Evanina signalizes that data theft by Beijing poses severe threat to the nationalized Americans. China can exploit the data for variety of nefarious purposes, and already has a significant record of exploitation of DNA for social control and surveillance of their Uyghur population at home. Evanina warned that China's collection of U.S. Genomic data is helping to fuel their precision medicine and artificial intelligence industries, which poses a long-term threat to the US biotech industry and medicine around the world at large. China continues to exploit American government and industry supply chain he said, Beijing uses American trusted suppliers and vendors against the US itself. He explained that supply chain attacks are insidious at most, because they violate the basic trust between a supplier and a consumer. Therefore, he said that it is a complicated set for the Biden administration to deal with.
A chance of reconsidering foreign policy objectives
Observing that Russia is not a significant threat to America at most, on the other, China poses, the most severe threat to the United States, so the Biden administration can give it a try to revise policies on Russia, and find out divergences and get them solved. In accordance with the US newly adopted maritime strategy, the American forces and vigilance instruments cannot be present everywhere and every time, therefore it stressed on to build and convene partnership and alliance with other countries. Unlike former strategies, the current strategy is more in favor of working together with allies. If Biden's administration tries to build trust amongst its allies, he needs to listen to his allies around the globe especially his European ones and give preference to their concerns. In European perspective, Russia is an inevitable potency in term of economic cooperation, counter insurgency, counter terrorism, and cyber security. Therefore, it is advisable that the policy towards Moscow requires to be given the kiss of life to crumble Sino-Russian partnership, and get it aligned with Washington. Most importantly, Russia is part of Europe; hence, a European orientated solution should be conveyed to motivate Russia to work together with European Union and America.
Is Mike Pompeo the worst Secretary of State in history?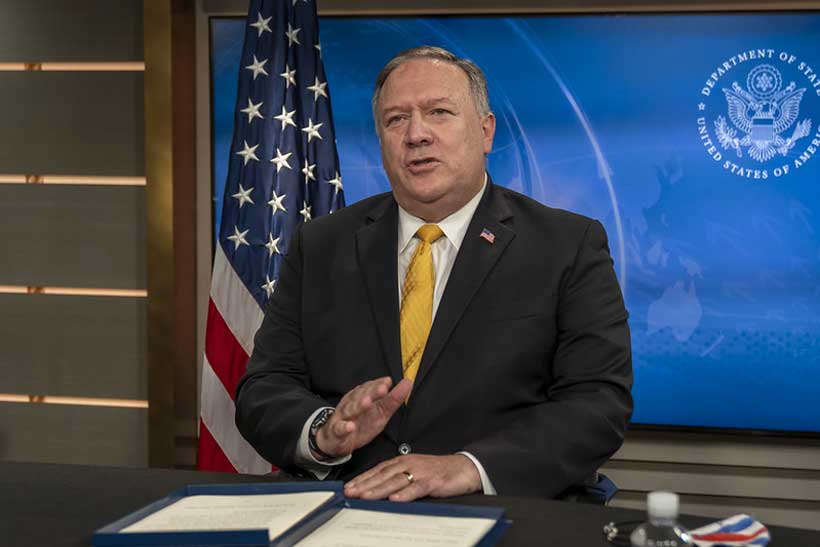 Trump may have a race for the worst presidential title, but Pompeo is in a class of his own. James Buchanan and Andrew Johnson remain formidable contenders for Donald Trump in the ranking of worst US presidents. However, there is no competition for Mike Pompeo, Trump's most passionate subordinate, in the worst Secretary of State ranking.
During his two years and nine months as the nation's top diplomat, Pompeo did nothing to improve the US administration's security, values, or even policies. His term ended in humiliation: humiliation from European allies, disgusted by the profanity he and Trump have committed over the past four years. On January 4, Pompeo announced he would travel to Europe and meet European Union leaders.
Two days later, after Trump-fueled riots on Capitol Hill, EU officials said they would not meet him. So Pompeo canceled his last chance to travel abroad. It's been a long season of humiliation for Pompeo. In August, he pressed the UN Security Council to pass a ban on the sale of conventional weapons to Iran. Only one of the council members, the Dominican Republic, joined the US in supporting the ban; Russia and China against it; others, all US allies, abstained.
The episode depicts, in extreme form, two of Pompeo's most distinct features: the obsession that foments regime change in Iran and the inability to bring it about or any other goal. Like Trump, Pompeo has been unceasingly opposed to the Iran nuclear deal. It's no coincidence that Trump pulled out of the deal and reimposed sanctions on the Islamic Republic on May 8, 2018, just 12 days after Pompeo was sworn in as Secretary of State. (His predecessor, Rex Tillerson, has advised Trump to stick to the deal.)
Pompeo claimed, with high confidence, the sanctions would force Tehran to return to negotiating a "better" nuclear deal, or perhaps force a regime collapse. Today: Iran's economy is in ruins, but the regime survives, its hardline faction is stronger than ever, and its reactors are more capable of producing atomic bombs than ever before. (President-elect Joe Biden wants to restart the nuclear deal, but Iran's technological advances and political hardening will make this more difficult to achieve.)
This week, he may realize his "maximum pressure" campaign has failed miserably. No wonder then that Pompeo changed course and claimed, in a speech to the National Press Club, that Iran was al-Qaeda's new "base" and declared, "The time is now for America and all countries free to destroy the al-Qaeda axis of Iran." The US intelligence official said there was not any evidence for this claim.
Pompeo's other big target is China, and he has called for regime change in Beijing as well, despite the goals that are clearly absurd. In fact, a large proportion of China's population supports the party that ruled the government, which lifted more than 850 million people out of poverty in record time. However, there is nothing "Marxist-Leninist" about President Xi Jinping's philosophy, which seeks expansion through mercantilist techniques, not ideological conformity.
While it is important to contain Chinese military presence in the South China Sea (something the US military has been doing for some time), it is very difficult to compare its scope or ambition to that of the Soviet Union, which once enjoyed a presence in a truly global world. Pompeo misunderstood the nature of China's challenge. As a result, he came up with half-baked ideas on how to deal with it.
There are also Pompeo's lies. He has claimed he and Trump have made NATO "stronger" than ever. In reality, those trans-Atlantic relations are strained as Trump continually rejects the alliance in general and the European Union in particular.
Pompeo has also been a corrupt foreign minister. By filming a speech in Jerusalem to be broadcast at the 2020 Republican National Convention, he was violating not only the law, but also the previously announced policy of barring department employees from attending political conventions.
He used security guards to carry out errands for himself, his wife, and his wife's mother. He also asked Trump to fire the inspector general who investigated the misuse of his government's resources. He threw a lavish dinner party inside the State Department, inviting donors who might contribute to some future political campaigns.
He tricked the Voice of America, which in recent decades had become a fairly objective global news service, into becoming a propaganda organ for Trump. He demoralized the foreign service even more thoroughly than Tillerson had done.
Pompeo paved his way to power by directing his every word to the pleasure of the boss, starting when he was director of the CIA (where he frequently omitted or distorted intelligence that contradicted Trump's hunches). He is a dishonest intermediary, reluctant to speak the truth to power, for fear that he will lose power in doing so.
To end it all, in his final days, Pompeo issued a no-discussion order that overturned existing policies: lifting restrictions on official contact with Taiwan, designating Cuba as a "state sponsor of terrorism," and declaring Iranian-backed Houthi fighters in Yemen an "organization. foreign terrorists ".
This movement will not have a long-term effect. The future Secretary of State, Anthony Blinken, can reverse this dictum, although it would be awkward to do so. It was an act of sheer mischief, like a teenager throwing a rotten egg at a new neighbor's front door.
Is Pompeo the worst Secretary of State ever? In modern times, John Foster Dulles (former Secretary of State) may be a rival for the crown, but, fortunately, President Dwight Eisenhower did not listen to Dulles' most dire advice.
Dulles was fanatical about pushing for the "backsliding" of Soviet communism, but Eisenhower, however, still adopted the "containment" policy of his predecessor, Harry Truman. Dulles also offered his French counterpart two tactical nuclear weapons to prevent the Viet Cong siege of Dien Bien Phu. However, Eisenhower was not interested in doing so. So, Mike Pompeo won the crown of worst US Secretary of State. Next week, he will fly back to Kansas, where he was a congressman and where he hopes to run for the Senate.