Lula vs Bolsonaro: The populist moment in Brazil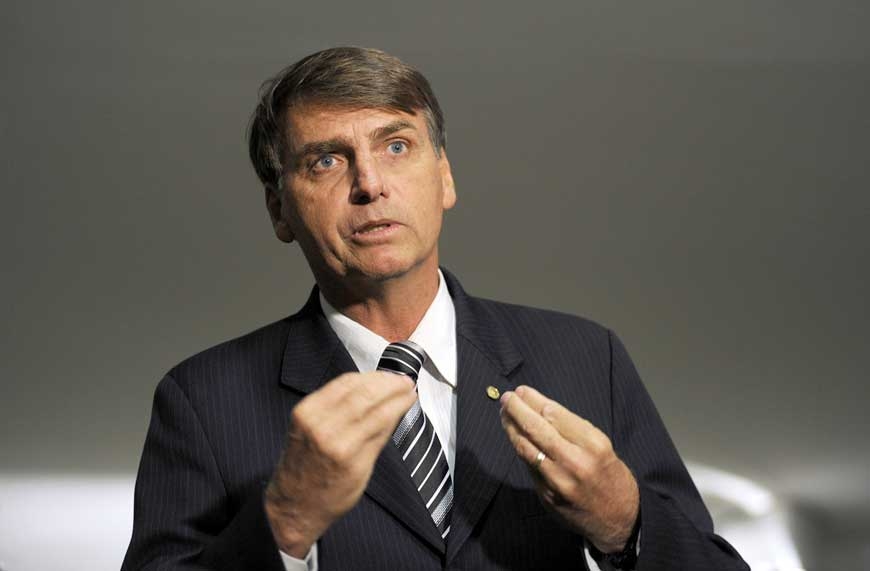 [yt_dropcap type="square" font="" size="14″ color="#000″ background="#fff" ] S [/yt_dropcap]ince the election victory of Donald Trump, many have tirelessly talked about populism. It is not a first appearance. This phenomenon has been recently experienced in Latin America, it has also been the spirit of the interwar period of fascism in Europe and it has happened in Russia in 1917. In fact, it has happened many times, in many different places.
Since the emergence of so-called left-wing populism in Greece and Spain, with SYRIZA and "citizen platforms" in union with Podemos, up until more recent right-wing populism from the National Front in France, Donald Trump and the Alt-Right, and Brexit and the UKIP, Geert Wilders (in addition to Austria, Hungary, Switzerland, Norway) etc; the "western" world seems to be haunted by the specter of populism. Finally, has Brazil, which lived its personal drama between the reelection of Dilma Rousseff (November 2014) and her impeachment (August 2016), also achieved this international trend?
Crisis, House of Cards, and more crisis.
In Political Science, especially in International Relations, a large technical vocabulary is used to refer to Brazil's position in the International System. It has varied recently from the euphemistic use of the term "peripheral nation" to the ambitious "emerging power." In both cases attention is drawn to the geography and mechanics used. It is almost unnecessary to point out that these are relational terms; Someone is peripheral to something or someone, as well as who emerges, does so from one environment to another. It is derived from this physics that waves originating in the "center" propagate to the "periphery", as well as that turbulences in an environment can transfer to a neighboring environment.
President Lula da Silva, for example, referring to the 2007-08 Financial Crisis, once said that it was a "tsunami" in the United States, but Brazil would only have a "marolinha" (a wavelet). History proved him wrong, but the analogy still holds some value, after all something arrived in Brazil at last, although late. One can propose another vision for the mechanics envisaged by Lula if only we look back at the major historical events of the last century. Namely, that the great historical characters and facts, according to Marx, seem to repeat themselves – first as tragedy, then as farce.
Does this mean, for instance, that the tragedy of the 1929 Crisis and its "superstructural" (political and ideological) effects on international politics, of a transnational populist "moment" in the 1930s and 1940s simply returns today as a farce? Difficultly. World political history does not seem to follow a single unvarying and identifiable flow. In fact, those who are well acquainted with history and politics in general know that there are flows and reflows, movements and counter-movements, revolutions and counter-revolutions. But the ebbs don't ever mean a return to the exact previous status quo, but rather a dialectical and historical overtake. The "movement" of history, therefore, is more like a war of position, of trenches, of gains and losses, rather than a frontal, immediate and unequivocal irruption, as Gramsci would say.
Yet, just as so-called "right-wing populism" spread throughout the European scene of material scarcity and personal hopelessness in the first half of the last century, something similar (but not the same) is happening today in Europe itself and in the United States. But how has the "wavelet" arrived in Brazil?
Let us make a rather superficial summary of the last years of Brazilian political life, justified only by the impracticability of dealing fully with the historical conformation of the Brazilian crisis conjuncture. In 2010, Dilma Rousseff (PT) is elected president after running against José Serra (PSDB) in the second round. In her campaign, Rousseff presents herself as a continuation of her and President Lula's party policies (such as the welfare program Bolsa Família, which aimed at providing financial aid to poor Brazilian families on condition that children attended school and are vaccinated) – as Lula leaves the presidency with a record approval rating of 87%. What followed was a slowdown in the Brazilian economy during her first term (2011-2014), a desertion from the counter-cyclical measures taken by the PT government since the end of the Lula administration to combat the international crisis and finally the great protests of June 2013 (Jornadas de Junho). Nevertheless, Rousseff is re-elected at the end of 2014, defeating Aécio Neves (PSDB), also in the second round, with a difference of only 3% of valid votes.
From the beginning of 2015 onwards, what took place was politics in its purest form. In addition to a dramatic intensification of the effects of the international crisis in Brazil (greater than a wavelet), Brazil experienced an endless series of unpredictable events of greater drama than the Latin American soap operas themselves. In short, it was part of the everyday life of the Brazilian citizen (and it still is), when opening the newspaper in the morning, to come across: Some new arrest of a high-influence politician or a billionaire from the construction industry as a new phase of Operation Car Wash (Operação Lava Jato); Some new plea bargain agreement that compromises politicians of almost every party; Conspiracy theories involving people of the executive, legislative, and judicial branches; Leaks from secret audio recordings of these same people which would prove right or wrong some of the theories; Accidents and tragic deaths of key figures in the investigations; More conspiracy theories; Motions for impeachment directed to the President of the Republic (Dilma Rousseff); Motion to remove the President of the Chamber of Deputies (Eduardo Cunha, PMDB) who ironically had just accepted the motion against Rousseff and eventually got arrested by Lava Jato; A suspension order issued by Justice Mello to the President of the Senate (Renan Calheiros, PMDB) who simply decided to ignore it; Impeachment motion directed to the governor of Rio de Janeiro (Luis F. Pezão, PMDB) and the arrest of two former governors of the same state (Garotinho, PR, and Cabral Filho, PMDB); Protests against the government; Protests supporting the government. Finally, an almost endless chain of events resulted in the Senate vote in August 2016, for the removal of Dilma Rousseff from office. This marks the start of then Vice President Michel Temer's (PMDB) presidency, raising a heated public debate about the legitimacy of his government.
Populism in Brazil: There and Back Again
On February 15, 2017, the National Transportation Confederation (CNT) and the MDA Research Institute announced the results of their poll regarding voting intention for the 2018 presidential elections: Lula da Silva (PT) leads with 30.5%, followed by Marina Silva (REDE) with 11.8% and, most impressively, Jair Bolsonaro (PSC) with 11.3%.
What is surprising? The accumulation of forces of right-wing populist Jair Bolsonaro. Although it's true little attention has been given to Marina Silva, this is justifiably so. Silva is a former senator from the Amazonian state of Acre, with moderate or unclear positions on most major political issues. Located at the center of the political-ideological spectrum, Marina Silva is affiliated with the hardly relevant REDE, a party with environmental outfits, but with little theoretical formulation or practical action. The senator's performance most likely results from her performance in the 2010 and 2014 presidential elections, ranking third in both and presenting herself as the "middle way" between left and right. Her seasonal appearance every four years in Brazilian electoral politics usually fails to build up momentum and hardly presents her as a viable political alternative.
The 30.5% obtained by Lula does not fail to impress. As it is widely known, Lula was president of Brazil for two terms: 2003-2006 and 2007-2010. His name is both the most controversial and the strongest of the current political left in Brazil. The progressive field also counts on probable candidates that are critical of Lula. Namely, Ciro Gomes (PDT), former governor of the state of Ceará, a national-developmentalist, owner of an eloquent and aggressive discourse. Lastly, it is likely that a new candidate will still be announced by PSOL, a party that is more ideological than PT and PDT, but of little strength outside the intellectual and academic circles.
The big news, however, is the inclusion of Jair Bolsonaro in the list. His rise to third place outperforms all other leaders traditionally associated with the political right, such as former candidates Aécio Neves and José Serra (both from PSDB). But who is Bolsonaro? Member of the Christian Social Party (PSC), Bolsonaro is a former captain of the 8th Artillery Group of the Brazilian Army, a federal deputy for the state of Rio de Janeiro and father of the also politicians Eduardo, Flávio and Carlos Bolsonaro. The Bolsonaro family, in general, is unquestionably associated with far-right ultraconservatist politics and they carry out polemic statements ranging from the defense of the Military Dictatorship in Brazil (1964-85), to positions considered intolerant, sexist and homophobic. In 2015, for example, when asked about an Amnesty International study of the country's public security crisis (in 2014, more than 3,000 people in Brazil were killed by the police), Jair Bolsonaro literally stated: "I think the Military Police of Brazil should kill more". It is unnecessary to clarify that Bolsonaro is critical of the notion of Human Rights and regards it as the creation of socialists seeking cultural hegemony.
In this electoral framework, with no intentions of underestimating Marina Silva, what strikes the attention is the dispute between the populism of Lula and that of Bolsonaro. Is it an "old" populism of the South American Pink Tide against a "new" far-right populism? What do they have in common? And more importantly – what is populism?
Definitions and non-definitions
Many definitions and interpretations have emerged or been recalled since Donald Trump's victory. Namely, in December 2016, after the outcome of the American presidential election, Time magazine devoted an entire article, "The Populists" by Simon Shuster, to deal with the populism of Donald Trump and Nigel Farage (UKIP), however, without caring about defining or explaining the phenomenon. This lack of conceptual clarity on populism is not exclusive to Time. As Ernesto Laclau explains in his book "On Populist Reason" (2005), most of the time, intellectual understanding is replaced by appeals to an "unspoken intuition" or by descriptive enumerations of a variety of "relevant characteristics".
Appealing to intuition and enumerating "relevant characteristics" is precisely what Forbes does, in its January 24, 2017 article entitled "Why Populism Is Rising and How To Combat It" and signed by IESE Business School. Astonishingly enough, the article begins with the statement: "Readers relax, I'm not going to talk politics." What follows are some painful paragraphs of pure ideological verbiage and, finally, a list of characteristics that, in short, associate populism with a deviant practice that divides people between "us" and the "elite".
Examples multiply. We could also mention the part of the specialized media that tried to deal with the subject with less common sense. Foreign Affairs, in the article of the well-known Fareed Zakaria "Populism on the March" of November / December of 2016. Zakaria points out to economic factors are not the most important to explain contemporary populism, but cultural factors are. Problems arise here concerning the idealistic ontological foundations of Zakaria. Why, for example, is populism manifesting only now if the cultural components of Western democracies have not changed since the recent past, and more importantly, if these cultural components have recently changed, what made that happen?
We are finally left with a definition that seems to embrace the different types of populism in geography and history as well as to understand it from a process that is historical, conjunctural and comprises changes. On November 9, 2016, Pablo Iglesias, Secretary General of the Spanish left-wing party Podemos (and a populist himself), describes populism in his article "Trump y el momento populista" in his column "Otra Vuelta de Tuerka" at "Diario Público". According to Iglesias, populism is not an ideology nor a "pack of public measures", but rather it is a way of constructing the political from an "outside" which expands in moments of crisis. He also claims that populists are outsiders and they can be located anywhere on the political spectrum. However, that should not suggest that the "extremes" (right and left) join together or are similar in any way.
"Trump is not close to Sanders", Iglesias explains. Rather, Trump's immigration policies are close to the ones of the Republican Party and the European Union. Therefore, populism doesn't define political options but political moments. Trump simply took advantage of the moment.
Conclusion – Back to Brazil
The clash between Lula and Bolsonaro is therefore not simply a Brazilian peculiarity. It is contained within a larger logic. One that results from a conjunction of historical factors that go beyond abstract constructs like national boundaries. It is not our intention, as opposed to cultural variables, to present the international political economy as the "ultimate determinant" of the populist phenomenon, but to understand it as the construction of the political. Tautologically, it emerges when the conditions for it emerge, that is, it occurs in its moment. This moment, indeed, is constantly found between an "old" and a "new" world orders, that is, between different "historical blocs".
No doubt an "old" social, political, and economic arrangement has already died in Brazil. The "Jornadas de Junho" in 2013 were a prelude to its deterioration, all the mobilization and all the conspiracies that followed the 2014 elections indicated a worsening of its clinical condition and its death was finally declared by the impeachment in August 2016. Any deeper analysis to be made of this moment must therefore consider the hegemonic dispute in question. That means it should be taken into account the dialectics "structure" and "superstructure" in the context of a serious economic crisis, as well as the dialectics "political society" and "civil society" in the context of a populist dispute for "empty signifiers".
In conclusion, some theses can be proposed about the current Brazilian situation. Firstly, the political form based on the polarization PT vs PSDB has reached exhaustion, just as the economic and neo-developmental form ends in the neoliberalism of Michel Temer. Secondly, Lula's strength is greater than the strength of his party, and it has to do with his populist political construction, which again finds a favorable moment. Lastly, the emergence of Bolsonaro has little to do with the content of his politics and policies, but only with the populist moment.
Only in the coming months shall we see the development of our crisis, little can be anticipated. Variables that intervene to any predictions may arise from the most diverse possibilities; from a new Lava Jato arrest (and there are those who guarantee that Lula is next in line) to some event that sparks the political violence that lies latent in Brazil. In any case, politics continues in Brazil as it has never ceased to be: the farce of tragedy and the tragedy of farce
Americans fear punishment for Afghan war crimes
Lo and behold! Looks like the "great and terrible" United States can be scared to the point of hysteria. Another myth about American omnipotence is being debunked before our very eyes now that the big shots in Washington are dreading the prospect of being held accountable for the crimes their soldiers have committed in Afghanistan.
Well, it's been a long time since the Yankees have last been scared of anyone anywhere, save, perhaps, for Soviet missiles. Still, the challenge they now have thrown out to the International Criminal Court (ICC) has laid bare their cowardice for the whole world to see. And all this under the guise of threats and warlike rhetoric, of course.
Washington saw red when, in November 2016, Foreign Policy journal wrote that "the prosecutor's office of the International Criminal Court (ICC) is ready to initiate a full investigation of a range of possible war crimes and crimes against humanity in Afghanistan, including some by US personnel." Washington was incensed even more after the very same publication wrote that "the chief prosecutor, Fatou Bensouda, will seek to initiate an investigation," and that "the prosecutor's office repeatedly called attention to alleged abuses of detainees by US personnel between 2003 and 2005 that it believes have not been adequately addressed by the United States."
The ICC report noted that "crimes were allegedly committed with particular cruelty and in a manner that debased the basic human dignity of the victims."
Shortly afterwards, US officials visited The Hague where the ICC was meeting to discuss the potential investigation and to express concerns about its scope in what was seen as their first attempt to intimidate the court.
A report by the UN mission in Afghanistan added fuel to the flames of the ICC probe. According to the report, in 2016 alone, 11,418 civilians died there at the hands of all the warring sides, including the Taliban (banned in Russia). Still, the main culprits are US invaders and their NATO allies.
Despite the mounting pressure, the ICC prosecutor Fatou Bensouda of Gambia persisted with the investigation. Washington then ramped up the pressure by simply revoking her entry visa to the United States. Simple as that.
Bensouda's office said she had an "independent and impartial mandate" under the Rome statute governing the ICC, and described Washington's move as an attempted attack on the ICC by the US Administration bringing a sigh of relief from "law-abiding" Americans. And no one in the "free and independent" US media raised his voice against this arbitrary practice.
Such voices of disagreement came from the European Union and the United Nations though, with the UN Secretary General's official spokesperson Stephane Dujarric expressing the hope that "the United States government will continue to comply with its obligations… and that the prosecutor, when she needs to come to the United Nations, will be afforded a visa for work done at the United Nations," where Fatou Bensouda was to present a report to the Security Council on the progress of ongoing investigations into the events in Libya.
EU foreign policy chief Federica Mogherini likewise backed the ICC: "We will continue to fully and strongly support the ICC and its work," she said.
It has also been said that Washington's disregard for the ICC, which comprises 123 countries (excluding Russia and the US), is fraught with an international scandal. However, President Trump will hardly bother to worry about trifles like this. Responding to the start of the investigation into the crimes committed by the Americans in Afghanistan, the US State Department vowed to revoke or deny visas to ICC staff "seeking to investigate alleged war crimes and other abuses committed by US forces in Afghanistan or elsewhere."
Secretary of State Mike Pompeo threatened "to take additional steps, including economic sanctions, if the ICC does not change its course."
Washington reserves the same treatment also for the ICC staff investigating alleged crimes by the Israelis in the West Bank and Gaza Strip, and President Trump has confirmed this. Paraphrasing George Orwell, all people are equal before the ICC, but some people are more equal than others.
However, here the Americans' strength turns into weakness and uncertainty. President Trump's national security adviser John Bolton threatened prosecutions and financial sanctions against ICC staff, as well as against countries and companies assisting in ICC investigations of US nationals. If this is not a sign of panic, then what is?
However, the mere fact that an official investigation has been launched against the United States is unprecedented in modern-day politics. When even a Gambian national can see that a global superpower is losing strength and is vulnerable, one can only imagine what will happen if everyone else in the world realizes this too.
Fully aware of this prospect, the Americans have applied all levers of political and economic pressure available to them and showed everyone that they are still a power to be reckoned with. On April 12, the ICC unanimously (sic!) rejected prosecutor Fatou Bensouda's request to investigate criminal offenses allegedly committed by NATO coalition forces against civilians in Afghanistan on the very dubious grounds that such an investigation at the present time "would not serve the interests of justice."
The ruling states that the prosecutor's request "establishes a reasonable basis to consider that crimes within the ICC jurisdiction have been committed in Afghanistan and that potential cases would be admissible before the Court." However, the Chamber noted "the time elapsed since the opening of the preliminary examination in 2006 and the political changing scene in Afghanistan since then, the lack of cooperation that the Prosecutor has received and which is likely to go scarcer should an investigation be authorized hampering the chances of successful investigation and prosecution, as well as the need for the Court to use its resources prioritizing activities that would have better chances to succeed."
US Secretary of State Mike Pompeo is happy: "I am very pleased that the ICC made this decision today. It is the right one. When Americans misbehave, whether it's our military, intelligence officers, we have a robust democratic process that holds them accountable. You've seen us do that for those that misbehaved. There is in no way or any need for the ICC to intervene," he said.
This is a striking example of national legislation taking precedence over international law – especially in critical situations.
President Trump was equally pleased hailing the ICC's refusal to consider the actions of the US military in Afghanistan as "a major international victory not only for these patriots, but for the rule of law (?)". He reiterated US reservations about the Hague-based ICC, saying that its "broad, unaccountable prosecutorial powers" present a threat to US sovereignty. Which means that Yankees are immune from prosecution – something we should all keep very much in mind.
The whole situation turned out to be pretty ambiguous: the Americans got scared, but the ICC ended up bending under Washington's pressure. It still looks like the days of America's complete domination are over, just as the current scandal proved beyond any reasonable doubt.
First published in our partner International Affairs
Russia´s interests and presence in Latin America is not new. We should remember Russian activities in Cuba during the Cold War, which almost generated a nuclear war between Moscow and Washington. After the dissolution of the Soviet Union, it was quite clear that Central and South America were not among the top priorities of the Russian Federation.
Anyway, at the beginning of the 21st century Russia returned to that region and Venezuela and other Chavist anti-imperialist (mainly understood as anti-American) populist governments were eager to deep their diplomatic, economic and military relations with Moscow.
From the Russian side we can identify a general objective, which is to gain influence in Latin America at the expense of the United States and a particular one: to secure lucrative economic opportunities in the oil and gas sectors.
A marriage of convenience between Venezuela and Russia was born at that time. Moreover, it lasts until today.
In the case of Venezuela, after the death of Hugo Chavez in 2013, his successor, Nicolás Maduro, the reduction of the international oil prizes and the mismanagement of the national economy generated a crisis that began as economic, then social and finally political.
In this situation of institutional weakness, foreign powers as Russia, China, and the United States intended to gain influence and to get benefits for their companies. However, since Maduro continued its anti-American rhetoric were mainly Russian and Chinese companies those that obtained the lion´s share. It is important to note that according to international studies Venezuela has larger oil proven resources than Saudi Arabia, which helps to understand the interest of those extra regional powers in that south American country.
The regional and international pressure on Maduro´s government and the growing domestic opposition lead to a political and economic isolation of Venezuela. As a consequence of that the government increased its dependence on Russia and China.
Russian oil and gas companies are very active in Venezuela and the main interest of Putin´s administration is to secure their interests and protect their investments. More than investments, Venezuela is highly indebted to Moscow and Beijing since during the last five years those two countries were the only external creditors to Maduro´s government.
Behind the so-called strategic partnership, there is pure economic and geopolitical interest.
The main problem that face Russia (and China) is how to convince to the Venezuelan opposition, headed by Juan Guaidó, to recognize their position in the case of changes on the government. Due to the determined support received from Washington it is not clear that Moscow and Beijing will get what they want. Washington want a new beginning, to begin from scratch and not any kind of compensation or share with Russia and China. From our perspective, those are extreme positions (Russia and China from one side and United States on the other side) and diplomatic channels could open the ground for negotiations and compensations.
Russia´s deployment of troops has to do with media more than with a military need. We can argue that those forces are there to protect Russian interests (Russian infrastructure and investments) not Maduro´s government.
Any military clash would be hard to sustain for Russia due to the impossibility to maintain a logistic chain and the financial costs involved. It is more rational to consider the deployment of troops as an insurance for its interests and a leverage for any potential negotiation.
At that moment, nor the United States nor any other South American country (mainly Colombia and Brazil) is eager to a violent regime change in Venezuela and a military intervention. If Washington (and Guaidó) recognize the interests of Russia and China, Maduro´s government will lose its main political and economic supporters and will be open to a transition. In the meantime, the Venezuelan people is trying to survive. Venezuela has generated more refugees than Syria. Just to note it.
Russia's deployment of troops in Venezuela has caused a new standoff between the U.S. and Russia with the U.S. accusing Russia of intervening in Venezuela's internal affairs. But is the U.S. really in the "moral high ground" of such accusation given its history of intervening?

The Only Way To Solve America's Immigration Border Crisis Without Losing Its Humanity
The United States of America is under unprecedented turmoil these days over its border crisis problem with Mexico, more with the political forces at work both for, and against, erecting a wall, cracking down and jailing and removing illegal aliens, giving more authority to local law enforcement to work with federal law enforcement in these efforts, as well as more scrutiny and hammering down of immigration applications of all types.
Truly there is a fury of activity within the United States with allegations of "racism" and "xenophobia" being thrown around, responded to with "national security" and "safety" being hurled back.
There doesn't seem to be an end in sight because the Republicans and the Democrats are locked in a fight to the death, with neither side willing to budge or even negotiate a way out of this mess.
Suffice it to say that one of the main origins of this now boiling over immigration border crisis lay with the people that elected Donald Trump to be President – more commonly known as "Nationalists," or "America Firsters."
These people are characterized as being staunchly against Globalism, or Internationalism, and share many commonalities with their cousins across the Atlantic in the United Kingdom, otherwise known as the supporters of "Brexit," who wanted to pull away from both the European Union and the globe in general.
But the problem lies in the fact that for at least the past 70 years, the United States and Europe have literally operated on an "Ordo Ab Chao" ("Order out of Chaos") approach, destroying and starving other nations and their sovereignty with outright war, terrorism, election overturning, sanctions or just cutting them off from the global economy.
The "blowback" of these interventionist policies of the past 70 years has resulted in incidents such as September 11 and other terrorist acts in its most violent form, but also in mass illegal immigration as another form of blowback, albeit much less violent but still just as disruptive to the economy, safety, health, and cohesion of the United States.
This is also happening in Europe wherein the people of those countries that they destroyed, are now flowing back into theirs, through the millions of refugees created by the unforgivable, wilful, wanton, and intentional destruction of their infrastructure, waterways, electrical grids, arable land, cities, hospitals, schools, everything.
One of the major reasons that the Establishment in both America and Europe were so vehemently against the Presidency of Donald Trump, or the people behind Brexit, is because they were still not finished with that "Ordo" portion of the phrase, only finished with the "Chao" part, wherein they were still right in the middle of massive project finance, foreign loans through the World Bank and IMF, public and private massive investment and international business, as well as other mechanisms designed to replace foreign nations with leaders, infrastructure, and cultures that were more amenable and in line with this Establishment.
Now that Trump is in office, he has surrounded himself with other like-minded people who simply don't care about the thousands of private and public international agreements, treaties, loans, funding, relationships, or understandings by and between the U.S. and foreign nations/leaders, and simply thinks that these countries can either "take care of themselves," "save their own people," "pay their fair share," and other isolationist principals – but in reality, after 70 years spent destroying those nations and making them promises, this type of abrupt "cutting off" policy, while disallowing them to enter or do business with the USA, is nothing short of a slow motion genocide of the world's people.
To that end we as a nation, if we are to begin to solve this endless illegal alien immigration crisis, must bite the bullet and forge/build relationships (and even provide funding) to those nations where the majority of these people are coming from, so that this sieve is turned off, as much as possible.
Merely building a wall, while turning away or denying all immigrants their basic human rights, is simply not enough.
The USA (and Europe) has had a significant role in destroying those nations from where these illegal immigrants have come from, and must do more to assist those nations in controlling their own "emigrant" problem, so that the USA (and Europe) does not have to.