United we stand on 'terrorism'? Evaluation of the shortcomings of global efforts and the efficacy of EU's initiatives
[yt_dropcap type="square" font="" size="14″ color="#000″ background="#fff" ] A [/yt_dropcap]n issue that has assumed global proportions, terrorism has become one of the gravest threats to humanity. Yet even as its expanse and reach have spared none, there seems to be no global consensus on what terrorism is all about. However, unhindered by the absence of a global understanding, attempts have been made by the European Union (EU) to deal with the challenges that the increasing spread of terrorism has been posing.
Located in the background of rising terror activities and their worsening impact, this article will evaluate the impediments to forming a global consensus on the 'what' of terrorism, followed by an appraisal of the efforts made by EU fill this void at the regional level. By contrasting the efforts that have been undertaken at two different (but inter-connected) levels of analysis – global and regional – prominent debates in the field concerning international organizations, particularly those related structure-agency, pathologies and institutional capacity, will be highlighted.
What is 'terrorism' anyway?
What had once been considered as a sporadic, quasi-global occurrence, terrorism was catapulted to the level of a 'global epidemic' with the attack on US on September 11, 2001. Much a cause of global concern, however, 'no 'universal' definition of terrorism exists at the level of international law'.
Often taken to be a 'political act' that involves 'indiscriminate or targeted killing' with the intention of 'changing the stance of a country or its government', 'terrorism' as a word has been around as a 'political descriptor' for long. In fact, the word 'terror' – which according to its Latin etymological root, terrere, means 'to frighten' – had 'entered Western European languages' lexicons through French in the fourteenth century and was first used in English in 1528'. Furthermore, the absence of a legally defined, working definition of 'terrorism' has however not hindered a general acknowledgement of its 'pejorative, unwanted nature'.
Inevitably entwined with power politics – what Foucault (1980) had described as the 'power/knowledge' nexus – the word 'terrorism' has generally been heaped on activities of identified 'others' whose activities have been deemed 'undesirable' by the state. However, such was not the case from the beginning. Much like any other political discourse, the concept of 'terrorism' – what to make of it, its forms, actors and the ways to deal with it – has undergone transformation. What had once been associated with 'state-perpetrated violence' is now generally seen as 'non-state actors led transnational activity' that looks to global action for dealing with it.
…And, how have we dealt with it internationally?
Today, as per the United Nations (UN), 'acts of international terrorism constitute one of the most serious threats to international peace and security in the twenty-first century', but what exactly these 'threats' are continues to be an unsettled debate. What makes the acknowledgement of the global failure on arriving at a legal definition of terrorism even more glaring is the 'exclusion of terrorism from the jurisdiction of the International Criminal Court'.
While there continues to be a lack of legal-proper definition of terrorism internationally, the UN in 2005 described what it thought terrorism is. According to the UN, 'terrorism' stood for 'criminal acts intended or calculated to provoke a state of terror in the general public, a group of persons or particular persons for political purposes are in any circumstance unjustifiable, whatever the considerations of a political, philosophical, ideological, racial, ethnic, religious or any other nature that may be invoked to justify them'. However, as one would come to see, the generic usage of ascriptive terms and the abstract conceptualization of 'acts' did not take the world body or its members state any far in dealing with this issue. A clear lack of specifics created an open-ended situation in which potentially all or none 'actions' could be described as terrorism.
Furthermore, emanating from the absence of legal parameters regarding the understanding of terrorism are multiple overlapping structures and conventions that are geared to tackle the various facets of the same concern – terrorism. The presence of too many frameworks and their respective policy recommendations has created problems related to prioritization. Realizing that any given country can be a signatory to many conventions simultaneously, the absence of an overarching body overseeing the implementation of obligations has hampered harmonious and in-sync actions against the common issue.
Disjunctions between frameworks are also witnessed and which, as a result, have also created conflicts and lack of coordination between mechanisms that are instituted to deal with the same menace. For instance, the UN 'now oversees sixteen conventions that target different aspects of terrorism, including terrorist financing, hijacking, acquiring weapons of mass destruction, and hostage taking, to name a few'. Added to which, 'within the UN alone, (there) are more than thirty agencies conducting relevant work on the issue, and too often, these various elements are uncoordinated and even competing.'
Exerting their sovereignty in the absence of a supra-national, global body, the 'differing perceptions of threats' as held by the states, in one way, comes to highlight the lacking of international bodies. For instance, while the UNS discharging its responsibilities as enshrined in the charter of the UN, has attempted to 'strengthen the international legal foundation for counterterrorism efforts by issuing numerous binding resolutions', their efficacy has often been placed under doubt. In the post-9/11 era, the UNSC had established Counterterrorism Committee (CTC) that was later followed by the CTC Executive Directorate (CTED), however not much has been achieved with their constitution. Observers have been of the opinion that the 'response of the world organization (UN) to terrorism has been tentative, halting, even ambivalent'.Added to which, "although the CTC was set up as part of the resolution that explicitly invoked the enforcement powers under Chapter VII of the Charter, it is not an enforcement mechanism; it has no power to impose sanctions" and which effectively makes it toothless.
Another instance that highlights the truncated agency of world bodies like the UN to deal with what is indeed a 'global' concern – 'terrorism' – is the abeyance in which Comprehensive Convention on International Terrorism (CCIT) is found. Discussions on the CCIT had begun in 1996 with the intention to criminalize all forms of international terrorism and deny terrorists, their financiers and supporters access to funds, arms, and safe havens. Among the objectives of this convention was the creation of a universal definition of terrorism that all member-states of the UN are to incorporate into their domestic criminal laws'.
Despite the urgency with which it is required, the CCIT has not materialized into a legally-binding convention to date. The reason: lack of consensus over the 'universal definition' of terrorism; an aspect about the proposed convention that has the United States, Organization of Islamic Countries and Latin America disagreeing over.
Faced with sovereign resistance to the creation of a concerted global effort, the UN has endeavored to forge global intention – if not action – against terrorism. In a display of its institutional agency and capacity, and with the intent to 'increase the legitimacy and add coherence' to what it does, the UN General Assembly unanimously adopted in 2006 the Global Counterterrorism Strategy (GCT). And, even as it is acknowledged that the GCT 'is either unknown or largely overlooked beyond New York, Geneva, and Vienna', the fact that the UN could create an 'important normative and operational foundation for counterterrorism' can perhaps be taken as an indicator of life that international organizations have of their own, notwithstanding how impacting it might be.
European Union saves the day
As it became evident that global efforts to tackle an acknowledged global issue have not been able take off much from the ground, it was domestic, bilateral and regional initiatives that one had to turn to. Among the regional initiatives, those taken by the EU have proven to be instances of success.
Attributing the swiftness with which the EU adopted and implemented measures to tackle terrorism within its regional territory to 'greater homogeneity in the interests of the European states', Eugenia Dumitriu (2004) notes that, 'as early as in 1977, European Convention on the Suppression of Terrorism' was signed by the then member-states. While 'this Convention did not offer a comprehensive definition of terrorism, since its objective is of a procedural nature…it drew up a list of terrorist acts defined either autonomously or by reference to international conventions'.
Apart from having been ratified and incorporated into the domestic law by all the member-states of this regional organization, what stands out the most about this convention is the difference that is drawn between acts of terror and those having political purposes and motives. Dumitriu notes,
"European Convention on the Suppression of Terrorism is the first to address a wide spectrum of terrorist acts and to impose on States the obligation not to consider them as political offences, offences connected with a political offence or as offences inspired by political motives."
Furthermore, the Treaty of European Union (or the Maastricht Treaty of 1992) that led to the creation of the EU too reinforced a 'legal basis for action by the Union in this field (terrorism)'. Developing an 'effective fight against terrorism', the "Union has several tasks to fulfill and a variety of instruments at its disposal, an emphasis being laid upon the approximation of member states' criminal laws in accordance with Article 31 of Maastricht Treaty".
It was in 2002 that the EU came up with a common definition of terrorism which was 'combined with standard' penalties. Institutionalizing a legal framework to fight terrorism, the creation of the 'Council Framework Decision on Combating Terrorism' was geared to promote coordination between member-states by creating a regionally universal standard for classifying terrorism and putting in place mechanisms based on that common understanding. As Dumitriu notes, the Framework provides a 'common definition of terrorist offences, as well as rules of competence and of legal cooperation between member states for the prosecution of persons having committed terrorist acts'. Thus, by establishing a totalizing mechanism to deal with terrorism, this Framework eliminates duplication, lack of coordination and conflicts that could have emerged thereof.
Apart from this larger Framework that informs the various steps taken by the EU for tackling 'terrorism', this regional body has put in place certain other legal, financial and judicial measures. These include, creation and enforcement of the 'European Arrest Warrant (of 2002 which smoothens inter-member-state extradition); Schengen Borders Code and Schengen Information System (to check money laundering which is a known source financing terrorism); EUROPOL (the European Police Office) and EUROJUST (European Union Judicial Cooperation Unit), among many other initiatives that have been taken.
Providing an overall point of convergence is the Common Security and Defence Policy (CSDP; formerly known as European Security and Defence Policy), which in rendering a common framework to its member-states with regards to the promotion of 'international security' equips EU with policies and instruments required for tackling terrorism both at home and abroad.
In this context, it is also important to note that EU has also ventured beyond its shores to create and enforce methods and mechanisms promoting coordination between EU, member-states and other entities (countries and organizations). For instance, the EU has 'concluded an agreement with the USA for a Terrorism Finance Tracking Programme, (TFTP) which entered into force in August 2010'.
Further enhancement in the power of the EU to preside and decide over matters related to the 'internal security' of its member states has been witnessed since the implementation of the Lisbon Treaty (of 2007). These include, greater oversight by the European Parliament over the implementation of provisions related to the Framework and CSDP; bestowing of rights to EUROPOL, EUROJUST to enter into treaties and agreements with external organizations; the expansion of the jurisdiction of the European Court of Justice (ECJ) to cover all freedom, security, and justice issues, including measures on counter-terrorism. (Renard, 2016)
Thus, equipped with policies and mechanisms that assume a life of their own, the efforts made by the EU to define and deal with terrorism have been far more effective than that at the global level. It cannot be denied that management of sovereign realities globally in the absence of a supra-national entity will be a herculean task, but instances such as that of the EU – which too was built on the ashes of Second World War rivalries – can surely be seen as instructive. Also, where the EU stands out as a case of a regional organization assuming agency, the reduction of the UN to a 'talking platform' on the other hand highlights the challenges faced by such entities.
A Virus Yet to Be Eradicated
Much as everything in this world, human memory knows its limits. Increasingly receding into a background of the past, episodes of our life—be they thrilling at the thought or intensely dramatic—grow faint and fade, as they are gradually eclipsed by latest events and fresh experiences.
On September 11, 2001, I happened to be a first-hand witness to the most heinous terrorist attack in humanity's contemporary history—the hijacked passenger jets heading to crash into the towers of the World Trade Center in lower Manhattan. Twenty-one years later, I'm somewhat in doubt that all of this happened to me for a fact: blinding flares of orange against the backdrop of a blue September sky, swirls of smoke and dust slowly blanketing the city's downtown narrow streets, a high-pitched cacophony of fire-truck and police sirens, crowds of disoriented people having no idea where to run and what the next moment might bring.
In the wake of 9/11, international terrorism has predictably become a thing to bandy about. Like many of my colleagues, I was attending numerous conferences and seminars as well as partaking in various research projects on the subject. Besides, a stroke of fate gave me a rare opportunity to have personal conversations with such heavyweights of world politics as Vyacheslav Trubnikov, Richard Armitage, Thomas R. Pickering, Kofi Annan and others, who made their meaningful contribution to fostering cooperation in countering the terrorist threat. In a way, their efforts have borne fruit as the world has seen nothing similar to 9/11 since 2001.
Still, we have to admit that the war on terror has not ended in a decisive victory. Terrorist attacks no longer claim lives of thousands—however, hundreds have died in the massive attacks in Paris and in Madrid, in Bagdad and in Berlin, in Beslan and over Sinai, in Gamboru (Nigeria) and in Mumbai (India), with new names added to this tragic list every so often. Large-scale terrorist attacks are now few and far between in the United States, but there have been more of them in Europe, let alone in the Middle East. The recent suicide bombing near the Russian Embassy in Kabul is yet another reminder that the terrorist threat is still here. Why, then, is the goal to wipe out terrorism—now dating two decades—not achieved so far?
In the first place, the international community has failed to agree on a common definition of terrorism's origins, driving forces and character. What some actors explicitly dub as "terrorist" may look like a national liberation struggle for others. Bring up the issue of terrorism in Kashmir in a conversation with Indians and Pakistani, only to see there can hardly be a common denominator in this matter.
Second, any success in the fight against terrorism entails a high level of trust between the interacting parties—simply because they would have to exchange sensitive and confidential information. In today's world, trust is thin on the ground. An apparent and mounting deficit of this resource is not only present in the relations between Moscow and Washington; it also takes its toll on the relations between Beijing and Brussels, between Riyadh and Teheran, between Cairo and Addis Ababa, between Bogota and Caracas, and the list goes on.
Third, international terrorism is far from an issue that is set in stone. It is gradually changing and evolving to become more resilient, sophisticated, and cunning. Similar to a dangerous virus, the terrorist threat is mutating, generating ever new strains. Ironically, what is especially dangerous today is the kind of terrorism bred by anonymous mavericks and amateurs rather than the sort represented by well-known transnational extremist movements—individualists are the hardest to track and neutralize, while plans of amateurs are harder to reveal.
The current progress in military technology, coupled with other trends in the contemporary international arena, portend a new spike in terrorist activities in the coming years. Modern and increasingly complex social and economic infrastructure, especially in large metropolitan areas, is an enabling environment for hard-hitting terrorist attacks. Besides, international and civil conflicts—like the one raging in Ukraine—drastically heighten the accessibility of modern arms for would-be terrorists.
Add to this a comprehensive setback in the resilience of global economy, which may be fraught with more social tensions and an inevitable rise of pollical radicalism and extremism in a broad range of countries. An obvious foretelling: In this "nutrient broth", the virus of terrorism, which has not been wholly eradicated, stands all the chances for an "explosive" growth.
It may well be possible that all of us will in the years ahead be lucky enough to avoid a second edition of the events that shattered the world on September 11, 2001. Still, taking terrorism off the agenda is only possible if humanity effects a transition to a new level of global governance. It is either that the leading powers are wise and energetic enough for this, or the tax that international terrorism imposes on our common civilization will be progressively higher.
From our partner RIAC
ISIS Rises from the Dust in the Syrian Desert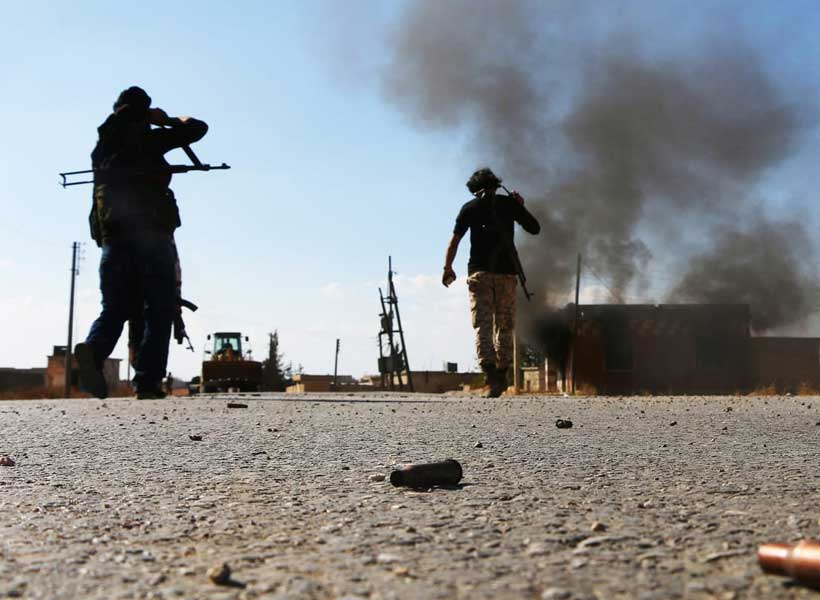 Over the last few months Syria's northeast has been spiraling downwards to chaos amid the surge of violence and terror attributed to Islamic State (IS). After almost five years of dormant existence the terror group is once again making its way to prominence in Syria. With the so-called territorial califate no longer viable, the IS members have switched to hit-and-run attacks on remote outposts and prolific use of improvised explosive devices (IED) against vehicles. These attacks target both US-supported Syrian Democratic Forces (SDF) and the Syrian army units operating in the northeastern provinces of Raqqa and Deir Ezzor. At the same time the terrorists managed to restore afinancial safety net by extorting money from local professionals, including small business owners, doctors and teachers. Those who refuse to pay are subjected to threats and torture. The resulting insecurity enables the terror group to widen the scope of its activities even further.
The deterioration of the security situation in Syria went almost unnoticed by the international community distracted by the Ukrainian conflict. Under these circumstances the U.S. has a window of opportunity to curb the Russian influence in Syria and undermine theimage of power projected by Moscow in the Middle East.
Indeed, the areas held by the Russians and the Syrian army in Deir Ezzor and Homs have witnessed an increase in bloody attacks, supposedly carried out by IS fighters. The terrorists were able to avoid retaliation by retreating to no man's land in the areas abutting the U.S. bases, namely Al-Shadadi, the Green Zone near Abu-Kemal border crossing and Al-Tanf base. Moreover, previously each IS attack in US-controlled areas had been followed by joint raids of SDF and the US special forces. It is no longer so. Considerable resources that might otherwise have been used for counterinsurgency operations are allocated to maintaining security in Al-Hol camp, where some 12,000 IS fighters and their family members are held. Add to that the imminent threat of Turkish invasion from the north. The SDF was led into a deadlock and is loosing the grip on the region. Meanwhile IS sleeper cells exploit the situation to their advantage and infiltrate territories controlled by the Syrian army.
These suspicions are confirmed by a high-ranking source in the Syrian intelligence. Speaking on the condition of anonymity, the source claimed that the U.S. helicopters transported 200 former IS fighters from prisons in Haseke to the 55-km security zone around Al-Tanf. The terrorists will be split up into groups of 10 – 15 people. These groups will be then sent to provinces with Russian presence including Homs, Latakia, Tartus and Damascus with the task of conducting terror attacks with IEDs at the Russian military sites. Most of the selected militants originate from Northern Caucasia or Central Asia and therefore are fluent in Russian.
The source added that the list of the primary targets of the terrorists includes the phosphate mines in Hneifis guarded by Russian security companies as well as Russian military bases in Lattakia, Tartus, Damascus and Aleppo.
Ultimately, the recruitment of IS members to create disturbance for the Russians would only become a logical development of the proxy policy adopted by the U.S. in Syria. After all, Washington is killing two birds with one stone by destabilizing the area of Russian influence and making use of the IS prisoners. However, there is another conclusion to be made: Washington has failed in its initial mission to defeat IS and is now resorting to the use of terror group splinters in its political power games.
Pakistan is a victim of terrorism
A High-Level Ministerial the first Session of the UN Global Congress of Victims of Terrorism was held on 8 September 2022, Pakistan's Foreign Minister Bilawal Bhutto Zardari's remarks:-
"I am honored to speak today at the first UN Global Congress of Victims of Terrorism. This subject has special resonance for me personally, having lost my illustrious mother, the first woman Prime Minister of Pakistan, in a dastardly act of terrorism.
2.​ The Government and the people of Pakistan pay solemn tribute to all those who have suffered at the hands of terrorists. I express my profound support and solidarity with the victims and families of those who have been affected by this scourge.
3.​ The international community has an abiding responsibility to protect and support victims of terrorism. This has to be the basic tenant of our efforts to promote peace and security in the world.
4.​ While waging kinetic efforts to eradicate terrorist groups is imperative, we cannot fully win the fight against terrorism without preserving the rights of millions of innocent, defenseless, and vulnerable people who have suffered immensely because of terrorism. There should be more focus on retribution and rehabilitation and justice. Equally important is the need to work together to prevent further attacks, hold terrorists to account, and adopt a uniform victim-centric approach while addressing the challenges faced in conflict zones.
5.​ It is also unfortunate that political expediency and real politick have been allowed to dictate international response towards terrorism. Our tolerance for terrorism must not be a function of our foreign and domestic policies. This selective approach toward terrorism is the biggest injustice to the victims of terrorism.
6. ​For the last two decades, Pakistan has been one of the worst victims of terrorism – with over 80,000 causalities and economic losses exceeding $150 billion. We pay tribute to the families of martyrs of our law enforcement agencies and armed forces, who have rendered invaluable sacrifices while defending our motherland.
7.​ If we are to chart a way forward for victims, we must look beyond narrow political interests and geo-political agendas. We must examine why, despite global strategies, the terrorist threats continue to proliferate and give rise to the number of victims.
8.​ To further debate this issue, I would like to make a few points: First, we must address the root causes of terrorism and conditions conducive to terrorism. Second, we must distinguish terrorism from legitimate struggles for self-determination. Third, we must address state-sponsored terrorism, especially in cases of foreign occupation, and reject occupying powers' propensity to use brute force against occupied people in the name of counter-terrorism operations. Fourth, we must have a consensus definition of terrorism and take into account new and emerging threats. Fifth, we must address challenges emanating from the use of new technologies by terrorists, especially on social media and the dark web. And finally, we must counter disinformation campaigns.
9.​ Pakistan condemns terrorism in all forms and manifestations including right-wing, Islamophobia, racially and ethnically motivated, and state-sponsored terrorism.
10.​ Terrorism can only be completely eradicated by fighting extremism and the mindset that breeds violent extremism. I would like to urge that this global problem requires continuing international cooperation without any prejudices or preconceived notions against any particular religion, race, civilization, or country.
11.​ I would also like to take this opportunity to pay special homage to the oppressed people of Indian Illegally Occupied Jammu and Kashmir (IIOJK) and Palestine who deserve our special attention for their continuing suffering as victims of the worst forms of state-terrorism. The international community must hold the perpetrators of such state terrorism, and crimes against humanity, to account.
12. ​Our inability to address these issues will continue to increase victims and add to their suffering. It will also add to the physical and psychological trauma that may outlive many conflicts. The international community owes it to the victims of terrorism to take effective steps to address terrorism, wherever it may be, in whatever form it exists, without political considerations. This is our moral as well as legal obligation."
Pakistan's sacrifices in the Afghan war are much more than the collective damages caused to the 46 nations alliance led by the US in Afghanistan. Pakistan suffered the loss of around 80,000 precious human lives and an economic loss of estimated worth US Dollars 250 billion, in addition to the menace of terrorism, drugs, and gun cultures. The international community should acknowledge Pakistan's sacrifices and compensate.