United we stand on 'terrorism'? Evaluation of the shortcomings of global efforts and the efficacy of EU's initiatives
[yt_dropcap type="square" font="" size="14″ color="#000″ background="#fff" ] A [/yt_dropcap]n issue that has assumed global proportions, terrorism has become one of the gravest threats to humanity. Yet even as its expanse and reach have spared none, there seems to be no global consensus on what terrorism is all about. However, unhindered by the absence of a global understanding, attempts have been made by the European Union (EU) to deal with the challenges that the increasing spread of terrorism has been posing.
Located in the background of rising terror activities and their worsening impact, this article will evaluate the impediments to forming a global consensus on the 'what' of terrorism, followed by an appraisal of the efforts made by EU fill this void at the regional level. By contrasting the efforts that have been undertaken at two different (but inter-connected) levels of analysis – global and regional – prominent debates in the field concerning international organizations, particularly those related structure-agency, pathologies and institutional capacity, will be highlighted.
What is 'terrorism' anyway?
What had once been considered as a sporadic, quasi-global occurrence, terrorism was catapulted to the level of a 'global epidemic' with the attack on US on September 11, 2001. Much a cause of global concern, however, 'no 'universal' definition of terrorism exists at the level of international law'.
Often taken to be a 'political act' that involves 'indiscriminate or targeted killing' with the intention of 'changing the stance of a country or its government', 'terrorism' as a word has been around as a 'political descriptor' for long. In fact, the word 'terror' – which according to its Latin etymological root, terrere, means 'to frighten' – had 'entered Western European languages' lexicons through French in the fourteenth century and was first used in English in 1528'. Furthermore, the absence of a legally defined, working definition of 'terrorism' has however not hindered a general acknowledgement of its 'pejorative, unwanted nature'.
Inevitably entwined with power politics – what Foucault (1980) had described as the 'power/knowledge' nexus – the word 'terrorism' has generally been heaped on activities of identified 'others' whose activities have been deemed 'undesirable' by the state. However, such was not the case from the beginning. Much like any other political discourse, the concept of 'terrorism' – what to make of it, its forms, actors and the ways to deal with it – has undergone transformation. What had once been associated with 'state-perpetrated violence' is now generally seen as 'non-state actors led transnational activity' that looks to global action for dealing with it.
…And, how have we dealt with it internationally?
Today, as per the United Nations (UN), 'acts of international terrorism constitute one of the most serious threats to international peace and security in the twenty-first century', but what exactly these 'threats' are continues to be an unsettled debate. What makes the acknowledgement of the global failure on arriving at a legal definition of terrorism even more glaring is the 'exclusion of terrorism from the jurisdiction of the International Criminal Court'.
While there continues to be a lack of legal-proper definition of terrorism internationally, the UN in 2005 described what it thought terrorism is. According to the UN, 'terrorism' stood for 'criminal acts intended or calculated to provoke a state of terror in the general public, a group of persons or particular persons for political purposes are in any circumstance unjustifiable, whatever the considerations of a political, philosophical, ideological, racial, ethnic, religious or any other nature that may be invoked to justify them'. However, as one would come to see, the generic usage of ascriptive terms and the abstract conceptualization of 'acts' did not take the world body or its members state any far in dealing with this issue. A clear lack of specifics created an open-ended situation in which potentially all or none 'actions' could be described as terrorism.
Furthermore, emanating from the absence of legal parameters regarding the understanding of terrorism are multiple overlapping structures and conventions that are geared to tackle the various facets of the same concern – terrorism. The presence of too many frameworks and their respective policy recommendations has created problems related to prioritization. Realizing that any given country can be a signatory to many conventions simultaneously, the absence of an overarching body overseeing the implementation of obligations has hampered harmonious and in-sync actions against the common issue.
Disjunctions between frameworks are also witnessed and which, as a result, have also created conflicts and lack of coordination between mechanisms that are instituted to deal with the same menace. For instance, the UN 'now oversees sixteen conventions that target different aspects of terrorism, including terrorist financing, hijacking, acquiring weapons of mass destruction, and hostage taking, to name a few'. Added to which, 'within the UN alone, (there) are more than thirty agencies conducting relevant work on the issue, and too often, these various elements are uncoordinated and even competing.'
Exerting their sovereignty in the absence of a supra-national, global body, the 'differing perceptions of threats' as held by the states, in one way, comes to highlight the lacking of international bodies. For instance, while the UNS discharging its responsibilities as enshrined in the charter of the UN, has attempted to 'strengthen the international legal foundation for counterterrorism efforts by issuing numerous binding resolutions', their efficacy has often been placed under doubt. In the post-9/11 era, the UNSC had established Counterterrorism Committee (CTC) that was later followed by the CTC Executive Directorate (CTED), however not much has been achieved with their constitution. Observers have been of the opinion that the 'response of the world organization (UN) to terrorism has been tentative, halting, even ambivalent'.Added to which, "although the CTC was set up as part of the resolution that explicitly invoked the enforcement powers under Chapter VII of the Charter, it is not an enforcement mechanism; it has no power to impose sanctions" and which effectively makes it toothless.
Another instance that highlights the truncated agency of world bodies like the UN to deal with what is indeed a 'global' concern – 'terrorism' – is the abeyance in which Comprehensive Convention on International Terrorism (CCIT) is found. Discussions on the CCIT had begun in 1996 with the intention to criminalize all forms of international terrorism and deny terrorists, their financiers and supporters access to funds, arms, and safe havens. Among the objectives of this convention was the creation of a universal definition of terrorism that all member-states of the UN are to incorporate into their domestic criminal laws'.
Despite the urgency with which it is required, the CCIT has not materialized into a legally-binding convention to date. The reason: lack of consensus over the 'universal definition' of terrorism; an aspect about the proposed convention that has the United States, Organization of Islamic Countries and Latin America disagreeing over.
Faced with sovereign resistance to the creation of a concerted global effort, the UN has endeavored to forge global intention – if not action – against terrorism. In a display of its institutional agency and capacity, and with the intent to 'increase the legitimacy and add coherence' to what it does, the UN General Assembly unanimously adopted in 2006 the Global Counterterrorism Strategy (GCT). And, even as it is acknowledged that the GCT 'is either unknown or largely overlooked beyond New York, Geneva, and Vienna', the fact that the UN could create an 'important normative and operational foundation for counterterrorism' can perhaps be taken as an indicator of life that international organizations have of their own, notwithstanding how impacting it might be.
European Union saves the day
As it became evident that global efforts to tackle an acknowledged global issue have not been able take off much from the ground, it was domestic, bilateral and regional initiatives that one had to turn to. Among the regional initiatives, those taken by the EU have proven to be instances of success.
Attributing the swiftness with which the EU adopted and implemented measures to tackle terrorism within its regional territory to 'greater homogeneity in the interests of the European states', Eugenia Dumitriu (2004) notes that, 'as early as in 1977, European Convention on the Suppression of Terrorism' was signed by the then member-states. While 'this Convention did not offer a comprehensive definition of terrorism, since its objective is of a procedural nature…it drew up a list of terrorist acts defined either autonomously or by reference to international conventions'.
Apart from having been ratified and incorporated into the domestic law by all the member-states of this regional organization, what stands out the most about this convention is the difference that is drawn between acts of terror and those having political purposes and motives. Dumitriu notes,
"European Convention on the Suppression of Terrorism is the first to address a wide spectrum of terrorist acts and to impose on States the obligation not to consider them as political offences, offences connected with a political offence or as offences inspired by political motives."
Furthermore, the Treaty of European Union (or the Maastricht Treaty of 1992) that led to the creation of the EU too reinforced a 'legal basis for action by the Union in this field (terrorism)'. Developing an 'effective fight against terrorism', the "Union has several tasks to fulfill and a variety of instruments at its disposal, an emphasis being laid upon the approximation of member states' criminal laws in accordance with Article 31 of Maastricht Treaty".
It was in 2002 that the EU came up with a common definition of terrorism which was 'combined with standard' penalties. Institutionalizing a legal framework to fight terrorism, the creation of the 'Council Framework Decision on Combating Terrorism' was geared to promote coordination between member-states by creating a regionally universal standard for classifying terrorism and putting in place mechanisms based on that common understanding. As Dumitriu notes, the Framework provides a 'common definition of terrorist offences, as well as rules of competence and of legal cooperation between member states for the prosecution of persons having committed terrorist acts'. Thus, by establishing a totalizing mechanism to deal with terrorism, this Framework eliminates duplication, lack of coordination and conflicts that could have emerged thereof.
Apart from this larger Framework that informs the various steps taken by the EU for tackling 'terrorism', this regional body has put in place certain other legal, financial and judicial measures. These include, creation and enforcement of the 'European Arrest Warrant (of 2002 which smoothens inter-member-state extradition); Schengen Borders Code and Schengen Information System (to check money laundering which is a known source financing terrorism); EUROPOL (the European Police Office) and EUROJUST (European Union Judicial Cooperation Unit), among many other initiatives that have been taken.
Providing an overall point of convergence is the Common Security and Defence Policy (CSDP; formerly known as European Security and Defence Policy), which in rendering a common framework to its member-states with regards to the promotion of 'international security' equips EU with policies and instruments required for tackling terrorism both at home and abroad.
In this context, it is also important to note that EU has also ventured beyond its shores to create and enforce methods and mechanisms promoting coordination between EU, member-states and other entities (countries and organizations). For instance, the EU has 'concluded an agreement with the USA for a Terrorism Finance Tracking Programme, (TFTP) which entered into force in August 2010'.
Further enhancement in the power of the EU to preside and decide over matters related to the 'internal security' of its member states has been witnessed since the implementation of the Lisbon Treaty (of 2007). These include, greater oversight by the European Parliament over the implementation of provisions related to the Framework and CSDP; bestowing of rights to EUROPOL, EUROJUST to enter into treaties and agreements with external organizations; the expansion of the jurisdiction of the European Court of Justice (ECJ) to cover all freedom, security, and justice issues, including measures on counter-terrorism. (Renard, 2016)
Thus, equipped with policies and mechanisms that assume a life of their own, the efforts made by the EU to define and deal with terrorism have been far more effective than that at the global level. It cannot be denied that management of sovereign realities globally in the absence of a supra-national entity will be a herculean task, but instances such as that of the EU – which too was built on the ashes of Second World War rivalries – can surely be seen as instructive. Also, where the EU stands out as a case of a regional organization assuming agency, the reduction of the UN to a 'talking platform' on the other hand highlights the challenges faced by such entities.
Stateless and Leftover ISIS Brides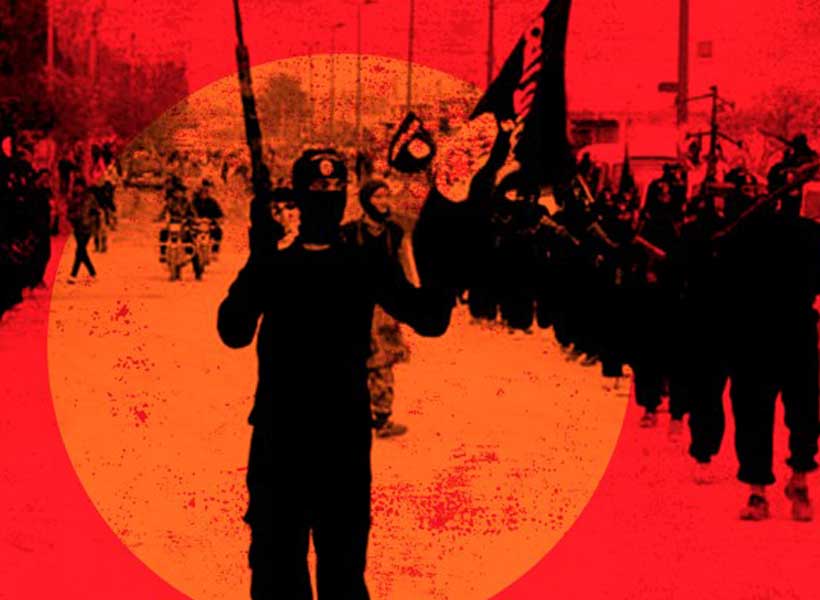 While the World is busy fighting the pandemic and the economic devastation caused by it, one of the important problem that has been pushed to dormancy, is the status of the ISIS(Islamic State of Iraq and Syria) brides. The Pandemic has crippled the capacity of the law enforcement and exploiting this the ISIS executed attacks in Maldives, Iraq, and the Philippines. The United Nations Secretary-General Antonio Guterres has warned that terrorists are exploiting the COVID-19 Pandemic. Albeit the ISIS has been defeated, approximately ten thousand of them are in ISIS detention centres in Northern Syria under Kurds. Most of these detention centres are filled by women and children, who are relatives or widows of the ISIS fighters. With their native states denouncing them, the status of the stateless women and children is unclear.
As it stands today states' counter-terrorism approach has been primarily targeting male militants but women also have played a role in strengthening these terrorist organizations. Women involvement in militant organizations has increased as they perform several activities like birthing next-generation militants/jihadists, managing the logistics and recruiting the new members to the organizations. The world did not recognize women as key players in terrorist organizations until the 1980s when females held major roles in guerilla wars of southern America. Women have either willingly or unwillingly held a variety of roles in these extremist organizations and Islamist terrorist organizations like Hamas and al-Qaeda women do simply provide moral support.
According to the media reports since the US withdrawal from Iraq in 2006 female suicide attacks have been increased and they have been extensively part of ISIS. The ISIS had a female brigade which they called as Al-Khansaa which was established to perform search activities in the state. Both foreign and domestic recruits in the Islamic state have participated in brutal torture. A recently acquired logbook from a guesthouse in Syria provides important information about 1100 females who joined the organization, the western women who are called as 'the muhajirat'.
When the people from rest of the world joined organizations such as ISIS, they burnt their passports and rejected their national identity. Especially women from western countries who were radicalized online based on their phenomenon 'ISIS brides/Jihadi brides' to marry terrorists. Since Islamic State isnot recognized by the world these marriages are not legally valid, apart from this a number of these brides have experienced sexual torture and extreme violence.
While the erstwhile members of the extremist organizations like ISIS and others are left adrift the one challenging question remaining is should states and their societies keep them and reengage or rehabilitate or prosecute them. How firmly the idea of their erstwhile organization is stuck in their minds and especially the followers who crossed the world to join remains a concern to many. The U.S backed Kurdish forces across turkey border hold thousands of these left-behind women and children in their centre. Hundreds of foreign women and children who were once part of an aspirant state, The caliphate are now floating around the concentration camps in Syria, Turkey and Kurdish detention centres and prisons. Many are waiting to return to their origin countries. They pose a unique challenge to their native states like whether to include them or not and even if they include how to integrate adults who at least for a time part of these terrorist organizations and what to do with children who are too young to understand the politics and obstacles keeping them in camps and detention centres where resources are scarce. Women present a problem because its hard to know what kind of crimes they have committed beyond the membership of the terrorist organization.
It is no secret that women also have been part of insurgency across the world, like in ISIS,LTTE,PIRA and PFLP. The responsibility of women in ISIS includes wife to ISIS soldiers, birthing the next generation of jihad and advancing ISIS' global reach through online recruiting. The International Center for Study of Radicalization (ICAR) estimates that out of 40000 people joined ISIS from 80 different countries nearly 8000 are women and children. After the defeat of ISIS and such extreme organization those who are left behind possess the ideological commitment and practical skills which again a threat upon return to home countries.
The states across the world are either revoking the citizenship or ignore their responsibility. The most famous case of Shamima Begum a UK citizen married to an ISIS fighter whose citizenship was revoked by the UK government. In other cases like HodaMuthana of the USA and Iman Osman of Tunisia have been the same case. As recently as Tooba Gondal an ISIS bride who now in a detention camp in northern Syria begged to go home in the UK in a public apology.
The American president Donald Trump issued a statement saying women who joined ISIS cannot return. The NATO deputy head said "…returning ISIS fighters and brides must face full rigours of the law". Revoking the citizenship and making someone stateless is illegal under international law and it is also important to know how gendered these cases are because the UK have successfully prosecuted Mohammad Uddin and the USA has also done it so. Stripping off their citizenship itself a punishment before proper trail and the only good out of it would state can take their hands off in dealing with cases. Samantha Elhassani the only American who repatriated from Iraq so far and pleaded guilty for supporting ISIS. Meanwhile, France is trying to route its citizens who joined the ISIS and extradited few who are under trial in Bagdad.
As experts and political analysts say "countries should take responsibility for their own citizens" because failure to do so will also make the long term situation more dangerous as jihadists will try to a hideout and turn into militant groups for their protection. The children, the second-generation ISIS need cultural centres and rehabilitation centres and this is an international problem. These women known as jihadists brides suffer from a post-traumatic stress disorder and many are pregnant or multiple children born in ISIS territory.
In some countries travelling abroad to join the insurgencies in North Africa and Syria was not always a criminal act, Sweden criminalized such act recently but to prosecute them proof of offences committed in the conflict zone is difficult to collect and most countries in the world do not allow the pre-trial detention for more than 14 days. With problems of different national Lawson extradition and capital punishment and to prosecute them in conflict countries is also a challenge for states. Since Kurdish forces have signalled that they cannot bring all the prisoners into justice the home countries will have to act or else it might create a long term dangerous situation. With the civil war in Syria is about to end it is time to address these issues because since there are more ISIS fighters in Kurdish prisons and detention centres they could be influenced to join rebels who are fighting the regime of Assad in last standing province of Idlib.
If the governments reject the repatriation applications then they will be signalling that their action is essential for national security and thus asserting that failed or poorly resourced states are better equipped to handle potential extremists. The criminal system in Iraq is corrupt and human rights violations have been reported and which creates the risk of further radicalization. One should not forget that even citizenship of Osama bin laden was also stripped but which did not stop him from forming al-Qaeda in Afghanistan. If the citizens commit crimes and forget their responsibility then the states must bring them to justice instead of stripping citizenship. The states must come with a solution for this problem before its too late, setting up an international tribunal to deal with these cases would be a great start but these tribunals are time-consuming and expensive.
States must act as a responsible actor in the international system. Jihadist terrorism is a global problem and states must act together to deal with it because with nearly 40000 fighters joining caliphate from across the world it only shows how global and deeply rooted the phenomenon is. Instead of stripping their citizens' citizenship, states must find a way to act together for the peace and security of the international community.
COVID-19: Game-changer for international peace and security
The world has "entered a volatile and unstable new phase" in terms of the impact of COVID-19 on peace and security, the UN chief told a virtual meeting with world leaders on Wednesday.
Speaking at one of a series of international meetings among heads of State to enhance global cooperation in fighting terrorism and violent extremism, as part of the Aqaba Process, Secretary-General António Guterres said the pandemic was more than a global health crisis.
"It is a game-changer for international peace and security", he spelled out, emphasizing that the process can play a key role in "promoting unity and aligning thinking" on how to beat back the pandemic.
Warning lights flashing
Mr. Guterres maintained that the coronavirus has exposed the basic fragility of humankind, laid bare systemic and entrenched inequalities, and thrust into the spotlight, geopolitical challenges and security threats.
"The warning lights are flashing", he said, pointing out that as the virus is "exacerbating grievances, undermining social cohesion and fueling conflicts", it is also likely to "act as a catalyst in the spread of terrorism and violent extremism".
Moreover, international tensions are being driven by supply chain disruptions, protectionism and growing nationalism – with rising unemployment, food insecurity and climate change, helping to fuel political unrest.
A generation in crosshairs
The UN chief also noted that a generation of students is missing school.
"A whole generation…has seen its education disrupted", he stated. "Many young people are experiencing a second global recession in their short lives."
He explained that they feel left out, neglected and disillusioned by their prospects in an uncertain world.
Wanted: Global solidarity
The pandemic has highlighted vulnerabilities to emerging threats such as bioterrorism and cyber-attacks on critical infrastructure.
"The world faces grave security challenges that no single country or organization can address alone", upheld the Secretary-General, "there is an urgent need for global unity and solidarity".
Recalling the UN's Virtual Counter-Terrorism Week in July, he reminded that participants called for a "reinvigorated commitment to multilateralism to combat terrorism and violent extremism".
However, a lack of international cooperation to tackle the pandemic has been "startling", Mr. Guterres said, highlighting national self-interest, transactional information sharing and manifestations of authoritarianism.
'Put people first'
The UN chief stressed that "we must not return to the status quo ante".
He outlined the need to put people first, by enhancing information sharing and technical cooperation "to prevent terrorists exploiting the pandemic for their own nefarious goals" and thinking "long-term solutions rather than short-term fixes".
"This includes upholding the rights and needs of victims of terrorism…[and] the repatriation of foreign terrorist fighters, especially women and children, and their dependents to their countries of origin", he elaborated.
Closing window
Meanwhile, the risk of COVID-19 is exacerbating the already dire security and humanitarian situation in Syrian and Iraqi camps housing refugees and the displaced.
"The window of opportunity is closing so we must seize the moment", the UN chief said. "We cannot ignore our responsibilities and leave children to fend for themselves and at the mercy of terrorist exploitation".
He also expressed confidence that the Aqaba Process will continue to "strengthen international counter-terrorism cooperation, identify and fill capacity gaps, and address evolving security threats associated with the pandemic", and offered the UN's "full support".
Post-COVID rebuilding
The Secretary-General also addressed the Centenary Summit of the International Organization of Employers (IOE) on how private and public sector cooperation can help drive post-COVID change.
He lauded the IOE's "significant contributions" to global policymaking for economic and social progress, job creation and a mutually beneficial business environment, calling it "an important pillar of the International Labour Organization (ILO) since its earliest days".
"Today, our primary task is to defeat the pandemic and rebuild lives, livelihoods, businesses, and economies", he told the virtual Summit.
In building back, he underscored that workers and small business be protected, and everyone be given the opportunity to fulfil their potential.
Businesses input
The UN chief urged businesses to engage with the multilateral system to create a "conducive global environment for decent work, investment, and sustainability"; and with the UN at the national level, to help ensure that multilateralism "works on the ground".
He also encouraged them to actively participate in national and global public-private dialogue and initiatives, stressing, "there must be space for them to do so".
Tripartite cooperation
ILO chief Guy Ryder highlighted the need for "conscious policy decisions and tripartite cooperation to overcome transformational challenges", such as technological change and climate change, as well as COVID-19.
Mr. Ryder also flagged that employers must continue to collaborate in social dialogue and maintain their commitment to both multilateralism and the ILO.
The IOE represents more than 50 million companies and is a key partner in the international multilateral system for over 100 years as the voice of business at the ILO, across the UN, the G20 richest countries and other emerging forums.
Traumas of terrorism cannot be erased, but victims' voices must never be forgotten
In remembering and honouring all victims of terrorism, Secretary-General António Guterres said the UN stands by those who grieve and those who "continue to endure the physical and psychological wounds of terrorist atrocities".
"Traumatic memories cannot be erased, but we can help victims and survivors by seeking truth, justice and reparation, amplifying their voices and upholding their human rights", he stressed.
Keep spotlight on victims, even amid pandemic
This year's commemoration takes place against the backdrop of the COVID-19 pandemic, when vital services for victims, such as criminal justice processes and psychosocial support, have been interrupted, delayed or ended as Governments focus attention and resources on fighting the pandemic.
Moreover, many memorials and commemorations have been cancelled or moved online, hampering the ability of victims to find solace and comfort together.
And the current restrictions have also forced the first-ever UN Global Congress of Victims of Terrorism has to be postponed until next year.
"But it is important that we keep a spotlight on this important issue," stressed the UN chief.
"Remembering the victims of terrorism and doing more to support them is essential to help them rebuild their lives and heal", said Mr. Guterres, including work with parliamentarians and governments to draft and adopt legislation and national strategies to help victims.
The Secretary-General vowed that "the UN stands in solidarity with all victims of terrorism – today and every day" and underscored the need to "ensure that those who have suffered are always heard and never forgotten".
Terrorism unjustifiable
General Assembly President Tijjani Muhammad-Bande saluted the resilience of terrorist survivors and called the day "an opportunity to honour the memories of the innocent civilians who have lost their lives as a result of terrorist acts around the world".
"Terrorism, in all forms and manifestations, can never be justified", he stated. "Acts of terrorism everywhere must be strongly condemned".
The UN commits to combating terrorism and the Assembly has adopted resolutions to curb the scourge while working to establish and maintain peace and security globally.
Strengthen assistance
Mechanisms for survivors must be strengthened to safeguard a "full recovery, rehabilitation and re-integration into society through long-term multi-dimensional support", stated the UN official.
"Together we can ensure that you live a full life defined by dignity and freedom. You are not alone in this journey. You are not forgotten", concluded the Assembly president.
'Human dimension'
Closing the event, Vladimir Voronkov, chief of the UN Office of Counter-Terrorism, maintained that victims represent "the very human dimension of terrorism".
While terrorists try to depersonalize victims by reducing them to mere numbers or statistics, Mr. Voronkov maintained that "we have a responsibility to do the exact opposite".
"We must see victims' hopes, dreams and daily lives that have been shattered by terrorist violence – a shattering that carries on long after the attack is over", he stated. "We must ensure their human rights are upheld and their needs are met".
Reaffirming humanity
While acknowledging the "terrible reality of terrorism", Mr. Voronkov flagged that the survivors shine as "examples of resilience, and beacons of hope, courage and solidarity in the face of adversity".
In reaffirming "our common humanity", he urged everyone to raise awareness of victims needs and rights.
"Let us commit to showing them that they are not alone and will never be forgotten", concluded the Counter-Terrorism chief.
Survivors remember
At the virtual event, survivors shared their stories while under lockdown, agreeing that the long-term impacts of surviving any kind of an attack is that the traumatic experience never really goes away.
Tahir from Pakistan lost his wife in attack against the UN World Food Programme (WFP) office in Islamabad.
"If you have an accident, you know how to cope with it. Terminal illness, you know how to cope with it. But there is no coping mechanism for a person who dies in an act of terror", he said.
Meanwhile Nigeel's father perished in the 1998 US Embassy attack in Kenya, when he was just months years old.
The 22 year-old shared: "When you are growing, it really doesn't have a heavy impact on you, but as life starts to unfold, mostly I'll find myself asking if I do this and my dad was around, would he be proud of me?"
And Julie, from Australia, lost her 21-year-old daughter in the 2017 London Bridge attack.
"The Australian police came to our house and said 'we have a body, still not confirmed', so they recommended that we fly to London", she recalled. "I can't describe how devastating as a parent to lose a child in these circumstances is for the rest of your life".