A new international cooperation model
[yt_dropcap type="square" font="" size="14″ color="#000″ background="#fff" ] A [/yt_dropcap] new distribution of the strategic, geoeconomic, military and political potentials is currently taking place in the world. Hence we must orient these new mechanisms towards a peaceful, homogeneous and stable development of the world market and the world system. Otherwise – and once again there are signs of a possible war – our global system will collapse without producing practicable alternative options.
The fault lines of this new world order – much different from the one set by the United States after the end of the Soviet hegemony over the Third World – are mostly shaped by the large regional alliances.
Currently war is waged to conquer fault lines, border areas, the Rimland.
Suffice to think of the Asia Pacific Economic Forum (APEC), set up in 1989 and now joining 21 countries, including China and the United States, in addition to Japan, which is the gateway for the economic integration of the Asian-Pacific region – an area with a very high economic and strategic potential at world level.
Or we can mention the Association of South East Asian Nations (ASEAN), founded in 1967 and now counting eleven members, which is the main bridge between Asia and Europe and partly overlaps with APEC in terms of membership.
Nor can we forget the Council of Arab Economic Unity (CAEU), created in 1964 by eighteen African and Arab countries to foster regional economic integration.
We must also mention the Caribbean Community (CARICOM), established in 1973 and based on the European Single Market model, which may even be turned into a political union, according to the plan already adopted by the Member States, which will be implemented between 2018 and 2020. Nor should we forget the Economic Community of West African States (ECOWAS), founded in 1975 and currently turned from an economic integration instrument into a mechanism of institutional and political reform – in this connection, suffice to think of the role played by ECOWAS in the recent coup in Ghana.
We should also mention NATO, but this topic will be analyzed later. Finally it is worth recalling the Southern African Development Community (SADC), founded in 1992 as regional common market for its eleven Member States, but currently also turned into an instrument for the political transformation of the region.
These are economic alliances established to take advantage of globalization by offering cheap labour and a series of infrastructure and, at the same time, resist globalization by blocking the inevitable attempts of each State to resort to the "beggar thy neighbour" rule.
They are all regional alliances established in previously dishomogeneous areas in terms of geopolitical loyalty, type of development, economic potential, as well as relations with the European countries or the United States.
This means that all the abovementioned alliances are alliances of the Rimland, of the peripheral areas surrounding the real geopolitical masses: the Sino-Russian Heartland, with the Indian and Iranian appendices towards the Greater Middle East, and the Eurasian appendix towards the European peninsula; Africa, and the Pacific peripheral areas, not surprisingly with many crossed economic alliances; finally, the United States and Canada with the Latin American appendix.
China wants to achieve hegemony over the Pacific, but it has difficulties in having access to that ocean. The Russian Federation records economic and strategic differences among its wide regions. Europe is deciding to fall apart, by favouring both the United States and Russia at the same time. India is planning a geopolitical future as hegemonic power over the Himalayan region and as global power broker on all Asian seas, in connection with the Mediterranean.
The Mare Nostrum, the future global hub, is in the hands of the most radical destabilizers, torn between jihad and counter-jihad, between increasingly weak nation-States and mass Islamic militants of "the sword jihad".
Finally, a new sequence of trade and economic wars is shaping within this classic geopolitical system.
In the recent Davos Forum, Xi Jinping rightly said that "no one has to gain from trade wars."
China exports to the United States more than the latter exports to China.
Hence none of the two has to gain from a trade war, but it is likely that the United States would lose more.
And China mainly controls the global chains of components, which are currently worth 80% of the whole global flow of goods.
Suffice to consider the fine electronics sector.
In fact, it was the quick fall in transport prices which enabled the large global companies to split the supply chains among various countries, many of which belonging to networks and associations of which we have already spoken.
Therefore the Rimland is no longer such and it is creating relations with the countries which define their primary productions: the South East Asian network reaches up to China and partly to India; the Middle East is joining the Sino-Russian axis (Iran) or the North-African one; Latin America will find itself divided between the United States, the European Union and China, which wants to unite the two Pacific shores.
A trade war between China and the United States, with the creation of symmetric trade barriers, would generate strong inflationary pressure in the United States, followed by a Federal Reserve's policy which shall gradually raise interest rates more than the US economy needs.
The solution could be a new bilateral commercial treaty between the United States and China, which would enable the US companies to gain access to the huge Chinese market and would also enable China to increase its direct investment in the US market.
It is worth noting that America has large trade deficits with most of its trading partners in Asia – the Vietnamese surplus with the United States alone accounts for 15% of the Vietnamese GDP.
Probably, in the near future, President Trump will decide to revise trade relations also with India, Indonesia and Malaysia, but certainly a country that currently runs so large trade deficits, such as the United States, is highly vulnerable to any kind of economic warfare attack.
The Euro and the European Union have suffered – and are still suffering – from monetary and trade wars which are easy to predict: Greece's persisting crisis, which will lead the European Union to lose its strategic Southern flank, to the benefit of Russia, China, Saudi Arabia and Turkey; "the spread war" between France and Germany – not to mention Italy's decline and the new Spanish autonomy, halfway between Latin American temptations and North African plans.
Even in the Balkans, Croatia is imposing non-tariff restrictions on Macedonia, while there is a clear trade war going on between the United States and Germany.
While the Americans rightly think that the Euro is an undervalued German Mark, enabling Germany to take advantage both of the EU countries and the United States.
Therefore, in America, the Europeans attack some technology platforms, such as Apple or Google and, in response, the United States attack European and especially German car-making companies on the issue of emissions.
Today's trade wars are waged with indirect strategies and are soft wars, although they are often heavily defamatory.
On the financial side, many multinationals buy the huge public debt of some smaller and weaker States (and this holds true also for Italy) and securitize it by hiding its origin and source; finally they sell it thanks to the shelter of their tax havens.
This, too, is a trade war – a new type, but even fiercer than the traditional one – possibly with the "Black Ships" of Commodore Perry for the opening of Japan to US trade, as happened in 1853.
Not to mention tax dumping which attracts major investors to a country, but leaves the others without a penny, compelled by their public debt or the bad valuation of their public debt securities to keep corporate taxes high.
Furthermore austerity policies make taxation regressive: those who earn less pay slightly more.
Hence markets shrink, with obvious knock-on effects on taxation and development rates.
Furthermore, the purely geopolitical and military crisis points are well-known, but basically they are all attempts to acquire peripheral territories to achieve the goal of controlling commercial networks, the comparatively more efficient production areas, the extraction of raw materials and public debt.
Ukraine, for example, could be invaded by the Russian Federation and force NATO to a counteroffensive.
It is also worth recalling the issue of the Senkaku-Diaoyo islands, a point of tension between Japan and China for controlling the Pacific – islands which are a very rich fishing area and a possible oil field.
The fact must not be neglected that the military treaties signed in the aftermath of the Second World War oblige the United States to support, with its Armed Forces, Japan and the other countries which would be certainly threatened by the Chinese operations in the Senkaku-Diaoyo archipelago.
Finally we must analyze the future tension between China and Russia on their Eastern border, which could increasingly mount due to China's demographic characteristics and Russia's weakness in this regard.
Iran does not yet know whether it wants to challenge the Saudi Sunni power with weapons and the "indirect strategy" of the Shiite Islam's unification or to expand into the Shiite region of Central Asia, up to Afghanistan and well beyond.
He cannot wish both but, whatever Iran decides, it will have military relevance.
North Korea wants the stability of its regime and the security of its borders, as well as foreign investment to stabilize its economy.
Here again there will be a point of tension that China has no intention of supporting in the long run – and this is a further factor of instability in the region.
What can be done? We must immediately stabilize monetary balances, with a currency defined – in set percentages – by the US Dollar, the Chinese Yuan, the Euro, the Rouble, the Indian Rupee and the Japanese Yen.
This will automatically redesign the world trade trends and routes, thus avoiding the trade wars which persist in peripheral areas to conquer them.
Later we shall think of a sort of "Register of financial securities" at global level.
As the Land Register and the accurate measurements of plots led to the creation of modern taxation in nation-States, the integration of the various databases for the transactions of all kinds of financial securities will enable to have such a new taxation system as to avoid many of the current failed States.
Effective Investment in China: What Should Be Done When the Situation Gets Complicated?
The current Chinese economy is facing a complex situation and is under unprecedented pressure to maintain steady economic growth. The growth was only 4.8% in the first quarter, making a poor start to 2022.
Domestic consumption has been in a slump for two years and is still lackluster in the first quarter of this year, with total retail sales of consumer goods growing by only 3.3% year-on-year (in the first quarter) and falling by 3.5% year-on-year in March. In terms of foreign trade, in the first quarter, imports and exports grew by 10.7%, exports by 13.4%, and imports by 7.5%. Compared with last year's foreign trade data (in U.S. dollar terms), the growth of imports and exports slowed by 17 percentage points compared with the whole of last year, while exports slowed by 14.1 percentage points and imports significantly slowed by 20.5 percentage points.
With consumption and export growth slowing down, investment becomes an important means of stabilizing growth this year. In recent years, there has been a new concept of investment, known as "expanding effective investment". Compared with the past investment that focused on scale and speed, to improve the effectiveness of investment is to pursue high-quality investment, which can also be seen as part of "high-quality development". According to China's National Development and Reform Commission (NDRC), the active expansion of effective investment is the focus of current macro policy, which will not only boost current demand and cope with downward pressure on the economy, but also help optimize the supply structure and promote high-quality development.
The NDRC called for targeted and effective investment, while resolutely avoiding indiscriminate investment. The state will appropriately advance infrastructure investment, and actively enhance water conservancy, transportation, energy, and other infrastructure construction. It will also strengthen the construction of new infrastructure and enhance the core competitiveness of the manufacturing industry. Additionally, it aims to improve the social and ecological environment, as well as urban infrastructure. The active expansion of effective investment does not mean blindly expanding projects or expanding infrastructure investment, nor imposing massive stimulus through large-scale infrastructure investment. Rather, it means focusing on key areas in economic and social development and carrying out targeted and orderly investment projects that benefit both immediate and long-term interests.
Yet government-driven investment still requires big projects. The NDRC put forward that 102 major projects in the 14th Five-Year Plan should be steadily promoted. In the view of the NDRC, the promotion of these projects is a major measure to actively expand effective investment. In addition, the expansion of effective investment also requires the market to play a major role in mobilizing social investment to participate. For example, within the more than RMB 50 trillion annual fixed-asset investment in China, government investment accounts for a very limited share, while nongovernmental investment accounts for the majority. Government investment plays a guiding role and arouses the proactiveness of social investment.
According to the researchers at ANBOUND, improving the effectiveness of investment starts with an understanding of effective investment itself, and how it can be differentiated in diverse situations.
What then, is an effective investment? As we have pointed out, effective investment is embodied in three aspects. First, it is economically effective. It would not be an investment for the sake of investment, nor to create a pile of debt and turn it into a dead-end project. Investment should be market-oriented, and should not be wholly invested by the state and government. Otherwise, it will cause a crowding-out effect on the private economy and foreign capital and is not conducive to giving full play to the guiding role of financial capital investment. Second, such an investment should be effective in innovation. There is no doubt that effective investment should reflect high-quality development as much as possible and give priority to innovation. In recent years, there has been a large amount of investment in semiconductor chips in China, but a lot of investment has resulted in hundreds of billions of yuan worth of dead-end projects, resulting in the most ineffective waste of investment. Third, it needs to be effective in improving people's livelihood. Steady economic growth is closely related to the realization of common prosperity. To realize effective investment, the state needs to increase investment in projects related to public subsistence. Investment in the ecological environment, urban renewal, education, medical care, elderly care, and urban public services will all be encouraged.
In particular, under the current economic situation in China, it is impossible to expand effective investment by only undertaking large projects or investing in infrastructure, because such projects will not boost the economy in a broader way. When it comes to boosting effective investment, the policy objective cannot be focused solely on making economic data look good. In addition to the three types of effectiveness mentioned earlier, the following aspects should also be noted:
First, effective investment should be made in a wide range of areas, rather than allowing only a few areas to occupy too many resources. Second, the focus of this round of investment is to stabilize the economy, but stabilizing the economy is not the same as maintaining steady growth. Under the current circumstances, stabilizing the economy is more about ensuring people's well-being. The investment to be stepped up in 2022 is a bottom-up investment for the macroeconomy, which focuses on ensuring livelihood, basic operation, and social stability. This is different from investments aimed at high growth. Third, the current situation of domestic investment in China should be divided into several stages, namely, stabilizing the economy (basic fundamentals), seeking growth (fundamentals of growth), and seeking development (fundamentals of future growth). In terms of investment priorities, the first one should be promoting consumption, ensuring employment, and guaranteeing the survival of small enterprises. This should then be followed by investments in urban renewal, agriculture, energy, social security, and key industries. Finally, there should be investments in major projects and industries, which are related to the long-term development of the country.
The Belt and Road Initiative: Innovative Chinese Ideas for a New World Order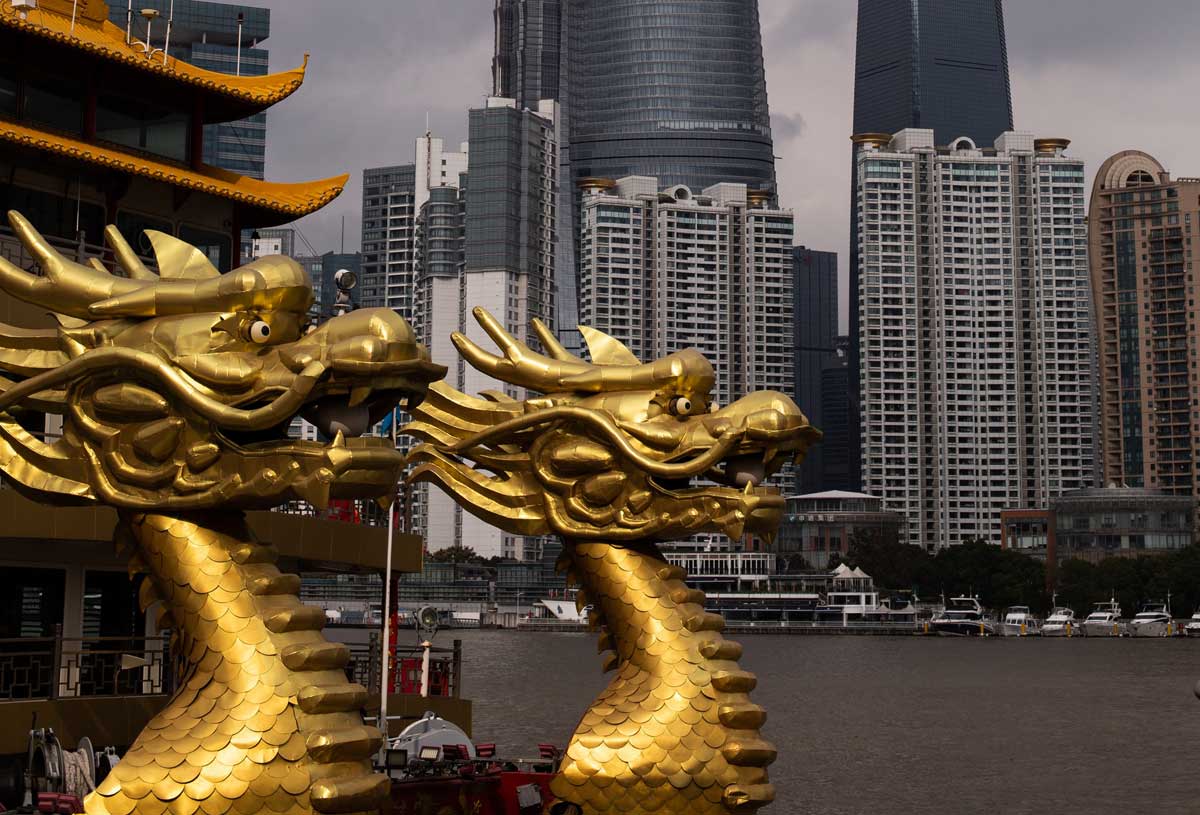 One Belt, One Road is China's largest infrastructure and investment project. China's "One Belt, One Road" strategy aims to develop economic and social linkages amongst the countries it passes through to revive the ancient Silk Road. Project covers 65% of global population and 40% of global GDP. China's planned economy grew almost 10% each year from 1978 to 2014.
China initiated the initiative in 2013 to expand its exports and imports. Through this initiative, China seeks to establish trade and social links with other nations and economic blocs. This endeavor focuses on the expansion of the Chinese export markets through bilateral economic ties that will become strategic partnerships and alliances. The yuan is utilized as a trade currency, and one of China's goals is to raise the rate of trade exchange in this currency, which will assist strengthen the yuan globally while reducing trade exchange costs and settlement times.
For the geopolitical axis, all maritime and land channels were planned to achieve additional geopolitical goals that may lead to future partnerships. More than 100 countries and international organizations have signed Belt and Road Initiative cooperation agreements and invested $5.4 billion in 28 projects in diverse countries. 4,000 rail links connecting China to Asian and European countries were also built. China and other countries have invested $70 billion.
This initiative comprises developing rail networks, oil and gas pipelines, power lines, the internet, and marine infrastructure.
This initiative includes the New Eurasian Land Bridge, The China-Indochina Peninsula Economic Corridor (CICPEC), China–Central Asia–West Asia Economic Corridor (CCAWEC), China-Pakistan Economic Corridor (CPEC), and the Bangladesh, China, India and Myanmar Economic Corridor (BCIM). China will contribute $126 billion if each participant pays for its own infrastructure. Asian Infrastructure Investment Bank (AIIB) and Silk Road Fund give loans.
Half of its six Middle East lines travel through or end on the Mediterranean. China's foreign policy is to stabilize the Middle East, which is known for wars and terrorism. European optimism and pessimism were split. Chinese funding thrilled Eastern and Central Europe. Germany, France, and many western European countries, especially northern ones, were suspicious.
Transatlantic Trade and Investment Partnership (TTIP) is a direct rival. China's low interest rates are blamed for developing countries' debt. In a scathing rebuttal to Trump's protectionist policies, the Chinese president vowed to reject "protectionism." All cooperation projects in the initiative would be guided by market principles, according to the Chinese president.
All About Soybeans and the 5 Highest Soybean Producing Countries in the World
Eating a balanced diet is one way to maintain health and a healthy lifestyle. The recommended balanced diet has a proportion of 4 healthy 5 perfect meals consisting of staple foods, side dishes, vegetables, fruit and milk or carbohydrates, proteins, vitamins, minerals and fats. Of the 5 compositions, the five components are easily found, including protein. The protein we consume can neutralize toxins in the body, help carry out the body's metabolism and it can maintain fluids in body cavities (Ajeng, 2021). One type of protein that is most easily found in everyday life is food derived from processed soybeans. Soybean is one type of legume that contains protein so that it is used as a protein source that is easily found by the public. Soybeans are consumed in almost all countries in the world, although these countries do not produce soybeans independently but can export from other countries that are soybean producers. Each country has a unique product from soybean. For example, in Indonesia, soybeans are processed into tempeh, tofu, soy sauce and milk. While in Japan soybeans are processed into traditional foods natto, sauces such as miso and shoyu.
Due to the high demand for soybeans in each country, some countries are unable to meet the domestic supply of soybeans, so the option that can be done is to export soybeans from other countries. There are 5 countries that are known as the highest soybean producers in the world, the five countries are:
Brazil
Brazil has the advantage that the climate and soil are very suitable for growing soybeans. So that the Brazilian government continues to expand the land used to increase soybean production every year. Based on World Atlas data, Brazil is listed as the largest soybean-producing country in the world with a total supply of soybeans produced reaching 124 million metric tons in 2019-2020 (Pratomo, 2022). And in 2020/2021 Brazil can hold 37% of world soybean production beating the United States (USA) which is in second position as the highest soybean producing country in the world.
United States of America (USA)
The majority of farmers in America grow soybeans because the large land is supported by suitable climate. American soybean production reached 96.79 million metric tons.
Argentina
Furthermore, the third country as the largest soybean supplier is Argentina. Soybean production reached 51 million metric tons. Argentina itself does not consume soybeans, soybean production is mostly imported and soybean commodities account for 31.8% of Argentina's import income. Considering that soybean is Argentina's main import commodity, the government has conducted a lot of research to increase its soybean production (Nur Aini, nd).
China
The fourth position is held by China with soybean production reaching 19.6 million metric tons in 2020/2021. However, despite having a fairly high soybean production, China is also one of the importing countries for soybeans to meet domestic soybean needs.
India
Then the last one in fifth position is India with soybean production reaching 11.9 million metric tons in November 2021. This puts India in the second largest position in Asia as well as contributing 3.9% of global production.
Soybean itself has 4 types, namely white soybeans, black soybeans, yellow soybeans and edamame. Each type of soybean has a function as a raw material for different processed products. Some examples of processed soybeans include: the first is tempeh, tempeh is one of the processed products from soybeans which is made through the process of fermenting a type of fungus in the process of making this tempeh, namely Rhizopus oligosporus. The process of making tempeh is initially carried out by boiling the soybeans for some time then soaking them overnight, adding yeast, packing them and letting them sit for + 48 hours. Tempe is a product that is sensitive to temperature, so in its manufacture it is necessary to pay attention to the amount of yeast added to the temperature. Then the second is tofu, tofu is made from soybeans that are soaked for + 6 hours and then mashed, filtered, the dregs are taken and the remaining water is boiled at a temperature of 70-80 °C then certain ingredients are added to produce a tofu precipitate so that the tofu can be pressed to reduce the water content in the tofu. Then the third is natto, natto is also a fermented product from soybeans. How to make natto, soybeans are washed and soaked for about 12-20 hours so that their size increases. Then the soybeans are steamed for 6 hours. If you use a press pot, the time can be less. The next stage, soybeans are mixed with Bacillus Subtilis bacteria. During this process, cleanliness must be maintained to avoid dirt and other bacteria. Then the mixture was fermented at a temperature of 40 °C for 24 hours. Then the natto is cooled for about a week until it forms fibers (Widya, 2017). And lastly, there is also processed drinking product from soybeans that is easily found in various countries, namely soy milk. Making soy milk is quite easy. First, soak the soybeans for 8 hours, wash and remove the skin. Then the clean soybeans are mashed, filtered and boiled over medium heat. During the boiling process, sugar, vanilla, or other flavors can be added according to taste. In addition to the four types of food and drink above, there are many other processed foods that can be made from soybeans. In fact, apart from being processed food that can be consumed by humans, soybeans can also be processed into animal feed and biodiesel.
With the many benefits that soybeans have as raw material for processed food and animal feed, it is hoped that in the future the soybean needs from every country can be fulfilled because it is estimated that soybean demand will always increase every year. With the proper handling process, it is hoped that in the future countries that can produce soybeans with good quality will emerge so that they can improve the economy of the country and meet the world's supply of soybeans.