Trump's Cabinet Was Chosen not to Govern but to Deconstruct
[yt_dropcap type="square" font="" size="14″ color="#000″ background="#fff" ] W [/yt_dropcap]hy has Trump chosen so many billionaires for his Cabinet positions? The answer to that question was given a few days ago at the Conservative Political Action Conference by one of his most influential aide, Steve Bannon. He informed us that those appointments were made not for the purpose of governing but for that of "deconstructing" the administrative state. In more prosaic terms, for the purpose of destroying it.
Bannon then gave specific examples: the withdrawal from the Trans-Pacific Parternship which he described as pivotal for American history. Scott Pruitt, a climate change denier, was of course chosen as an asset for the Environmental Protection Agency. That means that the government will ease up on regulations, never mind the protection of the environment. It sounds more like sabotage, and less like protection.
Bannon also denounced the media as "the opposition party" opposed to an economic nationalist agenda as proposed by Donald Trump. This was echoed by Priebus, the chief of staff at the White House who informed the audience that "everything you are reading about the Trump administration has been erroneous."
I suppose that what you are now reading can also be considered erroneous, or, as the slogan goes "fake news." Unless you may also wish to consider that putting millionaires in charge of Departments which they have had confrontations in the past, is like putting the fox in charge of the chicken coup.
If it all sounds slightly irrational and deranged, you would not be far off the mark. Welcome to alternative reality.
Commission revealed 12 winners of VET Excellence Awards
The European Vocational Skills Week took place across Europe and beyond last week (from 16 to 20 May). Organised by the European Commission every year, it is an occasion to celebrate best practices in Vocational Education and Training (VET), bringing together everyone involved – from local, to national and regional authorities, students, teachers and education and training organisation stakeholders – to showcase the benefits VET offers to young people and adults alike. This year's sixth edition focused on 'VET and the Green Transition', supporting people to acquire the necessary skills for the green transition, in line with the European Green Deal.
At the VET Excellence Awards ceremony, the Commission announced the winners of this flagship prize in different categories. An accountancy apprentice from Greece, the Piedmont Region in Italy, and a Swedish tree care programme have received the European Vocational Skills Week Excellence Award 2022, along with 9 other award winners.
Vice-President for Promoting the European Way of Life, Margaritis Schinas, said: "It is great to see so many outstanding nominees and winners, celebrating the true benefits that vocational education and training can offer to everyone, young people and adults alike. They showcase the transformational impact that education and training can have on people's careers and lives. I would also like to give a 'special mention' for our partners in Ukraine. We have been working closely together, also through the European Training Foundation, and will continue doing so, to support on topics such as qualifications, to help the Ukrainian people in these extremely difficult times."
Commissioner for Jobs and Social Rights, Nicolas Schmit, said: "The green transition can become a real job engine if people receive the right support they need to thrive in their careers and the changing labour markets. The VET Excellence Awards help us identify the best approaches to become fit for the green economy, overcoming today's labour shortages in key sectors such as construction, manufacturing and energy. I would like to congratulate all the nominees and VET learners, and to thank the thousands of providers of vocational education and training for their dedication."
This year's winners
The Commission awarded 12 prizes in four categories and one special mention to apprentices, projects, companies and regions, from the EU, neighbouring and neighbourhood countries, who have successfully used VET to build a greener, more digital and more inclusive society.
The award winners include:
Evangelos Pouftas, an apprentice with an accountancy firm in Greece, who demonstrated the key role of apprentices in accelerating the digital transition of small and medium-sized businesses (SMEs), by helping the company's clients to digitalise their work, such as setting up online services to remain competitive, especially in the context of the COVID-19 pandemic and increased remote working.
The Piedmont Region of Italy,with the support of theEuropean Social Fund, promoted to young learners a culture of sustainability in food production and consumption along the agri-food chain.
The 'Veteran Tree Management Skills Certification' project of Stiftelsen Pro Natura. This Swedish programme, funded by Erasmus+,is designed to raise the standard of the caring for trees that have an exceptional value for nature conservation, landscape or culture, known as 'veteran trees'.
Further award winners are:
AKMI S.A., Greece
Programme 'Working inclusion and equal opportunities for the most disadvantaged', ALMI BILBAO S.A.L., Spain
Cyclades – 5th Evening Vocational High School of Patra, Greece
Environmental and Agricultural Education in School, Georgia
Prof. Dr. Linda Clarke, University of Westminster, United Kingdom
ÖBB Infrastruktur AG, Austria
Otto Stöckl Elektroinstallationen GmbH, Austria
Riga State Technical School, Latvia
Virtual Dawn, Finland
In addition to the prizes in the different categories, a special mention went to Ukrainian partners who, along with the European Training Foundation, have been reforming their education and training systems, focusing on qualifications, the future of skills in key economic sectors, and governance arrangements to modernise the system and to bring it closer to the system in the EU.
EU actions to promote VET
The Commission is actively promoting vocational education and training as part of its work to implement the European Pillar of Social Rights, and specifically the right to education, training and lifelong learning. This is also important to achieve the European Pillar of Social Rights Action Plan EU headline target that all partners committed to at the Porto Social Summit: at least 60% of all adults should participate in training every year.
On 1 July 2020, the Commission proposed a Council Recommendation on vocational education and training, to make VET more modern, attractive, flexible and fit for the digital age and the green transition. This proposal is embedded in other Commission initiatives, such as the European Skills Agenda and the Communication on Youth Employment Support – A Bridge to Jobs for the next generation.
In addition, the Commission put forward in December 2021 proposals for Individual Learning Accounts and Micro-credentials, to help open up more opportunities for people to find learning offers, and employment opportunities.
The European Commission also supports vocational education and training through significant funding, such as through the European Social Fund Plus (with total budget of almost €99.3 billion for 2021-2027), Erasmus+, and the Recovery and Resilience Facility, which has 'reskilling and upskilling' as one of its seven flagship areas for reforms and investments. 
Volodymyr Zelenskyy, President of Ukraine, Addresses World Economic Forum
Volodymyr Zelenskyy, President of Ukraine, in a live video address to the World Economic Forum Annual Meeting 2022 in Davos-Klosters, told participants how he wakes up every day to read the numbers of his people killed in the war in the last 24 hours.
"Today," he said, "we lost 87 people and the future of Ukraine will be without these 87 people".
His stark message was in response to the question, whatis your dream for Ukraine?
Zelenskyy was speaking at the opening session of the World Economic Forum Annual Meeting 2022. Nearly 2,500 leaders from politics, business, civil society and the media were welcomed by Klaus Schwab, Founder and Executive Chairman, to the first in-person Annual Meeting for more than two years held under the theme, History at a Turning Point: Government Policies and Business Strategies.
Speaking through a translator, the Ukrainian president said: "This year the words 'turning point' appear to have become more than just a rhetorical figure of speech. This is really the moment when it is decided whether brute force will rule the world."
He went on: "Brute force does not discuss – it kills, as Russia does in Ukraine as we speak today."
"Instead of successful peaceful cities there's only black ruins. Instead of normal trade there are seas full of mines and blocked ports. Instead of tourism there are closed skies and thousands of Russian bombs and cruise missiles." He said: "This is what the world would look like if humanity misses this turning point."
He called for "maximum" sanctions against Russia, including an oil embargo and a complete withdrawal of foreign companies. "All trade with the aggressor should be stopped. All foreign business should leave Russia so that your brands are not associated with war crimes. So that your offices, bills and goods are not used by war criminals in their bloody interests. Values must matter."
He continued: "This is what sanctions should be. They should be maximum, so that Russia and every other potential aggressor that wants to wage a brutal war against its neighbour clearly know the immediate consequences of their actions."
He compared Russia's invasion of Ukraine with events in Sarajevo in 1914 and Munich in 1938, two historic moments that preceded the two world wars.
Zelenskyy praised his people's courage. The war and the Ukrainian people's resistance have stirred the unity of the democratic world and showed "that freedom must be fought for". The Ukrainian leader received a standing ovation.
"The war in Ukraine represents a turning point in history and the resulting tragedy will reshape our political and our economic landscape in the coming years," said Klaus Schwab, Founder and Executive, Chairman, World Economic Forum.
Ignazio Cassis, President of Switzerland, said: "Switzerland has strongly opposed the war of aggression in Ukraine. There can be no neutral attitude in the face of a brutal attack on our shared values of freedom and democracy. We stand alongside other countries in condemning the war."
In Times of Division, Arts and Culture Bring Us Together: Meet the Davos Cultural Leaders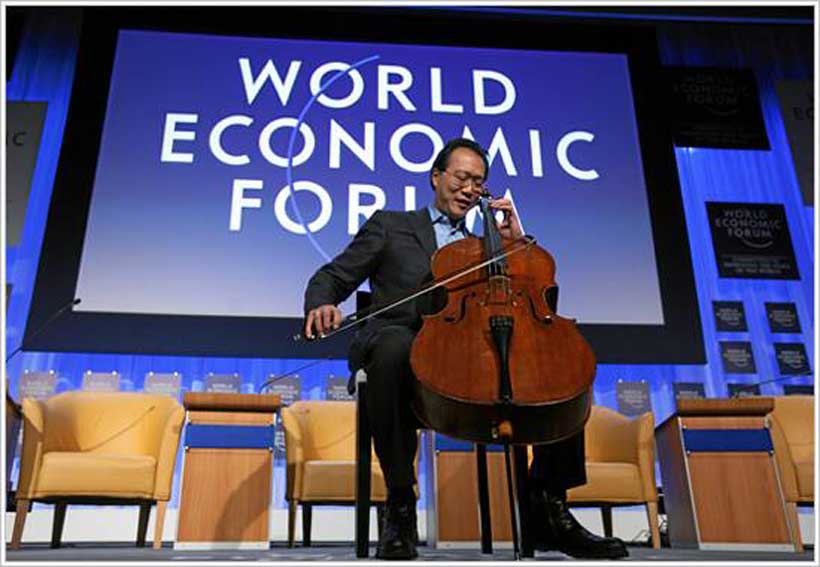 The World Economic Forum announced today the participation of prominent cultural leaders in the Annual Meeting 2022 in Davos-Klosters. These prominent figures will join their peers from business, government, the media and civil society to advance dialogue on how to reconnect in a post-pandemic era and unite to rebuild a world of inclusivity and sustainability under the meeting's theme "History at a turning point: Government policies and business strategies".
Cultural leaders will include former Crystal Award recipients world-renowned cellist Yo-Yo Ma and musician will.i.am; portrait and documentary photographer Platon; Verbier Festival and Academy founder and director Martin Engström; Grammy-winning classical pianist Emanuel Ax; singer/songwriter, actress and activist Inna Modja; and new media artist and director Harry Yeff.
"Never has there been a time more important, more pressing, then the present for arts and culture to unite us," said Joseph Fowler, Head of Arts and Culture at the World Economic Forum. "When you experience culture, there is a sense of expansion when you cease to think about yourself and you feel part of something larger. The creative sectors are some of the most important when it comes to social impact and human connection and when they are coupled with the power of new technologies, arts and culture have an immense potential to nurture a culture of peace."
Arts and culture will be integrated across throughout the Annual Meeting 2022:
Thepower and potential of the human voice is the focus of Voice Gems – Messages of Hope. Created by Harry Yeff and Trung Bao, the Voice Gems system sculpts over 200,000 particles with fingerprint-like voice data to create the colours and form of the each unique gem stone. The exhibition will feature a total of 17 messages of hope that have been recorded by a diverse selection of people including primatologist and anthropologist Jane Goodall; creative innovator, entertainer and tech investor will.i.am; poet and author Rupi Kaur; author and disability advocate Sinead Burke; and spiritual leader Sadhguru.
The Annual Meeting concert entitled "Our Shared Humanity" – to be performed byYo-Yo Ma and Emanuel Ax – is a celebration of humanity and shared hopes for a united and prosperous future. The accompanying immersive backdrop includes images provided by Atlas of Humanity as well as an exclusive filmed performance by dancer and choreographer Ahmad Joudeh. It is also a musical statement of support and solidarity with the people of Ukraine.
In collaboration with the Natural History Museum – London, a selection of photographs from the 2021 edition of the Wildlife Photographer of the Year competition will be showcased, inviting viewers to gaze through the lens of some of the world's best wildlife photographers and explore the natural world in all its fragility, diversity and wonder.
Exploring the endless scope of opportunity the Metaversepresents, the Forum has partnered with Microsoft and Accenture to create the Global Collaboration Village. This will be anopen, collaborative platformbuilt together with international organizations, governments, civil society organizations and arts organizations. The overall concept and architecture will be showcased at Davos as well as a prototype of the experience and its functionality. An immersive experience will tell the story of the Sahel and Africa's Great Green Wall Initiative supported by 1T.org.