The Insane, the Sane and Bigotry Unbound
[yt_dropcap type="square" font="" size="14″ color="#000″ background="#fff" ] A [/yt_dropcap] disheveled, unkempt, unclean Steve Bannon finally emerged from his warren this week to claim outstanding success for this administration in its first month in office. Disheveled, unkempt, unclean is how Mr. Bannon always looks. The American Psychiatric Association Manual of disorders DSM-IV defines a mental disorder as a "clinically significant behavioral or psychological syndrome or pattern …". Add Mr. Bannon's paranoid fulminations on Breitbart and there is cause to worry.
Worry, especially because he has been named to the National Security Council by the President breaking precedent and setting a new dangerous one. This is the first time a political adviser has been appointed, a matter of grave concern because he can color the discourse from a political angle, varnishing bare truth for political goals. He could also be considered the President's spy by other members causing them to hold back on frank opinion.
Thus Trump appointing a straight-shooting general, well-regarded in the military, as National Security Adviser and so Council chair was a huge relief for those expecting an ideologue. Lieutenant General H R McMaster is a PhD and a student of history. His doctoral dissertation and associative book "Dereliction of Duty" discuss the failure of top command to voice opinion forcefully in the Vietnam war. Will his be a voice of moderation? We have to wait and see.
For Trump's supporters the ideal American is white and Christian. They were encouraged by Mr. Trump's constant repetitions of dubious facts, and the result has been an upsurge of hate incidents. Among the 68 reported by Jewish community centers and synagogues, was the particularly heinous vandalism of a Jewish cemetery in St. Louis, Missouri. If there can be a silver lining in such an incident, it was a Muslim group raising money to repair the damage. Their goal was $30,000; they have raised over $120,000. Common human decency is universal.
Last Wednesday at 7:15 pm, two Indian engineers were shot at Austins Bar and Grill in Olathe, Kansas just south of Kansas City. The 51 year-old gunman, Adam W. Purinton, was heard hurling racial epithets and yelling 'get out of my country' before firing. Srinivas Kuchibhotla, 32, was killed and his colleague Alok Madasani, 32, wounded. They worked in aviation electronics for Garmin, a GPS navigation and communications device company. One can imagine the two shot could have been the CEOs of Microsoft and Google — they too are of Indian ethnicity and represent the remarkable contributions of immigrants in the high-tech industry. In this tragedy was a hero: Ian Grillot, 24, tried to wrest the gun away and was shot in the hand and chest. He is expected to survive.
Also this week a man and his female companion were removed from a Chicago to Houston flight. He kept spewing a volley of racist slurs directed at a Pakistani-Indian couple.
Shortly after Mr. Trump's inauguration, the Islamic Center and mosque opposite the University of California at Davis was vandalized. Windows were broken and bacon wrapped around doorknobs. Like Jews, Muslims consider the pig unclean. It was just one of numerous incidents.
As is often so, the fires of bigotry and hatred are easier to ignite than extinguish. In that sense they are much like war. U.S. forces are back in Iraq and very recently have been assisting Iraqi forces in Mosul. And, despite Obama's strenuous efforts, they are, after 15 years, still in Afghanistan.
One can but hope General McMaster realizes the limited successes of war as an instrument of policy. China is quietly and effectively demonstrating the rewards of patience and soft power across the globe.
U.S.-Turkey relations: From close friendship to conflict of interests
Relations between the U.S. Turkey have strained since the failed July 2016 coup in Turkey. Now, the most important reasons for the tension is Washington's strong opposition to Turkey's plan to buy S-400 missile system from Russia and Turkish military invasion into northern Syria.
Although Turkish President Recep Tayyip Erdogan's visit to the U.S. on November 13 was intended to resolve the two countries' disputes and open a new horizon in economic and trade relations, differences still remain.
Though after the meeting at the White House, Trump made some pledges, including increasing trade ties to $100 billion, it takes a long time to fulfill these promises.
Contrary to such pledges, the Pentagon announced that it had replaced all F-35 fighter parts made by Turkey.
While the Turkish and U.S. leaders were meeting, F-35 production program executive Lt. Gen. Eric Fick said at a congressional hearing that Turkey would be completely phased out until March.
At the moment the U.S. has narrowed the number of parts down from 1,000 to 12.
Undersecretary of Defense for Acquisition and Sustainment Ellen Lord affirmed to Rep. Donald Norcross, D-N.J., that as of Wednesday, Turkey's exit from the program was not expected to cause any F-35 production delays.
The U.S. government believes Ankara's move to buy S-400 missile system from Russia is not in line with NATO policies. Washington also sees Turkey's decision as a threat to U.S. F-35 fighters. However, Ankara has announced that it will go ahead with its decision to buy the missile system.
Erdogan said it is not a right policy to ask Ankara to deprive itself of the Russian S-400 missile defense system.
Erdogan's remarks came in response to some reports that Trump had requested Turkey to cancel the purchase of S-400 system, a defense system that has been deployed in some parts of Turkey since July 2019.
But after Trump and Erdogan's meeting, the Turkish president claimed that the U.S. president had a positive view on buying the missile system.
Though Trump may seek to strike a deal with Erdogan on the S-400 missile system and F-35 fighter aircraft, based on his own businessmen approach, Ankara's military intervention in northern Syria and its insistence on buying the S-400 system are at odds with Washington. For this reason, the House of Representatives has passed two resolutions against Turkey.
On October 30, the House approved a resolution against Turkey recognizing the Ottoman massacre of Armenians in 1915. 305 representatives voted in favor of the resolution, with only three opposing it. It also passed another resolution calling on Trump to impose sanctions on Turkey over military operations in northern Syria. The resolution was also adopted by 403 votes in favor and 16 against, a move that rose Turkey's anger.
After Erdogan's meeting with Trump, attended by some Congress representatives, senior Republican Senator Lindsey Graham and chairman of the Senate Judiciary Committee vetoed the resolution recognizing the massacre of Armenians by the Ottoman Empire.
Earlier, Senate Majority Leader Robert Menendez had called for the resolution to be approved. Lindsey Graham noted that he had listened to Erdogan's speech at the White House and criticized a House resolution that recognized the Armenian genocide.
Menendez argued that "U.S. policy must be unanimous and honest in the face of human rights violations, crimes against humanity, ethnic cleansing, and genocide" and sent it to the Senate for approval.
There is a difference between the White House and Congress in how to deal with Turkey. Also, there is a difference between Republicans and Democrats despite Trump's promises to Erdogan.
From our partner Tehran Times
The year is 1962. In the midst of the Cuban missile crisis, the United States needs Mexico to place nuclear missiles on its territory. In a phone call, Mexico's President tells US President Kennedy that Mexico will provide whatever the United States needs. This was opening Mexico up to a potential nuclear strike by the Russians in the midst of the tense crisis, exposing the vital security of the country for the benefit of the United States, writes Iveta Cherneva.
What is remarkable about this episode is that Mexico was agreeing to a thing so ludicrous, and this was the result of a successful decade-long US foreign policy towards Latin America.
The benefit of carefully crafted US foreign policy is noticed in times of need and further down the path, not immediately. US standing and credibility matter precisely in critical situations.
Unfortunately, US President Donald Trump's blind spot is foreign policy.
When he took the decision to betray the Kurds by withdrawing US troops from the Kurdish parts of Syria, Mr. Trump did not expect the deserved backlash from Senate Republicans. Senator Lindsey Graham, Chairman of the Senate Judiciary Committee, has called it "the biggest mistake of his presidency" and Trump didn't understand why.
Through his approach to US foreign policy, Trump is undoing years of planning and careful calculation, and not just in the Middle East.
Trump's Kurdish decision does not come from a specific school of thought, as some might have suggested. Trump's moves are all over the map; he just doesn't understand the intricate game of chess that is involved in crafting US foreign policy.
His withdrawal of US forces from the Kurdish territories is not grounded in isolationism of the principled kind preached by Senator Rand Paul. It soon became apparent that the US troops in Syria are not coming back home, they are simply being repositioned to guard the oil fields in Syria.
Coupled with the decision to send US troops to Saudi Arabia to do the same, it became clear that Trump simply likes to guard oil. He told the Kurds to go live in the Syrian parts that have oil because apparently then the US would care to protect them. He also said that the US wants some of that oil.
But guarding oil is not a grand strategy. That is oil-centered trumpism of the kind that even George W. Bush didn't dare to articulate quite like this.
In his surprise at Republican Senators' anger, it was apparent that Donald Trump didn't understand what in terms of geopolitics was contained in a small group of US soldiers. Neither did he get the fine geopolitical balance at play. It seems that there are very few things that can make Republican Senators break ranks and foreign policy is what gets them.
A Bulgarian proverb says that "where you hit it is not where it cracks". The Kurdish decision will reflect on other areas — US standing will crack elsewhere, not immediately and not where Trump expects it to.
Across issues and across geographical regions, Trump is undoing decades of carefully crafted policy and language where every phrase and every move meant something.
As the Mexico nuclear shield episode shows, the benefits of carefully crafted US foreign policy are noticed in times of need and further down the path, not immediately.
US standing in the international arena matters. Trump has harmed it and the results won't be immediately apparent.
But Republican Senators see further in foresight. They will be the key figures in Trump's impeachment. Republican Senators have the right to be angry at this lack of grand strategy and they will remember that when the impeachment comes to Senate.
Foreign policy is Trump's blind spot and what he does not realize is that it might cost him the impeachment.
The coup in Bolivia shines yet more dark light on America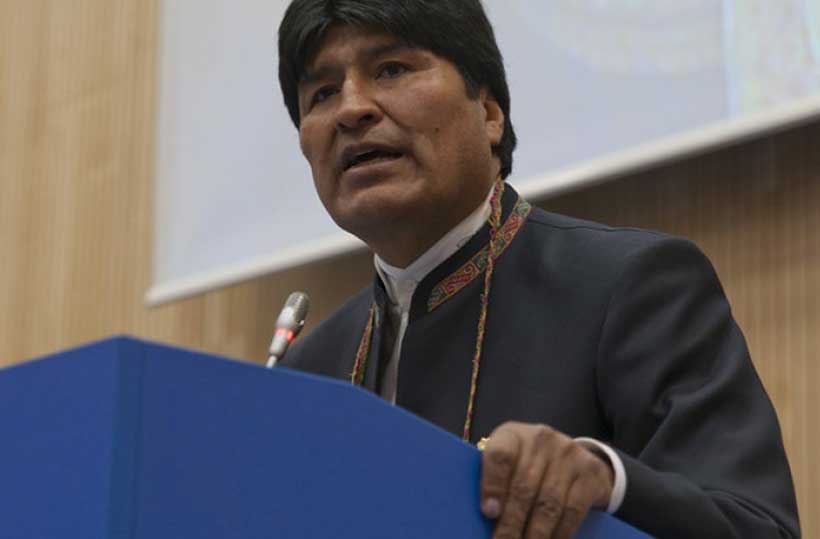 Just when one might have thought things geopolitical might be about to turn for the better, which means the worldwide geopolitical nightmare engineered by the U.S. and Trump and all the rest of the mob in Washington might fade a bit, it just gets worse.
Bolivia's recently re-elected and then self-resigned President Evo Morales because he is graciously trying to avoid more upset and possible carnage in Bolivia, was on the chopping block of the U.S., and chopped he was although he is not dead yet and apparently hiding out among his indigenous supporters somewhere in Bolivia but has accepted asylum in Mexico.
Yes, Morales may have tried to overstay his presidential term by extending the term limits and maybe, just maybe, there were some very minor "irregularities" in the voting process in his country, but that's immaterial. He still won a huge plurality of the votes against his challenger. The U.S.'s government changing machine has been out for his head for over a decade, and he had the guts at the U.N. not long ago with Trump and Pompeo nearby to point out to the world just what the U.S. has been about for far too long: criminal meddling all over the globe.
It's weird, though. Evo did a good job for over a decade. You cannot argue about his economic record in Bolivia. He created, surprisingly, what might be termed a "prosperous socialism" wherein ALL boats were lifted, and especially the prospects for the poor majority. One would think the oligarchs and the "rich" in Bolivia might see some benefit in a society where most everyone got at least something better than they had. But the "rich" and particularly the obscene rich, and imperialists, they can never get enough. Any diminution in their wealth, or more importantly any restrictions on how wealthy they might become because some sharing with the poor is mandated by good government, has now been forbidden. Do they not realize that social calm for all, relatively, is better than total societal discord? Apparently not. Whatever new government is formed in Bolivia, the country is going to regress violently and the poor set back forcefully, with extreme prejudice. People who are by nature cruel and lacking compassion, feeling themselves exceptional, like oligarchs, never learn…until they are strung up on lamp posts and finally destroyed, as has happening time and again in history in various locations.
It may be hard to believe, but the U.S., which is largely controlled by multi-billionaire oligarchs (and this is a phenomenon that has been building for 30 or 40 years) under an increasing "neoliberal" regime (and not just in the U.S.), may see a day when even they will see their fortunes vanish both materially and socially. Lamp posts likely await them, too, when things become unbearable for the 95 percent of the citizenry. For the privileged, greed really is bottomless for most of this class of people. They live in a fantasy world. But of course there are exceptions. Yet the U.S. aims for resources overseas that it does not control – like Venezuela's oil, like Bolivia's as yet mostly untapped lithium, like Afghanistan's riches, and much more.
Which begs the question whether it was a good idea that President Rouhani told the world this week that Iran has discovered an additional 53 billion barrels of oil. Even if only 25 percent of this can be eventually extracted, it's fabulous. Iran IS wealthy, fabulously so in every respect, especially in its people, except that for now it can't market its petroleum wealth. Maybe that is a good thing temporarily, for Iran appears to be growing other industry, including the growth and export of saffron to name just one item.
Meanwhile, as risky as it may be, Iran has allegedly "blown past" uranium enrichment levels mandated by the JCPOA. This is absurd. Iran is allegedly enriching uranium up to levels of 4.5 percent. That nowhere close to bomb material at over 90 percent. The JCPOA permits 3.6 percent, allegedly. The IAEA and the European signatories to the JCPOA are concerned and want Iran to go back to the limits of the deal. This includes limits on the size of the stockpile of enriched material, too, which is currently, according to reports, less than 100 kilos above that limit.
However, Iran is doing just what it said it would and no more — inching away from the JCPOA because the signatories of the JCPOA, the Europeans, have done virtually nothing, cowards that they are, to stand up to the Trump mobsters and realize that their long-term interests reside east of the Bosporus. At least Nordstream 2 is soon going to be a delivering fact. Europe did not back down to U.S opposition to that, and should have stood by Iran when Trump, caving to Netanyahu, abandoned the JCPOA. As far as many observers are concerned, particularly after the U.S.- coup in Bolivia, Iran is doing just the right things and the world, literally, prays that pariah America falls on its own swords.
From our partner Tehran Times