The Insane, the Sane and Bigotry Unbound
[yt_dropcap type="square" font="" size="14″ color="#000″ background="#fff" ] A [/yt_dropcap] disheveled, unkempt, unclean Steve Bannon finally emerged from his warren this week to claim outstanding success for this administration in its first month in office. Disheveled, unkempt, unclean is how Mr. Bannon always looks. The American Psychiatric Association Manual of disorders DSM-IV defines a mental disorder as a "clinically significant behavioral or psychological syndrome or pattern …". Add Mr. Bannon's paranoid fulminations on Breitbart and there is cause to worry.
Worry, especially because he has been named to the National Security Council by the President breaking precedent and setting a new dangerous one. This is the first time a political adviser has been appointed, a matter of grave concern because he can color the discourse from a political angle, varnishing bare truth for political goals. He could also be considered the President's spy by other members causing them to hold back on frank opinion.
Thus Trump appointing a straight-shooting general, well-regarded in the military, as National Security Adviser and so Council chair was a huge relief for those expecting an ideologue. Lieutenant General H R McMaster is a PhD and a student of history. His doctoral dissertation and associative book "Dereliction of Duty" discuss the failure of top command to voice opinion forcefully in the Vietnam war. Will his be a voice of moderation? We have to wait and see.
For Trump's supporters the ideal American is white and Christian. They were encouraged by Mr. Trump's constant repetitions of dubious facts, and the result has been an upsurge of hate incidents. Among the 68 reported by Jewish community centers and synagogues, was the particularly heinous vandalism of a Jewish cemetery in St. Louis, Missouri. If there can be a silver lining in such an incident, it was a Muslim group raising money to repair the damage. Their goal was $30,000; they have raised over $120,000. Common human decency is universal.
Last Wednesday at 7:15 pm, two Indian engineers were shot at Austins Bar and Grill in Olathe, Kansas just south of Kansas City. The 51 year-old gunman, Adam W. Purinton, was heard hurling racial epithets and yelling 'get out of my country' before firing. Srinivas Kuchibhotla, 32, was killed and his colleague Alok Madasani, 32, wounded. They worked in aviation electronics for Garmin, a GPS navigation and communications device company. One can imagine the two shot could have been the CEOs of Microsoft and Google — they too are of Indian ethnicity and represent the remarkable contributions of immigrants in the high-tech industry. In this tragedy was a hero: Ian Grillot, 24, tried to wrest the gun away and was shot in the hand and chest. He is expected to survive.
Also this week a man and his female companion were removed from a Chicago to Houston flight. He kept spewing a volley of racist slurs directed at a Pakistani-Indian couple.
Shortly after Mr. Trump's inauguration, the Islamic Center and mosque opposite the University of California at Davis was vandalized. Windows were broken and bacon wrapped around doorknobs. Like Jews, Muslims consider the pig unclean. It was just one of numerous incidents.
As is often so, the fires of bigotry and hatred are easier to ignite than extinguish. In that sense they are much like war. U.S. forces are back in Iraq and very recently have been assisting Iraqi forces in Mosul. And, despite Obama's strenuous efforts, they are, after 15 years, still in Afghanistan.
One can but hope General McMaster realizes the limited successes of war as an instrument of policy. China is quietly and effectively demonstrating the rewards of patience and soft power across the globe.
Decoding Pompeo's words at US senate
The CIA Director Mike Pompeo, who is nominee for Secretary of State, has recently mentioned meaningful words in his hearing at the Senate on Iran and the nuclear deal. In his words, he acknowledged that Iran was not after nuclear weapons even before the nuclear deal, nor will be in the future.
On the other hand, he has announced that he is seeking to fix and correct the nuclear deal with Iran! This is while the US President Donald Trump is scheduled to announce his final decision on Iran's nuclear deal by May 12. "I want to fix this deal," Pompeo said. "That's the objective. I think that's in the best interest of [the United States]."
At his recent Senate hearing, Pompeo has emphasized that as CIA Director, he didn't find any evidences that Iran has violated the nuclear deal. At the same time, he believes that Tehran can't expand its program shortly after the US withdrawal from the nuclear accord. He emphasized that his goal is to correct the nuclear deal with Iran. Pompeo said:
"If there's no chance that we can fix it, I will recommend to the president (Trump) that we do our level best to work with our allies to achieve a better outcome and a better deal," he said. "Even after May 12, there's still much diplomatic work to be done."
A simple decoding of Pompeo's remarks suggests that, despite the opposition to the nuclear accord, he is trying to deal differently with this issue as the future US Secretary of State. Some analysts also believe that Pompeo has adopted such an approach to face the US Senators' relative opposition to the White House's withdrawal from the JCPOA (Joint Comprehensive Plan of Action).
In any case, according to Pompeo, Donald Trump may not make a final decision on the nuclear deal with Iran on May 12, and he will continue to consult with his European allies on what he calls "fixing the flaws of the JCPOA".
Pompeo's remarks indicate that the White House hasn't come to a determined and clear decision on how to deal with the JCPOA yet. On the other hand, numerous consultations by representatives of the four countries, the United States, France, Britain and Germany, continues in silence.
Western sources have argued that these countries are consulting on the three controversial issue, namely "the Sunset clauses", "limiting Iran's missile power" and "extensive inspections of Iran's military sites". These sources claimed that the only remaining disagreement between the four countries is over deletion of the so-called Sunset clauses from the nuclear deal, and thus putting permanent limitations on Iran's nuclear program.
Pompeo is currently the CIA director, and ironically, he was one of the foremost critics of the Iran nuclear deal when he served as a House Republican from Kansas. Trump fired Secretary of State "Rex Tillerson" over the raised disagreements, and picked Pompeo as his successor in March, just two months before the deadline on May 12 to decide whether to bring back sanctions that former President of the United States waived when the JCPOA was first implemented.
Before this, many Western politicians and analysts saw the nomination of Mike Pompeo for secretary of state by Trump as a sign of Washington's withdrawal from the nuclear deal. Beyond that, John Bolton's appointment as US national security advisor also sent a clear message to the international system that Trump is about to pull out of the nuclear deal with Iran.
John Bolton is now silent about the fate of the JCPOA! The silence seems very meaningful at the current time. It's obvious that John Bolton is one of the main opponents of the nuclear deal with Iran, and he doesn't even believe in negotiating with the European Troika on maintaining the JCPOA.
The important question, however, is whether Bolton's silence reflects the continuing paradoxical and vague approach of the US towards the JCPOA? Or did Trump ask him to be silent in this regard and wait for the final results of their talks with Europe?
American senators still don't have a clear picture of Trump's final decision about the JCPOA. Meanwhile, some Republican senators like "Rand Paul" and "Jeff Flake" are worried about the costs and consequences of Trump's decision to refuse joining other members of P5+1.
Most US senators tried not to mention the nuclear deal with Iran in their speeches during recent weeks. This is while some senators such as "Tom Cotton" and "Ted Cruz" strongly encourage Donald Trump's government to pull out of the nuclear deal with Iran.
First published at our partner Mehr News Agency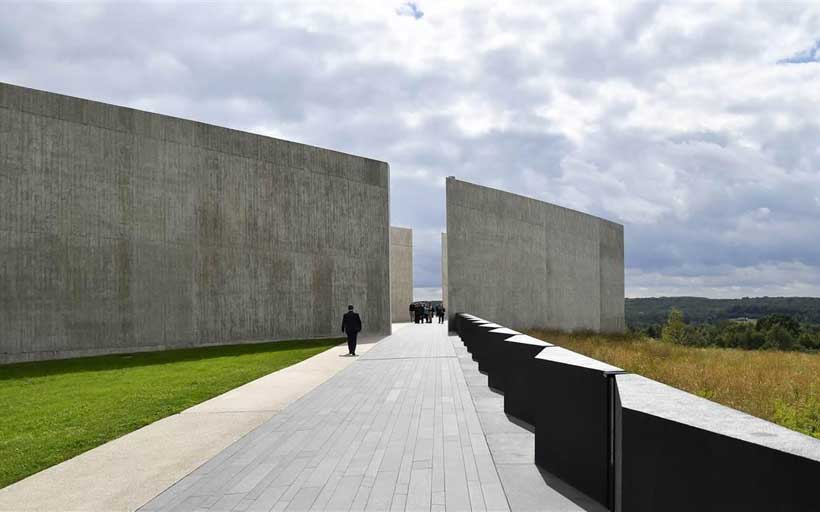 Did you know that Vice President Dick Cheney admitted that on 11 September 2001 he, as President George W. Bush's brief stand-in during the 9/11 attacks that hit the World Trade Center and the Pentagon, issued an order (and it was carried out) to shoot down United Airlines Flight 93 while it was in the air near Pittsburgh? If what he said at the time was true, then the standard 'historical' account of the plane's having been brought down as a result of action by the passengers, would be concocted, not history at all.
Here is the video-clip of V.P. Cheney on 9/11, making this claim and explaining why he gave that order: 

The Wikipedia article on Flight 93 provides the standard account, and fails even so much as just to mention the Vice President'a assertion and explanation that he provided on national TV at the time of the 9/11 events.
So: I edited the Wikipedia article by adding a sentence at the end of its opening paragraph, and by following that sentence with a brief second paragraph, and here is that entire two-sentence addition:
Vice President Dick Cheney alleged that he gave the order to shoot down Flight 93, and explained why when asked about it by Chris Wallace of Fox News as shown in this film-clip
Consequently, the account given below of what brought the plane down — an account inconsistent with what Cheney said — could be entirely false. 
On the web browser that I was using, the addition showed as having been successfully made in the Wikipedia article. However, to be sure, I opened the URL in a different browser, and this time my addition was absent. I then went back to the "Edit" page" and this time to the "View history" page, and clicked there on "(talk)" and found this message, which I saw virtually immediately after I had thought that I had inserted the new information:
Hello, I'm Shellwood. I wanted to let you know that I reverted one of your recent contributions —specifically this edit to United Airlines Flight 93— because it did not appear constructive. 
No other explanation for blocking my addition was provided. "Shellwood" was there saying that mentioning, and linking to the video of Cheney saying, that allegation, which Cheney made on 9/11 about how Flight 93 came down, is not "constructive" to Wikipedia-readers who want information about Flight 93.
Previously, even the BBC published the fact that Wikipedia is edited by the CIA.
Anyone who reads the present article is hereby welcomed to try making the same addition to that Wikipedia article, and I hope that one of the readers here will be able to get it accepted by the editors of that site, so that Wikipedia can be made at least moderately trustworthy, on at least that one article. Perhaps if enough people try, then Wikipedia will come to recognize that Wikipedia's modus operandum isn't merely a very successful system of propaganda, but that it's also something of a PR problem for Wikipedia, which they'll need to do something about, if they're to be able to survive (or at least retain their credibility) at all. Blocking inclusion in an article, of a fact that disproves part of the 'history' (and here the most important part) which is told in that article, is unacceptable in anyone's eyes.
As of today, April 20th, the Wikipedia article on Flight 93 does make one, and only one, mention of Cheney:
Vice President Dick Cheney, in the Presidential Emergency Operations Center deep under the White House, upon learning of the premature crash, is reported to have said, "I think an act of heroism just took place on that plane."[2]
The link there, [2], goes to a CNN article, likewise published on 11 September 2001, which likewise presents Cheney as saying that he ordered the shoot-down of Flight 93:
After the planes struck the twin towers, a third took a chunk out of the Pentagon. Cheney then heard a report that a plane over Pennsylvania was heading for Washington. A military assistant asked Cheney twice for authority to shoot it down.
"The vice president said yes again," remembered Josh Bolton, deputy White House chief of staff. "And the aide then asked a third time. He said, 'Just confirming, sir, authority to engage?' And the vice president — his voice got a little annoyed then — said, 'I said yes.'" 
The phrase that Wikipedia is quoting from Cheney, "I think an act of heroism just took place on that plane," appears later in that CNN article, out of context, when one of Cheney's aides attributes the statement to Cheney, but, since CNN provided no context for it, no reader can intelligently interpret what it had been referring to, if, in fact, the aide did say that Cheney did say it.
Wikipedia grabbed that out-of-context, possibly apocryphal, Cheney-statement, and constructed their 'history' of the plane's crash, upon it, despite the fact that Cheney, on 9/11, clearly stated that he had ordered Flight 93 to be shot down, and that the order was executed — in other words: despite the fact that Wikipedia's account of what brought that plane down is incontrovertibly false, even on the basis of the most reliable evidence that Wikipedia itself links to on that matter. Such a 'history' is fiction.
So: any reader at the Wikipedia article who clicks onto its sources, can easily know that though the Wikipedia article presents a 'history' in which actions by passengers onboard Flight 93 caused the plane to crash there, that 'history' is fake, not at all real (though some allegations in that Wikipedia article might happen to be true).
This means that only readers who click through to sources can even possibly come anywhere near to knowing anything that's at all reliable about the history of our time. And, of course, the longer that any event recedes into history, the more immovably fixed the lies become as being 'history'. We live actually in a world of lies. If modern 'history' is fake, then ancient 'history' is even more so. What about the Bible? What about even recently written 'history' books?
If Wikipedia is the best that 'the market' can come up with for 'a free press' in a 'democracy', then democracy isn't at all possible. Something vastly better than this is definitely needed. What's displayed here isn't democracy at all: it's merely 'democracy'. This means that all of the military invasions by 'democratic' countries (such as America), against other countries, are the actions by dictatorships, not actions against dictatorships (as is always claimed).
So, it's actually rather easy to document that 1984 — the reality, and not merely the novel — has, indeed, arrived, in our time.
However, at least in our time, we possess — for the very first time in all of history — the ability to access, merely a click away, an allegation's actual source, at least in articles such as the present one (since all sources here are linked). The people living in ancient times who were not themselves aristocrats (the people making the key governmental decisions) were unalterably 100% vulnerable to being deceived by aristocrats' and clergies' lies, deceived into doing whatever those decision-makers wanted to manipulate them into doing — such as "fighting for God and country!" Unfortunately, the percentage of today's people who care enough to be skeptical of whatever other people are trying to sell, and to dig deeper than the mere assertions, even just to click onto a link, is too tiny for democracy to be able to function. Unless they become the majority, "democracy" will remain merely a word, not yet even near to being the reality, anywhere.
That, for example, explains why, despite common realities such as this, "74% [of Americans] view Israel favorably, vs. 21% for Palestinian Authority". In order for the national aristocracy to control its mass of voters, it must first deceive its mass of voters; and, in America, they're deceived, and have been so, for decades, at least.
Poll Shows Americans Support the Invasion of Syria – What they Misunderstand About that War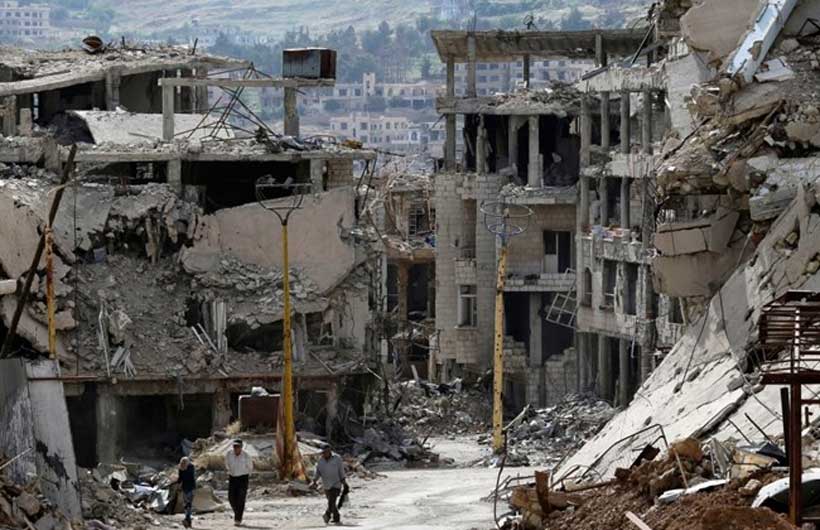 The first even marginally trustworthy poll of American "registered voters" regarding the April 14th U.S.-and-allied missiles-invasion of Syria, shows an overwhelming 66% supporting the invasion (36% "Strongly" and 30% "Somewhat), and only 23% opposing (8% "Strongly" and 11% "Somewhat").
When the 1,995 U.S. registered voters were asked further, in this Morning Consult / Politico poll, "How confident are you that the airstrikes in Syria will prevent the Syrian government from using chemical or biological weapons again?" only 30% are "confident" (8% "Very" and 22% "Somewhat") and 57% are not (21% not "at all" and 35% "not too"). Obviously, all of the 30% who are "confident" on that are also believing that the Syrian government has been "using chemical or biological weapons" and the 57% who aren't "confident" are expecting the Syrian government to continue using such weapons; but the only other option that the pollster offered was "Don't know / No opinion" and perhaps any respondents who disbelieved the U.S. government's allegations that the Syrian government has been using such weapons would have to be among the 12% who said "Don't know / No opinion" (or else such respondents would have quit answering at that point, which was 3 questions into a 7-question poll: the stupid polling organization excluded even the possibility that a respondent believed the Syrian government's denials that it had used such weapons — that's how little consideration was offered regarding even the merest possibility that this invasion had been punishment of a non-guilty nation by guilty invaders: zero).
This invasion, like the one a year earlier, occurred when the U.S. and its allies said that Syria was guilty but didn't provide any evidence of that, and when Syria and its allies said that those charges were lies and that the 'rebels' whom the U.S. and its allies supported had actually set up the incident in order for the U.S. and its allies to invade and overthrow the government. These invasions were lawless — based upon no legal process other than brute accusations, like in any common lynching or other mob-'justice'.
The fact that this poll did not show close to 100% contempt by the American people regarding what the U.S. government and its two allies, UK and France, had just done, indicates not only that the American people are astoundingly ignorant that the U.S. and its allies are international outlaws and warmongers (which makes sense for a nation that invaded and destroyed Iraq 2003, Libya 2011 and has been trying to do it since 2011 in Syria), but that they are also astoundingly misinformed as to which side in this war is guilty, and which side is not. (Hint: It's certainly not Assad, who is simply defending Syrian sovereignty over Syrian territory.) According to the standards that were set in place by the Nuremberg Tribunals following World War II, in which invasions for any other purpose than national self-defense are war-crimes, it's not only the lie-based invasion and destruction of Iraq 2003, and the 2011 invasion and destruction of Libya, that constitute international war-crimes — there's simply no power that's enforcing international law: not policing, not prosecuting, not judging, and not legislating, at all, any such thing. The international outlaw regimes, U.S. and its allies, are simply international gangsters, and the American public overwhelmingly are bored about the whole thing, don't really care whether they are the Nazis of today (and the U.S. government is even proud to be it, not only under Trump, but under Obama before him — all accepted, not resisted in any way, by the American public).
Poll-findings like this implicate the American public, and not only the American government, in such mega-crimes. Even the clear-cut national experience of having been lied into Iraq 2003 hasn't taught the American people that we live in a gangster-regime. And now this regime has destroyed even the last vestiges of the authority that the U.N. once had.
Ironically, the core voter-base for the war-criminal U.S. President Trump seem to have strongly opposed the latest invasion. But, to judge from this latest actual poll in the matter, the American public strongly supports that invasion. Apparently, Americans can't learn from even the most blatant experiences, such as having been lied into destroying Iraq in 2003 — a country that, like Syria, and like Libya, had never attacked, nor even threatened to attack, the U.S.