The Ongoing Suppression by House Republicans of the Russia-White House Investigation: the Plot Thickens
[yt_dropcap type="square" font="" size="14″ color="#000″ background="#fff" ] H [/yt_dropcap]ouse Republicans are getting ready to derail a Democratic resolution by Rep. Jerry Nadler (D-NY), named a "resolution of inquiry," which would have forced a disclosure of President Trump's potential ties with Russia and any business conflicts of interest. They are sending it to the House Judiciary Committee for a panel vote on Tuesday 28 of February, when it will be killed. It will never see a floor vote.
The vote by the Committee will come a few hours before Trump's delivery of his first address to Congress. This strategy too aims at burying the panel vote by scheduling it on a busy news days.
It is important to notice that resolutions of inquiry are quite rare and privileged in Congress, which means that lawmakers can circumvent the leadership and force action on the floor if they get ignored for 14 legislative days.
These resolutions can force agencies and even presidents to give Congress private records. Nadler has already demanded that Attorney General Jeff Sessions hand over "any document, record, memo, correspondence or other communication pertaining to criminal or counterintelligence investigations" as they related to White House staff or its business.
Meanwhile there is an obvious attempt by the White House, via Priebus, to have the FBI declare that the allegations by the New York Times and other news outlet are fake-news; something which the FBI has refused to comply with.
The plot thickens. Why the attempt to suppress the inquiry when Donald Trump has vehemently denied any business and/or political deals with Russia? There is no answer to that question so far, but we are asked to simply take president Trump's word for granted, for he, like George Washington before him, is unable to tell a lie and always tells it like it is.
A good many Americans, even those who actually voted for Trump, are coming to the conclusion that what they have in the White House presently is either an inveterate liar and con-man, or somebody who suffers from psychotic delusions and invents his own reality. Either way, he represents a serious menace to the Republic.
As another president once said: "You can fool some of the people all the times, and all the people some of the times, but you cannot fool all the people all the times." Obviously there is a new experiment going on in the White House to see if that statement still applies today. Let's hope it is still valid; for if it doesn't, we might as well kiss good-by to American democracy as we know it.
NYT: The European Union is far from ready to accept Ukraine
European Union leaders visiting Kyiv last week offered financial help and lasting support to Ukraine as it tries to defeat Russia, but they stopped far short of granting Kyiv its key goal of accelerated membership in the bloc, – informs 'The New York Times'.
President Volodymyr Zelensky of Ukraine met with the European Commission president, Ursula von der Leyen, and the European Council president, Charles Michel, with an aim of extracting commitments to let Ukraine soon join the bloc's 27 member nations, which represent about 450 million people. Mr. Zelensky has said he expected E.U. nations to recognize Ukraine's progress toward membership and touted overhauls designed to cement support.
But the path to membership is typically a protracted one and the bloc is far from ready to accept Ukraine — a country that will need billions in additional aid to rebuild after the war — into its ranks.
For officials in Brussels that presents a dilemma: how to encourage Ukraine to continue making changes to meet the E.U.'s high standards for governments without making promises they are not prepared to keep.
The European leaders walked a careful line, validating Ukraine's aspirations but gently applying the brakes on talk of fast-track accession.
"The accession process is a merit-based process," Ms. von der Leyen, a staunch supporter of Ukraine's E.U. bid, said. "In other words, there are no rigid timelines. But there are goals that you have to reach reforms."
Mr. Michel noted to Mr. Zelensky that to proceed with accession talks all E.U. members have to agree unanimously. It was just one reminder that the bloc is not prepared to cut corners.
Under pressure from public opinion and the United States to illustrate the bloc's long-term commitment to Ukraine, E.U. leaders agreed to grant the country, as well as Moldova, candidate status in June. But Ms. von der Leyen and Mr. Michel have no authorization from the 27 E.U. members to make promises to Mr. Zelensky or to imply that they will bend the bloc's stringent rules to let Ukraine in faster or with looser demands.
The E.U. accession process typically takes a decade or longer and requires deep changes aimed at aligning with the rest of the bloc. Issues for many countries include economic overhauls, safeguarding judicial independence and a free press, ensuring a competitive democratic political system, and fighting corruption.
Ambassadors from E.U. capitals meeting in Brussels to prepare for a visit by top officials to Kyiv disagreed over wording for a closing statement, with several diplomats insisting that the word "progress" be changed to "efforts" — and refusing to budge.
The episode, recounted by four diplomats and officials who participated in the meetings and spoke anonymously because they were not authorized to share details of the confidential discussions with the news media, showcases a dilemma for the bloc as Ukraine pushes for fast track membership: How to offer hope for a better future soon, without making false promises.
International Affairs
RAND Corp.: U.S. Policy in the Russia-Ukraine conflict
RAND Corp. could not stand aside and published its assessments and proposals, which show that instead of an analysis of the situation in Ukraine, RAND prefers to use convenient political cliches, which are sometimes far from the real state of affairs. In any case, RAND believes that it is the USA that should be the winner in the war between Russia and Ukraine. And this is a fundamental mistake in the report.
However, we will quote some points from this text "Avoiding a Long War. U.S. Policy and the Trajectory of the Russia-Ukraine Conflict":
"How does this end? Increasingly, this question is dominating discussion of the Russia-Ukraine war in Washington and other Western capitals.
The trajectory and ultimate outcome of the war will, of course, be determined largely by the policies of Ukraine and Russia. But Kyiv and Moscow are not the only capitals with a stake in what happens.
This war is the most significant interstate conflict in decades, and its evolution will have major consequences for the United States. It is appropriate to assess how this conflict may evolve, what alternative trajectories might mean for U.S. interests, and what Washington can do to promote a trajectory that best serves U.S. interests.
Our analysis suggests that duration is the most important of the remaining dimensions for the United States. The negative consequences of a long war would be severe. So long as the war is ongoing, escalation risks will remain elevated. Duration and escalation risks are thus directly linked.
Additionally, a longer war will continue to cause economic harm to Ukraine as well as to Europe and the global economy.
For the United States, a longer war will entail both increased direct costs (such as more budgetary and military support to Ukraine) and increased opportunity costs in terms of pursuing other foreign policy priorities.
There are possible benefits to protracted conflict: a further weakening of Russia and the opportunity for Ukraine to make territorial gains.
There are other risks to consider, however.
The United States has expended considerable effort building and holding together a global coalition to sanction Russia. Presumably, the United States would aim to gain support from members of this coalition before signaling the possibility of sanctions relief to Russia, but it may not be possible to get all members to agree, which could limit the amount of relief the United States could offer.
Even if coalition members were unified on a plan for sanctions relief, a risk would remain. As the members of the coalition begin to unwind sanctions as part of a negotiations process, some states might become reluctant to put them back in place if the Ukraine-Russia negotiations or agreements collapse. The coalition may not be as strong as it is now if it later needs to reimpose sanctions.
Moreover, U.S. leaders may pay a political cost domestically and with allies opposed to any sanctions relief. Our analysis suggests that this debate is too narrowly focused on one dimension of the war's trajectory.
Territorial control, although immensely important to Ukraine, is not the most important dimension of the war's future for the United States. We conclude that, in addition to averting possible escalation to a Russia-NATO war or Russian nuclear use, avoiding a long war is also a higher priority for the United States than facilitating significantly more Ukrainian territorial control.
Whereas the United States cannot determine the territorial outcome of the war directly, it will have direct control over these policies.
President Biden has said that this war will end at the negotiating table. But the administration has not yet made any moves to push the parties toward talks…. to help catalyze the eventual start of a process that could bring this war to a negotiated end in a time frame that would serve U.S. interests.
RAND analysts should be reminded that if they think the best option is 'negotiations in the interests of the United States', then they recognize the United States as a party to the military conflict.
Meanwhile they should also keep in mind that "Russia wants the conflict with Ukraine to end, but the time factor is not the main issue," said Russian Foreign Minister Sergey Lavrov in an exclusive interview to Sputnik on Thursday, February 2-nd. That would serve Russian interests.
Israel gives Ukraine intelligence. "The best thing" that could have happened to Israel-NATO relations?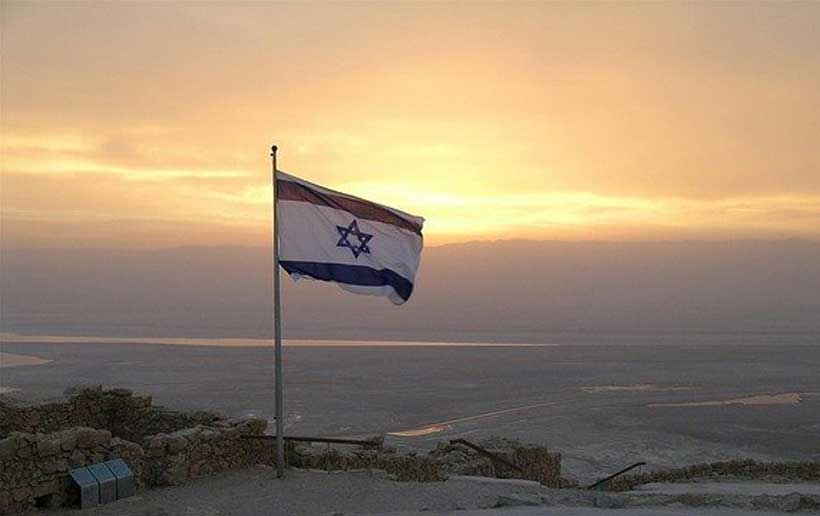 NATO sources tell 'Haaretz' some of the intel is on the Iranian drones in Ukraine, writes Yossi Melman at Israeli newspaper.
Israel has stepped up its intelligence assistance to Ukraine in recent weeks via NATO, sources in Brussels told 'Haaretz', with Jerusalem remaining keen to keep its aid to the embattled country indirect.
"Iran's decision to supply drones and increase its military cooperation with Russia is a strategic mistake by Tehran and the best thing that could have happened to Israel-NATO relations," an Israeli defense source told 'Haaretz'.
Only a month and a half ago, Defense Minister Benny Gantz and the chief of staff of the Israel Defense Forces, Aviv Kochavi, turned down a proposal by Ukraine's defense minister to share information on the Iranian drones being shot down over his country. These details would have come in return for the passing on of Israeli intelligence. Israel feared that Russia might respond by hampering the Israel Air Force's freedom in Syria's skies, as Iran tries to deepen its presence against Israel to the north.
But American pressure and the stepped-up Iranian aid to Russia have convinced Israel to abandon its policy of apathy.
Last month, senior European officials told 'Haaretz' that under American pressure, Israel agreed to underwrite the purchase of millions of dollars of "strategic materials" for Ukraine. The materials were transferred via a NATO country, and Israel agreed to let NATO countries transfer to Ukraine weapons including electro-optical and fire-control systems made by Israeli firms.
Over several years, the Mossad, Military Intelligence, the IAF and the navy have built up a database on Iran's drones. If Brussels gains access to this data, Ukraine and NATO countries will benefit, as will other states such as the United Arab Emirates, Saudi Arabia, Japan and Australia.
In 1994, Israel signed an agreement granting it status as a NATO "partner." This lets it appoint an ambassador and a military attaché, and take part in the alliance's air and sea exercises in the Baltic states, Montenegro and the Indian Ocean.