Nuclear Episodes and the Pokhran Legacy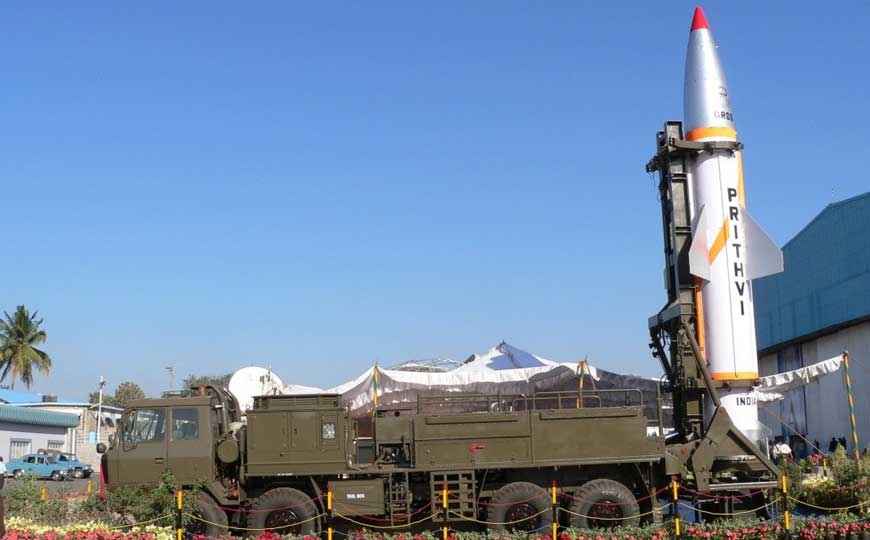 [yt_dropcap type="square" font="" size="14″ color="#000″ background="#fff" ] L [/yt_dropcap]ike India nuclearized the Subcontinent in 1974, it has proliferated the Indian Ocean by building an open-ended triad of nuclear forces. Since then, India has been the provocateur and seeks regional hegemony and global status. Indian motivations behind becoming a nuclear weapon state had a high tone of revising the global and regional order, which emanates from its ideology.
For this, India has made many counter-productive moves to show its power in the region and beyond. Threatened by these moves, Pakistan has time and again struggled to restore peace and stability in the region.
Indian acquisition of ballistic missile defence (BMD) shield is a case in point. This so-called shield is a two-tiered offensive system of Prithvi Air Defense (PAD) and the Advanced Air Defense (AAD) that collectively provides a high- low cover to any incoming ballistic missiles It is offensive system because it gives India a false sense of security and the tendency to either strike first or go for a decapitating nuclear strike. This is because India has developed sea-based offensive capability, has canister-based missile systems and MIRV capability.
Recent developments in Indian BMD include the test of interceptor missile to intercept and dedtroy hostile ballistic missiles in space, test of Ashwin missile in 2016 and also the extremely advanced electronics and surveillance vessel, as a missile range instrument, Ship VC 11184 in system trials which is a dedicated element of Phase II of India's BMD. Pakistan has shown increased concerns regarding BMD development by India as it can provide India a false sense of security, resulting in Indian Military opting for military adventurism vis-à-vis Pakistan.
Nevertheless, Pakistan has given measured and restrained responses to Indian attempt of eroding deterrence stability in the region. Islamabad also introduced Hatf VII with a primary purpose to counter Indian BMD shield with Babur-3 submarine launched cruise missile that has a range of 450 km, which is not enough. More measures should be taken in this regard. Pakistan also introduced Pakistan's Ababeel, Multi Independent Re-entry Vehicle (MIRV) missile which will restore minimal measures for deterrence equation of the country.
Likewise, Indian nuclear triad is also a key security concern for deterrence stability in the region as the completion of nuclear triad and assured second strike capability by only one adversary acts as a destabilizer. India has not only tested a 3,000 Km ranged K-4 submarine-launched ballistic missile (SLBM) and K-15 Sagarika SLBM with a range of 750 Km, but also commissioned nuclear submarine Arihant – thanks to Russian, Israeli and other generous support. This gives a risk taking and religiously fundamentalist Indian government an edge in completion of nuclear triad.
Another Arihant class submarine INS Aridhaman is already under construction and a fleet of six to eight SSBNs would be ready by 2022. Each of these SSBNs will be able to carry twelve K-5 missiles and four K-4 missiles. It is confounding to note that Obama administration was completely oblivious to genuine security concerns of Pakistan.
In the past, in case of conflict, Pakistan could be under privileged because, earlier, it didn't cover the Nicobar, and the Andaman Islands which had also been reportedly used as strategic bases by India, through any missile. Hence, Pakistan opted for an extremely precise response in shape of Shaheen III, as stated by General Kidwai, to cover the standoff India was trying to build. Pakistan should likewise plug other gaps that India is trying to create in the deterrence equation in order to stabilize it.
Indian growing conventional capabilities capped with its Cold Start Doctrine have also been viewed as a threat by Pakistan. It has been a first time that an Indian Chief of Army Staff, by design or by default, conceded openly to the existence of the Indian pre-emptive and highly destabilising strategy. The CSD could have extremely serious repercussions in a state of conflict between India and Pakistan. To mitigate this threat of serious military misadventure by India, Pakistan was forced to develop Nasr missile that is a short-range-low-yield system.
Although, Pakistan has been repeatedly proposing many confidence building measures in the region and also offered Strategic Restraint Regime in order to create stability in the region. Nevertheless, introduction of nuclear weapons by India in the sub-continent, and later nuclear modernization have acted as destabilizers in the region, forcing Pakistan to tailor its nuclear weapons program and responses along the geographic and logistical physiognomies.
Before calling it a day, the last U.S. Vice President Joe Biden singled out Pakistan along for making "counterproductive" moves that only heightened the risk that nuclear weapons could be used in a regional conflict. Why was it so important to make this point? Interestingly, unidirectional focus on Pakistan and conveniently outnumbering Indian unrestrained force posture and doctrinal developments have always compelled Pakistan to take minimal measures to maintain peace, stability and deterrence in the region.
Perhaps there should be a balanced approach in calculating numbers for both Asian rivals and must have acknowledged why Pakistan has always exercised extreme restraint in responding to Indian behavior.
Indian noxious Pokhran legacy was ignored and Pakistan had to face the consequences and devise response options after cost and benefit analysis. Similarly, Indian military and nuclear weapons modernization for example MIRVing and canisterizing of missiles, if goes unnoticed by the states, will create more drastic impact not only in the region in particular, but also globally. Hence, rather than blaming Pakistan which is trying to ensure peace and security in the region, Trump administration must try to constrain India for revising the global and regional order and become at threat to the American security.
India's Military Spending and South Asian Security
Over the past several years, unprecedented military modernization in Pakistan's immediate neighbour, India, has worsened South Asia's security environment. India's heavy military spending and its unstoppable quest for the acquisition of sophisticated weapons have threatened regional stability. Indian desire to acquire global power status through military means has further been intensified as a result of US assistance particularly in former's defence sector. Within quick span of time, defence trade between India and the US has shot from $1 billion to over $15 billion leaving other regional powers in the state of security consciousness.
India's obsession with its military build-up doesn't end here. According to the Stockholm International peace Research Institute (SIPRI) a prestigious international institute dedicated to research into conflict, armaments, arms control and disarmament, India, once again tops the list as world's largest weapons importer. This is not a new development as previously, India also topped the list for the same reason.
As per SIPRI estimates, Russia remains top arms supplier to India. However, surprisingly arms deliveries from the US increased more than six-fold in the five-year period to the India. This trend in long run will definitely reduce market space for Russian arms and ammunition to India.
Despite the fact that, India's unbridled military modernization is the primary impetus behind South Asian instability, global power's economic expediencies in South Asia also undermines delicate conventional parity between India and Pakistan. For instance, Indo-US strategic partnership, which apparently touted as US' China containment policy, seems more of a Pakistan containment policy. Much of the US provided weapon-tech to India is more useful against Pakistan in a conventional warfare. Almost 70% of Indian military troops and weapon system are deployed against Line of Control, (LOC). Interestingly, peaceful settlement of Docklam issue between China and India as well as sky-rocketing bilateral trade between both countries, which has reached to $84.44 billion last year, makes prospects of conflict almost impossible.
However, in contrast to aforementioned facts, the influx of massive military hardware from western capitals to India continues and in certain cases the flow of arms has gained momentum. There are two primary motives behind India's overwhelming spending in defence industry.
First, India aspires for greater role in global environment and in certain ways it has been demonstrating its will and capability to influence global dynamics. India's successful test of Agni-5, a long-range ballistic missile, capable of carrying nuclear weapons with a strike range of more than 3,000 miles, is a practical demonstration of its military capabilities to influence other powers around the globe. For hawkish policy makers in New Delhi, a strong military power can extend India's global influence.
Secondly, India is following a policy of coercion at regional level primarily, against Pakistan which shares history of hostility and violence due to longstanding territorial disputes such as Kashmir. There is growing perception in New Delhi that militarily strong India can dictate South Asian affairs. That's why India has been consistently opposing diplomacy and dialogue for peaceful resolution of disputes. Therefore, to meet its foreign policy goals, which are based on coercion and usage of hard power, India spends massive in military build-up.
Ironically, South Asia is called as nuclear flashpoint due to history of animosity and violent conflicts between India and Pakistan. With its mighty military power, India has emerged as the most potent threat for not just Pakistan but also a security challenge for other powers in the region.
Given the advantage it has in terms of nuclear missiles, military hardware and submarine fleet, India has been trying to create an environment conducive to wage limited war against Pakistan. For that, India has not just developed its military doctrine, Cold Start Doctrine, but also initiated and sponsored sub conventional war in Pakistan's chaotic province, Balochistan.
In such circumstances, Pakistan needs to maintain delicate conventional military balance vis-à-vis India. Despite the fact, Pakistan has been facing number of issues at national, regional and international levels which include on-going military operation in tribal areas to hostile border skirmishes; a robust military modernization plan has become inevitable. A militarily strong Pakistan will be able to maintain its territorial integrity against aggressive yet militarily mighty India.
It's an open fact that Pakistan has consistently called for peaceful resolution of all outstanding disputes and it has offered to resume diplomacy and dialogue over Kashmir dispute. Unfortunately, India's cold response has not only restricted Pakistan's peaceful overtures but also refused to accept third-party mediation in peaceful settlement of Kashmir issue. This clearly shows that, current ruling regime in India is not serious for peaceful settlement, rather more inclined to use of force and coercion. Under such circumstances, Pakistan needs to strengthen its force posture to pre-empt any kind of misadventure from its adversary. However, Pakistan, as it has done in past, must embrace peaceful overtures to bring stability in the region.
US Call for a New Relationship
'Trust, but verify' an Old Russian proverb that President Reagan liked to repeat often. Trump is neither the first President nor he is going to be the last to criticize Pakistan of deceit and threaten to cut off American assistance. Notwithstanding, the last six decades of the US support, the US has failed completely in cultivating an ally in Pakistan nor has it meaningfully changed the nature of its relationship with Pakistan, which can be best described as 'transactional'. A quid-pro-quo relationship between the two has never been established with regards to the assistance they both offered to each other. In truth, United States has never really trusted Pakistan.
President Trump avowed in his New Afghan Strategy that the US has been paying Pakistan 'billions of billions of dollars at the same time they are housing the very terrorists that we are fighting for' but the mantra should be put to a halt. Likewise, the US must be conveyed boldly to stop continuing its false claims that Pakistan shelters the 'agents of chaos' and be reminded that friends don't put each other on notices.
Similarly, statements and avowals that India now is a strongest ally to the US, disturbs Pakistan, chiefly because of the irony at Trump administration's part which only sees the glittering Indian market but pay no heed to the growing Indian cease fire violations across the LoC and the atrocities India commits against the unarmed civilians of the Indian held Kashmir.
The recent visits and statements however by the senior US officials and Trump's aides reflect the US call for a new relationship between the US and Pakistan, which once used to be close allies in the US led 'Global War on Terror'.
Pakistan's foreign policy makers at this point in time must be mindful of the fact that the US is a major trading partner and should adhere to a relationship more than 'transactional'. Moreover, the risks and fears at the US part of 'rampant destabilization and civil war in Afghanistan' increments further the region already devoid of trust. For, nobody actually knows whether the US will stay or eventually leave Afghanistan.
The Afghan war has now become a war of logistics, in words of Sun Tzu 'the line between order and disorder lies in logistics', Pakistani supply lines thus provide Islamabad with a leverage in absence of shorter, cheaper and acceptable alternative routes. Given these circumstances, Pakistan should make best use of the US call towards a more robust bilateral relationship.
The move for a 'new relationship' and improved ties began last week with senior Trump aide's visit to Islamabad to hold talks with Pakistani leaders.  Earlier also the impressions that Pakistan and the US were on a collision course were dispelled by a top US general. Likewise, US department's acting Assistant Secretary for South and Central Asia Alice Wells asserted that the US was not thinking of cutting its ties rather assured that the US still cogitate Pakistan indispensable to the resolve in Afghanistan.
The aforesaid developments clearly indicate that the strained US-Pakistan relations would improve soon and that the suspension in the military aid is also not permanent.
To conclude, achieving long term stability and defeating the insurgency in the region will be difficult without Pakistan's support and assistance.
Special Economic Zones and CPEC
Economic Expansion, high prices and inflation are the issues on which one can talk for hours. The scarcity of resources, energy crises and lack of industrial modernization are the challenges which Pakistan has been facing for past many decades. Despite the advantages of geographical setting, the country could not sufficiently expand its economy until 20thcentury. However, the China-Pakistan Economic Corridor (CPEC) has brought with it various infrastructural, energy, and industrial projects that show smooth progress in these sectors. One of the most significant developments is the establishment of Special Economic Zones (SEZs) under the Long Term Plan (LTP) of CPEC.SEZ is a physically protected area with definite geographic boundaries under which the investors and the developers enjoy duty free benefits and streamlined procedures, set up by the government.  After the successful completion of the Early Harvest Program (EHP), the governments of China and Pakistan aspire to complete the Long Term Plan (LTP) of CPEC. As a key route to success, the LTP has been divided into three phases and the work on the first phase has already started. SEZs are on the first priority list of the first Phase of LTP. While utilizing the strategic location of Pakistan and the rich resources, the SEZ will contribute a framework for Pakistan's domestic industries, and local economy.
The government has planned to establish nine Special Economic Zones (SEZs) in all the four provinces, federal areas and Gilgit-Baltistan under the framework of CPEC, which would be completed in a period of three years. Pakistan has conducted feasibilities of 5 SEZs which focuses only on the infrastructure. The three prioritized SEZs to be completed in the first phase of LTP are M3 Industrial City in Faisalabad, Punjab, Chinese SEZ Dhabeji, Sindh and Hattar SEZ in KP province. While the remaining six sites include Rashakai Economic Zone, M-1 Noshera, Bostan Industrial Zone District Pishin, AllamaIqbal Industrial City, Moqpondass SEZ in Gilgit-Baltistan, ICT Model Industrial Zone Islamabad, Development of Industrial Park on Pakistan Steel Mills Land at port Qasim near Karachi, Special Economic Zone at Mirpur AJK, Mohmand Marble city.
Although, there are general misunderstandings regarding the industrial ramifications of the SEZ's under CPEC due to large number of Chinese firms and the exemption in the tax rates offered to them. However, the LTP of CPEC shows that these SEZ's will offer the country with a great opportunity to accelerate industrialization because they are beneficial for all the international and domestic investors. So far in the history, SEZs have been the reason of economic boost in countries around the globe. Now this is a matter of concern that either these SEZs will make Pakistan a center of economic modernization and trade ventures or not. The economist and financial experts are optimistic about Pakistan's emergence as one of the fast growing and promising global economy.
While stepping towards the era of industrialization, Pakistan faces a number of issues that have so far refrain the industries to understand their growth potential. Some of the chief hindrances to investment in Pakistan include poor security; non-availability of infrastructure and power crises, rent-seeking regulators, and cumbersome tax administration, etc. among many others.
Likewise the entrepreneurs in Pakistan have certain reservation with the incentives proposed by the government and SEZs for the investors and enterprises including ten-year exemption from all taxes on imported capital goods and exemption from tax on income accruable from development and operations in SEZs for a period of ten years. Although these incentives will be beneficial for the foreign investors at large but at the same time it will provide Pakistani enterprises with the opportunity to collaborate with the Chinese firms and launch joint ventures of mutual interests and benefits. This will be further beneficial for the annual Gross Domestic Product (GDP) growth of Pakistan. Moreover it will bring Foreign Direct Investment (FDI) in the country thus generating the foreign revenue.
Subsequently it is significant to keep in mind that in Pakistan there are certain security and political factors due to which the SEZ's may face challenges. Hence forth to conquer these challenges provincial harmony among all the provinces and mutual consensus between the public sector and private sector is needed. SEZs under CPEC will be a life-time opportunity for Pakistani companies to work together with Chinese companies for the development of export-oriented manufacturing industries. Therefore, Pakistan should increase its products in the Chinese market and raise the ratio of its export while decreasing the trade deficit by lowering the imports.