[yt_dropcap type="square" font="" size="14″ color="#000″ background="#fff" ] N [/yt_dropcap]obody talks about the abuse or the familiar hands that we suffered it from now that we're (my siblings and I) are older. When we were going through it, it was like living in a war that left us nowhere to run to when we were growing up. The abuse didn't have a voice or give us one while we were growing up. My mother's love was a hell we could not bear.
When it does surface, it is haunting like a ghost from the past, it makes you live like a lie that just won't let go of you no matter what, that won't let you surrender it. It made us invisible yet it still ran like a thread, as wide as my back, like a river through fog, smog hugging a city skyline, smoke and mist, it left us begging for mercy, left us with no easy solutions for reconciliation between my mother and the rest of my family. It affected us so much that it felt like picking at an open healing wound with raw fingernails.
You are left with no choice but to fight against the sorrow and the pain that you are feeling; feeling uncomfortable and confused. I tried to protect my brother and sister yet the three of us still felt humiliated in tiny devastating blows, emotionally damaging ways on a daily basis. There was nothing that we could do about it but be witnesses to the rage, the red, furious little beast that was my mother.
I missed the sea, the seawater and the white sun on my back when I was in the hospital after my 'episode'. It was pretty hush-hush. Nobody speaks about it in the family especially in my own home. I wish I could take it back but I can't. I only relive it in my when I'm dreaming or in flashbacks. My little 'episode' was not little and it almost cost me my life. I now wore the label 'attempted suicide'. Few people could or would understand what that meant especially where I was coming from.
The flashbacks come whether I'm awake or not. They break through the sealed lid that I've shut on the past. It's something I've had to live with. It comes with the realisation that I can't completely fix something (my life that's been broken up into a million little pieces' times infinity).
I was born with my mother's airs and graces and made sure everyone knew about that I came across in school and college. I was highty-tighty, a 'coconut' and high-minded. I never had a close circle of friends only perhaps only one or two close girlfriends that I told all my secrets to and that I shared everything with.
I thought growing up in a home where you were sad sometimes as a child, spent nights crying yourself to sleep into your pillow was normal. Where you felt lonely, confused, helpless and hopeless when you could hear your parents raised voices having an argument in their bedroom late at night.
We swallowed the pomegranate seeds of my mother's pain, sensitivity, shame and mistakes from her own childhood and teenage years whole. It was a bitter pill to swallow. It was harder to live with, to grow up surrounded by people you loved who were in the state of mind my parents were in but my father's love more than anything made up for my mother's reckless and uncalled for behaviour especially when there was too much going on that we as children had no control over.
Activities at school made up for that. I took on as many as I could possibly fit into my schedule. I wanted to shine. I had my head up in the clouds. I basked in the glory, chaos and mayhem of rehearsals for a school play and editing the school newspaper. I was in my element.
I hold my mother's face in my memory whenever I have one of my phases, when I am going through a reverie; when I face the darkness visible that is depression. Other people like to use words like 'melancholy'.
I don't. I don't find the word 'depression' as menacing and cold to the touch as other people do. I have learned to deal with it well.
I don't think she knows me well enough at all. Sometimes I wonder does she know who I am and what I stand for. Am I noble, am I a good girl, do I work hard at what I do in school, will I ever be over it, will we ever learn to compromise?
The flowers in the vase although wilted still hold a sense of wonderment for me. Also the thought that in some way I was abandoned by her. The pink light of the bloom is a flush against my fingertips.
Red seeped through a tear in my finger where it had caught on one of the thorns of the roses. The thorns scratched me. It left red dots behind on my skin. When I heard her voice, I would sometimes close my eyes and all I could see were tears.
When I was young I could already foresee the rough times ahead of me in the future. It was called for. I played jealous games with my brother and sister. I called my sister 'princess'. She has a posh accent and two university degrees. I also had a posh accent but not the academic smarts for two university degrees from a fancy prestigious South African university.
In Johannesburg where I was studying film and television production at the college I was accepted to I could hear the wind blowing when it moved, when it howled in crevices, in deep places where you could not connect to the very being of it, possibly even when you are sleeping to dream. It rushed through the branches of weathered trees, ruffled feathers on the backs of birds and touched delicate wings.
The joy and cheerfulness that comes from happy people that I met later in life when I was in my teens came in patterns of elegant, dancing, colourful spots of bright lights yet I always felt lonely against the light especially in my childhood place of birth; Port Elizabeth.
My mother had a slender figure, red lips that chanted and she smelled intense like her moods, she smelled of Opium. She sprayed it from a bottle. Each terrifying end of her bad temper meant the start of a new beginning to our relationship. It taught me to grow up quickly and I learned to fend for myself. I didn't lack the education of getting attention. I always had that know-how.
When she was angry her gaze was dangerous. It was hard to keep your distance when you could feel her anger rising and her voice shouting.
Up close she was almost the devil in disguise. She would launch into scathing personal attacks, let it go, hung up in the air like dirty laundry and then return to a sweet, tender, cooing mama again like a hen over her chicks. We tried to do no wrong but didn't know where to begin. We tried to look for guidance, an easy escape. No luck there either.
From a young age, I learnt to love to act out dramas and plays. It felt like home when I was standing on a stage giving it my all and it felt like I was finally living my dream. Being loved and adored for the first time was more than enough for me even if it was in front of nameless faces in the audiences that I captivated and whom I was in return captivated by. I only learned to call it 'abuse' later on when I was more grown up. I am also slowly learning that it happened to a lot of 'us'. Girls I went to school with. Girls I didn't go to school with. Girls from the wrong side of the tracks. Girls who didn't come from the wrong side of the tracks.
Modernizing Higher Education for Economic Growth
Malawi has fewer affordable universities than it has students who want to go to them, leaving college out of reach for many. Enrollment in tertiary education is low, but more and more Malawians hunger for it. With IDA financing from the World Bank, Malawian citizens now have more options.
The five-year, $51 million Skills Development Project is helping public universities to strengthen and increase public access to programs that cater to sectors critical to Malawi's economic growth. These include engineering, natural resources extraction, agriculture, construction, health services, tourism, and hospitality.
Beyond the establishment of the National Council for Higher Education, project funding supports a range of activities at institutions, including improving course offerings and staff skills, renovating infrastructure, and setting up satellite facilities.
Market-relevant course offerings
To expand the range of scientific skills and mid-level technicians needed to fuel Malawi's economy, 39 new programs have been developed by universities, with the participation of the private sector ensuring their relevance to the economy. By 2017, these programs contributed 44 percent of the new student intake to public universities.
Diploma programs at universities have also been bolstered to increase the training of mid-level career personnel needed by various trades. For example, the University of Malawi's Polytechnic now offers 10 technician-level engineering diploma programs in subjects like mining, telecommunications, and health. By 2019, these programs are expected to have enrolled 750 diploma students.
Modernized facilities
One of the major constraints to increasing student enrollment at public universities has been space. At Chancellor College, where most of Malawi's secondary school science teachers are trained, more and better infrastructure is expected to make it possible to boost student intake by 65 percent. This includes modernized laboratories and four new lecture halls seating 350 students each.
This will go a long way toward meeting an increase in the demand for science teachers, following the introduction of physics and chemistry as separate subjects in the secondary school curriculum.
Mzuzu University is heading to be the country's center of excellence in tourism training. It is constructing a purpose-built tourism and hospitality facility that will produce graduates who are industry-ready.
Online and distance learning
The Lilongwe University of Agriculture and Natural Resources (LUANAR) and Mzuzu have introduced online and distance learning (ODL), resulting in increased enrollment at both. At LUANAR, online students make up 10 percent of the total student population. Between 2014 and 2016, Mzuzu increased its intake of online students tenfold. With more affordable fees and flexible options, the ODL system has helped to open access to higher education for many people nationwide.
"I enrolled through ODL because of its flexibility. I continue with my everyday life and yet I am studying at the same time. This is wonderful," says 45-year-old Joe Mwenye, a father of five and a teacher in Ngabu in Chikwawa district. He is studying at LUANAR for a Bachelor of Science in Agricultural Extension.
LUANAR has three ODL centers: one in the town of Mzuzu, another in Lilongwe, and another in Blantyre. Mzuzu University is opening satellite centers in Balaka, Karonga, Mulanje, and Lilongwe.
The Depth of Taboo: Social Issues in South Asia
Rarely does a geopolitical handbook also make such large and important contributions to uncomfortably critical social issues. This handbook is that rare example. The author Aryal takes our MD readers deep into some disturbing discussions – caste systems, systematic violence against women, rape, honor killings, gender stigmatizing, and societal sexism – not to just anecdotally expose people to some of the continued living horrors afflicting important regions of the world but to systematically analyze such atrocities so that their long-term political, economic, social, and diplomatic consequences are revealed.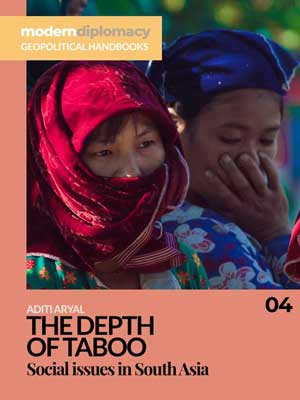 What many around the world do not realize is how crippling these gross abuses of human decency can be for a nation and region writ large: these are not just individual crimes to be noted and then forgotten. The failure of societies, the failure of GLOBAL society, to make more effective progress and take a more rigid stand against injustice is a black mark on all countries, on all of us. This handbook in its own small way strives to be a light within that darkness and as such it is both informative and courageous. While the readers of MD will not find the content of this particular handbook for the faint of heart, the importance of acquiring this knowledge, of becoming more aware of the world that we live in as it truly is in so many places, should be considered a duty of all those fortunate enough to not be born into states where such systemic violence still exists and largely goes unchallenged.
The title of this work is no accident and no shameless marketing attempt to attract more readers. Rather, it is exposing in a single word the reason why overcoming systemic violence based on gender is so difficult. Social taboos run deep in every region, state, city, town, village. We will likely not succeed in eliminating them from the social conscience of people. But the attempt to ameliorate the power of taboo, its power to push rationality out and pull insanity in, is a noble one that all of us at the editorial staff at MD recognize as silently essential for the cause of future peace on so many different levels. The battle against taboo is the secret front end of the war against gender violence and oppression. Ultimately, the criminal justice systems of societies must improve to remedy those actions not prevented from occurring. But the real long-term comprehensive solution will be the effort to eliminate the fear of social taboos, to eliminate the stigma that drives many to commit ignorant violence in the first place.
Women and girls with autism must be empowered to overcome discrimination they face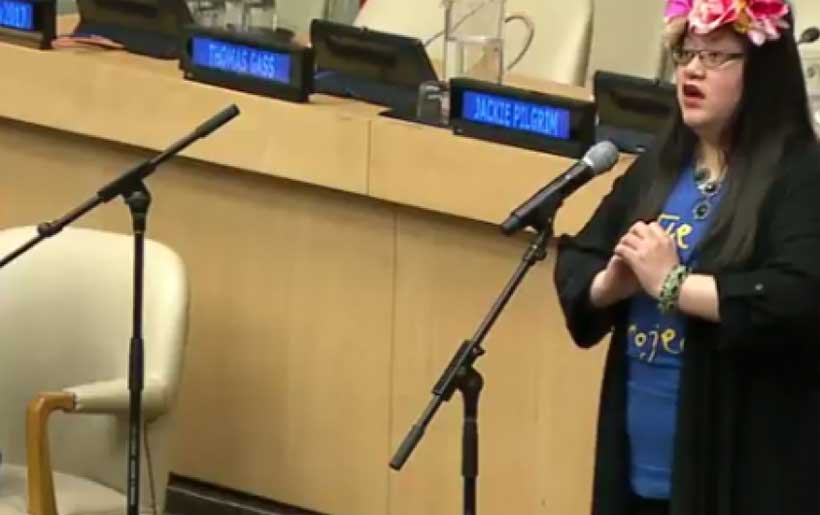 On World Autism Awareness Day, United Nations Secretary-General António Guterres has joined the global call to empower women and girls with autism and involve them and their advocates in policy and decision-making to address the discrimination and other challenges they face.
"They face […] barriers to accessing education and employment on an equal footing with others, denial of their reproductive rights and the freedom to make their own choices, and a lack of involvement in policy making on matters that concern them," said the Secretary-General in his message on the Day.
Emphasizing that "our work for gender equality and women's empowerment must reach all the world's women and girls," he stressed that the international community's efforts to achieve the Sustainable Development Goals (SDGs) must uphold the 2030 Agenda's core promise to leave no one behind.
The Goals and the landmark framework from which they emerged were adopted by UN Member States three years ago. Together they aim to wipe out poverty and boost equality by putting the world on a more sustainable economic, social and environmental path by 2030.
"On World Autism Awareness Day, let us reaffirm our commitment to promote the full participation of all people with autism, and ensure they have the necessary support to be able to exercise their rights and fundamental freedoms," concluded the Mr. Guterres.
Autism is a lifelong neurological condition that manifests during early childhood, irrespective of gender, race or socio-economic status. The term Autism Spectrum refers to a range of characteristics.
Autism is mainly characterized by its unique social interactions, non-standard ways of learning, keen interests in specific subjects, inclination to routines, challenges in typical communications and particular ways of processing sensory information.
The rate of autism in all regions of the world is high and the lack of understanding has a tremendous impact on the individuals, their families and communities.
The World Day is marked annually on 2 April, and this year's official UN commemoration will be on Thursday, 5 April, with a half-day programme in New York entitled Empowering Women and Girls with Autism, that will feature a keynote address from Julia Bascom, Executive Director, Autistic Self Advocacy Network.