The Nagorno-Karabakh conflict and an estimate of war damages for Azerbaijan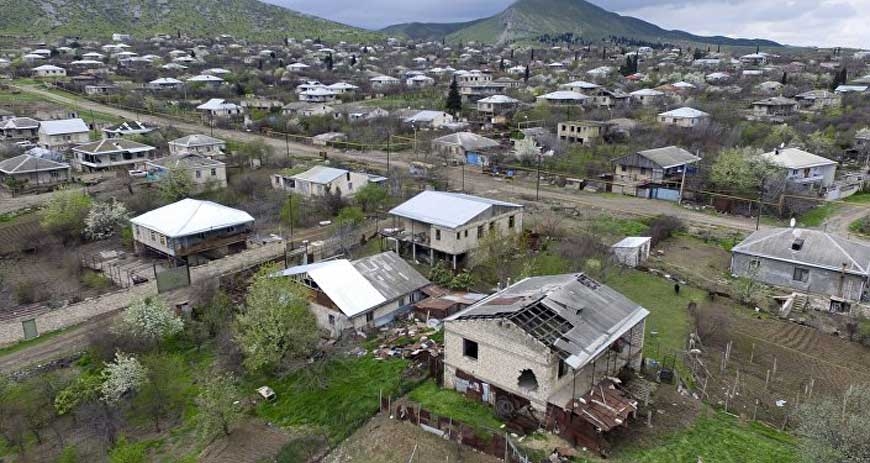 [yt_dropcap type="square" font="" size="14″ color="#000″ background="#fff" ] T [/yt_dropcap]he conflict between Armenia and Azerbaijan over the Nagorno-Karabakh became as one of the most tragic and complicated conflicts contributing to instability in the entire region. The conflict has claimed thousands of lives and over one million people became refugees and internally displaced persons (IDPs).
Twenty percent of Azerbaijani territory has been occupied and material damages worth billions of dollars as the whole infrastructure devastated or destroyed in the occupied regions. A ceasefire agreement has been signed on May 1994 to halt the bloody conflict. However, four-day April 2016 war showed once again that peace agreement between the warring parties is extremely fragile.
If we look at the war damage in Azerbaijan, it is worth noting that the socio-economic damage caused by Armenian aggression negatively affected all spheres of the Azerbaijani economy. According to the calculations, 890 cities, villages and settlements, 102 thousand dwelling houses, 7000 public buildings, 695 healthcare facilities, 693 secondary schools, 927 libraries, 310 industrial and building enterprises, 464 historical monuments and museums, 6 state theaters and concert studios have been devastated or destroyed in the occupied territories.
TABLE 1: Infrastructural and telecommunication damages
| | | |
| --- | --- | --- |
| 1. | Railroad | 240,4 km |
| 2. | Motor road | 800 km |
| 3. | Bridges | 160 |
| 4. | Water Reservoirs | 3 (main Sarsang) |
| 5. | Water-line | 2,300 km |
| 6. | Air | 4 airports ( main Khojali airport) |
| 7. | Gas distribution stations | 35 |
| 8. | Gas-pipe | Baku-Khankendi (Stepanakert)-Nakhichevan |
| 9. | Transformer stations | 2,500 |
| 10. | Electric lines | 15,000 km |
| 11. | Telecommunications | for more than 35 000 subscribers |
Source: http://karabakh.org and own construction
It is worth also noting that the occupied territories of Nagorno-Karabakh represented a large agricultural region within Azerbaijan, as about 70% of summer pastures of the country remain in the occupied areas. In general, grain-growing, fodder production, vine-growing, tobacco-growing, potato-growing, cotton-growing, dairy farming and meat farming, particularly sheep-breeding dominated in the agriculture. Agricultural sector played always important role in national economy, thus after aggression during years 1990-1994 GDP of the country decreased about 63% in total due to agriculture output falling about 43%. Percentage of population dependent on agriculture in the country used to be always high (36.8% –2014), therefore, loss of fertile agricultural lands resulted in high unemployment. The occupied regions had quite strong progress in agricultural production and productivity growth. However, all those production facilities destroyed and remained in the occupied territories. Preliminary calculations show that the total damage to Azerbaijan caused by Armenian aggression estimated around $60 billion.
It should be also highlighted that the illegal economic and other activities carried out by Armenia and the third states in the occupied territories of the Republic of Azerbaijan are contrary to the core principles of the OSCE and the UN. As the Armenia is the occupant of Azerbaijan's territories and its armed forces are illegally situated in the occupied territories, it grossly violates the core principles of international law. Armenia encourages and facilitates resettlement of Syrian Armenians in the occupied territories. Government agencies of Armenia, including its Ministry of Diaspora, as well as other organizations of Armenia, in particular the Armenian Revolutionary Federation (ARF), which designed special Yerevan-headquartered "Help your Brother" program for this purpose. Armenians from Syria (many from Qamishli and Aleppo in Syria) are settled mainly but not exclusively in the occupied Zangilan, Gubadly and Lachyn districts ("Illegal Economic and other activities in the occupied territories of Azerbaijan": Report by the MFA of the Republic of Azerbaijan, 2016, pdf, pp. 11).
Armenian diaspora organizations, including the Lebanon-based Artsakh Roots Investment ("ARI") company, play a major role in enabling and facilitating the occupation. A large amount of funding for settlements and other activities is provided by foreign private investors, mostly of Armenian origin, and from charity non-profit organizations such as the US-based Tufenkian Foundation, Armenian General Benevolent Union (AGBU), Cherchian Family Foundation are channeling large amounts into the illegal activities and settlements throughout the occupied territories. Hayatsan All-Armenian Fund designed and implemented a special "Re-population of villages of Artsakh" project. Building new infrastructure and communication facilities as well as illegal activities in the field of ICT and banking sectors are well-known facts. For example, the Armenian banks such as "Artsakhbank", Converse Bank, Ardshininvestbank, Armbusinessbank, Armeconombank, Araratbank, Unibank and Ameriabank are operating in the occupied territories. Armenia's mobile operators such as Armentel (a subsidiary of the Russian Vimpelcom under the "Beeline" brand), Viva Cell MTS and Orange Armenia, a subsidiary of Orange Group France, provide roaming services with reduced rates to "Karabakh Telecom CJSC" (ibid, pp. 10- 24).
Armenia is also a transit route to export goods illegally produced in the occupied territories to international markets. The goods produced in the Nagorno-Karabakh and other occupied areas are being exported to the European, Russian, Ukrainian, the U.S. markets etc. under a fake label 'made in Armenia' or by companies operating in the Nagorno-Karabakh but registered in Armenia. It pursued illegal policy on development and operation gold deposit located in the occupied Kalbajar region of Azerbaijan by Base Metals CJSC, which is a wholly owned subsidiary of Armenia's Vallex Group CJSC, registered in Liechtenstein. Another company Gold Star CJSC reportedly started exploitation of the gold mine in Zangilan district (ibid, pp. 14). All these facts are a clear violation of international law.
The occupation of Azerbaijani territories is significant obstacle to regional cooperation, and its policy leads Armenia to isolation. Consequently, the country will have no opportunity to participate in regional projects. On the contrary, due to a rapid economic growth, Azerbaijan has been realizing important energy and transport projects of regional and global importance. Important projects, such as the Baku–Tbilisi–Ceyhan pipeline (BTC), the Baku-Tbilisi-Erzurum gas pipeline (BTE), Trans-Anatolian Natural Gas Pipeline (TANAP) and the Baku-Tbilisi-Kars railway (BTK) which bypassed Armenia, realized due to cooperation between Azerbaijan, Georgia and Turkey. Occupation of Azerbaijani territories caused socio-economic damage not only for Azeri but also for Armenian people too, and it is obvious that the current situation damages the Armenian economy. It is worth underlining that as long as this country continues its aggression against Azerbaijan, it will stay away from all regional projects, and inclusive regional cooperation in the South Caucasus will be impossible.
After last year's April bloody clash between Azerbaijan and Armenia in the Nagorno-Karabakh region, the economic damage of war on Azerbaijanis became again increasingly important. As a result of only four-day clash, 6 civilians were killed, 26 people injured, 445 houses, 5 schools, 2 medical centers, 2 kindergartens and other social and administrative buildings were seriously damaged. These figures are only "a drop in the bucket", therefore, a careful calculation of the whole war damage caused by Armenian aggression since the start of war is extremely important.
Undoubtedly, Azerbaijani government has the list of all devastated and destroyed infrastructures, production facilities and cultural heritage in the occupied zones. Also geography, history, and culture of the occupied territories have a great potential for the tourism industry, but Azerbaijan cannot benefit from this sector. To make exact calculation, it is very important to liberate all occupied territories and attract international organizations to calculate the exact amount of damages.
In addition to the foregoing, as a result of Armenian aggression, the blockade of the Nakhchivan Autonomous Republic (Azerbaijani exclave) has been continuing for almost 28 years. The blockade of the region actually prevents realization of the full economic potential of this region. Therefore, the damage to this region should be also calculated, and abolishing the blockade should be the subject of discussions and adopted documents by international organizations. Accordingly, while calculating the final amount of damages and costs, all direct and indirect costs should be calculated, and undoubtedly, the final actual costs will exceed the preliminary estimated costs by several times.
The conclusion must be that although the war caused both human suffering and economic losses for Azerbaijanis and Armenians, unfortunately, additional losses will be in the future due to the ongoing conflict. As many Armenian journalists and human rights activists underline Azerbaijanis and Armenians suffer a lot from the Nagorno-Karabakh conflict, and this conflict should be resolved so that both Armenian and Azeri people could live peacefully there. According to journalist and social activist Susan Jaghinyan –"the Armenian people had their share of grief. Only occupiers (Armenian authorities) benefited from the conflict". All these facts once again confirm that both Azeri and Armenian people are continuing suffering from the bloody conflict. The fastest peaceful resolution of the Karabakh conflict will restore regional integration, and the people of the region will be able to benefit from regional economic development.
Will Russia serve the old wine in a new bottle?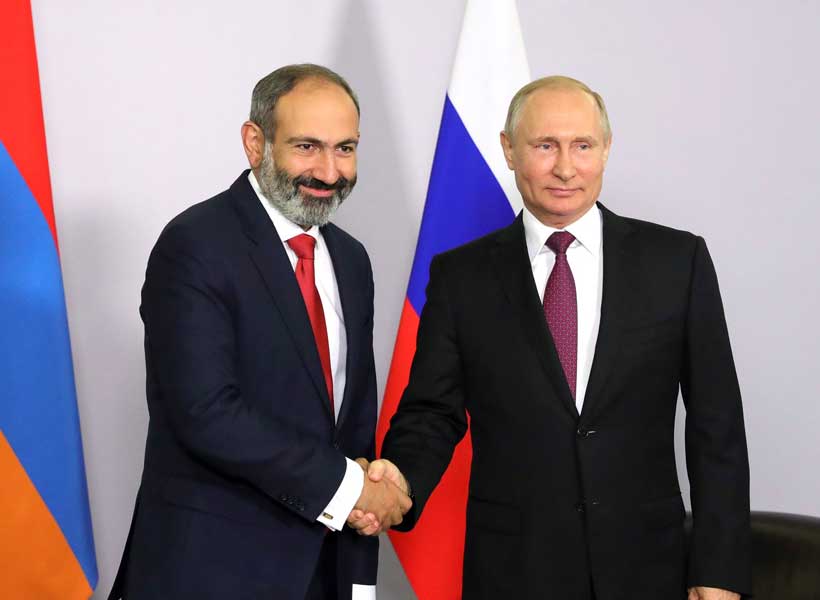 Nowadays, one of the main features of global political developments are non-violent or color revolutions. These revolutions are brought about by wide-spread corruption, poverty, unemployment and a deep gap between masses and the ruling elite with the latter being the biggest political risk for the ruling party. Most analysts argue that these factors are combined also with outside support, which can culminate in the revolution. However, what happened in Armenia after a few weeks of peaceful demonstrations, the Velvet revolution, that brought down the regime and has exercised true people power, is considered to be unprecedented for it didn't owe its origin to the external assistance or wasn't an attempt by ''US to export democracy'' in Armenia. The geopolitical factor was initially excluded.  In fact, Russia has traditionally had negative attitude towards color revolutions and has seen them ''as a new US and European approach to warfare that focuses on creating destabilizing revolutions in other states as a means of serving their security interests at low cost and with minimal casualties''.This means that Russia, desperate to maintain its own standing in the Caucasus, was likely to intervene in the events unfolding in Armenia. However, the Kremlin didn't view turmoil in Armenia as a Ukraine-style revolution. Asked if Russia would intervene, Kremlin Spokesman Dmitry Peskov said the matter was "exclusively an internal affair" and Russian action would be "absolutely inappropriate". Moreover, after Armenia's unpopular leader Serzh Sargsyan's resignation, Russian Foreign Ministry spokeswoman Maria Zakharova called Armenians "a great people" and wrote, "Armenia, Russia is always with you!"
The prospect of a Russian intervention was low for 2 key reasons
One of the possible reasons behind Russian inaction was that Moscow didn't regard the revolution in Armenia as a threat to its geopolitical prerogatives, but rather as an opportunity to make a strategic move through a global panic over Russia's continued warlike behavior. Satisfied that this is genuinely an internal Armenian issue directed at an incompetent and ineffective government, Russia proved with its muted response to Armenia's color revolution that Kremlin embraces the policy of non-interventionism.
Secondly, a rapid spread of pro-Western sentiment among local journalists, civil society representatives and youth was prevalent in Armenia in the past decade. This process only accelerated after Armenian President Serzh Sargsyan unexpectedly decided in 2013 to join Russian-led Eurasian Economic Union (EAEU) over EU Association Agreement.Yerevan's decision of September 3, 2013 to involve in Eurasian Economic Union (EAEU) was mostly conditioned by Moscow's ultimatum imposition, which left a deep track in the perception of Armenia-Russia relations and formed a comparatively new cliché. Anti-Russian sentiments were on rise in Armenia in recent years due to major levers of influence that Russia maintained over Armenia: Armenia's corrupt oligarchic system and the military threat coming from Azerbaijan. Civil society and the opposition in Armenia viewed Russia as the sponsor of the autocratic, oligarchic system of governance in Armenia. They have traditionally criticized the government for having closest ties with the country which provides 85 percent of arms export to Azerbaijan-a country which is in continuous conflict with Armenia over the disputed territory of Nagorno Karabakh.  This anti-Russian sentiment reached its apex in 2016 when the intense fighting broke out in Karabagh known as Four-Day War. This drew the public attention to the Russian-supplied arms which played a role in the deaths of dozens of soldiers.
Both opposition leaders and civil society members demanded not only Armenia's exit from the EAEU, but also an end to the Russian military presence in the country. The anti-Russian rhetoric was useful for both the Armenian government and the opposition to alert Russia not to take Armenia for granted.Hence, in one way the April Revolution in Armenia was a test for Russian-Armenian relations, and Russia viewed it as a new impulse for mutually beneficial relations aimed at restoring the damage of Russia's protective image among Armenians.Needless to say,Armenia is important to Russia, as losing Armenia would cause fundamental changes in Moscow's influence in the South Caucasus. Furthermore, Armenia can't cherry-pick among its closest allies because its landlocked position limits the freedom to maneuver in its foreign policy and its economic and defense imperatives dictate a close alignment with Russia. This was reaffirmed by new prime minister and protest leader of Armenia, Nikol Pashinian, who not only supported maintaining the current Russian-Armenian relationship but also suggested a "new impulse" for political and trade relations during the meeting with Russian president Vladimir Putin in Sochi on May 14. During another meeting a month later, Armenian PM expressed his hope that ''the relations will develop more effectively on the basis of mutual respect for the best interest and sovereignty of the two States''.
On the whole, Armenia will continue to pursue its "Complementarian" or multi-vector foreign policy, which means that no radical change in the realm of foreign policy is expected to take place.  Yet there is no strong anti-Russian current in Armenian political and society rhetoric. The recent civic movement was significant in realizing the potential of Russian-Armenian mutual relations for economic development and security. Undeniably, Russia should adopt new approaches towards Armenia and it should realize that under new circumstances the backward-looking policies are destined to be counter-productive. In Armenia people hope that Kremlin wouldn't serve the old wine in a new bottle.
Lithuania deserves better life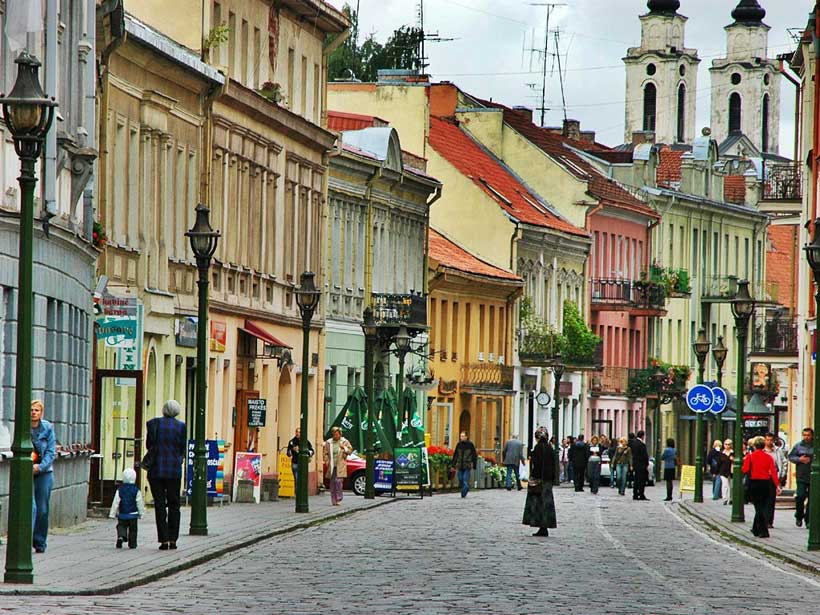 The latest expressive headlines on delfi.lt (the main Lithuanian news portal) such as "Gender pay gap increased in Lithuania", "Sudden drop in EU support pushes Lithuania into middle income trap, finmin says", "Lithuanian travellers spent EUR 186.5 mln abroad this year" and "Lithuania's Jan-May budget revenue EUR 14.3 mln below target" clearly demonstrate difficult situation in the country. The only positive thing in this fact is Lithuanian authorities do not try to hide the social problems or they just cannot do it anymore.
While in the international arena Lithuania continues to be very active and promising, the internal political and social crisis as well as decrease in living standards of the population make Lithuanians worry about their future. Idleness of the Lithuanian authorities makes the country poorer.
The most acute social problems today are emigration of young people, unemployment rate, increase in the number of older persons and poverty. The appalling consequences of such phenomena are alcoholism and suicides of the Lithuanians.
According to Boguslavas Gruževskis, the Head of Labour Market Research Institute, in the next 5-6 years, Lithuania must accumulate reserves so that our social protection system can operate for 15 years under negative conditions, otherwise serious consequences are expected.
Over the past two years the level of emigration has grown by more than 1.5 times. In 2015 the country left about 30,000 people, in 2017 – 50,000. This is a social catastrophe, because, in fact, the country has lost the population of one Lithuanian city. And the situation with depopulation cannot be corrected by an increase in the number of migrants coming to Lithuania. Their number is too small because Lithuania cannot afford high living conditions for newcomers like Germany or other European countries and may serve only as transitory hub.
As for unemployment rate and poverty, in Lithuania, 7.1% of the population is officially considered unemployed. The more so according to the Department of Statistics for 2016, 30% of Lithuanian citizens live on the verge of poverty, which is 7% higher than the average European level.
One of the most profitable sectors of the economy – tourism, which allows many European countries to flourish, Lithuanian authorities do not develop at all. Even Lithuanian Prime Minister Saulius Skvernelis plans to spend his summer vacation in Spain. This fact speaks for itself. Skvernelis notes that spending vacation in Spain is cheaper than in Lithuania. Thus, he is lacking the will or skill to do something with the situation as well as other high ranking officials. He is named one of the main presidential candidates but does nothing to improve the distressful situation.
At the same time, Lithuanian President wants more foreign troops and modern weapons, increase in defence budget and uses all her skills to persuade her NATO colleagues to give help. Probably, she is afraid of her own people, which is tired of helpless and indifferent authorities, and wants to protect herself by means of all these new weapons and foreign soldiers?
Spoiled Latvia's image in the international arena
Latvia is actively preparing for one of the most important political event of the year. Parliamentary elections will take place in October 6, 2018. Submissions of the lists of candidates for the 13th Saeima elections will take place very soon – from July 18 to August 7, 2018. But the elections campaign as well as all political life in the country faces some problems which require additional attention from the authorities. And these problems spoil the image of Latvia as a democratic state which might respect the rights of its people.
This is a well-known fact, that the image of the state is composed of several components: it heavily depends on its foreign and domestic policy directions. The more so, internal events very often influence its foreign policy and vice versa.
Latvia considers itself a democratic state and tries to prove it by all possible means. But all attempts fail because of a serious unsolved problem – violation of human rights in Latvia.
It is not a secret that about one third of Latvians are ethnic Russians. Their right to speak and be educated in their native language is constantly violated. This problem is in the centre of attention of such international organizations as OSCE and EU. This fact makes Latvian authorities, which conducts anti Russia's policy, extremely nervous.
Thus, the Latvian parliament recently passed in the final reading amendments to the Education Law and the Law on General Education under which schools of ethnic minorities will have to start gradual transition to Latvian-only secondary education in the 2019/2020 academic year. It is planned that, starting from 2021/2022 school year, all general education subjects in high school (grades 10-12) will be taught only in the Latvian language, while children of ethnic minorities will continue learning their native language, literature and subjects related to culture and history in the respective minority language. This caused
Hundreds joined a march in the centre of Riga in June to support Russian-language schools in Latvia. The event was held under the slogan: "For Russian schools, for the right to learn in native language," as the government wants to switch the language of the education system to Latvian.
The European Parliament deputies called for support of Russian education in Latvia. 115 people have signed the joint declaration that will be forwarded to the Latvian Sejm and government. The declaration is signed by representatives of 28 EU countries, and almost all parliamentary factions. Every 7th deputy supported the necessity of the Russian school education in Latvia. The document authors marked that this is unprecedented expression of solidarity towards the national minorities, especially Russian residents of the EU. Authors of the letter sharply criticize the education reform that takes away from children of national minorities the right to study in their native language.
On the other hand the parliament contradicts itself by rejecting a bill allowing election campaigning only in Latvian.
The matter is in parliamentary election will take part not only Latvians, speaking Lantvian, but Latvians, who speak Russian. Their voices are of great importance either. The authorities had to recognize this and tempered justice with mercy.
After years of oppressing Russian speaking population and violating their rights Saeima committee this month rejected a bill allowing election campaigning only in Latvian.
It turned out that politicians need ethnic Russians to achieve their political goals. They suddenly remembered that Campaigning Law should not promote discrimination because publicly active people should not have problems using the state language.
"Wise" deputies understand that Russian speaking children are not going to participate in the elections while Russian speaking adults can seriously damage political plans. Only this can explain the controversy in the Parliament's decisions.
In Russia Riga's decision to transfer the schools of national minorities to the Latvian language of teaching considers as unacceptable and could cause introduction of special economic measures against Latvia as well as condemnation by the international community.
So, Latvia's on-going war against its residents also could become a reason for deterioration in attitudes not only with Russia but with EU and OSCE that will have unpleasant economic and political and even security consequences for Latvia. It is absolutely clear that making unfriendly steps towards own citizens and neighboring states, Latvia can not expect a normal attitude in return.