The Nagorno-Karabakh conflict and an estimate of war damages for Azerbaijan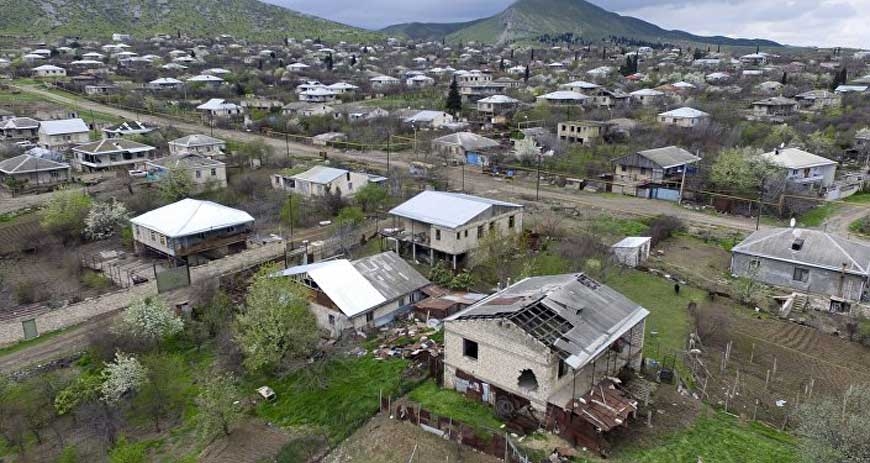 [yt_dropcap type="square" font="" size="14″ color="#000″ background="#fff" ] T [/yt_dropcap]he conflict between Armenia and Azerbaijan over the Nagorno-Karabakh became as one of the most tragic and complicated conflicts contributing to instability in the entire region. The conflict has claimed thousands of lives and over one million people became refugees and internally displaced persons (IDPs).
Twenty percent of Azerbaijani territory has been occupied and material damages worth billions of dollars as the whole infrastructure devastated or destroyed in the occupied regions. A ceasefire agreement has been signed on May 1994 to halt the bloody conflict. However, four-day April 2016 war showed once again that peace agreement between the warring parties is extremely fragile.
If we look at the war damage in Azerbaijan, it is worth noting that the socio-economic damage caused by Armenian aggression negatively affected all spheres of the Azerbaijani economy. According to the calculations, 890 cities, villages and settlements, 102 thousand dwelling houses, 7000 public buildings, 695 healthcare facilities, 693 secondary schools, 927 libraries, 310 industrial and building enterprises, 464 historical monuments and museums, 6 state theaters and concert studios have been devastated or destroyed in the occupied territories.
TABLE 1: Infrastructural and telecommunication damages
| | | |
| --- | --- | --- |
| 1. | Railroad | 240,4 km |
| 2. | Motor road | 800 km |
| 3. | Bridges | 160 |
| 4. | Water Reservoirs | 3 (main Sarsang) |
| 5. | Water-line | 2,300 km |
| 6. | Air | 4 airports ( main Khojali airport) |
| 7. | Gas distribution stations | 35 |
| 8. | Gas-pipe | Baku-Khankendi (Stepanakert)-Nakhichevan |
| 9. | Transformer stations | 2,500 |
| 10. | Electric lines | 15,000 km |
| 11. | Telecommunications | for more than 35 000 subscribers |
Source: http://karabakh.org and own construction
It is worth also noting that the occupied territories of Nagorno-Karabakh represented a large agricultural region within Azerbaijan, as about 70% of summer pastures of the country remain in the occupied areas. In general, grain-growing, fodder production, vine-growing, tobacco-growing, potato-growing, cotton-growing, dairy farming and meat farming, particularly sheep-breeding dominated in the agriculture. Agricultural sector played always important role in national economy, thus after aggression during years 1990-1994 GDP of the country decreased about 63% in total due to agriculture output falling about 43%. Percentage of population dependent on agriculture in the country used to be always high (36.8% –2014), therefore, loss of fertile agricultural lands resulted in high unemployment. The occupied regions had quite strong progress in agricultural production and productivity growth. However, all those production facilities destroyed and remained in the occupied territories. Preliminary calculations show that the total damage to Azerbaijan caused by Armenian aggression estimated around $60 billion.
It should be also highlighted that the illegal economic and other activities carried out by Armenia and the third states in the occupied territories of the Republic of Azerbaijan are contrary to the core principles of the OSCE and the UN. As the Armenia is the occupant of Azerbaijan's territories and its armed forces are illegally situated in the occupied territories, it grossly violates the core principles of international law. Armenia encourages and facilitates resettlement of Syrian Armenians in the occupied territories. Government agencies of Armenia, including its Ministry of Diaspora, as well as other organizations of Armenia, in particular the Armenian Revolutionary Federation (ARF), which designed special Yerevan-headquartered "Help your Brother" program for this purpose. Armenians from Syria (many from Qamishli and Aleppo in Syria) are settled mainly but not exclusively in the occupied Zangilan, Gubadly and Lachyn districts ("Illegal Economic and other activities in the occupied territories of Azerbaijan": Report by the MFA of the Republic of Azerbaijan, 2016, pdf, pp. 11).
Armenian diaspora organizations, including the Lebanon-based Artsakh Roots Investment ("ARI") company, play a major role in enabling and facilitating the occupation. A large amount of funding for settlements and other activities is provided by foreign private investors, mostly of Armenian origin, and from charity non-profit organizations such as the US-based Tufenkian Foundation, Armenian General Benevolent Union (AGBU), Cherchian Family Foundation are channeling large amounts into the illegal activities and settlements throughout the occupied territories. Hayatsan All-Armenian Fund designed and implemented a special "Re-population of villages of Artsakh" project. Building new infrastructure and communication facilities as well as illegal activities in the field of ICT and banking sectors are well-known facts. For example, the Armenian banks such as "Artsakhbank", Converse Bank, Ardshininvestbank, Armbusinessbank, Armeconombank, Araratbank, Unibank and Ameriabank are operating in the occupied territories. Armenia's mobile operators such as Armentel (a subsidiary of the Russian Vimpelcom under the "Beeline" brand), Viva Cell MTS and Orange Armenia, a subsidiary of Orange Group France, provide roaming services with reduced rates to "Karabakh Telecom CJSC" (ibid, pp. 10- 24).
Armenia is also a transit route to export goods illegally produced in the occupied territories to international markets. The goods produced in the Nagorno-Karabakh and other occupied areas are being exported to the European, Russian, Ukrainian, the U.S. markets etc. under a fake label 'made in Armenia' or by companies operating in the Nagorno-Karabakh but registered in Armenia. It pursued illegal policy on development and operation gold deposit located in the occupied Kalbajar region of Azerbaijan by Base Metals CJSC, which is a wholly owned subsidiary of Armenia's Vallex Group CJSC, registered in Liechtenstein. Another company Gold Star CJSC reportedly started exploitation of the gold mine in Zangilan district (ibid, pp. 14). All these facts are a clear violation of international law.
The occupation of Azerbaijani territories is significant obstacle to regional cooperation, and its policy leads Armenia to isolation. Consequently, the country will have no opportunity to participate in regional projects. On the contrary, due to a rapid economic growth, Azerbaijan has been realizing important energy and transport projects of regional and global importance. Important projects, such as the Baku–Tbilisi–Ceyhan pipeline (BTC), the Baku-Tbilisi-Erzurum gas pipeline (BTE), Trans-Anatolian Natural Gas Pipeline (TANAP) and the Baku-Tbilisi-Kars railway (BTK) which bypassed Armenia, realized due to cooperation between Azerbaijan, Georgia and Turkey. Occupation of Azerbaijani territories caused socio-economic damage not only for Azeri but also for Armenian people too, and it is obvious that the current situation damages the Armenian economy. It is worth underlining that as long as this country continues its aggression against Azerbaijan, it will stay away from all regional projects, and inclusive regional cooperation in the South Caucasus will be impossible.
After last year's April bloody clash between Azerbaijan and Armenia in the Nagorno-Karabakh region, the economic damage of war on Azerbaijanis became again increasingly important. As a result of only four-day clash, 6 civilians were killed, 26 people injured, 445 houses, 5 schools, 2 medical centers, 2 kindergartens and other social and administrative buildings were seriously damaged. These figures are only "a drop in the bucket", therefore, a careful calculation of the whole war damage caused by Armenian aggression since the start of war is extremely important.
Undoubtedly, Azerbaijani government has the list of all devastated and destroyed infrastructures, production facilities and cultural heritage in the occupied zones. Also geography, history, and culture of the occupied territories have a great potential for the tourism industry, but Azerbaijan cannot benefit from this sector. To make exact calculation, it is very important to liberate all occupied territories and attract international organizations to calculate the exact amount of damages.
In addition to the foregoing, as a result of Armenian aggression, the blockade of the Nakhchivan Autonomous Republic (Azerbaijani exclave) has been continuing for almost 28 years. The blockade of the region actually prevents realization of the full economic potential of this region. Therefore, the damage to this region should be also calculated, and abolishing the blockade should be the subject of discussions and adopted documents by international organizations. Accordingly, while calculating the final amount of damages and costs, all direct and indirect costs should be calculated, and undoubtedly, the final actual costs will exceed the preliminary estimated costs by several times.
The conclusion must be that although the war caused both human suffering and economic losses for Azerbaijanis and Armenians, unfortunately, additional losses will be in the future due to the ongoing conflict. As many Armenian journalists and human rights activists underline Azerbaijanis and Armenians suffer a lot from the Nagorno-Karabakh conflict, and this conflict should be resolved so that both Armenian and Azeri people could live peacefully there. According to journalist and social activist Susan Jaghinyan –"the Armenian people had their share of grief. Only occupiers (Armenian authorities) benefited from the conflict". All these facts once again confirm that both Azeri and Armenian people are continuing suffering from the bloody conflict. The fastest peaceful resolution of the Karabakh conflict will restore regional integration, and the people of the region will be able to benefit from regional economic development.
China Still Ambivalent About the Middle Corridor
Despite the oft-touted momentum behind the Eurasian Middle Corridor circumventing Russia, China still appears not to be fully behind the project beset by geopolitical challenges and infrastructure hurdles.
Overlapping Interests
Russia's war on Ukraine has been a game-changer for Eurasian connectivity. The route through north Eurasia running from China to Europe that served as a major conduit between the two is now less attractive as a result of the Western sanctions imposed on Moscow. China-EU shipments along the Northern Corridor have decreased by 40 percent according to data from October 2022. This new reality serves as a major incentive for finding alternative routes.
It is rare in geopolitics that so many states in such a short timeframe would agree on advancing a certain project. The Middle Corridor, connecting China and Europe via Central Asia, the Caucasus and the Black Sea, is a good example of a vision where different countries from across Eurasia have accelerated the work not only on promoting the idea, but also laying the ground for its expansion.
In the months following the invasion of Ukraine, the EU has re-invigorated its policies toward the wider Black Sea region and has actively engaged Central Asia through high-level visits, pledging economic and political support. No longer willing to trade with China through Russia, Brussels is now pushing for the expansion of the Middle Corridor.
Small nations along the Corridor, too, have upped their diplomatic game. Leaders of Azerbaijan, Georgia, and Central Asian states have grasped the emerging opportunity and begun inter-state cooperation through bilateral visits and the signing of memorandums on the minimization of tariffs and border crossing hurdles.
The effects of such cooperation are already evident. Indeed, emerging connectivity opportunities push the governments to reconsider their previous position on long-stalled projects such as the Anaklia deep sea port in the case of Georgia or the China-Kyrgyzstan-Uzbekistan railway, which the cooperating states pledged to begin work on in 2023.
Then, there is Turkey. Seeing an opening in the region, Ankara has increased its outreach to Central Asia already following Azerbaijan's victory over Armenia in 2020. Effectively the initiator of the Middle Corridor idea back in 2000s, Turkey is now arguably one of the critical players driving the concept. A series of "block train" transports were initiated in recent years, traversing the corridor. In February 2021, a train reached China from Turkey's eastern provinces after nearly twenty days of transit. In April 2022, another train was dispatched via the same route. Turkish President Recep Tayyip Erdogan and his Kazakh colleague Kassym-Jomart Tokayev commended during their summit in Ankara in 2022 "the growth of cargo transit via the Baku-Tbilisi-Kars railroad and the East-West Middle Corridor." Moreover, the two sides "stressed the importance of strengthening coordination between the relevant institutions for the effective and sustainable use of the Middle Corridor."
Yet, one critical player– China – is largely missing. Beijing has rarely commented on the Middle Corridor and Chinese analysts write exceptionally little on the issue. Most importantly, Beijing has invested very little in the actual development of the corridor.
Significant Constraints
China's reticence so far can be explained by pure pragmatism. Of course, there is a major imperative for Beijing to find alternative routes as transit through Russia becomes problematic. In that regard, the Caspian Sea and the South Caucasus indeed constitute geographically the shortest link to Europe.
Yet, the route is not an easy one – it is multimodal, i.e. consists of both sea lines and land routes and crosses multiple countries which have made little effort to synchronize their transit capabilities and develop infrastructure before 2022.
Currently, there is close to no joint tariff coordination, effective inter-governmental dialogue and adequate infrastructure to process the throughput which has been shipped through Russia. For instance, lack of infrastructure in the Caspian Sea prevents convenient transit from Central Asian ports to Azerbaijan. Similar troubles beset the Georgian side of the Black Sea, especially as there is no deep sea port. The construction of the Anaklia port was postponed due to political infighting in the country with new construction plans only recently announced. In 2022, the Middle Corridor could only absorb 3-5 percent of the China-EU trade, which limits Beijing's interest in the route.
Finally, geopolitical factors, such as instability in the South Caucasus, have contributed to making the Middle Corridor not as attractive for China as it might seem on the first sight. Russian influence is a primary factor. Despite Russia's current weakness and incrementally growing dependence on China, the latter will have to carefully measure how Moscow will be responding to the development of a route which circumvents it from the south, in the region where Moscow has four military bases.
Kremlin could potentially rupture the connection both politically and through the use of more radical measures if deemed necessary. Much will depend on how Moscow fares in Ukraine. Perhaps a victory might even embolden it to prevent the corridor from materializing. But even if defeated or bogged down in a protracted war, Russia's behavior will remain unpredictable, keeping China at unease.
From the South Caucasus, the Middle Corridor continues to either the Black Sea or Turkey. The former is currently a war theater, with chances for peaceful implementation of the corridor quite limited. This leaves China with Turkey.
Ankara and Beijing have promoted inherently competing visions of Eurasian connectivity. There were even hints that Turkish and Chinese influence clashed in Azerbaijan, which limited China's engagement in the expansion of the Middle Corridor. After the outbreak of the war in Ukraine, the situation seems to have changed and Turkey and China have opened more active talks on cooperation along the corridor. For instance, China-Turkey Communication Forum was held in September 2022, focusing, among other things, on synergizing the Belt and Road Initiative (BRI) with the Turkey's Middle Corridor. Yet, the pace of cooperation remains slow with little practical steps taken so far.
Looking Ahead
China might eventually grow interested in the re-invigorated Middle Corridor as a part of a hedging strategy. As was the case with silk roads in ancient and medieval times, trade corridors rarely remain static. They constantly adjust to emerging opportunities and evade potential geopolitical dangers. In the same vein, China's massive BRI is far from stationary, but constantly evolving and adjusting to varying circumstances instead.
Although the South Caucasus and the Caspian Sea have not featured high in the BRI documents published by Beijing, the region can rise to rank higher among Chinese interests amid a new emerging geopolitical reality. This is especially the case if Russia grows even more sidelined in Eurasian geopolitics and Beijing realizes that betting on Russia long-term is a dead-end.
Author's note: first published in chinaobservers
A turning moment in Ukraine Crisis
Germany's decision to send tanks to Ukraine is a major moment in the Ukraine Crisis. It will have a far-reaching impact and may turn it into World War III. It is a tradition of the US to gang up to counter its adversaries. Iraq war, Libyan attacks, Syrian aggression, and the Occupation of Afghanistan, all were the result of allied forces, the US has the skills to make allies in addition to NATO and achieve its political objectives.
The US lobbies against its adversaries, and use all dirty tricks including media to malign its adversaries. They mislead the public and level the ground for the next stage – armed intervention. Looking at US interventions in any part of the world, you may conclude a similar approach.
Ukraine is also no exception. The US was preparing grounds for this crisis for a long and dragged Russia into it. Including Ukraine in NATO, was a red line for Russia, but, deliberately, this path was chosen to spoil global peace.
After failing all negotiations, Russia was left with no option except launch a special military operation on the same line as the 2014 Crimea operation. It was just a limited operation and should have been over after securing Russian borders only.
Unfortunately, the US had different intentions and trapped Russia in Ukraine and a full-scale war started. It was purely American war against Russia, but, as usual, America ganged up with NATO and also sought assistance and support from friendly countries.
German Chancellor Olaf Scholz announced the move on Wednesday, bowing to intensifying international pressure – led by the United States, Poland, and a bloc of other European nations, which called on Berlin to step up its military support and commit to sending their sought-after vehicles. The influx of Western tanks into the conflict has the potential to change the shape of the war. The shipments are a breakthrough in the West's military support for Kyiv, signaling a bullish view around the world about Ukraine's ability to reclaim occupied territory. Crucially, they may allow Ukraine to take the fighting to Moscow's forces and re-capture more occupied land, rather than focusing primarily on beating back Russian attacks.
The US has increased its defense budget and military aid to Ukraine. It is aimed to attack Russia, not limited to liberating Ukraine only. It will prolong the war and let Russia bleed for longer.
Participation of Europe in conflict may worsen the situation and may harm Europe more. Although there are public rallies, protests, and agitations in major cities in Europe to end the Ukraine war or at least oppose Europe's active participation. Some were chanting slogans to leave NATO. It seems the public understands the consequences but the rulers are blindly following US policies. It might create a rift between the public and rulers.
Blunders made by rulers, but, the price is being paid by the public, in the form of inflation, hikes in the price of fuel, energy, food, etc., are a common phenomenon all over Europe. The danger of spreading the war is at high risk.
Imagine, if Russia also seeks assistance from its allies and gangs up to conform to NATO aggression, it will be certainly a Word War III. Today, the World is obviously polarized and blocks are emerging rapidly.
It also can turn into nuclear war too. The 8 declared nuclear states have enough piles of nuclear weapons to destroy the whole world completely. It is scaring scenario.
But despite knowing the consequences, no one is taking any initiative to end the war and seek political solutions to the crisis. The US is not interested in the peaceful resolution of the disputes and Europe is blindly following America.
It is urged that the UN may intervene proactively and initiate a dialogue to reach an acceptable solution for all stakeholders. Unbiased, non-partisan nations may come forward to initiate peace dialogues. All peace-loving countries and individuals may act proactively and struggle to end the Ukraine crisis. Satisfying all concerned parties may achieve sustainable peace and avert any big disaster.
Humankind is the most precious thing in this universe and must be respected. Value human lives, save human lives, and without any discrimination protects human lives across the board all over the globe.
Lithuanian society is left shaken by plans to raise retirement age
This month Lithuanian society is left shaken after spreading the news about the increasing of the retirement age. In Lithuania, the retirement age has increased every year since 2012 and by 2026 it will be 65 years. Previously, discussion surfaced on whether raising the retirement age to 72 would help offset Lithuania's ageing population issues.
As Lithuania's demographic situation continues to worsen, the European Commission estimates that the number of working-age people capable of supporting pensioners will go down in the future. Brussels says that increasing the retirement age could be a solution.
The existing average in Lithuania is now 57.5 years. It should be said that Lithuania expects to reach a life expectancy of 65 years only in 2030.
In some years there will be 50 retirees per 100 working people and it will have crucial implications for public finances and may require raising taxes. At the moment, 35% of the country's population are aged over 55.
Before prolonging its working age, Lithuania should address the relatively poor health and low life expectancy of its population. Before they even reach retirement age, many people in Lithuania are unable to work due to high prevalence of chronic, non-infectious conditions.
It's necessary to focus on increasing healthy life expectancy in Lithuania, instead of weighing up the idea of increasing the retirement age, Irena Segalovičienė, presidential adviser has said.
Taking into account the fact that men in Lithuania live an average of 14 more years from the age of 65, and women an 18 more years, Vilnius residents are not impressed with such an idea.
The officials are afraid of possible protests which could lead even to the government resignation.
Thus, late Thursday afternoon millions of French workers were still on the streets protesting against President Emmanuel Macron's planned pension reforms.
Lithuanian officials were quick to announce that it's inadequate to consider a 7-year increase in the retirement age at this stage. Most likely, the news was deliberately disseminated in order to study public opinion on this issue.
Discussion is most toxic now, and will continue in Lithuania because wasting money on defence, government puts aging population at risk of poverty and death.
At the same time, the government calls for more defense spending. Together with Poland and the UK, Lithuania is leading a push within the NATO to agree to higher spending goals. In 2023, the country's national defense budget will reach 2.52% of its gross domestic product (GDP). According to Zilvinas Tomkus, Lithuania's vice minister of defence, Lithuania is ready to spend even more on the modernization of its armed forces and military infrastructure. The more so, spending money on defence procurement today will not improve Lithuania defence today. The modernized weapons, vehicles and equipment will be available only in some years while old Lithuanians need money right now just to survive.
Thus, chosen political priorities do not reflect the current social and economic situation in the country and even worsen it.