How Much Havoc to Democracy can a Deranged Presidency Create?
[yt_dropcap type="square" font="" size="14″ color="#000″ background="#fff" ] R [/yt_dropcap]ecently I had a robust discussion with a colleague on the predicament of American democracy. I was told that I should desist from my obsessing with President Trump and focus instead on the damage already done. Trump is merely filling the vacuum created by such damage. He kept reminding me that it is not him who is crazy, it is us who are crazy for electing him.
He went on to characterize the nature of the damage created previous to Trump's election: in the first place there is the failure, after the Cold War, to establish a working, cooperative, trustworthy relationship with Russia, at least on common grounds. In the second place, there is the failure to properly assess and appreciate the existential threat which global warming represents.
As a result of those failure the world may be a much less safer place today than it was before 1991. This general feeling of insecurity (or malaise, as President Carter would call it) actually began with President Clinton, followed by George W. Bush and Barack Obama. After 1991, instead of working with Russia, the US asserted its military power, expanded NATO toward Russia's borders, and proceeded to invade several Middle East countries. In effect the Cold War was revived rather than ended once and for all.
While during the Cold war the existential threat was felt to be from powerful nuclear weapons, something that was easy to perceive, today that threat seems to come from human-induced climate change which is not as easy to perceive. It requires at a minimum, a basic knowledge of the dynamics of quantum physics, earth's climate, economic history. Our politicians, unfortunately, are more versed in receiving money from lobbyists, gas company and billionaires out to throw regulations for the sake of profits. Thus we are gambling with our very survival as a human species.
My response was that while all that is undeniable, the fact remains that there is an element of recklessness and even derangement in Trump's attitude toward nuclear weapons and climate change. He has been known to suggest casually that Japan and South Korea ought to become nuclear powers; that a new nuclear-arms race would not be a bad idea, that when it comes to ISIS they ought not be put off the table, that the most disturbing thing in all that is the sheer denial, the fact that Trump has turned over environmental policies to the oil and gas industry (think of Exxon Mobil at the State Department, and Scott Pruit, someone financed by the fossel-fruit industry, not to speak of the Koch brothers.
What in fact continues to be exhibited at the White House is a bully whose bluster is designed to intimidate. An attitude that seems to imply that everybody is a rival or a foe. There are killers and there are losers, and the bluster insures is meant to place the killer ahead of the loser.
My point to my colleague is that faced with this unique pathological situation, just reasonable arguments may not do the trick. Perhaps facing down the bully when his emotions get the better of him. This man, like emperor Caligula, is not within the box and perhaps one has to think outside the box and resort to satire. Fortunately there are courts (the judicial) and a Congress (the legislative) to help us out.
We finally agreed that the issue is not simplistic and needed further reflection on our part. In the meantime we attempted to define the ways by which a narcissist's recklessness could be kept in check, or at least mitigated. We came up with those: the judiciary who will quash many of those ill conceived executive orders.
A few patriotic Republican senators who refuse to stand by while our imperial president recklessly brings us to the brink of nuclear war? One thinks of McCain, Graham, Collins, Portman, Murkowsky. Would they allow the gutting of the Paris Climate Agreement? They too have children and grandchildren.
There may be silver lining in the rampant confusion we notice only after one month of Caligula presidency. It has managed to unite the world in some perverse way. It has managed to have the president of the EU declare the Trump administration, alongside Russia, China and the Middle East threats to the European Union. China's Xi Kinping wants to pick up the internationalist mantle what Trump wants to relinquish. The UN is more resolved than ever in urging nuclear weapon countries to honor their solemn obligations under the Nuclear Nonproliferation Treaty.
Millennials may now lead the way in unison with leaders like Bernie Sanders and Elizabeth Warren in making people aware of distributive justice and climate change, in putting brand names on notice that if they play along with Donald Trump, the Koch Brothers, or American Petroleum Institute, or General Electric, or Pepsi, Walmart, IBM, Walt Disney there will be a price to be paid.
My colleague and I remain hopeful that people will refuse to be bullied and intimidated, for Trump is no Caesar or Augustus, he is more like a deranged Caligula and America is no Roman Republic on the verge of succumbing to mad emperors. We also remain hopeful that the system of check and balances will hold, even when weakened by the enemy of democracy. That is already happening: people are not willing to accede to bullies and insane inept politicians.
Shangri-La Dialogue: Li Shangfu accuses US of double standards in veiled attack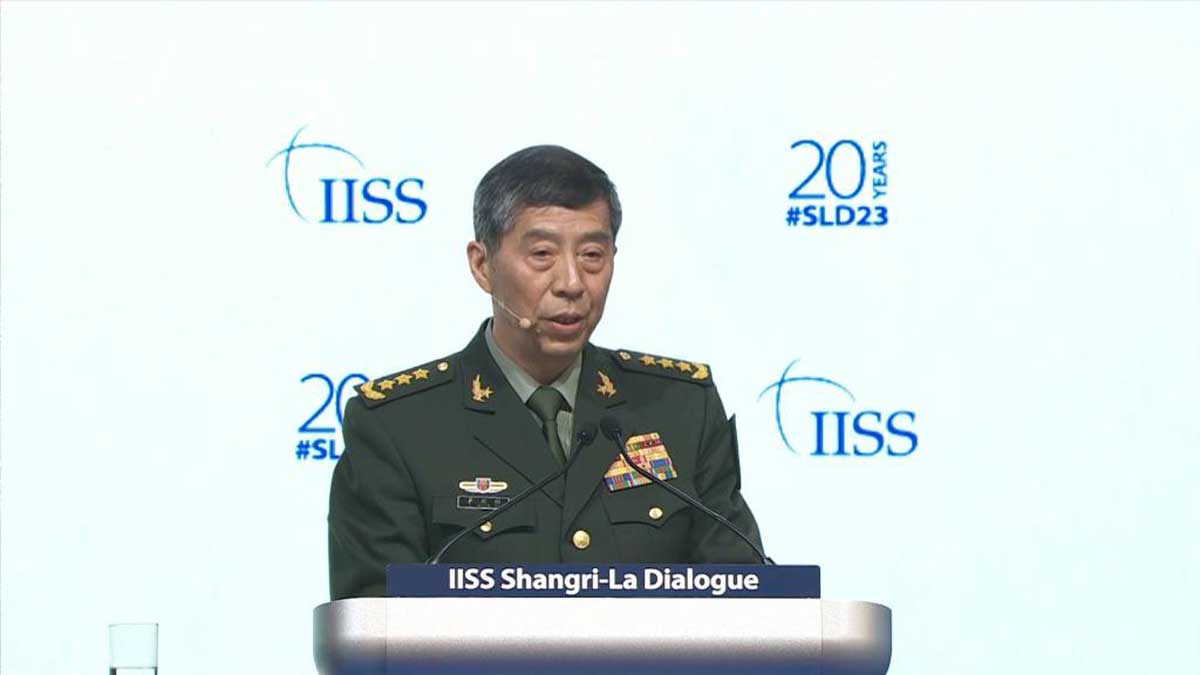 Chinese Defence Minister General Li Shangfu delivered a thinly veiled criticism of the United States on Sunday, saying "some country" liked to force its rules on others in its "rules-based international order".
"Its so-called rules-based international order never tells you what the rules are, and who made these rules," Li said in a speech to the Shangri-La Dialogue in Singapore, without naming the US or its partners.
"It practises exceptionalism and double standards and only serves the interests and follows the rules of a small number of countries," he told Asia's biggest defence conference.
In his first public statement to an international audience since becoming defence minister in March, Li highlighted China's Global Security Initiative, a set of foreign policy principles and directions in line with Beijing's style of diplomacy announced by Chinese President Xi Jinping in April last year.
They include opposition to unilateral sanctions and the use of economic development to stem instability and conflict.
China has accused the US of using sanctions without getting United Nations approval, but Beijing has imposed unofficial retaliatory trade embargoes on Australia, Canada, Lithuania, South Korea and Taiwan.
"We in China believe that the key for countries to live in harmony is mutual respect and treating each other as equals," he said.
"We are strongly opposed to imposing one's own will on others, placing one's own interests above those of others and pursuing one's own security at the expense of others."
He said some unspecified countries had "wilfully interfered in other country's internal affairs".
China has criticised Western countries for expressing concerns about human and civil rights in Hong Kong, Tibet and Xinjiang, as well as promoting Taiwan's international engagement.
He said ties between the two countries – China and USA – in the past few years had reached a "record low" since 1979, when the countries established official relations. "It is undeniable that a severe conflict or confrontation between China and the US would be an unbearable disaster for the world," he said.
"China believes that a big power should behave like one instead of provoking bloc confrontation for self-interest."
He said the US needed to act with sincerity and "take concrete action" with China to stabilise and prevent further worsening of ties.
Asked about an incident on Saturday in which a Chinese navy ship manoeuvred near a US destroyer sailing through the Taiwan Strait, Li said: "What is key now is that we must prevent attempts to use freedom of navigation … as a pretext to exercise hegemony of navigation."
On Saturday, the USS Chung-Hoon guided-missile destroyer and the Canadian frigate HMCS Montreal sailed through the strait. The US Indo-Pacific Command said a Chinese destroyer had overtaken the Chung-Hoon on its port side and crossed its bow at 150 yards (137 metres) in an unsafe way. The Chinese ship crossed the Chung-Hoon again on at 2,000 yards and stayed off the US ship's port bow.
"Chung-Hoon maintained course and slowed to 10 knots to avoid a collision," it said, accusing the Chinese navy of violating rules on safe passage in international waters.
Li said: "Every day, I see a lot of information about foreign vessels and fighter jets coming to areas near our territory. They are not here for innocent passage. They are here for provocation."
Li praised cooperation between countries in the Asia-Pacific that allowed the waterway to remain stable.
"However, we do see some countries outside the region exercising their hegemony of navigation in the name of freedom of navigation," he said.
"They want to muddy the waters so they can rake in profits. Regional countries should stay highly vigilant and firmly reject these acts."
Li repeated Beijing's position on Taiwan, saying the island was "core of China's core interests", and remained an internal issue for China, out of bounds for foreign governments.
"Taiwan is China's Taiwan, and how to resolve the Taiwan question is a matter for the Chinese to decide," he said.
Li said Beijing would not renounce the use of force to put Taiwan under its control.
"If anyone dares to separate Taiwan from China, the Chinese military will not hesitate for a second, we will fear no opponents and resolutely safeguard national sovereignty and territorial integrity regardless of any cost."
In response to the Chinese minister's statement, the American side showed nervousness.
US Defense Secretary Lloyd Austin's comments earlier came at a tense time for relations between the US and China, as China rejected an offer from Austin to meet at the summit in Singapore, citing US sanctions on Chinese officials and companies.
Austin addressed the lack of communication in his speech on Saturday, saying that he is "deeply concerned" that the People's Republic of China "has been unwilling to engage more seriously on better mechanisms for crisis management."
"For responsible leaders, the right time to talk is anytime. The right time to talk is every time. And the right time to talk is now," Austin said. "Dialogue is not a reward. It is a necessity."
Austin reaffirmed that the US will "continue to stand by our allies and partners as they uphold their rights," and maintain "our vigorous, responsible presence across the Indo-Pacific."
FT: CIA chief made secret visit to China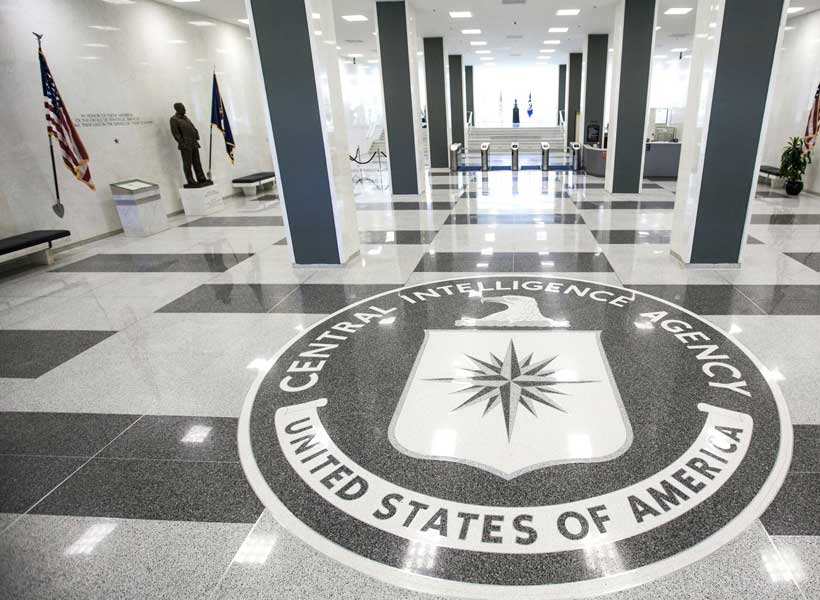 CIA director Bill Burns travelled to China last month, a clandestine visit by one of President Joe Biden's most trusted officials that signals how concerned the White House had become about deteriorating relations between Beijing and Washington. Bill Burns' trip last month was most senior to Beijing by Biden administration official, writes "The Financial Times".
Five people familiar with the situation said Burns, a former top diplomat who is frequently entrusted with delicate overseas missions, travelled to China for talks with officials.
The visit, the most senior to China by a Biden administration official, comes as Washington pushes for high-level engagements with Beijing to try to stabilise the relationship. The White House and CIA declined to comment. But one US official said Burns met Chinese intelligence officials during the trip.
"Last month, director Burns travelled to Beijing where he met with Chinese counterparts and emphasised the importance of maintaining open lines of communications in intelligence channels," said the US official.
Burns' mission took place in the same month US national security adviser Jake Sullivan met Wang Yi, China's top foreign policy official, in Vienna. The White House did not announce that meeting until it had concluded. Burns' trip was also the highest-level visit to China by a US official since deputy secretary of state Wendy Sherman went to Tianjin in July 2021.
Biden has on several occasions asked the CIA director to conduct delicate missions, at home and overseas. Burns travelled to Moscow in November 2021 to warn Russian officials not to invade Ukraine.
Several people familiar with the situation said Biden last year sent Burns to Capitol Hill in an effort to persuade then House Speaker Nancy Pelosi not to travel to Taiwan. The White House has been trying to kick-start exchanges with China after a particularly turbulent period that started in February when a suspected Chinese spy balloon flew over North America.
The incident derailed an effort to set "a floor" under the relationship that Biden and Chinese president Xi Jinping had agreed was necessary when they met at the G20 in Bali in November. Biden last month said he expected an imminent "thaw" in relations without providing any detail.
Burns travelled to China before Biden made the comment at a G7 summit in Hiroshima. "As both an experienced diplomat and senior intelligence official, Burns is uniquely placed to engage in a dialogue that can potentially contribute to the Biden administration's objective of stabilising ties and putting a floor under the relationship," said Bonnie Glaser, a China expert at the German Marshall Fund.
Paul Haenle, a former top White House China official, said one advantage of sending Burns was that he was respected by Democrats and Republicans and also well known to Chinese officials. "They know him as a trusted interlocutor. They would welcome the opportunity to engage him quietly behind the scenes," said Haenle, now director of the Carnegie China think-tank. "They will see a quiet discreet engagement with Burns as a perfect opportunity."
While Burns is widely viewed as one of the most trusted figures in the US government, his trip continues a tradition of CIA directors being used for sensitive missions. "CIA directors have a long history of secret diplomacy. They are able to travel in complete secrecy and often have strong relationships with the host intelligence services built over time," said Dennis Wilder, a former CIA China expert who also served as the top White House Asia official during the George W Bush administration.
The US has been trying to resurrect a trip to China that secretary of state Antony Blinken abruptly cancelled over the balloon incident, but Beijing has so far refused to give it a green light. Chinese defence minister Li Shangfu has also refused to meet US defence secretary Lloyd Austin in Singapore this weekend because Washington has refused to lift sanctions on him. The two men are attending the Shangri-La Dialogue security conference where they are slated to give speeches.
While the two ministers were not expected to have a formal meeting, the Pentagon said they "spoke briefly" at the opening dinner of the forum, which is held by the International Institute for Strategic Studies. "The two leaders shook hands, but did not have a substantive exchange," the Pentagon said.
BRICS meet with 'friends' seeking closer ties amid push to expand bloc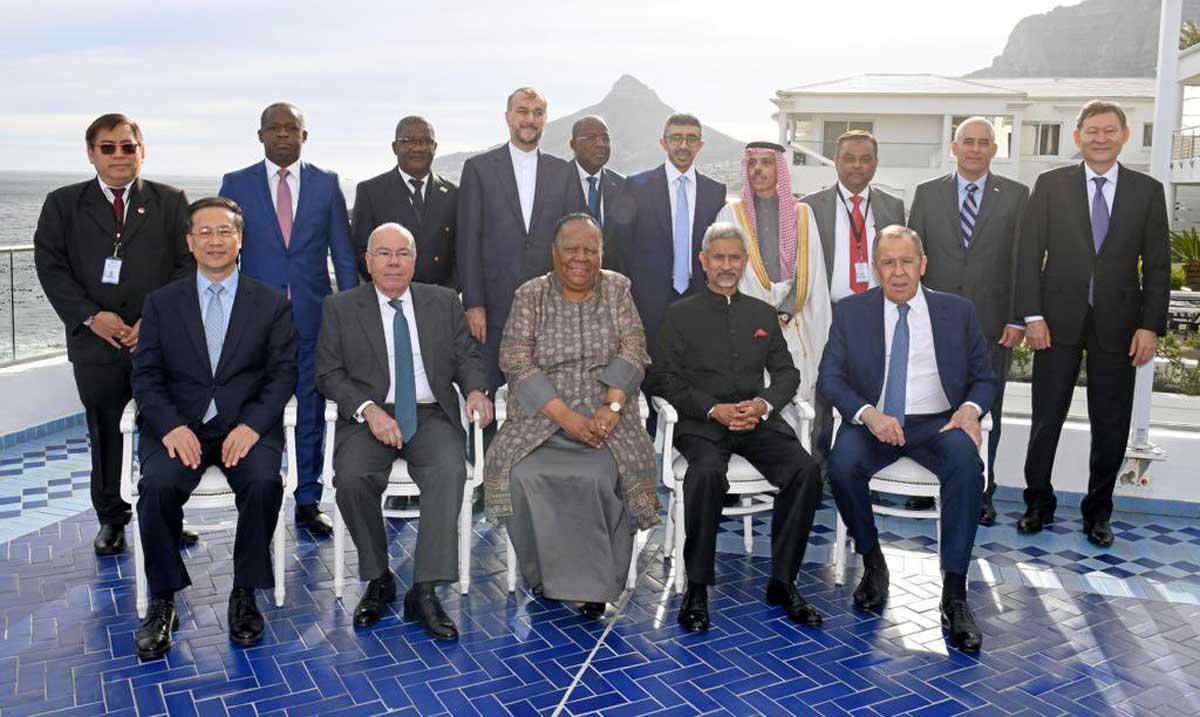 Senior officials from over a dozen countries including Saudi Arabia and Iran were in talks on closer links with the BRICS bloc of major emerging economies as it met to deepen ties and position itself as a counterweight to the West, informs Reuters.
BRICS, which now consists of Brazil, Russia, India, China and South Africa, is considering expanding its membership, and a growing number of countries, mostly from the global South, have expressed interest in joining.
Once viewed as a loose association of disparate emerging economies, BRICS has in recent years taken more concrete shape, driven initially by China and, since the start of the Ukraine war in February 2022, with added impetus from Russia.
In remarks opening Friday's discussions, host South Africa's Foreign Minister Naledi Pandor spoke of the bloc as a champion of the developing world, which she said was abandoned by wealthy states and global institutions during the COVID-19 pandemic.
"The world has faltered in cooperation. Developed countries have never met their commitments to the developing world and are trying to shift all responsibility to the global South," Pandor said.
Iran, Saudi Arabia, the United Arab Emirates, Cuba, Democratic Republic of Congo, Comoros, Gabon, and Kazakhstan all sent representatives to Cape Town for so-called "Friends of BRICS" talks, an official programme showed.
Egypt, Argentina, Bangladesh, Guinea-Bissau and Indonesia were participating virtually.
BRICS heavyweight China said last year it wanted the bloc to launch a process to admit new members. And other members have pointed to countries they would like to see join the club.
"BRICS is a history of success," Brazilian Foreign Minister Mauro Vieira said. "The group is also a brand and an asset, so we have to take care of it."
Indian Foreign Minister Subrahmanyam Jaishankar said talks had included deliberations on the guiding principles, standards, criteria and procedures of what an expanded BRICS bloc would look like.
South Africa's Pandor said the foreign ministers were aiming to complete work on a framework for admitting new members before BRICS leaders meet at a summit in Johannesburg in August.