Withering India's Neighbourhood Policy
[yt_dropcap type="square" font="" size="14″ color="#000″ background="#fff" ] I [/yt_dropcap]ndia is believed to be one of the emerging economic powers of the world. This potential is attributed to several indicators such as demographic dividend, substantive economic growth, political stability, unity in diversity, a good pool of trained and skilled human resources, new strides in science and technology, mastery in information technology, well trained and adequately equipped army etc.
For the given of its size, location, economic potential, India has been holding an important and unique position in South Asia. In the terms of geography, demography, economy and military, it is the largest country in the South Asia. For the given of such factors, the countries of South Asia have always been remained skeptical of taking undue advantage of the weak bargaining capacity of neighbouring countries in a bilateral dialogue. India wanted to enhance bilateral relations with all the South Asian countries, but Bhashin (2008) has argued that its bilateralism took as an instrument of coercive diplomacy and Indian hegemony.
Conceptualization of India's South Asia Policy
Michael (2013) has argued that the inspiration and philosophy of Indian foreign policy has been derived from Kautilya's Arthashastra, that is believed to be as a manual of statecraft. In this manual, the incumbent or the potential king has been guided, how to rule a state or what rules are to be followed to gain geopolitical and geostrategic space in terms of power in the region.
India has been following good neighbourly policy even before its independence. This argument could be substantiated by the argument of Rajkumar (1952: 46), who quoted Jawaharlal Nehru's first speech delivered in December 1927, wherein he said, "The people of India have no quarrel with their neighbours and desire to live at peace with them." The Nehruvian foreign policy had been consistently followed by the successive governments of India.
In the post-Cold War era, India has emerged as an economic global player in the global arena. The former Indian foreign secretary Nirupama Rao (2009-2011), has argued and accepted that a 'peaceful neighbourhood is mandatory for the realization of India's vision of economic growth.' Realizing the geopolitical and geostrategic imperatives, India has invoked all the neighbouring countries to be partners and contribute to the regional growth and prosperity (MEA, Annual Report 2005: 1).
Modifying the South Asian Policy
India has been pursuing good neighbourly policy vis-à-vis South Asian countries, however, it is failed to convince them of the same. The leadership of these countries is of the firm opinion that India has been pursuing hegemonic policy. Moreover, the relations with almost all countries have remained off the keel. Since India has been emerging as one of the economic powers, thus, it realized that peaceful neighbourhood is the prerequisite of its economic development and prosperity in general and for the region in particular.
Even before the formation of his government, Modi had outlined foreign policy priorities during a Network 18 TV Programme: 'Think India, Dialogue Forum,' in 2013 as:
•Improving relations with immediate neighbours, as peace and tranquility in South Asia is essential for realizing the development agenda.
•The introduction of para-diplomacy.
•Enhance of bilateral trade with all the countries.
In order to show his priority and interest towards South Asia, the first, and unique step was taken by inviting all the heads of the South Asian countries. Moreover, it was believed that it would undo the criticism of his being hardliner. The invited guests list included-Hamid Karzai (Afghanistan), Tshering Tobgay (Bhutan), Abdulla Yameen (Maldives), Sushil Koirala (Nepal), Nawaz Sharif (Pakistan), Mahinda Rajapaksa (Sri Lanka), Navin Ramgoolam (Mauritius), Parliamentary Speaker Shirin Sharmin Chaudhury (Bangladesh) respectively. The policy was christened as the Neighbourhood First Policy, later on, formalized and concretized by the first speech of Indian President Pranab Mukherji (2014, June 9) and PM Address to the 69th Session of the United Nations General Assembly. By highlighted the place of neighbours in Indian foreign policy PM Modi said, "A nation's destiny is linked to its neighbourhood. That is why my government has placed the highest priority on advancing friendship and cooperation with its neighbours."
The objective of the first step is to improve and enhance bilateral ties with the South Asian countries. PM also held talks with all the all the heads individually on the second day of swearing-in-ceremony. During these meetings, he strongly advocated for trade, connectivity, infrastructure, transit facility issues among the South Asian countries. On the eve of 18th SAARC Summit, Kathmandu (2014, November 26-27), he also exhorted his counterparts to give greater focus on the people to people contacts, better connectivity, commercial linkages among the South Asian region.
PM Modi visited almost all the South Asian countries in order to enhance multifaceted engagements with these countries. Bhutan was the maiden foreign visit of PM Modi. He had emphasized on building economic ties between both the countries. The other areas of cooperation included hydro-electric deal, the inauguration of the India-funded Supreme Court of Bhutan building. The bilateral relations between both countries were termed as "unique and special relationship."
After the long hiatus of 17 years, PM Modi had visited Nepal. This visit has created an unprecedented enthusiasm among the Nepali public and politicians. He became the first foreign leader to address the constituent assembly of Nepal. PM Modi has also declared a long list of gifts to Nepal. He advocated that borders must be bridges, not barriers." But Nepal's constitutional crisis 2015 and Indian stand on it, distanced both the countries from each other despite India's neighbourhood first policy.
The bilateral relationship between India and Bangladesh has also improved a lot under the Neighbourhood first policy. The controversial issues between both the countries have been sorted out like boundary issue through the land boundary agreement (LBA) and the Teesta water-sharing pact. Bangladesh has also been cooperating in eliminating the extremist groups from North-East. Similarly, good relations have been developed with Sri Lanka under the stewardship of PM despite reservation about the Hambantota port and stationing of Chinese submarines at the same port. Maldives is a very important country for India's maritime security architecture. Due to this, Maldives has been figuring very prominently in Indian neighbourhood policy.
Pakistan is a country which is difficult to deal with despite having neighbourhood first policy. The hardliner perception of PM Modi has substantially changed when on the swearing-in-ceremony, PM Nawaz Sharif was invited. During the talk between both the leaders, they looked forwarded to improve the relations by starting the dialogue at various levels which have been suspended even before taking over the governments by both the leaders. But despite India's number of efforts like visiting by PM Modi to Pakistan during the marriage of grand-daughter of PM Nawaz Sharif, conveying best wishes for the birthday and surgery of PM Nawaz Sharif, the dialogues at all levels have remained suspended. Intermittently, gun-firing on the line control distancing both the countries from each other. The Kashmir issue has been time and again raised in the international forum such as UNSC and GCC etc. Notwithstanding of India's good neighbourly policy, the bilateral relations between both the countries have not been improved.
Similarly, Afghanistan has figured very prominently. It is called as the first strategic partner of India. India became the fifth largest donor to Afghanistan. India has made substantial FDI of US$ 2 billion. Very recently, parliament building built by India handed over to Afghanistan. Afghanistan people hold India in a very high esteem. However, neighbourhood first policy, did not show any substantive results in respect of Pakistan and Nepal.
India pursuing it neighbourhood policy since its independence which is consistently being followed by the successive government. This policy has been derived from the Kautilya's Arthsashtra. After taking over the reign of the Indian government, PM Modi has revived and renovated the policy into neighbourhood first. Though this policy has been remained a bit successful in improving relations with some of the countries but it has been failed in respect of Pakistan and Nepal. It is, therefore, recommended that neighbourhood policy is required to be remodeled and refashioned, in order to not only improve relations bilaterally rather creating the peace and stability for the entire South Asian region.
Youm-e-Takbeer: History and Significance
28th May this year marks the 20th anniversary of historical moment when Pakistan successfully detonated nuclear devices in the Chagai district, Balochistan; and joined the prestigious club of nuclear weapon states.  Pakistan was compelled to test the nuclear weapon in response to a series of nuclear tests by India on 11th and 13th May of same year, 1998. It is important to note that it was the second series of nuclear tests by India in 1998, first being the so-called Smiling Buddha in May 1974.
After conducting a series of five nuclear tests in May 1998, the Indian politicians and public were of the view that now they had a monopoly over the nuclear technology and capability in the region, however test of six nuclear explosions by Pakistan was a befitting response to India's sheer misperception.
India's nuclear tests of 1974 and 1998 left Pakistan with no option to ensure its defence but to restore to the balance of power in the region by maintaining deterrence equilibrium. It is the fact that development of Pakistan's nuclear capabilities is the expression of its security concerns to counter India's conventional superiority over Pakistan. Due to various security challenges, security dilemma is operational between both states.  India's nuclear test in 1974 was significant factors due to which Pakistan felt threatened and believed that it was only with the help of developing the nuclear capability can it ensure its security and survival. Subsequently, Pakistan followed the policy of nuclear ambiguity which is widely considered justified by security analysts on the grounds of an Indian threat. Same applies to the Pakistan's retaliatory response of conducting nuclear tests in May 1998. After India's nuclear test, Pakistan's government emphasized that "Pakistan's failure to respond in kind would have made it vulnerable to its aggressive neighbor".  Speech of President Nawaz sharifin May 1998 has proven that acquisition of nuclear capability was inevitable for the security and survival of Pakistan.
As a result of successful nuclear tests, Pakistan appeared as 7th nuclear weapon state of the world and 1st country of the Muslim world having the nuclear weapon capability. Since then Pakistan remembers this day as Youm-e-Takbeer; 'The day of Greatness" as a reminder of the tough choice Pakistan made to ensure its defence despite the immense international pressure from the US and other Western countries. Soon after nuclear tests, sanctions were imposed by the United Nations Security Council (UNSC) on both India and Pakistan. However, the explosion of nuclear weapons marks the "Overt Nuclearization" of South Asia and both countries were acknowledged as de facto nuclear weapon states.
Though the roots of nuclear deterrence and strategic stability can be traced back to the pre-nuclearization period when the debates erupted regarding ambiguous nuclear capabilities of India and Pakistan. Now due to the existence of deterrence equilibrium and strategic stability, no matter how fragile, both Pakistan and India have been able to maintain crisis stability over the past 20 years: wherein no conflict has actually escalated into a full blown war.
According to SIPRI 2018 report, India is the largest arms importer of the world. It is developing a sophisticated inventory of nuclear arms comprised of tactical weapons, inter-continental ballistic missiles, and anti-ballistic missile system to fulfill its aspirations of acquiring the status of "regional power". On the other hand, Pakistan's leadership, both political and military, understand the possibility to promote security and peace in region through arms control rather than arms race. Therefore to prevent South Asia from a nuclear arm race, Pakistan put forward various proposals: First, in 1974 to declare South Asia as "nuclear weapon-free zone"; Second, the post-1998 proposal to establish "Pakistan-India strategic restraint regime". Unfortunately, India has consistently rejected all these proposals. India's unwelcoming attitude has left Pakistan with no option but to restore to the balance of power in the region by developing sophisticated nuclear capabilities.
Moreover, nuclear weapon and nuclear related technology is seen as contributing to Pakistan's economic and defense base that could ultimately ensure national security objectives of the country.  First, talking about economy or energy security: Pakistan has a modest nuclear power programme.It is using peaceful nuclear power and technology to ensure long-term energy security .Pakistan is also one of the 'energy deficient' states that focuses on energy security to fulfill its socio-economic demands. Second, due to nuclear weapon capability Pakistan's defense has become impregnable. On the other hand, when it comes to the significance of nuclear weapon capability in political arena to fulfill foreign policy objectives, it is unfortunate that even after acquiring the nuclear weapon capability, the overall political standing of Pakistan in global arena has not favorably changed.  Though Pakistan has the option to use nuclear weapon as negotiating tool to fulfill its political objectives but nuclear weapon capability is considered as a tool to ensure state's defence against aggression, be it conventional or nuclear.  Therefore, the rationale behind Pakistan's military nuclear programme remains the same over the years i.e.  to counter the conventional military superiority of India.
To conclude, after 20 years of nuclearization, 28th May marks the "historic milestone" of Pakistan's successful and calculated response to counter India's aggression through operational preparedness of the Strategic Forces to maintain peace and stability. Every year, Youm-e-Takbeer is observed across the country in commemoration of Pakistan's decision to ensure it security, to maintain strategic stability and to deter external aggression despite the immense international pressure and threat of crippling sanctions. Consequently, the utility of nuclear weapons can be checked from the fact that despite multiple escalations after overt nuclearization of South Asia, India has not dared to attack Pakistan thus nuclear weapon capability of Pakistan has ensured safety, security and durable peace and protection from any external aggression.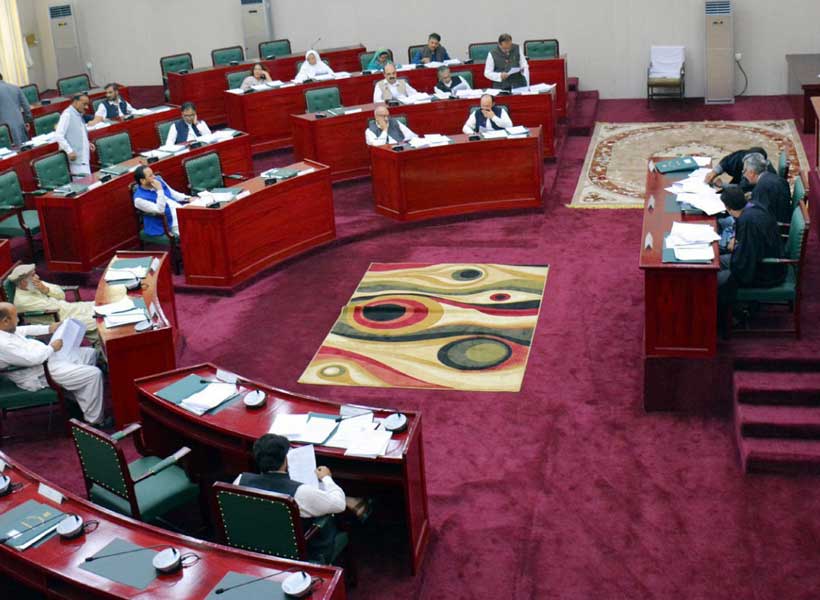 The unfortunate and disdainful assumptions about GB's youth in social media may belie a lesser known fact about the unyielding patriotism and unwavering loyalty they have always had and continue to have for Pakistan for the last seven decades despite state's persistent denial of fundamental and constitutional rights at par with other provinces of Pakistan. Their loyalties, sense of patriotism and aspirations towards 'Federation' are unparalleled, for they had fought the Dogras and gained independence only to join Pakistan.
With the most astounding proportion of literacy for both males and females in Gilgit-Baltistan, the denial of fundamental and constitutional rights has fostered the internal ashes of explosion that continues to burn underneath the conscious awareness of the youth and eventually might compel them to pen down their abjuration.
The sequential governments in Pakistan have intentionally managed to cap them (people of GB) through restraint which has kept the social wrath alive. Federal authorities of Pakistan have now proposed an executive order with the title "Government of Gilgit-Baltistan Order" which is to be tabled before the Prime Minister of Pakistan in next cabinet meeting for its approval.
On the off chance, if the proposed order is enforced and approved as such in GB, it will help the Prime Minister in securing 'Ultra-Constitutional' powers with regards to GB and will rule over without any powers conferred on him by the constitution of the Islamic Republic of Pakistan. The PM will thus be a Monarch.
Dubbed as 'GB Emperor Order' on social media, the proposed order suggests that: 'The Prime Minister shall have the powers to adopt an amendment in the existing laws or any new law in force subject to the legislative competence under sub-section 2 of the proposed order. As many as 50 subjects of legislation have been conferred to the Prime Minister. As per Article 41 of the proposed order, the legislative authority of Gilgit-Baltistan Assembly in its own subjects is subservient to the Prime Minister.
Correspondingly, the articles, 60 (4), 60(6), (d) and 99 (2) additionally propose that the Law passed by Prime Minister will prevail the law(s) on the similar subject that is passed by GB Assembly. The proposed order additionally gives the privilege to the prime Minister to charge and collect taxes from the general population of Gilgit Baltistan. Moreover, the judicial powers have also been vested in PM. Likewise, the privilege to designate judges to the Supreme Appellate Court of Gilgit-Baltistan and other sub-courts has been allowed to the Prime Minister while the purview of GB courts is zilch in the mainland Pakistan. This would make the Prime Minister invulnerable to any choice of GB courts as no ruling can be passed against him.
If passed and implemented, the proposed GB order of 2018 will only amplify the grievances of people in GB, thus pushing them further to the margins. The political 'establishment' in this regard ought to be pragmatic; for, if GB can be taxed equally, they can join the defence forces of the country, citizens are provided with the national identity cards and the passports stamped by the government of Pakistan then why can't they be treated equally and given equal rights?
The present government needs to be vigilant in this regard, for it is already fighting a 'political crusade' to offer 'respect to vote', the proposed GB arrangement, if passed, will no less at that point be a mockery of this slogan.
To conclude, in milieu of the current scenario, there is a single voice of superior patriotism and integration with federation distinguishably intoned among others. The voice of integration being chanted from the mountains downwards to the seashores by the residents of Gilgit-Baltistan must be heard properly as an oracle.
Excellency Narendra Modi when will you become Affectionate Neighbour?
Slavery was abolished in Islam 1500 years ago. Against this backdrop the Muslims of Indo-Pak subcontinent revolted against the "British Rule" to get rid of their clutches / slavery. The Muslim political thinkers and Ulemas reached to the conclusion that Muslims cannot live with Britishers and Hindus on the basis of "Two Nation Theory" in line with Allama Muhammad Iqbal (late) and Sir Syed Ahmad Khan (late) political wisdom. The revolt against British was culminated into "War of Independence" in 1857. This laid stone and paved the way for an Islamic state now known as "Pakistan". The Hindus were also benefited with the creation of Pakistan and thereafter a Hindu sate "India" also came on the world globe. After the independence in 1947 Pakistan is maintaining cordial relations with neighbouring and other countries of the world. Unfortunately the Hindu psyche and their Slave Mentality could not be changed even after 70 years and the Indians still owe allegiance from core of their heart to her Majesty the Queen of Great Britain (UK). Even today the Indian Prime Minister HE Narendra Modi pay homage to British Government and submit reports on  daily basis. The classic example is the recent visit of Narendra Modi to London (April 2018) in which he in a question and answers session at Central Hall Westminster (London) revealed before the audience regarding surgical strikes carried out by Indian Army against Pakistani troops deployed along LoC.
Indian PM in a bid to muster support and financial assistance from British Government for his forth coming election's 2019 propagated and boosted his concocted version that Indian authorities kept on calling Pakistani counterparts in Islamabad to collect dead bodies of Pakistani soldiers from LoC. The information disseminated to the Britishers against Pakistan was false and far from truth.
Unfortunately, the Indian Intelligence Agencies, its Army and Foreign office have made it a routine to interfere in the internal matters of the peripheral countries in a bid to accomplish  their hegemonic designs which the Indian leadership has been claiming  from time to time including Narendra Modi false / tall claim of creation of Bangladesh in 1971. The Indian Army is also following the foot prints / aggressive policies of Indian political leadership. General Bipon Rawat (Indian Army Chief) and Lt Gen AK Bhaat, Corps Commander Srinagar in their media briefings have been threatening Pakistan Armed Forces and Kashmiri Muslim freedom fighters / organizations of dire consequences, they committed atrocities / brutalities on the innocent Muslims / minorities by using lethal weapons including Anti-Tank Guided Missiles, Mortar guns and chemical agents.
India to fulfill its hegemonic designs in South Asia and enhance its influence, the Indian Defence Minister Mst Nirmala Subramanian visited various foreign countries to purchase military equipment worth US 5.6 billion including SA-400 missile system F-35 fighter aircraft from Israel and 80 MI-70 helicopter to augment mobilization of Indian troops and LEA's to crush innocent Muslims of IHK and Sikhs of Khalistan movement. Indian government in addition to further enhance the barbaric activities of its  intelligence / security agencies, RAW, Intelligence Bureau, Bureau of Investigation, Special protection group and National Security Guards are allowed to import i arms, / ammunition, telescopic silencer short guns, with night vision capabilities and hand grenades from US / Israel without the scrutiny and permission of Indian parliament and Indian Defence Ministry. These sophisticated arms / ammunition will be smuggled and supplied to various terrorist groups in Pakistan, Afghanistan and Nepal by RAW / MOSAAD / CIA. In Nepal RAW has established a front organization by the name of Islami Sangh Nepal and in Bangladesh Faleh-e-Insaniyat Foundation to impart training to terrorists in fabricating improvised explosive devices. The arms / ammunition are also supplied from RAW establishments to dissident / terrorist groups to carry out violence and instability in the peripheral countries.
Excellency Modi we have tried to highlight the chronological   sequence of events  and nefarious activities being carried out by your Government, Senior Army officers, RAW / Intelligence Bureau and Law Enforcing Agencies. The scrutiny / analysis for the reasons behind aggressive behavior pattern / attitude are the outcome of Hindu mechanism of hereditary, aggression, frustration and anxiety in Indian society. They have fallen prey to psychotic disorder and negative Edipis Complex. To live in the "Global Village" of civilized nations it is high time on the part of Indian Government to change its policies and attitude in order to prove themselves as a civilized mature and affectionate nation towards its neighboring countries.