Big data and the Future of Democracy: The Matrix world behind the Brexit and the US Elections
Authors: Hannes Grassegger and Mikael Krogerus
Aegean theater of the Antique Greece was the place of astonishing revelations and intellectual excellence – a remarkable density and proximity, not surpassed up to our age. All we know about science, philosophy, sports, arts, culture and entertainment, stars and earth has been postulated, explored and examined then and there.
Simply, it was a time and place of triumph of human consciousness, pure reasoning and sparkling thought. However, neither Euclid, Anaximander, Heraclites, Hippocrates (both of Chios, and of Cos), Socrates, Archimedes, Ptolemy, Democritus, Plato, Pythagoras, Diogenes, Aristotle, Empedocles, Conon, Eratosthenes nor any of dozens of other brilliant ancient Greek minds did ever refer by a word, by a single sentence to something which was their everyday life, something they saw literally on every corner along their entire lives. It was an immoral, unjust, notoriously brutal and oppressive slavery system that powered the Antique state. (Slaves have not been even attributed as humans, but rather as the 'phonic tools/tools able to speak'.) This myopia, this absence of critical reference on the obvious and omnipresent is a historic message – highly disturbing, self-telling and quite a warning." – notes prof. Anis H. Bajrektarevic in his luminary book of 2013, 'Is there like after Facebook? – Geopolitics of Technology'.
Indeed, why do we constantly ignore massive and sustain harvesting of our personal data from the social networks, medical records, pay-cards, internet and smart phones as well as its commercialization and monetization for dubious ends and disturbing futures.
Professor Bajrektarevic predicts and warns: "If humans hardly ever question fetishisation of their own McFB way of life, or oppose the (self-) trivialization, why then is the subsequent brutalization a surprise to them?"
Thus, should we be really surprise with the Brexit vote, with the results of the US elections, and with the forcoming massive wins of the right-wing parties all over Europe? Putin is behind it !! – how easy, and how misleading a self-denial.
Here is a story based on facts, if we are only interested to really grasp the Matrix world. The Iron Cage we constructed ourselves.
On November 9 at around 8.30 AM., Michal Kosinski woke up in the Hotel Sunnehus in Zurich. The 34-year-old researcher had come to give a lecture at the Swiss Federal Institute of Technology (ETH) about the dangers of Big Data and the digital revolution. Kosinski gives regular lectures on this topic all over the world. He is a leading expert in psychometrics, a data-driven sub-branch of psychology. When he turned on the TV that morning, he saw that the bombshell had exploded: contrary to forecasts by all leading statisticians, Donald J. Trump had been elected president of the United States.
For a long time, Kosinski watched the Trump victory celebrations and the results coming in from each state. He had a hunch that the outcome of the election might have something to do with his research. Finally, he took a deep breath and turned off the TV.
On the same day, a then little-known British company based in London sent out a press release: "We are thrilled that our revolutionary approach to data-driven communication has played such an integral part in President-elect Trump's extraordinary win," Alexander James Ashburner Nix was quoted as saying. Nix is British, 41 years old, and CEO of Cambridge Analytica. He is always immaculately turned out in tailor-made suits and designer glasses, with his wavy blonde hair combed back from his forehead. His company wasn't just integral to Trump's online campaign, but to the UK's Brexit campaign as well.
Of these three players—reflective Kosinski, carefully groomed Nix and grinning Trump—one of them enabled the digital revolution, one of them executed it and one of them benefited from it.
How dangerous is big data?
Anyone who has not spent the last five years living on another planet will be familiar with the term Big Data. Big Data means, in essence, that everything we do, both on and offline, leaves digital traces. Every purchase we make with our cards, every search we type into Google, every movement we make when our mobile phone is in our pocket, every "like" is stored. Especially every "like." For a long time, it was not entirely clear what use this data could have—except, perhaps, that we might find ads for high blood pressure remedies just after we've Googled "reduce blood pressure."
On November 9, it became clear that maybe much more is possible. The company behind Trump's online campaign—the same company that had worked for Leave.EU in the very early stages of its "Brexit" campaign—was a Big Data company: Cambridge Analytica.
To understand the outcome of the election—and how political communication might work in the future—we need to begin with a strange incident at Cambridge University in 2014, at Kosinski's Psychometrics Center.
Psychometrics, sometimes also called psychographics, focuses on measuring psychological traits, such as personality. In the 1980s, two teams of psychologists developed a model that sought to assess human beings based on five personality traits, known as the "Big Five." These are: openness (how open you are to new experiences?), conscientiousness (how much of a perfectionist are you?), extroversion (how sociable are you?), agreeableness (how considerate and cooperative you are?) and neuroticism (are you easily upset?). Based on these dimensions—they are also known as OCEAN, an acronym for openness, conscientiousness, extroversion, agreeableness, neuroticism—we can make a relatively accurate assessment of the kind of person in front of us. This includes their needs and fears, and how they are likely to behave. The "Big Five" has become the standard technique of psychometrics. But for a long time, the problem with this approach was data collection, because it involved filling out a complicated, highly personal questionnaire. Then came the Internet. And Facebook. And Kosinski.
Michal Kosinski was a student in Warsaw when his life took a new direction in 2008. He was accepted by Cambridge University to do his PhD at the Psychometrics Centre, one of the oldest institutions of this kind worldwide. Kosinski joined fellow student David Stillwell (now a lecturer at Judge Business School at the University of Cambridge) about a year after Stillwell had launched a little Facebook application in the days when the platform had not yet become the behemoth it is today. Their MyPersonality app enabled users to fill out different psychometric questionnaires, including a handful of psychological questions from the Big Five personality questionnaire ("I panic easily," "I contradict others"). Based on the evaluation, users received a "personality profile"—individual Big Five values—and could opt-in to share their Facebook profile data with the researchers.
Kosinski had expected a few dozen college friends to fill in the questionnaire, but before long, hundreds, thousands, then millions of people had revealed their innermost convictions. Suddenly, the two doctoral candidates owned the largest dataset combining psychometric scores with Facebook profiles ever to be collected.
The approach that Kosinski and his colleagues developed over the next few years was actually quite simple. First, they provided test subjects with a questionnaire in the form of an online quiz. From their responses, the psychologists calculated the personal Big Five values of respondents. Kosinski's team then compared the results with all sorts of other online data from the subjects: what they "liked," shared or posted on Facebook, or what gender, age, place of residence they specified, for example. This enabled the researchers to connect the dots and make correlations.
Remarkably reliable deductions could be drawn from simple online actions. For example, men who "liked" the cosmetics brand MAC were slightly more likely to be gay; one of the best indicators for heterosexuality was "liking" Wu-Tang Clan. Followers of Lady Gaga were most probably extroverts, while those who "liked" philosophy tended to be introverts. While each piece of such information is too weak to produce a reliable prediction, when tens, hundreds, or thousands of individual data points are combined, the resulting predictions become really accurate.
Kosinski and his team tirelessly refined their models. In 2012, Kosinski proved that on the basis of an average of 68 Facebook "likes" by a user, it was possible to predict their skin color (with 95 percent accuracy), their sexual orientation (88 percent accuracy), and their affiliation to the Democratic or Republican party (85 percent). But it didn't stop there. Intelligence, religious affiliation, as well as alcohol, cigarette and drug use, could all be determined. From the data it was even possible to deduce whether someone's parents were divorced.
The strength of their modeling was illustrated by how well it could predict a subject's answers. Kosinski continued to work on the models incessantly: before long, he was able to evaluate a person better than the average work colleague, merely on the basis of ten Facebook "likes." Seventy "likes" were enough to outdo what a person's friends knew, 150 what their parents knew, and 300 "likes" what their partner knew. More "likes" could even surpass what a person thought they knew about themselves. On the day that Kosinski published these findings, he received two phone calls. The threat of a lawsuit and a job offer. Both from Facebook.
Only weeks later Facebook "likes" became private by default. Before that, the default setting was that anyone on the internet could see your "likes." But this was no obstacle to data collectors: while Kosinski always asked for the consent of Facebook users, many apps and online quizzes today require access to private data as a precondition for taking personality tests. (Anybody who wants to evaluate themselves based on their Facebook "likes" can do so on Kosinski's website, and then compare their results to those of a classic Ocean questionnaire, like that of the Cambridge Psychometrics Center.)
But it was not just about "likes" or even Facebook: Kosinski and his team could now ascribe Big Five values based purely on how many profile pictures a person has on Facebook, or how many contacts they have (a good indicator of extraversion). But we also reveal something about ourselves even when we're not online. For example, the motion sensor on our phone reveals how quickly we move and how far we travel (this correlates with emotional instability). Our smartphone, Kosinski concluded, is a vast psychological questionnaire that we are constantly filling out, both consciously and unconsciously.
Above all, however—and this is key—it also works in reverse: not only can psychological profiles be created from your data, but your data can also be used the other way round to search for specific profiles: all anxious fathers, all angry introverts, for example—or maybe even all undecided Democrats? Essentially, what Kosinski had invented was sort of a people search engine. He started to recognize the potential—but also the inherent danger—of his work.
To him, the internet was a gift from heaven. What he really wanted was to give something back, to share. Data can be copied, so why shouldn't everyone benefit from it? It was the spirit of Millenials, entire new generation, the beginning of a new era that transcended the limitations of the physical world. But what would happen, wondered Kosinski, if someone abused his people search engine to manipulate people? He began to add warnings to most of his scientific work. His approach, he warned, "could pose a threat to an individual's well-being, freedom, or even life." But no one seemed to grasp what he meant.
Around this time, in early 2014, Kosinski was approached by a young assistant professor in the psychology department called Aleksandr Kogan. He said he was inquiring on behalf of a company that was interested in Kosinski's method, and wanted to access the MyPersonality database. Kogan wasn't at liberty to reveal for what purpose; he was bound to secrecy.
At first, Kosinski and his team considered this offer, as it would mean a great deal of money for the institute, but then he hesitated. Finally, Kosinski remembers, Kogan revealed the name of the company: SCL, or Strategic Communication Laboratories. Kosinski Googled the company: "[We are] the premier election management agency," says the company's website. SCL provides marketing based on psychological modeling. One of its core focuses: Influencing elections. Influencing elections? Perturbed, Kosinski clicked through the pages. What kind of company was this? And what were these people planning?
What Kosinski did not know at the time: SCL is the parent of a group of companies. Who exactly owns SCL and its diverse branches is unclear, thanks to a convoluted corporate structure, the type seen in the UK Companies House, the Panama Papers, and the Delaware company registry. Some of the SCL offshoots have been involved in elections from Ukraine to Nigeria, helped the Nepalese monarch against the Maoists, whereas others have developed methods to influence Eastern Euripean and Afghan citizens for NATO. And, in 2013, SCL spun off a new company to participate in US elections: Cambridge Analytica.
Kosinski knew nothing about all this, but he had a bad feeling. "The whole thing started to stink," he recalls. On further investigation, he discovered that Aleksandr Kogan had secretly registered a company doing business with SCL. According to a December 2015 report in the Guardian and to internal company documents given to Das Magazin, it emerges that SCL learned about Kosinski's method from Kogan.
Kosinski came to suspect that Kogan's company might have reproduced the Facebook "Likes"-based Big Five measurement tool in order to sell it to this election-influencing firm. He immediately broke off contact with Kogan and informed the director of the institute, sparking a complicated conflict within the university. The institute was worried about its reputation. Aleksandr Kogan then moved to Singapore, married, and changed his name to Dr. Spectre. Michal Kosinski finished his PhD, got a job offer from Stanford and moved to the US.
Mr. Brexit
All was quiet for about a year. Then, in November 2015, the more radical of the two Brexit campaigns, "Leave.EU," supported by Nigel Farage, announced that it had commissioned a Big Data company to support its online campaign: Cambridge Analytica. The company's core strength: innovative political marketing—microtargeting—by measuring people's personality from their digital footprints, based on the OCEAN model.
Now Kosinski received emails asking what he had to do with it—the words Cambridge, personality, and analytics immediately made many people think of Kosinski. It was the first time he had heard of the company, which borrowed its name, it said, from its first employees, researchers from the university. Horrified, he looked at the website. Was his methodology being used on a grand scale for political purposes?
After the Brexit result, friends and acquaintances wrote to him: Just look at what you've done. Everywhere he went, Kosinski had to explain that he had nothing to do with this company. (It remains unclear how deeply Cambridge Analytica was involved in the Brexit campaign. Cambridge Analytica would not discuss such questions.)
For a few months, things are relatively quiet. Then, on September 19, 2016, just over a month before the US elections, the guitar riffs of Creedence Clearwater Revival's "Bad Moon Rising" fill the dark-blue hall of New York's Grand Hyatt hotel. The Concordia Summit is a kind of World Economic Forum in miniature. Decision-makers from all over the world have been invited, among them Swiss President Johann Schneider-Ammann. "Please welcome to the stage Alexander Nix, chief executive officer of Cambridge Analytica," a smooth female voice announces. A slim man in a dark suit walks onto the stage. A hush falls. Many in attendance know that this is Trump's new digital strategy man. (A video of the presentation was posted on YouTube.)
A few weeks earlier, Trump had tweeted, somewhat cryptically, "Soon you'll be calling me Mr. Brexit." Political observers had indeed noticed some striking similarities between Trump's agenda and that of the right-wing Brexit movement. But few had noticed the connection with Trump's recent hiring of a marketing company named Cambridge Analytica.
Up to this point, Trump's digital campaign had consisted of more or less one person: Brad Parscale, a marketing entrepreneur and failed start-up founder who created a rudimentary website for Trump for $1,500. The 70-year-old Trump is not digitally savvy—there isn't even a computer on his office desk. Trump doesn't do emails, his personal assistant once revealed. She herself talked him into having a smartphone, from which he now tweets incessantly.
Hillary Clinton, on the other hand, relied heavily on the legacy of the first "social-media president," Barack Obama. She had the address lists of the Democratic Party, worked with cutting-edge big data analysts from BlueLabs and received support from Google and DreamWorks. When it was announced in June 2016 that Trump had hired Cambridge Analytica, the establishment in Washington just turned up their noses. Foreign dudes in tailor-made suits who don't understand the country and its people? Seriously?
"It is my privilege to speak to you today about the power of Big Data and psychographics in the electoral process." The logo of Cambridge Analytica— a brain composed of network nodes, like a map, appears behind Alexander Nix. "Only 18 months ago, Senator Cruz was one of the less popular candidates," explains the blonde man in a cut-glass British accent, which puts Americans on edge the same way that a standard German accent can unsettle Swiss people. "Less than 40 percent of the population had heard of him," another slide says. Cambridge Analytica had become involved in the US election campaign almost two years earlier, initially as a consultant for Republicans Ben Carson and Ted Cruz. Cruz—and later Trump—was funded primarily by the secretive US software billionaire Robert Mercer who, along with his daughter Rebekah, is reported to be the largest investor in Cambridge Analytica.
"So how did he do this?" Up to now, explains Nix, election campaigns have been organized based on demographic concepts. "A really ridiculous idea. The idea that all women should receive the same message because of their gender—or all African Americans because of their race." What Nix meant is that while other campaigners so far have relied on demographics, Cambridge Analytica was using psychometrics.
Though this might be true, Cambridge Analytica's role within Cruz's campaign isn't undisputed. In December 2015 the Cruz team credited their rising success to psychological use of data and analytics. In Advertising Age, a political client said the embedded Cambridge staff was "like an extra wheel," but found their core product, Cambridge's voter data modeling, still "excellent." The campaign would pay the company at least $5.8 million to help identify voters in the Iowa caucuses, which Cruz won, before dropping out of the race in May.
Nix clicks to the next slide: five different faces, each face corresponding to a personality profile. It is the Big Five or OCEAN Model. "At Cambridge," he said, "we were able to form a model to predict the personality of every single adult in the United States of America." The hall is captivated. According to Nix, the success of Cambridge Analytica's marketing is based on a combination of three elements: behavioral science using the OCEAN Model, Big Data analysis, and ad targeting. Ad targeting is personalized advertising, aligned as accurately as possible to the personality of an individual consumer.
Nix candidly explains how his company does this. First, Cambridge Analytica buys personal data from a range of different sources, like land registries, automotive data, shopping data, bonus cards, club memberships, what magazines you read, what churches you attend. Nix displays the logos of globally active data brokers like Acxiom and Experian—in the US, almost all personal data is for sale. For example, if you want to know where Jewish women live, you can simply buy this information, phone numbers included.
Now Cambridge Analytica aggregates this data with the electoral rolls of the Republican party and online data and calculates a Big Five personality profile. Digital footprints suddenly become real people with fears, needs, interests, and residential addresses.
The methodology looks quite similar to the one that Michal Kosinski once developed. Cambridge Analytica also uses, Nix told us, "surveys on social media" and Facebook data. And the company does exactly what Kosinski warned of: "We have profiled the personality of every adult in the United States of America—220 million people," Nix boasts.
He opens the screenshot. "This is a data dashboard that we prepared for the Cruz campaign." A digital control center appears. On the left are diagrams; on the right, a map of Iowa, where Cruz won a surprisingly large number of votes in the primary. And on the map, there are hundreds of thousands of small red and blue dots. Nix narrows down the criteria: "Republicans"—the blue dots disappear; "not yet convinced"—more dots disappear; "male", and so on. Finally, only one name remains, including age, address, interests, personality and political inclination. How does Cambridge Analytica now target this person with an appropriate political message?
Nix shows how psychographically categorized voters can be differently addressed, based on the example of gun rights, the 2nd Amendment: "For a highly neurotic and conscientious audience the threat of a burglary—and the insurance policy of a gun." An image on the left shows the hand of an intruder smashing a window. The right side shows a man and a child standing in a field at sunset, both holding guns, clearly shooting ducks: "Conversely, for a closed and agreeable audience. People who care about tradition, and habits, and family."
How to keep Clinton voters away from the ballot box
Trump's striking inconsistencies, his much-criticized fickleness, and the resulting array of contradictory messages, suddenly turned out to be his great asset: a different message for every voter. The notion that Trump acted like a perfectly opportunistic algorithm following audience reactions is something the mathematician Cathy O'Neil observed in August 2016.
"Pretty much every message that Trump put out was data-driven," Alexander Nix remembers. On the day of the third presidential debate between Trump and Clinton, Trump's team tested 175,000 different ad variations for his arguments, in order to find the right versions above all via Facebook. The messages differed for the most part only in microscopic details, in order to target the recipients in the optimal psychological way: different headings, colors, captions, with a photo or video. This fine-tuning reaches all the way down to the smallest groups, Nix explained in an interview with us. "We can address villages or apartment blocks in a targeted way. Even individuals."
In the Miami district of Little Haiti, for instance, Trump's campaign provided inhabitants with news about the failure of the Clinton Foundation following the earthquake in Haiti, in order to keep them from voting for Hillary Clinton. This was one of the goals: to keep potential Clinton voters (which include wavering left-wingers, African-Americans, and young women) away from the ballot box, to "suppress" their vote, as one senior campaign official told Bloomberg in the weeks before the election. These "dark posts"—sponsored news-feed-style ads in Facebook timelines that can only be seen by users with specific profiles—included videos aimed at African-Americans in which Hillary Clinton refers to black men as predators, for example.
Nix finishes his lecture at the Concordia Summit by stating that traditional blanket advertising is dead. "My children will certainly never, ever understand this concept of mass communication." And before leaving the stage, he announced that since Cruz had left the race, the company was helping one of the remaining presidential candidates.
Just how precisely the American population was being targeted by Trump's digital troops at that moment was not visible, because they attacked less on mainstream TV and more with personalized messages on social media or digital TV. And while the Clinton team thought it was in the lead, based on demographic projections, Bloomberg journalist Sasha Issenberg was surprised to note on a visit to San Antonio—where Trump's digital campaign was based—that a "second headquarters" was being created. The embedded Cambridge Analytica team, apparently only a dozen people, received $100,000 from Trump in July, $250,000 in August, and $5 million in September. According to Nix, the company earned over $15 million overall. (The company is incorporated in the US, where laws regarding the release of personal data are more lax than in European Union countries. Whereas European privacy laws require a person to "opt in" to a release of data, those in the US permit data to be released unless a user "opts out.")
The measures were radical: From July 2016, Trump's canvassers were provided with an app with which they could identify the political views and personality types of the inhabitants of a house. It was the same app provider used by Brexit campaigners. Trump's people only rang at the doors of houses that the app rated as receptive to his messages. The canvassers came prepared with guidelines for conversations tailored to the personality type of the resident. In turn, the canvassers fed the reactions into the app, and the new data flowed back to the dashboards of the Trump campaign.
Again, this is nothing new. The Democrats did similar things, but there is no evidence that they relied on psychometric profiling. Cambridge Analytica, however, divided the US population into 32 personality types, and focused on just 17 states. And just as Kosinski had established that men who like MAC cosmetics are slightly more likely to be gay, the company discovered that a preference for cars made in the US was a great indication of a potential Trump voter. Among other things, these findings now showed Trump which messages worked best and where. The decision to focus on Michigan and Wisconsin in the final weeks of the campaign was made on the basis of data analysis. The candidate became the instrument for implementing a big data model.
What's Next?
But to what extent did psychometric methods influence the outcome of the election? When asked, Cambridge Analytica was unwilling to provide any proof of the effectiveness of its campaign. And it is quite possible that the question is impossible to answer.
And yet there are clues: There is the fact of the surprising rise of Ted Cruz during the primaries. Also there was an increased number of voters in rural areas. There was the decline in the number of African-American early votes. The fact that Trump spent so little money may also be explained by the effectiveness of personality-based advertising. As does the fact that he invested far more in digital than TV campaigning compared to Hillary Clinton. Facebook proved to be the ultimate weapon and the best election campaigner, as Nix explained, and as comments by several core Trump campaigners demonstrate.
Many voices have claimed that the statisticians lost the election because their predictions were so off the mark. But what if statisticians in fact helped win the election—but only those who were using the new method? It is an irony of history that Trump, who often grumbled about scientific research, used a highly scientific approach in his campaign.
Another big winner is Cambridge Analytica. Its board member Steve Bannon, former executive chair of the right-wing online newspaper Breitbart News, has been appointed as Donald Trump's senior counselor and chief strategist. Whilst Cambridge Analytica is not willing to comment on alleged ongoing talks with UK Prime Minister Theresa May, Alexander Nix claims that he is building up his client base worldwide, and that he has received inquiries from Switzerland, Germany, and Australia. His company is currently touring European conferences showcasing their success in the United States. This year three core countries of the EU are facing elections with resurgent populist parties: France, Holland and Germany. The electoral successes come at an opportune time, as the company is readying for a push into commercial advertising.
********
Kosinski has observed all of this from his office at Stanford. Following the US election, the university is in turmoil. Kosinski is responding to developments with the sharpest weapon available to a researcher: a scientific analysis. Together with his research colleague Sandra Matz, he has conducted a series of tests, which will soon be published. The initial results are alarming: The study shows the effectiveness of personality targeting by showing that marketers can attract up to 63 percent more clicks and up to 1,400 more conversions in real-life advertising campaigns on Facebook when matching products and marketing messages to consumers' personality characteristics. They further demonstrate the scalability of personality targeting by showing that the majority of Facebook Pages promoting products or brands are affected by personality and that large numbers of consumers can be accurately targeted based on a single Facebook Page.
In a statement after the German publication of this article, a Cambridge Analytica spokesperson said, "Cambridge Analytica does not use data from Facebook. It has had no dealings with Dr. Michal Kosinski. It does not subcontract research. It does not use the same methodology. Psychographics was hardly used at all. Cambridge Analytica did not engage in efforts to discourage any Americans from casting their vote in the presidential election. Its efforts were solely directed towards increasing the number of voters in the election."
The world has been turned upside down. Great Britain is leaving the EU, Donald Trump is president of the United States of America. And in Stanford, Kosinski, who wanted to warn against the danger of using psychological targeting in a political setting, is once again receiving accusatory emails. "No," says Kosinski, quietly and shaking his head. "This is not my fault. I did not build the bomb. I only showed that it exists."
---
About authors:
Hannes Grassegger and Mikael Krogerus are investigative journalists attached to the Swiss-based Das Magazin specialized journal.  The original text appeared in the late December edition under the title: "I only showed that the bomb exists" (Ich habe nur gezeigt, dass es die Bombe gibt). This, English translation, is based on the subsequent January version, first published by the Motherboard magazine (titled: The Data That Turned the World Upside
How Taliban Victory Inspired Central Asian Jihadists
Following the fall of the US-backed Afghan government of Ashraf Ghani on August 15, al-Qaeda-linked Uighur, Uzbek and Tajik jihadi groups widely celebrated the Taliban's "historic victory" over the "enemies of the Muslim Ummah". In honor of the Taliban's rebuilding of the Islamic Emirate, leading Jihadi groups from Central Asia and China's Xinjiang Autonomous Region issued special congratulatory statements, echoed jihadi nasheeds (chants of jihadi glory), arranged a festive feast for their Muhajeers (who immigrated to spread Islam and wage jihad) and gloatingly booed the US military forces leaving Afghanistan on jihadi media.
Turkestan Islamic Party called on all Muslims to unite around the Taliban as one body
Uighur jihadists of the Turkestan Islamic Party (TIP), formerly known as the East Turkestan Islamic Movement (ETIM) from Western China, were one of the first to congratulate the Taliban victory. On August 16, in a statement of the TIP's Syrian branch, released by its propaganda arm, 'Muhsinlar', Uighur militants congratulated the Taliban's emir Haibatullah Akhunzada and all Afghan fellow believers on the restoration of the Islamic Emirate of Afghanistan.
Notably, in its statement, TIP 'discovered' the root causes of the Taliban's victory in the Muslim holy book of the Quran, which refers to Surah al-Fatiha "Indeed, we have given you, o Prophet, a clear conquest" (48:1). The TIP further emphasized that "one generation of Muslims have sacrificed themselves for the religion of Allah, for today's boundless joy and rejoicing." The Taliban's victory is "a fruit of long and arduous struggle and God's big gift to Muslims worldwide", the statement reads.
The TIP's Syrian branch has called on all Muslims to make dua's (invocation of God) for the Afghan Mujahedeen, to cooperate and support their fellows of Taliban. Uighur jihadists emphasized the need for the integrity of the Islamic Ummah, which should be governed only by the rule of the Almighty as one nation and one country. At the end of the statement, TIP noted that "East Turkestan Mujahedeens, as an integral part of the Great Ummah, celebrated the historic victory of the Taliban with boundless joy, and will stand alongside them shoulder to shoulder."
It is recalled that ETIM was designated as a terrorist organization by the UN Security Council resolutions 1267 and 1390 on September 11, 2002, for its alleged association with al-Qaeda, its leader Osama bin Laden, and the Afghan Taliban. As part of the "global war on terror," the US Federal Government designated ETIM as a terrorist organization on August 19, 2002. At that time, China skillfully took advantage of the situation emerging after the 9/11 attacks, achieving the recognition of ETIM as a terrorist group by many members of the U.S.-led "war on terror" coalition.
However, on November 5, 2020, the US Department of State removed ETIM from the blacklist, which provoked a fuming reaction from official Beijing. China on the other hand is pursuing a harsh repressive policy against the Muslim minority in its Xinjiang region detaining more than one million ethnic Uighurs, Kazakhs and Kyrgyz in so-called "re-education camps." Despite the US decision, the post-Soviet Central Asian countries, Russia and China did not exclude TIP from their banned list of terrorist organizations.
According to the latest 2021 UN Security Council's report, "several hundred Uighur jihadists of TIP located primarily in Afghan Badakhshan and neighboring provinces, whose strategic goal is to establish an Islamic Uighur state in Xinjiang, China." The report stated that TIP affiliated with both the Taliban and al-Qaeda, and their ties remain "strong and deep as a consequence of personal bonds of marriage and shared partnership in struggle, now cemented through second generational ties." Moreover, the notorious leader of TIP, Abdul Haq al-Turkestani, has remained a member of al-Qaeda's elite Shura Council since 2005. For more two decades, the most wanted key Uighur jihadist has been openly loyal to the Taliban's top leader Haibatullah Akhunzada and the al-Qaeda's emir Ayman al-Zawahiri. Today, all three top emirs are successfully continuing their faithful jihadi fellowship, skillfully hiding their close relations, and throwing dust in the eyes of the US and its Western partners, tired of the "longest war".
Thus, it can be assumed that despite the Taliban's warm relations with the Chinese government after their return to power in Afghanistan, it is unlikely that they will break ties with the Uighur jihadists of TIP. On the contrary, both are expected to remain loyal to the oath of allegiance (bayat). The long relationship between the Taliban, al-Qaeda and TIP has shown that the bayat has a sacred religious value for them.
Taliban is a source of inspiration for Katibat al Tawhid wal Jihad
The Uzbek jihadist group Katibat al Tawhid wal Jihad (KTJ) on its Telegram channel posted a video congratulating the Taliban on the victory over the most powerful evil empire in the world, which it considers the US. The congratulations were unusual, as the three KTJ leaders via video addressed the Taliban comrades in joint jihad in three official languages of Afghanistan – Pashto, Dari and Uzbek. In particular, the KTJ's top emir Abdul Aziz al Uzbeki, whom the UN identified as 'Khikmatov,' spoke in Pashto, the military commander Sayfiddin in Dari, and the main ideologist of Central Asian Salafi Jihadism, the group's imam Ahluddin Navqotiy in Uzbek.
Abdul Aziz glorified the Taliban's victory over the foreign invaders and occupiers as a gift from Allah Almighty to the Ummah. He eulogized the vision of Mullah Muhammad Omar, the Taliban's first emir, who once said, "Allah has promised us victory and America has promised us defeat, so we shall see which of the two promises will be fulfilled." Top Uzbek jihadist further noted that "today, after a long-suffering patience, tireless struggle and great jihadi perseverance, finally came Nusrat (victory) in Khorasan, promised by Allah." "Because the Mujahedeen are stronger in spirit and faith in God than the invaders, who, despite their military might and immeasurable wealth, fled the country in shame", concluded Abdul Aziz.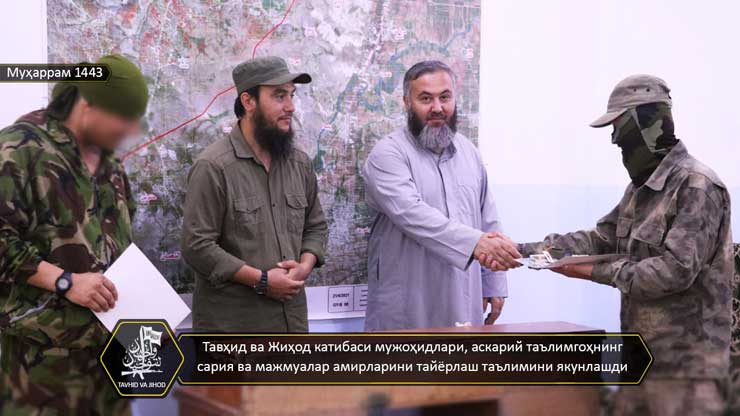 Then, in an emotional speech, the group's hard Salafi ideologist, Ahluddin Navqotiy, congratulated the Taliban Mujahedeen on behalf of KTJ Muhajeers waging a jihad in Syria's Idlib province against Bashar al-Assad regime and pro-Iranian radical militias. He expressed confidence that today's Nusrat of Allah in Afghanistan will become the driving force behind the establishment of Sharia rule in Central Asia.
Noteworthy, the KTJ leader, Abdul Aziz, had close ties with al-Qaeda and the Afghan Taliban, in particular with the Haqqani network. As a native of the Fergana Valley of Uzbekistan, Abdul Aziz made a hijrah (migration) to Afghanistan fleeing the repressive policies of Uzbek President Islam Karimov in the early 2000s. He waged a jihad in Afghanistan as part of the Islamic Movement of Uzbekistan (IMU). Then, in 2015, along with dozens of comrade-in-jihad, he split the group and joined the Islamic Jihad Union (IJU), a splinter faction of the IMU. At the time, Central Asian jihadists split over the internal conflict between al-Qaeda and ISIS struggling for the leadership of global jihad.
On August 20, 2015, when the IMU officially swore allegiance to the ISIS leader, Abu Bakr al Baghdadi, the IJU followed in al Qaeda's footsteps and renewed bayat to the Taliban's emir Mullah Akhtar Mohammad Mansour. In May 2005, a decade before these events, the US government listed the IJU as a Specially Designated Global Terrorist organization in May 2005.
He belongs to the first generation of foreign fighters from Central Asia, who went through Taliban's jihadi school in Afghanistan. He gained prestige among the fellow militants as a military strategist, and not as a deep scholar of the Quran or a public orator-ideologist of Salafi jihadism. In 2008-15, Abdul Aziz, along with the IJU's leadership, was based in the al-Qaeda's military hub of Mir Ali in North Waziristan. In one of his Jummah Khutbah preaching he admitted that allowing the Pakistani ISI (Inter-Services Intelligence) to take refuge in North Waziristan saved the lives of many Uzbek jihadists from the US drone strikes. In 2019, Abdul Aziz made a hijrah to Syrian Idlib province and became the leader of the KTJ group.
Motivations and Strategies of the Central Asian Jihadism
The congratulations from the Central Asian Sunni militant groups to the Taliban were a vivid manifestation of their long-term and tested joint jihadi cooperation, which began in the late 1990s. Thus, Uighur's TIP and Uzbek's KTJ complemented a long list of global jihadist groups such as al-Qaeda's Central Command and its franchises in Arabian Peninsula (AQAP), in the Indian Subcontinent (AQIS), Hurras al-Deen (HD), Jamaat Nusrat al-Islam wal-Muslimin (JNIM), Hayat Tahrir al-Sham (HTS), the Tehreek-e-Taliban Pakistan (TTP) and Hamas, congratulating the Taliban on their 'victory' over the US and NATO forces.
To celebrate the Taliban's 'victory', Uighur, Uzbek and Russia's Caucasian Jihadists in Syria also hosted grand feasts for foreign and local Sunni Arab militants and heroized the Afghan Mujahedeen during Jummah Khutbah Sermons. The Central Asian jihadi media widely published photos and videos from these parties and against this background tried to recruit new supporters to make hijrah to Afghanistan and Syria to protect the values of Islam and wage the sacred jihad against the infidels. The dramatic picture of Afghan government soldiers fleeing to Uzbekistan and Tajikistan has made the Taliban and al-Qaeda more attractive for recruiting a new generation of Islamists from Central Asia. Calls to make hijrah, or migrate, to the Taliban's so-called Islamic Emirate of Afghanistan are also surfacing on jihadist forums. If the Syrian province of Idlib falls, al-Qaeda-aligned and HTS-backed Uzbek and Tajik jihadists' migration to Afghanistan will be inevitable. The Taliban can easily melt them into Uzbek, Tajik and Kyrgyz societies in northern Afghanistan and use them as leverage over rebellious ethnic minorities.
So, analysis of the jihadist media indicated that al-Qaeda-linked and Taliban-backed Central Asian extremist groups, operating in both Afghanistan and Syria, were deeply inspired by the Taliban's victory over the pro-Western government of Ashraf Ghani. As a result, small and fragmented Salafi-Jihadi groups from post-Soviet countries have received the biggest boost to unite around the Taliban and al-Qaeda. Consequently, conducive conditions after the Taliban's takeover of Afghanistan are expected to lead to a resurgence of al Qaeda in the Central Asian region. Latent al-Qaeda sympathizers and other radical Islamists in the "Five Stans" view the restoration of the Islamic Emirate on the other side of the border as the beginning of the great jihad's revival and the approach of Nusrat. With the decline of ISIS and the rise of the Taliban and al-Qaeda, internal divisions, and inter-group feuds between the jihadist jamaats (group) of Central Asia, sometimes accompanied by bloodshed, are expected to diminish, and the volume of clandestine donations to jihad in the region are also expected to increase markedly.
But the main fear for local authoritarian and corrupt pro-Russian governments is that a Taliban victory could provide a historic boost for Uzbek, Tajik and Uighur violent extremist groups encouraging them in their campaigns to overthrow and replace local regimes. And although the Taliban is viewed by the world community as a Pashtun nationalist jihadi movement, and the Afghan jihad has always been more inward and parochial, nevertheless its ideological influence has always been strong among the Central Asian jihadists.
Despite the fact that the Taliban leadership publicly denies the presence of transnational terrorist groups in the country, a recent UN report revealed that there are about 10,000 foreign fighters in Afghanistan, who are members of al-Qaeda, Uighur's TIP, Uzbek militant groups Katibat Imam al-Bukhari (KIB), KTJ, IJU and Tajik's Jamaat Ansarullah (JA). Moreover, some of them took an active part in the recent military attacks against the Afghan army on the side of the Taliban, which led to the rapid fall of Mazar-i-Sharif, the strategically important capital of the Northern Alliance. As we predicted earlier, the Taliban exploited the Central Asian jihadists during the fighting in the north of the country as their "hard power" and political leverage on the former Soviet republics of Central Asia. When the Taliban captured a strategically important security checkpoint near Afghan border with Tajikistan in July, they assigned a Tajik jihadi group Jamaat Ansarullah (JA) to raise the Taliban flag on the site. They also put JA in charge of security in five districts of Afghanistan's Badakhshan Province – Kuf Ab, Khwahan, Maimay, Nusay, and Shekay – near the Tajik border.
Although the Taliban has repeatedly promised not to allow Afghanistan to be used as a staging ground for any attacks, they will not sever their ties with Central Asian jihadi groups and will not violate the bayat. Uzbek, Uighur and Tajik jihadist groups are expected to maintain a safe haven in Afghanistan under the tacit and tight control of the Taliban. In the jihadist world, bayat or pledging allegiance is a heavy Islamic commitment reaching under the holy gaze of Allah Almighty, and reneging it is considered a serious offence. Therefore, the Taliban has never disavowed the group's pledge.
In conclusion, the high fighting spirit and ideological strength of al-Qaeda-affiliated Central Asian jihadist groups in Afghanistan is associated not only with the Taliban's lightning victory, but also with the humiliating and chaotic US withdrawal from the country. One of the Kyrgyz jihadists in Syria wrote on the KTJ Telegram channel that "the honor and dignity of America today is under the Taliban's feet in front of the great Ummah." This indicates that a new generation of Central Asian extremists has emerged on the scene of global jihadism, absorbing in itself the al-Qaeda's Salafi-Takfiri military ideology, and synthesizing it with the Islamist nationalism of the Taliban, based on the common kindred Hanafi's al-Maturidi Aqeedah (Sunni Islamic theology school). As the US counterterrorism capacity in Afghanistan weakened in the foreseeable future, the terrorism threat from Central Asian region will grow symmetrically for the US and the West as a whole.
Russia, Turkey and UAE: The intelligence services organize and investigate
The FSB (Federal'naja Služba Bezopasnosti Rossijskoj Federácii, the Federal Security Service of the Russian Federation) – created in 1995 from the ashes of the Komitet Gosudarstvennoj Bezopasnosti (KGB), the State Security Committee – is ready for additional responsibilities under the new national security strategy. President Putin's recent redefinition of the FSB's role provides some indications on the national security strategy that will soon be announced – a strategy that will affect seas, borders and the security of strategically important intelligence.
On June 1, 2021 President Putin issued a decree outlining the new priorities that will be given to the FSB in Russia's revised national security strategy, which replaces the one that officially ended last year.
The changes to the Intelligence Service's regulatory framework, including the peripheral one, provides some indications on the Russian security priorities. Some of the main changes include additional responsibilities for intelligence security, counterterrorism, border control and stronger protection of maritime interests.
Border control and the various references to counterterrorism in its broadest sense – as recently defined by Russia – means entrusting the security service with a number of new areas and tasks, including the redefinition of procedures to detect political radicalisation.
Border control is also strengthened in the revised rules, with FSB border guards acquiring records, filing and storing biometric data and obtaining and processing DNA information obtained during border checks.
The details on access to Russian soil shed light on the Kremlin's problems with its own fellow countrymen. In the article on the FSB's involvement in controlling entry into Russia, the decree mentions the "territories requiring special authorisation" such as Transnistria, some parts of Georgia and Eastern Ukraine, and states that the FSB will be involved in a national programme to facilitate the voluntary repatriation of Russians living abroad.
Intelligence is a valuable asset and its security has always been one of the Kremlin's main concerns. Therefore, the new strategy makes the FSB the leading agency, not just the end user regarding computers, security and telecommunication encryption.
It will oversee and supervise the implementation of the new technological security throughout the community. All this was outlined in December in a law that redefined the role of the FSB's Centre for State Licensing, Certification and Protection. It will grant licences for the use of "special technical means and equipment intended to receive information secretly".
The FSB will also examine patents for classified inventions. In addition to its official role in intelligence warfare, the FSB has been tasked with producing more security measures to protect the identity of Russian intelligence agents, and keep the confidentiality of its own officials, officers and soldiers.
The Internal Security Service will also set up a new procedure to inspect agents and individuals entering the army, the intelligence services and the Federal Administration. Using the protection of marine life as an additional task, the FSB will also have increased responsibilities for the seas, including competence and powers over the protection of fishing grounds outside Russia's exclusive economic zone, the establishment of checkpoints for fishing vessels entering or leaving the zone, and the power to suspend the right of passage for foreign vessels in certain Russian maritime zones.
The Service will also define the structure of operational offices in maritime zones. These measures follow a law adopted last October outlining the FSB's role in "establishing control and checks in fisheries and the conservation of sea biological resources".
An important concept in Russian history and life is the silovik. He is a representative of law enforcement agencies, intelligence agencies, armed forces and other structures to which the State delegates the right to use force. This concept is often extended to representatives of political groups, but also to businessmen, associated with power structures in Russia or formerly in the Soviet Union.
As a jargon term, this word is used in other languages as a broad political term in everyday conversation and in journalism to describe political processes typical of Russia or the former Soviet Union. The etymology of the word is the Russian word sila, meaning strength, force and power.
Trying to renew the aforementioned concept, President Putin provides momentum and injects new impetus into the meaning of this word. After putting the issue on the agenda of the National Security Council of May 28 last, the President is now pushing for the publication of the national security strategy. It has been delayed despite the fact that the Deputy Secretary of the Security Council of the Russian Federation (Sovet bezopasnosti Rossijskoj Federacii), Sergej Vachrukov, had announced it was to be published in February.
As we might commonly believe, the steps to strengthen the Russian secret services are not so much focused on the aforementioned and movie-style "derby" between secret agents, but are mainly targeted to Russia's traditional "Ottoman" adversary, namely neighbouring Turkey.
President Erdogan's official meeting with the UAE's National Security Advisor, Tahnun bin Zayed al-Nahyan, and the renewed ties with Abu Dhabi are the result of behind-the-scenes regional intelligence operations in which the Kremlin wants to see straight and clearly.
While there is still a deep political divide both between Russia and Turkey, and between Turkey and the United Arab Emirates, the Turkish President hopes to encourage future Emirates' investment. Turkish President Erdogan's unprecedented meeting with the UAE's national security representative, the aforementioned al-Nahyan, in Ankara on August 18 can be largely attributed to the work of the two countries' intelligence services over the last few months.
There is a desire to turn a new page after eight years of icy relations, crystallised by the 2013 overthrow of Egypt's leader Mohamed Morsi, a Muslim Brotherhood's member close to Turkey and firmly opposed by the United Arab Emirates.
Steps towards reconciliation began on January 5, 2021 at the Gulf Cooperation Council Summit in al-Ula. The Summit marked the end of Qatar's isolation, thus paving the way for a resumption of relations between the UAE and Turkey. After the Summit, al-Nahyan flew to Cairo where he met President Abdel Fattah al-Sisi, who strongly encouraged him to begin a new chapter with Turkey.
At the same time, Egypt's intelligence service, Mukhabarat al-Amma, engaged in secret talks with its Turkish counterpart, the Milli İstihbarat Teşkilatıı. However, it was al-Nahya's meeting with the Turkish intelligence Chief, Hakan Fidan, in Cairo a few weeks later that achieved the first results.
That meeting was organized by the Chief of the Mukhabarat al-Amma and by Abbas Kamel, al-Sisi's regional Director, along with Ahmed Hosni, the strongman of Jordanian Dayirat al-Mukhabarat al-Amma, that King Abdallah II had sent from Amman. Since then, there were eight additional meetings between Turkey and Abu Dhabi, which then led to the aforementioned meeting of President Erdogan with al-Nahyan, with the possibility of holding a future Summit between them.
This rapprochement still has difficulty hiding the deep divide between the two countries on key regional issues such as their respective positions on Syria and Libya, in particular. While they have managed to find some common ground for understanding – ending smear campaigns and trade blockades; resuming visa issuance; direct air links and the return of Ambassadors – President Erdogan and al-Nahyan are simply keeping quiet about their current irreconcilable differences.
Political considerations are put aside to facilitate future UAE's investment in Turkey.
On August 25, the Emirates' Group International Holding CO announced it would invest massively in Turkey's health and agrifood industries, while it seems that the sovereign fund Abu Dhabi Investment Authority is willing to lend Turkey 875 million US dollars.
Is it just business? Russia is investigating.
Power Vacuum in Afghanistan: A By-product of An Incompetent Geopolitical Contract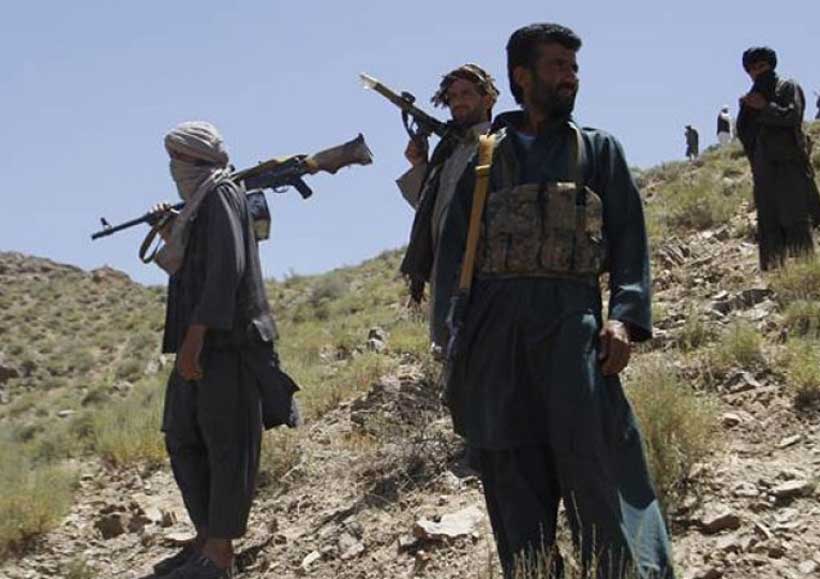 I still recall the evening of December 18, 2011, when I read the news of the last U.S. troops being pulled out of Iraq, that ended an eight-year-long military involvement in the region. Somehow the news instantly gave me an uneasy feeling knowing that a catastrophic storm was awaiting and will mark the beginning of a cataclysmic civil war. Within hours of U.S. military troops leaving the land, Iraqi's rival Sunni and Shi'ite factions resumed a kind of political infighting that threatened a lurch back into turmoil. Shi'ite Prime Minister Nuri al-Maliki ordered an immediate dissolution of his Sunni deputy and issued an arrest warrant for the Sunni Vice President. Not only Sunnis gradually lost the authority of power in the government and security discourse, but the Sunni elites, who challenged Maliki were subsequently either tortured or killed. Out on the streets, after the ISF raided the home of Iraq's minister of finance, who was also a member of Iraqiya coalition, Sunni protest broke out in Fallujah; and the fire spread across the country. Iraqi Security forces killed between 50-65 civilians on Maliki's order. This led to the most notorious consortium in the history of global terrorism – an alliance between the Sunnis and ISIS. On July 21, 2013, ISIS initiated a 12-month campaign called the 'Soldier's Harvest' on Iraqi security forces, teamed up with Sunni tribal leaders and former Baathists, and ultimately forcing ISF to evacuate Fallujah and remnants of its government. Soon after, ISIS attacked Abu Ghraib prison freeing up to 1000 minacious inmates, including senior al-Qaida leaders and militants. Empowered and endued with Sunni support, ISIS officially seized Fallujah, parts of Ramadi and Mosul, by June 2014. By gripping Mosul alone, ISIS gained $480 million in stolen cash and armed itself with two divisions' worth of military weapons and ammunition that were left behind by the U.S. military troops. And, within six months, ISIS became the world's most well-funded and equipped terrorist group in the world – controlling approximately 100,00 square kilometers of territory across Iraq and Syria at its zenith. Not just the Middle East, ISIS spread its terror tyranny globally as well with strategic attacks on Paris and Brussels.
So, what led to the birth of ISIS? Two words – Power vacuum; and the U.S. policy in Iraq between 2010 and 2011 actively created this geopolitical conditions in which ISIS thrived.
Stages of Power Vacuum – From The Birth of ISIS in Iraq to Rise of The Taliban in Afghanistan
If one thing that we have learned from the U.S led invasion in Iraq is that an incompetent geopolitical contract abhors a political vacuum. In political science, the term power vacuum is an analogy that deconstructs and artificially manufactures power relations and political conditions in a country that has no identifiable central power or authority. In a critical situation like this, the inflow of armed militia, insurgents, warlords, dictators, and military coups to fill this vacuum becomes an organic response, and it comes with a cost – the cost being a noxious civil war and national unrest. On the other hand, a power vacuum can also thrive in conditions following a constitutional crisis where the majority of the ruling government entities resign or are removed, giving birth to an unclear anecdote regarding succession to the position of power.
What happened in Iraq starting December 2011, and what is happening in Afghanistan today in 2021, is a result of a power vacuum – a by-product of an incompetent geopolitical contract. Twenty years after being forced into power annihilation by the U.S led military bases in Afghanistan, the Taliban is now actively resuming its power as the U.S continues to execute its full exit. Within hours of Joe Biden announcing the official termination of U.S military involvement in the country, Afghanistan President Ashraf Ghani worded a farewell post on social media, vocalizing that he must leave the country to prevent bloodshed. Today, the only remnant left of his political presence is his departing statement, "Long Live Afghanistan." With the President fleeing the country, and creating a constitutional crisis of succession to the position of power, what we are witnessing is the manifestation of the initial stage of power vacuum. Soon after the President abandoned the country, the Taliban released a statement declaring that the group has taken over Kabul, a capital city of 6 million civilians, and is working to restore law and order. Considering the reputation of the Taliban – infamous for brutality, repression of women, and execution of religious minorities in the past, the idea of restoration of law and order appears antagonistic.
However, I am not interested in deconstructing the inimical and deleterious ideologies of the Taliban, but unfolding the mechanisms of the power vacuum in Afghanistan. With the Taliban now actively trying to fill this power vacuum created after Ghani's disappearance, the second stage is at play. The primary question here is not about who will form the national government, but what type of alliance will be established among entities to procure this power. The typology of this alliance – its fundamental values, utility, durability, and workability, will regulate Afghanistan's democracy and sovereignty in the coming years. If one turns back to 2011 in Iraq, you will recall how the alliance between Sunni tribal leaders and ISIS gave birth to a global terror reign. This was a direct result of abysmal policy deliberation and the abrupt exit of the U.S military troops from Iraq. So, the question is – now that the U.S military troop has ended its twenty-year-long involvement in Afghanistan, what type of alliance will be formed to fill this power vacuum? Will it be as catastrophic as Iraq? As the Taliban continues to coercively occupy the cities, Matthew Levitt, Director of Counterterrorism and Intelligence at The Washington Institute for Near East Policy adds, "The possibility is very strong that Afghanistan will have both – a weak government and a government that has a close alliance with the elements of al-Qaeda. To add, there is an element of ISIS, ISIS Khorasan, as well. Although the Taliban doesn't like them, but as we are witnessing the effort to evacuate people through Kabul airport and the threats of ISIS suicide bombers coming into Kabul, the fact is that the Taliban probably won't for a very long time have control over all of the city, let alone all of the country. So, there will be an element of a safe haven even for groups that the Taliban doesn't like – groups and alliances that will use Afghanistan as a base from which to operate and carry out terrorist attacks nationally and globally."
It is worth noting that the alliance between the Taliban and al-Qaeda started with its leaders Osama bin Laden and Ayman al-Zawahiri, who pledged their allegiance to Taliban leader Mullah Omar in kid 1990s, and accepted Omar as Amir al-Mu'minin (Commander of the Faithful) of all Sunni Muslims. Al-Zawahiri later re-affirmed this pledge to Omar's successors. Soon after, al-Qaeda gained substantial freedom to operate in Taliban-ruled Afghanistan. In return, al-Qaeda doled out money to the Taliban. Since then, to up till now, the alliance between Taliban and al-Qaeda has flourished mutually. Soon after the Taliban's victory in Afghanistan, al-Qaeda congratulated the group and spoke about their alliance for Kashmir liberation in India. A letter was addressed to the Taliban by al-Qaeda and was shared on Twitter by a journalist. It read, "Allah! liberate the Levant, Somalia, Yemen, Kashmir, and the rest of the Islamic lands from the clutches of the enemies of Islam."
If this alliance continues to grow stronger to seize power, the probable birthing of one of the deadliest terror organizations is certain – a terror entity that would not only have passive support of the Taliban but would surpass the atrocities committed by ISIS in Iraq. This is a direct result of Biden's ham-fisted deliberation to exit Afghanistan abruptly, leaving a space to harbor national unrest, the collapse of a democratically elected government, procurement of this political vacuum by insurgents, and brutal violence by the Taliban against its civilians. In short – the fall down of Afghanistan democracy.
The third stage of the power vacuum is yet to mature in Afghanistan. This stage expediates the process of procurement of power, if any of the entities trying to seize power acquires economic funding and gets equipped with advanced military weapons. Jan Pieterzoon Coen, a leading officer of the Dutch East India Company in the 17th century, said, "There's no trade without war; there's no war without trade". He was right. The establishing of power requires a trade that allows an alliance of immaterial ideology between groups and hoarding of material resources (weapons and money) to execute the ideology. In 2011, the Islamic State armed itself with two divisions' worth of military weapons and ammunition that were left behind by the U.S military troops. They used these weapons to terrorize the civilians, execute opposition, and expand their captured territory. Another material resource may include stolen or funded cash apart from military machinery. For example, by gripping Mosul alone, ISIS gained $480 million in stolen cash. And, within six months, ISIS became the world's most well-funded and equipped terrorist group in the world – controlling approximately 100,00 square kilometers of territory across Iraq and Syria at its zenith. So, what we observe here is that the acquisition of economic funding or military weapons gives birth to an effectively exercised political control through coercive means, and internalization of this coercive mechanisms by the civilians. In both cases, the mission is accomplished – an attempt to seize power vacuum by occupying the land and psyche of its civilians. Today, a similar narrative is at play in Afghanistan. The speed with which the Taliban swept across Afghanistan is reminiscent of Islamic State militants taking weapons from the U.S.- supplied Iraqi forces, who like the Afghan Air Force offered little resistance. Grey Myer and Scott Neuman writes, "The Taliban wasted no time in gloating over their new war booty. Photos and video posted to social media show the Taliban posing with captured aircraft, trucks, Humvees, artillery guns and night-vision goggles captured. Such equipment could be used to suppress internal dissent or fight off their rivals. Before the Taliban captured it, the Afghan air force had more than 40 operational U.S.-made MD-530 helicopters. The Taliban has already shown itself ready and willing to use U.S.-made small arms and other technology. Non-weaponry technology like the Handheld Interagency Identity Detection Equipment, U.S. devices containing biometric data, could be used to find potential threats in hiding. I have fallen into the hands of Taliban." This stage is climacteric
in materializing the procurement of power into a reality. Even if they would be protest in Afghanistan against the rise of the Taliban as the central power, Taliban will use the overwhelming amount of potential weaponry to stifle the dissent and expand their captured territory to places like Panjshir valley.
Who will procure the power in Afghanistan?
The Taliban will eventually seize power, but it would form a weak government, with under-the-table alliance with al-Qaeda; and would potentially foster the inflow and breeding of other groups like ISIS and ISIS Khorasan in Afghanistan. With opium and rich copper deposits, the international intervention is likely to be seen – motivated by self-interest as opposed to the interest of advocating for civil rest and peace in Afghanistan. Beijing has already held a talk with Taliban officials over the implementation for strategic engagement. It is highly possible that the $25 billion China-Pakistan Economic Corridor project is extended to Afghanistan now that the U.S has vacated the country. Financial support would most likely be delivered hand-in-hand with Beijing's strongest ally in the region – Pakistan, allowing the Chinese government to persuade the Taliban to sever links with East Turkestan Islamic Movement group, who have executed terrorist attacks in Xinjiang province. On the other side of the border, India – a Hindu extremist governed country, is also in injudicious talks with the Taliban. Taliban's close association with al-Qaeda can potentially create a political defilement and unrest in Kashmir, India. This may manifest into border security threat and infiltration of terrorists – manufactured by al-Qaeda, but with the Taliban's blessings as the central power. To conclude, to think of Afghanistan as a 'graveyard of empires' is a zombie narrative. It is being revived to deflect, distract and distort the failure of Biden and the U.S military policies in Afghanistan. The truth is far simpler than we complicate – The creation of a power vacuum in Afghanistan is a direct result of abysmal foreign policy deliberation and the abrupt exit of the U.S military troops. It is indeed a by-product of an incompetent geopolitical contract. Biden's administration must be held accountable for harbouring a space for demolition of a democratically elected government and rise of the Taliban terror in Afghanistan.