Big data and the Future of Democracy: The Matrix world behind the Brexit and the US Elections
Authors: Hannes Grassegger and Mikael Krogerus
Aegean theater of the Antique Greece was the place of astonishing revelations and intellectual excellence – a remarkable density and proximity, not surpassed up to our age. All we know about science, philosophy, sports, arts, culture and entertainment, stars and earth has been postulated, explored and examined then and there.
Simply, it was a time and place of triumph of human consciousness, pure reasoning and sparkling thought. However, neither Euclid, Anaximander, Heraclites, Hippocrates (both of Chios, and of Cos), Socrates, Archimedes, Ptolemy, Democritus, Plato, Pythagoras, Diogenes, Aristotle, Empedocles, Conon, Eratosthenes nor any of dozens of other brilliant ancient Greek minds did ever refer by a word, by a single sentence to something which was their everyday life, something they saw literally on every corner along their entire lives. It was an immoral, unjust, notoriously brutal and oppressive slavery system that powered the Antique state. (Slaves have not been even attributed as humans, but rather as the 'phonic tools/tools able to speak'.) This myopia, this absence of critical reference on the obvious and omnipresent is a historic message – highly disturbing, self-telling and quite a warning." – notes prof. Anis H. Bajrektarevic in his luminary book of 2013, 'Is there like after Facebook? – Geopolitics of Technology'.
Indeed, why do we constantly ignore massive and sustain harvesting of our personal data from the social networks, medical records, pay-cards, internet and smart phones as well as its commercialization and monetization for dubious ends and disturbing futures.
Professor Bajrektarevic predicts and warns: "If humans hardly ever question fetishisation of their own McFB way of life, or oppose the (self-) trivialization, why then is the subsequent brutalization a surprise to them?"
Thus, should we be really surprise with the Brexit vote, with the results of the US elections, and with the forcoming massive wins of the right-wing parties all over Europe? Putin is behind it !! – how easy, and how misleading a self-denial.
Here is a story based on facts, if we are only interested to really grasp the Matrix world. The Iron Cage we constructed ourselves.
On November 9 at around 8.30 AM., Michal Kosinski woke up in the Hotel Sunnehus in Zurich. The 34-year-old researcher had come to give a lecture at the Swiss Federal Institute of Technology (ETH) about the dangers of Big Data and the digital revolution. Kosinski gives regular lectures on this topic all over the world. He is a leading expert in psychometrics, a data-driven sub-branch of psychology. When he turned on the TV that morning, he saw that the bombshell had exploded: contrary to forecasts by all leading statisticians, Donald J. Trump had been elected president of the United States.
For a long time, Kosinski watched the Trump victory celebrations and the results coming in from each state. He had a hunch that the outcome of the election might have something to do with his research. Finally, he took a deep breath and turned off the TV.
On the same day, a then little-known British company based in London sent out a press release: "We are thrilled that our revolutionary approach to data-driven communication has played such an integral part in President-elect Trump's extraordinary win," Alexander James Ashburner Nix was quoted as saying. Nix is British, 41 years old, and CEO of Cambridge Analytica. He is always immaculately turned out in tailor-made suits and designer glasses, with his wavy blonde hair combed back from his forehead. His company wasn't just integral to Trump's online campaign, but to the UK's Brexit campaign as well.
Of these three players—reflective Kosinski, carefully groomed Nix and grinning Trump—one of them enabled the digital revolution, one of them executed it and one of them benefited from it.
How dangerous is big data?
Anyone who has not spent the last five years living on another planet will be familiar with the term Big Data. Big Data means, in essence, that everything we do, both on and offline, leaves digital traces. Every purchase we make with our cards, every search we type into Google, every movement we make when our mobile phone is in our pocket, every "like" is stored. Especially every "like." For a long time, it was not entirely clear what use this data could have—except, perhaps, that we might find ads for high blood pressure remedies just after we've Googled "reduce blood pressure."
On November 9, it became clear that maybe much more is possible. The company behind Trump's online campaign—the same company that had worked for Leave.EU in the very early stages of its "Brexit" campaign—was a Big Data company: Cambridge Analytica.
To understand the outcome of the election—and how political communication might work in the future—we need to begin with a strange incident at Cambridge University in 2014, at Kosinski's Psychometrics Center.
Psychometrics, sometimes also called psychographics, focuses on measuring psychological traits, such as personality. In the 1980s, two teams of psychologists developed a model that sought to assess human beings based on five personality traits, known as the "Big Five." These are: openness (how open you are to new experiences?), conscientiousness (how much of a perfectionist are you?), extroversion (how sociable are you?), agreeableness (how considerate and cooperative you are?) and neuroticism (are you easily upset?). Based on these dimensions—they are also known as OCEAN, an acronym for openness, conscientiousness, extroversion, agreeableness, neuroticism—we can make a relatively accurate assessment of the kind of person in front of us. This includes their needs and fears, and how they are likely to behave. The "Big Five" has become the standard technique of psychometrics. But for a long time, the problem with this approach was data collection, because it involved filling out a complicated, highly personal questionnaire. Then came the Internet. And Facebook. And Kosinski.
Michal Kosinski was a student in Warsaw when his life took a new direction in 2008. He was accepted by Cambridge University to do his PhD at the Psychometrics Centre, one of the oldest institutions of this kind worldwide. Kosinski joined fellow student David Stillwell (now a lecturer at Judge Business School at the University of Cambridge) about a year after Stillwell had launched a little Facebook application in the days when the platform had not yet become the behemoth it is today. Their MyPersonality app enabled users to fill out different psychometric questionnaires, including a handful of psychological questions from the Big Five personality questionnaire ("I panic easily," "I contradict others"). Based on the evaluation, users received a "personality profile"—individual Big Five values—and could opt-in to share their Facebook profile data with the researchers.
Kosinski had expected a few dozen college friends to fill in the questionnaire, but before long, hundreds, thousands, then millions of people had revealed their innermost convictions. Suddenly, the two doctoral candidates owned the largest dataset combining psychometric scores with Facebook profiles ever to be collected.
The approach that Kosinski and his colleagues developed over the next few years was actually quite simple. First, they provided test subjects with a questionnaire in the form of an online quiz. From their responses, the psychologists calculated the personal Big Five values of respondents. Kosinski's team then compared the results with all sorts of other online data from the subjects: what they "liked," shared or posted on Facebook, or what gender, age, place of residence they specified, for example. This enabled the researchers to connect the dots and make correlations.
Remarkably reliable deductions could be drawn from simple online actions. For example, men who "liked" the cosmetics brand MAC were slightly more likely to be gay; one of the best indicators for heterosexuality was "liking" Wu-Tang Clan. Followers of Lady Gaga were most probably extroverts, while those who "liked" philosophy tended to be introverts. While each piece of such information is too weak to produce a reliable prediction, when tens, hundreds, or thousands of individual data points are combined, the resulting predictions become really accurate.
Kosinski and his team tirelessly refined their models. In 2012, Kosinski proved that on the basis of an average of 68 Facebook "likes" by a user, it was possible to predict their skin color (with 95 percent accuracy), their sexual orientation (88 percent accuracy), and their affiliation to the Democratic or Republican party (85 percent). But it didn't stop there. Intelligence, religious affiliation, as well as alcohol, cigarette and drug use, could all be determined. From the data it was even possible to deduce whether someone's parents were divorced.
The strength of their modeling was illustrated by how well it could predict a subject's answers. Kosinski continued to work on the models incessantly: before long, he was able to evaluate a person better than the average work colleague, merely on the basis of ten Facebook "likes." Seventy "likes" were enough to outdo what a person's friends knew, 150 what their parents knew, and 300 "likes" what their partner knew. More "likes" could even surpass what a person thought they knew about themselves. On the day that Kosinski published these findings, he received two phone calls. The threat of a lawsuit and a job offer. Both from Facebook.
Only weeks later Facebook "likes" became private by default. Before that, the default setting was that anyone on the internet could see your "likes." But this was no obstacle to data collectors: while Kosinski always asked for the consent of Facebook users, many apps and online quizzes today require access to private data as a precondition for taking personality tests. (Anybody who wants to evaluate themselves based on their Facebook "likes" can do so on Kosinski's website, and then compare their results to those of a classic Ocean questionnaire, like that of the Cambridge Psychometrics Center.)
But it was not just about "likes" or even Facebook: Kosinski and his team could now ascribe Big Five values based purely on how many profile pictures a person has on Facebook, or how many contacts they have (a good indicator of extraversion). But we also reveal something about ourselves even when we're not online. For example, the motion sensor on our phone reveals how quickly we move and how far we travel (this correlates with emotional instability). Our smartphone, Kosinski concluded, is a vast psychological questionnaire that we are constantly filling out, both consciously and unconsciously.
Above all, however—and this is key—it also works in reverse: not only can psychological profiles be created from your data, but your data can also be used the other way round to search for specific profiles: all anxious fathers, all angry introverts, for example—or maybe even all undecided Democrats? Essentially, what Kosinski had invented was sort of a people search engine. He started to recognize the potential—but also the inherent danger—of his work.
To him, the internet was a gift from heaven. What he really wanted was to give something back, to share. Data can be copied, so why shouldn't everyone benefit from it? It was the spirit of Millenials, entire new generation, the beginning of a new era that transcended the limitations of the physical world. But what would happen, wondered Kosinski, if someone abused his people search engine to manipulate people? He began to add warnings to most of his scientific work. His approach, he warned, "could pose a threat to an individual's well-being, freedom, or even life." But no one seemed to grasp what he meant.
Around this time, in early 2014, Kosinski was approached by a young assistant professor in the psychology department called Aleksandr Kogan. He said he was inquiring on behalf of a company that was interested in Kosinski's method, and wanted to access the MyPersonality database. Kogan wasn't at liberty to reveal for what purpose; he was bound to secrecy.
At first, Kosinski and his team considered this offer, as it would mean a great deal of money for the institute, but then he hesitated. Finally, Kosinski remembers, Kogan revealed the name of the company: SCL, or Strategic Communication Laboratories. Kosinski Googled the company: "[We are] the premier election management agency," says the company's website. SCL provides marketing based on psychological modeling. One of its core focuses: Influencing elections. Influencing elections? Perturbed, Kosinski clicked through the pages. What kind of company was this? And what were these people planning?
What Kosinski did not know at the time: SCL is the parent of a group of companies. Who exactly owns SCL and its diverse branches is unclear, thanks to a convoluted corporate structure, the type seen in the UK Companies House, the Panama Papers, and the Delaware company registry. Some of the SCL offshoots have been involved in elections from Ukraine to Nigeria, helped the Nepalese monarch against the Maoists, whereas others have developed methods to influence Eastern Euripean and Afghan citizens for NATO. And, in 2013, SCL spun off a new company to participate in US elections: Cambridge Analytica.
Kosinski knew nothing about all this, but he had a bad feeling. "The whole thing started to stink," he recalls. On further investigation, he discovered that Aleksandr Kogan had secretly registered a company doing business with SCL. According to a December 2015 report in the Guardian and to internal company documents given to Das Magazin, it emerges that SCL learned about Kosinski's method from Kogan.
Kosinski came to suspect that Kogan's company might have reproduced the Facebook "Likes"-based Big Five measurement tool in order to sell it to this election-influencing firm. He immediately broke off contact with Kogan and informed the director of the institute, sparking a complicated conflict within the university. The institute was worried about its reputation. Aleksandr Kogan then moved to Singapore, married, and changed his name to Dr. Spectre. Michal Kosinski finished his PhD, got a job offer from Stanford and moved to the US.
Mr. Brexit
All was quiet for about a year. Then, in November 2015, the more radical of the two Brexit campaigns, "Leave.EU," supported by Nigel Farage, announced that it had commissioned a Big Data company to support its online campaign: Cambridge Analytica. The company's core strength: innovative political marketing—microtargeting—by measuring people's personality from their digital footprints, based on the OCEAN model.
Now Kosinski received emails asking what he had to do with it—the words Cambridge, personality, and analytics immediately made many people think of Kosinski. It was the first time he had heard of the company, which borrowed its name, it said, from its first employees, researchers from the university. Horrified, he looked at the website. Was his methodology being used on a grand scale for political purposes?
After the Brexit result, friends and acquaintances wrote to him: Just look at what you've done. Everywhere he went, Kosinski had to explain that he had nothing to do with this company. (It remains unclear how deeply Cambridge Analytica was involved in the Brexit campaign. Cambridge Analytica would not discuss such questions.)
For a few months, things are relatively quiet. Then, on September 19, 2016, just over a month before the US elections, the guitar riffs of Creedence Clearwater Revival's "Bad Moon Rising" fill the dark-blue hall of New York's Grand Hyatt hotel. The Concordia Summit is a kind of World Economic Forum in miniature. Decision-makers from all over the world have been invited, among them Swiss President Johann Schneider-Ammann. "Please welcome to the stage Alexander Nix, chief executive officer of Cambridge Analytica," a smooth female voice announces. A slim man in a dark suit walks onto the stage. A hush falls. Many in attendance know that this is Trump's new digital strategy man. (A video of the presentation was posted on YouTube.)
A few weeks earlier, Trump had tweeted, somewhat cryptically, "Soon you'll be calling me Mr. Brexit." Political observers had indeed noticed some striking similarities between Trump's agenda and that of the right-wing Brexit movement. But few had noticed the connection with Trump's recent hiring of a marketing company named Cambridge Analytica.
Up to this point, Trump's digital campaign had consisted of more or less one person: Brad Parscale, a marketing entrepreneur and failed start-up founder who created a rudimentary website for Trump for $1,500. The 70-year-old Trump is not digitally savvy—there isn't even a computer on his office desk. Trump doesn't do emails, his personal assistant once revealed. She herself talked him into having a smartphone, from which he now tweets incessantly.
Hillary Clinton, on the other hand, relied heavily on the legacy of the first "social-media president," Barack Obama. She had the address lists of the Democratic Party, worked with cutting-edge big data analysts from BlueLabs and received support from Google and DreamWorks. When it was announced in June 2016 that Trump had hired Cambridge Analytica, the establishment in Washington just turned up their noses. Foreign dudes in tailor-made suits who don't understand the country and its people? Seriously?
"It is my privilege to speak to you today about the power of Big Data and psychographics in the electoral process." The logo of Cambridge Analytica— a brain composed of network nodes, like a map, appears behind Alexander Nix. "Only 18 months ago, Senator Cruz was one of the less popular candidates," explains the blonde man in a cut-glass British accent, which puts Americans on edge the same way that a standard German accent can unsettle Swiss people. "Less than 40 percent of the population had heard of him," another slide says. Cambridge Analytica had become involved in the US election campaign almost two years earlier, initially as a consultant for Republicans Ben Carson and Ted Cruz. Cruz—and later Trump—was funded primarily by the secretive US software billionaire Robert Mercer who, along with his daughter Rebekah, is reported to be the largest investor in Cambridge Analytica.
"So how did he do this?" Up to now, explains Nix, election campaigns have been organized based on demographic concepts. "A really ridiculous idea. The idea that all women should receive the same message because of their gender—or all African Americans because of their race." What Nix meant is that while other campaigners so far have relied on demographics, Cambridge Analytica was using psychometrics.
Though this might be true, Cambridge Analytica's role within Cruz's campaign isn't undisputed. In December 2015 the Cruz team credited their rising success to psychological use of data and analytics. In Advertising Age, a political client said the embedded Cambridge staff was "like an extra wheel," but found their core product, Cambridge's voter data modeling, still "excellent." The campaign would pay the company at least $5.8 million to help identify voters in the Iowa caucuses, which Cruz won, before dropping out of the race in May.
Nix clicks to the next slide: five different faces, each face corresponding to a personality profile. It is the Big Five or OCEAN Model. "At Cambridge," he said, "we were able to form a model to predict the personality of every single adult in the United States of America." The hall is captivated. According to Nix, the success of Cambridge Analytica's marketing is based on a combination of three elements: behavioral science using the OCEAN Model, Big Data analysis, and ad targeting. Ad targeting is personalized advertising, aligned as accurately as possible to the personality of an individual consumer.
Nix candidly explains how his company does this. First, Cambridge Analytica buys personal data from a range of different sources, like land registries, automotive data, shopping data, bonus cards, club memberships, what magazines you read, what churches you attend. Nix displays the logos of globally active data brokers like Acxiom and Experian—in the US, almost all personal data is for sale. For example, if you want to know where Jewish women live, you can simply buy this information, phone numbers included.
Now Cambridge Analytica aggregates this data with the electoral rolls of the Republican party and online data and calculates a Big Five personality profile. Digital footprints suddenly become real people with fears, needs, interests, and residential addresses.
The methodology looks quite similar to the one that Michal Kosinski once developed. Cambridge Analytica also uses, Nix told us, "surveys on social media" and Facebook data. And the company does exactly what Kosinski warned of: "We have profiled the personality of every adult in the United States of America—220 million people," Nix boasts.
He opens the screenshot. "This is a data dashboard that we prepared for the Cruz campaign." A digital control center appears. On the left are diagrams; on the right, a map of Iowa, where Cruz won a surprisingly large number of votes in the primary. And on the map, there are hundreds of thousands of small red and blue dots. Nix narrows down the criteria: "Republicans"—the blue dots disappear; "not yet convinced"—more dots disappear; "male", and so on. Finally, only one name remains, including age, address, interests, personality and political inclination. How does Cambridge Analytica now target this person with an appropriate political message?
Nix shows how psychographically categorized voters can be differently addressed, based on the example of gun rights, the 2nd Amendment: "For a highly neurotic and conscientious audience the threat of a burglary—and the insurance policy of a gun." An image on the left shows the hand of an intruder smashing a window. The right side shows a man and a child standing in a field at sunset, both holding guns, clearly shooting ducks: "Conversely, for a closed and agreeable audience. People who care about tradition, and habits, and family."
How to keep Clinton voters away from the ballot box
Trump's striking inconsistencies, his much-criticized fickleness, and the resulting array of contradictory messages, suddenly turned out to be his great asset: a different message for every voter. The notion that Trump acted like a perfectly opportunistic algorithm following audience reactions is something the mathematician Cathy O'Neil observed in August 2016.
"Pretty much every message that Trump put out was data-driven," Alexander Nix remembers. On the day of the third presidential debate between Trump and Clinton, Trump's team tested 175,000 different ad variations for his arguments, in order to find the right versions above all via Facebook. The messages differed for the most part only in microscopic details, in order to target the recipients in the optimal psychological way: different headings, colors, captions, with a photo or video. This fine-tuning reaches all the way down to the smallest groups, Nix explained in an interview with us. "We can address villages or apartment blocks in a targeted way. Even individuals."
In the Miami district of Little Haiti, for instance, Trump's campaign provided inhabitants with news about the failure of the Clinton Foundation following the earthquake in Haiti, in order to keep them from voting for Hillary Clinton. This was one of the goals: to keep potential Clinton voters (which include wavering left-wingers, African-Americans, and young women) away from the ballot box, to "suppress" their vote, as one senior campaign official told Bloomberg in the weeks before the election. These "dark posts"—sponsored news-feed-style ads in Facebook timelines that can only be seen by users with specific profiles—included videos aimed at African-Americans in which Hillary Clinton refers to black men as predators, for example.
Nix finishes his lecture at the Concordia Summit by stating that traditional blanket advertising is dead. "My children will certainly never, ever understand this concept of mass communication." And before leaving the stage, he announced that since Cruz had left the race, the company was helping one of the remaining presidential candidates.
Just how precisely the American population was being targeted by Trump's digital troops at that moment was not visible, because they attacked less on mainstream TV and more with personalized messages on social media or digital TV. And while the Clinton team thought it was in the lead, based on demographic projections, Bloomberg journalist Sasha Issenberg was surprised to note on a visit to San Antonio—where Trump's digital campaign was based—that a "second headquarters" was being created. The embedded Cambridge Analytica team, apparently only a dozen people, received $100,000 from Trump in July, $250,000 in August, and $5 million in September. According to Nix, the company earned over $15 million overall. (The company is incorporated in the US, where laws regarding the release of personal data are more lax than in European Union countries. Whereas European privacy laws require a person to "opt in" to a release of data, those in the US permit data to be released unless a user "opts out.")
The measures were radical: From July 2016, Trump's canvassers were provided with an app with which they could identify the political views and personality types of the inhabitants of a house. It was the same app provider used by Brexit campaigners. Trump's people only rang at the doors of houses that the app rated as receptive to his messages. The canvassers came prepared with guidelines for conversations tailored to the personality type of the resident. In turn, the canvassers fed the reactions into the app, and the new data flowed back to the dashboards of the Trump campaign.
Again, this is nothing new. The Democrats did similar things, but there is no evidence that they relied on psychometric profiling. Cambridge Analytica, however, divided the US population into 32 personality types, and focused on just 17 states. And just as Kosinski had established that men who like MAC cosmetics are slightly more likely to be gay, the company discovered that a preference for cars made in the US was a great indication of a potential Trump voter. Among other things, these findings now showed Trump which messages worked best and where. The decision to focus on Michigan and Wisconsin in the final weeks of the campaign was made on the basis of data analysis. The candidate became the instrument for implementing a big data model.
What's Next?
But to what extent did psychometric methods influence the outcome of the election? When asked, Cambridge Analytica was unwilling to provide any proof of the effectiveness of its campaign. And it is quite possible that the question is impossible to answer.
And yet there are clues: There is the fact of the surprising rise of Ted Cruz during the primaries. Also there was an increased number of voters in rural areas. There was the decline in the number of African-American early votes. The fact that Trump spent so little money may also be explained by the effectiveness of personality-based advertising. As does the fact that he invested far more in digital than TV campaigning compared to Hillary Clinton. Facebook proved to be the ultimate weapon and the best election campaigner, as Nix explained, and as comments by several core Trump campaigners demonstrate.
Many voices have claimed that the statisticians lost the election because their predictions were so off the mark. But what if statisticians in fact helped win the election—but only those who were using the new method? It is an irony of history that Trump, who often grumbled about scientific research, used a highly scientific approach in his campaign.
Another big winner is Cambridge Analytica. Its board member Steve Bannon, former executive chair of the right-wing online newspaper Breitbart News, has been appointed as Donald Trump's senior counselor and chief strategist. Whilst Cambridge Analytica is not willing to comment on alleged ongoing talks with UK Prime Minister Theresa May, Alexander Nix claims that he is building up his client base worldwide, and that he has received inquiries from Switzerland, Germany, and Australia. His company is currently touring European conferences showcasing their success in the United States. This year three core countries of the EU are facing elections with resurgent populist parties: France, Holland and Germany. The electoral successes come at an opportune time, as the company is readying for a push into commercial advertising.
********
Kosinski has observed all of this from his office at Stanford. Following the US election, the university is in turmoil. Kosinski is responding to developments with the sharpest weapon available to a researcher: a scientific analysis. Together with his research colleague Sandra Matz, he has conducted a series of tests, which will soon be published. The initial results are alarming: The study shows the effectiveness of personality targeting by showing that marketers can attract up to 63 percent more clicks and up to 1,400 more conversions in real-life advertising campaigns on Facebook when matching products and marketing messages to consumers' personality characteristics. They further demonstrate the scalability of personality targeting by showing that the majority of Facebook Pages promoting products or brands are affected by personality and that large numbers of consumers can be accurately targeted based on a single Facebook Page.
In a statement after the German publication of this article, a Cambridge Analytica spokesperson said, "Cambridge Analytica does not use data from Facebook. It has had no dealings with Dr. Michal Kosinski. It does not subcontract research. It does not use the same methodology. Psychographics was hardly used at all. Cambridge Analytica did not engage in efforts to discourage any Americans from casting their vote in the presidential election. Its efforts were solely directed towards increasing the number of voters in the election."
The world has been turned upside down. Great Britain is leaving the EU, Donald Trump is president of the United States of America. And in Stanford, Kosinski, who wanted to warn against the danger of using psychological targeting in a political setting, is once again receiving accusatory emails. "No," says Kosinski, quietly and shaking his head. "This is not my fault. I did not build the bomb. I only showed that it exists."
---
About authors:
Hannes Grassegger and Mikael Krogerus are investigative journalists attached to the Swiss-based Das Magazin specialized journal.  The original text appeared in the late December edition under the title: "I only showed that the bomb exists" (Ich habe nur gezeigt, dass es die Bombe gibt). This, English translation, is based on the subsequent January version, first published by the Motherboard magazine (titled: The Data That Turned the World Upside
CIA National Intelligence Estimates on the Cross-Strait and Sino-Russian Relations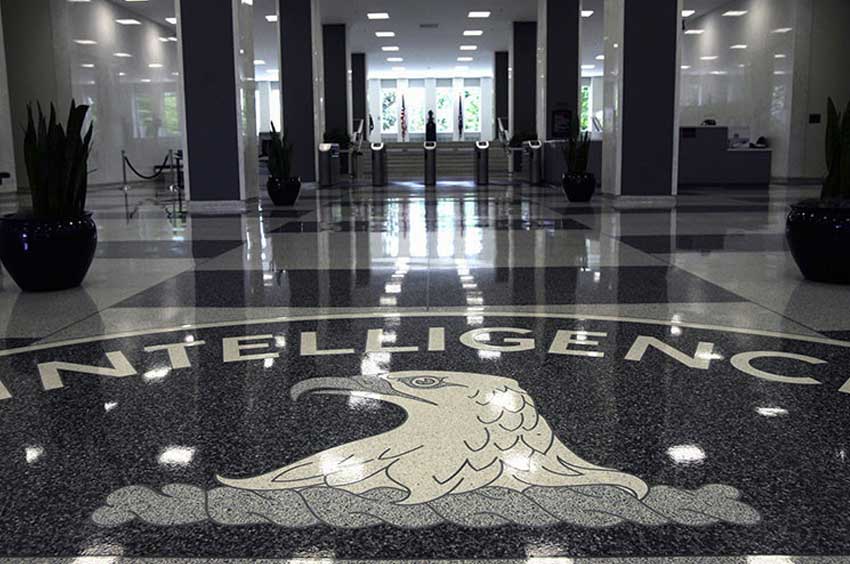 In July 2011, the US Central Intelligence Agency (CIA) published a declassified National Intelligence Estimate on "Russian-Chinese Relations: Perspectives and Implications" dating back to September 2000. The 45-page report highlights growing concerns in the American intelligence community about the future of Sino-Russian defense and trade cooperation, which could undermine Washington's Smart Power in Central Asia and the South China Sea. However, the document also underlines the relationship between Russia and China "would not deepen much beyond its current state» and could even be «subject to occasional friction".
The People's Republic of China is perceived by the CIA as sceptical of US influence abroad at the moment of the publication of the National Intelligence Estimate (September 2000), the bombing of the Chinese embassy in Belgrade (May 7, 1999) becoming the symbol of animosity between the two countries.
Twenty years later, geopolitical tensions remain, as underlined by American support for the protests for greater autonomy in Hong Kong (2019), and Washington's pressure on Beijing with the accusation of the military origins of Covid-19 (2020).
In 2020, all US attempts to implement Western Soft Power in China — with the exception of Hong Kong and Macao — have had mixed success. Washington's struggle to establish mutual trust with Beijing is similar to that of Western European countries, and the tormented past and Chinese colonisation by the West is still a contentious issue.
In Western institutions, Chinese recovery of sovereignty goes back to December 20, 1999, with the transfer of Macao from Portugal to the People's Republic of China. To the Chinese leadership, the inference by Western power is still going on with the US support to Taiwan (sales of US arms) and the Japanese presence around the Diaoyu Dao and its affiliated islands (Japanese Senkaku Islands) backed up by Washington.
Ministry of Foreign Affairs of the People's Republic of China, statement by Yang Jiechi in July 2019:
"Taiwan is an inalienable part of Chinese territory. The sale of US arms to Taiwan seriously violates the One China Principle and the three joint China-U.S. communiqués, undermines China's sovereignty and security interests, and seriously undermines peace and stability across the Strait."
Ultimately, Beijing's desire to overtake the United-States (eg. Chinese space program) would be motivated by the post-colonial trauma, the desire to regain control of Taiwan and attempts to gain the respect of former European colonial powers and Washington.
Sino-Russian relations may prove to be better than Sino-American relations. Nevertheless, and as the declassified CIA document of 2000 points out, bilateral cooperations between Moscow and Beijing remain difficult because of the Soviet Union's Changing Policies on China's Nuclear Weapons Program (Zhihua Shen and Yafeng Xia. Between Aid and Restriction: The Soviet Union's Changing Policies on China's Nuclear Weapons Program, 1954-1960. Asian Perspectives, 2012).
As of today, Beijing is ready to support Moscow because the two countries share the same views on multilateralism. However, Beijing has not shown any support to Russia's diplomacy in the Black Sea (Crimea, Abkhazia and South-Ossetia) and the Middle East (Syria). To date, China does not recognize the Crimea as part of the Russian Federation, and has rejected offers to recognize Abkhazia and South Ossetia as independent countries.
This research paper will focus on two reports — CIA National Intelligence Estimate (1999) "China-Taiwan: Prospects for Cross-Strait Relations" and CIA National Intelligence Estimate (2000) "Russian-Chinese Relations : Prospects and Implications" — to explain how the CIA views Beijing-Taiwan and Beijing-Moscow relations in the late 1990s, after the return of Hong Kong (United Kingdom until 1997) and Macao (Portugal until 1999) to the People's Republic of China.
The analysis will also highlight how the Balkans and the Black Sea conflicts have a direct impact on Chinese diplomacy according to the two declassified intelligence estimates of the CIA.
The CIA National Intelligence Estimate on "China-Taiwan: Prospects for Cross-Strait Relations" (NIE 99-13 – September 1999)
After the return of Hong Kong and Macao to the People's Republic of China, the United States is the only Western power capable of hindering Chinese territorial ambitions in the South China Sea (Taiwan). CIA reports in the 1990s, unlike those produced earlier by the CIA during the Cold War, attempted to determine whether Taiwan should remain an independent country backed up by Washington or follow the British and Portuguese examples of Hong Kong and Macao.
The CIA's National Intelligence Estimate "China — Taiwan: Prospects for Cross-Strait Relations" published in September 1999, supposed to cover the evolution in the upcoming 3 years (2000–2003), and declassified in July 2011, answers this question and highlights the scenarii in which China could decide to regain control of Taiwan by military means.
The report has been produced at a critical moment in Sino-American relations because the return of Hong Kong and Macao under Chinese tutelage leaves the United States as the only military power capable of counterbalancing China's regional ambitions, as Japan and South Korea do not have a nuclear strike force, unlike Great Britain.
Mention should be made of China's rise to power, which is implied in the report. With the incorporation of Hong Kong and Macao, China has increased its GDP by attaching two bastions of capitalism, thereby weakening the British and Portuguese economy on the one hand and increasing the financial performance of Beijing on the other.
The CIA report also comes at a time when tensions between Washington and Beijing are increasing due to the NATO bombing of the People's Republic of China embassy in Belgrade (May 7, 1999). The Balkans (Serbia) and the Caucasus (Chechnya) are recurring themes in the NIE on Taiwan, but also in the analysis on Russian-Chinese relations (CIA National Intelligence Estimate "Russian-Chinese Relations: Perspectives and Implications").
The NIE is relying on complementary analysis conducted by several US institutions, including the following ones mentioned in the beginning:
NIE 98-05, "China's Conventional Military Forces: Current Status and Future Capabilities (1998-2008)", released in June 1998
"China's Strategic Priorities and Behaviour" supposed to be published later in 1999
The number of specialized reports on Cross-Strait relations underlines the priority for the CIA to increase its expertise on the People's Republic of China for military and diplomatic reasons in the late 1990s. These reports, which cover a period of three years, also highlight the rapid evolution of Chinese diplomacy and military power after the Cold War.
Beijing's approach regarding partially recognized states in Asia (Taiwan)
The bombing of the Chinese Embassy in Serbia is considered a key moment in relations between Beijing and Washington, and the CIA National Intelligence Estimate does not mention the voluntary or involuntary nature of the bombing.
CIA director George Tenet testified before a congressional committee that the bombing was the only one in the campaign organized and directed by his agency. According to George Tenet, the CIA had identified the wrong coordinates for a Yugoslav military target on the same street (Tenet George (1999). DCI Statement on the Belgrade Chinese Embassy Bombing House Permanent Select Committee on Intelligence Open Hearing. Central Intelligence Agency). It is therefore interesting that the NIE does not mention the nature of the bombing. However, a report mentioning the voluntary nature of such an action would probably not have been declassified.
Following the bombing, China's position vis-à-vis the United States presence in Asia will become even more sceptical and, unlike the United-Kingdom and Portugal, the possibility of negotiating with Washington regarding Taiwan's future tainted by the bombing in Serbia.
The CIA considers that Beijing has a comfortable position in Asia since the Europeans left Hong Kong and Macao, and believes that "China is convinced that Taiwan will not gain more influence" and that "greater economic interdependence between China and Taiwan will bring the two entities closer together."
Unlike other de facto states such as Abkhazia and South Ossetia in Europe, which live on economic and military aid from Moscow because Georgia and the West do not want to increase their economic relations with the two territories, Beijing seems to have adopted an innovative strategy regarding Taiwan (also considered to be a de facto states according to the People's Republic of China's law). China is thus developing its commercial relations with the Island, hoping to see the two entities move closer together.
Beijing wishes to develop its relations with Taiwan in order to bind a prosperous territory when the time comes (like Hong-Kong and Macao) and to user Soft Power and economic ties instead of Hard Power. That is why Beijing wants to put more pressure on the United States to reduce the sale of arms to Taiwan and focus on economic cooperation.
Moreover, the NIE mentions that Beijing wants to make Hong Kong an instrument of Chinese "One country, two systems" propaganda. In this way, Chinese leadership wants to present the future of Taiwan as similar to the future of Hong Kong, with a commitment to economic prosperity and more freedom compared to Mainland China.
The Chinese approach is presented as slow and gradual. According to the report, China has no deadline for reunification and the certainty Taiwan "will not gain influence in the coming years". In addition, the CIA claims that China will not engage in a military confrontation with Taiwan as this would be detrimental to its economy and international trade. China's wish is therefore to impress and frighten Taiwan and the United States.
China's Smart Power and the United Nations
In order to recover control over Taiwan, Beijing is ready to use a combination of Smart Power and international pressures in international institutions such as the United Nations (UN).
According to the NIE, Beijing suspects that Japan and Taiwan have a secret military agreement. In addition, China is trying to weaken the United States and all states — such as Panama — that have good relations with Taiwan, using all available means to ensure Taiwan will be internationally isolated.
Moreover, the CIA believes the more tension there is between China and the United States, the more Washington will be willing to support the island. In this sense, there is an interest for Taiwan to push for more confrontation between the two superpowers in order to improve the bilateral relationship between Taiwan and Washington.
According to the analysis, if the United States does not show firmness towards Beijing, the possibility of a domino effect is to be feared, and recovering control over Taiwan will then lead to increased pressures from Beijing on Japan and South Korea. In that sense, Taiwan needs to be defended by the United-States in order to contain China's influence in the whole South-East Asia. Following this reasoning, and according to the CIA analysis, the reunion of Taiwan and China will mark the beginning of the United States' withdrawal from the Asian continent and further changes for Japan and South-Korea.
Finally, the most singular point of the CIA report on Cross-Strait Relations is that it takes us back to the Balkans several times. Beijing is said to have put pressure on Northern Macedonia (Macedonia before 2019) because of its diplomatic relation with Taiwan. China is said to have vetoed the presence of peacekeepers in North Macedonia at the UN to show Beijing's power on the European continent, a strong signal sent to several countries that might require UN assistance in the future.
Beijing could thus use the UN and other international institutions to influence the entire Balkans and the Black Sea by recognizing new countries or refusing to recognize them (eg. Abkhazia) and destabilize the European continent.
The CIA analysis thus lays the foundations for the Chinese strategy regarding the non-recognition of Kosovo (de jure a part of Serbia before partial recognition in 2008) to weaken the West, and at the same time the non-recognition of Abkhazia, Transnistria, South Ossetia to weaken Russian, and the non-recognition of Nagorno-Karabakh to weaken Armenia.
Beijing's policy in Europe regarding de facto and partially recognized states will have consequences for the recognition of Taiwan and vice versa. In this sense, the CIA underlines how international institutions can be used by Beijing to achieve its objectives and how its policy in Europe is related to Taiwan.
The CIA's Red Lines
These are the scenarii that could prompt Beijing to conduct a direct military attack on Taiwan:
Taiwan new referendum on Independence
Foreign support for pro-independence forces in Taiwan
Taiwan development of nuclear weapons
Political instability on the island
Despite this, the CIA believes that China will follow its plan to develop Soft Power in the coming decades, as relations with Russia will bring economic prosperity and military cooperation in order to counterbalance American influence in Asia.
The relationship between Moscow and Washington is not present in the NIE on "China-Taiwan: Prospects for Cross-Strait Relations" and we have to focus on the National Intelligence Estimate on "Russian-Chinese Relations: Perspectives and Implications" to understand how Sino-Russian relations are done in order to diminish the US influence in Taiwan.
A section entitled "What if we were wrong" also shows that the CIA is unsure of future developments, although it does present possible scenarii. Moreover, Washington does not seem to be ready for military intervention (no details in the report) and military support to Taiwan will probably take the form of military equipment only.
Conclusions on the National Intelligence Estimate "China-Taiwan: Prospects for Cross-Strait Relations"
In May 2020, the US State Department authorized a possible sale of eighteen MK-48 Mod6 Advanced Technology Heavy Weight Torpedoes and related equipment for an estimated cost of $180 million to Taiwan.
In response to the announcement Chinese Ministry of Foreign Affairs Spokesperson Zhao Lijian said on May 21, 2020, that:
"China is firmly opposed to the US arms sales to Taiwan and has made solemn representations to the US. We urge the US side to strictly abide by the one-China principle and the provisions of the three Sino-US joint communiques, and stop arms sales to Taiwan and military links between the United States and Taiwan to avoid further damage to Sino-US relations and peace and stability in the Taiwan Strait."
Some 20 years after the publication of the CIA National Intelligence Estimate report "China-Taiwan: Prospects for Cross-Strait Relations," the approach between the United-States and China seems to show no significant change. Beijing opposes any US military presence and equipment sales to Taiwan, while the United States is not ready to abandon the island for fear of losing influence in South Korea and Japan.
Another element that emerges from this report is the CIA's anticipation of China's diplomacy regarding de facto and partially recognized states in Europe and the influence they have on contemporary Chinese diplomacy at the UN, bilateral relations with Moscow (Crimea, Transnistria, Abkhazia and South-Ossetia), Armenia (Nagorno-Karabakh), and the West (Kosovo).
The report also bears witness to the upcoming ambivalence of relations with Russia, which wants China to recognize Abkhazia and South Ossetia (de jure independent according to Russia and de jure part of Georgia according to the West).
On reading the CIA report, it is clear that Beijing will not vote in favour of diplomatic recognition of any de facto states in Europe in the late 2000s, forcing it to reopen the debate on the recognition of Taiwan and the application of the Montevideo Convention.
As the CIA shows, relations between China and Taiwan will lead to a debate on the recognition of Kosovo, Abkhazia, South Ossetia and possibly Transnistria and Nagorno-Karabakh. Although apparently focusing on Taiwan-China relations, the report provides multiple references that link Taiwan and Chinese diplomacy to the Balkans and the Caucasus, as evidenced by the reference to the bombing of the Chinese embassy in Belgrade and the lack of support for UN Peacekeepers in North Macedonia.
The CIA National Intelligence Estimate on "Russian-Chinese Relations: Perspectives and Implications" (NIE 2000-10C–September 2000)
Alongside reports on Beijing's growing influence in Asia, the CIA conducted a study on relations between Russia and the Republic of China during the same period (1999-2000). The NIE on "Russian-Chinese Relations: Perspectives and Implications" is partially declassified, and a considerable part of this study remains "top secret" (pages 27-36) to this day.
The early release raises the question of whether it is worthwhile for CIA archivists to provide access to the document in question, especially in view of the classification, which usually includes results that must not be accessible to the public before several decades:
The elements of the report that are now accessible are no longer of strategic interest (which is the case for the majority of declassified archives).
The CIA report shows that relations between Russia and China are ambiguous, and could lead to a form of discord between the two superpowers.
Technological developments (Russian S-400; Chinese J-20) are showing the report no longer covers contemporary military threats.
It seems important to mention that at the time of disclosure (2011), Russia has not yet returned to the international arena and is in the process of losing ground in Central Asia and the Black Sea area. Russia's comeback goes back the Crisis in Crimea (2014 — nowadays) and the launch of the Eurasian Economic Union (2015).
The CIA could therefore have downgraded a document, like those on the USSR, without envisaging that the latter might have a deeper strategic relevance a decade later in 2020 and that Russia would experience a significant resurgence of influence.
Political Coordination and the fight against American unilateralism
From the very beginning, the NIE on Russia-China relations mentions the next 5 years 'would not develop in a manner that is threatening to the US and might even stabilize Asia.' The report adds that the 2000s will see an increase in arms sales between the two countries, particularly of SA-10 and SA-20 (S-300PMU-1/2 (SA-20)) from Russia to China.
Sino-Russian relations, in line with the CIA's vision, should stagnate and focus on economic cooperation without any further political and military integration. The CIA also claims that the new Russian president, Vladimir Putin, will continue to sell military equipment because the Russian economy would struggle to without China. Beijing should also agree on buying more Russian military equipment because the People's Liberation Army wants to scare Taiwan with military technology that can compete with that of the United States. According to the report, the Russian approach would be to sell military equipment in the hope that this would lead to the sales of other non-military products to China in the future.
As the NIE shows, Sino-Russian relations should not lead to supranational cooperation:
The Kremlin is afraid China could become more powerful economically and militarily and thus threaten Washington's influence in Asia and Moscow's influence in Central Asia.
China is skeptical regarding Russian policy since the 1950s because of the lack of support from Moscow for the development of an independent Chinese military nuclear programme (Chinese CHIC projects).
However, both countries wish to witness the emergence of a multipolar world and the attitude of American diplomacy in the 1990s has exacerbated tensions because neither Russia nor China seems capable of opposing Washington's military ambitions. Indeed, Washington's military power in the 1990s is such that the United States are able to bypass international bodies such as the United Nations.
The CIA therefore openly mentions the reasons for the fears of China and Russia in the 1990s, as these two countries were not able to contain American Smart Power:
Russia and China are angry at the American decision to launch air strikes against Baghdad (December 1998). France, Russia and China opposed such military intervention at the UN without any results.
Suspicion of NATO's revised strategic concept of April 1999, which expands the geographic scope and justifications for the use of force.
Outrage at the US approach to the Balkan crisis from March to June 1999 and the accidental bombing of the Chinese embassy in Belgrade in May 1999.
Contrary to the CIA's National Intelligence Estimate (1999) "China-Taiwan: Prospects for Cross-Strait Relations," the bombing of the Chinese embassy in Belgrade is mentioned as 'accidental' in the "Russian-Chinese Relations: Perspectives and Implications" NIE.
The CIA adds that cooperation between Japan and the United States could weaken both China and Russia, bringing Moscow and Beijing to adopt a shared policy in Asia. Moreover, to counterbalance American influence, Russia has decided not to support Taiwan, and China has decided to support Russian involvement in Chechnya. The CIA establishes a direct link between China's diplomacy regarding Chechnya and Russia's policy towards Taiwan.
The NIE does not fail to add that anti-American sentiment in both countries is also based on the fact that Moscow and Beijing are dealing with internal instability in the late 1990s.
The Balkan Crisis and the Sino-Russian Cooperation
Another part of the report which concerns the sale of arms from Moscow to Beijing requires attention. The CIA thus mentions that China will not hesitate to 'shop around' to find the best military equipments available on the international market. Although Beijing appreciates Russia for its quality and affordability, China seems to be interested in another supplier. The name of the country has been removed from the NIE and there is no evidence to identify it.
The National Intelligence Estimate states that the crisis in the Balkans is a key moment in Sino-Russian relations because it has brought Moscow and Beijing closer together in international institutions (UN) and in their anti-Americanism. However, the CIA believes Putin, contrary to Yeltsin, is "sceptical" when it comes to China. The NIE also mentions the new Russian president has a "mercenary" approach in his relations with Beijing (page 24).
What could undermine Sino-Russian relations?
The NIE tells a policy by Vladimir Putin aimed at redirecting arms sales to the West rather than to China could have a negative impact on bilateral relations. With regard to arms sales in the 2000s, it can therefore be said that the West, and in particular the United States, have chosen not to weaken relations between Beijing and Moscow. Indeed, the CIA could have encouraged partner countries to purchase Russian military equipment and thus counterbalance the economic weight of China in the Russian economy.
This option might have been considered at the beginning of the 2000s. However the successive crises — Kursk submarine disaster (2000), September 11 attacks (2001), Iraq War (2003), the financial crisis of 2007–08 — have made it difficult for a rapprochement between Russia and Western countries.
The report adds that Russia's lack of support for China's 'One Country, Two Systems' project could also have a negative influence on relations. In the 1990s, Russia supported a more autonomous policy in non-recognized states. The CIA speculates that Russia might consider recognizing Taiwan, Abkhazia, South Ossetia and Transnistria on the basis of the Montevideo Convention, which it will do for Abkhazia and South Ossetia in 2008. The possibility of Russia recognizing Taiwan to justify its own recognition of Abkhazia and South-Ossetia is therefore a hypothesis suggested by the CIA in its report.
Finally, the analysis considers that China's refusal to allow Russia to exert influence in Xinjiang and China's western territories, as well as tensions in the Russian Far-East, could undermine bilateral cooperation.
In 2020, the context is rather similar and Beijing's influence in Central Asia remains an issue as much as China's influence in the Russian Far-East. Projects such as the Eurasian Economic Union (2015) are aimed at securing Russian control over Central Asia and halting the possibility of a political partnership between China and Central Asian countries. In fine, tensions between Moscow and Beijing remain, however both countries seem to have found a compromise with the coexistence of the Eurasian Economic Union supported by Russia and the One Belt One Road project sponsored by Beijing.
Sino-Russian Cooperation in Military Intelligence and/or Energy Cooperations (Classified)
The NIE remains partially classified to this day, and a considerable part (pages 27-36) has been deliberately omitted and its content is unknown. The US Department of Energy participated in the report (mentioned page 42) and the missing part might focus on Sino-Russian economic energy cooperations and pipelines.
However, the conclusion of the CIA report and the annex are mentioning a cooperation between Russia and China in the field of military intelligence ('Russia-China Military Exchange'). It therefore seems inconsistent to see a conclusion on cooperation in this specific field when only one mention is made of it in the report (page 18). This first element leads us to believe the remaining part classified is linked to this issue. Moreover, the CIA had already made public a report on the subject "Soviet espionage schools" dating back to 1946. It therefore seems likely that the CIA will mention Sino-Russian intelligence cooperation in the National Intelligence Estimate on "Russian-Chinese Relations: Perspectives and Implications."
On the basis of the report "Soviet Espionage Training Schools" (1946) report, one could put forward the idea that the NIE on Sino-Russian cooperation covers the following topics:
Suspicion of joint training between Russia and China in Tientsin and Beijing (mentioned in the 1946 report).
Joint training in Harbin at the National Defence Technology University. The CIA designates Harbin as the epicentre of Russia-China military relations, and to this day the National Defense Technology University remains an essential element in the training of China's military elites.
In the NIE, the CIA also mentions that Russia is training Chinese troops in the handling of Su-27 (page 38) and Su-30 for a period of 6 months at the Krasnodar Foreign Pilot Training Centre.
In March 2000, Chinese students at the Smolensk Army Air Defence University are studying the strategy and systems of the SA-10 and SA-20 (S-300PMU-1/2 (SA-20) known as S-300 (NATO's report name SA-10 Grumble), a series of long-range ground-to-air missile systems, first Soviet and then Russian, produced by NPO Almaz, based on the initial version of the S-300P.
The CIA claims that Russian commanders of the Siberian and Far Eastern military districts meet regularly with their Chinese counterpart in the Shenyang military region. The Russian GRU leader Korabel'nikov would have visited the PLA's head of intelligence, Xiong Guangkai in June 1999.
Conclusion on the National Intelligence Estimates
The publication of the two NIE a decade later shows the capabilities of the US intelligence community and is an essential part of the CIA's Soft Power. In fact, few intelligence agencies in the world can afford to produce and release such documents on the People's Republic of China and Russia, and to provide details about the military cooperations between the two superpowers.
The choice to publish the National Intelligence Estimates may be linked to the fact that the documents are no longer relevant to the United-States and US allies. In January 2011, China unveiled its Chengdu J-20 fighter jet, and Russia's weight in the Chinese defense industry is not the same as in the late 1990s, making the report outdated. Consequently, the documents are providing some interesting historical elements but need to be updated, especially when it comes to Russian and Chinese diplomacy regarding de facto and partially recognized states.
In 2000, it was difficult to know whether Beijing would be ready to recognize Kosovo, Transnistria, Abkhazia, South Ossetia or even Nagorno-Karabakh. On decade later in 2011, it is clear that Chinese diplomacy will not recognize Abkhazia and South Ossetia (recognized by Russia in 2008) and that Moscow will not venture to recognize Taiwan.
Finally, the report could shed light on the tensions between Russia and China in the 1990s, and its disclosure would therefore be aimed at creating tensions between the two countries.
It is also possible that the report's analyses are irrelevant or even incorrect, and that its disclosure is intended to suggest that the CIA has shortcomings in Russian-Chinese relations, whereas the CIA would keep the best reports on the subject without disclosing them.
Both documents are based on previous CIA analysis on China and Russia. It can thus be seen that between 1946 and 2000, the CIA monitored relations between China and Russia and had at its disposal strategically knowledge such as the location of the joint training centre for Russian and Chinese officers in Harbin.
The most original aspect of these two NIEs remains the relationship between Europe (Balkans and the Black Sea area) and Chinese policy regarding Taiwan. The bombing of the Chinese embassy in Belgrade is perceived to be a key element in Sino-Russian relations, bringing the two countries closer together in their anti-Americanism. Moreover, the reports are establishing a connection between events in Europe and Asia, underlining both Moscow and Beijing have a global strategy regarding de facto states (Taiwan, Kosovo, Abkhazia, South-Ossetia, and Nagorno-Karabakh).
The CIA report therefore takes on an additional dimension. Whereas organisations such as the Organization for Security and Co-operation in Europe (OSCE) bring together de facto states in Europe to do a comparative analysis, the CIA has a worldwide approach and also includes Asian de facto states (Taiwan). Russia and China seem to have adopted the same approach and the Chinese policy in Chechnya is interconnected with the Russian diplomacy in Taiwan.
It can therefore be said that the US, Chinese and Russian strategies towards Taiwan, as well as towards partially and unrecognized states in Europe, are global and interconnected, raising questions about Washington's interest in recognizing Kosovo in February 2008. The CIA was aware the diplomatic recognition of Kosovo would have an impact not only on the stability in the Balkans, but also on Russian and Chinese diplomacy in the Black Sea area (eg. recognition of Abkhazia and South-Ossetia by Moscow) and the South China Sea (more tensions between China and Taiwan).
From our partner RIAC
Cyberwar between the United States and China
How is the new "Cold War 2.0",which currently characterizes the ever less collaborative relations between the United States and China, developing?
Some data may be interesting in this regard. On March 3, 2020 the Chinese cybersecurity company Qihoo 360 accused CIA of having hacked many Chinese companies for over 11 years.
They are – almost obviously – aviation companies, large global commercial Internet networks, research institutions and certainly also Chinese government agencies.
Not to mention the cryptocurrency operations often organized by people and entities traceable to the North Korean government.
Both the Chinese and the US governments, in fact, use various and complex entities and mechanisms to operate in cyberwar. Firstly, the "front companies". Just think of the Chinese group APT40, which even hires hackers – as everybody does, after all. Secondly, the intrusions to collect cyberdata in the large multinational companies, or even in State agencies, which often remain blocked for a few days and, in that phase, transfer vast masses of data to the "enemy".
Thirdly, the theft of IP and trade secrets- another mechanism that everybody uses.
Obviously this is not the case of Italian Agencies, which, at most, can entrust a small, but good Milanese company to do some hacking, possibly in accordance with the law.
It now seems that the Italian ruling classes are composed above all of what in the 1920s Gaetano Salvemini called "the Paglietta of the Naples Court".
On the military level, the United States believes that today the Chinese Joint Chiefs of Staff can hit well and quickly any opposing C3 system (Combat, Control, Communication) and that it can also carry out automated, but smart warfare operations, from the very first moments in which a significant regional military clash occurs.
Although many US experts in the sector also maintain that, still today, the United States hasa better base of action and, probably some advanced technologies that could enable the United States to have a better and wider cyber action. Nevertheless, this is not necessarily the case.
Certainly China is well aware that the Western and especially North American response to a harsh cyberattack would entail an even harsher, immediate and ruinous reaction against Chinese targets in the homeland and in the other regions.
Hence cyberwar's parallel IT operations are mainly carried out by Russia: just think of the attack on French TV5Monde in 2015 or on Ukrainian energy companies in late December 2015, as well as on Sony in 2014. We can also mention the 2017 attack – through the use of a computer virus, WannaCry – which, however, was a cyberattack attributed by the United States to North Korea.
On the technical-legal level, the Chinese legislation that governs the Chinese cyberwar is mainly contained in the National Security Law of 2015 and finally in the Intelligence Law of 2017, in which it is laid down that cyber operations can be conducted both by the Ministry of National Security, the old guoan, and by the Office for Internal Security of the Public Security Ministry.
The operations abroad normally concern the Centre for the Evaluation of Intelligence and Technology (CINTSEC), which is an integral part of the Ministry for State Security.
The other autonomous cyber networks operating within the People's Liberation Army(PLA) add to this official network.
At geopolitical level, China does not want to trigger any conflict with the United States. Neither a traditional conflict nor a cyber one. Quite the reverse.
China's current real goal is to bridge the technological and operational gap between the two cyberwars, both on a strictly military level and, above all, on the economic and technological one.
China knows that – as Napoleon said – "wars cost money" and it is good not to make them if they can be avoided.
For the United States, China needs cyberwar to win "particularly informationalised local wars".
Conversely, for Chinese theorists, cyberwar is the only real strategic war of the 21st century, as it was the case for nuclear war in the 20th century.
In other words, the technological and doctrinal area that allows to win a medium and large conflict and then sit at the peace negotiating table with of Phaedrus's motto Quia sum Leo.
Also on a global and commercial level, China even plans to build a large private company that can compete on an equal footing with what in China is called "the eight Kongs", namely Apple, Cisco, Google, IBM, Intel, Microsoft, Oracle and Qualcomm.
Therefore, at military level, China wants first of all its full cyberspace security so as to ensure the security of critical intelligence, both of regions and economic activities.
Also on the American side, however, there is currently a tendency to reduce the Chinese cyber penetration power, both at military and commercial levels. Some analysts maintain that,in recent years, the Chinese cyber presence has been very exaggerated.
There is a psywar operation – this time, certainly, of North American origin, but recently present on the Web – which currently makes us add a further analytical factor on the intelligence cyberwar and, above all, on the implementation of cyber criteria in psywar.
Nowadays there is a sort of "Report of a Military Contractor" available on the Web- as it is officially entitled – which is supposed to reveal just what the United States would like to hear still today, i.e. that Covid-19 is just a "Chinese virus" that was designed and made in the now very famous Wuhan laboratory.
This report was drafted by a previously unknown Multi-Agency Collaboration Environment (MACE), a group of cyber and non-cyber experts, whose site is only part of the Sierra Nevada Corporation.
However, it is still a current relevant contractor of the US Department of Defence.
Hence the usual "external centre" that is used to say things that it would be unreasonable to say directly.
The report states it is based on evidence related to the posts of the intra-and extra social networks, both of the laboratory and its employees, as well as on the data provided by non-military satellites and finally on the positioning data of mobile phones.
All this in view of even saying that "something" happened – probably by chance and accidentally, but in any case extremely severe and uncontrolled – in the Wuhan laboratory, only with regard to the Covid-19 virus.
This is a further phase of the modern misinformation technique: at first, it was said that the virus deliberately came out of the Hebei laboratory, while now it is underlined that it probably "escaped" unintentionally from its microscopic cage.
It is easy to understand what they really want to communicate: even if the Chinese government were not responsible, international lawsuits for claiming damages would still be possible.
Nowadays, at least in the West, misinformation is carried out at first by hardly hitting the opponent and later possibly apologizing for saying something inaccurate or wrong. A psychological warfare technique that creates the "aura" of the case without later supporting and corroborating it. It is very dangerous.
A really dangerous tactic, especially in the presence of an increasingly evolved and advanced Network.
The document, however, does not report as many as seven locations of mobile and institutional phones within the Wuhan laboratory – too great a flaw to be accidental.
MACE also states that, allegedly, a whole conference inside the Hebei laboratory was "cancelled", due to an unspecified disaster, while, again in the documents of the laboratory, there are pictures with a clear internal date concerning precisely that event, the conference of November 2019.
One of these pictures was also found in the social media of a Pakistani scientist who had participated.
Even the aerial photographs provided by the company Maxar Technologies are a sign of obvious and normal repairing of roads, certainly not specific roadblocks placed due to an unforeseen and very severe event.
A few days ago President Trump stated that the "virus came out of the lab because someone was stupid". Too easy and, I believe, useless even for a legal and insurance case against the Chinese government itself.
Moreover, these is the more or less manipulated data which, however, has certainly been useful to develop and spread the theory of "Chinese fault" for the outbreak of the epidemic and then pandemic, just in the midst of the great "acquisition of intelligence data" to which Trump and Pompeo referred.
All this just to reaffirm, without any reasonable doubt, the wilful or culpable guilt of the Chinese government in the outbreak of the coronavirus pandemic, and hence to stop the development of China and make it retreat, – with huge legal costs – from a development rate that was already within reach.
Moreover, the aforementioned MACE report lacks some data that we would simply call cultural intelligence, i.e. not knowing that the first week of October is a "golden" week for China, e.g. the National Day which commemorates the foundation of the People's Republic of China, announced by Mao Zedong in a very famous speech at the Square of Heavenly Peace Square, with an even more famous phrase: "the Chinese people have stood up!"
How can they not know this, even believing they are intelligence people?
The same happened with a US report on the coronavirus issue transmitted from US to Australian intelligence agencies and later immediately published in a Sydney newspaper. Obviously everyone also "manipulate" documents to defame the opponent, but there are many ways and means of doing so.
On a more strictly doctrinal level, however, the issue brings us back to the analysis developed in 1999 by the two famous PLA Colonels, Quiao Lang and Wang Xiangsui, entitled Unrestricted Warfare.
It was a manual on what we would today call asymmetrical warfare.
Today, however, Quiao Liang thinks that – even at this stage of the conflict -war is still linked to the manufacturing industry. This means you can have excellent scientific research and a good network of research centres, but if you do not turn all this into mass and important industrial products, as Quiao Liang says, "you have just won a medal, but nothing more".
Liang also maintains that the United States is therefore using up its weapons and industrial equipment stocks.
Furthermore, the more the coronavirus crisis worsens -considering the scarcely effective reaction of the US economic and health system – the more the consumption of North American military and civilian stocks increases, although the ability to produce them decreases more than proportionally.
Hence has the United States still have a manufacturing and mass industry, as well as the ability to turn technological evolution into mass products, to wage an asymmetrical or conventional war but, above all, to continue it until the final victory?
The Chinese Air Force General seems to imply that this is not the case.
Hence, in his mind, currently the only reasonable solution for China is to expand its production system, but never underestimate the "traditional" medium-low technology manufacturing industry, which is the one that reproduces and expands production forces and enables it to last over time, which is the only real guarantee of victory.
You do not eat fintech products, but rather Californian tomatoes and Midwest meat.
Those who want to collect technological jewels can certainly do so and – as the General maintains – obviously also China must do so, but what is still and always needed is the great mass production and items that, coincidentally, have become scarce all over the world: masks, respirators, food, traditional infrastructure, as well as means of transport.
It is fine if you believe that war and the economy are a superhero scenario, but you have to win, i.e. "to last one minute more than your opponent" – hence you need to go back to a mass, industrial, stable and growing civilization for the "real" economy.
The myth of high technology as the key to everything, induced by the development of the current United States, has made everyone else in the world lose the true sense of modernization, the key concept of the Chinese political narrative, from Deng Xiaoping to present days and in the future.
You cannot think of a future civilization in which social verticalisation is such that a share of over-rich countries slightly higher than 1% follows the vertical impoverishment of all the others.
A mass impoverishment which also leads to a reduction of manufacturing production. The products are later sent to "Third World" countries to trigger a process of social pyramidalization that is almost unprecedented in human history. And what is it for? For uselessly spending the mad money produced by fintech?
Therefore, the Chinese General believes that a US decoupling from China – as all the economists close to the White House preach-is needed to prevent China from taking all the most important technological and defence patents. In his opinion, however, also China must not decouple from the USA at all. This is not useful for high technology, but if anything, to avoid doing the same as the United States on a mass level.
If there is decoupling – as the current US economists preach – the Chinese products will become more competitive compared to the US and US-related products. Hence the US monetary hegemony would soon disappear and the same would be true for the its double use of the dollar that made an old FED Governor say to his European colleagues: "the dollar is our currency,but it is your problem".
Therefore, in the long run, it will also be impossible to let China – with its low-cost productions – be replaced by Vietnam, Myanmar and the other countries in the so-called "pearl necklace" of Southeast Asia.
Moreover, if after the coronavirus crisis, there will be further robotization of the workforce, how will it be possible to maintain many and sufficiently high wages which, after the pandemic, will obviously be distributed to a smaller number of available workers?
Low wages – and hence also scarce tax revenues – as well as crisis of State spending and decrease in social and military spending, especially in the high tech sector, which always has a very high unit cost.
Therefore, just to recap, the Empire is facing severe danger.
As the Chinese General maintains, "we must not dance with wolves", i.e. we must not follow the pace of US dance to reap only the technological fruits, but rather maintain and expand the great manufacturing production and, above all, even avoid taking up the cultural, industrial and scientific traits of the United States, which the Chinese General deems to be at the end of its civilization cycle.
According to Chinese analysts, the United States is a "country that has gone directly from dawn to decadence", just to put it in the words of a French ambassador.
Hence China needs to solve the Taiwan issue autonomously, as well as also harshly oppose the actions against Huawei, by reacting blow-for-blow with the U.S. companies in China, such as IBM, Cisco, etc., and stopping their activities in China, where necessary. Anything but hybrid warfare.
Here we are at a commercial and quasi-conventional war between two powers, i.e. an old Western power,on the one side, and an Asian power on the other which, however, does not want at all to be relegated and closed in the Pacific, as implied and assumed by the new US military projects for closing the Ocean, from California to Japan, or for trying to block the expansion of the Silk Road or still trying to block the expansion line to the South and East of China, as President Xi Jinping has recently advocated.
Certainly China is currently not lagging behind on the cyberwar issue. Nevertheless it does not want to use it as a substitute for conventional war or psywar for dual-use technologies, nor to play the game of the total defeat of a hypothetical "enemy".
China can now avail itself of the Third Department of the People's Army, the network dedicated to cyberwar within the PLA, but also of the Strategic Support Force.
This will be the new "Cold War 2.0", i.e. a series of IT, economic and industrial guerrilla warfare actions, and of actions of defamation – specifically at military level – of confidential information to be stolen from the enemy in a tenth of a second, as well as of cultural manipulation and-eventually, but only in the end-of fake news.
Reconciling Public Safety and National Security Via A Renewed Focus on Biosecurity
As the broad ranging consequences of the COVID-19 pandemic wreak havoc across the global political economy, there have also simultaneously come up several issues pertaining to policy and governance particularly related to International Security. These include for instance the growing emphasis now being laid on biosecurity which under the current context of an unprecedented global pandemic has greatly exposed the failings and lack of preparedness of even some of the world's most developed countries.
One has to merely glance at the fast-rising death tolls in the US, UK, Italy and Spain to gauge how some of the world's foremost economies and health services have been left devastated owing to a severe lack of preparedness. Countries which boast some of the world's most robust military industrial and technological complexes, have been unable to otherwise safeguard not only the health and safety of their own populations, but also to preserve what can be only described as their entire way of life. Something for which they have been more than ready to go to war in the past.
Its hence no surprise that the US for instance, in its incessant need to scapegoat (or to just simply bomb) and divert mounting public outrage has been consistently directing blame towards China. This has ranged from alleging China to have deliberately engineered the virus, to holding the Chinese government accountable for having initially covered up the severity of the outbreak in a bid to safeguard its own economic and diplomatic standing. While it is unlikely that the US would go to war with China solely over this, the dramatic deterioration in relations that has been witnessed in the kind of rhetoric and proposals that have been coming out from both countries stands as cause for grave concern for the world at large.
Yet, what's lost amidst this blame game that has dominated headlines for over a month, has been perhaps the more important and timely discussion that had arisen on the importance of incorporating more robust bio-security measures. This is understandable considering how the term biosecurity has itself over the last two decades come to be associated more in relation to enacting safeguards against bio-terrorism and bio-chemical weapons. Aspects that were directly based for instance on the anthrax and smallpox scares that had dominated US policy discourse shortly after the September 11 attacks. Or for instance from the more recent threats issued by ISIS regarding the use of such weapons against Western targets. The above linked report from the Hudson institute for instance evaluates the US's need to enact such biodefense (or biosecurity) measures within exactly such contexts.
However, it is this very context related to terrorism and homeland/national security which in dominating US policymaking circles is more attuned towards focusing on the perpetrators of such threats; be they state or non-state actors. Consequently, the whole aim of the US – and also arguably its closest allies -has been to justify its more interventionist and hands-on approach to mitigating such threats before they reach US shores. Hence, the emphasis being more on preventing such biological 'attacks' from occurring in the first place as opposed to dealing with them once they've 'hit'.
While justifiable in its own right, what this approach however misses in its overarching focus on national security, is perhaps the more pressing need to address public health and safety domestically. Which in essence is what national security is premised on defending in the first place – an effective Civil Defense of sorts.
For instance, a widely cited comparison of the 'Western' response to the Coronavirus with that of certain East Asian countries such as Taiwan, Singapore, South Korea and Japan shows how these latter countries' more recent experiences in dealing with the SARS and MERS outbreaks had contributed immensely to their relatively better responses to this pandemic. By already having in place certain contingency and policy directives grounded more in a domestic public health and safety perspective – as opposed to an outward looking national security one –each of these states was able to mount a more coordinated, timely and socially aware response to this crisis. Most importantly their responses had public support and sympathy directly built in to their policies which saw the overall public perception of their governments' measures as wholly necessary and compulsory; as opposed to being forced and reactionary. This latter aspect for instance is manifest in how several countries have witnessed severe public and political backlash towards the social distancing and lockdown policies that were enacted the world over. This includes backlash witnessed in countries ranging from the US to Pakistan, where the economic costs of such policies – which once again are tied directly to externally inspired national security concerns – were given unassailing primacy over domestic public health and safety.
Talking specifically of Pakistan and its long history of being portrayed as a security state, such threats to national security from a potential biochem attack, are already prioritized along the lines of a potential WMD attack considering the primacy such threats hold for a Nuclear Weapon State. However, even within such military dominated approaches to bio-security, there is a still a public safety and awareness component from a Civil Defense perspective, that even in the case of any WMD attack remains already lacking.Thus, belying the prioritization afforded to deterring external threats, rather than on eliminating such shortcomings within, just like the US.
The current global pandemic has provided a rare chance to have this conversation regarding the very premises and priority this concept of Bio-security has been accorded within government policy circles.It has afforded a previously unfound impetus and political capital to enact and fund such measures. Instead of being squandered however, such impetus should be used to mitigate such lapses that have now been brought to the forefront of governance and policy discourse the world over. Unless these realities are adapted to, life is likely to become even harder in a world that has changed dramatically in just the last few months.