Big data and the Future of Democracy: The Matrix world behind the Brexit and the US Elections
Authors: Hannes Grassegger and Mikael Krogerus
Aegean theater of the Antique Greece was the place of astonishing revelations and intellectual excellence – a remarkable density and proximity, not surpassed up to our age. All we know about science, philosophy, sports, arts, culture and entertainment, stars and earth has been postulated, explored and examined then and there.
Simply, it was a time and place of triumph of human consciousness, pure reasoning and sparkling thought. However, neither Euclid, Anaximander, Heraclites, Hippocrates (both of Chios, and of Cos), Socrates, Archimedes, Ptolemy, Democritus, Plato, Pythagoras, Diogenes, Aristotle, Empedocles, Conon, Eratosthenes nor any of dozens of other brilliant ancient Greek minds did ever refer by a word, by a single sentence to something which was their everyday life, something they saw literally on every corner along their entire lives. It was an immoral, unjust, notoriously brutal and oppressive slavery system that powered the Antique state. (Slaves have not been even attributed as humans, but rather as the 'phonic tools/tools able to speak'.) This myopia, this absence of critical reference on the obvious and omnipresent is a historic message – highly disturbing, self-telling and quite a warning." – notes prof. Anis H. Bajrektarevic in his luminary book of 2013, 'Is there like after Facebook? – Geopolitics of Technology'.
Indeed, why do we constantly ignore massive and sustain harvesting of our personal data from the social networks, medical records, pay-cards, internet and smart phones as well as its commercialization and monetization for dubious ends and disturbing futures.
Professor Bajrektarevic predicts and warns: "If humans hardly ever question fetishisation of their own McFB way of life, or oppose the (self-) trivialization, why then is the subsequent brutalization a surprise to them?"
Thus, should we be really surprise with the Brexit vote, with the results of the US elections, and with the forcoming massive wins of the right-wing parties all over Europe? Putin is behind it !! – how easy, and how misleading a self-denial.
Here is a story based on facts, if we are only interested to really grasp the Matrix world. The Iron Cage we constructed ourselves.
On November 9 at around 8.30 AM., Michal Kosinski woke up in the Hotel Sunnehus in Zurich. The 34-year-old researcher had come to give a lecture at the Swiss Federal Institute of Technology (ETH) about the dangers of Big Data and the digital revolution. Kosinski gives regular lectures on this topic all over the world. He is a leading expert in psychometrics, a data-driven sub-branch of psychology. When he turned on the TV that morning, he saw that the bombshell had exploded: contrary to forecasts by all leading statisticians, Donald J. Trump had been elected president of the United States.
For a long time, Kosinski watched the Trump victory celebrations and the results coming in from each state. He had a hunch that the outcome of the election might have something to do with his research. Finally, he took a deep breath and turned off the TV.
On the same day, a then little-known British company based in London sent out a press release: "We are thrilled that our revolutionary approach to data-driven communication has played such an integral part in President-elect Trump's extraordinary win," Alexander James Ashburner Nix was quoted as saying. Nix is British, 41 years old, and CEO of Cambridge Analytica. He is always immaculately turned out in tailor-made suits and designer glasses, with his wavy blonde hair combed back from his forehead. His company wasn't just integral to Trump's online campaign, but to the UK's Brexit campaign as well.
Of these three players—reflective Kosinski, carefully groomed Nix and grinning Trump—one of them enabled the digital revolution, one of them executed it and one of them benefited from it.
How dangerous is big data?
Anyone who has not spent the last five years living on another planet will be familiar with the term Big Data. Big Data means, in essence, that everything we do, both on and offline, leaves digital traces. Every purchase we make with our cards, every search we type into Google, every movement we make when our mobile phone is in our pocket, every "like" is stored. Especially every "like." For a long time, it was not entirely clear what use this data could have—except, perhaps, that we might find ads for high blood pressure remedies just after we've Googled "reduce blood pressure."
On November 9, it became clear that maybe much more is possible. The company behind Trump's online campaign—the same company that had worked for Leave.EU in the very early stages of its "Brexit" campaign—was a Big Data company: Cambridge Analytica.
To understand the outcome of the election—and how political communication might work in the future—we need to begin with a strange incident at Cambridge University in 2014, at Kosinski's Psychometrics Center.
Psychometrics, sometimes also called psychographics, focuses on measuring psychological traits, such as personality. In the 1980s, two teams of psychologists developed a model that sought to assess human beings based on five personality traits, known as the "Big Five." These are: openness (how open you are to new experiences?), conscientiousness (how much of a perfectionist are you?), extroversion (how sociable are you?), agreeableness (how considerate and cooperative you are?) and neuroticism (are you easily upset?). Based on these dimensions—they are also known as OCEAN, an acronym for openness, conscientiousness, extroversion, agreeableness, neuroticism—we can make a relatively accurate assessment of the kind of person in front of us. This includes their needs and fears, and how they are likely to behave. The "Big Five" has become the standard technique of psychometrics. But for a long time, the problem with this approach was data collection, because it involved filling out a complicated, highly personal questionnaire. Then came the Internet. And Facebook. And Kosinski.
Michal Kosinski was a student in Warsaw when his life took a new direction in 2008. He was accepted by Cambridge University to do his PhD at the Psychometrics Centre, one of the oldest institutions of this kind worldwide. Kosinski joined fellow student David Stillwell (now a lecturer at Judge Business School at the University of Cambridge) about a year after Stillwell had launched a little Facebook application in the days when the platform had not yet become the behemoth it is today. Their MyPersonality app enabled users to fill out different psychometric questionnaires, including a handful of psychological questions from the Big Five personality questionnaire ("I panic easily," "I contradict others"). Based on the evaluation, users received a "personality profile"—individual Big Five values—and could opt-in to share their Facebook profile data with the researchers.
Kosinski had expected a few dozen college friends to fill in the questionnaire, but before long, hundreds, thousands, then millions of people had revealed their innermost convictions. Suddenly, the two doctoral candidates owned the largest dataset combining psychometric scores with Facebook profiles ever to be collected.
The approach that Kosinski and his colleagues developed over the next few years was actually quite simple. First, they provided test subjects with a questionnaire in the form of an online quiz. From their responses, the psychologists calculated the personal Big Five values of respondents. Kosinski's team then compared the results with all sorts of other online data from the subjects: what they "liked," shared or posted on Facebook, or what gender, age, place of residence they specified, for example. This enabled the researchers to connect the dots and make correlations.
Remarkably reliable deductions could be drawn from simple online actions. For example, men who "liked" the cosmetics brand MAC were slightly more likely to be gay; one of the best indicators for heterosexuality was "liking" Wu-Tang Clan. Followers of Lady Gaga were most probably extroverts, while those who "liked" philosophy tended to be introverts. While each piece of such information is too weak to produce a reliable prediction, when tens, hundreds, or thousands of individual data points are combined, the resulting predictions become really accurate.
Kosinski and his team tirelessly refined their models. In 2012, Kosinski proved that on the basis of an average of 68 Facebook "likes" by a user, it was possible to predict their skin color (with 95 percent accuracy), their sexual orientation (88 percent accuracy), and their affiliation to the Democratic or Republican party (85 percent). But it didn't stop there. Intelligence, religious affiliation, as well as alcohol, cigarette and drug use, could all be determined. From the data it was even possible to deduce whether someone's parents were divorced.
The strength of their modeling was illustrated by how well it could predict a subject's answers. Kosinski continued to work on the models incessantly: before long, he was able to evaluate a person better than the average work colleague, merely on the basis of ten Facebook "likes." Seventy "likes" were enough to outdo what a person's friends knew, 150 what their parents knew, and 300 "likes" what their partner knew. More "likes" could even surpass what a person thought they knew about themselves. On the day that Kosinski published these findings, he received two phone calls. The threat of a lawsuit and a job offer. Both from Facebook.
Only weeks later Facebook "likes" became private by default. Before that, the default setting was that anyone on the internet could see your "likes." But this was no obstacle to data collectors: while Kosinski always asked for the consent of Facebook users, many apps and online quizzes today require access to private data as a precondition for taking personality tests. (Anybody who wants to evaluate themselves based on their Facebook "likes" can do so on Kosinski's website, and then compare their results to those of a classic Ocean questionnaire, like that of the Cambridge Psychometrics Center.)
But it was not just about "likes" or even Facebook: Kosinski and his team could now ascribe Big Five values based purely on how many profile pictures a person has on Facebook, or how many contacts they have (a good indicator of extraversion). But we also reveal something about ourselves even when we're not online. For example, the motion sensor on our phone reveals how quickly we move and how far we travel (this correlates with emotional instability). Our smartphone, Kosinski concluded, is a vast psychological questionnaire that we are constantly filling out, both consciously and unconsciously.
Above all, however—and this is key—it also works in reverse: not only can psychological profiles be created from your data, but your data can also be used the other way round to search for specific profiles: all anxious fathers, all angry introverts, for example—or maybe even all undecided Democrats? Essentially, what Kosinski had invented was sort of a people search engine. He started to recognize the potential—but also the inherent danger—of his work.
To him, the internet was a gift from heaven. What he really wanted was to give something back, to share. Data can be copied, so why shouldn't everyone benefit from it? It was the spirit of Millenials, entire new generation, the beginning of a new era that transcended the limitations of the physical world. But what would happen, wondered Kosinski, if someone abused his people search engine to manipulate people? He began to add warnings to most of his scientific work. His approach, he warned, "could pose a threat to an individual's well-being, freedom, or even life." But no one seemed to grasp what he meant.
Around this time, in early 2014, Kosinski was approached by a young assistant professor in the psychology department called Aleksandr Kogan. He said he was inquiring on behalf of a company that was interested in Kosinski's method, and wanted to access the MyPersonality database. Kogan wasn't at liberty to reveal for what purpose; he was bound to secrecy.
At first, Kosinski and his team considered this offer, as it would mean a great deal of money for the institute, but then he hesitated. Finally, Kosinski remembers, Kogan revealed the name of the company: SCL, or Strategic Communication Laboratories. Kosinski Googled the company: "[We are] the premier election management agency," says the company's website. SCL provides marketing based on psychological modeling. One of its core focuses: Influencing elections. Influencing elections? Perturbed, Kosinski clicked through the pages. What kind of company was this? And what were these people planning?
What Kosinski did not know at the time: SCL is the parent of a group of companies. Who exactly owns SCL and its diverse branches is unclear, thanks to a convoluted corporate structure, the type seen in the UK Companies House, the Panama Papers, and the Delaware company registry. Some of the SCL offshoots have been involved in elections from Ukraine to Nigeria, helped the Nepalese monarch against the Maoists, whereas others have developed methods to influence Eastern Euripean and Afghan citizens for NATO. And, in 2013, SCL spun off a new company to participate in US elections: Cambridge Analytica.
Kosinski knew nothing about all this, but he had a bad feeling. "The whole thing started to stink," he recalls. On further investigation, he discovered that Aleksandr Kogan had secretly registered a company doing business with SCL. According to a December 2015 report in the Guardian and to internal company documents given to Das Magazin, it emerges that SCL learned about Kosinski's method from Kogan.
Kosinski came to suspect that Kogan's company might have reproduced the Facebook "Likes"-based Big Five measurement tool in order to sell it to this election-influencing firm. He immediately broke off contact with Kogan and informed the director of the institute, sparking a complicated conflict within the university. The institute was worried about its reputation. Aleksandr Kogan then moved to Singapore, married, and changed his name to Dr. Spectre. Michal Kosinski finished his PhD, got a job offer from Stanford and moved to the US.
Mr. Brexit
All was quiet for about a year. Then, in November 2015, the more radical of the two Brexit campaigns, "Leave.EU," supported by Nigel Farage, announced that it had commissioned a Big Data company to support its online campaign: Cambridge Analytica. The company's core strength: innovative political marketing—microtargeting—by measuring people's personality from their digital footprints, based on the OCEAN model.
Now Kosinski received emails asking what he had to do with it—the words Cambridge, personality, and analytics immediately made many people think of Kosinski. It was the first time he had heard of the company, which borrowed its name, it said, from its first employees, researchers from the university. Horrified, he looked at the website. Was his methodology being used on a grand scale for political purposes?
After the Brexit result, friends and acquaintances wrote to him: Just look at what you've done. Everywhere he went, Kosinski had to explain that he had nothing to do with this company. (It remains unclear how deeply Cambridge Analytica was involved in the Brexit campaign. Cambridge Analytica would not discuss such questions.)
For a few months, things are relatively quiet. Then, on September 19, 2016, just over a month before the US elections, the guitar riffs of Creedence Clearwater Revival's "Bad Moon Rising" fill the dark-blue hall of New York's Grand Hyatt hotel. The Concordia Summit is a kind of World Economic Forum in miniature. Decision-makers from all over the world have been invited, among them Swiss President Johann Schneider-Ammann. "Please welcome to the stage Alexander Nix, chief executive officer of Cambridge Analytica," a smooth female voice announces. A slim man in a dark suit walks onto the stage. A hush falls. Many in attendance know that this is Trump's new digital strategy man. (A video of the presentation was posted on YouTube.)
A few weeks earlier, Trump had tweeted, somewhat cryptically, "Soon you'll be calling me Mr. Brexit." Political observers had indeed noticed some striking similarities between Trump's agenda and that of the right-wing Brexit movement. But few had noticed the connection with Trump's recent hiring of a marketing company named Cambridge Analytica.
Up to this point, Trump's digital campaign had consisted of more or less one person: Brad Parscale, a marketing entrepreneur and failed start-up founder who created a rudimentary website for Trump for $1,500. The 70-year-old Trump is not digitally savvy—there isn't even a computer on his office desk. Trump doesn't do emails, his personal assistant once revealed. She herself talked him into having a smartphone, from which he now tweets incessantly.
Hillary Clinton, on the other hand, relied heavily on the legacy of the first "social-media president," Barack Obama. She had the address lists of the Democratic Party, worked with cutting-edge big data analysts from BlueLabs and received support from Google and DreamWorks. When it was announced in June 2016 that Trump had hired Cambridge Analytica, the establishment in Washington just turned up their noses. Foreign dudes in tailor-made suits who don't understand the country and its people? Seriously?
"It is my privilege to speak to you today about the power of Big Data and psychographics in the electoral process." The logo of Cambridge Analytica— a brain composed of network nodes, like a map, appears behind Alexander Nix. "Only 18 months ago, Senator Cruz was one of the less popular candidates," explains the blonde man in a cut-glass British accent, which puts Americans on edge the same way that a standard German accent can unsettle Swiss people. "Less than 40 percent of the population had heard of him," another slide says. Cambridge Analytica had become involved in the US election campaign almost two years earlier, initially as a consultant for Republicans Ben Carson and Ted Cruz. Cruz—and later Trump—was funded primarily by the secretive US software billionaire Robert Mercer who, along with his daughter Rebekah, is reported to be the largest investor in Cambridge Analytica.
"So how did he do this?" Up to now, explains Nix, election campaigns have been organized based on demographic concepts. "A really ridiculous idea. The idea that all women should receive the same message because of their gender—or all African Americans because of their race." What Nix meant is that while other campaigners so far have relied on demographics, Cambridge Analytica was using psychometrics.
Though this might be true, Cambridge Analytica's role within Cruz's campaign isn't undisputed. In December 2015 the Cruz team credited their rising success to psychological use of data and analytics. In Advertising Age, a political client said the embedded Cambridge staff was "like an extra wheel," but found their core product, Cambridge's voter data modeling, still "excellent." The campaign would pay the company at least $5.8 million to help identify voters in the Iowa caucuses, which Cruz won, before dropping out of the race in May.
Nix clicks to the next slide: five different faces, each face corresponding to a personality profile. It is the Big Five or OCEAN Model. "At Cambridge," he said, "we were able to form a model to predict the personality of every single adult in the United States of America." The hall is captivated. According to Nix, the success of Cambridge Analytica's marketing is based on a combination of three elements: behavioral science using the OCEAN Model, Big Data analysis, and ad targeting. Ad targeting is personalized advertising, aligned as accurately as possible to the personality of an individual consumer.
Nix candidly explains how his company does this. First, Cambridge Analytica buys personal data from a range of different sources, like land registries, automotive data, shopping data, bonus cards, club memberships, what magazines you read, what churches you attend. Nix displays the logos of globally active data brokers like Acxiom and Experian—in the US, almost all personal data is for sale. For example, if you want to know where Jewish women live, you can simply buy this information, phone numbers included.
Now Cambridge Analytica aggregates this data with the electoral rolls of the Republican party and online data and calculates a Big Five personality profile. Digital footprints suddenly become real people with fears, needs, interests, and residential addresses.
The methodology looks quite similar to the one that Michal Kosinski once developed. Cambridge Analytica also uses, Nix told us, "surveys on social media" and Facebook data. And the company does exactly what Kosinski warned of: "We have profiled the personality of every adult in the United States of America—220 million people," Nix boasts.
He opens the screenshot. "This is a data dashboard that we prepared for the Cruz campaign." A digital control center appears. On the left are diagrams; on the right, a map of Iowa, where Cruz won a surprisingly large number of votes in the primary. And on the map, there are hundreds of thousands of small red and blue dots. Nix narrows down the criteria: "Republicans"—the blue dots disappear; "not yet convinced"—more dots disappear; "male", and so on. Finally, only one name remains, including age, address, interests, personality and political inclination. How does Cambridge Analytica now target this person with an appropriate political message?
Nix shows how psychographically categorized voters can be differently addressed, based on the example of gun rights, the 2nd Amendment: "For a highly neurotic and conscientious audience the threat of a burglary—and the insurance policy of a gun." An image on the left shows the hand of an intruder smashing a window. The right side shows a man and a child standing in a field at sunset, both holding guns, clearly shooting ducks: "Conversely, for a closed and agreeable audience. People who care about tradition, and habits, and family."
How to keep Clinton voters away from the ballot box
Trump's striking inconsistencies, his much-criticized fickleness, and the resulting array of contradictory messages, suddenly turned out to be his great asset: a different message for every voter. The notion that Trump acted like a perfectly opportunistic algorithm following audience reactions is something the mathematician Cathy O'Neil observed in August 2016.
"Pretty much every message that Trump put out was data-driven," Alexander Nix remembers. On the day of the third presidential debate between Trump and Clinton, Trump's team tested 175,000 different ad variations for his arguments, in order to find the right versions above all via Facebook. The messages differed for the most part only in microscopic details, in order to target the recipients in the optimal psychological way: different headings, colors, captions, with a photo or video. This fine-tuning reaches all the way down to the smallest groups, Nix explained in an interview with us. "We can address villages or apartment blocks in a targeted way. Even individuals."
In the Miami district of Little Haiti, for instance, Trump's campaign provided inhabitants with news about the failure of the Clinton Foundation following the earthquake in Haiti, in order to keep them from voting for Hillary Clinton. This was one of the goals: to keep potential Clinton voters (which include wavering left-wingers, African-Americans, and young women) away from the ballot box, to "suppress" their vote, as one senior campaign official told Bloomberg in the weeks before the election. These "dark posts"—sponsored news-feed-style ads in Facebook timelines that can only be seen by users with specific profiles—included videos aimed at African-Americans in which Hillary Clinton refers to black men as predators, for example.
Nix finishes his lecture at the Concordia Summit by stating that traditional blanket advertising is dead. "My children will certainly never, ever understand this concept of mass communication." And before leaving the stage, he announced that since Cruz had left the race, the company was helping one of the remaining presidential candidates.
Just how precisely the American population was being targeted by Trump's digital troops at that moment was not visible, because they attacked less on mainstream TV and more with personalized messages on social media or digital TV. And while the Clinton team thought it was in the lead, based on demographic projections, Bloomberg journalist Sasha Issenberg was surprised to note on a visit to San Antonio—where Trump's digital campaign was based—that a "second headquarters" was being created. The embedded Cambridge Analytica team, apparently only a dozen people, received $100,000 from Trump in July, $250,000 in August, and $5 million in September. According to Nix, the company earned over $15 million overall. (The company is incorporated in the US, where laws regarding the release of personal data are more lax than in European Union countries. Whereas European privacy laws require a person to "opt in" to a release of data, those in the US permit data to be released unless a user "opts out.")
The measures were radical: From July 2016, Trump's canvassers were provided with an app with which they could identify the political views and personality types of the inhabitants of a house. It was the same app provider used by Brexit campaigners. Trump's people only rang at the doors of houses that the app rated as receptive to his messages. The canvassers came prepared with guidelines for conversations tailored to the personality type of the resident. In turn, the canvassers fed the reactions into the app, and the new data flowed back to the dashboards of the Trump campaign.
Again, this is nothing new. The Democrats did similar things, but there is no evidence that they relied on psychometric profiling. Cambridge Analytica, however, divided the US population into 32 personality types, and focused on just 17 states. And just as Kosinski had established that men who like MAC cosmetics are slightly more likely to be gay, the company discovered that a preference for cars made in the US was a great indication of a potential Trump voter. Among other things, these findings now showed Trump which messages worked best and where. The decision to focus on Michigan and Wisconsin in the final weeks of the campaign was made on the basis of data analysis. The candidate became the instrument for implementing a big data model.
What's Next?
But to what extent did psychometric methods influence the outcome of the election? When asked, Cambridge Analytica was unwilling to provide any proof of the effectiveness of its campaign. And it is quite possible that the question is impossible to answer.
And yet there are clues: There is the fact of the surprising rise of Ted Cruz during the primaries. Also there was an increased number of voters in rural areas. There was the decline in the number of African-American early votes. The fact that Trump spent so little money may also be explained by the effectiveness of personality-based advertising. As does the fact that he invested far more in digital than TV campaigning compared to Hillary Clinton. Facebook proved to be the ultimate weapon and the best election campaigner, as Nix explained, and as comments by several core Trump campaigners demonstrate.
Many voices have claimed that the statisticians lost the election because their predictions were so off the mark. But what if statisticians in fact helped win the election—but only those who were using the new method? It is an irony of history that Trump, who often grumbled about scientific research, used a highly scientific approach in his campaign.
Another big winner is Cambridge Analytica. Its board member Steve Bannon, former executive chair of the right-wing online newspaper Breitbart News, has been appointed as Donald Trump's senior counselor and chief strategist. Whilst Cambridge Analytica is not willing to comment on alleged ongoing talks with UK Prime Minister Theresa May, Alexander Nix claims that he is building up his client base worldwide, and that he has received inquiries from Switzerland, Germany, and Australia. His company is currently touring European conferences showcasing their success in the United States. This year three core countries of the EU are facing elections with resurgent populist parties: France, Holland and Germany. The electoral successes come at an opportune time, as the company is readying for a push into commercial advertising.
********
Kosinski has observed all of this from his office at Stanford. Following the US election, the university is in turmoil. Kosinski is responding to developments with the sharpest weapon available to a researcher: a scientific analysis. Together with his research colleague Sandra Matz, he has conducted a series of tests, which will soon be published. The initial results are alarming: The study shows the effectiveness of personality targeting by showing that marketers can attract up to 63 percent more clicks and up to 1,400 more conversions in real-life advertising campaigns on Facebook when matching products and marketing messages to consumers' personality characteristics. They further demonstrate the scalability of personality targeting by showing that the majority of Facebook Pages promoting products or brands are affected by personality and that large numbers of consumers can be accurately targeted based on a single Facebook Page.
In a statement after the German publication of this article, a Cambridge Analytica spokesperson said, "Cambridge Analytica does not use data from Facebook. It has had no dealings with Dr. Michal Kosinski. It does not subcontract research. It does not use the same methodology. Psychographics was hardly used at all. Cambridge Analytica did not engage in efforts to discourage any Americans from casting their vote in the presidential election. Its efforts were solely directed towards increasing the number of voters in the election."
The world has been turned upside down. Great Britain is leaving the EU, Donald Trump is president of the United States of America. And in Stanford, Kosinski, who wanted to warn against the danger of using psychological targeting in a political setting, is once again receiving accusatory emails. "No," says Kosinski, quietly and shaking his head. "This is not my fault. I did not build the bomb. I only showed that it exists."
---
About authors:
Hannes Grassegger and Mikael Krogerus are investigative journalists attached to the Swiss-based Das Magazin specialized journal.  The original text appeared in the late December edition under the title: "I only showed that the bomb exists" (Ich habe nur gezeigt, dass es die Bombe gibt). This, English translation, is based on the subsequent January version, first published by the Motherboard magazine (titled: The Data That Turned the World Upside
Tackling the Illicit Drug Trade: Perspectives From Russia
The Afghan drug trade supplying the Russian market has fuelled conflict, corruption, and instability in the region, provided financial support to terrorist organisations and led to a devastating addiction and HIV epidemic in Russia. How can this fight be won? While strengthening cooperation with its Central Asian neighbours will be crucial to stemming the flow of drugs, Russia needs to complement law enforcement with a softer approach for the demand side of the drug trade at home.
"The Afghan drug threat is one of the worst problems for Russia's national security," said Alexei Rogov, deputy director of the new challenges and threats department of the Russian foreign ministry on November 26, 2019. He thus effectively captured Russia's persistent drug problem since the collapse of the Soviet Union. Accounting for one-fifth of the world's opium market estimated at USD 65 billion, Russia is the world's largest heroin consumer, all of it flowing from Afghanistan through Central Asia.
The Afghan drug trade supplying the Russian market has fuelled conflict, corruption, and instability in the region, provided financial support to terrorist organisations and led to a devastating addiction and HIV epidemic in Russia. Russia has around four to six million drug addicts and a drug-related mortality rate of 10.2 per 100 000 persons. This far surpasses the rate of its European neighbours. The UK, despite being Europe's largest cocaine consumer, has a drug-related mortality rate of 3.7 per 100 000 persons. With a death toll of around 30 000 per year, it is no wonder Russia has marked the drug trade as a major national security threat.
How can this fight be won? The words of Alexei Rogov perfectly illustrate Russia's heavily securitised approach to the problem. Russia's response has focused primarily on the security aspect of the drug trade, such as policing and border control. While regional cooperation is crucial to stemming the flow of drugs, initiatives between Russia and its Central Asian neighbours are short-term and poorly coordinated. Regional organisations' anti-drug potential could be further exploited, as could cooperation with the EU, which is also affected by the Afghan drug trade. At home, the high mortality rates are explained by the draconian legislation on drug consumption and the lack of comprehensive drug policies. Faced with increasing drug-related mortality, complementing law enforcement and regional initiatives with a softer approach at home is the next logical step.
A Threat to National and Human Security: Developments and Continuities in the Afghan Drug Trade
Drug trafficking in Russia is far from being a recent problem. The drastic rise of organised crime in the tumultuous years that followed the fall of the USSR, as well as the newly opened and poorly controlled borders with former Soviet states, has facilitated the transnational smuggling of opium produced in Afghanistan (which accounts for 90 per cent of the world's heroin output). Travelling through the Northern route, the drugs are smuggled to Russia through Tajikistan, Kyrgyzstan, and Uzbekistan. While Afghanistan might be the Colombia of Central Asia, the Central Asian drug market presents different characteristics from its well-known Latin American counterpart. It is not organised in mega-cartels with the power of a small state, but in smaller more disparate criminal groups. These groups can extend their influence in the region more thanks to poor border security, lack of transnational cooperation, and rampant corruption among law enforcement and local officials than to their own strengths and ingenuity.
Pointing fingers at borders and even at the Eurasian Economic Union (EEU), which saw Kazakhstan and Kyrgyzstan integrated into a free trade zone with Russia in 2015, is highly misleading. While greater connectivity and opened borders make the region an ideal transit route for illicit trade, it is complicity and impunity that explain why less than 5 per cent of the drugs passing through Tajikistan are seized. The widespread corruption and poverty that lead many to resort to drug trafficking are the root causes of the drug trade in Central Asia.
Regarding Afghanistan, the ongoing conflict (2001-2020) and political instability make it a breeding ground for drug trafficking. The drug trade has led to many disagreements between the U.S. and Russia, with the two parties failing to reach a coherent anti-drug strategy. The possibility of a NATO-Russia cooperation was briefly evoked but has been eliminated by U.S. withdrawal from the country following the U.S.-Taliban peace agreement signed on February 29, 2020. This recent development will risk affecting the anti-drug fight. With 61 per cent of the Afghan population deriving its income from agriculture, the impossibility of cultivating traditional crops amidst conflict, and a new power vacuum, Russia will need to step up to make sure drug production does not explode. Moreover, Afghanistan's new dabble into the mass production of synthetic drugs, notably methamphetamines, which is cheaper than heroin, is increasingly worrying. A booming market largely driven by the rise of the Russian Hydra darknet, the quantities of synthetic drugs seized by Russian authorities have multiplied by twenty over the 2008-2018 period.
Given the growing availability and affordability of drugs on the Russian market, the security dimension of the Central Asian drug trade naturally dominates the drug discourse and, to some extent, justifies Russia's militarised approach. With a 7 644 km-long shared border with Kazakhstan and hundreds of tonnes of drugs flowing in each year, drug trafficking has severe implications beyond the social costs of addiction and directly threatens Russia's security. This is all the more worrying considering that Islamic terrorist groups like the Taliban use the drug trade to finance their operations. The crime and terrorism nexus operating in the region thus makes Central Asia a priority for Russian policy.
The War on Drugs at the Regional Level: Results and Future Perspectives
A relentlessly creative and adaptable market, with a myriad of new ways to conceal and smuggle narcotics every year, the illicit drug trade is truly a transnational problem and requires intense cooperation between the affected states. However, the anti-drug potential of regional organisations such as the Shanghai Cooperation Organisation (SCO), the Sino-Russian led security alliance, or the Collective Security Treaty Organisation (CSTO), is not fully exploited and is limited in terms of capacity and political will.
Russia has been promoting collective security with its Central Asian neighbours through the Shanghai Cooperation Organisation. Created in 2001 and composed of eight member-states (India, Kazakhstan, China, Kyrgyzstan, Pakistan, Russia, Tajikistan, and Uzbekistan), it plays a major role in stemming the Afghan drug trade. The SCO's 2018-2023 anti-drug strategy marks the creation of an effective anti-drug mechanism within the organisation. The SCO often collaborates with the Collective Security Treaty Organisation, a military alliance between six former Soviet states (Russia, Armenia, Kazakhstan, Kyrgyzstan, Tajikistan, and Uzbekistan), and the Central Asian Regional Information and Coordination Centre for combating the illicit trafficking of narcotics (CARICC).
Most of Russia's effort in the region has focused on strengthening the governments in place, such as investing in the state structure or their military. Russia has maintained a steady military presence in the region, one likely to increase after U.S. withdrawal. However, regional cooperation has mainly focused on short-termed joint operations and border security, such as operation spider web in July 2019, which led to the seizure of 6 422 kg of narcotic drugs and 3 241 arrests. The porous borders, explained in part by the geographical difficulty of border control in such mountainous terrain, the lack of training and equipment of security forces are certainly worth paying attention to, but they are also short-term solutions to a much more endemic problem. 6 422 kg might seem like a big win, but it is nothing compared to the hundreds of tonnes of heroin crossing the border each year. This purely militarised and short-term response, both from Russia's part and in its engagement with its neighbours, is necessary but insufficient. Fighting the illicit drug trade will require a long-term strategy and a much greater political will to tackle its systemic causes. At the moment, the drug trade is 30 per cent of Tajikistan's GDP, with an increasing amount of people turning to drug trafficking to survive. Fighting corruption, implementing institutional reforms and providing economic benefits to the region are as crucial as border policing.
In light of this, international assistance could prove useful, notably from the EU. While Central Asia is not a priority for Brussels, there is still a strong case for cooperation here. Afghan heroin and meth production is not only Russia's problem. The drug trade in Central Asia might not be a security issue for Europe in the way it is for Russia, but opium trafficking along the Northern and the Balkan route also reaches Europe and the black sea route via Turkey is rapidly emerging as a prominent smuggling corridor. In July 2019, Ukraine intercepted 930 kg of Afghan heroin destined for Western Europe. Europe's role in Central Asia is limited compared to Russia's, and its focus on democracy promotion tends to clash with Russia's priority of supporting the regimes in place to strengthen their capacity to fight the drug trade. But overcoming those differences and finding ground for cooperation would be a positive step towards fighting the drug trade.
The War at Home: the Grim Reality of Drug Addiction in Russia
Draconian legislation criminalising drug use has characterised Russia's domestic war on drugs for the past three decades. While the dominance of the security discourse in Russia's anti-drug strategy is somewhat justified, tackling the illicit drug trade purely from a national security perspective does not diminish the social threat posed by drug consumption. Drug use is a pervasive domestic issue, but it has yet to become a policy issue. Underdeveloped drug policies and politicians' refusal to address it largely explain the high mortality rate.
With 100 000 jailed in 2018 (one in three convicts), Russia has the highest number of people per capita imprisoned for drug crimes in Europe, most of them convicted under Article 228 of the Russian penal code which treats drug possession as a criminal offence. Such harsh legislation not only leads to more risky forms of drug use (the use of dirty needles for drug injection has directly contributed to the HIV epidemic currently affecting 1.16 million people in Russia, one of the fastest-growing HIV rates in the world), but prevents access to treatment. With such large fines and lengthy prison sentences, (for possession of 2.5 grams of meth, users can go to jail for up to ten years) as well as the social taboo around drugs and HIV, users do not seek treatment and are further marginalised.
This addiction and HIV crisis in Russia is largely homegrown and will reach endemic levels in the next few years if it continues to be swept under the rug. The peculiarity and pervasiveness of the drug trade is its creation of a steady base of consumers and addicts. Criminalisation has not and will not diminish the demand for drugs, hence the need to work on demand much as supply reduction. While the legalisation of soft drugs is unlikely to appear as a convincing solution anytime soon in Russia, a softer approach to drug use is needed. At the moment, no long-term treatment or harm reductions services are available, and opioid substitution therapy remains forbidden.
Conclusion
Drug trafficking is a complex issue that must be fought on multiple fronts. Russia's drug policy needs to involve a wider concept of security that not only encompasses the threat to national security, but also the human and social threat of drugs. Intense cooperation with Central Asia and Afghanistan through the SCO and CSTO is essential, as is strict border policing and law enforcement. Nonetheless, this no-tolerance policy for the supply side of the drug trade needs to be complemented with a softer approach for the demand side at home. To dwell on the social and economic consequences of drug use would be a truism, and Russia has every interest in decreasing the influence of drug trafficking on its population's health and security. Developing more robust social policies seems at the moment more feasible than tackling the systemic causes of the drug trade in Central Asia. The latter will require a solid long-term strategy that goes beyond anti-drug operations and border control. Russia must step up its fight both at home and abroad.
From our partner RIAC
Central Asian Jihadists' Use of Cryptocurrencies in Bitcoin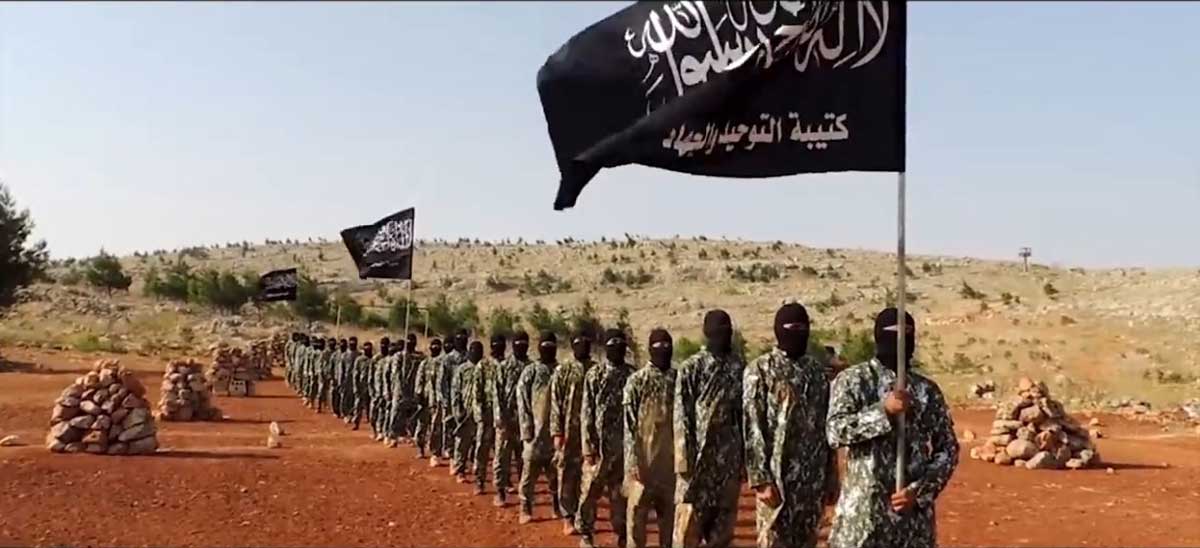 On August 13, 2020, the US Justice Department announced that it seized $2 million in Bitcoin and other types of cryptocurrency from accounts of three Salafi-Jihadi extremist groups, including al Qaeda and the Islamic State, relied on to finance their organizations and violent plots. According to their statement, the U.S. authorities seized over 300 cryptocurrency accounts, four websites, and four Facebook pages all related to Sunni-Jihadi militant organizations. Indeed, the disclosed criminal case documents indicate that this was the largest-ever seizure of cryptocurrency by US intelligence agencies in the context of terrorism.
US counterterrorism agents analyzed transactions of cryptocurrency on the blockchain, a secure form of public ledger for the online funds, and employed undercover operations as well as search warrants on email accounts to establish a money trail of Sunni terror groups that was detailed in an 87-pages of the Washington DC federal court report
The revealed papers indicate, in some instances, al Qaeda and its affiliated terrorist groups in Syria acted under the cover of charities 'Al Sadaqah' and 'Reminder for Syria'. In this regard, it should be noted that some al Qaeda-linked Central Asian Salafi-Jihadi groups also have frequently acted under the umbrella of the charity 'Al Sadaqah' for bitcoin money laundering and have solicited cryptocurrency donations via Telegram channels to further their terrorist goals.
But that doesn't mean that Islamist terrorist groups from the post-Soviet space raised funds precisely through this charity 'Al Sadaqah' of al Qaeda, whose accounts were seized by the US Justice Department. It has become a tradition in the Islamic world that charity organizations and foundations widely give to themselves the names 'Al Sadaqah' and 'Zakat', as the Quranic meaning of these words (Quran 2:43; 63:10;9:103)exactly corresponds to the purposes of "voluntary charity". Analysis of the finance campaigns of al Qaeda-affiliated Central Asian militant groups demonstrates that they frequently raised cryptocurrency donations through charities called 'Al Sadaqah' and 'Zakat'.
In order to explore the scale of the Central Asian Salafi-Jihadi Jamaats' crowdfunding campaigns, we analyzed their social media activities where they raised Bitcoins, dollars, Russian rubles and Turkish lira over the past two years.The methods and sources of the Uzbek and Uighur Islamist militants' crowdfunding campaigns in bitcoins are about the same as those of their parent organizations, the global Sunni terrorist groups ISIS and al Qaeda.Due to the inclusion in the list of terrorist groups, they carry out sophisticated cyber-operations for solicitation of cryptocurrency donations.
Before "mastering" the complex technology of cyber-tools in order to raise bitcoin funds in cyberspace, Central Asian jihadists used the simple 'hawala' money transfer system (informal remittance system via money brokers).Sometimes they have resorted to conventional 'hand-to-hand' cash transfer channels, where trust, family relationships or regional affiliations play an important role.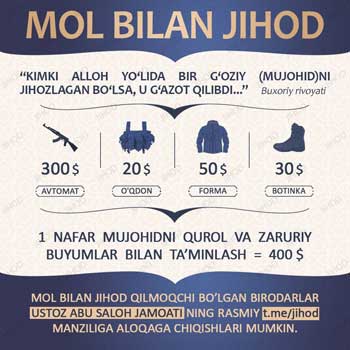 According to a UN report, Central Asian Salafi-Jihadi terrorist group Katibat Tawhid wal Jihad (KTJ), Katibat Imam al Bukhari (KIB) and the Islamic Jihad Group (IJG) leading jihad in Syrian Idlib province have close financial ties with its cells in Afghanistan. The UN Security Council's Sanctions Monitoring Team states that "regular monthly payments of about $ 30,000 are made to Afghanistan through the hawala system for KTJ."
The UN report asserts that "similarly to KTJ, KIB sends financial assistance, from its cell in Istanbul, through the hawala system to Afghanistan. Funds are brought in by informal money exchangers for Jumaboi from Maymana, the capital of Faryab. The original source of this income is the smuggling of fuel, food and medicine from neighboring Turkmenistan."According to the UN report, "suffering material losses, the Islamic Movement of Uzbekistan (IMU)and Tajik militant group JamaatAnsarullah (JA) are forced to engage in criminal activity, including transportation of drugs along the northern route in Afghanistan."For the Uighur jihadists of Turkestan Islamist Party (TIP) from China's Xinjiang province operating under the umbrella of Hayat Tahrir al-Sham (HTS) in northern Syria, "funding comes primarily from the Uighur diaspora" in Turkey, Central and Southeast Asia.
Dark Web & Bitcoin: New Endeavor of Central Asian Terrorists
With the development of digital cryptocurrencies as Bitcoin, Central Asian jihadists actively began to exploit this innovative financial transaction system to support their attacks and other terrorist activities. It is known that al Qaeda-backed Salafi-Jihadi groups of the post-Soviet space are seeking to purify Islam of any innovations (Bid'ah) and strictly following the Sharia law. They live similarly to how the Islamic prophet Muhammad and his companions lived in the seventh-century and always oppose any form of Bid'ah, considering it to be shirk and heresy. However, the Uzbek and Uighur Wahhabis did not shy away from using bitcoin innovation.
The first advertisements of Central Asian terrorist groups crowdfunding campaigns accepting bitcoin for Jihadi purposes in Syria appeared on the Telegram channel in 2017. In November of that year, a self-proclaimed charity group al-Sadaqah began a fundraising campaign on the internet from Western supporters to help the Malhama Tactical, the first private military contractor team from Central Asia working exclusively for jihadist groups in Syria.Al-Sadaqah in English on Telegram, explicitly relying on the English-speaking western sponsors, called on them to make bitcoin donations to finance the Malhama Tactical and the Mujahedeen fighting against the Assad regime in northeastern Syria.
As we have previously analyzed, Malhama Tactical is a private jihadi contractor operating in the Idlib-Aleppo region of Syria. The group, founded by an Uzbek jihadist Abu Salman (his real name is Sukhrob Baltabaev) from Osh City of Southern Kyrgyzstan in May 2016, is closely allied with Hayat Tahrir al-Sham (HTS), the strongest militant factions in northern Syria. The Malhama Tactical is known to have regularly conducted military training for jihadists of HTS, Ahrar al-Sham, Ajnad al Kavkaz and the Turkistan Islamic Party.After the death of Abu Salman in August 2019, Ali Ash-Shishani, the native of Russia's North Caucasus became the new leader of Malhama Tactical.
In 2017-18, al-Sadaqah charity on Telegram called on followers to donate via a "Bitcoin wallet anonymously and safely for the Mujahedeen brothers of Malhama Tactical". The charity group urged potential cryptocurrency contributions to benefit from "the ability to confuse the trail and keep anonymity".
We do not know how much bitcoin money al-Sadaqah managed to raise for the activities of the Central Asian Muhajireen. But according to Malhama Tactical's report on the internet, crowdfunding has been "fruitful." In an effort to explain how donations were spent, Malhama Tactical has advertised extensively to followers on 17 October 2018, in a video posted on Telegram, that a new training camp had been built and purchased airsoft rifles, night vision devices and other modern ammunitions.
Since 2018, Uzbek and Uighur militant groups KTJ, KIB and TIP have begun an agitation campaign to fundraising bitcoin money on the Internet. Judging by the widespread call for Bitcoin donation online, their need for anonymous, secure, and hassle-free funding streams have made cryptocurrencies of some potential value to them. These properties are the anonymity of fundraising, the usability of remittance and transfer of funds, the security of attack funding, acceptance of funds, reliability, and volume of web money.
And every time they announced a crowdfunding campaign, they clearly declared for what purpose the collected bitcoins would be used. For example, al Qaeda-linked KTJ's most recent call for bitcoin appeared on Telegram in May 2020 as a banner that asks to "Equip a jihadist". The poster showed a masked jihadist and the exploitation of the Quran's Hadith in Uzbek, calling on the believers to prepare and equip a fighter going on a raid for the sake of Allah.
Another picture shows a jihadist with a Kalashnikov AK-74 in his hand, over whose head enemy planes and helicopters fly. The picture gives a symbolic meaning about the empty-handed jihadists in Syria, fighting against the Russian and Syrian powerful military aircraft to protect the Islamic Ummah. Then goes on with KTJ's call to make donations in bitcoins and rubles to purchasing equipment and ammunition for the Central Asian Mujahedeen in Syria. On the bottom it was displayed the long address of the virtual wallet for Bitcoin donations along with KTJ's Telegram and web contacts promising the anonymity of potential donors.
On June 18, 2020, KTJ militants published the opinion of the well-known ideologue of modern jihadism Abu Qatada al-Falastini in Telegram from whom they asked whether the crowdfunding campaign of Bitcoin for the purposes of Jihad contradicts Islam. As it is known, there are still ongoing disputes among the world's top Islamic scholars about whether cryptocurrencies, such as Bitcoin, are deemed Sharia-compliant.
Abu Qatada from a religious point of view justified the acceptability of using Bitcoin to protect the Islamic Ummah and wage holy Jihad, but at the same time warned against full confidence in Bitcoin. In his opinion, the enemies of Islam can destroy this cryptocurrency in the future, and if it loses its current value, and then the devout Muslims who have invested their savings in Bitcoin could go bankrupt. Abu Qatada al Falastini is a greatly respected Salafi thinker among Central Asian jihadists and he gave a pep talk to KTJ when it pledged bayat (Oath of Allegiance) to al Qaeda leader Ayman al Zawahiri in 2015.
On June 25, 2020, KTJ posted another Crypto Crowdfunding campaign announcement on its Telegram channel to provide Uzbek jihadists with modern military gear and equipment. For clarity, the group published a picture entitled "Perform jihad with your property" in Uzbek, which indicates the prices for military clothing and weapons. For example, the AK-47 Kalashnikov assault rifle costs $300, unloading vest for AK-47 cartridges – $20, Field Jacket – $50, Military Combat Boots – $30.In total, $400 will be needed on the full provision of one Mujahid with weapons and uniforms. On the upper side of the picture is a Hadith quote about "He who equips a fighter in Allah's path has taken part in the fighting."
A month later, the group's Telegram channel reported that it had managed to raise $4,000, for which 8 sets of weapons and uniforms were purchased for the Uzbek Mujahedeen. Also, KTJ's media representative announced that the group is stopping the fundraising campaign for this project.
Other projects of the Central Asian Salafi-Jihadi groups were the Bitcoin crowdfunding campaign for the purchase of motorcycles for Inghimasi fighters (shock troops who penetrate into the enemy's line with no intent to come back alive), cameras, portable radios, sniper rifles and night vision devices. For each project, a separate closed account was opened on the website of jihadist groups in Telegram, after which the Bitcoin and Monero accounts, as well as contact information, were closed.
Another crowdfunding project posted on January 29, 2020, in Telegram, called 'Helping captive Muslim sisters' and claims to raise money to free Kyrgyz, Tajik and Uzbek ISIS women hold in the al-Hol refugee camp in northeast Syria controlled by the US-backed Syrian Democratic Forces. The KTJ jihadists posted pictures of Central Asian women with their children holding posters "We need help" in Kyrgyz, and asked the fellow Muslim believers to raise money to ransom them from the captivity of the Kurdish communists. It was not clear to us how much money was raised as a result of the crowdfunding campaign since this channel was later blocked by the Telegram administrator.
The annual largest crowdfunding project for the Central Asian Salafi-Jihadi groups is being implemented on the eve of the Muslim holidays of Eid al-Fitr and Eid al-Adha, during which believers pay Zakat (obligatory tax) and Sadaqah (voluntary alms).According to the Quran, recipients of the Zakat and the Sadaqah include the poor and needy, debtors, volunteers in jihad, and pilgrims.
The websites of the Central Asian Jihadist Jamaats revealed that their crowdfunding campaign to raise funds for the jihad was particularly active during Ramadan. Ramadan is known as a holy and generous month, but this year was especially generous to notorious al Qaeda-linked Central Asian extremist groups. KTJ, KIB, Uighur's TIP and Russian-speaking North Caucasian militant group Liwa al Muhajireen wal Ansar (LMA), that pledged allegiance to HTS, have boosted their military budget during Ramadan.
To avoid the risk of being blocked or tracked, they created a temporary mirror group called 'Zakat', where the donation money was received. Zakat's wallet received donations from Central Asian labor migrants in Russia in the amount of $150 to $220 each time to purchase livestock, which was then slaughtered in sacrificial prayer on behalf of the donors. After Ramadan and the holidays of Eid al-Fitr and Eid al-Adha, the 'Zakat' mirror group in Telegram was closed.
The Central Asian Islamist extremist groups have asked their supporters to make Bitcoin donations mainly at the following two virtual wallet addresses:
– 3HoWzYwaBbTg7sKGtHz3pAZxdHZoXUJRvG;
– 12SxsxvrE8zrtRveSeFJYA6sgbJZbyHDGk.
Our analysis confirmed that multiple transactions were made to these bitcoin addresses. In addition, other transactions were made in digital currencies, the addresses of which were blocked on Telegram.
Conclusion
In conclusion, the significance of the crowdfunding campaigns in bitcoin should not be given exaggerated importance, even though they have improved the position of the Central Asian Salafi-Jihadi groups in Syria and Afghanistan, and boosted their budget. Central Asian Salafi-Jihadi terrorist groups' technical abilities are not currently suited to bypass the financial controls of international counterterrorism organizations and discreetly conduct money laundering.
The history of their activities has shown that small Uzbek, Uighur and Russian-speaking Islamist extremist groups from the post-Soviet space and China have been assimilated with more powerful global Sunni terrorist organizations such as ISIS, al Qaeda and HTS. And accordingly, their potential for crowdfunding campaigns in bitcoin should be viewed through the prism of their global parent organizations.
In any case, the governments of Central Asia and Russia do not have sufficient mechanisms and leverage to combat illegal cryptocurrency transactions on the dark web by global Salafi-Jihadi movements waging jihad in the Middle East. As noted at the beginning of this article, such opportunities to monitor and investigate jihadist crowdfunding activities are available to the US government and financial institutions. For example, the U.S. Treasury" has access to unique financial data about flows of funds within the international financial and commercial system," which is invaluable for tracking illicit flows of money.
Consequently, Central Asian governments must rely not only on Moscow but also actively cooperate with Western counter-terrorism and financial institutions to disrupt the Salafi-Jihadi group's external crypto crowdfunding sources.
The Afghan intelligence services
Still today the Afghan Intelligence Services' ability to collect information is definitively scarce. This is mainly due to the limited specific training of staff and the very scarce and even improper use of the most recent technologies.
The Afghan Intelligence Services collect information mainly in major cities and in the areas most controlled by the government and this often leads the decision-makers who use this "complacent" or rhetorical intelligence to make severe evaluation errors.
The National Directorate of Security (NDS) does not correctly disseminate its news in the traditional "information cycle" of a Service and therefore it leaves decision-makers with scarce, incomplete and often inaccurate information. Established in 2001 and heavily supported by the United States, the NDS is based in Kabul but is strongly supported by Germany, GBritain and obviously the United States. It should be noted that its first Director was Mohammed Arif Sarwari, one of the leaders of the United Islamic Front for the Salvation of Afghanistan, i.e. the old "Northern Alliance".
It was precisely the NDS that in 2015 caused the fall of Kunduz into the hands of the Taliban, who were, indeed, a full invention of the Pakistani Intelligence Services, which were in search of an Afghanistan that could only play the role of "depth area" for a possible nuclear or even conventional confrontation with India. Ironically, it is from the Pakistani Intelligence Services that the United States received the largest or almost total amount of news and information precisely, or apparently, against the Taliban. Quos Deus lose vult, dementat.
Moreover, the current relations between the NDS, the National Security Agency of Afghanistan (NSA), i.e. another Intelligence Service in Kabul, the Defence Ministry and the Interior Ministry show a very poor ability of communication and exchange of news between them, which makes them often be late in their operations or even useless.
Or sometimes voluntary collaborators of what Westerners would call the "enemy", but for some operatives or executives of the NDS or of the other Afghan Intelligence Services could also be an "Islamic brother". Sometimes it has happened.
In the case of Kunduz, the very evident and aggressive Taliban operations were deemed ineffective or irrelevant. Nobody took seriously the news coming from the most reliable "sources" among the rebels. No agency of the Afghan Service took seriously or even studied the Taliban operations in Kunduz.
The NDS, however, was established mainly with the support of the American CIA.
But there is a strategic and conceptual problem that should not be overlooked at all: all NATO countries that participated or still participate in military operations in Afghanistan have very different ideas about their role in the war against the "rebels" and in the country.
The Resolute Support Mission, composed of about 13,000-16,000 soldiers from 39 NATO countries and from other countries, operates from Kabul, Mazar-i-Sharif, Herat, Kandahar and Laghman, and focuses mainly on the training of Afghan forces, as well as on military consultancy and assistance, hoping that the local Afghan forces will reach a level capable of ensuring at least fictitious national independence.
At least until 2014, akey year for the new relationship between NATO and the Afghan government, the Italians – who are still training the Afghan police very well – went there especially not to displease the usual U.S. Big Father that the Italian strategic system still sees as unquestionable and unassailable.
This participation "to bring democracy" has led to some positive effects for Italy, especially on the technological-intelligence level. But it has never been enough.
Nevertheless, the silly servility and sycophancy of Italian politicians, who closely resemble the character of Nando Mericoni played by Alberto Sordi in the movie An American in Rome, is still largely widespread. Italian politicians – even starting from the text of the Constitution – do not know or do not want to understand the eternal rules of foreign policy and strategic thinking, of which they know nothing yet.
Certainly you cannot obtain votes, additional funding and small favours from foreign policy. This is the level of Italian politicians, especially in current times more than in the past.
France, as long as it stayed in Afghanistan, interpreted its presence in Kabul as a way to control Asia's intermediate axis so as to avoid Indian, Pakistani, Chinese, Iranian and even American expansion.
The Brits went to Afghanistan to fight against a "terrorism" of which – like everyone in the West-they do not know the organizational and doctrinal roots or even the purposes, but see as the maximum destabilization of their unreasonably "multi-ethnic" and hence inevitably "multipolitical" societies.
This is the terrible case of a propaganda that stifles even the ruling classes that should be immune to it.
Certainly this was not even true in Afghanistan because the bad guy, namely Osama bin Laden, was often elsewhere. He was considered the only mastermind of the aforementioned "radical Islamic terrorism" – or whatever can be defined with this rather rough terminology – and hence to be killed, like a horse thief in the Far West. As has precisely happened, the killing of Osama bin Laden did not change anything.
He had to be killed because he had killed American citizens. True, right. But foreign policy is never the extension of any country's domestic criminal law.
There was even Germany present in Afghanistan to contemplate its military decline, but above all to show – even eighty years later – that it was no longer a Nazi country. As Marx would have said, le mort saisit le vif.
In short, the varied presence of NATO and of the initial coalitions of the willing in the War on Terror had no clear ideas and probably did not even know where it really was.
Meanwhile, since 2014 – the year of the actual withdrawal from Afghanistan by the United States and its attack forces (after rigged elections, but in any case, whenever the United States participate in operations abroad, it always has acoitus interruptus)– the Taliban have started their great and real campaign to conquer the territory and, above all, the Afghan "souls".
In 2015 NATO and the United States had planned to keep 13,000 military plus 9,800 U.S. soldiers for counter-terrorism activities. Later, however, the withdrawal from the Afghan territory – coincidentally after the great Battle for Kunduz – ended in December 2016, but leaving alive and operational as many as 8,400 soldiers on the ground.
Currently as in the past, the real problem for Afghanistan is Pakistan. General Musharraf, the former Pakistani President from June 20, 2001 to 18 August 18, 2008 (note the dates) and perpetrator of the 1999 military coup, clearly stated that the Inter Service Intelligence (ISI), i.e. the Pakistan single intelligence structure, supported and trained all terrorist groups in Pakistan so as to later send them to Afghanistan, with a view to carrying out "terrorist" attacks on NATO, Western and Afghan targets.
In 2015 -a key year for Afghanistan – in an interview with The Guardian, Musharraf clearly said that the ISI had always "cultivated" the Taliban mainly to destabilize the government led by Karzai (a man also linked to India) but, in particular, to carry out harsh actions against India.
Pakistan keeps on supporting terrorist groups operating in Afghanistan and in other parts of the world – not only the Taliban, but also the other groups.
Rahmatullah Nabil, the Chief of the NDS -i.e. the new Intelligence Service affiliated to CIA but entirely Afghan – also officially showed documents proving that the funds long granted by the United States to Pakistan to "fight terrorism" shifted to the Pakistani Service ISI, precisely to train, recruit and support terrorism.
Hence the forgetfulness – so to speak – of the Afghan governments with regard to intelligence comes from far away.
At the time of the Soviet invasion, the KGB and the GRU created their two local counterparts, namely the Khadamar e-Aetela'at Al-Dawlati (KHaD) and the Wazeelat e-Amniat-e-Daulati (WAD), respectively.
The two agencies disappeared when Najibullah's government fell in 1992, pending the great Russian crisis. As a result, however, also the Afghan State in all its forms collapsed. Therefore also the two agencies linked to the Soviet intelligence Services evaporated.
What there was, anyway, in the Afghan Intelligence Services before the Soviet invasion?
The first governments that had just come to power, after Russia's arrival, organized four agencies: Kargarano Amniyati Mu'asasa (KAM), i.e. the "Workers' Intelligence Service";Da Afghanistan da Gato de Satalo Adara (AGDA), i.e. the "Agency for Safeguarding Afghan Interests", Amin's real longa manus, and the aforementioned WAD and KhAD.
The President of the time, Noor Tarakai, had little power, while Hafizullah Amin made sure that both the Communist Party (or, more precisely, the Afghan People's Democratic Party) and the Agencies were divided in two, always following the policy line of the Khalq and Parcham factions.
The Khalq (meaning "masses" or "people") was directly supported by the USSR. It was largely made up of Pashtuns and was particularly popular among the working classes.
The very superficial Marxism shown by the faction was often only a way to defend the Pashto world from the pressures of other ethnic groups.
The Parcham (meaning "flag") was the most widespread faction of the party in the urban classes and in the middle and upper classes.
Eternal separation between rural and urban areas, a typically Maoist and classic crux of every practical and extra-Western interpretation of Marxism-Leninism.
The Parcham reunited laboriously with the Khalq faction during the 1978 Revolution, but it really came to power only after the Soviet operation, the local coup, i.e. Operation Tempest 333 of December 27, 1979, when the Alpha divisions of the KGB quickly took the Tajbeg palace and assassinated Hafizullah Amin.
Meanwhile, it was Amin himself who had ordered the assassination of his predecessor, Mohammed Taraki.
In the intermediate phase of his regime, Amin also had many Afghans assassinated – and not only his known opponents.
A possible, future "Cambodian" twist of Afghan Communism? Probably so.
At that juncture the USSR intervened since it did not want ideological deviations or Afghan approaches to Chinese Communism, as practiced in Vietnam or, precisely, in Khmer Rouge's Cambodia. Hence Operation Shtorm 333 was carried out which, apart from Amin's assassination, lasted approximately three months, to definitively "settle" the remaining issues.
With specific reference to the Afghan intelligence services, Hafizullah Amin mainly used the AGSA, but also the KAM, only to settle his scores. The two agencies, however, received technical assistance and training from East Germany and the USSR.
Nevertheless, the shift between the different ethnic groups is precisely the key to understanding the Afghan intelligence services prior to the U.S. and NATO operations. I believe that, in any case, ethnic factionalism – probably dating back to the old political-tribal faith – was the key to the functioning of the new Afghan Intelligence Services, even during the naive Western administration.
In January 1980 the KHaD fully replaced the KAM.
Furthermore, the KHaD was placed outside the administration of the Interior Ministry, dominated by the Khalq and then immediately transferred to the office of the Prime Minister, who later also became National Security Minister.
The Directors of the Afghan Intelligence Services always reported directly to the KGB and, in 1987, the standard situation was that the Afghan Intelligence Service employed almost 30,000 operatives and officials and over 100,000 paid informants.
Each element of the Afghan Intelligence Service had at least one KGB "advisor" behind them. As also shown in Syria, Russia paid but did not trust it too much.
Between 1983 and 1993, the Pakistani Intelligence Service ISI -established by a British officer – trained, with the support of CIA, almost 90,000 Mujahideen to send them fighting the USSR in Afghanistan.
The KHaD had also the statutory obligation to "defend the Communist regime" and "unite all Afghan ethnic groups under one single political system", especially in collaboration with the Ministry of Borders and Tribal Affairs.
Again in the 1980s, the KHaD always had both East German and Soviet instructors and numerous secret mass executions took place.
About 60,000 Afghans were sent to the USSR between 1980 and 1984.
Again in those years, as many as 10,000 KHaD officers received special training from the KGB.
In an old confidential document, CIA also estimated that the total cost of the Soviet engagement in Afghanistan was over 15 billion roubles, plus additional 3 billion roubles for the period when it did not directly occupy Kabul.
Since currently the 1979 rouble is still worth 22.26 Euros, in principle we can calculate a Russian occupation expenditure of 233 billion and 930 million, plus the extra three billion roubles.
The KHaD also created tribal militias on the borders, while the KGB organized the internal tribes on its own, mainly for sabotage and to spread dezinformatsjia.
After the USSR's final collapse and the arrival of the United States, however, a new Afghan Service, the NDS, was immediately created.
It was made up mainly of former KHaD agents and Mujahideen. Indeed, there was no other population available.
The Service, however, was known to be bad or even very bad: its operatives and analysts were selected only on a tribal level or by simple political affiliation.
They never went to school for education and training. They had no serious training centres and they did not professionally check their networks of informants.
Even the United States, however, spent a lot of money in Afghanistan: the Congressional Research Office has calculated a 1.6 trillion dollar spending in Afghanistan and Iraq only for the "War on Terror".
The Afghan Service costs the USA 6.4 billion dollars every two years.
And spending always tends to increase, regardless of the poor results reached.
What about China? First of all, China wants the political stability of Afghanistan, which is a neighbouring and Islamic country. In particular, it controls Kabul to prevent Uyghur jihadism from finding a safe and secure place there. It prevents the Uyghurs from having contacts with the Taliban. It has already happened.
Everything will happen when the United States definitively leaves Afghanistan, since China now regards that country as an essential pawn in its relationship with India, while – through Pakistan – China strengthens its relations with the Taliban, which the Chinese view as the next and inevitable masters of Kabul. This forecast is really easy to make.
Moreover, China provided 70 million per year to the Afghan government to support its counter-terrorism efforts, while there have long been Chinese soldiers in Badakhstan and, above all, in the Wakhan Corridor, where it is said that China has already created a military base and has even already deployed a brigade of the People's Liberation Army.
China has also put pressures on Kabul for Afghanistan to accept its satellite positioning system, instead of the GPS developed and managed by the United States.
Some Chinese troops, however, have also been stationing in Tajikistan for long time, again to protect the Wakhan Corridor.
Since his rise to power in 2014, however, also Ashraf Ghanihas thought to immediately improve his relations with China so as to use, first of all, China's influence on Pakistan to avoid the Pakistani support to the Taliban – which is unlikely – as well as ensure that China begins to invest significantly in Afghanistan, now that the civil and international war is on the wane.
The China-Pakistan Corridor, one of the first axes of the Chinese Belt & Road Initiative, is now worth 62 billion U.S. dollars of costs alone.
There is also a new railway line leaving from the port of Gwadar, the axis of China's projection, and arriving in the Pakistani province of Baluchistan and beyond.
In 2016 China also signed an agreement with Afghanistan for the Belt & Road Initiative, with the promise of 100 million U.S. dollars for infrastructure projects in Afghanistan, which have not been provided yet.
Trade between Afghanistan and China is fully asymmetric and, until Afghanistan is completely pacified – certainly by others and not by China -we believe that that the issue will not be very relevant, at least for China.
And until the triangulation between the Taliban, Pakistan and China – which has still many doubts about the reliability of the Pakistani "students" operating in Afghanistan (precisely, the Taliban) -is not even clear, the Afghan economic revival – if at China's expense – will be slow or unlikely.