White Supremacy in the White House Rooted in a Dark Theory of History
The Fourth Turning: What Cycles of History Tell Us About America's Next Rendezvous with Destiny by William Strauss and Neil Howe.
[yt_dropcap type="square" font="" size="14″ color="#000″ background="#fff" ] T [/yt_dropcap]he theoretical slogan "Make America Great Again," followed in practice with a ban on travel to the US from seven Moslem countries, is ultimately rooted in a sinister theory of history.
The theory does not originate from the new occupant of the White House, who has never exhibited much intellectual curiosity, be it in history, or any other subject for that matter, with the possible exception of business deals, but it is endemic to his most influential and trusted advisor Steve Bannon, the man behind the curtain who landed him in the White House.
Bannon is known as a White Supremacist, with racial and anti-Semitic tendencies; a passionate adherent to a theory of history about America's future as elucidated in the above mentioned book. There are around a plethora of cyclical theories of history, the most popular being perhaps that of the philosopher of history Giambattista Vico. One could indeed go all the way back to the ancient Greeks who believed that at the end of a given cycle of history (the saeculum) comes a "ekpsyrosis" or a cataclysmic event, a trial of fire of sorts, which destroys the old order and brings about a new one, but this new theory by Strauss and Howe is unique in its sheer darkness. To boot, Bannon misinterprets it to better suit his own political agenda.
As per this theory, there are three turning of history which America has experienced, so far: the Revolutionary War, the Civil War, the Great Depression followed by World War II. They were marked by massive dislocations, war, and decay from which the people were forced to reunite and build a new order. In other words, first comes a catalyst event from which issues a period of regeneracy climaxed by a war with the old order which ends with a resolution. The resolution is the triumph of the new order.
Bannon seems to be obsessed with the theory. He is convinced that a reckoning is fast approaching, in fact it must necessarily arrive in order for a new order to emerge; also, that the climactic conflict will be conducted from the White House. He has shown himself willing to advise Trump on the enactment of policies disruptive of the current order. It is generally believed that the he was the architect behind the ban, called temporary for now, on travel and on entry Muslims in the US. He was also behind the deletion of the reference to Jews as victims of the Holocaust on its recent yearly commemoration (on the very same day of the ban enacted on Moslems by executive fiat).
One of the side-effects of this encouraged disruption is the breaking down of old political and economic alliances, even the turning away from traditional American principles to create chaos and prepare for the new order. Chaos seems to be the climate in the present White House: rampant confusion under conflicting orders, with Caligula redivivus creating the confusion and then perversely enjoying the reality show, to suddenly show up as the man with the brilliant solutions. It's as if the Apprentice TV show were still going on. It's the atmosphere of the Roman Colosseum where the phenomenon of survival of the fittest is the ultimate goal and rationale. Many, in and out of the White House, are concerned and are beginning to entertain the idea of impeachment. Some have even mustered the courage to call him "illegitimate," which is the equivalent to the little boy in Christian Andersen's tale shouting "the emperor is naked" as the emperor struts around in his splendid invisible clothes to the sycophantic admiration of his followers.
The bizarre show, as of this writing, goes on unabated. It has to go on, necessarily, because Bannon is attempting to bring about, or fulfill, if you will, the so called fourth turning of US history, a new vision of America as described in the theory above. Trump is merely the means to attain to it. In an interview Bannon has described Trump as "a blunt instrument" but one that he is perfectly willing to use nevertheless, in order to attain the appointed goal of history. It is all rather deterministic with human responsibility, guilt and regret, notably absent from the whole process.
Nevertheless, taking notice of this fourth turning gives some needed context to policies that so far seem deranged, incoherent and inconsistent, unexplainable and confusing even to experts in geo-politics, as they vainly attempt to square the circle and make some rational sense of it all.
Bannon is convinced that we are already in a period of regenaracy. The catalyst was the financial crisis of 2008. As described in the book, this is a period of isolationism, of reimagining the economy (which so far has shown itself prone to a reimagining new tax breaks for the rich…), re-building of the infrastructure, and, most importantly, a strong centralized, authoritarian, powerful government where the executive reigns supreme, unencumbered by too many laws and regulations. But this is only a preparation for a massive conflict of civilizations to come. A conflict between East and West, which may mean the Middle East or perhaps China. Russia, for the moment, seems to be considered a friendly ally, with few if any rationales.
But what does history ultimately show? Does it really repeat itself deterministically, or are the catastrophes of every era unique to each era? Will the fourth Turning be the same as the first, second, and third? To take a close look, it appears that the Fourth Turning of the Civil War was quite different than that of the Depression and World War II.
Logically, it is argued, the financial crisis of 2008 is the catalyst for our crisis and the coming struggle, just as the Depression was for the third turn. But are the two really comparable? During the Depression unemployment reached 20%; in the fourth turning it never went beyond 10%. Unlike the Hoover Administration (an administration which prided itself of its business acumen) which dilly dallied for two whole years, the government of Barack Obama acted very fast to prevent a meltdown and turned the situation around, at least on a financial level.
What this financial crisis has brought about this time around is an exacerbation of the income inequality gap which has been growing globally since it began some forty years ago. That explains the popularity of a Bernie Sanders, and to a certain extent that of Donald Trump, who as one of those who benefitted from and produced the gap, then skilfully used it as a campaign strategy to fool millions of middle class workers who are now waiting for the check in the mail. Good luck. The disappointed will be palpable in a few months.
If there is a comparison to be made, it ought to be that of the inaugural address of President Franklin Delano Roosevelt in 1933, when he describes a county devastated by the Great Depression, a picture that all Americans could see and recognize; and compare it to that of Trump in 2017 a couple of weeks ago, where he talks of a dark "American carnage." What was he talking about? Not many can answer that question. But it may aptly describe the deep divisions presently existing in this country of ours.
Unlike the era of FDR which put people back to work and created a national unifying spirit wherein society's resources were redistributed and society rebuilt, what is most apparent today is discord and disunity, as exemplified by the two main political parties who have all but forgotten the word compromise and harmony. The anger and the authoritarianism is there, apparent to all, but not the yearning for social justice, not the common purpose, or the common good. Division and dissension have been promoted as never before.
And this is where Bannon and him minions in the White House are greatly misguided. They believe that they are working for "the Gray Warrior," the leader described by Strauss and Howe who will "urgently resist the idea that a second consecutive generation might be denied the American Dream." The identification of the Gray Warrior in a pathological narcissist who creates "alternate facts" as he goes along is indeed a grave mistake.
They also conveniently forget that the new order in the Germany of 1932 was inaugurated by a power-mad fellow named Adolf Hitler who wanted to make Germany great again. Pari passu, today's hero and savior, while claiming to be champion of the disadvantaged, continues to pursue his own personal financial and political interests and has so far shown precious little compassion for the poor and the unfortunate.
In reality, the ones who may eventually show us the way forward, out of our impasse and begin the Fourth Turning are not the Trumpists in love with Ayn Rand's "virtue of selfishness" but the Millennials, the young, whose needs have all but been ignored by the likes of Trump and Bannon.
The only candidate who attracted them during the presidential campaign was Bernie Sanders. Trump appealed and managed to fool mostly an older generation who felt that something had been taken away from them and resented that fact. The millennials have no such resentment; they have, in fact, never been given a chance at the American Dream in the first place. Most of them voted against Trump, many stayed home and for good reasons: Trump had offered them nothing.
What Bannon has failed to grasp is that the Fourth Turning, as envisioned by Strauss and Howe, is not inevitable and deterministic but requires an urgent return to a constitutionally agreed-upon set of values. The millennials have grasped that much. What Bannon and Trump are doing, on the other hand, is that, far from unifying against outside threats, they are creating enemies galore (Mexico, China, Australia, the EU, you name it) which many Americans don't want to have. That insistence on creating enemies at a tough bargaining table, does nothing but increase the palpable anxiety and frustration.
Indeed, we find ourselves in uncharted perilous territory and history cannot deterministically predict where we will eventually end up. It can only give us guidelines and lessons on how to avoid past mistakes. History however does teach us that to ignore the voices of justice and reason is to make sure that we will end up with an enormous political disaster on our hands. In a way we already have one reigning disaster right inside the White House. Those who did not vote for confusion and dissension (by 3 million votes difference) are now asked to go along for the ride with the mad emperor. Such are the ways and byways of democracy. In any case, better buckle up; the ride is likely to be bumpy.
Author's note: this essay has already appeared in Ovi Magazine on February 6, 2017
America's Public Are Foie-Gras Ducks- American Billionaires Farm This Public
Any animal farm needs to feed, to its livestock, food that the farmer has selected, so as to fatten the animals in the way that the farmer wants, in order for him to serve his selected market — serve them what that market wants.
Foie-gras ducks (and geese) are fed in order to produce foie gras — sickly enlarged bird-livers — which aristocrats traditionally have craved to eat. Many rich people eat this almost tasteless "delicacy", as a status-symbol. By French law, foie gras is defined as the liver of a duck or goose fattened by force-feeding corn with a feeding tube. The final weeks of the bird's life consist of nothing but these force-feedings, as the animal's only supply of food. That's the way to produce those highly valued, sickly enlarged, bird-livers.
In the following video, the actress Kate Winslet explains and shows how this force-feeding is done (it's showing there a bird-analogue of what's done to America's voters)
Those ducks and geese need to be force-fed this food because the birds don't actually want to eat it — they're forced to 'eat' it; it's simply forced into their stomachs. That's not really eating of food, for nutriment or for health, and especially not for pleasure, like real eating is. It is, instead, just the farmer's forcing corn into the bird's stomach, regardless of what that victim wants, or needs, or can even tolerate. It's something that's done to the bird, not by the bird. So, although it's feeding, it's not actually eating.
This is the way that American elections increasingly are, for Americans — elections are increasingly something that's done to them, and less and less what they themselves do.
America's Democratic Party voters aren't as politically disaffected as are America's Republican Party voters, but both groups are reluctant to vote for the politicians whom the aristocracy is offering to them as constituting their final general-election options. And there are now a larger number of unaffiliated or "independent" American voters than the voters of either Party — and America's independent voters are astronomically politically disaffected. This was shown on 26 October 2016, just before the U.S. election, when Britain's Guardian bannered
Most Americans do not feel represented by Democrats or Republicans – survey
Poll finds Hillary Clinton and Donald Trump continue to face historically low favourability ratings, while pessimism about the country's direction has grown
Participating in this poll had been (as shown on page 42 of the pollsters' full report) two thousand scientifically sampled American adults, 18 or older — including ones who hadn't even registered to vote (and so this was a scientific sampling of the total U.S. adult population, instead of only of registered voters, or only likely voters) and consequently the most disillusioned voters who don't vote at all were included in this political poll, which is absolutely extraordinary — and it found, as the Guardian summarized it, that: "Sixty-one per cent of survey respondents say neither political party reflects their opinions today, while 38% disagree. Nearly eight in 10 (77%) independents and a majority (54%) of Republicans took this position, while less than half (46%) of Democrats agree."
So (to clarify that incompetent writing in the Guardian): just before America's 2016 general election, 46% of Democrats were politically disaffected, 54% of Republicans were, and a whopping 77% of independents were; and 61% of all Americans were. Fewer than 39% of Americans thought that the U.S. Government represented them. Not necessarily in words, but definitely in reality: 61% of Americans thought they weren't living in a democracy — they thought that America is actually a dictatorship. A better headline for that news-report would therefore have been: "61% of Americans Think They Live in a Dictatorship." It would have been shorter, clearer, and equally as true, as the Guardian's headline.
Since Democrats are the least-displeased American voting-group, regarding the politicians that their aristocrats have selected for them and fed to them, let's focus on and consider here, in some detail, this least-displeased American voting-group, because they're the least like any resistant (or "anti-Establishment") foie gras geese and ducks are; Democratic Party voters are far more passive than other Americans are, far more willingly accepting of what's being fed to them by the aristocracy.
During the 2016 primaries-season, which are the contests within each of America's parties, one candidate stood out above all others as being by far the most-preferred one by the American general electorate: Bernie Sanders. He was Hillary Clinton's opponent in the Democratic Party primaries. Although all of the Democratic Party's billionaires were funding Ms. Clinton's campaign, the American public strongly preferred Mr. Sanders. In the numerous one-on-one polled hypothetical choices versus any of the opposite Party's contending candidates, Sanders crushed each one of them except John Kasich, who, throughout the primaries, was the second-most preferred of all of the candidates of both Parties (and who performed far better than Trump did in the hypothetical match-ups against Clinton). But Kasich received almost as little financial backing from the billionaires as did Sanders; so, like Sanders, Kasich didn't receive his Party's nomination. In the hypothetical match-ups, Sanders beat Kasich by 3.3%, whereas Kasich beat Clinton by 7.4% — that spread between +3.3% and -7.4% is 10.8%, and provides a pretty reliable indication of what the Democratic National Committee threw away when rigging the primaries and vote-counts for Hillary Clinton to win the Party's nomination. All of the DNC insiders knew that Sanders would be the stronger general-election candidate, no matter whom the Republican nominee would end up being; all of the polling showed it clearly, and they all read the polls voraciously. In all of this hypothetical polling, Sanders beat Trump by 10.4%, whereas Clinton beat Trump by only 3.2%. That spread was 7.2% in favor of Sanders over Clinton, and that's a huge spread. However, the DNC cared lots more about satisfying its mega-donors, than about winning, when they picked Clinton to be the Party's nominee. Ms. Clinton's actual victory over Mr. Trump in the final election between those two nominees turned out to be by only 2.1% — close enough a spread so as to enable Trump to win in the Electoral College (which is all that counts), which counts not individual voters but a formula that represents both the states and the voters. Sanders would have beaten Trump in a landslide — far too big a victory-margin for the Electoral College to have been able to go the opposite way, such as did happen with Clinton (who was so stupid her campaign was a mess, definitely stupider than Trump's). This fact, of Sanders's clearly trouncing Trump, was also shown here and here. That's what the DNC threw away; but discard it they did, because their billionaires were strongly opposed to Sanders (and many of them might have donated even to Trump in order to defeat Sanders).
Hillary Clinton received by far the biggest support from billionaires, of all of the 2016 candidates; Sanders received by far the least; and this is the reason why the Democratic Party, which Clinton and Barack Obama (two thoroughly billionaire-controlled politicians) effectively controlled, handed its nomination to Clinton.
The poll that had been reported by Britain's Guardian, is shown in fuller detail here, documenting how loathed both of the two Parties' Presidential nominees were:
"Both Hillary Clinton and Donald Trump continue to have historically low favorability ratings with fewer than half of the public viewing each candidate positively (41% vs. 33%, respectively). Clinton is viewed less favorably than the Democratic Party (49%), but Trump's low favorability rating is more consistent with the Republican Party's low favorability (36%)."
Of course, the Republican Party won everything, though its favorability-rating was the lowest. In no way was this outcome the result of democracy.
The real action in American politics is in the primaries, and the billionaires know this. The primaries are the process where any candidate who wants to represent the public instead of the aristocracy, gets eliminated from further competition. That's the reason why the billionaires are especially concerned to win in their respective party's primaries — the first-stage selection process — so that the general-election options will be only candidates who are acceptable to the aristocracy. Then, if a particular billionaire doesn't like what his party has nominated, he can either back that candidate if acceptable, or else might back another party's nominee, who was selected by that other party's billionaires. In either case, the billionaires' class-interest will still be served, even though the given billionaire might philosophically disagree with the other party's candidate. It'll still be the same aristocracy ruling the country, even if a different segment of it.
This means that, for the voters, the final choice doesn't include any anti-aristocratic (or pro-democratic) option: it's instead between nominees all of whom represent some faction or another within the nation's aristocracy.
That's the situation amongst Democratic Party voters — these being the voters who are the least-disillusioned about their country's 'democracy'. Apparently, no matter how much the Democratic Party lies to its voters, those voters are extremely reluctant to reject their Party's nominee. Even if their Party has stolen the nomination from them, and handed it to a nominee who ends up losing in the final contest, Democratic Party voters are still willing to back the Party that stole the nomination from them, for the weaker candidate, and that thereby handed the victory to a different party.
But America's Republican voters, and especially America's independent or non-affiliated voters, are very much in the position of reluctant, or even highly resistant, foie gras ducks and geese (the ones who squawk and squirm more). Democratic Party voters are the most accepting of what they're being force-fed. That's why most of them remain as Democrats, even after their Party's having stolen the nomination and handed it to Clinton, and even after Clinton's subsequent choice for DNC Chair — and not Sanders's choice — becoming selected in 2017 by the DNC to run the Party in the 2018 mid-term elections. The fewer-than-a-thousand people (447, to be exact) who are allowed to vote in DNC elections, are, as a group, thoroughly unrepentant, even though they had, to a large extent, made Trump President. (That last linked-to site, being mainstream, and thus necessarily controlled by the aristocracy, said that "the DNC's exact roster of current members doesn't appear to be easily available on its website", but that was a lie, because the membership-list simply wasn't at all available on its website — and it still is being kept a secret there, which fact, of the DNC's secrecy about whom those 447 DNC members are, further displays the type of 'democracy' that America is, which fact, in turn, explains the vast political disaffection in the United States, though Democratic voters especially accept this ongoing abuse of Democratic voters, by the DNC.)
America's voters are foie gras birds, but some of these birds (the Republicans and especially independents) are more resisting than some others (Democrats) are.
The way that America's billionaires farm this public is by feeding to the voters the politicians, without even considering the needs — much less the wants — of that public.
And this is the reason why the only scientific study that has ever been done of whether a given country is a democracy or instead a dictatorship, which was a study that was done about the U.S., found that America is clearly a dictatorship, no democracy at all. It found that whereas the very wealthy and well-connected do have very significant effect shaping America's laws, the public-at-large has virtually none: "The preferences of the average American appear to have only a minuscule, near-zero, statistically non-significant impact upon public policy." Such a country isn't a democracy; it's an aristocracy — a nation where only the rich and well-connected have impact upon the government. America's public are foie gras ducks.
And the situation in America is getting rapidly even worse: Amy Baker Benjamin's "The Many Faces of Secrecy", in William & Mary Policy Review, 21 November 2017, is a path-breaking study of recent expansions of U.S. Governmental secrecy, and it concludes that: "We are confronting a systemic secrecy crisis. For various reasons and under cover of conflicting rationales, large swaths of policy-making have been placed beyond the review-and-reaction authority of the American people, to the detriment of even the most humble conceptions of transparency and democracy." Dictatorship depends upon government-secrecy, because it depends upon lies, and because lies depend upon hiding the key truths. For each lie, there are key truths that must be hidden.
Two of the U.S. aristocracy's leading magazines, Foreign Policy, and the super-prestigious Foreign Affairs, both recently headlined articles "Is Democracy Dying?" and neither magazine so much as even mentioned (nor linked to, either directly or indirectly) any of the studies — nor, really, referred to any of the realities — that have been mentioned here. This information is being blocked from reaching the public, blocked as much as the aristocracy can. The public are intended to supply the votes and the labor and the markets; and the way to get all three is to hide the truth, so that the lies can more readily be accepted, so that the aristocracy will remain in control — which they are determined to do, at all costs (especiallly all costs to the public).
Globally, the most prominent example of a duck or goose who refuses to cooperate and who is willing to experience the worst possible punishments for resisting (in other words, is a person of supreme courage and integrity), is Julian Assange; and, on June 9th, the great investigative journalist John Pilger, at Consortium News, stated the ugliness and depravity of the aristocracy, as displayed (and which the aristocracy does everything possible to hide) in that specific case:
"There is a silence among many who call themselves left. The silence is Julian Assange. As every false accusation has fallen away, every bogus smear shown to be the work of political enemies, Julian stands vindicated as one who has exposed a system that threatens humanity. The Collateral Damage video, the war logs of Afghanistan and Iraq, the Cablegate revelations, the Venezuela revelations, the Podesta email revelations … these are just a few of the storms of raw truth that have blown through the capitals of rapacious power. The fakery of Russia-gate, the collusion of a corrupt media and the shame of a legal system that pursues truth-tellers, have not been able to hold back the raw truth of WikiLeaks revelations. They have not won, not yet, and they have not destroyed the man. Only the silence of good people will allow them to win. Julian Assange has never been more isolated. He needs your support and your voice. Now more than ever is the time to demand justice and free speech for Julian. Thank you."
If civilization doesn't totally end from what that international network of thugs is doing, then human history will continue beyond the present generation, and the case of that lone and very courageously resistant bird, Julian Assange, will be a prominent part of it.
Author's note: first published at strategic-culture.org
The Geostrategy that Guides Trump's Foreign Policies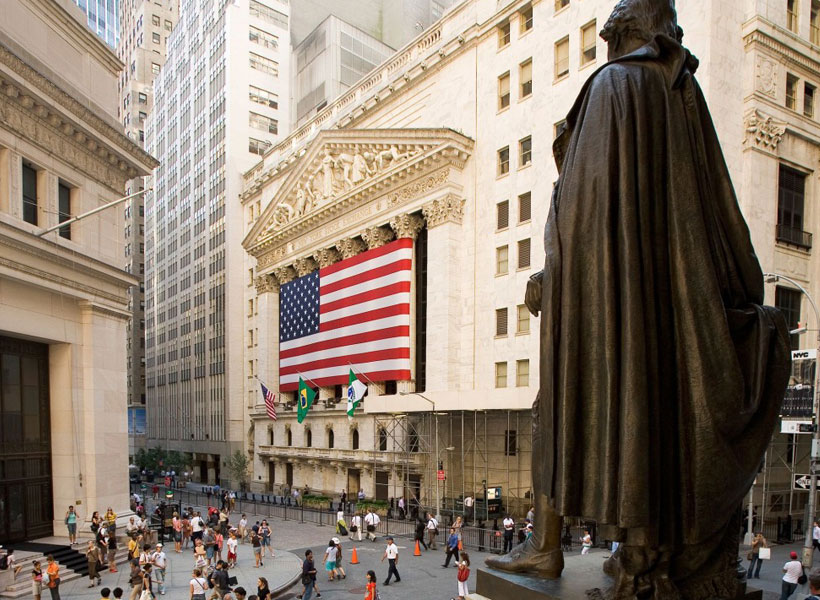 According to Alastair Crooke, writing at Strategic Culture, on June 5th: "Trump's US aims for 'domination', not through the globalists' permanent infrastructure of the US defence umbrella, but through the smart leveraging of the US dollar and financial clearing monopoly, by ring-fencing, and holding tight, US technology, and by dominating the energy market, which in turn represents the on/off valve to economic growth for US rivals. In this way, Trump can 'bring the troops home', and yet America keeps its hegemony [America's control of the world, global empire]. Military conflict becomes a last resort."
He bases that crucially upon a landmark 6 November 2017 article by Chris Cook, at Seeking Alpha, which laid out, and to a significant extent documented, a formidable and complex geostrategy driving U.S. President Donald Trump's foreign policies. Cook headlined there "Energy Dominance And America First", and noted that,"Towards the tail end of the Clinton administration and the Dot Com boom in 2000,[Trump's U.S. Treasury Secretary until April 2018] Gary Cohn of Goldman Sachs had dinner with his counterpart at Morgan Stanley, John Shapiro. From this dinner was hatched an audacious plan to take control of the global oil market through a new electronic global market platform."
This "global market platform," which had been started months earlier in 2000 by Jeffrey Sprecher, is "ICE," or InterContinental Exchange, and it uses financial derivatives in order to provide to Wall Street banks control over the future direction of commodites prices (so that the insiders can game the markets), by means of the financial-futures markets, locking in future purchase-and-sale agreements. It also entails Wall Street's buying enormous commodities-storage warehouses and stashing them with such commodities  — such as, in that case, aluminum), and so it influences also the real estate markets, and doesn't only manipulate the commodities markets. Those vast storehouses (and the operation of the U.S. Government's Strategic Petroleum Reserve, to carry out a similar price-manipulation function in the oil business) are crucial in order for the entire scheme to be able to function, because without control over the storehousing of physical commodities, such futures-price manipulations aren't possible. Consequently, ICE couldn't get off the ground without major Wall Street partners, which are willing to do that. Cohn and Shapiro (Goldman, and Morgan Stanley) backed Sprecher's operation; and Wikipedia states that,
"Wall Street bankers, particularly Goldman Sachs and Morgan Stanley, backed him and he launched ICE in 2000 (giving 80 percent control to the two banks who, in turn, spread out the control among Shell, Total, and British Petroleum)."
This is today's financial world — a world in which billionaires control the future directions of commodities-prices, and thus manipulate markets, and even determine the economic fates of nations. It's not the myth of capitalism; it is the reality of capitalism. It functions by means of corruption, as it always has, but the corrupt methods constantly evolve.
However, Trump's geostrategy goes beyond merely this, especially by bringing into the entire operation the world's wealthiest person, the trillionaire King Saud, who, as the sole owner of the Saudi Government, which in turns owns the world's largest corporation Aramco, which in turn dominates the oil market and which is also #6 in the natural-gas market (far behind the three giants, which King Saud is trying to destroy — Russia, Iran, and Qatar — so that the Sauds will become able to dominate even there). Trump's geostrategy ties King Saud even more tightly than before, into America's aristocracy.
King Saud, as Cook noted, is trying to disinvest in petroleum and reposition increasingly into natural gas, because outside the United States and around the world, people are seriously concerned to minimize global warming so as to postpone global burnout from uncontrollably soaring atmospheric carbon. Petroleum has an even worse carbon footprint than does natural gas; and therefore natural gas is the world's "transition fuel" to a 'survivable' future, while solar and other alternatives take hold (even if too late). Despite all of the carbon-fuels industries' propaganda, people outside the United States are determined to delay global burnout, and the insiders know this. King Saud knows that his petroleum-laden portfolio will have to diversify fast, because the long-term future for petroleum-prices is decline. And he won't be able to control prices at all in the natural-gas business unless he's got America's aristocracy on his side, in the effort to keep those prices up (at least while the Sauds will be increasing their profits from natural gas). Unlike his dominance over OPEC, Saudi Arabia has no such position to control natural gas-prices. He thus needs Wall Street's cooperation.
Cook said:"The second objective was a switch from oil to natural gas, and when the U.S. [military] was obliged to leave Saudi Arabia, they [the U.S.] thereupon established their biggest regional base in Qatar, who co-own with Iran the greatest single natural gas reserve on the planet – South Pars.
Energy Dominance
In the four months since President Trump's announcement, the market strategy developed by Gary Cohn is now being implemented and its elements are emerging into view.
Firstly, there has been a massive inflow of Managed Money into the oil market, particularly the Brent contract, which has seen the Brent oil price increase by 35% since the starting point, which I believe can be dated to the August Brent/BFOE Crude Oil option expiry on June 27th 2017. …
The dominant market narrative is that the backwardation in Brent is evidence of surging global oil demand which has emptied inventories and is leading the price to new sunlit uplands. However, I see the market rather differently.
Firstly, whether the Brent spot month is supported by financial, rather than physical demand, the result will still be a backwardation, and because few oil producers expect a price over $60 to be sustainable they therefore hedge and depress the forward price. In support of this view, I am far from the only market observer who believes that Aramco, and Rosneft would not be selling equity if either Saudi Arabia or Russia believed the oil price trajectory will be positive even in the medium term. …
This still leaves open the $64 billion question of which market participant is motivated and able to support the ICE Brent term structure for years into the future by swapping dollar risk (T-Bills) for long term oil risk (oil reserves leased via prepay purchase/resale contracts).
My conclusion by a process of elimination is that this Big Long can only be Saudi Arabia and regional allies, with Saudi Arabia now under the management of the thrusting young Mohammad bin Salman."
However, I do not agree with Alastaire Crooke's "In this way, Trump can 'bring the troops home', and yet America keeps its hegemony [America's control of the world, global empire]. Military conflict becomes a last resort." I explained at Strategic Culture on March 25th "How the Military Controls America" and noted there that "on 21 May 2017, US President Donald Trump sold to the Saud family, who own Saudi Arabia, an all-time-record $350 billion of US arms-makers' products." This means that not only Wall Street — the main institutional agency for America's aristocracy — and not only American Big Oil likewise, are committed to the royal Saud family, but U.S. corporations such as Lockheed Martin also are. Vast profits are to be made, by insiders, in invasions and occupations, just as in gas and oil, and in brokerage.
Although Trump routinely talks about withdrawing U.S. troops, he does the exact opposite. And even if this trend reverses and America's troop-numbers head down, while the U.S. economy becomes increasingly dependent upon Big Oil and Big Minerals and Big Money and Big Military, America's military budget is, under Trump, the only portion of the entire U.S. federal Government that's increasing; so, "Military conflict becomes a last resort" does not seem likely, in such a context. Rather, the reverse would seem to be the far likelier case.
War against King Saud's chosen enemies (Iran, Qatar, Syria) and possibly even against the U.S. aristocracy's chosen enemy, Russia (and against Russia's allies: China, Iran, and Syria) — seems more likely, not less likely, with Trump's geostrategy.
In fact, on 29 June 2017, when President Trump first announced his "Unleashing American Energy Event," the President spoke his usual platitudes about the supposed necessity to increase coal-production, and what he said was telecast and publicized; but his U.S. Energy Secretary, the barely literate former Governor of Texas, Rick Perry, also delivered a speech, which was never telecast nor published, except that a few days later, on July 3rd, an excerpt from it was somehow published on the website of Liquified Natural Gas Global, and it was this:"I want to address what Mr. Cohn was talking about from a standpoint of how important American energy is as an option, not as the only option, but as an option to our allies and to count[r]ies around the world. 
At the G7 it was really kind of interesting.  The first thing they beat on the table talking about the Paris accord, you can't get out of it, and I was kind of like OK. Then we would go into our bilats and they'd go, how about some of that LNG you've got? How do we buy your LNG, how do we buy your coal?  And it was really interesting, it was a political issue for them. This whole Paris thing is a public relation[s], political issue for them. We made the right decision, the President made the right decision on this. I think it was one of the most powerful messages that early on in this administration that was sent. 
We are in a position to be able to clearly create a hell of a lot more friends by being able to deliver to them energy and not being held hostage by some countries, Russia in particular. Whether it is Poland, Ukraine, the entirety of the EU. Totally get it, if we can lay in American LNG, if we can be able to have an alternative to Russian anthracite coal that they control in the Ukraine. That singularly will have more to do with keeping our allies free and building their confidence in us than practically anything else that I have seen out there. It is a positive message around the world right now."
If that was more the reality of Trump's "Unleashing American Energy" policy than just the pro-global-burnout cheerleading of Trump's mere words, then it seems to be — in the policy's actual intent and implementation — more like "send more troops in" than "bring the troops home," to and from anywhere. It is more like energy policy in support of the military policy, than military policy in support of the energy policy.
This sounds even better for the stockholders of Lockheed Martin and other weapons-firms than for the stockholders of ExxonMobil and other extractive firms. On 6 March 2018, Xinhua News Agency reported that, "U.S. President Donald Trump's chief economic adviser Gary Cohn has summoned executives from U.S. companies that depend on aluminum and steel to meet with Trump this Thursday, in a bid to persuade the president to drop his tariff plan, media reported Tuesday." After all: Goldman has warehouses full of aluminum, and has the futures-contracts which already commit the Wall Street firm to particular manipulations in the aluminum (and other) markets. Controlling the Government so that it does only what you want it to do, and only when you want the Government to do it, is difficult. In any aristocracy, some members need to make compromises with other members, no matter how united they all are against the publics' interests. This is the way it's done — by compromises with each other.
first published at strategic-culture.org
On Celebrity, Trade War and Nuclear Peace
Is there a celebrity brotherhood?  Kim Kardashian, the reality TV star, turned celebrity, visits the White House and promptly there is clemency for a grandmother serving a life sentence for being part of a cocaine distribution ring.  Yet she is right.  Draconian sentences are seldom fair, and judges' hands are often tied with strict laws, often lobbied for by private prison corporations.  Prohibition leads to violence, gangsterism and innocent victims.  It was so with alcohol in the Al Capone days; it is true now with cocaine and heroin.
A society cannot afford to waste resources on victimless crimes.  Teaching individual responsibility, health warnings as with smoking and alcohol, can be more effective particularly when added to laws regulating sales.  When the war on drugs has been a dismal failure, and the billions in cash involved is a source of corruption and fatal drug wars, it seems time to consider rational alternatives.
The G7 meeting in Canada quickly degenerated into G6+1, the G6 versus Donald Trump.  If the US has treated European nations as a benevolent parent in trade agreements, Mr. Trump is forcing the teens into adulthood, and they don't like it.
But there are problems.  Forcing American agricultural products will do to European farmers what what it did in Mexico.  Japanese farmers wield a powerful lobby and no Japanese prime minister dare agree.
Mr. Trump has also called for Russia to be readmitted and with good reason.  Negotiation directly across a table is to be preferred to the under-the-table deals for gas the Europeans are busy making.
Industrial trade is a complicated issue when corporations have internationalized operations.  Ford cars can come from Sonora, Mexico and GM engines from Siloa also in Mexico. Assembly operations can be in Canada.  The Volkswagen plant in Puebla, Mexico is the only one producing the New Beetle worldwide.  Honda engines for the US market are made in the US, Japan and Thailand.  Its Marysville, Ohio plant manufactures 680,000 Hondas a year.  Mercedes-Benz produces SUVs and its C-class automobiles in Alabama.
It should be fairly obvious that erecting trade barriers is going to be quite a headache.  But the Donald has surely got the Europeans thinking.  Bravado like President Macron's tweet about the G6 being a powerful unit in itself to set up unilateral deals is just that — when big-brother's economy is larger than the six put together, and Japan with its security concerns is an unlikely partner.
The coming meeting with Kim Jong Un in Singapore is surely on Mr. Trump's mind.  The eerie quiet before the summit, the differing interpretations of denuclearization and the clear lack of preparation point to a getting-to-know-ya, a walk in the park and little else.
Neither side can extract what it has defined as success; neither side wants failure.  In all likelihood, we will end up with scraps of paper both sides mostly ignore as in the past.  But life is full of surprises — although after what happened to Gaddafi in Libya, it would be a brave man indeed (or a foolish one)  to give up nuclear weapons in exchange for a US guarantee.
Then, who knows what Donald Trump will be willing to give up for a Nobel Peace Prize, heavily tarnished by Obama and others though it may be.