President Trump's economic war against Germany and the euro
[yt_dropcap type="square" font="" size="14″ color="#000″ background="#fff" ] J [/yt_dropcap]ust a week after his official installation at the White House, Donald J. Trump lashed out at China, accused of manipulating its currency to "win the globalization game", but also at Germany which, as the President of the new National Trade Council, Peter Navarro, said "is exploiting both its neighbours and the United States with the euro".
The accusation is not new. In the early 1970s the United States accused the old European Monetary System (EMS) of keeping the currencies adhering to it artificially high.
Inter alia, the EMS – with fixed exchange rates but with predefined fluctuations within it – was the European response to the US-prompted end of the 1944 Bretton Woods agreement.
Nevertheless, it was also Europe's reaction to the planned weakness of the dollar during Jimmy Carter's Presidency, when precisely the dollar area sent huge capital flows into Germany, which had a "high" Mark, thus pressing it against the French Franc and hence destabilizing the entire European internal monetary exchange system.
Furthermore, in the early 1980s, the British Labour Prime Minister, Denis Healey, got convinced that the EMS was a real German "racket", considering that the German Finance Minister had told him that his country planned to have a comparative advantage precisely by limiting the depreciation of the other European currencies.
This happened because Germany had lower labour cost-driven inflation rates and, hence, a currency with fixed rates would have anyway ensured export-driven surpluses only to Germany.
However also the G20 long negotiations have never led to any result: currently, in absolute terms, the German export-led surplus is much larger than China's, namely 8.6% of the German GDP.
In fact, according to IMF estimates, the surplus is equal to 271 billion US dollars, a huge sum capable of changing all global trade flows.
Finally Chancellor Angela Merkel replied to Trump (and to Navarro) by recalling that the European Central Bank is the institution issuing the euro, but it is not lender of last resort. Nevertheless, she has not contradicted the US President about the fact that the Euro is really undervalued.
Furthermore, when we look at the currencies undervalued as against the US Dollar, we realize that the most undervalued currency is the Turkish Lira, followed by the Mexican Peso, the Polish Zloty, the Hungarian Forint, the South Korean Won and, finally, our own Euro.
Finally, when we look at the number and size of transactions denominated in euros, the European currency is already the second most traded currency in the world.
Hence, probably the undervaluation of the Euro against the US Dollar originates more from the expansionist policy of the European central Bank than from Germany's actions for its exports and monetary parities.
Certainly Germany gains in having a currency that is much weaker than it would be if it were only a German currency but, on the other hand, with a Euro artfully devalued, the "weakest" Eurozone countries succeed in having lower interest rates than they could obtain with their old or new national currencies.
Moreover, it is worth recalling that Germany exports profitably both in countries where the currency is stronger than the Euro and in regions where the currency is even more depreciated as against the US Dollar, such as Japan.
According to last year's data, the United States have a trade deficit with Germany equal to 60 billion US dollars.
Germany exports mainly cars, which account for 22% of their total exports to the United States.
It also exports – in decreasing order – machine tools, in direct competition with Italy, electronics, pharmaceuticals, medical technologies, plastics, aircraft and avionics, oil, iron and steel, as well as organic chemicals. All German exports are worth 35% of its GDP.
Why, however, is the Euro depreciated because of Germany?
Firstly, since 2000 the German cost of labour has grown by 20-30% less than in the Eurozone's German competitors.
Hence German products were ipso facto 20% more competitive than those of the others, without any exchange rate manipulation.
If Germany still had had the Mark, it would have automatically appreciated by 20%.
The appreciation of this hypothetical Mark would have changed demand, by reducing exports and increasing imports by the same percentage.
In that case, the ideal would have been a floating exchange rate – and this should also be the case for a re-modulated Euro compared to the current situation.
A fluctuation prefiguring the creation of a new monetary "basket" with the major currencies, with exchange rates floating within a certain range, but much more realistic than the current ones.
A further cause of the current account surplus in Germany is the intrinsic strength of its exports – hence Germany does not suffer the competition of low-tech economies, such as Italy's.
Another reason for the excessive German surplus is the low domestic demand, with the relative increase in private savings.
An additional cause of the surplus is the fact that savings have long been higher than investment.
In 2015, German savings amounted to 25% of the Gross Domestic Product (GDP), while investment was worth only 16% of the GDP.
Obviously, another decisive reason for the accumulation of such a large German surplus was the fall in oil prices.
Therefore, the vast German surplus and the Euro undervaluation foster its exports, but block the exports of the other Eurozone countries.
In fact, according to our calculations, if Germany stimulated its domestic demand, thus allowing its inflation to increase, this would be enough for the final stimulus of global demand and, above all, it would make the Eurozone economies under crisis get out of their predicament.
Hence the real problem of too high a Euro is not so much for the United States, which can devalue as against the Euro whenever they want and anyway have still their own autonomous monetary policy, but rather for the single currency countries in the Mediterranean, which are experiencing a downturn caused by too low domestic demand.
Could we also do as Germany? No, we could not.
It is not possible for anyone in the Eurozone to create an 8% surplus, such as Germany, and not all countries could benefit from a devalued exchange rate of the European currency.
As many politicians say, restructuring the production system to increase productivity means – in a nutshell – years of deflation and high unemployment, which create a negative multiplier effect.
We cannot afford so – the social and economic conditions have already reached the breaking point.
Hence, let us put our minds at rest, the "two-speed Europe" will last generations and it would be better if this could also be reflected in the single currency.
Or better in a series of two-three currencies deriving from the Euro with pre-fixed exchange rates floating within a range.
Furthermore, Germany will certainly replace China as the "bad" currency manipulator and there will be increasing competition between it and the rest of Europe.
Therefore, the German export surplus actually leads to an unfair competitive advantage over the Eurozone countries and, in other respects, over the North American exports.
This is the sense of the struggle against the Euro waged by President Trump and his future Ambassador to the EU, Ted Malloch, who has stated that the Euro may "collapse" over the next eighteen months.
The Euro is certainly undervalued.
According to a study carried out by Deutsche Bank, the Euro is allegedly the most undervalued currency in the world, according to the criteria of the Fundamental Equilibrium Exchange Rates (FEER).
And the Euro is undervalued even if we look at its external value and the mass of transactions of the individual countries currently adopting it.
Hence, not only can Germany be accused of managing an improper comparative advantage over the dollar and the other major currencies but, according to the FEER data, the accusation holds true even for Italy and for the other single currency European countries.
With a view to solving the issue, some analysts – especially North Americans – think it should be Germany to leave the Euro.
On the one hand, Germany cannot revalue its currency (which is also a political problem – suffice to think of German savers) without the Euro appreciating also for the Eurozone weak economies, such Italy and Spain.
The World Bank believes that the German trade surplus is at least 5% too high and, hence, the German exchange rate is largely undervalued by at least 15%.
In fact, the differential between the German Euro and the Euro of the Eurozone weakest countries is 20%.
This means that, in terms of Purchasing Power Parity (PPP), the Italian or Greek Euro is worth 20% less than the German one.
The issue could be solved with an equivalent 20% Euro revaluation, combined with an expansionary fiscal policy.
However, this cannot be done as long as Germany is within the Euro. This means that Germany cannot revalue the exchange rate without doing the same in the other 17 countries that adopt the European single currency.
This would mean definitively destroying the Italian, Greek, Portuguese and Spanish economies.
Therefore, if Germany came out of the Euro, its new currency would appreciate as against the non-German Euro and the other countries would have a devalued currency, which could help them in exports.
There are two ways in which the German trade surplus creates deflation – and hence crisis – in the rest of the Eurozone.
Obviously the first is by pushing up the value of the European currency.
A strong euro weakens the demand for European exports, especially for the most price-sensitive goods of the Eurozone Mediterranean economies.
Moreover, the high value of the European currency reduces the price of imported goods, thus negatively reinforcing the price fall – another deflationary mechanism.
And the German inflation which, as everyone knows, is lower than in the other Eurozone countries, further weakens the peripheral economies.
Hence a landscape marked by low domestic demand and national markets' production crisis.
However, in Navarro's and in Trump's minds, there is the implicit belief that trade imbalances can be solved in a context of free-floating currencies.
It is not always so and, however, fluctuations apply only when there are structural changes in trade systems – in principle all players envisage and operate, for sufficient time, with fixed or maybe slightly floating rates.
Therefore, reading between the lines, what both Trump and Navarro really tell us is that the very Euro membership is an act of monetary manipulation.
Hence, what is done?
The unity of the European economy is broken, with unpredictable effects and further global chaos, while the United States acquire exports that were previously denominated in euros.
Or the United States could impose quotas or specific tariffs for Germany, which is illegal in WTO terms but, above all, would expose the United States to a series of reprisals and retaliation by Germany and probably also by the rest of the Eurozone.
There is no way out: therefore, again reading between the lines, probably Trump is telling to the Eurozone weak economies that they should leave the single currency, which is only in Germany's interest, and create new post-Euro currencies, which will be somehow pegged to the US Dollar.
Or Trump and Navarro could define a new relationship between Euro, Dollar, Yuan, Ruble, Yen and some other primary currencies on the markets and impose a predetermined fluctuation between them, but obviously the Euro would enter this new "Bretton Woods" by being valued in line with the markets and not being overvalued as today.
Europe, however, shall put back in line and tackle all trade and political issues with Trump's America, which will make no concession to anyone and, most importantly, does no longer want to favour Europe militarily, strategically, financially and commercially.
In particular, Donald J. Trump has in mind the big game with Russia and China. He is scarcely interested in a continent, such as Europe, which is not capable of defending itself on its own and shows severe signs of structural crisis.
How to finance Asia's infrastructure gap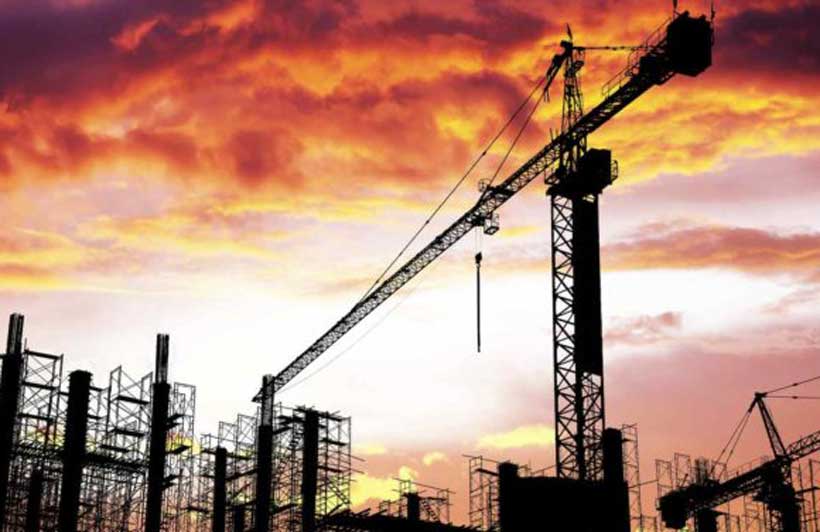 Asia's countries famously need to invest trillions of dollars a year to provide infrastructure required to keep traffic flowing, ports trading, and factories humming. Yet most countries in the region consistently fall short.
The 2017 Asian Development Bank (ADB) report "Meeting Asia's Infrastructure Needs" puts the infrastructure tab for 45 developing Asian countries at more than US$1.7 trillion per year. Developing Asia now invests only about $881 billion a year, or slightly more than 50 percent of that. This is the infrastructure gap.
Less well known, however, is that the investment shortfall is frequently not for a lack of funds or technology. The money may be available, particularly in the private sector, but not enough of it is going where Asia needs it. And this is because many developing countries lack the knowledge and capacity to design and implement bankable infrastructure projects that integrate new technologies.
To encourage private sector investment in infrastructure, high-quality bankable projects must adopt current levels of proven technology as well as be "future-proofed" to further advances in technology.
Delegates from across the development spectrum — from government through the private sector — will gather on Oct.13 in Bali for the Global Infrastructure Forum 2018 to discuss several trillion-dollar questions. How can governments and the private sector help fill the infrastructure gap? How can authorities' better pair the world's big investors with the many inclusive, resilient, sustainable, and technology-driven infrastructure projects this region needs to advance economic progress? And how can multilateral development banks best help?
To be sure, strong infrastructure projects are going up all over Asia. Take Indonesia, the Forum host; the country has made enormous strides under its ongoing and ambitious infrastructure program.
The country has seen progress: from the trans-Papua road project in one of the country's most remote and underdeveloped regions to better information and communications technology under the Palapa Ring (satellite) Project. Indonesia has also launched innovative and clean energy projects such as the 72-megawatt Tolo wind-farm in South Sulawesi and massive urban infrastructure to boost Jakarta's livability and competitiveness. This latter project includes a new modern airport terminal, rail link, and the first phase of the mass rapid transit expected to open in 2019.
Knowledge is crucial to get such projects off the ground, and this is where the multilateral development banks, including ADB, can assist.
The development banks are providing governments financial and technical support to enhance knowledge in numerous areas.
ADB is also helping strengthen government and private sector project development and governance capacity, for instance, for preparing high-quality projects able to support private finance. It also established the Asia Pacific Project Preparation Facility, a $73 million multi-donor trust fund to support project preparation, monitoring, and project restructuring, as well as capacity building and policy-reform initiatives linked to specific projects.
In addition, the organization is promoting public-private partnerships, catalyzing regulatory reforms to make infrastructure more attractive to private investors, and encourage more bankable projects. Potential is vast, in that pension funds alone, which hold $7.8 trillion in assets, are estimated to invest only about 1 percent of funds under management in infrastructure.
A recent ADB report, "Closing the Financing Gap in Asian Infrastructure," notes that the richer Asian economies, such as Japan — where savings rates top 30 percent — can clearly play a stronger role if it only could. Yet, the country still invests almost $4 trillion in portfolio assets outside Asia.
Likewise, ADB is developing alternative financing structures and is backing green finance to encourage a bankable green finance project pipeline that can access funds from commercial and institutional investors. Many major investors are now strictly subject to environmental, social, and governance requirements in their investment decisions.
Finally, as technology rapidly evolves, particularly digital, it is creating substantial opportunity. Land acquisition, for example, significantly delays infrastructure projects across the region. Digital technologies are therefore being tested in several countries and watched closely for an ability to improve land titling. Likewise, ADB is involved in Spatial Data Analysis Explorer to help in decision-making relevant to climate hazards and resilience across urban systems.
Multilateral development banks can play multiple roles, from assisting and advising on the creation of appropriate legal and regulatory frameworks, developing bankable projects, direct financing or providing credit enhancement tools to finance projects, to structuring innovative "blended finance" solutions in circumstances where the underlying project is incapable of supporting a financing structure priced at commercial funding rates. In all of this, multilateral development banks and other development partners can assist developing countries gain the knowledge to better develop sustainable, accessible, resilient, and quality infrastructure.
Prema Gopalan Honoured as India Social Entrepreneur of the Year 2018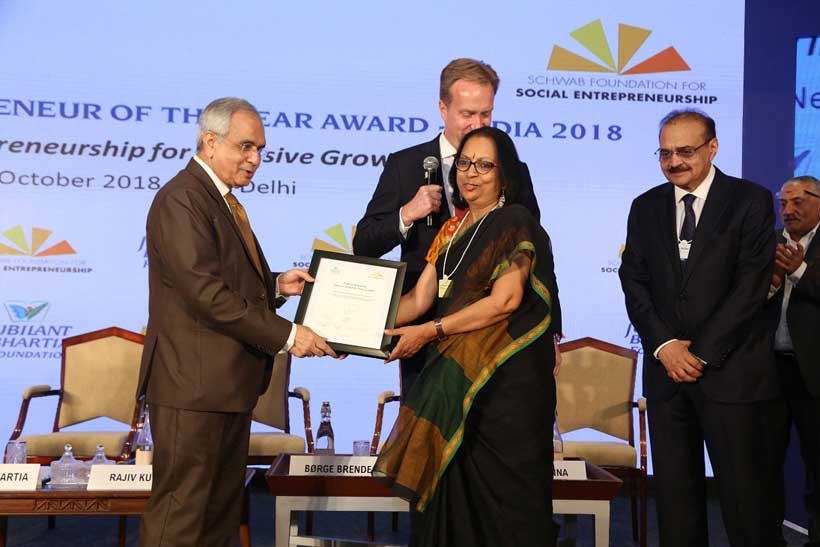 The Schwab Foundation for Social Entrepreneurship, in partnership with the Jubilant Bhartia Foundation, announced Prema Gopalan of Swayam Shikshan Prayog (SSP) as India Social Entrepreneur of the Year (SEOY) 2018. The award honours her exceptional contribution in revitalizing rural economies by empowering women to succeed in remote and ailing markets. The SSP model comprises four ventures: a federated network of 5,000 self-help groups; a resilience fund for women-led businesses; a rural school of entrepreneurship and leadership for women; and a market aggregator that provides warehousing, branding, marketing and distribution services to last-mile business women. In addition, it has catalysed the government, investors, financial institutions and Indian and global corporations to partner directly with grassroots women business leaders.
Over two decades, this has had a domino effect in 2,000 climate-threatened villages across six states of India. Over 97,000 women in drought and flood-affected villages have set up enterprises in clean energy, sanitation, basic health services, nutrition and safe agriculture. They have transitioned from self-employment to diversify their ventures, aggregate into value chains and mentor thousands of others to get on the path of entrepreneurship – 900 women are recognized locally as climate resilience leaders and 500 are playing a role in local governance. SSP's grassroots women entrepreneurs are taking their communities forward as part of their business success. As SSP partners with the government to scale its model, it is demonstrating that investing in rural women entrepreneurs can be a solid strategy for transforming India.
Smita Ram and Ramakrishna NK of Rang De were also selected as finalists for their work on unlocking unusual channels of capital for India's poorest, building bridges between India's credit-starved communities and ordinary citizens who contribute to meet the education, health and enterprise needs of resource-poor populations. Working on the premise of "micro-investment for micro-loans", this peer-to-peer lending platform has to date disbursed INR 70 crore from 14,000 social investors and philanthropists to benefit 60,000 families.
"The World Economic Forum has long championed gender equality on the global agenda," said Hilde Schwab, Chairperson and Co-Founder of the Schwab Foundation for Social Entrepreneurship. "The 2018 winner, Prema Gopalan of Swayam Shikshan Prayog, has demonstrated that investing in rural women is a good investment. Female entrepreneurs are critical actors to help bring about the transformation that India seeks!"
Congratulating the winner, Shyam S. Bhartia, Founder and Chairman, Jubilant Bhartia Group, and Founder Director of Jubilant Bhartia Foundation, said: "We are entering the tenth year of partnership with the Schwab Foundation. In the last nine years, we received more than 1,400 applications for this award. The response is indeed overwhelming and the quality of the applications very competitive. We are glad to see how the SEOY India Award is able to identify and bring to the forefront the enterprises who are achieving social impact at a larger scale. We hope that this year's SEOY India Award winner will serve as an inspiration to future generations of social innovators."
The SEOY India Award brings some of the country's most remarkable change-makers on to a common platform. These social entrepreneurs are promising self-starters, with a strong inclination towards addressing the most pertinent needs of marginalized communities in scalable and sustainable ways. Their endeavours encapsulate alleviating poverty, hunger, gender inequality, promoting women empowerment and education. These social entrepreneurs are torch-bearers who have taken the onus of working towards managing micro-finance needs and finding solutions to daunting challenges like climate change. The tenets of this year's finalists are aligned with the United Nation's Sustainable Development Goals.
The winner will be invited to join the Schwab Foundation's global community of over 350 social innovators. Social Entrepreneurs are driven by their mission to create substantial social change and promote inclusive growth, developing new products and service models that benefit underserved communities.
The Bali Fintech Agenda: A Blueprint for Successfully Harnessing Fintech's Opportunities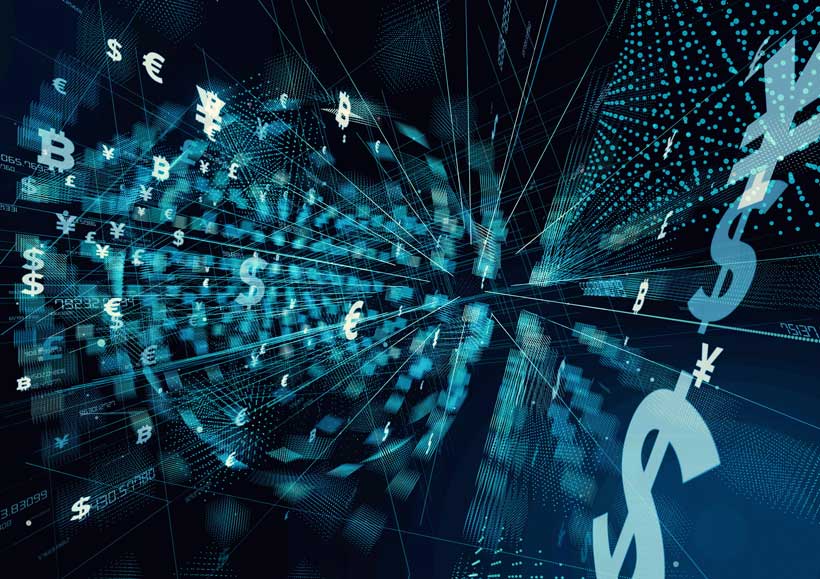 The International Monetary Fund and the World Bank Group today launched the Bali Fintech Agenda, a set of 12 policy elements aimed at helping member countries to harness the benefits and opportunities of rapid advances in financial technology that are transforming the provision of banking services, while at the same time managing the inherent risks.
The Agenda proposes a framework of high-level issues that countries should consider in their own domestic policy discussions and aims to guide staff from the two institutions in their own work and dialogue with national authorities. The 12 elements (see table) were distilled from members' own experiences and cover topics relating broadly to enabling fintech; ensuring financial sector resilience; addressing risks; and promoting international cooperation.
"There are an estimated 1.7 billion adults in the world without access to financial services," said IMF Managing Director Christine Lagarde. "Fintech can have a major social and economic impact for them and across the membership in general. All countries are trying to reap these benefits, while also mitigating the risks. We need greater international cooperation to achieve that, and to make sure the fintech revolution benefits the many and not just the few. This Agenda provides a useful framework for countries to assess their policy options and adapt them to their own circumstances and priorities."
"The Bali Fintech Agenda provides a framework to support the Sustainable Development Goals, particularly in low-income countries, where access to financial services is low," World Bank Group President Jim Yong Kim said. "Countries are demanding deeper access to financial markets, and the World Bank Group will focus on delivering fintech solutions that enhance financial services, mitigate risks, and achieve stable, inclusive economic growth."
Mrs. Lagarde and Dr. Kim presented the Agenda in a panel discussion today during the Annual Meetings in Bali. They were joined by Sri Mulyani Indrawati, Minister of Finance of Indonesia; Lesetja Kganyago, Governor of the South African Reserve Bank; and Mark Carney, Governor of the Bank of England and Chair of the Financial Stability Board.
With their near universal membership, the Fund and the Bank, are well positioned to gather information from all countries and to reflect on their respective needs and objectives at various levels of economic and technological development. They both also offer a forum for sharing the experience of countries that are not members of international standard-setting bodies on issues such as combating money laundering and terrorism financing, market integrity, and consumer protection. The Financial Stability Board and several other international standard-setters have been reviewing the implications of fintech developments and have indicated regulation and supervision priorities.
The IMF and World Bank will start developing specific work programs on fintech, as the nature and scope of their members' needs become clearer, in response to the Bali Fintech Agenda. The IMF's initial focus will be on the implications for national and global monetary and financial stability; and the evolution of the International Monetary System and global financial safety net.
In response to the Bali Fintech Agenda, the World Bank will focus on using fintech to deepen financial markets, enhance responsible access to financial services, and improve cross-border payments and remittance transfer systems. The Bank will draw on the International Finance Corporation's growing experience in this area. The Agenda contributes to building the foundations of the digital economy that is a key pillar in the World Bank Group's larger disruptive technologies engagement.
The Bali Fintech Agenda:
Embrace the promise of fintech.
Enable new technologies to enhance financial service provision.
Reinforce competition and commitment to open, free, and contestable markets.
Foster fintech to promote financial inclusion and develop financial markets.
Monitor developments closely to deepen understanding of evolving financial systems.
Adapt regulatory framework and supervisory practices for orderly development and stability of the financial system.
Safeguard the integrity of financial systems.
Modernize legal frameworks to provide an enabling legal landscape.
Ensure the stability of domestic monetary and financial systems.
Develop robust financial and data infrastructure to sustain fintech benefits.
Encourage international cooperation and information-sharing.
Enhance collective surveillance of the international monetary and financial system.
The Bali Fintech Agenda
Embrace the Promise of Fintech with its far-reaching social and economic impact, particularly in low-income countries, small states, and for the underserved, and prepare to capture its possible wide-ranging benefits, including: increasing access to financial services and financial inclusion; deepening financial markets; and improving cross-border payments and remittance transfer systems. Reaping these benefits requires preparation, strengthening of institutional capacity, expanding outreach to stakeholders, and adopting a cross-agency approach involving relevant ministries and agencies.
Enable New Technologies to Enhance Financial Service Provision by facilitating foundational infrastructures, fostering their open and affordable access, and ensuring a conducive policy environment. Foundational infrastructures include telecommunications, along with digital and financial infrastructures (such as broadband internet, mobile data services, data repositories, and payment and settlement services). The infrastructures should enable efficient data collection, processing, and transmission, which are central in fintech advances.
Reinforce Competition and Commitment to Open, Free, and Contestable Markets to ensure a level playing field and to promote innovation, consumer choice, and access to high-quality financial services. The successful and large-scale adoption of technology would be facilitated by an enabling policy framework regardless of the market participant, underlying technology, or method by which the service is provided. Policymakers should address the risks of market concentration, and should foster standardization, interoperability, and fair-and-transparent access to key infrastructures.
Foster Fintech to Promote Financial Inclusion and Develop Financial Markets by overcoming challenges related to reach, customer information, and commercial viability, and by improving infrastructure. The evolving digital economy together with effective supervision are essential in overcoming long-standing barriers to financial inclusion across a broad range of financial services and in enabling developing countries to leverage promising new pathways for economic and financial development to support growth and alleviate poverty. Examples include expanding access to finance while reducing costs, providing new ways to raise funding, enabling new information services to assess risks, and spurring new businesses. To achieve these goals, fintech issues should be part of a national inclusion and financial and digital literacy strategies, while fostering knowledge-sharing between public- and private-sector players, civil society, and other stakeholders.
Monitor Developments Closely to Deepen Understanding of Evolving Financial Systems to support the formulation of policies that foster the benefits of fintech and mitigate potential risks. The rapid pace of fintech will necessitate improvements and possible extensions in the reach of monitoring frameworks to support public-policy goals and to avoid disruptions to the financial system. Information-sharing and exchange would support improved monitoring. Achieving these objectives brings out the importance of continuous monitoring—including by maintaining an ongoing dialogue with the industry, both innovators and incumbents—to identify emerging opportunities and risks, and to facilitate the timely formation of policy responses.
Adapt Regulatory Framework and Supervisory Practices for Orderly Development and Stability of the Financial System and facilitate the safe entry of new products, activities, and intermediaries; sustain trust and confidence; and respond to risks. Many fintech risks might be addressed by existing regulatory frameworks. However, new issues may arise from new firms, products, and activities that lie outside the current regulatory perimeter. This may require the modification and adaptation of regulatory frameworks to contain risks of arbitrage, while recognizing that regulation should remain proportionate to the risks. Holistic policy responses may be needed at the national level, building on guidance provided by standard-setting bodies.
Safeguard the Integrity of Financial Systems by identifying, understanding, assessing, and mitigating the risks of criminal misuse of fintech, and by using technologies that strengthen compliance with anti-money laundering and combating the financing of terrorism (AML/CFT) measures. While fintech innovation generally supports legitimate goals, some innovations may enable users to evade current controls for criminal ends, thus posing a threat to financial integrity. Country responses have varied considerably; but, in all cases, it is important to strengthen AML/CFT compliance and monitoring, including by using technology (Regtech and Suptech solutions) to support regulatory compliance and supervision.
Modernize Legal Frameworks to Provide an Enabling Legal Landscape with greater legal clarity and certainty regarding key aspects of fintech activities. Sound legal frameworks support trust and reliability in financial products and services. This is undermined, however, where legal frameworks fail to keep pace with fintech innovation and evolving global financial markets. An enabling legal framework can be fashioned by having clear and predictable legal rules that accommodate technological change, tailored to national circumstances, particularly in areas such as contracts, data ownership, insolvency, resolution, and payments.
Ensure the Stability of Domestic Monetary and Financial Systems by considering the implications of fintech innovations to central banking services and market structure, while: safeguarding financial stability; expanding, if needed, safety nets; and ensuring effective monetary policy transmission. Fintech could transform the financial markets through which monetary policy actions are transmitted and could challenge the conduct of monetary policy as well as redefine central banks' role as lenders of last resort. On the other hand, fintech could help central banks improve their services, including potentially issuing digital currency, and expanding access to and improving the resilience of payments services.
Develop Robust Financial and Data Infrastructure to Sustain Fintech Benefits that are resilient to disruptions––including from cyber-attacks––and that support trust and confidence in the financial system by protecting the integrity of data and financial services. Developing such robust infrastructure raises a broad spectrum of issues that are relevant not only to the financial sector but also to the digital economy at large, including data ownership, protection, and privacy, cybersecurity, operational and concentration risks, and consumer protection.
Encourage International Cooperation and Information-Sharing across the global regulatory community to share knowledge, experience, and best practices to support an effective regulatory framework. As new technologies increasingly operate across borders, international cooperation is essential to ensure effective policy responses to foster opportunities and to limit risks that could arise from divergence in regulatory frameworks. Sharing experiences and best practices with the private sector and with the public at large would help catalyze discussion on the most effective regulatory response, considering country circumstances, and to build a global consensus. The IMF and World Bank can help in facilitating the global dialogue and information-sharing.
Enhance Collective Surveillance of the International Monetary and Financial System and the adaptation and development of policies to support inclusive global growth, poverty alleviation, and international financial stability in an environment of rapid change. Fintech is blurring financial boundaries—both institutionally and geographically—potentially amplifying interconnectedness, spillovers, and capital flow volatility. These developments could lead to increased multipolarity and interconnectedness of the global financial system, potentially affecting the balance of risks for global financial stability. The IMF and World Bank could help in improving collective surveillance and assist member countries via capacity building, in collaboration with other international bodies.