'Call it a difficult night': Book Review
[yt_dropcap type="square" font="" size="14″ color="#000″ background="#fff" ] M [/yt_dropcap]ishka Hoosen is young. She is also intelligent. She is brave and she is brilliant. She is also very clever, funny and wise beyond her years. Her style is flesh. Let me explain what I mean by that. The beautiful, haunting lines of 'Call it a difficult night' will leave you breathless. Her pain and internal struggle will leave you numb.
Her protagonist's suffering, is a human stain and her words a playful meditation. She's an artist and she knows her medium. Is 'Call it a difficult night', a cross between a love letter and a love poem to herself or to a lover? Has she been here before, I asked myself. I kept coming back to the stimulus, origin, and process not only of the protagonist but also of Mishka Hoosen. I thought of her, the birth of this book, what she channelled her way through, meaning, here, the time frame of the book, and the psychological framework of the writer.
I was 'rooting for both of them' as the Americans say. Is Mishka Hoosen fragile, I asked myself? Is she delicate, vulnerable, or just tough, determined, and brave? The protagonist was in that wretched place that so many people who suffer from clinical depression, problems with rehab and addiction, alcoholism, mental illness and any form of mood disorder find themselves in. I kept searching for a muse. Told myself that of course, there had to be one here. That I would eventually find one. I kept on searching for a masculine and a feminine energy and found them there staring back at me on the page. 'Salt' becomes lyrical, something magical in the hands of Mishka Hoosen. 'Fists clenching and unclenching.' What happens when you recognise yourself in the writer's world of bipolar madness is this. You don't feel lonely anymore and you don't feel tragic and you certainly don't feel lost, hopeless or alone.
Mishka Hoosen, perhaps in your short life you were not oblivious to pain. I felt sorry for the protagonist that she had to 'feel' (that acute physical pain of the body through cutting herself and the pain of of the mind, being hospitalised) to write about it, (the protagonist's pain became my own), her suffering became my own, and I often felt giddy, ambivalent, bereft, cast away with the celebration of life. Yes, the energy of life was often there. In humour mostly. The flux of hospital life. The nurses, the doctors. The other patients in the ward. You, Mishka Hoosen reminded me of my own youth mostly spent in books or inside the school library. The protagonist's demons and battle reminded me of William Styron's depression in 'Darkness Visible', her loves reminded me of the shared intimacy in the relationships in John Updike's 'Couples' (I could only draw on the experience of heterosexual relationships), and of course, there were the two Lolita's of my life. The unforgettable Stanley Kubrick's celluloid vision, and Vladimir Nabokov's classic 'Lolita'. I read Styron, Updike, and Nabokov while I was studying for my O' levels in Mbabane, Swaziland just because I wanted to and because there was nobody to tell me that I was being (can't get to the word I am looking for, thinking that it is precocious) or forward, or rather way too forward thinking for my age.
I said I wouldn't do it. That I couldn't review this book. I said the book was too difficult. Like J.M. Coetzee's 'The Childhood of Jesus', Richard Rive's 'Emergency Continued', and Nadine Gordimer's 'Oral History' there was something about this talent.
I was sent on a journey into a hellish territory. I picked up the book, put it down again, and picked it up. For two whole weeks. There was no jacket photograph of the novelist to stare me down daily. I had nothing to go on about who she was really. I played this game for two whole weeks. The book was placed on the shelf alongside my library but it was not forgotten. I spoke about it for two weeks to my father, my sister in Johannesburg, my mother, and my brother. These are the most important people in my life. I wanted to do, and still want to do Mishka Hoosen's book justice. I hope that I do. I praise her honesty about writing about a very difficult subject matter. I praise her hope, depth, sincerity. Most of all I thank her because bipolar is the eternal never ending struggle for those who live with the mood disorder or any mental or chronic illness.
Hoosen has a satellite kind of language about her. I'll explain what I mean by that in a few sentences. By that I mean that there is an inheritance of space between the words. The writer's experimental prose gives you time to reflect, study, gather, harvest your own thoughts. I found myself in the dreamy force of her language. Reading the book was like watching 'Montage of Heck' on a small black and white television. 'Montage of Heck' is a documentary on Kurt Cobain, the musician who took his own life. His life flashed before my eyes as I read 'Call it a difficult night'. His music like certain passages in the book brought an anthem to a doomed youth. A lost generation. Interviews with the people who were closest to him. Cobain, the persona. Cobain who would always personify the youth. Like his music was his gift to the world, this book is Mishka Hoosen's gift to the world.
Is this what language of colour is? Is this what is meant by black writing? Writing for the African Renaissance? Literary endeavours that has a feminine mystique? After reading the book I sat back, asked myself has she done enough or too much as a writer. The protagonist has a maternal instinct in the ward. You pray and hope that she comes out of this experience, through all of this all of the way. She's scornful, loving, attentive, giving, and generous. We're let into her love life. She says the word 'fuck' a lot. She's rebellious and has a lot to say about authority figures (and I wondered not for the first time what her second book will be like). I wondered many times if this is this an anthem for a doomed youth. Not just for a post-apartheid South African youth but for a youth on another continent, in another world because we live in one where we're so eager to pop a pharmaceutical to tell the reality we live in to go away. Reading this book, just like reading NoViolet Bulawayo's book We Need New Names made me realise that Hoosen has a powerful presence too. She can move people.
Are all female writers from this continent like that? It left me with many questions. 'Call it a difficult night' when I started to read it properly, from beginning to end, with no breaks in between, and not cheating my way through it through reading random passages to test myself, test my confidence as a reviewer, trying to find something negative to say about the writer, about the book, about bipolar madness or mental illness, or life in a mental hospital. Trying to find the words which would be appropriate instead of inappropriate but not walking on eggshells though. 'Call it a difficult night' would not let go of me. The book is difficult. 'Madness' itself, the very idea of it, trying to wave it away, make it go away, make a joke about it because it is so embarrassing being confronted by 'it', whatever 'it' is, is difficult to talk about.
The book like I said before is difficult but it wouldn't leave my hands, and I returned to it repeatedly. The prose has a poetic energy to it, so forceful, sharp, and sexy. The language is clean, and pure. Mishka Hoosen's 'Call it a difficult night' shows more than a lot of promise. It is also a thing of beauty. I hope that the birth of this book, and her appearance on the literary scene that she will forge a path for many who come after her. Many young women of colour and young men too.
Whenever I think about Mishka Hoosen now I will remember her when I reread Hemingway's 'A Moveable Feast', when I reread Rainer Maria Rilke's 'Letters to a Young Poet', when I reread Jean Rhys's 'After Leaving Mr Mackenzie', reread Noviolet Bulawayo's 'We Need New Names' and reread Virginia Woolf's 'The Waves'.
She is just that kind of writer.
United Nations Drowning Prevention Group launched on World Water Day 2018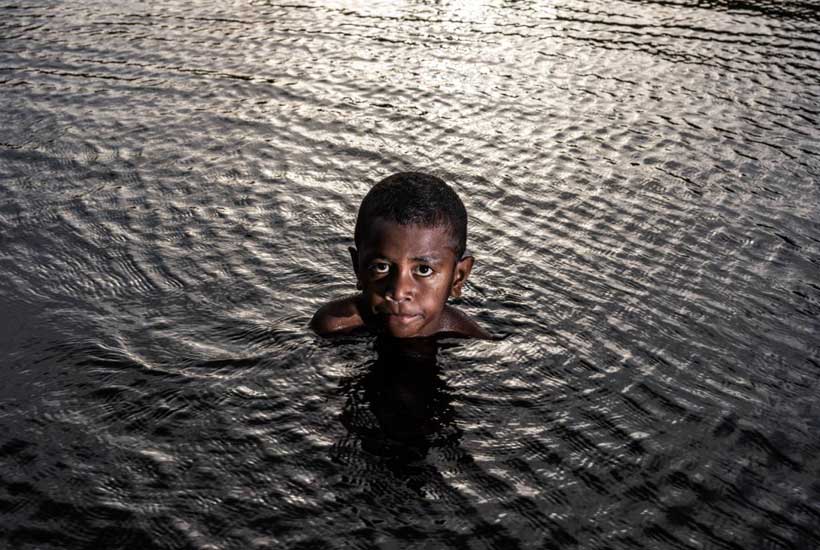 Ambassadors from across the world have highlighted the need for global drowning to be tackled if the United Nation's Sustainable Development Goals are to be met by 2030.
In an open letter on World Water Day (22 March), members of a newly formed UN group on drowning prevention, launched today, have called on the international community to recognise safe access to water as a global development priority alongside access to safe water.
With drowning claiming 360,000 lives a year across the globe, the UN Group of Friends on Drowning Prevention – with founding members including the governments of Bangladesh, Vietnam, Fiji, Thailand, Tanzania and Ireland – has called for drowning to be recognised and resourced in line with its impact on communities worldwide.
This comes as the UN launches the International Decade for Action on Water for Sustainable Development, focussed on addressing water-related challenges including access to safe water and sanitation.
Royal National Lifeboat Institution (RNLI) Head of International Advocacy Helen Morton said:
"Drowning is a silent epidemic. Responsible for more deaths each year than international development priorities including malnutrition and maternal mortality, it goes unrecognised and under-resourced. Drowning hits the most vulnerable first and worst; children and young people represent the majority of lives lost and almost all occur in low and middle income countries. Wasted lives and preventable deaths on an epidemic scale.
"Rightly, resource in recent decades has focused on delivering the human right to water, but it's now critical that we focus on water access in the fullest sense; recognising safe access to water as well as access to safe water as a pressing development problem, and as a means to enable development.
"The RNLI has been working with governments across the world committed to helping to end this silent epidemic, and we're encouraged that a new dedicated UN group has launched today on World Water Day to prove that prevention is possible."
The full open letter is available below.
A letter from the UN Group of Friends on Drowning Prevention
Today, on World Water Day, we celebrate that water enables the lives and livelihoods of billions of people across our planet. The launch of a new United Nations Decade of Action on Water is an opportune moment to reaffirm our commitments to this urgent and important issue.
But in our efforts to achieve the Sustainable Development Goals (SDGs) and make the UN Decade on Water successful, we must address the issue of water access in the fullest sense – that includes recognition of the realities in which those who are left behind live.
While our focus has been on access to safe water, it is critical to draw the attention of the global community to the need for safe access to water.
Each year, drowning is responsible for more deaths than malnutrition or maternal mortality. It affects the most vulnerable first and worst; almost all of the 360,000 drowning deaths occur in low- and middle-income countries. Among these, children and young people represent the majority of lives lost. Every other minute, a child loses their life to the water. Drowning is the number one cause of child mortality in many countries across South East Asia and the Western Pacific.
In committing to the SDGs every country in the world has committed to deliver a set of Goals for their citizens by 2030. Ensuring safe access to water will be critical to reducing child mortality and to achieving sustainable development as a whole. Drowning prevention is a forgotten but fundamental enabler to ensure that every child survives and thrives; while insuring investment in nutrition, education and immunisation and providing a set of required survival skills that will protect our future generations.
Drowning is not fate, nor inevitable.
Every life lost to the water is preventable. Simple and scale-able solutions, such as survival swim lessons, community crèches and flood response skills, can be delivered at a large scale and low-cost, saving hundreds of thousands of lives. This is ever-more important with growing exposure to water due to climate change and increased risks of natural disasters, yet to date drowning has been absent from political debate, and has not received the level of public attention it deserves.
So, today, we officially launch the Group of Friends on Drowning Prevention, to mobilise governments from across the geographic and political spectrum to act on this common cause; to ensure that the issue of drowning prevention is recognised and receives resources commensurate with its impact on communities worldwide.
As the President of the General Assembly launches the Decade of Action on Water for Sustainable Development, we call upon him, and fellow leaders, to recognise the importance of safe access to water alongside access to safe water. If we are to achieve the Sustainable Development Goals and ensure that no one is left behind, inaction is not an option.
Signed by:
Masud Bin Momen, Ambassador of Bangladesh to the United Nations Luke Daunivalu, Ambassador of Fiji to the United Nations Virachai Plasai, Ambassador of Thailand to the United Nations Nguyen Thi Phuong Nga, Ambassador of Viet Nam to the United Nations
Seven Out of 10 Top School Systems Are in East Asia Pacific
The East Asia and Pacific region has seven of the top ten performing education systems in the world, with schools in China and Vietnam showing significant progress, according to a new World Bank report released today. This is a major accomplishment that offers important lessons to countries around the world. In the rest of the region, however, up to 60 percent of students are in under-performing schools that fail to equip them with the skills necessary for success.
Growing Smarter: Learning and Equitable Development in East Asia and the Pacific argues that improving education is necessary to sustain economic growth and highlights the ways that countries in the region have been able to improve learning outcomes. Drawing on lessons from successful education systems in the region, it lays out a series of practical recommendations for key policies that promote learning so that students acquire foundational skills in reading and math, as well as more complex skills that are needed to meet future labor market demands.
"Providing a high-quality education to all children, regardless of where they are born, isn't just the right thing to do. It's also the foundation of a strong economy and the best way to stop and reverse rising inequalities," said Victoria Kwakwa, World Bank Vice President for East Asia and Pacific.
A quarter of the world's school-age children – some 331 million – live in East Asia and the Pacific. Up to 40 percent of them attend school in education systems whose students are ahead of the average students in OECD countries. These schools are not only in wealthy countries such as Singapore, Korea and Japan, but also in middle-income countries such as China and Vietnam. And, as the report highlights, student performance isn't necessarily tied to a country's income level. By age 10, for example, the average Vietnamese student outperforms all but the top students in India, Peru and Ethiopia.
But many countries in the region are not getting the results they want. In Indonesia, for example, test scores showed students were more than three years behind their top-performing peers in the region. In countries such as Cambodia and Timor-Leste, one-third or more of second graders were unable to read a single word on reading tests.
Another key finding of the report is that across the region, household incomes do not necessarily determine children's educational success. In Vietnam and China (Beijing, Shanghai, Jiangsu and Guangdong provinces), for example, students from poorer households do as well, if not better, in both math and science, as compared to average students in the OECD.
"Effective policies for the selection, motivation, and support of teachers as well as sound practices in the classroom are what determine how much students learn. For policymakers looking to improve their school systems, allocating existing budgets efficiently, coupled with strong political commitment, can make a real difference in the lives of children across the region," said Jaime Saavedra, the World Bank's Senior Director for Education.
The report lays out concrete steps for improving learning for lagging systems in the region and beyond, starting with ensuring that institutions are aligned so that objectives and responsibilities across the education system are consistent with each other. The report also urges a focus on four key areas: effective and equity-minded public spending; preparation of students for learning; selection and support of teachers; and systematic use of assessments to inform instruction.
The report found that top-performing systems spend efficiently on school infrastructure and teachers, have recruitment processes to ensure the best candidates are attracted into teaching, and provide a salary structure that rewards teachers with proven classroom performance. It also found that schools throughout the region increased preschool access, including for the poor, and have adopted student learning assessment into their educational policies.
The report complements and builds on the World Bank's World Development Report 2018: Learning to Realize Education's Promise, which was released in September 2017 and found that without learning, education will fail to deliver on its promise to eliminate extreme poverty and create shared opportunity and prosperity for all.
UN women's commission opens annual session at 'pivotal moment' for gender equality movement
Taking place at "a pivotal moment for the rights of women and girls," the United Nations body dedicated to gender equality and women's empowerment opened its annual session on Monday hearing calls to help women, especially those in rural communities, secure an end to the male-dominated power dynamic that has long marginalized their participation and muted their voices.
"Across the world, women are telling their stories and provoking important and necessary conversations – in villages and cities; in boardrooms and bedrooms; in the streets and in the corridors of power," said Secretary-General António Guterres, opening the 62nd session of the UN Commission on the Status of Women (CSW62).
"From 'MeToo' to 'Time's Up' and 'The Time is Now' […] women and girls are calling out abusive behaviour and discriminatory attitudes," he added.
Under the Commission's theme 'Challenges and opportunities in achieving gender equality and the empowerment of rural women and girls,' the UN chief observed that although a marginalized group, they were often the backbone of their families and communities, managing land and resources.
Mr. Guterres said that supporting these women is essential to fulfilling our global pledge to eradicate poverty and to create a safer, more sustainable world on a healthy planet – 2030 Agenda for Sustainable Development.
Mr. Guterres painted a picture of a male-dominated world with a male-dominated culture in which centuries of patriarchy and discrimination have left a damaging legacy.
Calling it "the greatest human rights challenge of our time," he said "progress for women and girls means changing the unequal power dynamics that underpin discrimination and violence."
"Discrimination against women damages communities, organizations, companies, economies and societies," he continued. "That is why all men should support women's rights and gender equality. And that is why I consider myself a proud feminist."
The President of the UN Economic and Social Council (ECOSOC), Marie Chatardova pointed to the Commission, as a critical instrument to strengthen the global normative framework for women's empowerment and the promotion of gender equality.
The body is also as a key driver of ECOSOC's work, with the Commission's outcomes as bolstering the 2030 Agenda's implementation and that of its 17 Sustainable Development Goals (SDGs), which seek to end poverty and ensure prosperity for all on a healthy planet.
Noting that gender equality and the empowerment of women and girls is a theme that cuts across all the Goals, Ms. Chatardova said the Commission's focus on rural women and girls was both timely and well-aligned with the 2030 Agenda.
According to the ECOSOC President, inclusion is a key element in all efforts.
Noting that the Commission has long provided a roadmap for the UN's work in women's empowerment and gender equality, she announced a special Council session in May to build sustainable, inclusive and resilient societies.
Gender perspective is critical
For his part, the President of the UN General Assembly, Miroslav Lajčák, noted that past challenges were approached without a gender perspective, which "has had a particularly damaging effect on rural women."
Mr. Lajčák underscored that this needs to stop, and that women must be taken into account in all actions, from access to water to closing pay gaps.
Drawing attention to rural women as a major source of innovation, he explained that their empowerment would benefit everyone.
"These kinds of women do not need our help, in finding solutions," he stated. "What they need is our support, in turning their ideas into reality."
Calling gender equality "an urgent priority," Mr. Lajčák he encouraged the Commission to carry on with its important work "until every woman, sitting in this room today has the same rights, and the same opportunities, as the man sitting beside her.'
"Thank you for continuing your calls. Let's make them stronger than ever," he concluded.
UN Women Executive Director Phumzile Mlambo-Ngcuka highlighted the importance of this year's focus on rurual women.
"It speaks to our commitment to fight some of the biggest challenges of our time: poverty, inequality, intersectionality and an end to violence and discrimination against women and girls, no matter where they live, or how they live, so that we 'leave no one behind,'" she stated.
Calling it "a tipping point moment," the UN Women chief urged the forum to seize the opportunity to secure and accelerate progress, build consensus and share best practices to serve "the poorest of the poor."
"It has never been so urgent to hold leaders accountable for their promises for accelerating progress" on the SDGs, she said.  An unprecedented hunger for change in women's lives was being seen around the world, as well as a growing recognition that when women banded together, "they can make demands that bite."
"Women are fighting to take steps that change their lives, and they are refusing to accept the practices that have normalized gender inequality, sexual misconduct, exclusion and discrimination across all walks of life," she argued.
She urged everyone to unite around the common cause, as set out in the principles of equality in the UN Charter, "to make this a moment of real acceleration, change and accountability."
The chair, Geraldine Byrne Nason, said the current session is a key moment on the path to ending discrimination against women and girls once and for all.  Indeed, "time is up" on women taking second place around the world, she said, challenging the Commission to do more and do better.
CSW functions under ECOSOC, acting as the UN organ promoting gender equality and the empowerment of women.  CSW62 runs until 23 March.