Lithuanian emigrant's cry from the heart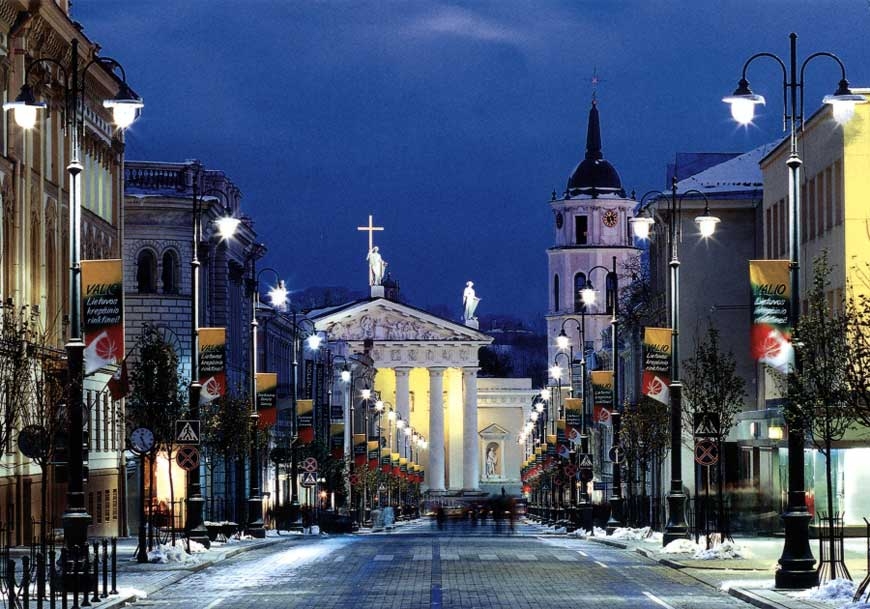 [yt_dropcap type="square" font="" size="14″ color="#000″ background="#fff" ] I [/yt_dropcap] am a Lithuanian, but I live abroad and I am not going back. At least now, at least until the government does not pay attention to its people. According to some authoritative research institutes, during 2017 Lithuania population is again projected to decrease (by 45 677 people!) and reach 2 758 290 in the beginning of 2018.
As of 1 January 2017, the population of Lithuania was estimated to be 2 803 967 people. This is a decrease of 1.63 % (46 433 people) compared to population of 2 850 400 the year before. In other words, our nation is slowly disappearing.
Everyone except Government knows the reasons why people leave the country. It is not difficult to understand. I can explain why my family left. Simply we need food, clothes and medical care. Our children need good education. And the most important thing is we want to be sure of the future. Simple things for simple people.
Instead of doing practical things, our authorities just do everything to make Lithuanians leave. For example, data released by Statistics Lithuania on January 9 showed that in December, 2016 prices increased in all but three segments, with a 6.2% boost in the hotels, cafes, and restaurants sector, services became 2.4% more expensive. This is only one example.
Along with emigration and unstable economy, another alarming moment is attempt to make us live in fear. Lithuanians are sick and tired of fear! People even lost the sense of reality. They do not understand if it is good or bad when the number of foreign troops in small Lithuanian town is equal to the number of locals.
Surely, Lithuanian economy needs foreign investments, but who will come and invest in the country that leaves in expectation of war? Lithuanian authorities try to persuade the whole world that military aggression and the seizure of our territories are inevitable and at the same time say that Lithuania waits for foreign business and it create for it favorable conditions. Does the government really think that foreign businessmen are so stupid to invest money in the country that probably in some months will be the arena of war?
Do you know that all these foreign soldiers demand even more than we, Lithuanians? Once decided to deploy them, Lithuania has pledged to support them. Do you know how much? No one knows the exact figures, but everyone understands – huge amount of money! For example Japan pays more than $800,000 a year. Are we ready for it?
Governments, call me back, do something; convince me and others to return, promise Lithuanians to make our lives better at home and support us. It may be surprising to you, my Government, but not only guests, immigrants and foreign troops need help, support and high quality of life in Lithuania. We, Lithuanians, need it more.
I want, but I can't go back to Lithuania now…
Azerbaijan aims to boost its "Sustainable Development" profile
On May 21, 2018,Azerbaijan hosted an international conference on "Sustainable Development Goals: Promotion of Sustainable Development and Decent Work" in Baku involving number of state and non-state officials. The conference highlighted the progress made by Azerbaijan in implementing the Sustainable Development Goals (SDGs), as well as its cooperation with the International Labor Organization (ILO)and the United Nations (UN). The ILO identified Azerbaijan as a focus country for the region in the implementation of the SDG8 and the 2030 Agenda.
The SDGs were adopted by the UN member countries in September 2015 with a view to implement 17 goals and 169 targets during 2016-2030.Azerbaijan joined the SDG at the UN Sustainable Development Summit on the same year.
Azerbaijan pays a special attention to the implementation of SDGs, which include the shared goals and targets set by the world leaders to mobilize people in achieving sustainable development. In order to achieve the SDGs in Azerbaijan, the National Coordination Council on Sustainable Development (NCCSD)was established by the decree of Azerbaijan's President Ilham Aliyev dated on October 6, 2016. NCCSD's main function is coordinating the implementation of the SDGs at the level of senior officials of the relevant government agencies and working out national priorities in accordance with global targets. The Council's importance for Azerbaijan lays in ensuring the compliance of state programs and strategies covering the socio-economic spheres within the SDGs.
Deputy Prime Minister and Chairman of NCCSD Ali Ahmadov, speaking at the international conference, emphasized that "more than 1.9 million new jobs have been created in Azerbaijan over the past 15 years, which is about 40 percent of the active population in the country. Moreover, Azerbaijan is among the countries with rapid population growth, which amounts to up to 1.2 percent per year. This is quite a big figure, which makes it necessary to create more than 100,000 jobs annually".
Another distinguished guest of the conference, Director-General of the International Labor Organization, Guy Ryder noted that "diversification of the economy in Azerbaijan is of great importance in raising employment and ensuring sustainable development. Reduction of poverty level in the country over the past 15-20 years is one of the most important achievements of Azerbaijan. This shows that the government directed the oil and gas revenue for social development."
Talking about SDGs, it is also worth to review the implementation of these goals. Although any country can achieve significant success in many areas, however,it still can encounter unresolved environment-related issues. For example, the targets of SDG6 on clean water and sanitation are a priority for the country as an urgent matter for sustainable development.
Another issue is energy-driven economic growth. The key drivers of Azerbaijan's economic growth are trading in crude oil and natural gas. At the same time, the country has a great potential to diversify its economy, and the economic diversification holds great potential to boost other sectors' sustainable development. In this context, the Azerbaijani government seeks to accelerate the use of alternative energy, develop institutional environment, reinforce the scientific and technical potential, strengthen the personnel training, and carry out awareness campaigns for energy consumers. This corresponds to the SDG7 targets on building the capacities for renewable energy sources and diversification of the economy to meet these targets.
Besides abovementioned, it should be underlined that Azerbaijan has also national priority lists of SDGs which helps to bring up successful outcomes in the implementation of SDGs.  The national priorities of the country focuses on SDGs: such asSDG8-decent work and economic growth, SDG12-responsible consumption and production, SDG13-climate action, SDG14-life below water, SDG15-life on land and SDG17(17.4)- partnerships for the goals.
One of the strategic objectives of Azerbaijan in the framework of SDGs national priorities is becoming one of the leading trade and logistics hubs of Eurasia by developing its transit and transport services. The main SDGs applicable to Azerbaijan's vision for trade development are SDGs 8, 10, and 17. This transformation aims to create new jobs and open new business opportunities.
To support above-mentioned, the country is actively engaged in implementing the major transportation projects such as the Baku-Tbilisi-Kars (BTK) railway and Baku International Sea Trade Port. The opening of the BTK railway on October 30, 2017, with an initial capacity to transport 1 million passengers and 5 million tons of freight a year, was an important step in Azerbaijan's policy of connectivity.
President Ilham Aliyev has determined that a major state policy goal should be to make use of the country's transit potential, pointing to the Baku Sea Port as a key strategic project in the diversification of economy, which is set to become one of Azerbaijan's main investment projects in the non-oil sector generating the second greatest share of budget revenues.
To sum, Azerbaijan aims at achieving the following SDGs goals: inclusive and equitable education, gender equality, sustainable and inclusive economic growth that ensures full employment, as well as targets on infrastructure for sustainable economic development.
Russia–Armenia Relations and the April Revolution
Starting in April, 2018, Armenia witnessed a remarkable political revolution, prompted by Serzh Sargsyan's attempt to remain in office by becoming the country's Prime Minister. As massive crowds packed Yerevan's Republic Square, the veteran Armenian politician ultimately bowed to popular pressure and stepped aside on April 23. The second phase of the April Revolution saw the ascendancy of protest leader Nikol Pashinyan to the Prime Minister's office. Pashinyan's proposed electoral reform promises to pave the way for a more competitive political system in Armenia, breaking the monopoly of the ruling Republican Party, which has dominated Armenian politics since the late 1990s.
Even more remarkable was the lack of any foreign involvement in the April Revolution. There were no "little green men" in the Ararat valley, nor was America's Victoria Nuland on hand to pass out cookies on Republic Square. In reality, the involvement of United States was nonexistent, while the role of Russia was minimal, although not insignificant. In contrast to the reaction to the Electric Yerevan protests in 2015, there was no rush in the Russian media or among Russian political elites to draw parallels with the Ukrainian Maidan or the "color revolutions." Instead, Moscow was cautious and pragmatic, emphasizing the necessity of a legal transition of power. Publicly, Russian Foreign Ministry spokeswoman Maria Zakharova even supported the demonstrators, writing "Armenia, Russia is always with you!"
Two-sided nature of the Russia-Armenia relations
The Russia-Armenia relationship is two-sided. For Armenia, Russia means protection from neighboring Azerbaijan and Turkey. For Russia, Armenia represents an important ally in the Caucasus, a region critical to Russian security concerns. Therefore, Russia observed the recent developments in Armenia very closely. Behind the scenes, Russian officials were in contact with both sides in order to gain a clear understanding of the events. According to protest leader Armen Grigoryan and certain unnamed sources, the opposition emphasized to Russian officials that the protest was strictly domestic and was not directed in any way against Russia. This message was further emphasized by Pashinyan to the delegation of Russian Duma deputies who visited Yerevan. Not only were Russia-Armenia relations under no threat, but they would be "deepened" should Pashinyan become Prime Minister. The protest leaders also made an effort to ensure that no EU or American flags were flown during the Armenian protest.
Russian officials were also in contact with representative of the Armenian government and the ruling party. In the early days of the protest, it became clear to Moscow that Serzh Sargsyan had no political future. His decision to remain in power was a major misstep in the Armenian context, and therefore supporting him would be a liability for the Russian side. However, in terms of his successor, Moscow was initially more inclined to support acting Prime Minister Karen Karapetyan. A reform-minded politician, Karapetyan governed Armenia from the Prime Minister post effectively for a year and a half, although the Republican Party machine prevented him from making major changes. The former chief executive of ArmRosGazprom, he also has good business and political contacts with Russia, including with Prime Minister Dmitry Medvedev and Russian-Armenian billionaire Samvel Karapetyan (no relation to Karen). Therefore, he represented both stability and change to Moscow.
However, it soon became clear that the protestors in Yerevan wanted to abolish the ruling Republican Party machine entirely. Although Sargsyan's bid to stay in power served as the immediate motivation for the protests, the causes – chiefly jobs and economic inequality – were much deeper. Fundamental changes were required to remedy them. In this case, Pashinyan's bid, to both become interim Prime Minister and to reform the electoral laws, represented a better alternative for the demonstrators. Gradual reform of the existing system was no longer a tenable option. Therefore, Moscow remained neutral, while Karapetyan rejected the offer to become the Prime Minister candidate of the Republican Party, leaving the ruling party with no candidate to nominate.
Putin-Pashinyan personal chemistry
The situation was reinforced by Pashinyan's meeting with the Duma MPs on April 29, which cleared the way for his eventual victory on May 8. Notably, after Pashinyan's election as Prime Minister, Vladimir Putin was one of the first political leaders to congratulate him. Later, in a phone conversation with Putin, Pashinyan exchanged greetings with him on the occasion of Victory Day, commemorating the Soviet defeat of Nazi Germany in World War II. Notably, Pashinyan's grandfather and namesake, Nikolai, fought in the Red Army and died in the war. The new Armenian PM also reaffirmed Armenia's commitment to the Eurasian Economic Union, the Commonwealth of Independent States (CIS), and the Collective Security Treaty Organization (CSTO). However, within the context of the Eurasian Economic Union, he may push for a more democratic and egalitarian relationship among the member states to ensure that smaller republics, like Armenia, will have more of a say in determining the policy of the union.
On May 14, Pashinyan and Putin met in Sochi where they had very positive and constructive talks. In the meeting, Putin hailed Armenia as a "close ally and partner in the region." For his part, Pashinyan assured Putin that "there is a consensus in Armenia: no one has ever questioned the strategic importance of the Armenian-Russian relations, and I think it will not be questioned ahead." He also met with Eurasian Union Chairman and former Armenian PM Tigran Sargsyan and held a rally with the Armenian community of Sochi.
Why Armenia's opposition shied away from anti-Russian rhetoric
While Russia exercised incredible restraint in reaction to the April Revolution, the leaders of the revolt also learned valuable lessons about Russia-Armenia relations and the potentially adverse impact of their past anti-Russian statements. Given the extraordinary importance of the Russia-Armenia relationship, most Armenian politicians across party lines traditionally understood that Russophobia was counter-productive for the country. However, in recent years, some Armenian opposition leaders, taking cues from developments in Ukraine and Georgia, began to incorporate such discourse into their attacks on the government. Although Pashinyan has never been known to be exceptionally anti-Russian, even he adopted this position in his criticism of the Eurasian Economic Union.
In one way, anti-Russian rhetoric was useful for both the Armenian government and the opposition, to alert Russia that it could not take Armenia for granted. However, the April Revolution demonstrated that Armenian Russophobia could also be fatal for the opposition. Amid their stunning success, it soon became clear that anti-Russian policy was in fact hindering their far more important objectives (e.g., challenging the Republican Party monopoly). Consequently, Pashinyan moved quickly to reassure the Russian press and the Russian political elite that the revolution was not directed in any way against Moscow.
Meanwhile intending to capitalize on Pashinyan's past remarks, the ruling party attempted to paint the revolutionary leader as a reckless Russophobe for both Russian observers and Armenia's domestic audience. In the end, they failed to convince these two audiences, both of whom gave Pashinyan the benefit of the doubt. However, it was a close call for Pashinyan and it clearly illustrated the pitfalls of unnecessary anti-Russian bluster in Armenia.
Alternative path
Not only is anti-Russian discourse counter-productive in terms of its immediate political impact, but also in terms of its broader relevance. The April Revolution in Armenia has regional and even global significance that the Rose or Orange Revolutions or the Maidan would never attain since they allowed themselves to be blinded by the allure of geopolitics and national chauvinism. Shifting away from the geopolitical context, the revolution in Armenia presents an alternative path for the post-Soviet states. Instead of excluding Russia and casting it as an "eternal enemy," why not include it in broader regional discussions about democracy, economic justice, and state-building?
Although each former Soviet republic is unique, they all share broadly similar socioeconomic problems as well as the common historical and cultural experiences of Imperial Russia and the USSR. In an age of globalization, these commonalities are the foundation for greater regional cooperation. Therefore, maintaining broad transnational cultural and economic connections across the post-Soviet space is an asset for all. The April Revolution in Armenia is significant as is a civic movement that realizes such potential.
First published in our partner RIAC
Stephen Cohen's Misrepresentations about the 2014 Coup in Ukraine
The restoration of the Cold War now, between Russia and the United States, is based on frauds by the United States, as will be documented here; and one of the biggest responsibilities that historians have, is to state this publicly — to acknowledge it publicly and clearly — so that the necessary public pressure can finally come to be brought upon the U.S. Government, to acknowledge that it has been wrong about this matter, which is a matter increasingly threatening the entire planet with World War III, a nuclear war between the U.S. and Russia, the war that would end the world.
Most historians fail this fundamental professional obligation to truthfulness especially about important matters such as this, and don't even acknowledge publicly that the overthrow in February 2014 of Ukraine's democratically elected President was a "coup" instead of a 'revolution' (which the U.S. Government and its foreign allies call it), but even most of the historians who do call it a "coup" do not say that it was perpetrated by the U.S. Government upon, and greatly harmed, the people of Ukraine; and, so, their admission fails to apply any pressure at all upon the U.S. Government, to stop its constant lying about this.
Wars do not result merely from force of arms, but even more fundamentlly, they result from force of lies. In the present matter, those lies can have a world-ending consequence; so, at least the biggest of these lies need to be addressed in public, by historians.
Dr. Stephen C. Cohen, the prominent Russia-specialist now retired from Princeton and NYU, has said on at least two occasions, that the February 2014 overthrow of Ukraine's democratically elected President Viktor Yanukovych was a "coup." Cohen has never said, like the founder and head of the 'private CIA' firm Stratfor, Dr. George Friedman, once admitted, that it was "the most blatant coup in history", but he did call it some kind of "coup"; and yet he has persistently refused to call it a coup that started in and was perpetrated by the U.S. Government — started in the Obama Administration, long before the coup's culmination-period, 20-26 February 2014, when the EU finally became shocked on February 26th to discover that it had been a coup. I don't understand why Dr. Cohen constantly presents it in that false way — as something it wasn't. The following note is therefore intended specifically to correct Dr. Cohen's false account that it had started elsewhere than inside the Obama Administration:
On May 9th, at an event co-sponsored by Columbia University's Harriman Institute and New York University's Jordan Center for the Advanced Study of Russia, Cohen stated (at 28:45 in the video) that it was "a coup, an unusual coup, it originated in the streets."
It did not  originate in the streets. It originated in offices, specifically in U.S. Government offices, and assisted by other entities, including private entities, which worked closely with the U.S. Government, in order to plan it, and to carry it out.
I thus asked him, on May 17th, via email,
You think it originated in the streets, in November 2013 — really, it didn't originate on 1 March 2013 when the U.S. Embassy started its CIA-run training-sessions for organizing the Maidan demonstrations? It didn't originate in, or at least by, June 2011, when Eric Schmidt and Jared Cohen visited Julian Assange at the Ecuadorean Embassy in London, in order to deceive him into revealing the tricks he'd use to organize such a mass-movement (the public cover behind which the coup would be perpetrated) — fooled him into thinking that they were on his side, the pro-democracy side — certainly not on the side of coups and other "regime-change" operations? As I pointed out in that just-linked-to article, "Only in retrospect did Assange come to recognize that, as he headlined in October 2014, "Google Is Not What It Seems". That's when he noted, "Jared Cohen could be wryly named Google's 'director of regime change'." He recognized too late, that they were manipulating him, using him, to help in overthrowing both Assad and Yanukovych — to help in their and Obama's fascism.
Dr. Cohen replied,
"Obama's fascism"? Do you even know what it is?
I answered,
Ask these people what "Obama's fascism" is. They experienced it, through his agents — the people he installed to run their country (and Obama never criticized those stooges for doing his dirty-work, not even for doing it in such a blatantly "fascist" way).
Cohen didn't reply, though perhaps he will, some day. If he will, then I shall welcome his response, because, if I am wrong, then I want to know in what way I am wrong; and if I am right, then not only is Dr. Cohen wrong, but our entire U.S. foreign-policy Establishment is wrong and has been lying pervasively about how the "restored Cold War" happened. Did Putin seize Crimea? Or, instead, did Obama seize Ukraine (via this coup)?
Like I, Professor Cohen — according to his own testimony, and mine — voted for Obama, both in 2008 and in 2012. I would do it again, against Hillary Clinton and John McCain, and against Mitt Romney, because those opponents of his, were even more fascist than Obama turned out to be; but this is the type of electoral choice that remains to the people, in today's American 'democracy'. That's what it is: choices between 'public' representatives such as that.
Until the United States Government, and American academics such as Professor Cohen, publicly acknowledge the reality, that Obama lies, and that Trump lies, to allege that Russia 'seized' Crimea and that America didn't seize Ukraine in a prior coup, a coup which has even been publicly admitted by some of the coup's own actual participants — a coup that shortly thereafter was followed by an ethnic-cleansing campaign to get rid of enough people who had voted for the democratically elected Ukrainian President whom Obama overthrew, an ethnic-cleansing so as to stave off a subsequent electoral victory in Ukraine for restoration of a neutralist Ukrainian Government similar to the Government that was overthrown — as long as they instead hide the fact, that this was an American coup, against Ukraine, in order to grab Ukraine on Russia's very doorstep, so as to make it a NATO member — there can be no constructive settlement of the 'new Cold War', because the fact is: it's a war that the U.S. has been secretly waging against Russia, ever since at least 24 February 1990.
The termination of this war between the U.S. and Russia cannot be achieved by continuing the lies about what is behind it. This has been a decades-long war to eliminate Russia's friends and allies, to turn the European ones into NATO members, to surround Russia with our missiles and nukes being positioned just five minutes' striking-time from Moscow, and then to issue an ultimatum for Russia's surrender, so as to achieve the world's first global and all-encompassing Empire.
Continued lies just cannot do the job that the entire world needs to be done: the U.S. (the most dangerous country in the world) must terminate its obsession to expand its empire to an all-encompassing scope, and must cease-and-desist its continuing war against the sovereign nation of Russia, and against all other nations that have continued to resist America's all-grasping aristocracy's reach for the ultimate Empire.
The Big Lie today is that "Putin stole Crimea" not "Obama stole Ukraine." The Big Truth today is that Obama stole Ukraine, not Putin stole Crimea.
If Dr. Cohen has any objections to the factuality of any of the allegations that I have made here, or to any of the documentation that I have linked to as the sources for these allegations, then I publicly welcome him to state what those objections are. Otherwise, I shall continue to take strong exception to Dr. Cohen's account of these matters.