Do We Must to Confine Our Research to a Paradigm? Integrating Long-Standing Methodological Paradigms
Long-standing tensions between quantitative and qualitative research are far common issues in the social sciences research. The debate centres on the perception of the truth by the researchers—ontology, worldviews, etc.
Does there exist an objective truth which is independent from human perception? Or, alternatively, do there co-exist many realities based on each perception of reality which is culturally and socially nuanced?
Moreover, different epistemological approaches give a different, opposing answer to this ontological tension, which makes it go far away from détente.
Let us reflect on some key concepts before we proceed too far throughout these lines. A quantitative inquiry analyses numerical and categorical data with the aim of producing an objective—a time- and context-free—analysis by counting, comparing and statistically modelling those data. Then, this objective analysis is frequently conducted by testing theories (deductive technique) through statistical analyses and systematically setting assumptions—which may connote a detrimental simplification of its quality. A qualitative inquiry analyses physical data—words, images and audios—with the aim of producing an interpretative—a time- and context-laden—analysis by implementing thematic, narrative and image analyses. Then, this interpretative analysis is frequently conducted by drawing patterns (inductive technique) from the data analysis through exploration and hypotheses generation processes.
In philosophical terms, quantitative purists (positivists) maintain that social sciences must be objective, free of time- and context- generalisations, which must yield robust results by analysing the real causes of scientific outcomes. Then, researchers must be emotionally detached by deleting their biases—which leads them to only test and empirically justify their stated hypotheses. Qualitative purists (constructivists and interpretivists) argue for the existence of logic flows which come from specific to general, being impossible for the human lens to differentiate the real set of causes and effects as all facts and outcomes are related and inter-affected: therefore, the more time- and context- free generalisations the higher the gap between actual and theoretical output. (This has to do with Chaos Theory, which supports that many facts and effects, in those sciences in which behavioural agents interact, are unpredictable.)
The debate thereby centres on the perception of the truth by researchers. On the one hand, quantitative researchers conceive 'truth' as that which describes an objective, accurate reality, and is not nuanced or biased by the observer. On the other hand, qualitative researchers conceive reality as that which can be only perceived and created by individuals' experience.
In terms of epistemology and methodology, whereas positivist paradigms support measuring causal relationships between variables through empirical indicators which represent that truth and makes it representative of a larger group than just that of the sample studied, the hermeneutical paradigm aims at investigating the reality through an interactive process between the researcher and the researched question, far from that non-nuanced, positivist reality. The main reason behind this assertion is that reality is socially constructed and hence constantly changing, based on the lens with which one constructs that reality. Under these philosophical conflicts relies the pragmatic 'incommensurability thesis' of Gorard/'incompatibility thesis' of Howe, stating an impossible combination or interaction of both lens of reality, in contrast to the well-known 'compatibility thesis' of Teddlie & Tashakkori, which states the existence of a potential symbiosis on its interaction, which might yield different perspectives on the same reality within a single study.
Thus, after all of this set of stances and reflections, how we can reach the 'light of reason'? Are assumptions made on the theoretical background of empirical inquiries the quantitative-nuance for the quantitative paradigm? Does it hence mean that phenomena cannot be fully tested in isolation because those auxiliary assumptions are needed and then an alternative explanation will always still exist?
This issue implies one of the long-standing debates in the social sciences research. As in other aspects of the social sciences, there does not exist a 'right answer' to identify the most suitable methodology for addressing a research problem. Therefore, a research question under investigation could be approached through a wide range of different methodological designs by studying the research problem from different lens/angles. This leads to reduce the answer to a pragmatic fact: conducting the inquiry which best approach the reality under investigation and hence yield the best, most accurate insight to the research problem. Moreover, confinement of methodologies to paradigms would go to detriment of best yielding that most accurate, satisfying insight, opening the possibility to even combine methodological approaches, which is known as Mixed Methods Research.
Finally, critics of Mixed Methods Research state that the ontologies or realities—worldviews or paradigms—cannot be mixed. The rationale behind this assertion might rely in the fact that they are opposing one to another. Hence, could a research methodology which assumes a certain reality co-exist alongside another inquiry that assumes a contradictory worldview? Bearing in mind the aforesaid stance, would this mean to mix paradigms? Certainly, the aim of Mixed Methods Research is not to substitute those inquiries but instead to maximise strengths and avoid weaknesses of mono-method approaches by combining them into a more symbiotic tool. It's in line with these aforesaid assertions when Symonds & Gorad's words make sense to be echoed: analytic techniques are 'chameleonic'; conceptualising a methodology as a categorical entity is dangerous and myopic, as it sets boundaries on perceptions to not to cross.
Women outnumber men in higher education but gender stereotyped subject choices persist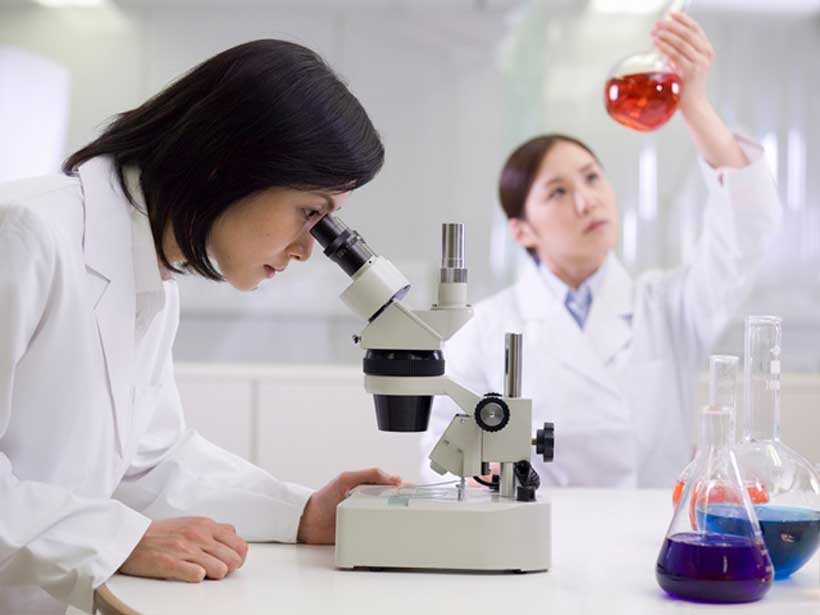 Education is essential to achieving gender equality. From the earliest schooling to the highest levels of post-graduate study, education influences the opportunities that can shape people's lives.
This is why education and training of women is one of the 12 critical areas of concern in the Beijing Platform for Action, while target 4.5 of the Sustainable Development Goals (SDGs) calls for the elimination of gender disparities in education by 2030.
In the UNECE region girls tend to outperform boys in terms of learning outcomes in schools, and women outnumber men in tertiary education (university level and beyond) in almost all countries of the region.
Women remain in the minority, however, as students of stereotypically "masculine" subjects such as ICT and engineering, although in recent years they have begun slowly gaining ground.
Tertiary level graduates
In 39 out of the 47 UNECE countries with data, more than 55 per cent of tertiary graduates are women. Iceland has the highest share, with 66 per cent women. Seven countries are close to gender parity, with the share of women ranging from 48 to 55 per cent, and only in Uzbekistan are women in a clear minority, with 38 per cent of tertiary graduates.
After decades of increase in women's participation in higher education, women substantially outnumbered men among tertiary level graduates in most countries by 2012. Since then, women's share has declined in 32 out of the 47 countries with data. Whilst in Azerbaijan and Turkey fewer than half of tertiary graduates were women in 2012, more women have entered tertiary education in these countries since and the 2017 data already show gender parity there.
Subject choices of women and men
The subjects studied at tertiary level by women and men can reflect stereotypes of "masculine" and "feminine" subject areas. Some subjects may be preferred by potential employers and may affect occupational segregation once graduates enter the labour market. Information and Communication Technologies (ICT) and Engineering, Manufacturing and Construction (EMC) are two broad groups of subjects where male students have historically predominated.
Women remain a minority among ICT students in the UNECE region, with percentages ranging from 11 in Belgium to 33 in Greece. The four countries with the largest share of women among ICT students are all in the Balkan region. Among students of EMC, the share of women is somewhat higher, but still falls far short of parity, ranging from 14 per cent in Georgia to 44 per cent in North Macedonia.
In both of these subject groups, the recent trend shows small gains for women in some countries but reductions in others. Overall, progress towards gender equality in these two typically male-dominated subject areas is uneven and slow.
UNECE Beijing+25 Regional Review Meeting
Progress in achieving gender equality in education will be one of the areas in focus at the upcoming Beijing+25 Regional Review Meeting for the UNECE region, with a particular emphasis on how women and girls can enter currently male-dominated fields.
The Beijing Declaration and Platform for Action of 1995 (Beijing Platform for Action) is the most ambitious road map for the empowerment of women and girls everywhere. In 2020, it will be 25 years since the Beijing Platform for Action outlined how to overcome the systemic barriers that hold women back from equal participation in all areas of life.
The Beijing+25 Regional Review Meeting (29-30 October 2019) will take stock of where the UNECE region stands on keeping the promises of the Beijing Platform for Action. Bringing together government representatives and key stakeholders from the UNECE region, the meeting will tackle a number of obstacles that keep girls and women from realizing their full potential. UNECE is joining forces with the UN Women Regional Office for Europe and Central Asia to deliver a two-day multi-stakeholder meeting to exchange concrete policies to accelerate the realization of gender equality. The outcomes of the meeting will feed into the global review of the Beijing Platform for Action taking place at the sixty-fourth session of the Commission on the Status of Women in New York from 9 to 20 March 2020.
Call for Action from Leaders and Business on Violence against Women
Spiralling levels of violence against women in Africa require immediate action from governments and businesses, including tangible measures to create safe spaces, experts from across the continent told the World Economic Forum on Africa today.
Protesters in South Africa have taken to the streets and social media to demand action, following the rape and murder of a Cape Town university student who was attacked in a post office. Uyinene Mrwetyana was just the latest of many victims of brutal assaults in a region where approximately 45% of women and girls over 14 years have experienced physical or sexual violence.
"I'm dumbfounded by the idea that we can continue with business as usual," said Namhla Mniki-Mangaliso, Director of African Monitor, who urged technology companies to take a lead in delivering solutions. "It would take a click of a finger for a tech company to say we are going to deploy a software that can assist us with an emergency response system for poor women in South Africa free of charge."
The potential for technology to help in the fightback highlights the need for businesses to think creatively, given that cyberbullying can also contribute to discrimination in the first place. Mniki-Mangaliso said the wider business community should also step up to the plate by backing a gender-based fund to address the deep-rooted problems behind the rising tide of physical and sexual assaults.
Hafsat Abiola-Costello, President and Chief Executive Officer of the Women in Africa Initiative, said Africa could learn from China, where decisive action was taken to ban harmful practices like foot binding and polygamy. African governments, by contrast, too often fail to enforce bans on polygamy or genital mutilation, thereby reinforcing a culture of discrimination against women that becomes embedded from childhood.
The failure to protect women is not just a moral issue; it also comes with a high economic cost. "Who drives African communities? It's our women. Our women can drive Africa's development, if given the chance, if protected, if their rights are respected," Abiola-Costello said. "Africa missed the first industrial revolution, we missed the second, we missed the third. If we don't address this issue, we will miss the fourth."
Obiageli Katryn Ezekwesili, who spearheaded the #BringBackOurGirls campaign in Nigeria and is a fellow of the Robert Bosch Academy, said calls for women to help drive African development will simply ring hollow if violence is not addressed. "The world lacks the moral pedestal to stand on to ask girls to aspire if we cannot have the back of those who are vulnerable," she said.
With 16,000 deaths due violence against in women every year in South Africa alone, Akudo Anyanwu, Associate Dean at Johns Hopkins University, said: "Our presidents and the leaders in government need to come out and take a position. We need to have our leaders come out and call crimes a crime."
Young women learn government fundamentals in nationwide leadership program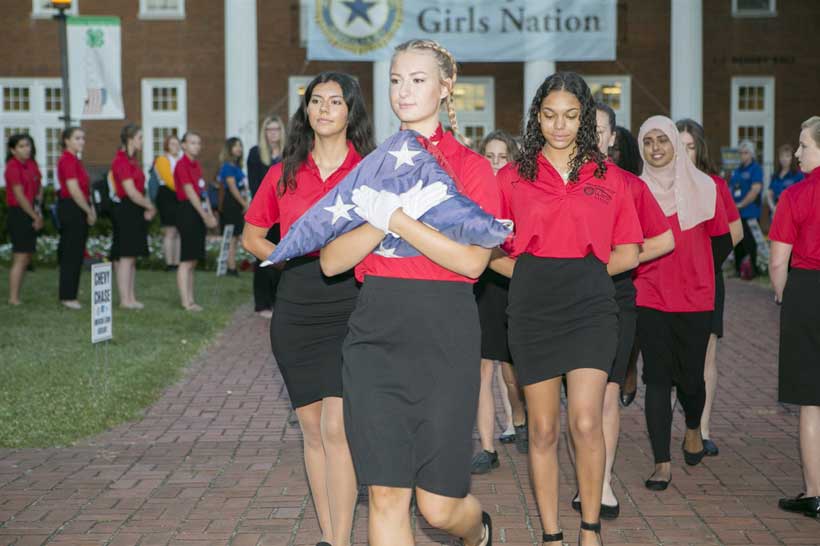 This July, two teenage girls from every state in the country met in Washington, D.C., for the 73rd annual American Legion Auxiliary Girls Nation. This one-week government-in-action leadership development program is designed to educate future leaders on U.S. government fundamentals and the rights, privileges and responsibilities of citizens.
The girls selected to go to ALA Girls Nation are chosen from week-long ALA Girls State programs in each state. The young women become "senators" for a week and participate in mock political campaigns and debates, visit historical sites, and meet their real-life counterparts on Capitol Hill. For a number of the participants, the program's impact extends beyond the weeklong event: Many go on to serve in the military and credit ALA Girls Nation as their source of inspiration.
New ALA member and U.S. Army Capt. Virginia Clark, stationed at Fort Benning in Georgia, is an ALA Girls Nation alumna. Though she says she has always been patriotic, her experiences at ALA Girls State and ALA Girls Nation helped her realize she wanted to serve her country. "Being around really motivated people made me realize I wanted to be around people who were spending their time doing things rather than looking for the next great party," Clark said.
Reflecting on where she has been and where she is going, Clark says she owes it all to the American Legion Auxiliary. "I wouldn't have gotten into West Point without ALA Girls State and ALA Girls Nation … I 100 percent owe, I think, my current life and my career — I met my husband at West Point — to the fact that I went to ALA Girls State and ALA Girls Nation."
For some girls, the Washington, D.C., leadership program is their first opportunity to connect with peers with common interests. For others, it is the first time they encounter students whose perspective differs from their own. For all, it is a moment in time where similarities and differences come together to symbolize strength, democracy and freedom.
Former ALA Girls State and ALA Girls Nation attendee Allyson Snelling, who is attending the U.S. Military Academy at West Point, chose a career in the military because she "loves everything it represents." She adds, "The values and lessons I've learned during my short time at West Point have made me a better person and leader." Snelling said the program taught her the power of one voice and the importance of communicating with others. "Being able to communicate with someone you may completely disagree with is becoming a lost art," she said. "ALA Girls Nation taught me that it doesn't matter if you agree; it matters that you understand."
ALA Girls Nation alumnae have gone on to hold leadership roles in industries spanning government, media, education and law, and many have become high-ranking members of the military.
Notable alumnae include Jane Pauley, national media personality; Susan Bysiewicz, lieutenant governor of Connecticut; retired Lt. Gen. Michelle D. Johnson, former superintendent of the U.S. Air Force Academy and former Air Force aide to the President; Ann Richards, former governor of Texas; and Susan Porter-Rose, former chief of staff to First Lady Barbara Bush, among many others. ALA Girls Nation is proud to be a foundation of support to the future strong women of this great nation.
The American Legion Auxiliary (ALA) is a nonpartisan organization committed to advocating for veterans' issues, mentoring America's youth and promoting patriotism. They advance the mission of The American Legion, incorporated by Congress in 1919 as a patriotic veterans organization founded on four pillars: Veterans Affairs & Rehabilitation, National Security, Americanism and Children & Youth.