'Alternative Facts' and Forced Migration: America, Muslim Countries, and the Refugee Crisis
There is an awful lot of emotional kvetching around the recent Trump executive order about banning entry to people from seven specific countries to the United States. Word of warning: this piece is not going to be diving into the symbolic wrist-cutting people on the left are doing or the hyper-defensive quasi-arrogant self-justification being pushed back from those on the right. If the initial period of the Trump presidency has shown us anything, it is that it is going to be full of great gusts of emotional wind from both sides of the spectrum.
Unfortunately, most of that emotionality seems to be little focused on elucidation or even just calm, rational, objective logic. Instead, its sole purpose seems to be only to enflame each side against one another even more deeply than before. And that is saying quite a lot, given how each side right now absolutely despises one another.
I do not actually believe this executive order is some attempt by Trump to become a quasi-fascist dictator bent on bringing about further suffering to the oppressed refugees of the world. However, having said that one small caveat, the initiative is also horrendously inefficient and useless in terms of keeping America safe, the thing that is supposed to be its fundamental purpose. Perhaps worse still, it further justifies people in America to only become MORE ignorant on the issues of forced migration, refugee distribution, and global accountability. So, allow me to take a few moments to give to the world, but especially to Americans who support Trump, some very basic but crucially important points.
One of the common justifications being offered by Trumpets (my word, trademarked, copyright in queue) is that 'major Muslim countries' are not doing their fair share or stepping up to the plate to cover the burden that is right now a decidedly Middle East phenomenon. This impression is what makes critics feel emboldened to declare limits on just how many refugees (and from where) the United States should receive. However, let us consider actual numbers taken directly from the United Nations High Commission on Refugees (which is basically the global gold standard on all issues dealing with forced migration):
Iran: 979,000 refugees received
Jordan: 664,000 refugees received
Lebanon: 1.17 million refugees received
Pakistan: 1.5 million refugees received
Turkey: 1.8 million refugees received
America: 267,000 refugees received (and Trump apparently whining suspiciously about every single one of them)
Not only does the United States not crack the Global Top 10 in terms of refugees received, its general institutional attitude about refugees over a generation has to be considered decidedly pessimistic: in 1990 it had 464,000 refugees. This means the progression from Generation X to the Millenial Generation has seen a 42% DECREASE in refugee acceptance. The overall world population in refugees over that same time has seen a slight increase, so the American trend is not indicative of the overall international tendency. For goodness sake, Uganda has presently received more refugees than the United States and has been a stronger beacon of international conflict amelioration. Uganda!
While it is true that the countries of the Gulf Cooperation Council have famously refused to participate in alleviating the refugee crisis, this is not so much a reflection of their belief that refugee populations harbor significant numbers of radical Islamist terrorists (yes, they state this publicly but one needs to make distinctions between political narratives offered as justification without evidence and reality) as it is an admission that these countries fear any social, economic, or societal welfare disruption in their own precariously balanced communities. But even this disappointing fact cannot dismiss how much of a commitment countries like Turkey, Iran, Jordan, and Lebanon have made already. Especially if you compare it to the self-proclaimed leadership of the United States. Indeed, all of North America at the moment has just over 400,000 refugees (so, Canada, you're not off the hook either) while the Arab world currently accounts for 8.3 MILLION. Given that there are just over 17 million refugees around the world because of various conflicts, wars, and displacements, this means the Arab world is covering nearly half of the total amount. And yet, all anyone discusses in America is how 'major Muslim countries' are not doing their fair share of carrying the burden. Ridiculous.
A second, more recent, retort coming from the Trumpets is that this executive order is nothing new at all and is in fact a continuation of a policy Obama began during his Presidency. In this case people are referring to 2011 when Obama suspended the processing of Iraqi applications for six months. This stemmed from a very specific situation in which two Iraqi refugees already living in America were caught trying to arrange weapons transfers back to the Middle East for terror purposes. The 'ban' by Obama was specifically done as a pause for law enforcement agencies to follow up on the arrests and process the full consequences of the actions of the two arrested. So, in reality, the Trumpets are playing a bit fast and loose with this claim, perhaps reacting to all this criticism in an overly sensitive way. But, trying to couch the Trump maneuver as an 'extension' of the previous Obama decision – which was both incredibly brief in terms of time and incredibly specific in terms of application – is inaccurate at best and egregiously misleading and manipulative at worst. In addition, while Obama did halt the refugee program for those six months, at no time did it impact valid green card holders or anyone else with a legal visa. It also had no application or impact on refugees who had already gone through the extensive vetting process successfully. Trump's travel ban bars entry to those groups, causing a chaos that has no legal or political connection to the previous Obama decision. So, trying to lay this at the altar of Obama legacy does not hold water, but I suppose it does sound a bit sexier to Trumpets who are desperately seeking ways to support the order without letting their man be culpable for it.
Finally, the last point I want to leave people with is a consideration of democracy and what it is meant to symbolize. WorldAudit.org puts out yearly rankings on Democracy, covering 154 countries across an impressive number of analytical factors, including corruption, civil liberties, religious freedom, press freedom, rule of law, and human rights. America, the country that envisions itself as the standard-bearer for all other democracies, comes in at 16. Americans might want to take issue with that but it does mean America is legitimately in the top 10% and would have scored higher if it was not so economically cutthroat in terms of health care and women's equality, especially when compared with Northern European countries. What I want to focus on, however, are the democracy ranks of those five Muslim countries mentioned earlier. The ones who have taken on an incredible amount of the refugee burden from Syria specifically:
Iran: #145
Jordan: #79
Lebanon: #98
Pakistan: #107
Turkey: #101
So, there we have it. The United States, a country that prides itself on being the land of the free, the home of the brave, the world's only remaining superpower, when it comes to freedom, justice, and opportunity to people who are displaced and suffering because of no fault of their own, comes in pathetically behind states that justifiably and consistently rank in the bottom third of all countries. I offer this not as a demand that America opens its doors and accepts all refugees in desperate need of relief and hope. Though that would in fact be properly representing the creed and tradition of America. If you have any doubts just go over to Ellis Island and reacquaint yourself with what is written on the Statue of Liberty. Rather, I offer these facts as a necessary counter to the anti-intellectual atmosphere currently wreaking havoc in America. This atmosphere shuns simple research and lauds 'alternative facts.' America right now is entering a phase where too many people are not about the ivory tower but instead are all about the echo chamber. Willingly. Voluntarily. Debaucherously. In the end, I can only hope this trend is as short and forgettable as the original Obama 'ban' was on Iraqis.
Interpreting the Biden Doctrine: The View From Moscow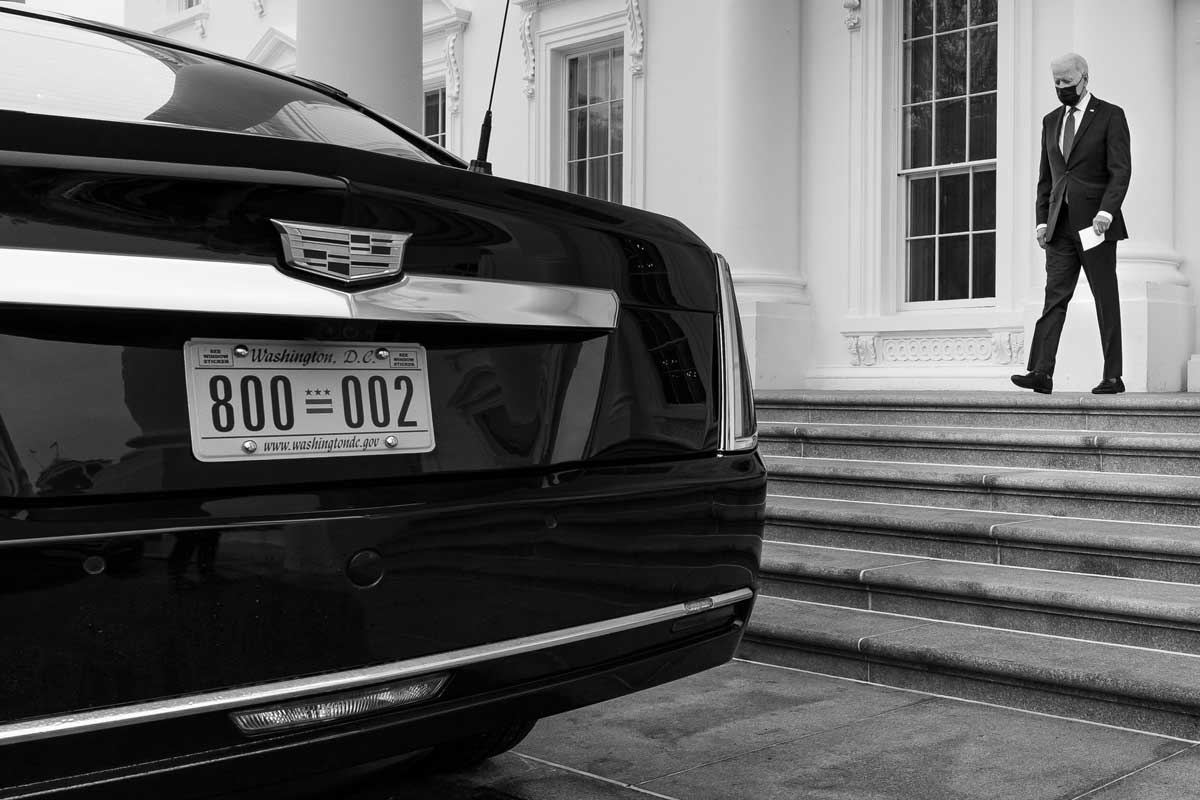 It is the success or failure of remaking America, not Afghanistan, that will determine not just the legacy of the Biden administration, but the future of the United States itself.
The newly unveiled Biden doctrine, which renounces the United States' post-9/11 policies of remaking other societies and building nations abroad, is a foreign policy landmark. Coming on the heels of the U.S. withdrawal from Afghanistan, it exudes credibility. Indeed, President Biden's moves essentially formalize and finalize processes that have been under way for over a decade. It was Barack Obama who first pledged to end America's twin wars—in Iraq and Afghanistan—started under George W. Bush. It was Donald Trump who reached an agreement with the Taliban on a full U.S. military withdrawal from Afghanistan in 2021. Both Obama and Trump also sought, albeit in strikingly different ways, to redirect Washington's attention to shoring up the home base.
It is important for the rest of the world to treat the change in U.S. foreign policy correctly. Leaving Afghanistan was the correct strategic decision, if grossly overdue and bungled in the final phases of its implementation. Afghanistan certainly does not mean the end of the United States as a global superpower; it simply continues to be in relative and slow decline. Nor does it spell the demise of American alliances and partnerships. Events in Afghanistan are unlikely to produce a political earthquake within the United States that would topple President Biden. No soul searching of the kind that Americans experienced during the Vietnam War is likely to emerge. Rather, Washington is busy recalibrating its global involvement. It is focusing even more on strengthening the home base. Overseas, the United States is moving from a global crusade in the name of democracy to an active defense of liberal values at home and Western positions abroad.
Afghanistan has been the most vivid in a long series of arguments that persuaded Biden's White House that a global triumph of liberal democracy is not achievable in the foreseeable future. Thus, remaking problematic countries—"draining the swamp" that breeds terrorism, in the language of the Bush administration—is futile. U.S. military force is a potent weapon, but no longer the means of first resort. The war on terror as an effort to keep the United States safe has been won: in the last twenty years, no major terrorist attacks occurred on U.S. soil. Meantime, the geopolitical, geoeconomic, ideological, and strategic focus of U.S. foreign policy has shifted. China is the main—some say, existential—challenger, and Russia the principal disrupter. Iran, North Korea, and an assortment of radical or extremist groups complete the list of adversaries. Climate change and the pandemic have risen to the top of U.S. security concerns. Hence, the most important foreign policy task is to strengthen the collective West under strong U.S. leadership.
The global economic recession that originated in the United States in 2007 dealt a blow to the U.S.-created economic and financial model; the severe domestic political crisis of 2016–2021 undermined confidence in the U.S. political system and its underlying values; and the COVID-19 disaster that hit the United States particularly hard have all exposed serious political, economic, and cultural issues and fissures within American society and polity. Neglecting the home base while engaging in costly nation-building exercises abroad came at a price. Now the Biden administration has set out to correct that with huge infrastructure development projects and support for the American middle class.
America's domestic crises, some of the similar problems in European countries, and the growing gap between the United States and its allies during the Trump presidency have produced widespread fears that China and Russia could exploit those issues to finally end U.S. dominance and even undermine the United States and other Western societies from within. This perception is behind the strategy reversal from spreading democracy as far and wide as Russia and China to defending the U.S.-led global system and the political regimes around the West, including in the United States, from Beijing and Moscow.
That said, what are the implications of the Biden doctrine? The United States remains a superpower with enormous resources which is now trying to use those resources to make itself stronger. America has reinvented itself before and may well be able to do so again. In foreign policy, Washington has stepped back from styling itself as the world's benign hegemon to assume the combat posture of the leader of the West under attack.
Within the collective West, U.S. dominance is not in danger. None of the Western countries are capable of going it alone or forming a bloc with others to present an alternative to U.S. leadership. Western and associated elites remain fully beholden to the United States. What they desire is firm U.S. leadership; what they fear is the United States withdrawing into itself. As for Washington's partners in the regions that are not deemed vital to U.S. interests, they should know that American support is conditional on those interests and various circumstances. Nothing new there, really: just ask some leaders in the Middle East. For now, however, Washington vows to support and assist exposed partners like Ukraine and Taiwan.
Embracing isolationism is not on the cards in the United States. For all the focus on domestic issues, global dominance or at least primacy has firmly become an integral part of U.S. national identity. Nor will liberal and democratic ideology be retired as a major driver of U.S. foreign policy. The United States will not become a "normal" country that only follows the rules of realpolitik. Rather, Washington will use values as a glue to further consolidate its allies and as a weapon to attack its adversaries. It helps the White House that China and Russia are viewed as malign both across the U.S. political spectrum and among U.S. allies and partners, most of whom have fears or grudges against either Moscow or Beijing.
In sum, the Biden doctrine does away with engagements that are no longer considered promising or even sustainable by Washington; funnels more resources to address pressing domestic issues; seeks to consolidate the collective West around the United States; and sharpens the focus on China and Russia as America's main adversaries. Of all these, the most important element is domestic. It is the success or failure of remaking America, not Afghanistan, that will determine not just the legacy of the Biden administration, but the future of the United States itself.
From our partner RIAC
AUKUS aims to perpetuate the Anglo-Saxon supremacy
On September 15, U.S. President Joe Biden worked with British Prime Minister Boris Johnson and Australian Prime Minister Scott Morrison together to unveil a trilateral alliance among Australia-U.K.-U.S. (AUKUS), which are the major three among the Anglo-Saxon nations (also including Canada and New Zealand). Literally, each sovereign state has full right to pursue individual or collective security and common interests. Yet, the deal has prompted intense criticism across the world including the furious words and firm acts from the Atlantic allies in Europe, such as France that is supposed to lose out on an $40-billion submarine deal with Australia to its Anglo-Saxon siblings—the U.K. and the U.S.
Some observers opine that AUKUS is another clear attempt by the U.S. and its allies aggressively to provoke China in the Asia-Pacific, where Washington had forged an alliance along with Japan, India and Australia in the name of the Quad. AUKUS is the latest showcase that three Anglo-Saxon powers have pretended to perpetuate their supremacy in all the key areas such as geopolitics, cybersecurity, artificial intelligence, and quantum computing. In short, the triple deal is a move designed to discourage or thwart any future Chinese bid for regional hegemony. But diplomatically its impacts go beyond that. As French media argued that the United States, though an ally of France, just backstabs it by negotiating AUKUS in secret without revealing the plan. Given this, the deal among AUKUS actually reflects the mentality of the Anglo-Saxon nations' superiority over others even if they are not outrageously practicing an imperialist policy in the traditional way.
Historically, there are only two qualified global powers which the Europeans still sometimes refer to as "Anglo-Saxon" powers: Great Britain and the United States. As Walter Mead once put it that the British Empire was, and the United States is, concerned not just with the balance of power in one particular corner of the world, but with the evolution of what it is today called "world order". Now with the rise of China which has aimed to become a global power with its different culture and political views from the current ruling powers, the Anglo-Saxon powers have made all efforts to align with the values-shared allies or partners to create the strong bulwarks against any rising power, like China and Russia as well. Physically, either the British Empire or the United States did or does establish a worldwide system of trade and finance which have enabled the two Anglo-Saxon powers to get rich and advanced in high-technologies. As a result, those riches and high-tech means eventually made them execute the power to project their military force that ensure the stability of their-dominated international systems. Indeed the Anglo-Saxon powers have had the legacies to think of their global goals which must be bolstered by money and foreign trade that in turn produces more wealth. Institutionally, the Anglo-Saxon nations in the world—the U.S., the U.K, Canada, Australia and New Zealand—have formed the notorious "Five eyes alliance" to collect all sorts of information and data serving their common core interests and security concerns.
This is not just rhetoric but an objective reflection of the mentality as Australian Foreign Minister Payne candidly revealed at the press conference where she said that the contemporary state of their alliance "is well suited to cooperate on countering economic coercion." The remarks imply that AUKUS is a military response to the rising economic competition from China because politics and economics are intertwined with each other in power politics, in which military means acts in order to advance self-interested economic ends. In both geopolitical and geoeconomic terms, the rise of China, no matter how peaceful it is, has been perceived as the "systematic" challenges to the West's domination of international relations and global economy, in which the Anglo-Saxon superiority must remain. Another case is the U.S. efforts to have continuously harassed the Nord Stream 2 project between Russia and Germany.
Yet, in the global community of today, any superpower aspiring for pursuing "inner clique" like AUKUS will be doomed to fail. First, we all are living in the world "where the affairs of each country are decided by its own people, and international affairs are run by all nations through consultation," as President Xi put it. Due to this, many countries in Asia warn that AUKUS risks provoking a nuclear arms race in the Asian-Pacific region. The nuclear factor means that the U.S. efforts to economically contain China through AUKUS on nationalist pretexts are much more dangerous than the run-up to World War I. Yet, neither the United States nor China likes to be perceived as "disturbing the peace" that Asian countries are eager to preserve. In reality, Asian countries have also made it clear not to take either side between the power politics.
Second, AUKUS's deal jeopardizes the norms of international trade and treaties. The reactions of third parties is one key issue, such as the French government is furious about the deal since it torpedoes a prior Australian agreement to purchase one dozen of conventional subs from France. Be aware that France is a strong advocate for a more robust European Union in the world politics. Now the EU is rallying behind Paris as in Brussels EU ambassadors agreed to postpone preparations for an inaugural trade and technology council on September 29 with the U.S. in Pittsburgh. European Commission President Ursula von der Leyen declared in a strong manner that "since one of our member states has been treated in a way that is not acceptable, so we need to know what happened and why." Michael Roth, Germany's minister for European affairs, went even further as he put it, "It is once again a wake-up call for all of us in the European Union to ask ourselves how we can strengthen our sovereignty, how we can present a united front even on issues relevant to foreign and security policy." It is the time for the EU to talk with one voice and for the need to work together to rebuild mutual trust among the allies.
Third, the deal by AUKUS involves the nuclear dimension. It is true that the three leaders have reiterated that the deal would be limited to the transfer of nuclear propulsion technology (such as reactors to power the new subs) but not nuclear weapons technology. Accordingly, Australia remains a non-nuclear country not armed with such weapons. But from a proliferation standpoint, that is a step in the direction of more extensive nuclear infrastructure. It indicates the United States and the U.K. are willing to transfer highly sensitive technologies to close allies. But the issue of deterrence in Asia-and especially extended deterrence-is extremely complicated since it will become ore so as China's nuclear arsenal expands. If the security environment deteriorates in the years ahead, U.S. might consider allowing its core allies to gain nuclear capabilities and Australia is able to gain access to this technology as its fleet expands. Yet, it also means that Australia is not a non-nuclear country any more.
In brief, the deal itself and the triple alliance among AUKUS will take some years to become a real threat to China or the ruling authorities of the country. But the deal announced on Sept. 15 will complicate Chinese efforts to maintain a peaceful rise and act a responsible power. Furthermore, the deal and the rationales behind it is sure to impede China's good-will to the members of AUKUS and the Quad, not mention of their irresponsible effects on peace and prosperity in the Asia-Pacific region.
Was Trump better for the world than Biden, after all?
Joe Biden and the State Department just approved a major deal with the Saudis for 500mln in choppers maintanance. Effectively, the US sold its soul to the Saudis again after the US intelligence services confirmed months ago that the Saudi Prince is responsible for the brutal killing of journalist Jamal Khashoggi. The Biden administration is already much more inhumane and much worse than Trump. Biden doesn't care about the thousands of American citizens that he left behind at the mercy of the Taliban, the Biden administration kills innocent civilians in drone strikes, they are in bed with the worst of the worsts human right violators calling them friendly nations.
Biden dropped and humiliated France managing to do what no US President has ever accomplished — make France pull out its Ambassador to the US, and all this only to go bother China actively seeking the next big war. Trump's blunders were never this big. And this is just the beginning. There is nothing good in store for America and the world with Biden. All the hope is quickly evaporating, as the world sees the actions behind the fake smile and what's behind the seemingly right and restrained rhetoric on the surface. It's the actions that matter. Trump talked tough talk for which he got a lot of criticism and rarely resorted to military action. Biden is the opposite: he says all the right things but the actions behind are inhumane and destructive. It makes you wonder if Trump wasn't actually better for the world.