Why Peace Building Is Now Difficult in Kashmir
The turmoil since 1989 has established uncertainty and chaos as the new normal in the valley of Kashmir. Undoubtedly Kashmir that was so proudly called as the paradise on earth is now full of inconveniences. It is the place where everything is politicized now but never resolved.
The decades of mass alienation and unaccounted violence has shaped up mass anger and that collective rage has slowly led to distrust against the government and also torn the social fabric. Amid the suffering masses, the constant blame game and labelling is the norm and those who talk of oppressors forget that they have themselves been guilty of committing the same atrocities when in power. The masses have always felt suppressed and the prolonged conflict has thus shaped a gory history, a bitter memory and a life of indignity, hopelessness, and exploitation. Standing witness to half-revolutions, vested interests and unmet promises, the state of Jammu and Kashmir seems to be reeling under a severe crisis, collective anomie and alienation. Thanks to the leadership crisis and lack of vision of the contemporary power regime.
It is not that Kashmiris don't want peace, today every Kashmiri cries for peace and calm and the whole valley is yearning to grow and longing for Peace but instead of building peace and displaying practical seriousness and interest in peace process, 'Give a damn policy' continues and delaying tactics prevails. Consequently, normalcy is a luxury and peace is fragile, the calm is a deceptive calm which keeps waiting for a trigger to blow up every summer. The governance is not treated by masses as pro-Kashmir and there still exists a major sustained lack of effort towards enhancing credibility and social justice on the ground. Whereas, every committee or Human rights group suggests restoration of social justice but till date no report has been respected or paid any serious heed to. The feel secure psyche has vanished long before and getting rid of ambiguous and invisible control seems an impossible task. Amid a plethora of suppliers of instability, there exists an urgent need for a leadership that fully comprehends the Kashmir case and understands that there invariably exists a relationship between the equations of peace building and the forces of the sustenance of uncertainty which needs serious intervention. Akin to the nature of politics, where one party's action invokes a quick reaction from the opposition, every action today in Kashmir has a reaction purely because of the prevailing dichotomous social realities and massive enemy perception! From the governance side, the constant crisis mishandling and bad conflict management besides violent crimes against the civilians have shattered people's faith in the concept of democracy and the trust deficit is too high to be abridged now. The inhuman incarcerations have inevitably become the order of the day and the bitter and painful past and narratives of torture and suffering are becoming the motivating reasons behind young Kashmiris' choosing the path of violence.
On the social intervention front, the chief stake holders need to see whether the target population interfaces well with the problems addressed in the programmes launched for them or is there an acute sense of discredit due to the political nature of the Kashmir problem. Why does this discredit exist and how can it be addressed in the first place remains a big question and simultaneously a big task to accomplish? The answer is simple, address Jammu and Kashmir politically first and foremost and the development and all other discourses will follow and will definitely get mass recognition later. This is what people in power though know but never acknowledge. It is also important to make a note of those still left out and understand why, with regard to the overall welfare interventions, much still remains undone despite tall claims to the contrary, since 1947. The single most significant prerequisite to overall development is the restoration of human dignity and safety in Kashmir, the rest can come later but the power elite always talks about the rest and ignores the fundamental. An empathetic approach therefore needs to be incorporated in a broader perspective, realizing the grave magnitude of the prevailing situation and that primarily needs willingness to deliver justice and restore Kashmir's lost glory, without further delay.
On the security front, there is a dire need of strict discipline, human sensitivity and especially gender sensitivity while tackling the conflict. The important is to see to what extent working ethic or SOPs while operating are maintained and why have lapses continued for so long? What is the actual work done through WHAM (winning hearts and minds doctrine) and beyond encounters or killings what are the genuine peace efforts in-built into the existing system, what are the new peace friendly and mass friendly models of peace-building developed and most importantly to what extent is the Soldier-Civilian gap abridged over the years, etc,. Why is the enemy perception graph so all time high in the valley now? Why are even cops not safe? Unfortunately, policy and planning on Kashmir seems to be dismally lacking in vision and practicality so far resulting in civilian killings in every major or small uprising whereas the tactics to handle uprisings outside Kashmir are always different. The enemy perception continues to grow and peace building as a project continues to remain as a mere idea. Whose fault is this and who will take the responsibility? Who is responsible for pellet killings and pellet blinded victims? Also the security apparatus has to ensure principles like honesty, transparency, quick action against HR violations, internal transformation of the Jawan, understanding the local ethos, sensitivities and vulnerabilities are taken care of and followed with due respect and regard to maintaining their sanctity. However, from a mass perspective, the whole security apparatus resorts to putting things only in black and white as far as probes are concerned. What is clearly visible is the lack of strong evaluations, decentralisation in judgements, lack of clear statements and open documentation of their and others operations. The security apparatus including the local police in today's Kashmir needs to think beyond the big brotherly attitude that has actually contributed to alienation and unrest, even the young and educated home-grown militancy. It also needs to be seen to what extent poor local participation, randomisation and generalisations destroy security calculations that got reflected so vividly in the 2016 uprising once again seeing slain militant commander Wani's Funeral. It is also important to know that perspectives on peace practice and strategy need some theoretical frameworks and know-how, which demands vision and able leadership. Further understanding Kashmir's changing society, social and political preferences, emerging new social dimensions and extent of social inequality amid the conflicting situation, etc, needs to be understood by all the significant stake holders properly and strategies to be framed accordingly. An effective social participation will go a long way in building a new political consciousness and ultimately a new peaceful Kashmir. Is anybody really interested in Peaceful Kashmir?
Another question that has to be answered satisfactorily, is to evaluate how well do the masses understand what they are consenting to or what they are heading towards, what principles and precepts they are following and why? Why are stone pelters even attacking vehicles and why mob violence and mentality has become a new craze and so much of legitimacy? In the recent past my vehicle was almost destroyed completely at Mochu-Budgam despite being a media person. The same Kashmiri youth were abusing us and hitting our vehicle all around. I am still wondering what our fault was and how will such treatments and violence against same Kashmiris or anyone else contribute to Azaadi? Sane Kashmiri minds especially youth have to disown such violent groups who attack even people for fun and see stone pelting at vehicles as a fight for freedom. Even the local community where such miscreants create such horror scenes have to intervene to discourage such rowdy behaviour.
It needs to be found as to why even the effective and intelligent change makers couldn't completely curb the volatility and transform Kashmir into a peace zone? Why every Kashmiri feels demonized and insecure outside the valley and why still Kashmiri students are beaten even in universities and colleges in the country? The nation has to embrace Kashmiri if it loves Kashmir.
The need of the hour is to develop effective and functional links between local sentiments, embedded social problems and governance via policy-making in a range of contexts. Just continuing with and extending the learning summaries of key issues, closed door discourses, back door diplomacy channels, futile interlocutions, delaying tactics, ego clashes, oft repeated useless strategies, irresponsible political statements, insecurity hype for politics, and political provocations are not going to work, especially in today's Kashmir which has a youth bulge that is highly aware, articulate and living amid a high political culture. At this juncture when so much of waywardness prevails, the desired actions and good and visible governance is much needed to make intervention efforts more inclusive. Actions which are politico-military and environmentally conscious need to be designed and made public friendly and practical. For instance, fair and faster probes in all past human rights abuse cases, issuing clear statements on sensitive issues from local/regional security headquarters unlike the central hegemony, a people friendly stand of AFSPA, immediate steps to heal the bruised environment of Kashmir valley, addressing water issues, power projects and financial loss of the J&K, respecting the resilience and suffering of innocent Kashmiris' and fast delivery of justice in pending cases and innocent killings, etc,. It is important to rehabilitate the victims and deliver justice in a fair manner and is quite possible. Kashmir obviously and altogether needs a different policy and sensitive tackling at the central level along with a media that represents true Kashmir and only then peace in the region can be aspired. In addition, the task of sociological or psychological handling as well, needs to be assigned to good brains and astute minds. Kashmiris' need space of all kinds and a friendly platform to give vent to their suppression and unheard grievances. In Kashmir the desired social change can be achieved if Kashmiris are empowered to exert influence and make decisions about their own social collective without any fear. The time has definitely come when the Centre needs to think out of the box for a new Kashmir! Time has come when the half-widows of Dardpora and the rape victims of Kunan-Poshpora and parents/kins of the disappeared need to be given justice. The time has also come when the Gawkadal,Kupwara, Pathribal, Chhatisingpora and Wandhama massacre culprits need to be suitably punished for their crimes and firmly put behind bars.
Last Word
The time has come to love the Kashmiri first and then Kashmir! Time has come, above all, to negotiate the venomous dichotomies of Us vs Them, skilfully and in a manner commensurate with the prevailing situation, so as to ensure a progressive way forward rather than talking rising wahabism, radicalism, ummah vs nationalism as responsible for all the mess in Kashmir! I also do not buy the argument that the discourse in Kashmir is shifting to primacy of Islam also. It is definitely shifting to more resolve for Azadi and the graph of dissent is constantly increasing. It is adding more young angry minds and it is not just the spirit of jihad but in most cases the hunger for revenge and resistance against the unaccounted atrocities. There has to be some end to this chain reaction. Till date, hardly a serious debate has been initiated by the institution of politics on such issues baring a few useless interlocutions. Kashmir needs to be delivered with humanity, democracy and Kashmiriyat what has so far only been a slogan. Understanding Kashmir requires an in-depth and empathetic understanding of its sociology, history-a history of suffering, deceit, oppression and continuing conflict. The fact remains, that peace can be achieved in Kashmir by understanding Kashmir and going through the path of social justice and political solution.
[A version of this article first appeared in Kashmir Pen-A prestigious weekly based in Srinagar]
The efficiency of German contribution in the Afghan peace process
Germany is heavily involved in the afghan affairs since 9.11.2001; the country has brought in to being the modern Afghanistan thru launching the international Bonn conference "Bonn 1" in December 2001, the said conference toke place right after the collapse of the barbaric regime of Taliban in Afghanistan. Furthermore, it paved the way to engage several rival groups to establish an interim administration under the leadership of pro-American figure "Hammed Karzai". Albeit the conference was a turning point in the Afghan modern history, but it encompassed numerous shortcomings because Taliban, Haqani Network and Hikmatyar band, who had been the main adversaries to the acting Government, were excluded from the process, which opened Pandora's Box. Moreover, the national interests and apprehensions of the regional countries were not taken serious, which in turn caused destabilization and gloominess in Afghanistan.
Consequently, Pakistan and Iran who have been pursuing strategic depth in Afghanistan began to regroup, fund, train and outfit the Afghan government antagonists, which unfortunately incited a proxy war in the country.
The second Bonn conference
Germany hosted the second Bonn conference in December the 5th 2011 to celebrate the 10th anniversary of the first Bonn conference, in order to renew the so-called mutual commitment to a table, democratic and prosperous future for Afghanistan.
In addition, the participants of the conference ought to shed lights on some issues such as governance, security, economic developments, regional cooperation, peace process and the way forward. The participants called for a political solution to achieve peace and security in Afghanistan, in order to ensure durable stability.
Additionally, it was discussed to promote capacity building in the country to uphold a political process, to endorse negotiation and reconciliation. Unfortunately, the conference primarily focused on economic developments and continuation of democratization in the country, so that the peace process was sidelined and the root-cause of the instability and insecurity was not identified. Which ended up with further destabilization and blood-shed in addition, sparked fears and violence in Afghanistan.
Doha conference
In July the 7th 2019 Germany and Qatar hosted a conference in Doha Qatar, which was labeled intra-afghan dialogue. The hosting countries endeavored to bring about a framework in order to support the peace process in Afghanistan. In accordance with the joint statement, that the country is at a central crossroad to snatch the chance to accomplish peace, so the shortest concord linking the afghan adversary groups could be one of the essential factors of any process leading to such an objective.
It was also expect, that the conference would contribute to confidence-building amid chief rivals to hold up peace and constancy in Afghanistan. Although the conference did not have a tangible agenda, but at the end a resolution was released calling for reducing violence, avoiding to assail public institution and bringing civilian causalities to "zero". Despite the efforts of the conference hosting countries, the conference comprised inadequacies; the Afghan government, which ought to be the main party, was excluded from the direct-intra-afghan-dialogue.
Not only the ceasefire, which has been the only wish of the Afghans, was not sincerely addressed, but also no-part of the outlined resolution has been implemented. Regrettably convening of the conference did not put into practice the expectations of the Afghan people, so that the security situation fundamentally deteriorated.
The third Bonn conference
Subsequent, to the walk out of the US president from the Afghan peace deal, Germany wants to jump in exerting its leverage to bring the Afghan rivalry bodies to the negotiation table. Germany is really concerned, if the US troops withdrawal will take place Kabul government would collapse and the positive developments have so far came about would be lost. Thus Markus Potzel Germany's special envoy for Afghanistan and Pakistan, since some times endeavors to hold meetings with the representatives of both Taliban and the Afghan government, in order to initiate another round of peace talks.
Consequently, If Germany genuinely put forth its efforts, it will help to avoid political vacuum in Kabul, let the democratization process to flourish, women rights to thrive and the economic prosperity to boom. Germany enjoys full-scale leverage in the entire region and beyond, because Germany stationed the second largest troops in Afghanistan, the country is one of the main initiator of the NATO Resolute Support Mission for Afghanistan and it is one of the top 10 contributors to the reconstruction process and humanitarian assistance in the country.
Germany has very good diplomatic relations with almost all of the surrounding countries of Afghanistan; it has influence on all of the gulf countries including Qatar, Saudi Arabia and UAE, which are supposed to be the major patrons of Taliban.
In addition, Germany leads the EU commission and it is the number one economy in Europe and number 4 economy in the world. If it will put in 2% of its GDP to the NATO annual budget, Germany would be the second leverage enjoyer within NATO following the United States of America. So Counter Narco-terrorism Alliance Germany (cnt-alliance) express the need for the initiation of the third Bonn conference, which should include all opponents to be brought to the negotiation table, in order to form a framework of lasting peace, continuation of the political process, stability, Good and lean governance, economic prosperity, revival of democratic norms and revamping of human and women rights as well as confidence building amongst regional countries.
Popularity-Graph of PM Imran Khan has not dropped down
Although the economy of Pakistan has deteriorated, price hike, increase in utility bills, food prices and consumer prices of daily used items has grown up, the job market has deteriorated. According to a survey, mostly people are complaining about price-hike and the unavailability of jobs. Some people are complaining about the bad practice of nepotism and especially targeting "hired electable and technocrats". It is a fact that the PTI government has failed to meet the expectations of its voters. PTI workers and supporters have been cornered and ignored.
What so ever the government is presenting economic parameters, to defend themselves. What so ever reasons or logic and explanation are provided by the Government to defend themselves? How much blame is put on previous governments, but the failure of the PTI government cannot be justified. The common man in Pakistan is a victim and suffering.
Yet, the popularity of Prime Minister Imran Khan has not deteriorated. According to a small scale survey, the public will vote for Imran Khan in the next general election. As per Survey, no one was willing to accept Maulana Fazl-u-Rehman, leader of JUI-F, as prime Minister of Pakistan. The popularity of PPP and PML-N has also deteriorated sharply.
Strange! It is really very strange, while people are complaining about the performance of PTI Government, but still, praise PM Imran Khan. Some people blame his team, while other analyses as the nature of issues inherited by the previous government are so complex that no one can manage quickly. It might take more time to reach any conclusion and favors that the PTI government should complete its term of 5 years and wait till 2023, for the general election.
Pakistan is a democratic country and the constitution of Pakistan protects the right of every citizen to protest, express his/her opinion, criticize the government and its policies, can organize any procession, demonstration or Dahrna – sit-in. "Azadi March" is permissible in our system and legal, and the government has not offered any resistance in it. The government will not disturb them as long as they stay within the law and peaceful.
Such agitations are part of the Pakistani political system and has a long history. Whenever some of the political parties lose in the election, they blame the winner party or ruling party for rigging and asks them to resign and dissolve assemblies. Even the currently ruling party PTI has been protesting the Government in 2014 and so on. But history has witnessed, no Prime Minister one prime Minister resigned or assemblies dissolved in past as a result of opposition pressure. It is expected, that this time also the PM will not resign, and not dissolve the assemblies.
However, the opposition always gains millage and concessions through negotiations and deals. This time is also no exception and it is guessed that some way out will be explored soon.
But there is a lesson for PM, to pay more attention to the issues of the common man in Pakistan. He has to give due importance to PTI workers and supporters. He must respect the merit and create opportunities for qualified people.
There are 1.5 million fresh graduates every year entering the job market, but the creation of jobs is not in accordance with it. As a result, youth are desperate and unfortunately may involve in negative activities. It is worth mentioning that the biggest vote bank and political force for PM Imran Khan were "Youth". Pakistan's demography consists of 70% of youth under the age of 40.
It is suggested that PM may take serious notice of the ground situation. Realize the problems of the common man in Pakistan. May initiate major structural changes and deep reforms in all dimensions.
Pakistan possesses huge potential for growth if enabling environments are provided and right policies are implemented, there is no reason that Pakistan's economy take-off rapidly.
Pakistan,a Victim of Vicious Circle: The Container Politics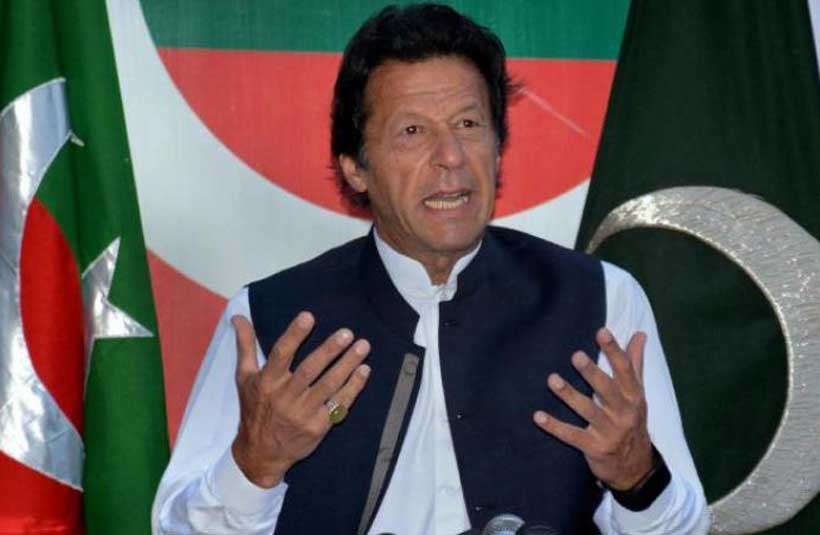 It's pretty tough to comprehend Pakistan's politics or the behavior of Pakistan's political leaders. The example of Pakistan's political system and politicians can be tacit with Robert Jervis's astounding words. "When you pick up one piece of this planet, you find that one way or another, it's attached to everything else-if you jiggle over here, something is going to wiggle over there… We need this sense of the continuing interconnectedness of the system as part of the common knowledge so that politicians feel it and believe it, and so that voters feel it and believe it, and so that kids feel it and believe it so that they'll grow up with an ethic."
Since 1947 Pakistan is trapped in a vicious circle, and it's hard to get rid of this wicked circle with the current political system. Immense tension with neighbor countries, internal political instability, high inflation rate, massive unemployment, poverty, discrimination, corruption, human rights violation, economic problem, low level of domestic and foreign direct investment, energy shortage, wrecked infrastructure, weak and self-centered political leader ruined the country. Now we are witnessing a massive number of lessening faiths on the institutions of almost all kinds. People don't trust the government; they don't believe any corporation and virtually no political leader — the reasons why people's trust is declining in government. The govern leaders do not fulfill their promises, they always raise different slogans spreading fake news to convince the voters for votes, but things are not still the same after elections; all the obligations remain broken. Thus, people certainly don't believe politicians.
After 71 years of a bumpy hard and tough journey, the people of Pakistan in 2018 elected a new prime minister with much new hope, to fight against corruption and other serious challenges. This hope was up to the greatest extent achieved when the supreme court of Pakistan took action against the corrupt leaders and imprisoned them. With such enormous weight, the oppositions are now vindicating a mean to get rid of the present administration; the adversaries have started a long march called Azadi-March, with the aim to takeover Khan's (Imran Khan Niazi current Prime minister of Pakistan) government. The majority of the people are against the so-called Azadi-March, as they are aware of situations. To sidetrack Imran Khan's consideration, these opposition leaders have started Azadi-March, where thousands of protestors are marching to the capital city Islamabad, calling on prime minister Khan over the weak and fragile economy and corruption.
Some religious groups organized the Azadi-March and political rivals, Jamiat Ulema-i-Islam-Fazal (JUI-F) party prearranged the protests, almost all parties have used the march to show their complaints throughout what they call the Azadi March (or Freedom March).The main aim of the Azadi-March, calling Imran Khan to resign, they believe that the current government ruined to satisfy their promises, and the administration is amateurish, inexpert, and doesn't distinguish how the state-run. While addressing the people, Fazal said all Pakistani, from Karachi to Islamabad, want that prime minister Imran Khan should resign, further stated that prime minister still has time to deferentially submit his resignation because the Pakistani will not give him also time to do so.
The purpose behind such Azadi-March isn't only that they want to overthrow the prime minister, but they want him to stop disparaging the adversaries. The opponents, according to most of the local people, are corrupt and crooked, and they are responsible for the country's weak institution and corruption. Since now, Khan is taking legal actions against the oppositions with the support of millions of Pakistani people, thus permit the opponents formed a coalition to stand against Khan. With the help of millions of people Khan isn't against their Azadi-March, but it's something everyone knows, the country is going through tough time, skirmishes with India and recently with Afghanistan, ongoing economic reforms, working to encourage tourists and foreign direct investment, and many other developmental projects, such actions or the so-called Azadi-March will ruin the hope of the current administration and people. The immediate adverse consequence of the Azadi-March is also on the recent Kashmir issue. Currently, the prime minister and his administration are working to find a solution for IOK,by voicing on a different medium, such domestic scuffle will not only hamper the objective but will instead encourage the neighbor states to take advantage of domestic unrest.
The time being Khan is dealing with massive problems, the oppositions should stand with Khan, instead of creating other domestic violence and discontent. The continues Azadi-March will do nothing more than internal turbulence and other dangerous predicaments that will hit the country with more severe difficulties. Democracy means the government of the people, by the people, for the people, which specify that the people of Pakistan elect the current government. Pakistan is a democratic country where people can choose any leader they trust. To make it more vibrant, Pakistan is not the legacy of some elites to govern all the time.
A country with more than 200 million people ought to decide their future; they should stand with Khan and support his campaign of fighting against corruption and corrupt people to bring peace, political stability, economic development, and employment opportunities. Fora very long time, we have experienced different government and their fake promises; they have tumble-down the state's institutions, nepotism, favoritism, and cronyism, all were the hidden agendas of the previous government. Thus, it is clear that the present government is fighting against all the above problems.
Finally, let us begin anew — recalling the current Azadi-March, which is not a sign of being active or reliable, but rather a sign of weakness. Sincerity is always subject to proof, and when you don't have a single proof, you are lucky enough to have needles in your chopsticks. Let us never negotiate with these political leaders who are involved in the march out of fear. But let us never fear to negotiate.