Tajikistan: transition to monarchy completed?
In the first month of 2017, Tajikistan witnessed a major dismissal accompanied by an (un)expected appointment in the power.
The mayor of Dushanbe, Tajikistan`s capitol city, was sacked by Presidential decree. Had such a case happened in a Western country, it would have been accepted as something quite ordinary. Especially if the dismissed person had served 20 years in office. But in Tajikistan, Central Asia`s landlocked nation, with its own mentality and features, that go is more than a discharge. It might be the last move in the struggle of power and signal the completion of transition to monarchy (still unformal though).
Who was Mahmadsaid Ubaydulloev?
Mahmadsaid Ubaydulloev had been governing Dushanbe for uninterrupted 20 years. Labeled as No. 2 person in Tajikistan, he was reckoned the main rival to the country`s uncrowned monarch Emomali Rahmon.
A typical product of the Soviet party system, Ubaydulloev could make it into higher levels of the power at relatively a younger age in the 1980s.
Even after Tajikistan`s emergence as an independent nation as a result of the collapse of the USSR in 1991, Ubaydulloev remained in the government as deputy prime minister and managed to undergo the turbulent years of the civil war unharmed. In 1996, he was appointed mayor of Dushanbe, an office he would hold for another 20 years.
Ubaydulloev`s strong links with Moscow gave ground to rumors about him being Russia`s man in Tajikistan. At home and beyond, he was regarded as the sole and most serious person to challenge Emomali Rahmon`s unlimited rule, due to absence of normal opposition, although he always publicly supported the incumbent president and remained in his shade, satisfied with a modest status of the second person in the country.
Royal family
The present leader, Emomali Rahmon, has been leading Tajikistan de facto since 1992, as president since 1994. Although a military mutiny was launched against his clan in the mid-1990s, he could effectively manage to end the civil war in 1997, by making compromises and meeting some demands of the insurgents.
Throughout the 1990s and entire 2000s, Emomali Rahmon strove to firmly consolidate the power in his hands, by effectively diminishing the opposition`s influence and moving his main rivals out of the way. To further legitimize his unlimited and infinite rule, Tajik president initiated several referenda that lifted the limit on presidential terms, abolished the maximum eligibility age for presidential candidates and increased the period of presidential tenure. This process has been accompanied by human rights abuse and a high degree of corruption in almost all spheres, according to a number of international organizations. The U.S. diplomatic cables leaked in 2010 noted that members of Rakhmon's family and inner circle are widely viewed as being the most corrupt people in the country.
The wealthier Rahmon has become, the poorer Tajikistan has downgraded. The Gross Domestic Product per capita in Tajikistan was recorded at 2661.38 US dollars in 2015, when adjusted by purchasing power parity (PPP). 32% of the population lives below the national poverty line, according to an ADB report. Mass unemployment has driven many people out of the country in search of job and better welfare outside. No surprise that the impoverished country has, therefore, long been the most remittance-dependent in the world, with cash transfers accounting for approximately half of the economy. Migrant transfers totaled more than $4 billion in 2013, the equivalent of 52 percent of GDP. That figure was 45.5 percent in 2010 and 48 percent in 2012.
Those, who travel to Tajikistan repeat that the country, especially its provinces seem frozen in the 1980s and no change in the country`s lifestyle and people`s welfare has occurred. The situation might have even worsened compared to the Soviet period.
Emomali Rahmon might not be quite successful in advancing his nation into the 21st century, but there is something he has done quite well. Having mastered the Soviet-time power style and imitating the leaders of his wealthier neighbors, he has built a personal cult, which may seem bigger than his own tiny country. Since 1994, Tajik president proudly bears the title "Peshvoi millat" (Leader of the Nation). In December 2015, Tajikistan`s parliament granted him another designation which sounds more solemn: "Founder of Peace and National Unity".
A cult of personality centered around Emomali Rahmon is now extending to other members of his family. In recent years, Rahmon has strengthened his family`s position as he penetrated his children into important posts in the government. In 2016, Rahmon`s daughter Ozoda (39) became chief of the Presidential administration, a key government position in many post-Soviet countries. In the same year, she was also elected as a senator to the upper chamber of Majlisi Oli, Tajikistan`s Supreme Assembly. Prior to that, she had worked in the Ministry of Foreign Affairs, having reached the position of deputy minister.
Ozoda`s brother, Rustam Emomali (29) is the eldest son in Tajikistan`s first family. Rustam is known as one of the youngest generals in the world: in 2013, he was appointed head of the Customs Service and received a military rank of major general. In March 2015, President Emomali Rahmon appointed his son to head the country`s principal anti-corruption bureau, the State Agency for Financial Control and Measures Against Corruption.
The new post as the mayor of Dushanbe may seem as a trampoline for Rustam to a higher position as it was long speculated that the young man is being prepared to substitute his father on top. In addition to high-level training at senior government positions, Rustam`s path to the throne is also cleared and facilitated by the authorities. For example, in May 2016, a nationwide referendum gave a consent to a number of changes to the country`s constitution. One of the key amendments reduced the minimum eligibility age for presidential candidates from 35 to 30, effectively enabling Rustam Emomali to succeed his father in office after 2017.
In this context, the change in Dushanbe`s mayoral office could be the last move on a chessboard, at which Mahmadsaid Ubaydulloev, No. 2 in Tajikistan with likely higher ambitions, was finally checkmated. By firing Ubaydulloev, Emomali Rahmon not only won the major struggle and kicked him out of political arena, but obviously pointed to Rustam as his successor.
In a country, where nepotism and corruption is a normal phenomenon (according to a widespread belief, any other person in place of Emomali Rahmon and/or other senior officials would also serve first to their pockets and promote their relatives), the recent developments may not generate any shock in local society and could be seen a logical event in the succession process.
Although other post-Soviet Central Asian neighbors of Tajikistan have also similar regimes with unlimited power of the strongmen, who would reign until their last days (Kyrgyzstan is a lucky exception with some signs of democracy) and have their family members enjoy great influence in the country, neither Islam Karimov of Uzbekistan nor Saparmurad Niyazow of Turkmenistan did not (or could not) manage to transfer the power to their children. But Tajikistan is completing a transformation to monarchy with certain steps.
Russia-China relations: Engagement abilities in managing their differences in Central Asia
Ever since the collapse of the Soviet Union, Moscow and Beijing have converted their relationship from being Cold War rivals to become realistic partners with a common goal of pushing back at a Western-dominated international system. Their relationship is strategic and opportunist but noticeable by progressively well-matched economic, political, and security interests. Sharing a geopolitical worldview of multipolarity, they mutually have firm desires to contain Western power and seek to accelerate what they see as the weakening of the United States. With a collective desire to shift the focus of global power from the Euro-Atlantic space to the East, they aim to redraft at least some of the rules of global governance, signifying that their partnership is becoming progressively strategic. Yet the Chinese-Russian relationship is complex, with lasting uncertainty on both sides which is the common phenomenon in world politics. Despite the grand drives for cooperation uttered by the two countries' leaders, attaining applicable results often escapes them, predominantly in the Russian Far East and the Arctic, where understanding the overabundance of trade, investment, and infrastructure deals announced since 2014 has been challenging. Regardless of the difficulties faced by both countries the level of engagement in these stages has tested Russia's and China's abilities to manage their differences and interpret the rhetoric of corporation into solid gains.
Russia China Bilateral Ties
China Russia relations, also known as Sino-Russian relations and this refers to international relations between the people's Republic of China and the Russian Federation. Diplomatic relations between China and Russia dramatically improved after the dissolution of the Soviet Union and the establishment of the Russian Federation in 1991. American scholar Joseph Nye argues: With the collapse of the Soviet Union, that de facto US-China alliance ended, and a China-Russia rapprochement began. In 1992, the two countries declared that they were pursuing a "constructive partnership"; in 1996, they progressed toward a "strategic partnership"; and in 2001, they signed a treaty of "friendship and cooperation.
All through at the end of the Cold War, few would have foreseen a full-bodied Russian-Chinese relationship in the twenty-first century, the two countries have had a long, complex, and touchy history dating back to the 1800s when Russia's eastward expansion across Siberia and the Russian Far East led to China conceding over 1.5 million square kilometers of territory to imperial Russia. Shocked by war and uprising in the twentieth century, both countries became brief allies after the Communist Party takeover in Beijing in 1949, as Moscow dispatched technical aid, financial assistance, and political advisers to China. At the time, Moscow was firmly the leader of the global socialist movement and saw itself as by far the stronger partner in the Sino-Soviet relationship. However, the two countries divided ideologically during the Nikita Khrushchev era, becoming Cold War opponents by the 1960s with a highly armed and disputed border that pushed4,380 kilometers. A series of border clashes in 1969 left scores of mostly Chinese soldiers dead.
Russia and China on a multilateral basis
On a multilateral basis, China and Russia began harmonizing their positions in the United Nations (UN) and other international bodies in the 1990s. In 1997, for example, they presented to the United Nations General Assembly a "Joint Declaration on a Multipolar World and the Establishment of a New World Order," and the was an early signal of their shared antipathy of Western dominance in the international system and their desire to rebuild it to their benefit. They both promote the United Nations as a key pillar of the international system, because of the authority and influence that their status as permanent Security Council members provides. They similarly have worked together in the Asia-Pacific Economic Cooperation (APEC) forum, the East Asia Summit, G20 group of prominent economies, and the BRICS group (Brazil, Russia, India, China, and South Africa) to support their interests. In 2003, they both pushed back at the UN against the Iraq war, and they criticized (although neither vetoed) the West's military intervention in Libya. Today, both frequently highlight the instability that Muammar Qaddafi's overthrow brought to the region.
Conversely, since then, Moscow and Beijing have worked together to challenge principles of the U.S. led international system to which they share an aversion. They have collaborated to protect fellow authoritarian states from human rights criticisms and outside efforts to change their political trajectories. They branded Western democracy promotion as an example of destructive, unhelpful, and intolerable interference by strong powers in the internal affairs of sovereign states. They also look to each other for models for ensuring regime stability and domestic governance. Beijing, for example, has passed legislation similar to Russia to limit the activities of non-governmental organizations and limit their ability to accept foreign funding. Moscow similarly is trying to join aspects of China's internet firewall to gain greater control over information flows on the Russian-language internet. Moscow's new laws banning virtual private networks (VPNs) appear to be following the Chinese model of fastening down on VPNs and other internet proxy services that allow users access to websites that are restricted by the state. They likewise have collaborated in numerous international settings to increase the power of states over the internet, challenging the free flow and access of information, and seek to reduce the power of the West over decisions concerning global governance. However the Russian Chinese political, economic, and international ties Developments have led Beijing and Moscow to promote their "strategic partnership," claims that have only strengthened since Putin's "pivot to Asia" in 2013 and Russia's break with the West after the Ukraine crisis the following year. Both countries see the other as a useful counterbalance to U.S. influence. Besides, with its traditional sources of capital now restricted due to sanctions, Russia sees China as a provider of funds to support its struggling economy. China, meanwhile, benefits from Moscow's efforts to prevent Western military and economic power internationally, conceding leadership to Russia in opposing Western policies abroad, while benefiting by receiving minimal blame. Yet when Russia and China have come together in Central Asia, the Russian Far East, and the Arctic, their interests and realities on the ground have tested their ability to manage differences and sustain this strategic alignment.
Central Asia race
Central Asia is witnessing a key rebalancing of power with Russia declining and China emerging as one of the region's most influential players. China's rise in Central Asia is due to its wide-ranging vision for regional connectivity, an appetite for Central Asian energy resources, and generous reserves, which it distributes to Central Asia through commercial investments, loans, the Asian Infrastructure Investment Bank, and several other entities. Unlike the West, China makes no demands for political reform from Central Asian governments. Unlike Russia, Beijing does not use political pressure to keep the region in its general orientation. The lack of an obvious political agenda other than regional stability, which Beijing believes can be guaranteed through economic development, makes China particularly attractive to local governments.
Although China's presence is mounting across all of post-Soviet Eurasia, its increasing geopolitical and geo-economics influence is most outstanding in Central Asia, which is where China has learned how to manage Russian concerns over its growing regional influence. Through the BRI predictable to increase Chinese influence throughout Eurasia, including Russia, sustaining positive dynamics with Moscow in Central Asia will remain one of the most important tests of Chinese political and economic diplomacy; so far, Beijing appears up to that test. China is smart in managing Russia because Beijing engages with Central Asia primarily on economic issues; it has made no explicit push into political or military concerns. While Beijing's soft power is growing in Central Asia, it still cannot compete with Russia's media presence in the region or the fact that Russian universities, particularly those in Siberia, remain more widespread than Chinese ones, although the number of Central Asian students studying in Chinese universities often with heavy earnings from the Chinese government is on the rise. From 2005 to 2015, the number of Kazakhs studying in China increased from 781 to 13,198, while the Chinese government now offers twenty-three academic scholarships to Kyrgyz citizens wishing to study at Chinese higher education institutions.
Conclusion
in conclusion ,Russia and China have become increasingly close partners on the global scene, motivated to work together both to pushback at what they consider the United States' pursuit of repression and to change a Western-dominated international system that they observe as disadvantageous to them. They have resented Western efforts to promote human rights and good governance, seeing the West's push to create more open political or economic systems as part of a comprehensive and corresponding attempt by the United States and Europe to promote regime change for geopolitical advantage. These collective views have pushed the strengthening of their bilateral relations, efforts that have only enhanced since the start of the Ukraine conflict in 2014. The utmost hazard to Western interests from the increasing strategic partnership between Russia and China does not come from any of any country in the region. But it instead emanates from the two countries' common efforts to adjust the international system to their advantage. Furthermore, in this regard, Washington should support economic cooperation. On the other hand, the degree to which the Sino-Russian alliance may become anti-American and anti-Western in the future depends on how deeply the two Eurasian powers feel that the United States threatens their interests. While it values friendly relations with both countries.
Qassem Soleimani's Broken Dream in Central Asia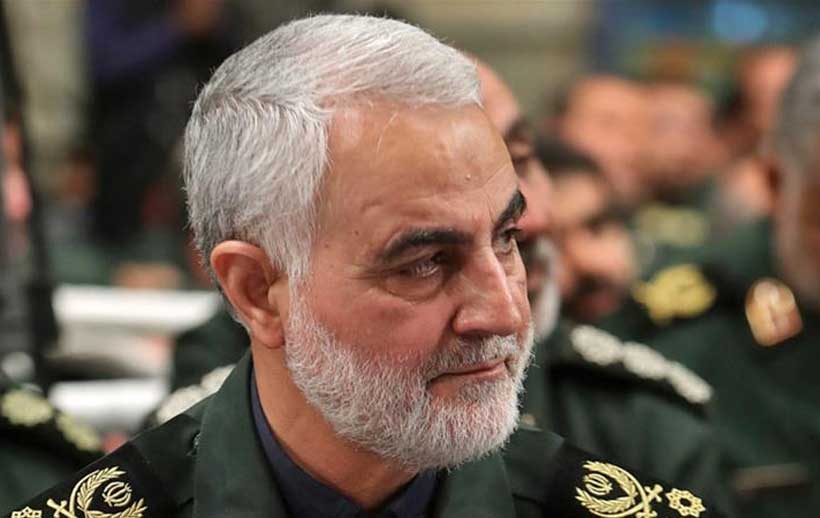 Exactly two months ago, Iranian Major General Qassem Soleimani was killed, whom the Shiite world considered a national hero, while the Sunni regimes of the Arabian Peninsula regarded him as evil incarnate. What legacy has Soleimani left in Central Asia? Will the Iranian policy in Central Asia change after the loss of its most influential military strategist? Is the threat to US interests in the Middle East and Central Asia "after Soleimani" gone?
Central Asia after Qassem Soleimani
The five post-Soviet countries of Central Asia are cautiously following the development of confrontation between the US and Iran trying to take a "middle ground" without interfering in "someone else's war". Neither political leaders nor the foreign policymakers of these Muslim republics expressed their condolences to Iran on the occasion of the assassination of Qassem Soleimani, Iran's most powerful general, the commander of the Islamic Revolutionary Guard Corps' elite Quds Force (IRGC-QF). The books of condolences for General Qassem Soleimani at the Iranian embassies in Central Asia did not contain records even of mid-level officials. Kazakh president Kassym-JomartTokayev expressed his condolences to the Iranian people, not because of the assassination of Major General, but because of the crash of a Ukrainian airliner mistakenly downed by IRGC during the so-called "Iran's revenge missile attack" at US military base in Iraq on January 8, 2020.
The analysis had shown that Central Asia's presidents tried to overlook the fact of Qassem Soleimani's assassination. Even Moscow's position, condemning Washington for the murder of "Putin's friend" and expressing condolences to Iran, could not force Central Asian leaders to speak about their own opinion on this event. Yet it is no secret that due to its economic and political influence, Moscow plays a key role in the foreign policy orientation for these post-Soviet republics. Such demonstrative "neutrality" is connected, first of all, with the concern of the region's leaders that the US-Iran conflict in the Middle East could reflect onto Central Asia's neighbor, Iran. Consequently, it could be expected that Central Asian governments will try to find a "diplomatic balance" between Washington and Tehran, as they wish to maintain cooperation with each of them individually. As a result, they will not openly take either side in the US-Iranian confrontation to the detriment of one of them.
After losing its distinguished military strategist, not a single high-ranking Iranian politician has yet visited Central Asia. Tehran's attention today is turned to the Middle East where it makes clumsy attempts to oust the United States from Iraq. The Trump administration pursues a comprehensive policy aimed at maximum pressure on Iran not only in the Middle East but throughout the world, including the Central Asian region.
On February 3, 2020, US Secretary of State Mike Pompeo visited Central Asia, where within the framework of the meeting of the so-called C5+1 he defended US strategic interests, including aimed at minimizing Iran's influence in the region. A month earlier, January 7, 2020, Alice Wells, U.S. Principal Deputy Assistant Secretary for South and Central Asian Affairs, during a meeting with Tajik Foreign Minister Sirojiddin Muhriddin, stated that "the chaos and unrest created by Iran directly through the Islamic Revolutionary Guard Corps threaten Tajikistan's security and stability." However, this time as well, Tajikistan, balancing between Washington and Tehran, cautiously circumvented the US-Iran confrontation and did not comment on the destructive activities of Iran's Quds Force and the role of its former leader Qassem Soleimani.
However, unlike government officials, middle-level politicians and analysts widely commented on Qassem Soleimani's assassination, blaming the US of "imperial behavior". For instance, Tajik politician Shodi Shabdolov compared Trump's actions, who ordered the neutralization of Qassem Soleimani, to a madman. He added that if a war between Washington and Tehran begins, it would be the end of the US, as it underestimates Iran's military power.
Another well-known analyst, head of the Tajik Political Scientists Association Abdugani Mamadazimov, noted that Soleimani's liquidation opens the door to a hybrid war, during which American embassies and other institutions in the region and in Europe can become targets for attacks by pro-Iranian Shiite militias. An analysis of local media showed that some public figures and organizations working closely with Iran for many years have expressed their support for Tehran and consider Qassem Soleimani to be a Shahid (Martyr)
Qassem Soleimani's Shadow in Central Asia
The political elite and security agencies of newly independent Central Asian states knew first-hand Qassem Soleimani, who twice, officially and secretly, visited the region to strengthen Iranian military interests in the late 90s and early 2000s. After the collapse of the Soviet Union, Iran seriously intended to expand its influence into Central Asia, using Islamic commonality, its transit attractiveness with access to Persian Gulf's trading ports and common language factor with Tajikistan. It is known that Tajiks and Iranians are the closest related peoples in the world, speaking the same Persian language. During his presidency, Akbar Hashemi Rafsanjani had declared Tajikistan as an integral part of the "Great Persian World".
To expand Iranian military influence, Tajikistan has become an ideal launching pad, the army of which was the weakest in the region, requiring external financial and technical assistance for modernization. Soon, Tehran began to actively use its leverage in the seven-year civil war in Tajikistan, playing the role of a mediator between the government of Emomali Rahmon and the Tajik Islamic opposition leader, Said Abdullo Nuri, in essence, providing hidden support to the latter.
Iran planned to realize the strengthening of its influence in Central Asia in two directions. The first provided for the establishment of political, economic and cultural cooperation with the government of Rafsanjani. The second way concerned the strengthening of military cooperation between the two countries and the creation of informal militarized groups within the Tajik Islamic opposition, focused exclusively on Tehran. The second focus was under the personal control of Iran's Supreme Leader, Ali Khamenei, who gave the task to his right-hand man, the Quds Force's chief Qassem Soleimani to assess the prospects of creating Iran's effective system of informal leverage in Central Asia opposing the United States.
For the first time, Qassem Soleimani visited Tajikistan on January 18, 1999, at the head of the Iranian military delegation, during which he met with Tajik Minister of Defense SheraliKhairullaev. According to the Tajik Ministry of Defense, the parties discussed the implementation of the Memorandum of Understanding in the field of security between the two countries. The two generals agreed to form a joint intergovernmental defense commission.
As one of the participants in that meeting later told, General Qassem Soleimani surprised many with his pronounced modesty and courtesy. He spoke in a quiet calm tone, without drawing attention to himself, which is not typical for post-Soviet military commanders educated in the spirit of Russian military traditions. His visit went unnoticed, with no media attention.
However, the real reason for Soleimani's visit was to protect Iran's interests in Afghanistan after the Taliban executed 8 Iranian diplomats. But instead of confronting the Taliban from the Iranian border, Soleimani directed the operations in support of the United Islamic Front for the Salvation of Afghanistan, also known as the "Northern Alliance," from the Tajik border. This was a unique case when the interests of the governments of Central Asia, Iran, Russia and the West coincided against the Taliban, and Soleimani successfully implemented the model of proxy warfare.
According to local sources, the second time Qassem Soleimani secretly visited Central Asia through Turkmenistan after September 11, 2001. But information about the purposes of his visit and the participants of the meeting is practically not available. Perhaps his visit was related to the upcoming deployment of U.S. troops in Central Asia, which Tehran considers a threat to its security.
Unlike the Middle East, Iran failed to create its proxies in Tajikistan. The main obstacle to the creation of the pro-Iranian Network was the difference in religious views between Central Asian Sunni Islam and Iranian Shiism. The majority of Central Asians belong to the Hanafi school of Sunni Islam, which doesn't accept Shia ideology in the region. Qassem Soleimani, as a realist military strategist, soberly assessed the situation that Iran would not be able to create strong levers of pressure in the region with the help of fragmented Tajik Islamists. In addition, Russia could not allow the creation of Iranian interests in Central Asia, which it considers a zone of its influence. Soleimani convinced Ayatollah Ali Khamenei of the futility of creating pro-Iranian proxy groups in Central Asia. He expressed his concern that funding for Tajik radical Islamists could push Dushanbe away from Tehran, and, as a result, Khamenei abandoned this venture. What Iran failed to achieve in Central Asia, it more than compensated for in the Middle East ten years later.
After 15 years, Major General's concerns have come true. Relations between Tajikistan and Iran seriously deteriorated in 2015. Tajik authorities accused Iran of supporting the opposition Islamic Renaissance Party of Tajikistan (IRPT), attempting a coup d'état in the country and training Tajik Islamic militants in Iran. Iran incurred Tajikistan's profound rage in December 2015, when Iran's top leader Ali Khamenei received IRPT leader MuhiddinKabiri, who left the country due to political persecution of the authorities.
After the failure of Iran's plan in Central Asia, Qassem Soleimani brilliantly completed the task assigned to him by Ayatollah Khamenei in the Middle East. He successfully created a pro-Iranian Shi`a Foreign Fighter Network of 50 000 bayonets, which became an effective tool of Tehran's influence in the Middle East. Today Soleimani's unique creation, Shia proxy groups such as Hezbollah, Liwa Fatemiyoun, Liwa Zainebiyoun, al-Hashd al-Shaabi, Asaib Ahl al- Haq, play the role of Iran's shock transnational terrorist forces against interests of US, Saudi Arabia, Israel, Turkey and Sunni Muslims in the Middle East.
Iran-Central Asia Military Cooperation: Problems and Challenges
As we said above, the official government of Iran conducted military cooperation with Central Asian countries. In order to jointly combat the threats of terrorism, organized crime and drug trafficking, Iran has signed a package of bilateral treaties with all governments of Central Asia.
In particular, there are intergovernmental agreements between Iran and Uzbekistan on Border cooperation, Cooperation in reducing drug use and controlling the production of narcotic and psychotropic substances. In June 2000, a Memorandum on cooperation in the fight against terrorism, transnational crime and illegal migration was signed between the National Security Service of Uzbekistan and the Ministry of Information of Iran, which performs the tasks of intelligence, counterintelligence and counter-terrorism.
However, the military cooperation between Uzbekistan and Iran was sharply reduced after the 9/11 terrorist attacks and the deployment of the U.S. military base in Uzbek Khanabad to combat international terrorism in Afghanistan. Tehran was opposed to the presence of U.S. troops in Central Asia. Moreover, Uzbekistan was alarmed by unofficial allegations that Iran allegedly provided asylum to the militants of the Islamic Movement of Uzbekistan (IMU) and its leader, Tahir Yuldash, after September 11, and the Iranian secret services allegedly trained and supplied them with documents, weapons and explosives. Tehran has repeatedly denied the allegations. However, given the fact that the IMU was closely linked with Al Qaeda, and after the overthrow of the Taliban in Afghanistan in 2001, Iranian authorities allowed Osama bin Laden's family to reside temporarily in the eastern Iranian city of Zahedan, the claims of the Uzbek side about Iranian secret service would possibly have a solid foundation
Despite the denial of Iran's intelligence services of any ties with the IMU, this assumption left a deep distrust between the two countries. Fearing Tehran's declared "export of the Islamic revolution", although this did not fit into Iran's policy in Central Asia, President of Uzbekistan, Islam Karimov, sharply reduced economic, cultural and military ties with Iran.
The political leaders of Kazakhstan and Kyrgyzstan were not interested in military cooperation with Iran because of their pro-Western views. They actively participated in the NATO Partnership for Peace program, under which they received military and technical assistance from Western countries and trained their military personnel in Russia. The activity of the U.S. military base at Bishkek's Manas airport in Kyrgyzstan (2002-13) and the participation of Kazakhstan's peacekeeping troops in the U.S. led coalition in Iraq (2003-08) deterred Iran's desire to military cooperation with Kazakhstan and Kyrgyzstan.
Iran tried to develop close military cooperation with Tajikistan and through it to extend its military influence in Central Asia. The only Iranian military attaché in Central Asia worked at the Iranian embassy in Tajikistan, who was responsible for the development of military cooperation with other countries of the "Five Stans".
Military delegations of Iran and Tajikistan regularly made mutual visits. More than 20 agreements were signed between the Ministries of Defense of these two countries, in particular, the Memorandum of understanding on military-technical cooperation, the Agreement on cooperation in training of the military personnel, and also Intergovernmental Memorandum of fighting organized crime and drug trafficking. In addition, the Iranian-Tajik intergovernmental commission on defense was created and conducted regular meetings.
In 2005, Tajikistan began to cooperate with IRGC. The leadership of the IRGC declared its readiness to cooperate in training Tajik military personnel on the basis of two Iranian military universities in the fields of engineering and military medicine, communications and electronics. Iran also expressed readiness to send its military advisers to Tajikistan to train 500 Tajik soldiers to participate in maneuvers and to work out attacks in mountainous areas. Tehran was willing to take on the costs of their training.
In 2010, the Ministry of Defense of Iran launched an initiative to develop military cooperation in the framework of the Union of Persian-Speaking Nations between Afghanistan, Tajikistan and Iran. According to the Iranian side, such cooperation can be effective in the fight against drugs and international terrorism and will ensure security in the region.
However, Iran failed to fulfill its intentions to expand cooperation with Central Asia in the military-technical sphere for several reasons. First, Russia was and remains the main military partner of Tajikistan, which did not allow the expansion of Iran's military influence in the post-Soviet space. Tehran's recognition of Moscow's special interests in Central Asia forced Iran to hold its horses in the region, and such deft diplomatic maneuvering has been appreciated by the Kremlin. Tehran's diplomatic courtesy in Central Asia allowed it to create a tactical alliance with Russia in the Middle East. According to Reuters, it was Soleimani who personally persuaded Putin to intervene in the Syrian war during an unofficial visit to Moscow in July 2015.
Secondly, the problematic state of Iran's economy, the low potential of its national military industry, and outdated military equipment were an inhibiting factor of Iran's ambitions.
Thirdly, the United States' "maximum pressure" campaign against Tehran played an important role to curb Iran's military influence in Central Asia.
In conclusion, Iran's strategy in Central Asia after the assassination of Qassem Soleimani is unlikely to change. It is to be expected that Tehran will continue to pursue its policy in the region taking into account Russian interests. The tactical alliance of Moscow and Tehran, and their strategic interests today are directed against the expansion of US influence in Central Asia and the Middle East.
Iran looms large in Central Asia despite sanctions and Saudi financial muscle
Saudi Arabia may have been getting more than it bargained for when authorities in Khujand, Tajikistan's second largest city, ordered that the city's largest and most popular mosque be converted into a cinema.
The order followed the closure of some 2,000 mosques in the country in the last three years and the arrest last month of scores of Muslim clerics and teachers, many of whom were accused of being members of the Muslim Brotherhood, a group that is banned in both Tajikistan and the kingdom.
Fewer men sport beards in Tajikistan after being harassed by police, while women in hijabs are far and few between after many were detained and intimidated.
Imams deliver sermons praising President Emomali Rahmon that are approved by authorities, reinforcing his effort to cloak himself in Islamic legitimacy despite the crackdown.
Larger mosques are equipped with surveillance cameras to ensure prayer leaders stick to their texts.
The arrests no doubt will have pleased Saudi leaders who stepped in to help Tajikistan financially in 2015 as the country's relationship with Iran soured over Iranian demands that Tajikistan pay down its huge debt, allegations that a businessman charged with fraud in the Islamic republic had deposited large sums of money in the National Bank of Tajikistan, and a meeting between Iranian spiritual leader Ayatollah Ali Khamenei and a Tajik opposition leader.
As relations with Saudi Arabia improved and Saudi Arabia pledged to pump money into infrastructure projects like the Rogun hydroelectric power plant and a highway in eastern Tajikistan as well as education, Tajikistan accused Iran of involvement in the murder of Tajik social and political figures as well as 20 Russian military officers during the 1990s Tajik civil war, which Iran helped bring to an end.
Tajik authorities also closed down an Iranian trade and cultural center in Khujand and helped block Iran's application to become a member of the China-led Shanghai Cooperation Organization (SCO). Iran is an observer at the SCO.
Developments in Tajikistan, however, no longer look all that good from a Saudi perspective and bode ill for the kingdom elsewhere in Central Asia. In fact, the more than four years of strained relations between Tajikistan and Iran have made way for quickly warming ties.
Driving the patching up of differences is the fact that landlocked Tajikistan, like its neighbour, Uzbekistan, needs access to ports and Iranian ports, including the Indian-backed one in Chabahar at the top of the Arabian Sea, offer the cheapest and shortest transportation options.
Iran's attractiveness to Central Asian nations increases the Islamic republic's importance to the Belt and Road, China's infrastructure, transportation and energy-driven initiative to connect the Eurasian landmass to Beijing.
There is an element of irony in the Saudi-backed crackdown on mosques and clerics in Tajikistan. That was long the preserve of Uzbek president Islam Karimov, whose state security services tightly controlled religion under the guise of combating Islamic extremism, until his death in 2016.
Mr. Karimov's successor, Shavkat Mirziyoev, has promised to reverse his predecessor's repressive policies and put his government "at the service" of the Uzbek people.
Mr. Mirziyoev's reforms included emasculating the security service's Religious Committee, by ending its oversight of all religious education, publications, and gatherings, and sacking its supervisor, Aydarbek Tulepov, without replacing him.
Mr. Mirziyoev has also created an academy of higher Islamic learning that is operated by the state-run Spiritual Directorate of Muslims of Uzbekistan.
Meanwhile, delegations of Saudi businessmen visited Uzbekistan twice last year to explore investment opportunities.
Saudi Arabia's textiles-focussed Ajlan & Bros Holding Group plans to invest over the next five years up to US$2 billion in an Uzbek cotton-textile cluster.
Already a vital node for Uzbek exports and imports, Iran is nonetheless written all over Mr. Mirziyoev's transportation infrastructure plans. A decree issued in late 2017 identified as key to the plans the Uzbekistan-Turkmenistan-Iran-Oman. China-Kyrgyzstan-Uzbekistan, and three Trans-Afghan corridors.
The three Afghan corridors take a rail line connecting Uzbekistan's Termez to Afghanistan's Mazar-i-Sharif as their starting point. Uzbek plans envision the rail line being extended to the Afghan city of Herat from where it would branch out to Iran's Bandar Abbas port, Chabahar; and Bazargan on the Iranian-Turkish border.
The Central Asian focus on Iranian ports, despite harsh US sanction, takes on added significance with the Chinese-backed Pakistani port of Gwadar, a mere 70 kilometres down the coast from Chabahar, a Belt and Road crown jewel at the core of the China Pakistan Economic Corridor (CPEC), running into problems.
China Ocean Shipping Company (COSCO) recently terminated its container liner services between Karachi and Gwadar because of a lack of cargo destined for transit to Afghanistan.
Zhang Baozhong, chairman of China Overseas Port Holding Company (COPHC), insisted that transit trade was key to Gwadar's success.
Port authorities said last month that two 20-foot containers containing 54 tonnes of bagged fertilizers had been shipped to Gwadar from Karachi for onward transport to Afghanistan in what amounted to an effort to kickstart transit trade.