Donald Trump, Nuclear Issue and Nuclear War
There were so many controversial statements made by Donald Trump during the United States Presidential Election, which makes many parties underestimated Trump's chance to victory towards the White House. One of Trump's controversial statements was during an exclusive interview with the New York Times on Sunday, 20 March 2016. Trump said if he is elected as US President, he would be open to Japan and South Korea producing their nuclear deterrent.
They should not always be depending on the US military to protect themselves from North Korea and China. The US military would not be able to protect Japan and South Korea for a long period of time. He argued that the US cannot always be the policemen of the world.
Trump also asserted that there will be a point where the US could not be able to do all that anymore. North Korea probably has their nuclear arsenal, so he would rather have Japan and South Korea having a nuclear capability too, as we are living in a nuclear world right now.
This controversial statement alarmed the world and received a strong reaction from various sides. President Obama, during the sidelines of Nuclear Security Summit in Washington on Friday, 1 April 2016, among others stated that all this time the US involvement in the Asia-Pacific region has been important. Because it is also the safeguard key that maintain the peace between the US and countries in that region up until now. Having US presence is very important to withstand any conflicts between each other. Therefore, Obama continued, the person (Donald Trump) who made such comments does not know much about policies, as well as nuclear policy, or the Korean peninsula, or even about the world in general. Japan and South Korea has been considered important as the pillars of US presence in Asia Pacific, as it advantaged the US quite substantially on the trade side, and prevent nuclear escalation and conflict.
Japan's Minister of Foreign Affairs, Fumio Kishida as quoted by CNN, also reacted by expressing his disagreement with Trump's proposal, saying it is impossible for Japan to build a nuclear capability. Japan is the only country that has experienced a nuclear attack, and if they follow Trump's proposal, there will be a chance that the Hiroshima and Nagasaki tragedy can happen again.
Contradict
Jonathan Cristal, a professor and observer from a think-thank agency, the World Policy Institute in New York, also commented by saying that Trump's proposal is contrary to the government's commitment to strengthen the alliance with various countries like Japan and South Korea, the two strongest allies in Southeast Asia. Cristal stated that Japan and South Korea will consider various options if true that the US is no longer protecting them. First option, Japan and South Korea will pay a protection fee to the US, similar to the way Estonia contributed 2% of their GDP to NATO for protection. Second option, Japan and South Korea will develop their own nuclear weapon. Cristal concluded his statement by saying if Trump ignored the US alliance in Asia and triggered Japan and South Korea to produce nuclear weapon, there will be a domino effect following to happen to other countries.
Trump's statements is in fact denying international convention, which regulated in the NPT (Nuclear Non-proliferation Treaty) set by the United Nations on 12 June 1968 in New York, and effective from 5 March 1950, and which the US ratified. Basically, the NPT consists of three pillars, namely: first, non-proliferation, i.e. nuclear-weapon states pledge not to add and must reduce as well as revoke/separate their nuclear warheads; second, disarmament, i.e. nuclear weapons eradication which non-nuclear-weapon states pledge not to acquire and manufacture nuclear weapons; third, peaceful use, that is nuclear energy serve only for peaceful purposes. As a matter of fact, the NPT was inspired by President Eisenhower, one of Donald Trump's predecessors (also from the Republic Party), from his speech in the UN General Assembly session, 18 December 1953, entitled "Atom for Peace".
Almost all states ratified the NPT except India, Pakistan, and Israel. North Korea ratified the NPT on 20 December 1985 and withdrawn from the treaty on 10 April 2003. On the other hand, after the NPT signing, there are only five states recognized as nuclear-weapon states, namely US, Russia, UK, France, and China.
We can have a different opinion with the above statement from Trump. But as the new US leader, Trump will do his best for the people of the US, to make US great again as promised in his campaign. Trump's statement is probably due to some of the following. First, US reducing the burden as a country that has been a guarantor of the security of Japan and South Korea if attacked by other countries, and the focus right now came from China and North Korea; Second, renegotiating the terms of payment to be received by the US from having their troops on the ground, as many as 54.000 in Japan and 28.500 in South Korea, in which Japan paid USD 1.6 billion and South Korea USD 866 million annually; Third, creating a balance of power among nuclear-weapon states in East Asia, which is currently being monopolized by China and followed by North Korea; Fourth, if there is a nuclear race, triggered by Japan and South Korea, the US will be very much advantaged as the main supplier, although it would violate the NPT, which the US is one of the signatories. The US weapon industry is allegedly influenced by sympathizers of the Republican Party and many prominent figures from the Party are known to be belligerent. For example when President Nixon, the Vietnam War happened, President Reagan with his Star Wars concept and the bombing of Muammar Kaddafi's residence, the leader of Libya, President Bush (senior and junior) the Afghanistan War and Iraq War broke out.
Fifth, diverting or creating East Asia as the new crisis region beside the Middle East, whereas the US will be benefited economically, politically, and militarily; sixth, balancing the military/arms advancement of China as well as to counter the aggressiveness of North Korea.
After the statement and announcement of Donald Trump as the winner of the US Presidential election, there is an interesting development that can be analyzed further. The development is the signing of a nuclear agreement/treaty between PM Shinzo Abe from Japan and PM Narendra Modi from India on 11 November 2016, in Tokyo. The content of the agreement/treaty is that for Japan companies to be able to export nuclear technologies to India. We know that the India and China relation has been hostile for a long time, and just recently the dispute and tension over Senkaku Island is also escalated. The Japan-India nuclear agreement gave a strong indication that both countries are on their way to creating an alliance, in parallel with strengthening the longstanding strategic alliances between the US, Japan and South Korea, to counter the expansive behavior of China and the aggressiveness North Korea. To neutralize the agreement and as not to arouse any suspicions based from Trump's statement, PM Shinzo Abe stated that the agreement constitutes a legal framework to ensure that India is using its nuclear energy responsibly.
After the Donald Trump's upcoming inauguration as the President of the US in 20 January 2017, it is hoped that Trump's statement will not become his policy. The role of the UN to reassure Trump to comply with the NPT is very much needed, similarly to Japan and South Korea as member states of the Treaty, to adhere with the NPT and not to produce a nuclear weapon. As we know that Japan and South Korea are very advanced and have their grip on nuclear technology, so it will not be hard for both countries to produce a nuclear weapon.
If Trump remains on his stance and Japan and South Korea implement the idea, it will create a domino effect where other states in the Asia region will not stay idle. They will definitely take measures to keep and defend their sovereignty. There may be an ASEAN state that will extricate itself from the joint commitment of SEANWFZ (South East Asian Nuclear Weapon Free Zone) Treaty, putting its national interest above all else. On the other hand, China and North Korea will keep on competing to enhance their nuclear capabilities. As a result, the East Asia region, including ASEAN, will be a hot zone and it is not impossible that a Nuclear War may well be started from East Asia.
Xinjiang: Pan-Turkism fuels China's hearts-and-minds campaign
Chinese efforts to woo Saudi Arabia's ethnic Chinese community highlight the People's Republic's effort to avert criticism from the Muslim world of its crackdown in the north-western province of Xinjiang and strengthen relations with the kingdom and Middle Eastern nations.
The efforts to woo a community, a significant part of which is of Turkic origin, identifies itself as Turkestani, and long supported greater rights, if not independence for Xinjiang's Uyghur population, are part of a larger, long-standing global Chinese effort to ensure the support of a mushrooming Chinese diaspora not only for its policy in Xinjiang, but also for its anti-Taiwanese One China policy and growing economic and geopolitical influence.
"Tukestanis…do not identify as 'Chinese in the ethnic, cultural or even geographic sense. Parts of this cluster perceive themselves…as being part of an oppressed group whose homeland is currently under Han occupation," said Muhammed Al-Sudairi, a Saudi China scholar and author of a recent report on the Chinese efforts in Saudi Arabia.
In wooing Saudi Arabia's ethnic Chinese community, China is targeting a group that not only historically supported the Uyghurs but also maintained close ties to Taiwan. Mr. Al-Sudairi estimated the Saudi Chinese community to number at least 210,000, 150,000 of which have lived in the kingdom for decades.
It is a community that played a significant role in Saudi Arabia's propagation of Sunni Muslim ultra-conservatism in China, part of a four-decade-long global campaign to counter post-1979 Iranian post-revolutionary zeal that more recently with the rise of Crown Prince Mohammed bin Salman is being curbed and given a more moderate makeover.
China this week sought to tighten relations with the Arab world with the allocation of US$106 million in aid to troubled nations, including Palestine, Jordan, Syria, Yemen and Lebanon and the creation of a US$3 billion joint Chinese Arab fund that would invest in transportation infrastructure, oil and gas, finance, digital economy and artificial intelligence.
China announced the financial initiatives at a moment that it was putting the brakes on funds it pumps into its infrastructure-driven Belt and Road initiative that aims to connect Eurasia to the People's Republic. The slowdown was designed to ensure that the initiative does not become a drag on the Chinese economy.
China's Xinhua news agency meanwhile reported that President Xi Jingping would visit the United Arab Emirates this month on his way to a BRICS (Brazil, Russia, India, China, South Africa) summit in Johannesburg. Mr. Xi visited Saudi Arabia, Iran and Egypt in 2016, the first visit to the Middle East by a Chinese head of state in seven years.
Chinese concern about Uyghur sentiment is compounded by the revival in post-Soviet Central Asian nations of pan-Turkism, a movement that emerged in the late 1900s that aims to unite Asia's Turkic people. Kazakh president Nursultan Nazarbayev sees pan-Turkism as a pillar of his country's national identity.
Quoting Mustafa Kemal Ataturk, the visionary who carved modern Turkey out of the ruins of the Ottoman empire, Mr. Nazarbayev told a gathering in Ankara in 2012 that "the time will come when all the Turks will unite. Therefore I want to greet all the Turkic-speaking brothers. Between Altai and the Mediterranean Sea, over 200 million brothers live. If we all unite, then we will be a very effective force in the world."
Pan-Turkism's appeal in Central Asia, boosted by what Russia's annexation of Crimea could mean for other post-Soviet states, does not stop at the borders of Xinjiang. The Altai mountains, Mr. Nazarbayev referred to is where Kazakhstan, China, Mongolia and Russia meet.
Mr. Nazarbayev last month took several steps to popularize pan-Turkic notions. The president sent a congratulatory message to a gathering celebrating the 125th anniversary of Magzhan Zhumabayev, a Soviet pan-Turkist poet whose works were banned by Joseph Stalin.
Days earlier, Mr. Nazarbayev signed a decree renaming the southern region of Shymkent as Turkestan, a reference to what pan-Turkists see as their spiritual homeland.
The rise of pan-Turkism puts China's recent focus on Saudi Arabia's Chinese Turkic community in a class of its own. China sought to boost its efforts by appointing in 2013 Anwar Habibullah, one of China's few Uyghur diplomats as consul general in the Red Sea port of Jeddah.
The consulate, since Mr. Habibullah's appointment conducts events not only in Mandarin and Arabic but also Uyghur, according to Mr. Al-Sudairi.
Mr. Al-Sudairi attributes the focus on the Saudi Uyghurs, one of the largest and wealthy Chinese Turkic diaspora communities, "to the role of this community as a stronghold for anti-Chinse and anti-CPC (Communist Party of China) sentiment in Saudi Arabia, and one that has had some influence in shaping Saudi elite and popular perceptions toward the PRC (People's Republic of China) and CPC."
The Chinese focus is also fed by the country's determination to stem the influence of what it terms extremist thought, including Saudi-inspired ultra-conservatism, that was promoted by Saudi ethnic Turkic Chinese through their contact with Uyghur pilgrims and the distribution of literature and, audio-visual materials in Xinjiang, often through governmental non-governmental organizations like the Muslim World League, a major vehicle in Saudi Arabia's global propagation of ultra-conservatism.
Mr. Al-Sudairi's portrayal of Saudi Turkic sentiment and its impact on perceptions of China in Saudi Arabia is noticeable given the fact that the kingdom, like almost all Muslim states, has turned a blind eye to China's crackdown in Xinjiang and systematic attempts at forced assimilation of the Uyghurs.
Muhammad Amin Islam Turkestani, a strident Uyghur advocate of Xinjiang independence helped shape Saudi perceptions and propagate nationalism in his homeland after settling in the kingdom in the mid-1950s. Mr. Turkestani served as a translator for Uyghurs performing the haj and hosted a one-hour Uyghur-language show on Saudi radio in the 1980s.
Funded by the Saudi Turkic community, Mr. Turkestani published a book, A Message to the Islamic World … Facts about Muslim Turkestan, that criticized Han supremacism and denounced communist rule. The book was published in the kingdom and distributed locally as well as internationally as part of Saudi Arabia's global propagation of ultra-conservatism.
Mr. Turkestani's book, according to Mr. Al-Sudairi, influenced Saudi discussions and perceptions and complicated the kingdom's relations with China before and after Saudi Arabia in 1990 became the last Arab state to officially establish diplomatic relations.
Saudi Arabia, however, while at times critical of Chinese policy in Xinjiang, ensured that they plight of the Uyghurs did not fundamentally affect official relations.
The country's controlled media were at times allowed to raise the issues and senior religious scholars called for support of the Uyghurs, Mr. Turkestani's campaign to get the Muslim World League to recognize East Turkestan went however unheeded.
Moreover, no senior Saudi scholar has issued a fatwa or religious opinion on the issue. "Uyghur persecution by China will not stop the Saudis' engagement with China, nor even slow it down," said prominent China scholar Yitzhak Shichor.
The Chinese effort to woo Saudi ethnic Turkic Chinese is being spearheaded by the United Front Work Department, the main communist party unit tasked with reaching out to key non-part groups in China and across the globe, including Saudi Arabia.
"In January 2018…Politburo member and former Foreign Minister and State Counsellor, Yang Jiechi, told the National Overseas Chinese Conference that the government should expand and strengthen 'Overseas Chinese Patriotic Friendly Forces' in the service of the 'Great Rejuvenation' of the Chinese nation. In plain language, what this means is that overseas Chinese should be persuaded, induced, or in extremis, coerced, into accepting allegiance to China as at least part of their identity," said Bilahari Kausikan, a former Singapore diplomat and chairman of the National University of Singapore's Middle East Institute, in a recent speech.
Mr. Kausikan noted that the Overseas Chinese Affairs Office was incorporated two months after Mr. Yang's remarks into the United Front Work Department.
"This is leading China into very complex, indeed dangerous, territory. China's navigation of the complexities has in many cases been clumsy," Mr. Kausikan said, noting that the policy had led Chinese diplomats to openly interfere in the domestic politics in for example Malaysia.
"Since my retirement, I have travelled extensively in Southeast Asia, Central Asia and the Middle East. Complaints about similar behaviour by Chinese diplomats and officials are all too common in all these regions; in fact, so common that it is becoming somewhat tiresome to listen to them," Mr Kausikan said.
Xinjiang: China ignores lessons from the past
A Chinese campaign to forcibly assimilate ethnic Uyghurs in its north-western province of Xinjiang in a bid to erase nationalist sentiment, counter militancy, and create an 'Uyghur Islam with Chinese characteristics' ignores lessons learnt not only from recent Chinese history but also the experience of others.
The campaign, reminiscent of failed attempts to undermine Uyghur culture during the Cultural Revolution, involves the creation of a surveillance state of the future and the forced re-education of large numbers of Turkic Muslims.
In what amounts to an attempt to square a circle, China is trying to reconcile the free flow of ideas inherent to open borders, trade and travel with an effort to fully control the hearts and minds of it population.
In doing so, it is ignoring lessons of recent history, including the fallout of selective support for militants and of religion to neutralize nationalism that risks letting a genie out of the bottle.
Recent history is littered with Chinese, US and Middle Eastern examples of the backfiring of government support of Islamists and/or militants.
No example is more glaring than US, Saudi, Pakistani and Chinese support in the 1980s for militant Islamists who fought and ultimately forced the Soviet Union to withdraw from Afghanistan. The consequences of that support have reverberated across the globe ever since.
Some analysts suggest that China at the time was aware of the radicalization of Uyghurs involved in the Afghan jihad and may have even condoned it.
Journalist John Cooley reported that China, in fact, had in cooperation with Pakistan trained and armed Uyghurs in Xinjiang as well as Pakistan to fight the Soviets in Afghanistan.
The notion that Islam and/or Islamists could help governments counter their detractors was the flavour of the era of the 1970s and 1980s.
Egyptian President Anwar Sadat saw the outlawed Muslim Brotherhood as an anti-dote to the left that was critical of both his economic liberalization and outreach to Israel that resulted in the first peace treaty with an Arab state.
Saudi Arabia funded a four-decade long effort to promote ultra-conservative Sunni Muslim Islam and backed the Brotherhood and other Islamist forces that helped create the breeding ground for jihadism and wreaked havoc in countries like Pakistan.
China's experience with selective support of militancy and the use of religion to counter nationalist and/or other political forces is no different.
China's shielding from designation by the United Nations as a global terrorist of Masood Azhar complicates Pakistani efforts to counter militancy at home and evade blacklisting by an international anti-money laundering and terrorism finance watchdog.
Mr. Azhar, a fighter in Afghanistan and an Islamic scholar who graduated from a Deobandi madrassah, Darul Uloom Islamia Binori Town in Karachi, the alma mater of numerous Pakistani militants, is believed to have been responsible for a 2016 attack on India's Pathankot Air Force Station.
Back in the 1980s, then Chinese leader Deng Xiaoping saw his belief that what China expert Justin Jon Rudelson called a "controlled revival" of religion would foster economic development and counter anti-government sentiment boomerang.
The revival that enabled an ever larger number of Uyghurs to travel to Mecca via Pakistan for the haj made Saudi Arabia and the South Asian state influential players in Uyghur Islam. Uyghurs, wanting to perform the haj, frequently needed Pakistani contacts to act as their hosts to be able to obtain a Chinese exit visa.
The opening, moreover, allowed Muslim donors to provide financial assistance to Xinjiang. Saudi Arabia capitalized on the opportunity as part of its global promotion of Sunni Muslim ultra-conservatism to put money into the building of mosques and establishment of madrassas.
Receptivity for more conservatives forms of Islam, particularly in southern parts of Xinjiang that were closest to Central and South Asia, suggested that the closure of Xinjiang's borders during the Sino-Soviet split in the 1950s and 1960s and the cultural revolution in the 1960s and 1970s had done little to persuade Uyghurs to focus their identity more on China than on Central Asia.
In fact, the collapse of the Soviet Union and the emergence of independent states in Central Asia coupled with rising inequality rekindled Uyghur nationalism.
The rise of militant Islamist and jihadist Uyghurs constituted in many ways a fusion of Soviet and Western-inspired secular nationalist ideas that originated in Central Asia with religious trends more popular in South Asia and the Gulf in an environment in which religious and ethnic identity were already inextricably interlinked.
The juxtaposition, moreover, of exposure to more orthodox forms of Islam and enhanced communication also facilitated the introduction of Soviet concepts of national liberation, which China had similarly adhered to with its support for various liberation movements in the developing world.
The exposure put Xinjiang Uyghurs in touch with nationalist Uyghur groups in Kazakhstan and Kyrgyzstan that fed on what political science PhD candidate Joshua Tschantret terms "ideology-feeding grievances."
Nationalists, dubbed 'identity entrepreneurs' by Gulf scholar Toby Matthiesen, built on the presence of some 100,000 Uyghurs who had fled to Central Asia in the late 1950s and early 1960 during Mao Zedong's social and economic Great Leap Forward campaign that brutally sought to introduce industrialization and collectivization and the descendants of earlier migrations.
With Pakistan's political, economic and religious elite, ultimately seduced by Chinese economic opportunity and willing to turn a blind eye to developments in Xinjiang, Uyghurs in the South Asian country had little alternative but to drift towards the country's militants.
Militant madrassas yielded, however, to Pakistani government pressure to stop enrolling Uyghurs. The militants were eager to preserve tacit Chinese support for anti-Indian militants operating in Kashmir.
Pakistan's foremost Islamist party, Jamaat-e-Islami, went as far as signing in 2009 a memorandum of understanding with the Chinese communist party that pledged support for Beijing's policy in Xinjiang.
Despite eagerness to address Chinese concerns, Pakistan and China's selective support of militants is likely to continue to offer radicalized Uyghurs opportunity.
"Jihadis and other religious extremists will continue to benefit from the unwillingness of the military and the judiciary to target them as well as the temptation of politicians to benefit from their support," said former Pakistani ambassador to the United States Husain Haqqani, discussing overall Pakistani policy rather than official attitudes towards the Uyghurs.
Cultural anthropologist Sean R. Roberts noted that Central and South Asia became with the reopening of the borders in the second half of the 1980s "critical links between the inhabitants of Xinjiang and both the Islamic and Western worlds; and politically, they have become pivotal but contentious areas of support for the independence movement of Uyghurs.
The 1979 inauguration of the of the 1,300-kilometre-long Karakoram highway linking Kashgar in Xinjiang to Abbottabad in Pakistan, one of the highest paved roads in the world, served as a conduit for Saudi-inspired religious ultra-conservatism, particularly in southern Xinjiang as large numbers of Pakistanis and Uyghurs traversed the border.
Pakistani traders doubled as laymen missionaries adding Islamic artefacts, including pictures of holy places, Qurans and other religious literature to their palette of goods at a time that Islamist fighters were riding high with their defeat of the Soviets in Afghanistan and the emergence of the Taliban.
Increased religiosity became apparent in Xinjiang.
Women donned veils in what was traditionally a more liberal land. Students of religion made their way to madrassas or religious seminaries in Pakistan where they came into contact with often Saudi-inspired Pakistani and Afghan militants – trends that China is trying to reverse with the construction of an Orwellian type surveillance state coupled with stepped-up repression and intimidation.
"The cross-border linkages established by the Uyghurs through access provided by the highway, Beijing's tacit consent to expand Uyghur travel and economic links with Pakistan through Reform Era policies, and Beijing's explicit consent in supporting anti-Soviet operations – all prompted the radicalization of a portion of Xinjiang's Uyghurs," concluded China scholar Ziad Haider more than a decade ago.
The process was fuelled by the recruitment in the 1990s of Uyghur students in Pakistani madrassas by the Taliban and the Islamic Movement of Uzbekistan, both of which were linked to Al Qaeda. Some 22 Uyghurs captured by US forces in Afghanistan ended up in Guantanamo Bay.
The eruption of protests in Xinjiang in the late 1990s and late 2000s against rising income differences and the influx of Han Chinese put an end to official endorsement of a religious revival that was increasingly seen by authorities as fuelling nationalism and facilitating Islamists.
Seemingly stubborn insistence on a Turkic and Muslim identity is likely one reason that China's current assimilation drive comes as Xinjiang's doors to its neighbours are being swung open even wider with the construction of new road and rail links as part of the People's Republic's infrastructure-centred Belt and Road initiative.
Forced assimilation is designed to bolster China's expectation that increased economic ties to South and Central Asia will contribute to development of its north-western province, giving Uyghurs a stake that they will not want to put at risk by adhering to nationalist or militant religious sentiment.
The crackdown and forced assimilation is further intended to reduce the risk of a flow of ideas and influences through open borders needed for economic development and cementing Xinjiang into the framework of China's infrastructure-driven Belt and Road initiatives that spans Eurasia
The assimilation effort is enabled by China's Great Fire Wall designed to wall the country off of free access to the Internet. In doing so, China hoped in Xinjiang to halt cultural exchanges with Central Asia such as political satire that could reinforce Uyghurs' Turkic and Central Asian identity.
The breadth of the more recent crackdown has complicated but not halted the underground flow of cultural products enabled by trade networks.
Mr. Roberts noted as early as 2004 that Chinese efforts aiming to regulate rather than reshape or suppress Islam were backfiring.
"Interest in the idea of establishing a Muslim state in Xinjiang has only increased with recent Chinese policies that serve to regulate the practice of Islam in the region," Mr. Roberts said at the time.
The transformation of the North Korean military and political system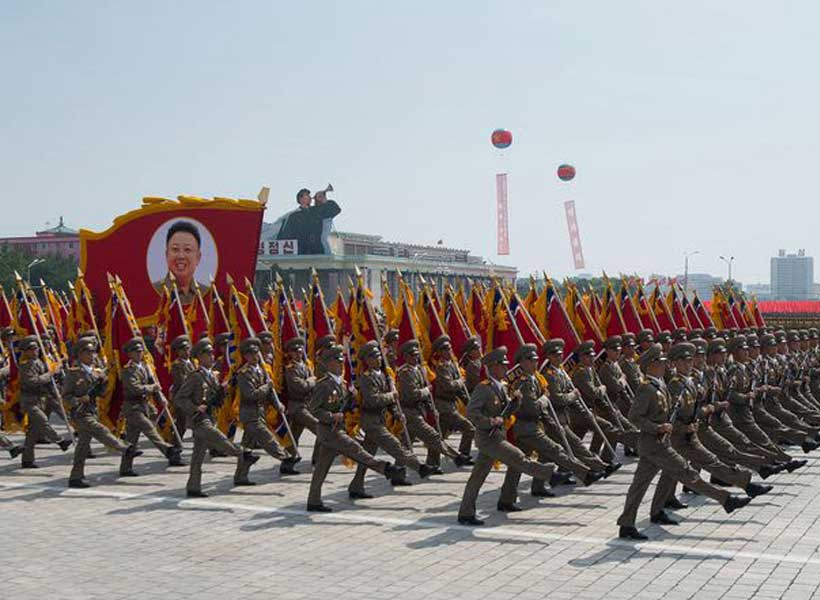 How is North Korea's political system currently changing, pending the Great Transformation with the USA and South Korea, wanted and carefully directed by Kim Jong-un?
In the future the Great Leader wants to have a new ruling class suitable for the economic and strategic changes which will affect North Korea in the coming years.
Far-reaching military and economic changes, with the support of Iran, the Russian Federation, China and other countries.
According to Kim Jong-un, without prejudice to the regime's structure, everything else must change.
In the framework of this change, the State and the Party must be turned into quick and agile tools in the hands of the Leader and of his partly-renewed inner circle.
Kim Jong-un's primary goal is to control the initial phase of North Korea's economic transformation, as well as to keep the grip on the Armed Forces and the Party, and to finally create a new ruling class for managing denuclearization and the economic transformation.
In the case of North Korean Armed Forces, the new appointments have mainly concerned the Ministry of People's Armed Forces, the Chief of Staff Department of People's Armed Forces – with new appointments also in the Directorate of Operations – and, finally, the Director of the General Political Bureau of the Armed Forces.
In the specific hierarchy of the North Korean military system, these are the three most important posts.
Furthermore, each of the three above mentioned roles implies the alternating or fixed presence of the Workers' Party of the Democratic People's Republic of Korea in the Political Bureau.
Therefore the new appointments are No Kwang Chol, former first vice-Minister of the Ministry of People's Armed Forces, replacing Pak Yong Sik, while Ri Yong-gil replaces his former boss, Ri Myong-su.
Ri Yong-gil was Commander of the North Korean Armed Forces, as well as member of the Party's Central Committee, but he was later removed from office in February 2016.
As early as 2013 he had been Chief of Staff of the Armed Forces and, despite the recent events, he had a stable and secure military career.
From 2014 to 2018 Ri Yong-gil was also Head of the Pyongyang Committee of the Workers' Party.
From 2012 to 2013 he accompanied Kim Jong-un on many visits to nuclear and bacteriological-chemical sites.
Considering the symbolic relevance of the North Korean power, he is probably one of the true leaders of the nuclear and bacteriological-chemical program of the North Korean Armed Forces.
Ri Yong-gil was at first Party's official and later became officer of the North Korean Armed Forces, while always keeping political and party positions rather than technically military ones.
Moreover, Kim Jong-un is still playing many of his cards on the Defence Ministry.
It is a source of foreign currency and of excellent profit in relation to the friendly powers, as well as of social control and of real and effective foreign policy.
Under the current leader, Kim Jong-un, six new Defence Ministers have been appointed.
Pak Yong-sik is one of the Ministers removed from office.
Probably he had some business roles, but we cannot rule out that in the future he can start again his career, interrupted on the basis of unpleasant news about his role as businessman in the phase of the Sunshine Policy with South Korea.
He had been member of the Council of State, of the Central Committee and of the Political Bureau of the Workers' Party of Korea, as well as of the Central Military Commission and finally of the Political Committee of the Pyongyang Defence Command.
Clearly Kim Jong-un is measuring his potential enemy lobby.
And he is certainly planning the generational and political change of all the important positions of the People's Democratic Republic of Korea.
As we will see later on, the new Minister No Kwang Chol was Head of the Second Economic Committee, which is in charge of the defence industry and hence connected with North Korea's supervision and construction of conventional and nuclear weapons.
He is an excellent manager loyal to Kim Jong-un.
He held various posts in the North Korean political system.
These newly-appointed people have certainly been selected due to their absolute loyalty to Kim Jong-un and the Party,but we must better analyse the decision-making process of the North Korean Armed Forces, as well as their specific role.
The naive analysts who think that Kim Jong-un is "prisoner" of his ruling class have understood nothing of North Korea's political and economic mechanism.
For the Leader, both loyalty and professional skills are needed. He is willing to get over some affectation or groveling too much, but Kim Jong-un wants the best of his technocracy, subject to loyalty to the Party and to himself.
And, above all, subject to the absolute non-involvement in any financial and commercial activity having even the slightest hint of irregularity.
Corrupt people are always at the mercy of the enemy's blackmail.
The Ministry of People's Armed Forces, however, is currently placed under the dual and symmetrical control of the State Affairs Commission of the People's Democratic Republic of Korea and of the Central Military Commission of the Workers' Party of Korea.
Nevertheless the Ministry deals mainly with the logistics and training of the Special Forces and operates with approximately 36 external organizations.
The Ministry acquires the orders, requests and notes from the basic military units and later organizes and distributes them between the Central Military Commission, the General Staff and the Party's Ammunition Department.
The Ministry also deals with military finance and operates with commercial companies and production units which can export goods and hence supply the country with hard currency.
In fact, as already noted, at least 36 commercial companies operate in the field of export and internal distribution.
But someone talks about 50 of these companies.
The naive Western analysts were wrong in believing that the People's Armed Forces were a "terrible cost" for the people and a huge obstacle to economic development.
The opposite was, and is, true.
Therefore the military system operates, above all, with the 44thBureau of the People's Armed Forces, in controlling most of North Korea's hard currency flows.
The Technology Transfer Department has also relations with both the companies owned by the Party and by the Ministry's Ammunition Department.
In particular, it deals with the acquisition of information technology and advanced weapon systems.
The General Department of Logistics deals above all with the network of factories and farms supplying food and clothing to the People's Armed Forces.
Sometimes they operate for the civilian and foreign market of food and clothing.
The Ministry, however, is subject to the control of the State Affairs Commission, which originates both from the Government and the Party, as well as from the Central Military Commission, which anyway results from the Party-government link only.
It is worth recalling that as early as 2000, the Ministry of People's Armed Forces directly controlled the Political Department, the General Staff, the Military Security Command, the Reconnaissance Bureau and the Coast Guard Command.
Later, around 2007, all these structures became an integral part of the Ministry itself, which was placed under the control of the National Defence Commission.
In 2016 the latter saw its powers restricted and was placed under the State Affairs Commission's control.
It should also be noted that, unlike Kim Jong-il, Kim Jong-un has revolutionised the People's Armed Forces more than any other predecessor.
For example, there was the handover in February 2009 – just before Kim Jong-un's role as heir to Kim Jong-il was officially declared.
As you may recall, this happened in September 2010.
At that stage, only seven of the most important positions in the North Korean military system were changed. It was the beginning of Kim Jong-un's grip on power.
The North Korean Leader had carefully analysed all the military and economic positions well before his full rise to power.
From July to November of that year, the Political Committee (PC) of People's Armed Forces was combed through by the North Korean leadership.
It was, in fact, the first scrutiny carried out by the Organization and Guidance Department after 1996.
There were some surprises: for example, the PC ships that secretly fished in Japanese waters; some military promotions in exchange for "bribes"; some accounting problems and some suspicions of corruption.
As is typical of his political role, Kim Jong-un has been very harsh in putting an end to these situations and punishing these behaviours.
In fact, in 2017 many executives of the Political Bureau of People's Armed Forces were removed, with repercussions on the military forces that,as can be easily imagined, affected also the Ministry for Foreign Affairs.
Only after this long "purge" did Kim Jong-un focus on negotiations with South Korea and the USA.
In November 2017 Son Chol Ju, one of the officers promoted with the position of  Colonel entrusted "with upper management and tasks", was appointed as Head of the Organizational Affairs Department of People's Armed Forces, but his appointment was made public only in May 2018.
As already noted, Son Chol Ju has replaced Jon Nam Jin and, most likely, also Kim Wong Hong.
Until that date Son Chol Ju had been the Director of the Political Bureau with the portfolio for organizational affairs, where he had spent his entire career.
Before taking this post, Son Chol Ju was political Director of the Air and Anti-Air Force, in addition to being Head of the respective political committee.
Probably Son Chol Ju was Head of the Political Bureau with the Propaganda portfolio, especially in the Pyongyang region.
In the meeting held on April 2018 Kim Jong Gak was elected to the Political Committee of the Workers' Party of Korea.
These changes of the North Korean ruling elite, however, show the extreme and non-negotiable power now reached by Kim Jong-un, unlike what claimed by the most naive, but very widespread, Western analyses.
This is one of the signs that, in a North Korean extremely important phase, the Party wants to control its "separate bodies", with a view to avoiding "political advantages" and the systems of influence – even the foreign ones – as well as all the grey and black areas of finance which must currently be transformed and be directly controlled by the Party and its ruling class.
In this phase we need to study the careers of important personalities such as Jo Kyong Chol, the Director of the Military Security Command since 2009, as well as full member of the Central Committee of the Workers' Party of Korea and member of Kim Jong-il's Funeral Committee.
Jo Kyong Chol was essential in strengthening Kim Jong-un's power – a member of the "old guard" that wanted continuity, independence and military power for North Korea.
Hence he has accepted the new system of international relations in North Korea.
Currently Kim Jong-un certainly wants the regime's continuity, but also and above all the emergence of a ruling class capable – by training, background and political culture – of organizing the North Korean stability in a phase of opening to the world market.
Ri Song Guk, another fer de lance of Kim Jong-un's current political and military system, currently leads North Korea's Fourth Army Corps – after leading the 39th Division – a very special military structure deployed near the Yellow Sea and the Northern Limit Line.
He is the current Director for Special Operations of the Central Command.
Yung Jong-rin is serving as the Commander of the Supreme Guard Command – therefore he is responsible for Kim Jong-un's personal safety, but he had the same post with Kim Jong-il and is hence the Commander of the most technologically advanced security service in North Korea.
He has been member of the Central Military Commission since September 2010, as well as member of the Party's Central Committee, and General since April 22, 2010.
Hence Kim Jong-un is preparing the ruling class that will defend North Korea's interests in its new, gradual and slow globalization.