The Davos Gauntlet: Xi vs. Trump over the Future of the World
Xi Jinping, the President of the People's Republic of China, came to the World Economic Forum in Davos, Switzerland to deliver a speech that was eloquently in defense of globalization. If that did not seem ironic enough, consider that Steve Bannon, President Trump's de facto political/spiritual advisor-guru, told people to go and compare Xi's speech to Trump's inaugural address.
His point was to emphasize two completely different worldviews between the two speeches, with the obvious intimation being the immediate future is going to be a battle between Xi and Trump. So this column does just that: it compares the important points of the two speeches and shows the world that a gauntlet has indeed been thrown down. Just what may be surprising, or perhaps disconcerting, to most readers is that the side of optimism, openness, cooperation, and integration is being championed by the world's largest communist nation, while a completely different and decidedly dark vision is being pushed by the world's most stable democracy.
Davos vs. D.C.: Comparing Speech Key Points
Xi: The point I want to make is that many of the problems troubling the world are not caused by economic globalization. For instance, the refugee waves from the Middle East and North Africa in recent years have become a global concern. Several million people have been displaced, and some small children lost their lives while crossing the rough sea. This is indeed heartbreaking. It is war, conflict and regional turbulence that have created this problem, and its solution lies in making peace, promoting reconciliation and restoring stability. The international financial crisis is another example. It is not an inevitable outcome of economic globalization; rather, it is the consequence of excessive chase of profit by financial capital and grave failure of financial regulation. Just blaming economic globalization for the world's problems is inconsistent with reality, and it will not help solve the problems.
Trump: For many decades, we've enriched foreign industry at the expense of American industry; subsidized the armies of other countries while allowing for the very sad depletion of our military; we've defended other nation's borders while refusing to defend our own; and spent trillions of dollars overseas while America's infrastructure has fallen into disrepair and decay. We've made other countries rich while the wealth, strength, and confidence of our country has disappeared over the horizon.
It really does not get any more bluntly basic: both Xi and Trump acknowledge the uneven results of greater global interdependence. But whereas Xi is emphasizing how interdependence can and does bring conflict, he is quick to point out that conflating that reality to economic engagement is flawed analysis. Trump is not simply conflating the two together: he is actually inverting the process and intimating that it is flawed economics that inevitably creates the political discord and global conflicts. It is not about being polar opposites: their arguments switch cause-and-effect.
Xi: There was a time when China also had doubts about economic globalization, and was not sure whether it should join the World Trade Organization. But we came to the conclusion that integration into the global economy is a historical trend. To grow its economy, China must have the courage to swim in the vast ocean of the global market. If one is always afraid of bracing the storm and exploring the new world, he will sooner or later get drowned in the ocean. Therefore, China took a brave step to embrace the global market. We have had our fair share of choking in the water and encountered whirlpools and choppy waves, but we have learned how to swim in this process. It has proved to be a right strategic choice. Whether you like it or not, the global economy is the big ocean that you cannot escape from. Any attempt to cut off the flow of capital, technologies, products, industries and people between economies, and channel the waters in the ocean back into isolated lakes and creeks is simply not possible. Indeed, it runs counter to the historical trend.
Trump: One by one, the factories shuttered and left our shores, with not even a thought about the millions upon millions of American workers left behind. The wealth of our middle class has been ripped from their homes and then redistributed across the entire world. From this day forward, a new vision will govern our land. From this moment on, it's going to be America First…Every decision on trade, on taxes, on immigration, on foreign affairs, will be made to benefit American workers and American families. We must protect our borders from the ravages of other countries making our products, stealing our companies, and destroying our jobs. Protection will lead to great prosperity and strength. America will start winning again, winning like never before. We will bring back our jobs. We will bring back our borders. We will bring back our wealth. And we will bring back our dreams.
Once more, it is fascinating how these two speeches, happening so close to one another in time, are so fundamentally disparate in how they engage mutually-acknowledged problems. Both leaders are discussing their own self-doubts, their critical skepticism about globalization. Xi comes through his darkness into the light of optimistic connectivity, to the realization that despite difficulties and inconsistencies, nothing solves these problems of uneven development except more interaction and more embracing of the world market. Trump is the reverse: again flipping the cause-and-effect to declare how it is the engagement itself with the outside world that brings chaos and disorder to America. If we want to use the famous Cave allegory from Plato, Xi implores us to march to the cave mouth, fears notwithstanding, while Trump clearly wants to go deeper into the cave, Orc-like, finding solace in the depths of Mordor.
Xi: The gap between the poor and the rich and between the South and the North is widening. The root cause is that the three critical issues in the economic sphere have not been effectively addressed. First, lack of robust driving forces for global growth makes it difficult to sustain the steady growth of the global economy. The growth of the global economy is now at its slowest pace in seven years. Growth of global trade has been slower than global GDP growth. Short-term policy stimuli are ineffective. Fundamental structural reform is just unfolding. The global economy is now in a period of moving toward new growth drivers, and the role of traditional engines to drive growth has weakened…Second, inadequate global economic governance makes it difficult to adapt to new developments in the global economy. Madame Christine Lagarde recently told me that emerging markets and developing countries already contribute to 80 percent of the growth of the global economy…Third, uneven global development makes it difficult to meet people's expectations for better lives. Dr. Schwab has observed in his book The Fourth Industrial Revolution that this round of industrial revolution will produce extensive and far-reaching impacts such as growing inequality, particularly the possible widening gap between return on capital and return on labor. The richest one percent of the world's population own more wealth than the remaining 99 percent…We need to have the vision to dissect these problems; more importantly, we need to have the courage to take actions to address them.
Trump: Americans want great schools for their children, safe neighborhoods for their families, and good jobs for themselves. These are the just and reasonable demands of a righteous public. But for too many of our citizens, a different reality exists: Mothers and children trapped in poverty in our inner cities; rusted-out factories scattered like tombstones across the landscape of our nation; an education system flush with cash, but which leaves our young and beautiful students deprived of knowledge; and the crime and gangs and drugs that have stolen too many lives and robbed our country of so much unrealized potential. This American carnage stops right here and stops right now.
These two quotes again eerily diagnose similar problems but come to entirely opposite solutions for resolving them. Xi's approach is to critically analyze missed opportunities and push the need for innovation and governance that ties global engagement and responsibility more tightly together. The answers for Xi involve enlarging the number of actors and markets trying to provide solutions. Trump's answer horizon clearly stops at the borders of the United States. Since the problems are defined exclusively as innately national problems, there is no ability to diagnose an answer that goes global. Indeed, the universal theme throughout Trump's address is to equate internationalism with regression, globalized engagement is akin to betraying American interests.
Xi: First, we should develop a dynamic, innovation-driven growth model…Second, we should pursue a well-coordinated and inter-connected approach to develop a model of open and win-win cooperation…Third, we should develop a model of fair and equitable governance in keeping with the trend of the times. As the Chinese saying goes, people with petty shrewdness attend to trivial matters, while people with vision attend to governance of institutions. There is a growing call from the international community for reforming the global economic governance system, which is a pressing task for us. Only when it adapts to new dynamics in the international economic architecture can the global governance system sustain global growth…Fourth, we should develop a balanced, equitable and inclusive development model. As the Chinese saying goes, "A just cause should be pursued for common good."
Trump: For too long, a small group in our nation's Capital has reaped the rewards of government while the people have borne the cost. Washington flourished — but the people did not share in its wealth. Politicians prospered — but the jobs left, and the factories closed. The establishment protected itself, but not the citizens of our country. Their victories have not been your victories; their triumphs have not been your triumphs; and while they celebrated in our nation's capital, there was little to celebrate for struggling families all across our land.
These two quotes are quite stark in the emotional impact they might have on readers. Xi is pushing for development models that seek growth, innovation, greater fairness, and equitable success. It is a vision, in word at least if not deed, that proclaims to believe in the possibility of a win-win scenario: where both the globalized market and individuals within individual countries can all benefit. Trump's comments push a rather traditional version of classist rhetoric, with Washington politicians taking over the role of bloated plutocrats and business titans evilly cutting success off from 'regular' citizens. It is interesting to see how much Xi seems to focus on the potentiality of future success whereas Trump is obsessed with painting a picture of a decrepit present.
Xi: Over three years ago, I put forward the "Belt and Road" initiative. Since then, over 100 countries and international organizations have given warm responses and support to the initiative. More than 40 countries and international organizations have signed cooperation agreements with China, and our circle of friends along the "Belt and Road" is growing bigger. Chinese companies have made over $50 billion of investment and launched a number of major projects in the countries along the routes, spurring the economic development of these countries and creating many local jobs. The "Belt and Road" initiative originated in China, but it has delivered benefits well beyond its borders…In May this year, China will host in Beijing the Belt and Road Forum for International Cooperation, which aims to discuss ways to boost cooperation, build cooperation platforms and share cooperation outcomes. The forum will also explore ways to address problems facing global and regional economy, create fresh energy for pursuing inter-connected development and make the "Belt and Road" initiative deliver greater benefits to people of countries involved.
Trump: We will seek friendship and goodwill with the nations of the world — but we do so with the understanding that it is the right of all nations to put their own interests first. A new national pride will stir our souls, lift our sights, and heal our divisions. Together, we will make America strong again. We will make America wealthy again. We will make America proud again. We will make America safe again. And yes, together, we will make America great again.
These last two quotes give a perfect 'political snapshot' of where China and the United States presently stand in the global zeitgeist, as it were. Xi lauds his massive and ongoing One Belt One Road project, a symbol of proactive optimism, of taking responsibility for enacting progressive change. Trump, even when speaking about 'friendship' and 'goodwill', speaks of these terms only within the context of first satisfying American interests. This is a trend that has consistently put America in trouble globally, both in economic terms and political endeavors. The world has likely grown weary of American 'partnership' that has a sharp hierarchy, where clear and distinct subordinate roles are given to everyone meant to work with America. Xi's One Belt One Road project is given as a rejection of that ideology: yes, it benefits Chinese interests but it reaches its maximum potential and success only when it is simultaneously benefiting dozens of other countries. Trump's language is geared exclusively to national pride and a reinvigoration of nationalist progress, with an open rejection of any concern about other countries.
So here we sit in Bizarro world. Communists looking outward, seeking liberal economic progress and advancement. Democrats looking inward, seeking to reject global partnership and shunning international engagement and connectivity. Bannon was right: Xi and Trump are offering two utterly opposed visions of the future. But where Bannon is likely wrong is in his presumption that Trump's vision is the one people should be hailing.
China has the capability to protect its territorial integrity
"Chinese President Xi Jinping said that any attempts to split China will fail. He made the remarks in a meeting with Nepali Prime Minister Khadga Prasad Sharma Oli, during his visit to Nepal on 13 October 2019".
It is a very serious statement by a powerful President of China, a rising superpower of the world. It must be taken as a serious message.
It has been noticed that some mischievous nations are trying to destabilize China and instigating separatists' movements or agitation and unrest. There is evidence in foreign hands in case of Hong Kong unrest and the Xinjiang issue. Supplying arms to Taiwan and supporting the Independence of Taiwan is also a challenge to the "One China" policy.
China is a nation of several minorities with the majority of Han nationality. All minorities along with Han are living in harmony since ages and respect each other and respect each other's culture, traditions, habits, and lifestyle. Chinese constitution provides full protection of its minorities.
The Chinese system of governance is very robust and comprehensive. China can resolve its domestic issues. Although, China can opt for use of force to settle minor issues, always hesitate to use force and observe restraint and patience. On the issue of Hong Kong, China has shown maximum flexibility and it is hoped that the resident of Hong Kong will realize soon and will restore the normal routine life.
China believes in basic principles set by the United Nations Charter and abide by them strictly. That is noninterference to other country's domestic affairs. China never indulged in the domestic issue of any other nation. And expect, other nations will follow a similar policy of non-interference into Chinese affairs. China is a sovereign state and can handle all its issues.
China has developed to a stage where no other countries challenge it. China has surpassed the threshold of foreign conspiracies. China can face any challenge posed to its sovereignty.
The latest statement by China is based on its preparedness to face any challenge. China is a global power and is playing a role to maintain peace and stability in the region and worldwide. China's development is in all dimensions including economic development, technology development, and defense development. China has modernized its armed forces on similar lines of any advanced country in the world. Chinese Armed Forces are smart and equipped with the latest weaponry systems. The use of high-tech and advanced technologies has made Chinese defense unique. China enjoys and maintains supremacy in many aspects of the defense sector.
Although China does not have any aggressive motives but kept itself ready to face any threat, from any country, any moment and any form. Those who think to compete in China, contain China will not succeed. They are living in the "fool's paradise".
China is the second-largest economy and growing at a fast pace. China's development is in all dimensions and very much sustainable. Those who used to say the Chinese Economy as a "Bubble Economy" were mistaken and proved wrong.
I think the way forward is only to cooperate with China and join the rise of China and maybe beneficiary of China's rise. China believes in Peace and promotes peace. Those nations who accept China's rise and become a partner in its course of development will be beneficiary too.
Especially, BRI is a mega initiative of China for promoting Connectivity, Infrastructure, People to People Contact, Trade, Business, Culture and understandings among various nations, and ultimately promoting World Peace, Stability and Prosperity. Those who understand China, are joining BRI and some of the countries are already enjoying the fruits of BRI. Pakistan is the biggest beneficiary of BRI initiatives and managing the Flagship project of "China-Pakistan Economic Corridor" (CPEC). Those who do not understand China, or jealous of China's achievements and development and are trying to compete with China or trying to counter China and contain China, are mistaken and will be proved wrong. China has already crossed that threshold and emerged a geopolitical power already.
China & Nepal working towards a genuine good-neighbour tie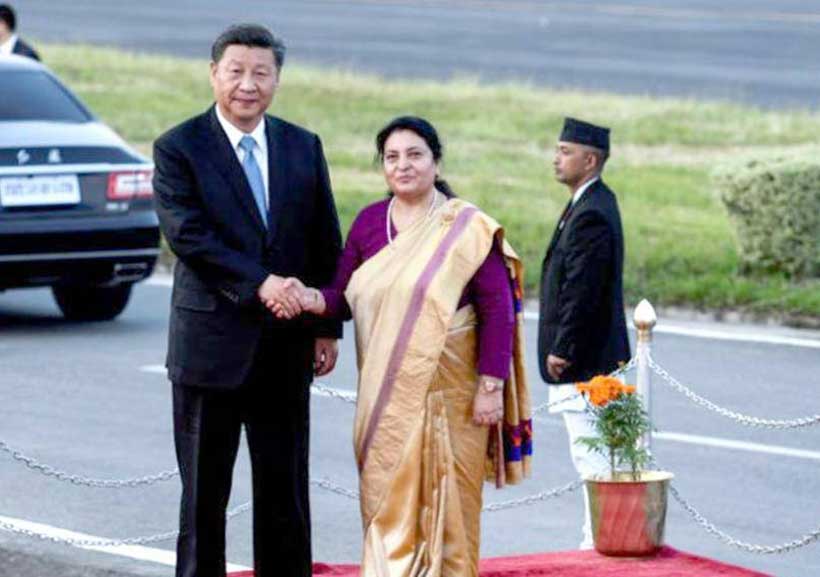 Authors: Himal Neupane & Jamal Ait Laadam
Although China and Nepal are very different in terms of each territorial size, population, economic capacity, technological prowess and above all military power, the bilateral relations between them have been undergone consistently and significantly. Since 1955 when China and Nepal formally recognized each with, their bilateral relationship has been characterized by equality, harmonious coexistence, everlasting friendship and overall cooperation. Particularly during the past over 40 years, China and Nepal have undergone substantial developments in view of mutual understandings. For example, in 1996 the two sides for the first time agreed to build up a good-neighbour partnership of the 21st century.
In line with this spirit of mutual respect and equality, Chinese President Xi Jinping paid a state visit to Nepal on October 12-13, during which the heads of the two states formally announced that they elevated the China-Nepal Comprehensive Partnership of Cooperation to Strategic Partnership of Cooperation in light of their many common values to enhance cooperation It is reported that President Xi frankly said Nepal wouldn't be a landlocked country in the future as the trans-Himalayan connectivity network ultimately will support sustainable development and stability of the entire South Asia region. This is not only a promise from a large neighbor, but also a sort of responsibility from a rising major power of the world, which aims along with other parties, either large or small, to create an international community of shared future.
Accordingly, on October 12, Nepal and China signed 18 memorandums of understanding and two letters of exchange. The priority was laid down with a focus on the implementation of signed agreements and acknowledged policies. Besides, they also reaffirmed the commitment to broaden the level of cooperation under the spirit of the Belt and Road Initiative (BRI). Moreover, China and Nepal have agreed to enhance connectivity through ports, railways, roads, aviation and communications within the broad framework of the BRI and the Trans-Himalayan Multi-Dimensional Connectivity Network which are of strategic significance. As Chinese President Xi put it, "our two peoples have shared weal and woe, and set an example of friendly exchanges between neighboring countries, and we would act to carry forward the traditional friendship and take the bilateral relationship to a new and higher level via his state visit to Nepal.
For sure, nothing is free in the realm of international politics as the realists argue what China and Nepal need from each other are their common geopolitical and geo-economical interests? This kind of inquiry is sensible and also cynical. In fact, historically China and Nepal had been at good terms for a few centuries, and during the British colonial era, Nepal actually acted as a natural buffer state between imperial China and colonial India. Since 1949 when the People's Republic of China was founded soon after the independence of India, Nepal ended its isolation and forged amicable ties with India and other countries. Initially, Nepal had close ties to India in terms of culture, ethnics and even military affair, but it never accepts external domination. In 1955 Nepal formally recognized Beijing as the legitimate government of China and since then, it has consistently supported China in foreign affairs. Meanwhile, China has offered economic aid to Nepali reconstruction in a gradual way.
However, since the 1980s, China has steadily transformed itself into the second largest economy of the world with its alarming manufacturing capability and progressive technologies. Due to this, China has provided more assistances to Nepal and other neighbours to share Chinese public goods, especially in terms of the infrastructure projects and alleviation of poverty. For example, President Xi announced in 2018, "In the coming three years, China will provide assistance worth RMB 60 billion to developing countries and international organizations participating in the Belt and Road Initiative, and contributing an additional RMB 100 billion to the Silk Road Fund." As a developing country nestled in the heart of the Himalaya, Nepal surely needs to expand its infrastructure through involving itself into the BRI with the view to exploring and finally harnessing its huge potential sources —hydropower—for export.
Strategically speaking, China needs to maintain its border areas peaceful and stable in light of its "NEWS strategy" that means while China tries to consolidate its entente partnership with Russia on the North and pacifying its East coast, it necessarily aims to sustain the BRI projects to the West and the maritime silk route to the South. This is the core of the NEWS strategy initiated by the Chinese elite since President Xi took power. Consider Nepal's strategic location and political stability, China is sure to promote the bilateral ties as the two previous MOUs were signed in Beijing including to rebuild Chinese—Nepali transit road network agreements. It will help northern Himalayan areas get an alternative transit route and also facilitate the local economics, as much important part of the BRI as the economic corridor between China and Pakistan. Moreover, since 2016, a freight rail line was even completed linking Lanzhou, a heavy industrial city in the West of China through Xigaze in Tibet, down to the capital of Nepal. This is a truly strategic pivot of the grand BRI project.
To that end, President Xi revealed to his Nepali counterpart Bidhya Devi Bhandari that the two sides should work closely to carry out the construction of a trans-Himalayan connectivity network, and expand exchanges and cooperation in various fields. For her part, Nepali President Bhandari graciously welcomed Xi's state visit to Nepal and stressed that the rise of China backed up by its modernization drive will help bring benefits to Nepal and promote regional peace and prosperity. In light of this cordiality, the two governments issued a joint statement on Oct. 13, agreeing on more practical cooperation in the new phase of bilateral relations. For a few key points serve to inllustrate that first, the two sides agreed to take the BRI as an opportunity to deepen mutual benefits in arious fields including the Kathmandu-Pokhara-Lumbini Railway Project. Furthermore, cooperation will cover the Zhangmu/Khasa port, the Lizi/Nechung port, and the three North-South corridors in Nepal. Second, the two sides will hold comprehensive discussions to strengthen trade relations, including to take positive measures to increase Nepal's exports to China and to facilitate Chinese banks to open their branches and other financial services in Nepal. Last, China promises to help Nepal shake off the status of being a least developed country and achieve the sustainable development goals in the next two decades.
Since states are committed to each other by the nature of the world in which they exist, any close cooperation between China and Nepal is never bilateral only, that means there is always local, regional and international concerns, suspicions and even hostilities towards either China or Nepal or both. Geopolitically, India is the first power, understandably, to feel uncomfortable if not angry. This is the reason why President Xi made his first trip to India prior to his state visit to Nepal, and held comprehensive talks with Indian Prime Minister Modi. Second, China and Nepal also need to coordinate each other deftly to convince other neighbours such as Sri Lanka and Bangladesh that any sort of their cooperation would never be exclusive but inclusive and open all others in the South Asia. Geo-economically, China has reiterated that it would not seek to use its economic or financial leverages to "dictate" the local affairs of the recipient countries. Meanwhile, Chinese companies also need to move in prudently and read the local laws and political norms before jumping into the businesses.
Xi has frequently said, China is the largest developing country and also a learning country all the time. In order to promote China's strategy to link the countries involved, mutual respect and equality are the prior condition to the long-term cooperation. In light of this, it is expected that Xi's state visit to Nepal, the first one by a president of China over the past 26 years, will unlock new strategic opportunities for bilateral relations, as well as positively promote their ties with India by understanding the prospects for trilateral cooperation. It is clear that Chinese-Nepali economic integration through BRI is unstoppable, so it is sensible for India and the others in the region to take the opportunity to extend the proposed high-speed railway between those two all the way south to the nearby West Bengal port of Kolkata to more closely tie the three together in a system of complex economic interdependence. This is a balanced approach to prevent an open rivalry between the key member states of the BRICS and the SCO over their common neighbors. Given this, Xi's visit to both India and Nepal might be the very time to enhance the trilateral understanding among Nepal with its giant neighbor. To that end, Nepal, though a much smaller state compared to China and India, could play positively a role as the bridge for building a more trust-based relationship across this region.
China has showed its willingness to share with Nepal its development experiences, practices and inclusive economic governance approaches. In doing so, geopolitical factors should never be the obstacles for China-Nepal cooperation. Rather, Nepal could serve as a dynamic bridge between China and India, and China and South Asia.
Semiconductor War between Japan and South Korea
Authors: Gleb Toropchin and Anastasia Tolstukhina
In the summer of 2019, a trade conflict broke out between Tokyo and Seoul and the matter is about more than the history between the two countries. The two developed economies have long been locked in a competition on the global cutting-edge technologies market. At the same time, they are links in the same technological chain.
At first glance, the exchange of trade restrictions that is taking place against the background of mutual accusations is nobody's business but Tokyo and Seoul's. Nonetheless, the consequences of the confrontation between the two countries have a global nature. The present article analyses the causes of the disagreements and looks at how the situation may develop
Introducing Restrictions and Removal from the "White List"
Despite the events of the colonial past [1], as well as the current territorial disputes that are so typical of Asia's international politics [2], South Korea is one of Japan's three largest trade partners. Japan exports into South Korea up to $54 billion in goodsThe key commodities include semiconductors and materials for their manufacture
The dependence of South Korean companies on imports of fluorinated polyimides and photoresists exceeds 90 percent, and their dependence on imports of hydrogen fluoride is around 44 percent (although this figure has fallen gradually from 72 percent in 2010)
However, on July 1, 2019, the Government of Japan announced restrictions on the export of commodities to South Korea that are of critical importance for microelectronics, and on July 4, the changes to the procedure came into force
Given the long-established delivery mechanism, such a political step was a surprise for many. The restrictions mainly affected three key materials for the microelectronics industry: fluorinated polyimides, hydrogen fluoride, and photoresists (these materials are used in the manufacturing of semiconductors and display panels). This measure does not mean that deliveries of these materials to South Korea have been completely stopped; however, from now on, it may take up to 90 days to approve transactions. Additionally, Japan said it would be taking South Korea off its "white list" of trade partners. The list includes states that are believed to be safe from the point of view of exporting strategic commodities and that are granted trade preferences
Let us try to understand why the Government of Japan took such steps
Pressure from Taiwanese and South Korean competitors
In 1986, an agreement was signed between Tokyo and Washington that prohibited Japan from undercutting global semiconductor prices. This step was initially intended to make the United States more competitive. However, even in those circumstances, Japan managed to take a significant chunk of the global semiconductor market from the United States in the late 20th century and retain its high positions until the 2010s. However, as early as 2012, experts noted that pressure from Taiwanese and South Korean competitors resulted in semiconductor sales of Japan's four chip-makers, Toshiba, Renesas, Sony and Fujitsu taking a marked dip
Samsung Electronics succeeded in mastering the subtleties of developing technologies just at the right time, while Japan began to lag behind in R&D due to problems with formal education, and its revenues from global sales of microelectronics were falling against the backdrop of falling prices and the high exchange rate of the Japanese yen. Among other causes of this phenomenon, Japanese experts cite the desire to create hi-tech goods without account for high costs, and lack of innovative ideas
Today, South Korea is the leading manufacturer of memory microchips. Samsung Electronics and SK Hynix hold two-thirds of the global market. Additionally, both the United States' Apple and China's Huawei depend on the products produced by South Korean companies. Integrated circuit units account for 17 percent of South Korea's exports (the entire microelectronics sector accounts for nearly a quarter of its exports), compared to less than 4 percent for Japan
An analysis of the global microelectronics market demonstrates that, currently, the market particularly values dynamic random-access memory semiconductors (DRAMS) that hold tremendous significance for such cutting-edge technologies as artificial intelligence, the Internet of Things and robotics. South Korea holds impressive positions in this area as well: Samsung and SK Hynix control 72.8 percent of the DRAMS market and 46.8 percent of the global flash memory market
Reasons for Introducing Restrictive Measures
The East Asia Forum reports that Japan's strategy of opposing Seoul was developed jointly by the country's Ministry of Economy, Trade and Industry, Ministry of Foreign Affairs and Ministry of Agriculture, Forestry and Fisheries. The Cabinet of Ministers subsequently supported these measures, thereby making the key decision to transfer the issue into the political realm
It appears that Japan's decision to impose restrictive measures was prompted by the fact that the country has clearly fallen behind technologically on the global microelectronic market, which negatively affects both the country's economic indicators and its national security
According to the expert June Park, the Government of Japan decided to institute the restrictive measures out of concern for national security, since, in exporting rare materials to South Korea, Tokyo cannot be certain they will be used properly
The Japan Times notes that Tokyo justifies the introduction of increasingly strict export requirements by claiming that confidence in South Korea has been undermined. In particular, some media outlets report that between 2015 and March 2019, no fewer than 156 materials, including hydrogen fluoride, were smuggled out of South Korea. There were also reports of hydrogen fluoride being exported to countries that are under international sanctions (Iran, Syria and even North Korea). Another reason for the restrictions is Tokyo's concerns that South Korea violates intellectual property rights
South Korea denies all accusations. Its arguments are logical: Iran and Syria are friends of North Korea, therefore, Seoul has no reasons to help their regimes. President of South Korea Moon Jae-in called for the differences to be resolved by diplomatic means. However, the talks held on July 12, 2019, in Tokyo did not yield any results. Consequently, Moon Jae-in instructed the relevant agencies to develop reciprocal measures. At about the same time, there were reports of South Korea possibly filing a grievance with the World Trade Organization. As a result, hearings on the issue were launched in Geneva on July 24, 2019
In late July 2019, news broke that Tokyo was considering further restrictions since Japan believes the re-selling of strategic materials by Seoul to be a violation of the non-proliferation regimes regarding both weapons of mass destruction and conventional weapons. In this case, the restrictions would extend to other types of commodities and materials. On August 2, the Cabinet of Japan approved the decision to take South Korea off its "white list" (where the Republic of Korea was the only Asian state), thereby depriving it of trade preferences in regard to the materials mentioned above. The full list exceeds 1100 items
Despite these events, several deliveries of these materials from Japan to South Korea were made in August. However, they did not result in a thaw in bilateral relations. Seoul reciprocated by putting Japan on a restrictive trade list and terminating the military intelligence-sharing pact with Tokyo
"Wu Wei" American Style
China holds leading positions in deposits of rare-earth metals. Moreover, approximately 90 percent of the world's rare-earth magnets are manufactured in China. Japanese companies use China's raw materials to manufacture fluorinated polyimides, hydrogen fluoride and photoresists that are subsequently supplied to South Korea, Taiwan and other countries to be used in manufacturing chips, displays, etc. The circle is complete when these commodities go back to China to be used in the manufacture of finished products (such as smartphones and tablets), creating a sort of a closed-loop. Thus, the manufacture of competitive hi-tech products today is impossible within a single economy, and Chinese companies depend on parts coming from other Asian countries
Tracing the entire technological chain, we can assume that the Japan–South Korea conflict is closely linked to the trade war between China and the United States. South Korea's Samsung Electronics is hindered by the restrictions on deliveries of Huawei memory chips since the latter is under U.S. sanctions. In turn, interrupting the chain of semiconductors delivery from South Korea will slow down the development of artificial intelligence in China. And who benefits from this? This is a rhetorical question
It would seem that the United States should be interested in cordial relations between their allies in the region, allies that form a sort of counterbalance to China and are ideological antagonists to North Korea. The White House, however, intentionally or unintentionally, demonstrates adherence to the Taoist principle of inaction, or "wu wei" (无为 in simplified Chinese), which entails a conscious refusal to act and the assumption of a contemplative stance. From the outset of the confrontation in July 2019, the United States announced it would not interfere in the conflict. Despite individual experts calling upon the United States to act as an intermediary between the two Asian states, Washington did not change its position
We should also note here that the Japanese company Toshiba announced the construction of a facility for the production of NAND-type (from the English NOT-AND, that is, a binary logical element) flash memory devices in Iwate Prefecture in cooperation with U.S. chip manufacturer Western Digital. We can cautiously assume that the United States and Japan are progressing toward a "technological union" in order to defeat China in the race for domination of the semiconductor industry
Public Opinion
Speaking of the impact that the conflict has on public opinion in both countries, we can quote a survey conducted by Japan's Asahi Shimbun in mid-September 2019. Overall, slightly less than one third (29 per cent) of respondents admitted that they had a negative opinion of South Korea. This was far more pronounced among older people, which can be linked to their conservative views and the "proximity aberration" phenomenon (put simply, the older generations remember the events of the 20th century well)
As for South Korea, an anti-Japanese "grassroots" campaign has been launched in addition to the "top-down" process. In the second half of the summer of 2019, slogans『 가지않습니다 사지않습니다 』 (Korean for "Do not visit, do not buy") calling for boycotting trips to Japan and Japanese goods spread on Korean social networks. And it looks like they were successful to a degree. For instance, the Yonhap News Agency reports that the number of South Koreans travelling to Japan in August fell by 60 per cent compared to the same period last year
In the run-up to the 2020 Summer Olympics in Tokyo, the trade conflict has become a reason for manipulating public opinion in South Korea. Additionally, we cannot rule out the possibility that populists use the disagreements between Japan and South Korea to advance their domestic agenda on the eve of the elections to South Korea's unicameral parliament scheduled for April 15, 2020
Forecast: Cloudy in the East
Losses from the Japan–South Korea trade war may exceed $80 billion. There has already been a drop in sales of South Korean semiconductors manufactured by Samsung Electronics and SK Hynix. Moreover, the conflict threatens to disrupt the entire global technological production chain in microelectronics. The expert Robert Farley described this conflict (and the U.S.–China trade war) as "weaponizing interdependence." One of the analysts with The Economist Intelligence Unit called this situation "mutually assured destruction."
The Yonhap News reports that the consequences of the trade conflict have had greater negative effect on the Japanese economy than on the South Korean economy. For instance, in July–August, South Korean exports to Japan have fallen by 3.5 per cent, while Japanese exports to South Korea have dropped 8.1 per cent
The South Korean economy has also suffered against the backdrop of these events. Here, Seoul has only two ways out of this predicament:
-Transitioning to domestic analogues, which LG Display and Samsung Electronics already did in September of this year. Additionally, the country earmarked 2.1 trillion South Korean won in the 2020 budget to overcome the dependence on the export of rare materials from Japan
-Searching for alternative sources of hydrogen fluoride and other rare materials for microelectronics. Media outlets have reported that Russia might be a potential supplier of high-purity hydrogen fluoride. The head of the Korea International Trade Association said that Moscow had offered to supply hydrogen fluoride to Seoul. However, it is not easy for South Korean companies to transition to Russian imports of this and other materials for microelectronics. The physical and chemical properties of the products must be tested for a rather lengthy period of time (upwards of six months)
Apparently, the status quo on the microelectronic market will continue in the short-term, and both parties will seek ways to minimize losses. And we can already see evidence of this. In September and October, the Government of Japan approved deliveries of hydrogen fluoride to Samsung Electronics and SK Hynix
At the same time, if Tokyo and Seoul fail to find common ground in the medium and long term, then the current global technological chain in microelectronics may be dismantled, which will, of course, negatively affect the growth rate of the global economy. However, so as not to end our study on a pessimistic note, let us note that, under the current circumstances, many hi-tech companies around the world, including those in Russia, now have the chance to become new links in the value chain and occupy its niche in microelectronics
From our partner RIAC
[1] In 1910, the Empire of Japan annexed the entire Korean peninsula. Korea essentially became a Japanese colony. The Japanese language and culture were forced onto the Korean people. Up to 200,000 ethnic Koreans served in the Imperial Japanese Army during World War II (including future president of South Korea and "father of the economic miracle" Park Chung-hee). Today, Japanese war crimes are a subject of talks between South Korea and Japan. In 2015, Minister of Foreign Affairs of Japan Fumio Kishida promised 1 billion yen to the victims of violence in compensation, and Prime Minister Shinzo Abe offered a public apology for Japan's actions during the war.
[2] The dispute concerns the Liancourt Rocks, a group of small islets that the Koreans call Dokdo ("Solitary Islands") and the Japanese call Takeshima ("Bamboo Islands"). Back in the early 20th century, Japan claimed sovereignty over these islands; however, following its defeat in World War II, it was forced to abandon its colonial acquisitions. On the other hand, the 1951 Treaty of San Francisco does not mention this territory, which gives Japan formal grounds to dispute the sovereignty of the islands where South Korea maintains military and civil infrastructure.