Enduring Muslim-Ness in a Multicultural society: Education of Muslim Girls in India
The nations' rapidly deteriorating sex ratio, large gender gap and high drop out of girls prompted the central government to initiate the social campaign like 'Beti Bachao, Beti Padhao'. More such steps are needed as in 2015, only 3.7 million eligible girls were out of school whereas in rural areas girls receive an average of fewer than four years of education.
Almost every conceivable strategy and approach to promote girl education has been covered in National Policies on Education and five year plans of the Government of India; however still many targets are to be achieved especially in the area of women education. The NPE 1986, POA 1992, SSA 2001, NCF 2005 and the NCF for Teacher Education in 2010 all focused on girl education and we cannot say things are not improving; just the pace needs to be enhanced. The Right of Children to Free and Compulsory Education (known as RTE) Act, 2010, charted a new roadmap for gender equality in education in India and the five year plans (Sixth Plan 1980-85, Seventh Plan 1985-90 and Ninth 1997-2002) specifically paid attention to educationally backward states and socially deprived groups and highlighted the role of local communities. All policy documents recognize that girl/women education especially from poor communities and rural areas need special attention. While affirmative action in the form of scholarships, abolition of tuition fees, bonds, reservation of jobs and places in institutions of higher learning have been provided, still there are evidences of stumbling blocks at the elementary level itself. There is lack of better implementation mechanism for education programmes and policies. Policies that are critical to increasing girls' access, including flexible school times and adapted curricula, remain at the micro level and are not being integrated. Not only this, India's budget for education sector remains far from the desired 6 per cent of the GDP. We are still not able to place education on the priority lists in budget allocation which hampers the image of education. If we look at the 2016 budget, there is an increase of Rs 43,554 crore for school education (approx 3 per cent increase) and Rs 28,840 crore for higher education (approx 7.3 per cent increase).
These issues have created a large gap in enrolment and gender parity, girls with disability, poor households, from remote or rural areas and girls from minority ethnic or linguistic backgrounds have more difficulty in getting into primary or completing secondary education. One such community is the Muslim minority community, it is observed that girls from Muslim community strive for identity crisis and gender equality; they face challenge of gender stereotypes. The retention and transition rates among these marginalized girls still persist. Therefore, there is a need to create strategies that would increase girls' participation in education, strategies that would promote safe and sustainable education for the girls and will make families from conservative communities more interested to send their girls to school. In this context, making a provision for only girl's school with more women teachers, gender sensitive teacher training, learning material, scholarships, awareness-raising campaigns and community mobilization can make a positive impact on the society and girl education.
Gujarat is a state in India with multicultural talent. In Gujarat Muslim community is looking forward to pool in the identity and build educational institutions. Therefore education of Muslim girls in certain institutions proves to be a hall mark of representing their identity. While these facts keep challenging us to take in time steps, it is equally true that efforts are on and one such model example is of Fatimah Zahra English Medium School for Girls in the city of Vadodara in Gujarat that is certainly changing the discourse. I have examined the role played by this school in educating girls and empowering them and their community. Muslim parents here prefer to educate their girls and empower them within their own culture; they prefer a community school for their girls to any other school (successful or model schools) available in the area. Therefore the institutions that take care of religious nationalism among the community promote feelings of social networking and help community remove the identity barriers. The role of institutions of religious education is thus enhanced, such institutions help remove myths about community and promote collective solidarity. This is a reason for girls in bulk getting enrolled in Fatimah Zahra School. This school plays a major role in influencing the community's choice to educate their daughters by catering to their demand for community schools; it promotes minority culture and tries to mainstream this culture in education.
Fatimah Zahra English Medium School for Girls, established in the year 2012 in the old walled city of Vadodara city, has been catering to Muslim populace of this area where the girl education opportunities are particularly limited. There is just one Gujarati Medium girl's school in the area. Majority of the residents of the area are economically and educationally backward and earn their living as auto drivers or lorry pullers. The school is up to class VIII; it is growing year by year until it is upgraded to higher secondary level. After school hours the school premise is used as Madressa and life lifelong learning centre for girls. The infrastructural facilities in the school are highly satisfactory, it has enough classrooms, a subject room with smart board, Principal's office, the staffroom, activity room, dining room and the open hall for assembly. Classrooms have moveable furniture to allow group work and are decorated with charts and students' work (also displayed in the Principal's office). The school follows State Board syllabus and teachers incorporate cooperative learning strategies in their respective subjects, they undergo professional development programmes on a regular basis. Since the year 2012 significant improvements were made and school became very popular.
Today the student numbers grew to 1130 with 30 female staff. The school is successful in motivating community and parents to send their girls to school. This growth made the school over-crowded; subsequently the trust members are into the process of establishing preprimary in a separate building in the nearby area. Now the community of the area have developed trust in the school and respect every activity school organise. They allow their daughters to actively participate at local and district level activities and attend various camps. It never happened before, states one of the prominent trust member of the school, who has taken this mammoth task of educating community girls. Emerging from the advocacy and initiative of the trust members of this school, the community invest in cash and kind for a separate pre-primary building for school. Members of the community are contributing their labour, raising funds, and collectively working together to get the legal permissions to ensure the completion of the new building. The trust has further plans to establish a lifelong learning centre for the girls/ women of the community.
This school is successful in changing mindsets of the community, and the people of the community are made to understand the value of educating their daughters. Being an academic advisor for the school I visit the school regularly and conduct several workshops and orientation programmes for the teachers. I witness community not only supporting their daughters to go to school, but actively participating in all the activities. Every member associated with this school spare no efforts to discuss with parents that education matters for all and religion encourages rather that hinders girls to be educated. Community has understood the value of education and realise that if a girl goes to school she can get a better job and is more capable to help her family. Together, we can overcome challenges and break the barriers to girls' education, and provide educational and vocational opportunities for all girls and boys, and then their futures will be so much brighter, says one of the Trust members of the school.
As a pathway out of poverty to economic growth, integrating Madressa with formal education, this school is successful in changing the deep rooted mindsets of community and empowering Muslim girls with education. Therefore it will not be wrong to say that policies and programs that are implemented with a strong focus on the community, with help from community or government partners are likely to be successful. Government, civil society and the NGO's must set the benchmark of performance by implementing policies and programs for girl education and make an impact on girl child education. Therefore it will not be wrong to mention that when educational programmes are designed around the unique needs of the given community then these programmes become more effective and efficient and make a positive impact. Fatemah Zehra English Medium School for Girls is one such example of a modest step taken by the dedicated and focused members of the society to educate girl child and within no time the school has progressed in many ways. The highly increasing graph in enrolment and several good practices of this school have paved a way for the school to be called a Model School for Girls.
Will CPEC be a Factual Game Changer?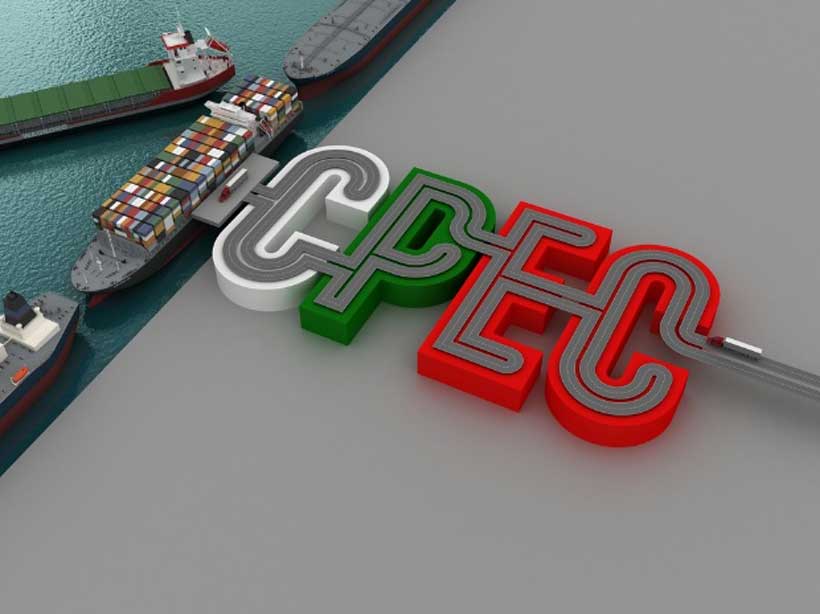 Pakistan's economy is shrinking, and shrink economy always needs reforms, reforms either political, social or economic can be an upright source of wherewithal to fight preceding challenges. Since independence Pakistan is swathed with many serious issues, these are the issues which extremely hamper Pakistan's economic growth. Nearly every political leader since independence didn't pay courtesy to deal with problems, however, every political leader has tried to snatch public wealth through different means. For domestic development and trade balance Pakistan always went towards IMF toabailout. Recently in 2019 Pakistan again bailout of almost US$ 6 billion for 39 months.
Pakistan faces long-term economic challenges, including high budget and the debt deficit, low-income mobilization, low external vulnerability and less spending on education, social, health and many other sectors. This imitates the birthright of the jagged and cyclical economic policies of current years aimed at stimulating growth, but at the disbursement of growing weaknesses and persistent structural and institutional weaknesses, Pakistan failed to boost its economy. Thanks to Chinese One Belt One Road Initiatives, which will help Pakistan economy to grow self-reliant under the China Pakistan Economic Corridor CPEC.
The question of whether the so-called CPEC will certainly help Pakistan's shrink economy or will abundantly abolish the nascent economic system where the Chinese investor will hold the power of the industrial sectors. Most of the leaders see CPEC is another obliteration for Pakistan economy. Furthermore, they believe that the CPEC will destroy the usual exquisiteness, for the construction of the roads, and Special Economic Zones (SEZs), they will cut down thousands of trees, many agriculture lands will convert to buildings, roads, and the pollution level will twofold compare to the present. They refused to ignore that CPEC is a game-changer for Pakistan but rather destruction for the country contemporary status quo.
Such questions got much attention in public, and researchers are worried about the specific outcome. As argued by many intellectuals the CPEC is win-win game, if CPEC allow China to the warm-water of the Arabian-Sea for smooth trade with less coast and safe route to save billions of dollars, so as for Pakistan the CPEC will bring a vast amount of employment opportunities, as well as trade prospects to the domestic people which will minimalize the level of unemployment, poverty, besides most importantly will link all those isolated people and their small business to the industrial hub as well as economic-cantered.
The CPEC according to most of the observers parting optimistic impacts on Pakistan economy. It believes that the CPEC has generated more than 60,000 jobs for Pakistani in 2015 and expected to generate more than 800, 000 job opportunities in near future 2025. A report released by the Think-Tan of South Asia Investors, the CPEC will offer about two million direct as well as indirect jobs, which will boost the economy and will raise GDP growth to 7.5% compared to 5% present.
Additionally, the data revealed by the World Bank, that the GDP of Pakistan has increased remarkably for $244 billion in 2014 to $300 Billion in 2017. To be more specific the annual GDP of Pakistan improved from 5.2% in 2018to 5.527% in 2019, viewing continuous improving with time being. Consequently, from the above facts, we conclude that CPEC is a game-changer for Pakistan, which will not only build the infrastructure but importantly will boost the economy and will add millions of jobs, unswervingly contributing toward the GDP growth of Pakistan.
The story isn't finished yet. The CPEC, on the other hand, emphasis on Special Economic Zones (SEZs), under the CPEC agreement, there are eight SEZs has been planned. The important aims of special economic zones SEZs are to sustain trade balance, increase employment, create jobs and increase investment. These are the zones where the trade and other business's laws are different from the rest of the states though SEZs are located inside the border of a nation. As far as SEZs are concerned China experienced successful stories of the so-called SEZs.
Fortunately, most of the SEZs are also in those isolated areas like Baluchistan, Gilgit Baltistan and Mohmand Agency, these areas are almost disregarded by many preceding governments due to the deficiency of pecuniary resources. The infrastructure, education, and the health system of these areas are self-same diminutives. Hence, after the construction of SEZs in these areas, will not only pave the infrastructure but health and the standard of living will rise along with education and many other amenities. In conclusion, all these SEZs will create thousands of jobs across the country which will raise thousands of people from poverty, unemployment as well as improve the standard of living.
Considering the fact that CPEC has a positive impact on Pakistan's economy, such impacts are strongly related to trade and investment. Since a longtime, China is a major and important investor in Pakistan. But the flow of goods and services, as well as the investment, has risen up particularly after 2000. Trade is thus important for economic development. The CPEC has tremendous positive impacts on the trade relation between China and Pakistan, as well as the neighbour's states. The CPEC will improve the trade relationship between Pakistan and the neighbour countries in addition to a general trade opportunity directly or indirectly, which will improve the economic condition of Pakistan.
Finally, it's concluded that economically the CPEC is the combination of SEZs, infrastructures, gas, and pipeline which will, of course, help Pakistan to overcome energy shortage, infrastructure problem, unemployment, eradicate poverty up to some extent and will raise the GDP.
In previous ten years, the country experienced political instability which blowout many domestic social, economic as well as a political problem, resulting in the high inflation rate, corruption, poverty, social isolation because of poverty and unemployment. These kinds of problems which up to a great extent affect the country's economic and social system are predictable to change under the CPEC contract. This contract will not only boost the economy but will also change the social and cultural ways of life. People to people communication, adopting a new culture, the rise of the living standard are all related to the CPEC.
The CPEC will also bring socio-cultural changes such as educational exchange, training and skill exchange, media exchange and business exchange. Thus, the CPEC is a real game-changer for Pakistan, which will increase regional cooperation, peace and stability in the region, diverse investment opportunities, socio-economic development (education, water and gas supply, medical treatment, poverty alleviation), educational exchange, professional drill, and will improve safety and constancy in the areas.
Post-UNGA: Kashmir is somewhere between abyss and fear
Hailed as a hero for calling out New Delhi's draconian measures in occupied Kashmir, Imran Khan warned the world of a "bloodbath" once India lifts its lockdown of Jammu and Kashmir. He persuaded global leaders to denounce the brutalities and human rights violations unleashed on Kashmiris ever since the disruption of the decades old status quo, which had been granted by the symbolic autonomy of Articles 370 and 35(A) within the Indian constitution. The constitutional coup d état ensures the alienation of Kashmiris in IOK beyond the point of redemption with massive spillover effects across the LOC. Pakistan is home to 4,045,366 self-governed and independent Kashmiris as per the 2017 census, who are desired of more than a political and diplomatic support for their brothers in IOK. India and Pakistan have already fought three wars on the Kashmir issue.
Focusing on the brazen denial of core human values, Imran Khan prognosticated a more radicalized world as the scourge of radicalism finds more fodder in a discriminated society. If climate change is ignored, the clichés of religious affiliation continues and the inherent right of self-determination remains disregarded, violent reaction is inevitable. He said, "we all know that marginalisation leads to radicalization"… "No one did research that before 9-11, the majority of suicide bombers in the world were Tamil Tigers. They were Hindus", but Hindus rightly escaped the blame since belief and religion has nothing to do with desperation.
Imran Khan talked more like Gandhi than the nation of Gandhi itself. He reminded the world of the reincarnation of the progrom and racial ridden medieval periods when religion and state were inseparable .It has reshaped and now resides more in inter-state relations while negatively stirring regional cooperation and globalization. Already enwrapped in a world of deprivation, the fifth largest population of South Asia is fearfully seen at the brink of a nuclear war with there being very few options left for a seven times smaller nuclear state of Pakistan, which has been already driven to the wall. The speech was well received and touched a chord with many Kashmiris reeling under the unprecedented communications blackout and travel restrictions in place since August 5.
"It felt like there is someone to watch our back. It felt that someone is talking for us, that we are not alone", was the feeling commonly displayed. Hundreds of affected Kashmiri stakeholders came out of their homes, shouting slogans in support of Imran Khan and calling for the independence of Kashmir despite the movement restrictions and deployment of additional force by India in Srinagar.A fresh charge sheet has also been filed by the National Investigation Agency (NIA) of India against the chief of Jammu & Kashmir Liberation Front, (JKLF) Yasin Malik, and other leaders including Asiya Andrabi, and Masarat Alam on October 4, 2019.
Conjuring up his dystopian vision, Prime Minister Modi made no mention of the disputed region of Kashmir in his read-out speech at the UN along the lines of diplomatically bureaucratic explanation. He only ticked the fanciful boxes of development, progress, and world peace, annihilation of terrorism and protection of environment. This speech however, was soon followed by a threat from his own government's defence minister calling for the liberation of Pakistani Administered Kashmir as the next step in India's quest for regional dominance.
Moreover, Imran Khan has also expressed his fears in his erstwhile meetings with Donald Trump, Angela Merkel, Emmanuel Macron and Boris Johnson on the sidelines of the General Assembly session. Trump has offered mediation, but only if both Pakistan and India agree. A senior US diplomat for South Asia called for a lowering of rhetoric between India and Pakistan, while saying that Washington hoped to see rapid action by India to lift restrictions it has imposed in Kashmir and the release of detainees there. Similarly, State Councilor and Foreign Minister of China, Wang Yi, in his address to the General Assembly on 27 September stated that,;"The Kashmir issue, a dispute left from the past, should be peacefully and properly addressed in accordance with the UN Charter, Security Council resolutions and bilateral agreements."
Nonetheless, an arrogant denial by India to the support of Pakistan's stance on Kashmir by Turkey and Malaysia is more of an inept understanding of diplomacy and international commitment. India needs to step out of the skeptical comprehension of the role of the UN that was pronounced by Ms. Vidisha Maitra India's Permanent Mission to the UN. The sway of diplomatic terms espoused with preconceived historical interpretations could be misguiding for political leaders. Modi needs to keep his ears close to the ground to save his political future. It is an extensional battle for Kashmiris. No concertina wire can blur the contradiction in his approach to the issue, "when they are in India they say it is an internal issue and when they are on the international forums, they consider it a bilateral issue," said one of the residents of Srinagar. Confusion exacerbates the fear, which consequently becomes a forerunner to terrorism. Same goes for the US whose mediator's role gets paradoxical by Trump's close alliance with Modi in his perusal of Asia-Pacific policy. Though, Imran Khan is perpetually using his political and diplomatic influence proactively, to mobilize both the international community and his own people, the anti-India feeling, the pro-militancy sensitivity and the general sense of despair — is stronger than before in Kashmir.
Kashmir Issue at the UNGA and the Nuclear Discourse
The Kashmir issue has more significance in view of the nuclearization of South Asia as many security experts around the world consider Kashmir a potential 'nuclear flashpoint' between India and Pakistan. The revocation of the special constitutional status of Kashmir by the BJP government on August 5, 2019, also referred to as Jammu and Kashmir Reorganization Act 2019 and the subsequent lockdown in Kashmir has since considerably increased political and diplomatic tensions between India and Pakistan. India's recent moves and actions in Kashmir have once again internationalized the Kashmir dispute. This was evident during the UN General Assembly's 74th Session, where the Kashmir issue remained a crucial agenda item for several countries.
During this year's session prominent leaders of the world condemned Indian brutalities in Kashmir. Turkish President Recep Tayyip Erdoğan criticized the international community for failing to pay attention to the Kashmir conflict and called for dialogue to end this dispute. Malaysian Prime Minister Dr. Mahathir Mohamad said that Kashmir "has been invaded and occupied" by India despite the UN resolution on the issue. Chinese Foreign Minister Wang Yi also discussed the issue and called for a peaceful resolution of the dispute based on the UN Charter and Security Council resolutions. Based on the grave importance of Kashmir as a potential 'nuclear flashpoint' between India and Pakistan, Prime Minister Imran Khan, while addressing the UNGA warned the world community about the dangers of a nuclear war that according to him might break out over Kashmir due to Indian atrocities. The current situation appears to be the most critical time for both the countries and the region as both countries are nuclear-armed.
However, unfortunately, the Indian leaders and media perceived Prime Minister Imran Khan's warning as a nuclear threat and termed it as 'brinkmanship'. Contrary to this perspective, it is worth mentioning here that the Indian leadership itself is involved in negative nuclear signaling and war hysteria against Pakistan in recent months. For instance, the 2019 Indian General Election campaign of Prime Minister Modi was largely based on negative nuclear signaling comprising of several threats referring to the possible use of nuclear weapons against Pakistan. Furthermore, as an apparent shift from India's 'No First Use' (NFU) policy, on August 16, 2019Indian Defence Minister Rajnath Singh, while on a visit to the Pokhran nuclear test site paid tribute to the late former Prime Minister Atal Bihari Vajpayee and asserted that India might review its NFU policy. He stated that a change in future circumstances would likely define the status of India's NFU policy. Since then there is no official denial of this assertion from India which indicates that India might abandon its NFU policy.
Moreover, India's offensive missile development programs and its growing nuclear arsenal which include; hypersonic missiles, ballistic missile defence systems, enhanced space capabilities for intelligence, reconnaissance, and surveillance and the induction of nuclear-powered ballistic-missile-capable submarines clearly indicate that India's nuclear weapons modernization is aimed at continuously enhancing its deterrence framework including its second-strike capabilities vis-à-vis Pakistan. This is also evident from India's military preparations under its more recent doctrines such as the 2017 Joint Doctrine of the Indian Armed Forces (JDIAF) and the 2018 Land Warfare Doctrine (LWD)which are also based upon more proactive offensive strategies and indirect threats of pre-emptive strikes against Pakistan.
As evident from the above-mentioned developments, it seems likely that India aspires to increasingly project itself as a regional hegemon and a potential superpower. The BJP government under Prime Minister Modi inspired by the Hindutva ideology is taking offensive measures under the notions of 'a more Muscular or Modern India' based on strong military preparedness. In such circumstances, Pakistan's threat perception would likely remain increasingly inclined towards its eastern border. Pakistan due to its economic constraints would also likely face considerable difficulties in competing with India toe to toe with respect to its military modernization plans. Pakistan is already punching well above its weight, and nuclear deterrence would be the only way through which Pakistan can maintain a precise balance of power to preserve its security. This could only be carried out by deterring India with the employment of both minimum credible deterrence and full-spectrum deterrence capabilities. This posture clearly asserts that since Pakistan's nuclear weapons are for defensive purposes in principle, they are aimed at deterring India from any and all kinds of aggression.
Hence, at the present India's forceful annexation of occupied Kashmir and the resultant nuclear discourse at the UNGA has further intensified Pakistan-India tensions. Under present circumstances, the situation could easily trigger another politico-military escalation between India and Pakistan. Prime Minister Modi has bet his political reputation on his move to annex the region and his political career is on the line. The same way Pakistan's politico-military establishment is equally unlikely back down from its stance on Kashmir. It would be difficult for both countries to come down from the escalation ladder because politico-military reputations would be at stake at both ends. Consequently, Pakistan might be forced to take action before India's modernization plans get ahead and might respond even sooner.
The nuclear discourse in Prime Minister Imran Khan's speech against the backdrop of the Kashmir crisis at such a high forum like UNGA would likely keep the issue internationalized. The situation demands the UN fulfill its responsibility of ensuring peace and to prevent billions of people from the dangers of a nuclear war. However, Indian blame game, aggressive behavior and offensive nuclear signaling against Pakistan all present a clear warning of nuclear war. It would greatly limit the prospects for international mediation especially by the United Nations whose resolutions on Kashmir clearly provide a right of self-determination to decide Kashmir's future.