The Secretary of State, Cardinal Pietro Parolin, in Davos
Many signals and food for thought have been provided by the Vatican Secretary of State, Cardinal Parolin, in his very recent speech delivered at the World Economic Forum held in Davos, Switzerland.
Firstly, it should be noted that, this year, the Pope has sent the Secretary of State of the Holy See to represent the Vatican at the World Economic Forum, and not an eminent prelate – as in other Davos meetings – who was certainly authoritative and influential, but devoid of the political and institutional characteristics suited to represent the Pope officially.
If Europe "has lost its soul", as stated by Cardinal Parolin in Davos – and this is obvious to everybody – we must go back to the spirit of the Founding Fathers of the European Community and later of the European Union.
This was the first issue raised by Cardinal Pietro Parolin, thus indicating that the Europe's illness is political, economic, strategic and especially spiritual, precisely because it is global.
It is worth recalling that the Vatican Secretary of State does not currently speak of "Christian Europe" – which would have also been an obvious and reasonable argument for a Cardinal of the Catholic Church. Conversely Cardinal Parolin mentioned the spirit of the Founding Fathers, namely of the former Communist atheist, Altiero Spinelli, as well as of the Catholic Tridentine De Gasperi, or of Catholics such as Adenauer and Schuman.
In other words, the Church says to the "mighty and powerful of the world" gathered in Davos that the Word of Christ is one and one only and will lead to Salvation, but that the political horizon has its conceptual and practical autonomy which allows the union of Catholics, secular and reformed so as to rediscover the European soul.
This is also the meaning of Pope Francis' words regarding Martin Luther and the Reformation.
A European Union not based on the recognition of a specific religion, but of a fact: the impossibility of reducing each person to his/her mere material dimension.
It is precisely the Catholic Church, represented by the Vatican Secretary of State, which is currently leading Europe's transformation, as well as the reform of global economy and its now ineffective policy.
Hence no longer secret and occult Catholicism which must almost beg secularism's pardon so as to continue to exist, but the fullest Glory of the Christian Testimony opening onto the whole world, thus becoming a reference point also for non-believers or for the followers of other faiths.
It is Truth that sets us free, as stated by the Evangelist John.
Hence it is by no mere coincidence that this happens during the Pontificate of a Pope coming from the Company of Jesus.
For Cardinal Pietro Parolin, the irrational – as well as irreligious – deviation, which is central in current times, is the reduction of religious life to an intimate, private and personal fact.
Religious faith is – and must be – the visible identity of believers and, most importantly, the leaven for all men.
It is the visibility of Faith which makes it alive and useful for all men.
This applies to all Faiths, vivified and defended by the current Catholic Church. The issue does not lie in pressing for "parochial" privileges, but rather in protecting every person, regardless of his/her spiritual story.
We must give once again a soul to Europe, as said by the Vatican Secretary of State, because the material culture, the fact of forgetting ideal and spiritual roots, as well as the cheap materialism characterizing the current ideology, are not the solution, but the sign of the illness, which is the same for everyone, not only for believers.
A poor material ideology of the economy, for the first time ruling this world, such as the Devil, without the life-giving and invigorating vision of the first European Community, as that of its founders was.
Today the EU is experiencing a regulatory and legalizing obsession which cannot work and worsens the crisis of the European soul – and this is the essence of its political and organizational crisis.
Again in the vision outlined by Cardinal Parolin in Davos, the Catholic Church shows its soul in one way only – a way by which Pope John XXIII set great store, namely dialogue.
As reaffirmed by Cardinal Parolin in Davos, the Catholic Church never asks or requests any privilege for itself.
Quite the reverse. According to supporting data and evidence, he has reminded us that currently Christians are the most persecuted in the world, without forgetting – even in prayers – the martyrs of other faiths.
When the Church speaks – and, from now on, it will increasingly speak in public and throughout the world – it does so to defend the Holy Spirit and to make it become the essence of public life and everybody's feelings, but never claiming small or great privileges or some primacy over the other faiths.
Cardinal Parolin was very clear in that regard, both in Davos and on other occasions.
We are now witnessing the attempt – which will probably be successful – to make the Catholic Church become the worldwide reference point for all those who want to improve the current situation.
Paradoxically, Pope Francis has been defined by the New York Times as "the leader of the world Left", but there is a mistake in this terminology.
Today, in fact, also thanks to Cardinal Parolin's words in Davos, the Church is proposing itself not to unite all the various "Lefts", but precisely all men, even those who do not believe in Peter's Discipleship.
As recalled by Cardinal Parolin in his speech delivered at the UN Summit for Refugees and Migrants on September 19, 2016, also with reference to the burning topic of migration, the real issue certainly lies in curbing the production and sale of weapons, but also in understanding that the human problems are man-made, not God-made. Hence men, not God, can solve them through dialogue.
Even in this case, it is exactly materialism that misleads into error, while recognizing men's universal spirituality and sacredness is the starting point to experience dialogue with the other faiths and with all men.
The message conveyed by Secretary of State Parolin in one of his 2013 homilies springs to our mind: "We can walk as far as we want, we can build many things, but if we do not follow Jesus Christ, it does not work".
And precisely when the Church becomes all men's voice, it fully remains the Bride of Christ and not "a mere charitable and welfare-oriented non-governmental organization" – just to use Cardinal Parolin's words.
Certainly it is by no mere coincidence that these statements are made by a Cardinal who has already had a long and brilliant diplomatic career and is currently still at the top of the decision-making process.
As already noted, the first aspect underlined by the Secretary of State in Davos is that, with Pope Francis, the Holy See's diplomatic activity has increased significantly both in quantitative and qualitative terms.
After the enlightening Pontificate of Benedict XVI, who outlined the cultural, geopolitical and especially spiritual lines of the Catholicism of Globalization, with Pope Francis and Cardinal Parolin the Church is living the most dangerous, but exciting phase of its new global leadership and of a new geopolitical and strategic role, fully freed from the old and no longer existing shackles of the Cold War.
In the Catholic canton of Grisons Cardinal Parolin reminded us of the fact that Pope Francis is now universally recognized as a world leader – and this is a new fact, a Grace, for the Catholic Church.
As the Secretary of State recalled in Davos, the Vatican diplomacy has no worldly aims, such as power and hegemony, but it intends to reaffirm the spiritual nature of all men that – according to Saint Ignatius Loyola's thinking – is a real fact and hence the foundation of dialogue between faiths and all men.
It is in this deeper and more spiritual sense that we can say that the aim of Vatican diplomacy is Peace.
Peace among all men, but also peace inside man and peace between faiths, that respect each other because – just to recall once again the themes dear to Cardinal Parolin – Catholics build in the world to follow Jesus Christ.
And fighting for peace among all men means eradicating all the man-made causes of wars and geopolitical crises.
"Building bridges, working for peace" is one of the three goals that Pope Francis has set for the Vatican diplomacy.
The first is to fight poverty, which is the source of all current evils and, above all, makes men lose their dignity and the perception of their spiritual nature.
Hence poverty in the material, but also in the spiritual sense: poor people always lose themselves and fall prey to political and economic evil, but even to the devil which, not surprisingly, is the "lord of this world".
The second goal of Pope Francis' diplomacy is to build bridges, as Cardinal Parolin said in Davos.
What does it mean? It simply means that what divides men was created by them, but what unites and allows to practice dialogue – as Pope John XXIII hoped for – always comes from God.
"Dialogue, dialogue, dialogue!" urges the Holy Father, recovering and following up the tradition of an extraordinary Pope such as John XXIII, whom I still remember with great emotion.
The third goal is to achieve peace in the world and I wish to recall that this is a political, but also a spiritual aim: Peace is the offspring of men's reconquest of their souls and, hence, of the construction of reality when we give testimony to Jesus Christ, while respecting everybody.
Religious freedom, in particular, is one of the key points of the speech delivered by Cardinal Parolin in Davos.
Without religious freedom there is no freedom, because we do not recognize the spirituality of man, of all men.
When religious freedom is safeguarded, all the other "human rights" are automatically protected.
Nevertheless if we fight against the Church and all the other religions, we also destroy the long-standing secular tradition of the humanism of rights and the protection of each individual person.
We can add that, after all, it is completely contradictory to speak of "full freedom", but not of religious freedom – as is the case with much contemporary culture – or even reaffirm traditional liberalism also and too often only in conflict with the rights of the Church and of the other Faiths.
Either freedom for everybody or no freedom at all – here logic, well before politics, defines and settles the issue.
And if we do not respect the person's transcendent dimension – which is a fact – we cannot even protect his/her materiality, made up of choices and concrete rights.
As reiterated by the Vatican Secretary of State, the human being has always and anyway a transcendent dimension, which cannot be reduced to materiality. And the Church of Christ will always be in the forefront to defend the right of all men and faiths to speak freely.
As Cardinal Parolin stated, here the future of mankind will be defended.
And we can also add that in so doing we will preserve the prestige and the political and moral dignity of the Catholic Church itself, which speaks to everybody precisely because it follows Jesus Christ.
This is what we are currently witnessing in the long and complex negotiations between the Holy See and the People's Republic of China.
It is exactly one of Cardinal Parolin's diplomatic masterpieces and it is very likely for current tensions to be overcome with an agreement between the Vatican and the Chinese government which will enable the Holy See to choose a bishop among the 5-6 cardinals proposed directly by the Chinese political authorities.
This is the political and strategic sense of Peter's Discipleship: as Jesus Christ has already ordered us, the civil power is Caesar, and it is free, autonomous and independent, because it does not regard Heaven, but Earth, which has its own laws that are also created by God, our Father.
And if it regards Heaven it is not a real power, as the Spirit of the Gospel does not regard Earth, does not make laws and does not create economic systems.
However it is exactly in the full and clear respect for "politicians' autonomy and independence" that the current genuine aim of the Church as Bride of Christ lies and stands out, namely the supernatural nature of all men and, therefore, the absolute need for dialogue, as called for by Pope John XXIII.
Is European humanity skin deep?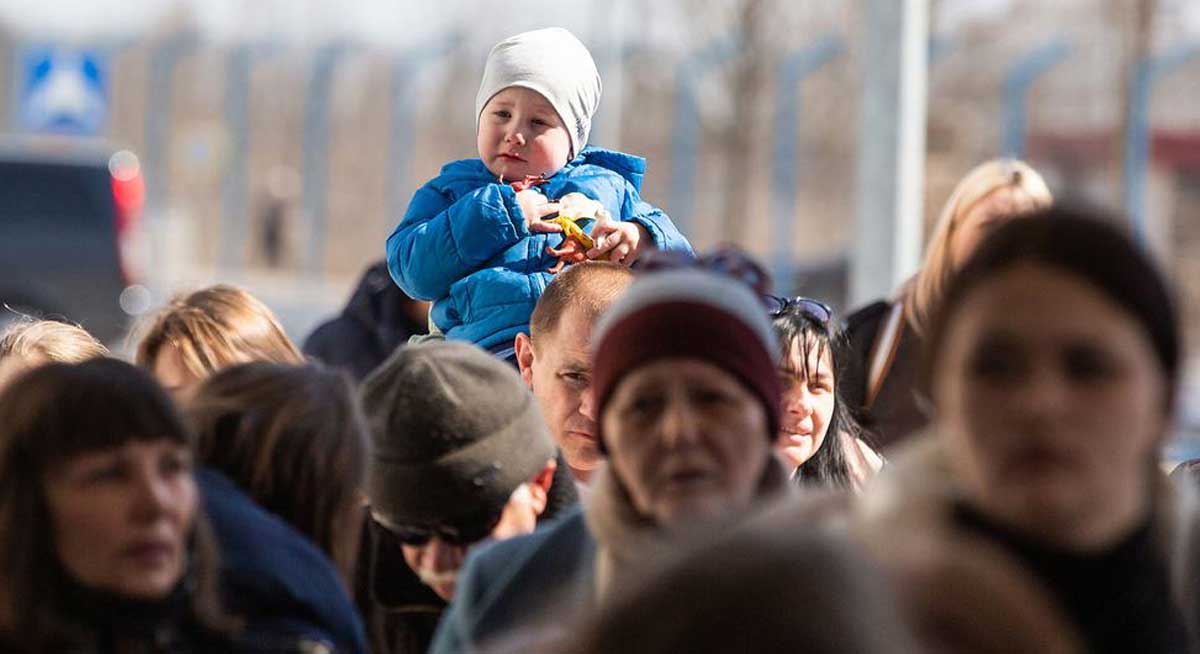 When talking about security the most common line of thought tends to be war and the actors involved in the attack, however, all the people who had regular lives within those territories that are jeopardized are as important. With the increasing tensions and armed conflicts happening within the Twenty First Century, the movement of people searching for shelter has increased. More asylum seekers leave their home countries every single day and contemporary politics is still struggling to find a way to catch up. Europe, history wise, is the zone of the world that deals with more refugees wanting to enter the continent due to different factors: geography, proximity, democratic systems, level of development and more. Nevertheless, with the Russia-Ukraine conflict, true sentiments towards refugees are now being put on display.
Even though all refugees are fleeing their countries because their lives are in mortal danger, authorities and government officials do not seem to care. Processes to apply for the refugee status are getting harder and harder. In Europe, to apply for a refugee passport, people are asked for identifications, online questionaries and many other unrealistic aspects that if not answered correctly, the whole process is cancelled. It is ridiculous to believe that when people are scaping in order to stay alive, they will take under consideration all these requirements to receive help, sometimes even from neighboring countries. Which inevitably leads to the following question: why are refugees accepted based on the legality of their applications and not of their status?
By 2016, nearly 5.2 million refugees reached European shores, which caused the so called refugee crisis. They came mainly from Syria, Afghanistan, and Iraq: countries torn apart by armed conflicts. Similarly, with Russia's invasion over the Ukraine in 2022, only few days deep within the fighting, 874,000 people had to flee their homes. Nonetheless, the issue seems to be that, for Europe, not all refugees are the same. When the refugee crisis in 2015 was declared, the European Union called for stopping and detaining all arriving refugees for around 18 months. There was a strong reluctancy from Europeans towards offering them shelter. On the contrary, countries such as Poland and Slovakia have said that Ukrainian refugees fleeing will be accepted without passports, or any valid travel documents due to the urgency of the situation. Therefore, stating with their actions, that Ukrainian refugees are more valuable or seem to be more worthy of help than refugees from Asia, Africa, or the Middle East.
Correspondingly, it is true that not all countries inside Europe deal and act the same way towards refugees, be that as it may, with the current refugee crisis it has been proved that they all share strong sentiments of xenophobia and racism. For instance, Hungary is a country that refused to admit refugees coming from outside Europe since 2015. In 2018, Prime Minister Viktor Orban described non-European refugees as "Muslim invaders" and "poison" to society, in comparison with Ukrainian refugees who are being welcomed without hesitation. In the same way, Jarosław Kaczyński, who served as Prime Minister of Poland and is the leader of the Law and Justice party, in 2017 said that accepting asylum seekers from Syria would be dangerous and would "completely change our culture and radically lower the level of safety in our country". Furthermore, Germany in 2015 with Chancellor Angela Merkel in charged said that they would accept one million of Syrians. Although, as time passed, Europe's solution was to make a deal with Turkey, who is not part of the European Union, to close the migrant route. Moreover, the promise of letting refugees integrate into German society was not fulfilled since. Seven year later, an impressive amount of refugees are still in camps and centers, with their lives frozen in time. Sadly, most European governments gambled towards the idea of sending them back once the armed conflict was over, without caring for the aftermath of war's destruction.
The common narrative until now pushed by leaders, politicians, and mass media has been that Ukrainians are prosperous, civilized, middle class working people, but refugees coming from the Middle East are terrorists, and refuges from Africa are simply too different. Despite, refugees are all people who share similar emotions and struggle to grasp the fact that their lives may never be the same; having lost their homes, friends, family and so much more. Plus, being selectively welcomed based on their religion, skin color or nationality by the continent which's complete rhetoric is universal rights, just adds another complex layer to the issue. Conjointly, the displacement of people due to war displays how regular individuals are always the ones who suffer the most in consequence to the interests of the few that represent larger powers. Hence, greed, envy, and cruelty are stronger than recognized, even in a developed continent such as Europe.
What Everyone Should Know About Preventing Ethnic Violence: The Case of Bosnia
When the Balkans spiraled into violence and genocide in the 90's, many wondered what caused this resurgence in militant ethnic nationalism and how a similar situation may be countered.
***
The 1990's were a vibrant decade, that is unless you were living in the Balkans. 1995 was especially bad, as the 11th of July of that year marked the Srebrenica Massacre, which saw Serbian soldiers murder over 8,000 Bosnian Muslims over the span of two weeks. This shocked the world, as it was the first case of a European country resorting to extreme violence and genocide on ethnic lines since World War II. After World War II, the idea that a European country would resort to genocide was unthinkable. As Balkan nations continue to see the consequences of the massacre after over 25 years, it is increasingly evident that more needs to be done to curb ethnic violence.
We must first investigate key causes of ethnic violence. According to V.P. Gagnon, the main driver of ethnic violence is elites that wish to stay in power. Ethnic nationalism is easy to exploit, as creating a scapegoat is extremely effective for keeping elites in power. This is exactly what happened in Yugoslavia, which had previously seen high levels of tolerance and intermarriage in more mixed areas that saw the worst violence during the war. Stuart J. Kaufman argues that elites may take advantage of natural psychological fears of in-group extinction, creating group myths, or stereotypes, of outgroups to fuel hatred against them. While they may take different approaches to this issue, Gagnon and Kaufman agree that the main drivers of ethnic violence are the elites.
David Lake and Donald Rothchild suggest that the main driver of ethnic conflict is collective fears for the future of in-groups. Fear is one of the most important emotions we have because it helps secure our existence in a hostile world. However, fear can easily be exploited by the elites to achieve their personal goals. In a multiethnic society such as Yugoslavia, the rise of an elite that adheres to the prospects of a single ethnic group could prove dangerous and sometimes even disastrous. The destruction of Yugoslavian hegemony under Josip Broz Tito and the resulting explosion of ethnic conflict at the hands of Serbian elites in Bosnia underline this because of the immense fear this created.
Regions with high Serb populations in Bosnia sought independence from the rest of the country when they found themselves separated from Serbia by the dissolution of Yugoslavia. Republika Srpska was formed by these alienated Serbs. The leadership and elites in Serbia riled up the Serb population of Republika Srpska by stereotyping and demonizing Bosnian Muslims as "descendants of the Turkish oppressors". This scared the Serbs in Bosnia so much so that they obeyed the elites of Serbia in supporting and fighting for the independence of Republika Srpska by any means necessary. As was seen in Srebrenica, they were not opposed to genocide.
We know how the elites fuel ethnic tensions to secure power as well of the devastating effects of these tensions reaching their boiling point. But what could be done to address ethnic conflict? David Welsh suggests that a remedy for ethnic conflict could be the complete enfranchisement of ethnic minorities and deterrence towards ethnic cleansing. This means that we must ensure that ethnic minorities are able to have a say in a democratic system that caters to all ethnicities equally. Fostering aversion to genocide is also vital toward addressing ethnic conflict because it is the inevitable result of unchecked ethnic conflict.
There is also the issue of members of ethnic groups voting for candidates and parties on ethnic lines. For example, in the United States, White American voters have shown to prefer White candidates over African American candidates, and vice versa. Keep in mind that the United States has a deep history of ethnic conflict, including the centuries-long subjugation of African Americans by White Americans.
Ethnic violence is horrifying and destructive, but it can be prevented. The first measure would be the establishment of a representative democracy, where members of all ethnicities are accurately represented. Another measure would be to make ethnic conflict and ethnic stereotyping taboo so that the average person would not resort to genocidal behavior once things go wrong. Lastly, making people feel secure is the most important step towards preventing ethnic conflict. If the people feel secure enough, they will not even need to think about ethnic violence. In short, while it is important to consider the differences of the various ethnic groups in a multiethnic society, it is vital that each group is kept represented and secure, free of any fears of subjugation.
While the case of Bosnia was extremely unfortunate, it provides an integral view into what could happen if perceived subjugation and fear of eradication reaches a breaking point. As was seen in Bosnia, ethnic violence can be extremely violent, resulting in untold suffering and death. That is why we must take necessary steps towards de-escalation and remediation of ethnic conflicts. These measures can, quite literally, save millions of lives.
French Presidential Election 2022 and its significance for Europe
Eugene Delacroix's infamous painting "la liberté Guidant le Peuple" reminds the whole world of the July Revolution of 1830 that toppled King Charles X of France. The lady in the centre of the painting with the French tricolour still symbolizes the concept of liberty and reminds the whole world of revolutions and sacrifices made for freedom. France indeed has a long journey from revolting against "if they have no bread, let them eat cake" in 1789 to establishing a modern democratic society with the principles of "liberty, equality and fraternity".
France and the United States are rightly considered the birthplace of modern democracy. The French revolution taught the whole world lessons about revolution, freedom modern nationalism, liberalism and sovereignty. In 2022, France celebrates the 233rd year of Bastille Day which led to a new dawn in the French political system. From establishing 1ere Republique (1st Republic) in 1792, France has evolved and is currently under the 5eme Republique (5th Republic) under the constitution crafted by Charles de Gaulle in 1958.
Today, France is holding its presidential elections. As the French believe, 'You first vote with your heart, then your head', the first round of voting was concluded on Sunday 10th April and the Presidential debate on 20th April 2022. While the whole world waits for the 24th of April's second round of elections and their results, this article attempts to understand the French electoral system and analyze Why French Presidential elections are important for Europe?
French electoral system
France is a semi-presidential democracy; the president is at the centre of power and Prime Minister heads the government. The president of the French republic is elected by direct universal suffrage where all French citizens aged 18 and above can vote, whether residing in France or not. In France, there is a two-round system in which voters vote twice on two Sundays, two weeks apart. This two-round system is widely practised in central and eastern Europe as well as Central Asia, South America and Africa.
In order to apply, a candidate needs 500 signatures of elected officials and they should be at least from 30 government departments. A candidate can be an independent or he or she can represent a political party. There is no limit to how many candidates can run for presidential elections. For instance, in 2002 there were 16 candidates, in 2017- 11 and in 2022 there are 12. While all the candidates have the right to equal media presence, the amount of spending on campaigns is also monitored; for the 1st round, the spending must not exceed 16.9 million euros and for the second round, it has been limited to 22.5 million euros.
This year, the 1st round of voting was concluded on 10th April while the second one is scheduled to be held on 24th April 2022. In the first round, all 12 candidates were eligible but for the second round, only two candidates who got the maximum votes are qualified for the second round.
A brief overview of French presidential candidates
Emmanuel Macron, five years ago at the age of 39, became the youngest French president of the French republic. In 2017, he broke the dominance of the two major French parties- Republicans and Socialists- by running a campaign "neither left nor right". During the tenure of Emmanuel Macron, a hardcore centrist, France has witnessed a 7% GDP growth, unemployment dropped by 7.2% and the crime rate has fallen to 27%.
A far-rightist, Marine Le Pen is the other presidential candidate who succeeded her father, Jean-Marie Le Pen, as leader of the National Front (later National Rally) party in 2011. She was also contesting against Emmanuel Macron during the 2017 elections and before that in 2012, against Nicolas Sarkozy and Francois Hollande. While she embraced the party's anti-immigration stance, she rebranded the party's Euroskepticism as French nationalism.
This year, in the April 2022 elections, the current President of France, Emanuel Macron and far-right leader, Marine Le Pen are the two candidates with Macron running ahead with a lead of 4.7 per cent votes (Emmanuel Macron-27.8% & Marine Le Pen- 23.1%).
Why French Presidential elections are important for Europe?
While European defence is primarily assured by the US-led NATO military alliance, of which most EU states are members, French president Macron said, "Europe needs to finally build its own collective security framework on our continent…", advocating for a 'European Security' framework amid tensions with Russia over Ukraine.
On the other hand, Le Pen's party has been looked upon suspiciously that it might have received financing from a Russian bank connected to the Russian President Putin. In an interview with French public radion, Le pen said, "It will be necessary diplomatically, when the war [in Ukraine] is over, when a peace treaty has been signed, to try to avoid this tie-up which risks being the largest danger of the 21st century for us," she even further added, "Imagine … if we let the first producer of raw materials in the world — which is Russia — [create an alliance] with the first factory of the world — which is China — to let them perhaps constitute the first military power of the world. I believe that it's a potentially great danger." These statements only further reinforce the claims that Le Pen is more pro-Russia.
While Macron is anti-Brexit, Le Pen, on the other hand, has been known for her 'Frexit' plan, meaning, that she wanted France to leave the EU and abandon the euro. However, during the 2022 elections, it appears that Le Pen has softened her stance on Frexit. Another important issue pertaining to immigration has been significant not only for France but the whole of Europe. This issue of immigration is directly linked with the "economic and cultural concerns" which raises an important worry about immigrants' socio-political and economic integration into the French society and abiding by the principle of laïcité (secularism with French characters).
As for Macron, he wants to create a "rapid reaction force" to help protect EU states' borders in case of a migrant surge and is also pushing for a rethink of the bloc's asylum application process. Macron also said that he urges the EU to be more efficient in deporting those refused entries. On the other hand, Marine Le Pen during her campaign stated, "I will control immigration and establish security for all." It is pertinent to note that Macron has introduced strict laws pertaining to immigration and controlling Islamic radicalization. For instance, he introduced the bill to ban foreign funding to mosques.
What is more interesting to mention is the concerns about 'energy' in the presidential election. Evidently, the ongoing conflict in Ukraine has gained more attention on the economic and geopolitical consequences of existing national and European energy supply chain choices. In France especially, there is a major rift between the pro and anti-nuclear power fractions. Interestingly, France has the second most nuclear power stations in the world after the United States. Besides, in the last week of the elections, Macron has been attempting to win the hearts of the French voters with his proposal for a "complete renewal" of his climate policy. He has also promised to build up to 14 nuclear reactors by 2050 and regenerate existing plants. Meanwhile, Le Pen has promised to build 20 nuclear plants and aim to have nuclear power provide 81 per cent of France's energy by 2050. While the current president Macron and far-right candidate Le Pen have both committed to the 2015 Paris Agreement to limit global warming, it is evident that their approaches differ particularly on energy. Since France is Europe's second-biggest economy, France's climate policy could echo right across the EU.
Besides, in light of the ongoing Russia-Ukraine crisis, Macron has played a significant role as he is the bridgehead for Russia and the US. He has also negotiated talks between Washington DC and Moscow and has also condemned the crisis by making the statement, "Russia is not under attack, it is the aggressor. As some unsustainable propaganda would have us believe, this war is not as big as the battle against, that is a lie." Indeed, he has played the role of Europe's de-facto leader vis-à-vis the Ukraine crisis. Nonetheless, with a marginal win in the first round against Marine Le Pen, winning the 2nd term is not as easy as it was five years ago.
More importantly, it is pertinent to note that France has the 2nd strongest military and 2nd biggest economy in Europe, further the 5th biggest economy in the world. France is not only the most visited country in the world but also ranks 1st in the global soft power index. It is also the founding member of the United Nations Security Council, North Atlantic Treaty Organization and the European Union which makes it an important player in European politics. Consequently, the policies of the French leadership not only direct the political, social and economic lives of the French but also reverberate in Europe.