The riposte of Thomas Paine to Edmund Burke: "Rights of a Man"
This prominent masterpiece written by Thomas Paine played a pivotal role in the history of human being that embraced all aspects of rights of a man, following natural rights, intellectual rights, natural interests, and mainly the importance of human dignity.
Thomas Paine was an Anglo-American philosopher, political theorist, and activist who made a great contribution to the history of mankind with his eminent works; the Common Sense, the American Crisis, the Rights of a Man, the Age of Reason, and Agrarian Justice. The Rights of a Man as an influential pamphlet echoes its huge impacts on the present day. In fact, Thomas Paine noted all meaningful rights of a man in his pamphlet. At the start of the French revolution, the British politician Edmund Burke who was a supporter of the American Revolution condemned the French Revolution and advocated in his "Reflections on the Revolution in France" that the French Revolution had engendered the extremist movements and radicalism which caused an unprecedented destruction of a nation's social groups (particularly, elites, aristocracy) and devolved the civic society of France into democratic dictatorship and barbarism. After the Edmund Burke's argument, Thomas Paine highly criticized his pamphlet and gave his pro-revolutionary riposte to him and argued in his Rights of a Man, that the French Revolution was a successful beginning of a new era of human history with which a man would be able to apply new-fangled "Enlightenment" values to his society, and by starting with new era, men could secure peace through the adoption of the system of newly secure government based on their mutual rights. "The Rights of a Man" was composed of two main parts. The first part dedicated to U.S President G. Washington chiefly addresses to the most of E. Burke's questions regarding the French Revolution. The second part subjects to the debate of the principles of government that advocates the Constitutional Republic that the French Revolution reached it. In this essay, Thomas Paine gives his exact arguments point by point on Burke's questions and mainly criticizes the error points of Edmund Burke on French Revolution and countered that his pamphlet concerning the French Revolution was "odd case". Unless, some criticism on the essay, it had given huge contribution to the universal human rights in today's world.
The Rights of a Man is an important work for both past and present days. Today, it remains the one of the pivotal works regarding human rights. In fact, the essay embraces all aspects of natural interests, rights, and the significance of human self-esteem. Therefore, focusing on this topic gives large-scale insight to understand the meaning of human rights. This essay is one of the best-known masterpieces of Thomas Paine, which he declares that the French Revolution is the beginning of a new era for the "Enlightenment" principles and values in human society. It is the beginning of the establishment of newly rational governments based on the mutual understanding and rights of human society.
As I mentioned before that this prominent pro-revolutionary pamphlet dedicated to U.S President George Washington was written as a response to the Burke's questions regarding his attack on the French Revolution. First and foremost, there were huge differences between the opinions of Burke and Paine. According to Burke, the French Revolution had caused much destruction within the French society and engendered the despotism and political havoc. He mainly focused on the traditional values and property rights. He also argued that there were not special rights belonged to people. All rights were defined by law and people had to act according to the Rules of Law. Furthermore, he mentioned that humans were shaped by institutions and communities and rejected the principles of radical individualism advocated by Thomas Paine. Upon the opinions of Burke regarding the French Revolution, Thomas Paine sparked its radical arguments as a response to Burke's questions and answered his questions one by one with exact points in his essay. In the first part, His dedicated his work to U.S President George Washington with these words:
"Sir, I present you with a small treatise in defence of those principles of freedom which your exemplary virtue hath so eminently contributed to establish. That the rights of a man may become as universal as your benevolence can wish, and that you may enjoy the happiness of seeing the new world regenerate the old"
With this appeal, he argues that people now alive should not have to repeat their ancestors' acts what they did, they have to try to regenerate the old one and replace it with a new one because traditional rights and heredity do will nothing on behalf of the people, and devolve them into repression. Secondly, Burke was in favour of traditional rights and property and argued that the revolution in France was misconceived because Louis XVI was a good King, but missed the chance. As a consequence, the revolution caused the extremist and barbaric movements within French society.
On the contrary, Paine argued that the traditional approach had caused the hostility and inequality between the French people, and he emphasized that if Burke accepted that men had rights based on traditional principles and referred to the antiquarian approach, why did not he go back to the far enough antique history?! – With this argument, Paine countered that even in the antique history the rights of a man had carried out the seeds of liberty, liberal projects, and democratic principles. He showed the Athens as an example to support his argument against Burke. Paine's argument clears that democratic principles have to base on mutual understanding of rights and interests of social groups. Then Paine again turns to the Burke's opinion and mention: If we are going to appeal to history, let's go back to the much far beginning; the creation of a man by God. He argued that God created all human being equal and gave them equally natural values, principles, rights, and mainly natural dignity. God created male and female in the example of Adam and Eve. The natural rights of a man are the foundation of all his civil rights. Let me highlight the main parts of the essay, in his "Reflections on the Revolution in France", Burke referred to the history of the British Constitution and argued that this constitution grounded on the "Rules of Law" over people in Britain and people tried to obey hereditary monarchs according to these Rules of Law. On the contrary, Paine replied to him by arguing that the English Monarchy began with the imposition of the hereditary monarchy by the military conquest of William in 1066. Therefore, the creation of British Monarchy was not established by the British Constitution, it was founded in military power and the sword was declared as a name of a sceptre. According to him, the monarchy had militaristic and tyrannical power. The hereditary government subjected to ignorance and the selfish use of a power of society only on behalf of monarchs, not of human society. Hence, he came to the conclusion that the English government was one of those which was created out of military conquest not out of human society and had nefarious impacts and pressures over people and forced the English to obey its Rules of Law. He argued that constitution of a country was not an act of its government, but the act of its people creating a constitution based on their common rights and interests.
Moreover, Paine mentions that man is naturally social because of the fact that he is in need to co-operate with other people in order to facilitate his needs. Society had long survived in spite of the absence of a proper government. The government could be legitimate only where people made a social contract to establish it. The social contract is based on liberal project and democratic principles. Hence, people having mutual rights and interests in order to provide their needs create a proper government that is based on a common sense of social groups and finally, democratic principles. These democratic principles should have to be provided within the human society through mutual understanding and equal rights. Representative government appertained to the rational use of power in common interests. On the other hand, he rejected believing in the national churches and mentioned that the close link between the church and the state led to the immense corruption of true religion in society that executed injury and persecution to social groups.
Thomas Paine did not like the heredity government or monarchy and called it ridiculous and despicable thing. Burke preferred to elites and aristocracy claimed that society could only be shaped by the institutions and communities, and grounded on the roles of elites and aristocracy, but Paine disagreed that the emergence of elites or aristocracy was a clear evidence of despotism and injustice that was kept up by family tyranny and hereditary government. It had a tendency in order to destruct the human species in society. At the same time, although he condemned the taxes, but preferred to the commerce and mentioned that people were in need of trade and commerce because of their interests and demands. Taxes were the means of keeping up the power of elites or aristocracy, in particular monarchy that plundered people within society. All hereditary government had its own nature oppression, but the representative government rested on the interests and rights of society and civilisation for its basis because it was a representative system of the whole people, and whole society.
In conclusion, I would like to state that the main centrality of Thomas Paine was natural rights that led to the formation of civil rights. Indeed, this masterpiece is the proved document of not only the natural dignity of a man, but also the whole human rights. In this essay, I observed that what differentiates Burke from Paine is Burke's placing on social institutions and communities in order to preserve ordered liberty, but Paine mainly focuses on radical individualism based on equal principles. Therefore, the French Revolution far more disturbed Edmund Burke due to the elimination of institutions in French society. To be sure, Thomas Paine as a revolutionary internationalist who believed in the Age of Revolution was a prominent man of his period. He related reason and nature closely that could lead to the newly discovered Enlightenment process in Europe. He prophesied that Europe had to be transformed from a realm of inequity and despotism to a scene of representative democracy and liberal values.
His central point is that the Revolution in France had stemmed from not force, only from reason and creation of liberal democracy referred to the principles discovered in the Enlightenment. Thereby, the French Revolution was the beginning of a new era and the "Enlightenment process" in Europe, and the Declaration of the Rights of Man and of Citizens founded the main basis of human rights and bestowed its admonition to present day: "Men are born free and equal with respect to their rights".
Women and girls with autism must be empowered to overcome discrimination they face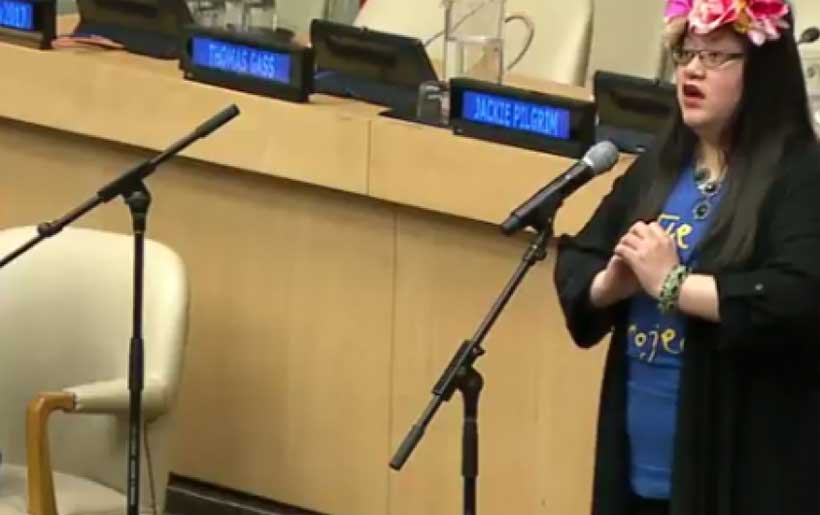 On World Autism Awareness Day, United Nations Secretary-General António Guterres has joined the global call to empower women and girls with autism and involve them and their advocates in policy and decision-making to address the discrimination and other challenges they face.
"They face […] barriers to accessing education and employment on an equal footing with others, denial of their reproductive rights and the freedom to make their own choices, and a lack of involvement in policy making on matters that concern them," said the Secretary-General in his message on the Day.
Emphasizing that "our work for gender equality and women's empowerment must reach all the world's women and girls," he stressed that the international community's efforts to achieve the Sustainable Development Goals (SDGs) must uphold the 2030 Agenda's core promise to leave no one behind.
The Goals and the landmark framework from which they emerged were adopted by UN Member States three years ago. Together they aim to wipe out poverty and boost equality by putting the world on a more sustainable economic, social and environmental path by 2030.
"On World Autism Awareness Day, let us reaffirm our commitment to promote the full participation of all people with autism, and ensure they have the necessary support to be able to exercise their rights and fundamental freedoms," concluded the Mr. Guterres.
Autism is a lifelong neurological condition that manifests during early childhood, irrespective of gender, race or socio-economic status. The term Autism Spectrum refers to a range of characteristics.
Autism is mainly characterized by its unique social interactions, non-standard ways of learning, keen interests in specific subjects, inclination to routines, challenges in typical communications and particular ways of processing sensory information.
The rate of autism in all regions of the world is high and the lack of understanding has a tremendous impact on the individuals, their families and communities.
The World Day is marked annually on 2 April, and this year's official UN commemoration will be on Thursday, 5 April, with a half-day programme in New York entitled Empowering Women and Girls with Autism, that will feature a keynote address from Julia Bascom, Executive Director, Autistic Self Advocacy Network.
Law in societies: Encounters vs. Anarchy
In this essay I will discuss the purpose of law in society but before I go further law refers to the system of rules that a particular country or community recognizes as regulating the actions of its members and may enforce by the imposition of penalties.
Some human beings can be aptly described as weak willed animals. They are easily influenced by the slightest sight or sniff of power and money. This originates from insatiable greed. Greed that can sometimes make even the iron willed loses their head. How many stories have we heard since our childhood where many "heroes" lost their way to the path of glory by being trapped by greed?
Our one aim in life has always been to find balance and serenity in our lives. A utopian society envisages a vision where people govern themselves. People trust each other blindly. They achieve happiness. People set their goals, lead disciplined lives and achieve anything they set their sights on They are able to live their lives to the fullest and all the time feeling secure about it.
However the vision, unfortunately, exists in an ideal world which frankly is almost the opposite of today's real world. Our realistic society is heterogeneous mixture of all kinds of people, people who look to disturb the balance of the natural society. It is here that law plays a very important role in restoring that delicate balance back to the society and making the lives of the people living together cohesive. It is here that law helps to maintain the morality of the people as individuals as well as the society as a whole.
World without Let us imagine a world without any law to punish the wrong doer. Let us assume that the society has till now lived an honest life without any kind of betrayal. Suppose a person, in greed, steals a valuable item from his neighbor's house. He isn't punished but everyone knows what he has done. Some naive person, probably a youngster witnesses this and is tempted to steal because he knows there are no repercussions. This develops into a never-ending chain endangering the very foundations of the society.
Another example might be a survival situation. A group of people are stranded on an island with twenty days of food and water. They know that a rescue team will reach them on the twenty first day. They carefully divide the food such that they get the necessary nourishments by the time they are rescued. A person, out of greed for more, sneaks quietly and consumes two days of food meant for the whole group. When the group discovers what has happened they confront the person who cunningly reasons with the group that there was no rule or law which forbade eating more. As the group consisted of educated men and women, both young and old, they knew his reasoning was correct and they could not do anything to get the food back. As a result, they starved for two whole days during which a few old people fell ill and could not make it.
Law is essential and many do ask why and how but Law is essential in the society and it is there to guide the society towards happiness without bloodshed and in peace and harmony. Law helps us to restrain ourselves in times of great thirst for more money or power. It curbs our greed reminding us that there is someone or rather something out there ready to punish us if necessary. It helps to restore the balance in the society and bring justice to the victimized. The greatest thing about law is that all are equal before it. No man is rich or poor in the eyes of the law. No man is more powerful than the other in the eyes of the law. Law helps to regulate the behavior of the people. It prevents us from descending into anarchy.
Law is dynamic. It is constantly adapting to the changing times so as to close all the loopholes that may be left due to human error. Our Preamble states the ideals of justice liberty sovereignty fraternity and equality which constitute the basic foundation of Our Constitution. However, without law these ideals will be constantly shattered. There will be nothing to protect these ideals.
In a world where 'survival of the fittest' is prevalent, and looking at the size of human population we can say only one thing. Law is needed for survival. We cannot go against each other as it will definitely lead to destruction. Law plants an element of fear which may prevents in killing of fellow human being. It gives each one his or her own share, what they deserve.
Laws tell us what to expect as consequences as a result of our actions. It makes us look before we leap. It is there to protect and to destroy. It restricts people who get carried away due to the freedom given to them by the absence of law if this is the case. They know one abuse of the law will affect them economically, mentally and physically. Some exceptions may be found but this is applicable for the majority.
In addition the natural law which can be refers to Mother Nature herself which follows many rules and laws which help in the sustainability of this world and the life which flourishes on it in abundance. Every living organism, from the tiny unicellular amoeba to the biggest animal the blue whale follows a set of laws to survive.
Let us take the examples of honey bees. They follow the orders of the queen bee and visit hundreds and thousands of flowers to carry the process of pollination which helps in reproduction of these plants. They have to follow a set of rules or laws which will help in this important process. If one of them breaks the law, they are ordered to leave the bee hive. They cannot join another hive nor can they return. It is as good as giving them a life sentence. This life-threatening situation helps to keep the honey bees in check and brings order into the hive.
Same can be said for the birds which migrate every winter or summer depending upon their pattern. They have to follow a set of rules or laws which will help them navigate their way. One abuse of these laws can lead to cases extreme to death.
When in the modern society our modern society has become quite educated and the main question that arises from them is that who has the authority to form these laws which imposes a restriction on their lives. They question and debate upon the authority that makes these laws and rightly so. Once they are satisfied with the authority they know that their lives are secure and they are free to concentrate on their aims and dreams in life. Law is there to attempt to balance the needs of individuals against the needs of the majority. We accept responsibilities, we renounce some of our freedoms (not kill others, not harm others, not steal from other members of the society) to receive in return the benefits of society (not being kill by others, not being harm by others, not being robbed by other members of the society).
Law helps in removal of social stigmas such as dowry and untouchability. For example, in some Constitutions, it talks about untouchability and even though it still exists today, the number of cases has comparatively gone down a lot. This is just one example that law can have in a society which is not perfect, a society where human beings fight, and abuse and kill their own species. This is how law helps in protection of the underprivileged.
Furthermore Law plays a significant role in producing successful societal functions around the world. Law helps regulate social behaviors, ultimately leading to society running efficiently. Without laws, society would have no ethical boundaries or standards, no rules or measures, nor any means of settling even the simplest disputes. Law helps keep the peace in society through governance and standards set forth by all voting citizens. All functions of law in society include peacekeeping, promoting personal freedom, regulating government power, promoting economic growth, promoting social justice, and protecting all of society and the environment. It is important to remember without laws to govern the actions of people in society, it is highly likely all social structure and commerce would collapse. If one can imagine what life would be like if every prisoner in the world were to be released back into society that would be about how unsafe and dysfunctional society would be without laws (Melvin, 2011).
Law and Society The function of law in a society is more or less universal. It acts as a deterrent to control the evil and treacherous behavior of humans, to maintain discipline and imposes restrictions on some freedom. We live in a chaotic and uncertain world. Without an orderly environment based on and backed by law, the normal activities of life would be lacerated with chaos. Law is a social norm, the infraction of which is sanctioned in treat or in fact by the application of physical force or by a party possessing the socially recognized privilege or so acting. It provides a society with order and predictability, resolving disputes, protecting individuals and property, providing for the general welfare and protecting individual liberties. Law and the predictability it provides cannot guarantee us a totally safe world, but it can create a climate in which people believe it is worthwhile to produce, venture fort, and to live for the morrow. It prevents the state of nature, which would be total anarchy had there been no laws. Societies today are more complex and interacting. Maintaining good order and discipline have far reaching implications on a society's prosperity. Laws are in acted daily throughout different societies for the protection and security of individuals, property, businesses and states. It permits an orderly, peaceful process for dispute resolution and provides us with the programs to establish and enable corporately, what would be impossible, or at least prohibitive, to do as individuals. Laws should be designed to protect the individual personal and civil rights against those forces, which would curtail or restrict them. Some examples of this are freedom of speech, religion, the press, the right to a fair trial and the freedom from cruel and unusual punishment. In the United States the respect for the law is paramount and disobedience to the law.
In conclusion it can be implied by common sense that law helps us to survive as a society and it is convenient. Convenient is comfortable and humans look for comfort above all things apart from happiness. Also law helps in getting rid of the social barriers that exist in our society. Through law we survive yet thrive. Hence law is necessary in a society.
The holistic gender and media agenda in focus
Achieving gender equality in and through media requires a comprehensive approach covering a full gamut of longstanding as well as new challenges.
Assessing the issues – ranging from media ownership and staffing, news coverage, the safety of women journalists, through to policy effectiveness – is essential if society is to overcome the snail's pace of progress to date.
This was the thread running through a panel session convened at the UN headquarters in New York on 23 March by UNESCO and the Global Alliance for Media and Gender (GAMAG).
Taking place as a side event during the 62nd Commission on the Status of Women  (CSW), the occasion previewed a number of analytical position papers which GAMAG had prepared with the support of The Netherlands and channeled through UNESCO's International Programme for the Development of Communication (IPDC).
The position papers, to be published in book format later this year, helped GAMAG to focus its advocacy around the CSW's annual review theme on women's' participation in, and access to, the media and information and communications technologies.
The work also helped towards references to media and ICT being included in the CSW's conclusions concerning its primary theme of "Challenges and opportunities in achieving gender equality and the empowerment of rural women and girls".
Aimée Vega Montiel from the National Autonomous University of Mexico and the Interim Chair of GAMAG presented the wider context of the position papers. She pointed out that media has a key role in the achievement of gender equality across all the 17 Sustainable Development Goals through shaping the social and cultural norms underpinning discrimination and inequality.
Sarah Macharia of the World Association for Christian Communication and co-ordinator for the Global Media Monitoring Project  flagged how little progress has been made in the portrayal of women in media. Within a 10-year timeframe, women's appearance as experts in media has only risen by 2 percent.
Combatting sexist stereotypes is a necessary part of the process but it is hindered by the low representation of women in decision-making roles on boards of media companies. As Carolyn Byerly, a professor at Howard University noted, media and social media power is still highly concentrated in the hands of men. She cited research showing that out of the 100 largest media companies, only 6% have a woman CEO.
Rampant sexual harassment within the media and society is an enduring problem, with women journalists being abused within newsrooms and also by sources, said Mindy Ran from the International Federation of Journalists.
She said that women in media faced a "triple jeopardy" – enduring the same risks as their male counterparts, social pressures because they are female, and additional abuse because of the combination of being a woman who is a journalist. "Protection mechanisms are often completely inadequate at workplaces".
Claudia Padovani from Padova University in Italy signaled the importance of having effective policy to mainstream gender equality in and through media. She highlighted, however, that many governments lacked such an instrument, and that there are questions about the effectiveness even where policies exist.
Abeer Sa'ady, Vice President of International Association of Women in Radio and Television (IAWRT) summarized the discussion, urging that "we need to close the gap between good intentions and practices".
Gender equality should be everyone's concern, she said. "It is not about women, but about everyone, about men and women", adding that there was a need for action across governments, trade unions, universities, civil society and private and public sectors.
UNESCO's Guy Berger, Director for Freedom of Expression and Media Development, called for relevant actors to introduce or revise gender policies for media in order to ensure greater implementation.
Many governmental, social media and newsroom policies serve only as "weak symbols" that may reflect the aspirational gender norms, but are not translated into practices, he noted.
The event was moderated by June Nicholson from Virginia Commonwealth University .