Tensions in South Asia: Pakistan test-fires multiple target nuclear missile
Pakistan on January 24 Tuesday successfully test-fired its second indigenously-developed nuclear-capable missile Ababeel, capable of engaging multiple targets with high precision with a range of 2,200 km, which brings many Indian cities within its striking range. The test firing comes two weeks after the launch of submarine-fired Babar III that Indian side military analysts as usual dubbed as "fake".
Pakistan military said Pakistan has successfully conducted the flight test of surface-to-surface nuclear-capable missile 'Ababeel'. Ababeel is capable of delivering multiple warheads using Multiple Independent Re-entry Vehicle (MIRV) technology, Army spokesman Major General Asif Ghafoor said in a statement. "The test flight was aimed at validating various design and technical parameters of the weapon system," he said. Ghafoor said: "The development of the Ababeel weapon system was aimed at ensuring survivability of Pakistan's ballistic missiles in the growing regional Ballistic Missile Defence (BMD) environment and has the capability to engage multiple targets with high precision, defeating the enemy's hostile radars."
The missile has a maximum range of 1,367 miles, and is capable of carrying multiple warheads using the Multiple Independent Re-entry Vehicle technology. According to Inter Service Public Relations, the media arm of Pakistan's military, the test was conducted to validate the weapon's abilities.
On 8 January, Pakistan conducted its first successful test fire of submarine launched cruise missile Babur III having a range of 450 km. The missile was fired from an underwater, mobile platform and hit its target with precise accuracy.
The Babur weapons system incorporates advanced aerodynamics and avionics that can strike targets both at land and sea with high accuracy, according to ISPR. It has been described as a low flying, terrain hugging missile, which carries certain stealth features and is capable of carrying various types of warheads.
ISPR adds the missile will be a powerful deterrent for the country. Ababeel can be armed with nuclear weapons, and engage multiple targets while overcoming enemy radars.
High-ranking Pakistani government officials praised the flight test as a landmark achievement for the country's military.
Pakistan's demonstration follows its nuclear-capable Babur-III launch on Jan. 9, and a number of test-firings conducted by its neighbor India, which have contributed to escalating tensions between the historically hostile nations.
India's Defense Research and Development organization test-fired its Agni IV ballistic missile on Jan. 4, and launched its guided Pinaka Rocket Mark-II on Jan. 12.
Indian military prowess
This development comes just weeks after the neighbouring rival India ill-focused on Muslim neighbors, successfully test-fired the nuclear-capable Babur-3, its first Submarine-Launched Cruise Missile capable of carrying a nuclear warhead up to 450 kms. In an apparent reference to India, the release said, "The development of the Ababeel weapon system was aimed at ensuring survivability of Pakistan's ballistic missiles in the growing regional Ballistic Missile Defence (BMD) environment."
India considers itself the super power of the SA region having first obtained nukes threatening the regional nations, especially Pakistan and Bangladesh. .
Referring to India's test of its nuclear-capable Agni-IV missile on January 2, Pakistan had also cautioned members of MTCR that introduction of destabilising systems such as "missile defence programmes" and "inter-continental ballistic missiles" in South Asia pose a "risk" to regional stability.
A country's non-proliferation record is one of the key criteria to join MTCR.
Like India Pakistan has also intensified its efforts to join the exclusive club of countries, controlling exports in missile technology, since India joined the elite grouping last year as its 35th member.
Notably, India was successful in joining MTCR, ahead of Pakistan's all-weather ally China, whose application is pending since 2004. However, experts say that Pakistan's controversial record in nuclear proliferation and absence of its patron China inside the club are major obstacles in Islamabad becoming a formal member of MTCR. India has reason to celebrate with semi-explosives all over the country just as it does when it wins a cricket match after fixing it in its favor. .
Pakistan has cautioned members of MTCR that introduction of "destabilising systems" like "missile defence programmes" and "inter-continental ballistic missiles" in South Asia pose a "risk" to regional stability, in an apparent reference to India. Pakistan's "serious concerns" over the introduction of such systems in South Asia were expressed to a delegation of Missile Technology Control Regime (MTCR), a 35-member elite grouping that includes India and controls export in high-end missile technologies, a Foreign Office (FO) statement said. "Pakistan highlighted the risks posed to regional peace and stability due to the introduction of destabilising systems such as missile defence programmes and inter-continental ballistic missiles," the FO statement said.
India is the only country in South Asia having successfully tested inter-continental ballistic missiles. "Pakistan was, however, committed to avoiding any kind of arms race in South Asia," it said, adding that Pakistan's proposal on establishing Strategic Restraint Regime (SRR) in South Asia which covers nuclear and missile restraint remains on the table. "Pakistan believes that progress on this proposal (SRR) through meaningful dialogue can promote peace and stability in the region," it said.
Concerned about regular rissole tests in India and Pakistan and their seemingly never ending conflict over Kashmir, the United States also weighed down on Pakistan's test of Babur-3 missile urging it to 'exercise restraint regarding the use and testing of their nuclear capabilities'. "We continue to urge all states with nuclear weapons to exercise restraint regarding nuclear and missile capability testing and use, and we encourage efforts to promote confidence building and stability with respect to those capabilities," former US state department spokesperson John Kirby had said.
Highlighting Pakistan's non-proliferation credentials, Additional Secretary, FO, Tasneem Aslam told the MTCR that Pakistan has always remained in the "forefront to stop the spread of weapons of mass destruction" and has "always followed international standards while delivering weapons". Aslam also briefed the delegation led by Ham Sang-Wook, the current MTCR Chair, about the administrative, legislative and regulatory measures taken by Islamabad for the establishment of a robust command and control system, an effective and comprehensive export control regime, and the steps taken to improve physical security at all levels. "Pakistan's export control regime is at par with the best international standards and its national control lists encompass the items and technologies controlled by the MTCR," Aslam said.
Pakistani diplomacy
Pakistani diplomacy is indeed commendable. On the eve of test firing, Pakistan released 218 Indian fishermen who had allegedly strayed into its waters. Despite a thaw in bilateral ties, Pakistan has now released 439 Indian fishermen as a "goodwill gesture" in the last 10 days.  The 218 fishermen were freed from Malir jail on instructions from the interior ministry as a goodwill gesture, jail superintendent Hasan Sehto said.
This is the second batch of Indian fishermen released from Pakistan jails since relations between the two countries became tense after the September terror attack on an Indian Army base in Uri for which India has blamed Pakistan-based Jaish-e-Mohammed organisation.
On December 25, the Pakistan government had freed 220 Indian fishermen who were in jail for more than a year as goodwill gesture after Prime Minister Narendra Modi greeted counterpart Nawaz Sharif on his birthday.
The Indian fishermen who were released will be handed over to Indian officials at the Wagah border. He said that around 110 more Indian fishermen remain in Landhi jail in Karachi.
Last March, the Pakistan government had released 87 Indian fishermen who had been languishing in jail in Karachi for the last two and half years.
Fishermen are being increasingly used as useful foreign tension tools by India, Pakistan and Sri Lanka in the troubled Indian Ocean/Arabian waters further complicating the regional tensions being generated by nuclearized South Asian powers India and Pakistan over Kashmir issue.
Pakistan and India frequently arrest each others' fishermen for violating the territorial boundary. Poor fishermen from both countries routinely find themselves arrested for illegal fishing as there is no clear demarcation of the boundaries between the two countries in the Arabian sea near Sir Creek and lack of technology has made life difficult for the fishermen of both countries.
Last Friday, Pakistan maritime security agency arrested 66 Indian fishermen for illegally fishing in Pakistan's territorial waters. Fishermen from both countries end up languishing in jails for years even after serving their sentences and their only hope of getting released is through 'goodwill' steps.
Pakistan released 220 Indian fishermen in December as a goodwill gesture aimed at easing tensions with its neighbour and pawing way for good neighborly relations to resolve the vexed Kashmir issue in favor of Kashmiris to regain sovereignty from occupation nations.
Sri Lankan atrocities
Meanwhile, India and Sri Lanka with strained relations over Lankan army's war crimes against minority Tamil community during the Rajapksha era – agreed to release fishermen in each others' custody, a joint statement said on Monday, a move that is likely to ease tensions between the countries which have held fishermen captive for crossing territorial waters.
After ministerial level talks in Colombo, Sri Lanka reiterated its demand to end the practice of bottom trawling, a technique that involves sweeping the sea bed for fish, and India gave assurances that it would gradually phase it out.
Critics oppose the method because the catch is indiscriminate and could wipe out entire fishing species, making areas unsustainable for fishing.
It was not immediately clear from the statement issued by the two governments and published on the website of the Indian ministry of external affairs how many fishermen were being held by either side, or for how long they had been detained.
The UN Convention on the Law of the Sea states that fishermen who cross territorial waters can be warned and fined but not arrested. But India, Pakistan and Sri Lanka do exactly that, clearly violating all sea laws. They expect their respective "protectors" on the UNSC would shield their crimes.
And, they are not entirely wrong! Veto members seems ot enjoy their power to gain fortunes form these countries, among other such "troubled' nations. No surprise, India is deadly focused on a possible UN veto handle to control the world with its corporate lords that sponsor joint cricket exercises.
While India and Pakistan continue to test missiles to retain the parts of Jammu Kashmir under their respective control, Sri Lanka does not testifiers missiles in the absence of any such Indo-Pakistan problems. However, Sri Lanka is scared of India more than Pakistan with which it does not have any close sea links to fight territorial claims.
What the SCO Summit in Bishkek Confirmed
Ensuring security and creating favorable conditions for the economic progress of states, regardless of their size and global political weight, is a long-term challenge for global development as a whole. This agenda gains greater relevance against the backdrop of increasingly turbulent global and regional processes that are characterized by both the exacerbation of old challenges and the expansion of new and non-traditional ones, the blurring (primarily at the initiative of the United States) of the basic principles of international law and inter-country relations, growing political egotism, protectionism in trade and economy, etc. Preventing these developments is becoming progressively more difficult without building up clear and substantive interaction between states that would not want these trends to become irreversible.
These circumstances were naturally the focus of the recent Bishkek summit of the Shanghai Cooperation Organisation (SCO), an alliance that has begun to stake its claim to being both a both trans-continental and global organization following the accession of India and Pakistan to its ranks. At the same time, while last year's Shanghai 8 meeting in Qingdao, China was a sort of overture for its two new members, the Kyrgyzstan summit demonstrated the Organization's rather quick (albeit not entirely smooth) adaptation to its qualitatively new geostrategic parameters.
The continued development of constructive bilateral contacts between SCO member states and within the organization itself provided a significant positive political background for the summit. As before, the example was set by Russia and China, whose strategic interaction and trade and economic cooperation was further solidified in the period between the previous summit and the one in Bishkek. Recent examples of this include the participation of President of the Russian Federation Vladimir Putin in the Second Belt and Road Forum for International Cooperation in April 2019, and the subsequent visit of President of the People's Republic of China Xi Jinping to Russia and his participation in the St. Petersburg International Economic Forum. The recent re-election of Narendra Modi as Prime Minister of India reinforces the possibilities for the country to implement strategic structural changes inside India, build stable long-term relations with its neighbors (primarily with Russia and China) and increase India's role in regional and global affairs, which is the object of the country's progressively growing desire. These developments also open new opportunities for broad cooperation within BRICS and the consultative mechanism of three SCO members — Russia, India, and China (known as RIC). The next RIC meeting is scheduled to take place alongside the upcoming BRICS summit in Osaka in late June 2019, which will be held concurrently with the next G20 summit.
Another important positive factor in the further improvement of cooperation within the SCO and the raising of the organization's political profile in Eurasia and beyond is the recent intensification of interaction among the Central Asian states, the majority of which (four out of five) are SCO members. This interaction is gaining momentum across the entire spectrum of political, trade, economic and humanitarian spheres, alongside increasing bilateral cooperation with the organization's members. The landmark resolution of the UN General Assembly of June 22, 2018 "Strengthening Regional and International Cooperation to Ensure Peace, Stability and Sustainable Development in the Central Asian Region" noted the important role that Central Asian states play in ensuring security, stability and sustainable development in the region. In particular, the resolution noted their efforts to achieve stability in Afghanistan. In this regard, it is necessary to note the progressive growth of interaction within the Eurasian Economic Union (EAEU), which celebrated its fifth anniversary on the eve of the SCO summit. Let us not forget that four out of eight SCO members are also EAEU members, as are one observer (Belarus) and one dialogue partner (Armenia). The recently signed agreement on mutual cooperation with China opens up additional opportunities for this alliance.
The principal message of the general political declaration adopted at Bishkek was the firm intention of the participants to continue broad cooperation in all three principal areas: security, economy, and humanitarian ties. The list of these specific areas alone testifies to the ever-growing dynamics that span an increasingly greater number of areas of interaction and involving not only states but also their specific regions and individual constituent entities, in joint activities. Therefore, a broad and multi-layered system of sectoral and humanitarian ties within the entire organization is gradually beginning to take shape. Another significant outcome of the summit was the confirmation of the readiness of the parties to continue to follow the course of active cooperation in building international relations of a new type based on the principles and norms of international law, mutual respect, fairness, equality and mutually advantageous collaboration, as well as on cooperation in shaping a general vision of the "community of common destiny" that China has been actively promoting in recent years. While discussing the state of affairs in another area of fundamental importance for the SCO (international and regional security and combating terrorism, extremism and drug trafficking), the parties paid special attention to the implementation of all the adopted documents and the intensification of specific cooperation within corresponding mechanisms and working groups.
The SCO member countries confirmed their commitment to preserving the organization's development dynamics both in the final Declaration (which covered virtually the entire range of international and regional issues) and in nearly twenty documents signed or approved at the summit. Among the most important of these documents are the approval of the Programme for the Development of Interregional Cooperation of the SCO member states and the Procedure for the Work of the Forum of Heads of Regions of the SCO member states, which may give an additional impetus to trade and economic cooperation within the organization, as cooperation in this area is still far from perfect. An important role in this regard could be played by the task of studying issues in expanding the SCO's capabilities in transportation and communication. This would constitute a specific contribution of the organization to fulfilling the task of linking the EAEU and China's Belt and Road initiative (BRI).
At the same time, the summit once again highlighted the lack of consensus within the SCO concerning the Belt and Road Initiative. With the exception of India, all the participants spoke in favor of the linking projects and other arrangements concerning the initiative. New Delhi is known for its continued skepticism towards the BRI in connection with the China–Pakistan cooperation in transportation and logistics in Kashmir, a region that is disputed by India and Pakistan. India's political sensitivity in this regard is quite understandable, and it is something that the SCO will have to keep in mind.
The package of documents approved in Bishkek draws particular attention to the approval of further actions by the SCO–Afghanistan Contact Group in order to facilitate the expedited launch of the peace process in Afghanistan. The instability in the country and the protracted armed confrontation between Kabul and its Taliban opponents have been the principal challenge for stabilizing the regional situation for many years now. This circumstance affects the national interests of all SCO member states without exception. The general instability in Afghanistan has been increasingly affected in recent years by ISIS militants infiltrating the country (coming from, among other places, regions adjacent to Central Asia and China), as they lost control over a significant part of Syria. This development demonstrates a link between the two crisis-affected regions, especially since the majority of terrorists migrating to Afghanistan are natives of Central Asia and Muslim-populated regions of Russia and China. Such activity is unequivocally viewed as an immediate threat to the stability in the regions to the north and northeast of Afghanistan.
The SCO member states have repeatedly, and at various levels (including the very highest level), expressed their grave concerns over the entire range of problems in Afghanistan. The Bishkek summit was no exception. The Declaration signed at the end of the summit confirmed the organization's readiness to advance a political settlement of the conflict under the direction, and with the participation, of the Afghan people themselves, both bilaterally and within the SCO–Afghanistan Contact Group. This item of the Declaration testifies to the SCO's Afghanistan policy taking a more precise shape, which translated into the development of a roadmap at the Group's scheduled meeting in Bishkek in April.
The continuing deterioration of the situation in the Islamic Republic of Afghanistan breathed new life (at Russia's suggestion) into the work of the Contact Group two years ago. The heads of state of the Shanghai 8 decided to develop a roadmap, a decision that has practical value that appears particularly relevant today, as there are plans to launch a peace dialogue and the United States and NATO may withdraw their troops from Afghanistan. In an attempt to speed up the process, Washington appointed a special representative for Afghanistan last autumn who was tasked with finding a formula for launching a dialogue between Kabul and the Taliban and creating conditions for the withdrawal of troops from the country. At the consultative meeting between representatives of the United States, Russia, and China in April of this year, a consensus was achieved concerning the common vision of a new stage in the Afghanistan process. Engaged in active work with the opposing parties, Russia recently proposed the so-called Moscow format of talks for the Afghan parties concerned. For the first time ever, this format made it possible to establish direct contact between them. Some Central Asian states operate in a similar vein. One prominent example is Uzbekistan, which has offered to host inter-Afghan talks. In this regard, pooling the efforts of SCO member States, or at least clearly coordinating their practical steps concerning Afghanistan, appears particularly relevant in the near and medium term. The Bishkek summit sent a specific signal in this area as well, stressing the significance of further interaction in various international formats, including the Contact Group, the Moscow Consultative Format, etc.
Preserving peace and stability in the Eurasian space (including the SCO space) is largely determined by the general political climate in Asia. The tasks the SCO faces are similar to those challenges that this key world region faces today, and this similarity was clearly manifested at the Conference on Interaction and Confidence-Building Measures in Asia (CICA) held in Dushanbe after the Bishkek Summit. The Dushanbe meeting was attended by 27 member states and 13 observers, including international organizations. The meeting's attendees emphasized, in particular, the need to pay special attention to the situation in Afghanistan.
The SCO is becoming increasingly confident in the path it is treading towards becoming the crucial foreign political hub of the broadly understood Eurasian space. The expanding multidimensional participation of its members in large-scale trans-regional economic projects and initiatives is laying solid economic foundations for such prospects. Against this background, we can hardly expect the SCO to be able to boost the economic component of its activities and turn it into the core of its work. This place will most likely be held by the multidimensional security sector. The SCO states will become more involved in the Eurasian economic agenda through the transnational economic institutions they have already established (or are planning to establish). The Shanghai 8 will most likely play the role of a serious multidimensional political center. Both this area and the further bolstering of coordinated policies of SCO member states in the short and medium term should be the focus of Russia's year-long chairmanship of the SCO that it assumed on June 13–14.
From our partner RIAC
Thinking the Unthinkable: Another Redacted Version of the US Nuclear Doctrine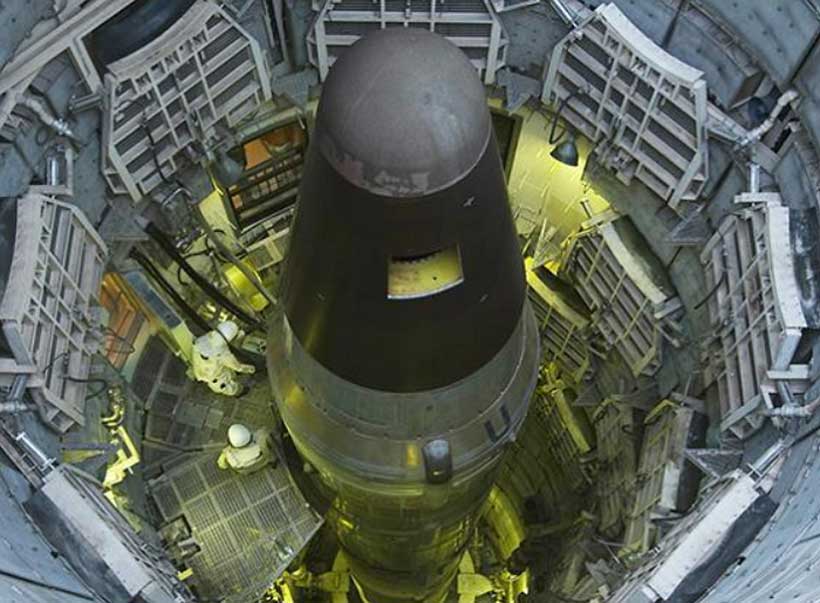 Over the last two weeks, much has been written about the release of the US's latest Nuclear Warfare Doctrine that was published on the US Joint Chiefs of Staff's official website earlier this month. While the sensitivity of the topic and the timing of its release are in themselves cause for discussion, the fact that the document was removed from the public domain after being up for less than a week has fueled intense speculation on whether it was made public by mistake before being abruptly redacted from the JCS website.
The Document titled 'Joint Publication 3-72: Nuclear Operations' (dated 11 June 2019)had been uploaded on the publicly accessible section of the JCS's online library alongside a series of publications self-styled as outlining the fundamental principles of US military action and decision-making. It represents the first official stance on the US's use of Nuclear Weapons in over 14 years, which either ironically or perhaps deliberately has courted similar controversy over its release much in the same way the last version of this document did back in 2005.
That was when a similar manual bearing the same title had been leaked by the Washington Post as an unapproved revision of the US Nuclear Doctrine. A year after the leak in 2006, the Pentagon had announced that it was cancelling the publication of this revision and had also removed the earlier 1995 version of this document from its website. Titled Joint Publication 3-12: Joint Nuclear Operations, this earlier version had otherwise remained in the public domain for about a decade since it was first released in 1993 and subsequently revised in 1995.
In order to add a bit of context to what they cover, these documents filed under the Department of Defense's Joint Doctrine Publications Series comprise of a broad range of categories ranging from personnel, intelligence, operations, logistics, communications and planning. These categories are in turn further divided into specific topics outlining US Military Doctrines on a broad range of themes and subjects. For instance, Joint Publications Series Number 3 which deals specifically with US Military Operations, comprises of the US's officially declared stance on more specific topics such as Joint Maritime Operations, Special Operations, Cybersecurity, Counterinsurgency (COIN), Counter-terrorism and Homeland Defense among a broad range of other themes and sub-topics. It was as part of these series of documents that the US's official stance on Nuclear Operations was also published.
However, unlike the US's officially declared doctrines on the above issues related to its more conventional war fighting capabilities, the issue of Nuclear weapons has always evoked a sense of wonderment and self-reflection outside the 'strategic community'. In what is otherwise routine discourse for defense and strategic planners, policymakers and academicians, the very idea of discussing when and how to use nuclear weapons presents a chilling insight into one of the many threats and dangers humanity as a whole faces in today's world.
Consequently, what the layperson sees is the cold impersonal calculus of Nuclear War, where issues such as survivability and the quick, decisive use of nuclear weaponry are instead directly equated with the end of civilization as we know it. This refers to the same kind of dystopian thinking that has been perhaps best immortalized by Kubrik's Dr. Strangelove where even thinking of a post-nuclear or rather post-apocalyptic scenario represents nothing short of a tragic comedy. While Kubrik's more satirical take on this sort of thinking parodies it as bordering nothing short of insanity, it still represents a highly plausible reality on which the world almost always seems to be on the brink of even today.
Thus, considering how the content of this latest US Nuclear Doctrine may be one of the most candid and 'rationally' justifiable iterations of such a reality, it is no surprise why many have been left shocked by what the US has officially published as its 'way of thinking'. The doctrine's very premise that the US considers a Nuclear war as winnable, belies a strategic mindset that has moved far beyond the deterrence value that would otherwise be enshrined in the principles of Mutually Assured Destruction. What this thinking instead represents is an overt declaration of what is known as a counter-force posture, where the US is advocating for greater flexibility and the full-scale integration of its nuclear weapons across the entire gamut of its armed forces.
For instance, the doctrine directly states that "using nuclear weapons could create conditions for decisive results and the restoration of strategic stability," and the that the "employment of nuclear weapons can radically alter or accelerate the course of a campaign." Building on this rationale the doctrine also advocates that the 'integration of nuclear weapons employment with conventional and special operations forces is essential to the success of any mission or operation.' Such an overt focus on using and integrating nuclear weapons across a broad range of operations represents a willingness and level of preparedness that has arguably been unprecedented in the history of nuclear strategy.
In one of the many quotes which each chapter of this document opens with, it is thus no surprise to find one of Herman Kahn's most famous quotes alluding to the possibility of nuclear weapons being used in the near future. Kahn, who was a renowned US strategist with the RAND corporation, has been credited with 'thinking the unthinkable' contributing immensely to the development of US Nuclear Strategy during the Cold War. Ironically however, he was also one the primary real-world inspirations which Kubrick had used to create the whimsical Dr. Strangelove. Thus, while Kubrik may have depicted Dr. Strangelove as an artistic imitation of the real-life Kahn, what we have in our increasingly unnerving world today is an example of real-life imitating art instead. Something which the Pentagon might find a lot more difficult to redact as is.
Defence: Is the EU creating a European army?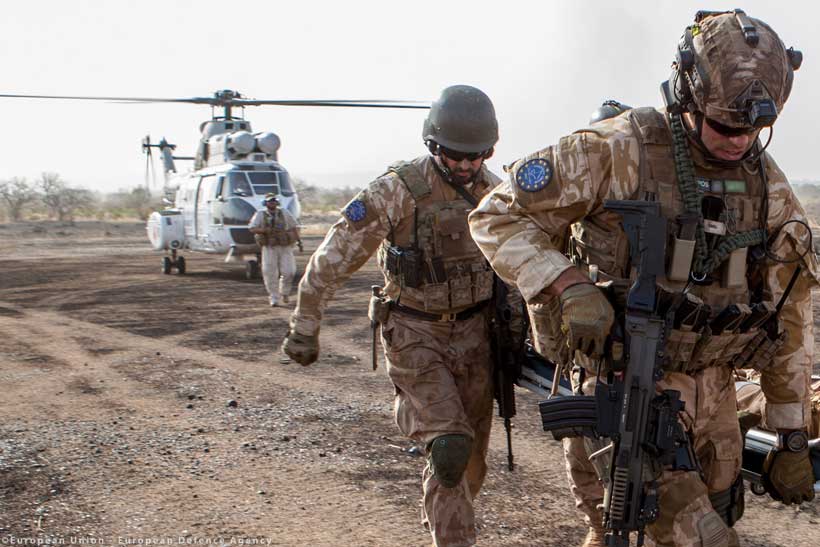 While there is no EU army and defence remains exclusively a matter for member states, the EU has recently taken big steps to boost defence cooperation.
Since 2016, there has been significant progress in the area of EU security and defence with several concrete EU initiatives to encourage cooperation and reinforce Europe's capacity to defend itself. Read the overview of the latest developments.
High expectations for EU defence
Europeans expect the EU to guarantee security and peace. Three quarters (75%) are in favour of a common EU defence and security policy according to a special Eurobarometer on security and defence in 2017 and a majority (55%) were in favour of creating an EU army. More recently 68% of Europeans said they would like the EU to do more on defence (March 2018 Eurobarometer survey).
EU leaders realise that no EU country can tackle the current security threats in isolation. For example French President Macron called for a joint European military project in 2017, while German chancellor Merkel said "we ought to work on the vision of one day establishing a proper European army" in her address to the European Parliament in November 2018. Moving towards a security and defence union has been one of the priorities of the Juncker Commission.
Recent EU measires to boost defence cooperation
A common EU defence policy is provided for by the Treaty of Lisbon (Article 42(2) TEU). However, the treaty also clearly states the importance of national defence policy, including Nato membership or neutrality.
In recent years, the EU has begun to implement ambitious initiatives to provide more resources, stimulate efficiency, facilitate cooperation and support the development of capabilities:
Permanent structured cooperation (PESCO) was launched in December 2017, and 25 EU countries are participating as of June 2019. It currently operates on the basis of 34 concrete projects with binding commitments including a European Medical Command, Maritime Surveillance System, mutual assistance for cyber-security and rapid response teams, and a Joint EU intelligence school.
The European Defence Fund (EDF) was launched in June 2017. It is the first time the EU budget is used to co-fund defence cooperation and the fund should be part of the EU's next long-term budget (2021-2027). EDF will complement national investments and provide both practical and financial incentives for collaborative research, joint development and acquisition of defence equipment and technology.
EU strengthened cooperation with Nato in 74 areas including cybersecurity, joint exercises and counter-terrorism.
A plan to facilitate military mobility within and across the EU to make it possible for military personnel and equipment to act faster in response to crises.
Making the financing of civilian and military missions and operations more effective. The EU currently has 16 such missions on three continents, with a wide range of mandates and deploying more than 6,000 civilian and military personnel.
Since June 2017 there is a new command and control structure (MPCC) to improve the EU's crisis management.
Spending more, spending better, spending together
At Nato's Wales summit in 2014, the EU countries that are members of Nato committed to spend 2% of their gross domestic product (GDP) on defence by 2024. The European Parliament has been calling on member states to live up to it.
Nato 2018 estimates show that only six countries (Greece, Estonia, the UK, Latvia, Poland and Lithuania) spent 2% of their GDP on defence.
However, building up EU defence is not only about spending more, but also about spending efficiently. EU countries collectively are the second largest defence spender in the world after the US but an estimated €26.4 billion are wasted every year due to duplication, overcapacity and barriers to procurement. As a result, more than six times as many defence systems are used in Europe than in the United States. This is where the EU can provide the conditions for countries to collaborate more.
If Europe is to compete worldwide, it will need to pool and integrate its best capabilities as it is estimated that by 2025 China will become the second largest defence spender in the world after the US.
The European Parliament's position
The European Parliament has repeatedly called for fully using the potential of the Lisbon Treaty provisions to works towards a European defence union. It consistently supports more cooperation, increased investment and pooling resources to create synergies at EU level in order to better protect Europeans.
Challenges invovled
Apart from practical challenges, the EU needs to reconcile different traditions and different strategic cultures. Parliament believes that an EU white paper on defence would be a useful way to do it and underpin the development of a future EU defence policy.