Tensions in South Asia: Pakistan test-fires multiple target nuclear missile
Pakistan on January 24 Tuesday successfully test-fired its second indigenously-developed nuclear-capable missile Ababeel, capable of engaging multiple targets with high precision with a range of 2,200 km, which brings many Indian cities within its striking range. The test firing comes two weeks after the launch of submarine-fired Babar III that Indian side military analysts as usual dubbed as "fake".
Pakistan military said Pakistan has successfully conducted the flight test of surface-to-surface nuclear-capable missile 'Ababeel'. Ababeel is capable of delivering multiple warheads using Multiple Independent Re-entry Vehicle (MIRV) technology, Army spokesman Major General Asif Ghafoor said in a statement. "The test flight was aimed at validating various design and technical parameters of the weapon system," he said. Ghafoor said: "The development of the Ababeel weapon system was aimed at ensuring survivability of Pakistan's ballistic missiles in the growing regional Ballistic Missile Defence (BMD) environment and has the capability to engage multiple targets with high precision, defeating the enemy's hostile radars."
The missile has a maximum range of 1,367 miles, and is capable of carrying multiple warheads using the Multiple Independent Re-entry Vehicle technology. According to Inter Service Public Relations, the media arm of Pakistan's military, the test was conducted to validate the weapon's abilities.
On 8 January, Pakistan conducted its first successful test fire of submarine launched cruise missile Babur III having a range of 450 km. The missile was fired from an underwater, mobile platform and hit its target with precise accuracy.
The Babur weapons system incorporates advanced aerodynamics and avionics that can strike targets both at land and sea with high accuracy, according to ISPR. It has been described as a low flying, terrain hugging missile, which carries certain stealth features and is capable of carrying various types of warheads.
ISPR adds the missile will be a powerful deterrent for the country. Ababeel can be armed with nuclear weapons, and engage multiple targets while overcoming enemy radars.
High-ranking Pakistani government officials praised the flight test as a landmark achievement for the country's military.
Pakistan's demonstration follows its nuclear-capable Babur-III launch on Jan. 9, and a number of test-firings conducted by its neighbor India, which have contributed to escalating tensions between the historically hostile nations.
India's Defense Research and Development organization test-fired its Agni IV ballistic missile on Jan. 4, and launched its guided Pinaka Rocket Mark-II on Jan. 12.
Indian military prowess
This development comes just weeks after the neighbouring rival India ill-focused on Muslim neighbors, successfully test-fired the nuclear-capable Babur-3, its first Submarine-Launched Cruise Missile capable of carrying a nuclear warhead up to 450 kms. In an apparent reference to India, the release said, "The development of the Ababeel weapon system was aimed at ensuring survivability of Pakistan's ballistic missiles in the growing regional Ballistic Missile Defence (BMD) environment."
India considers itself the super power of the SA region having first obtained nukes threatening the regional nations, especially Pakistan and Bangladesh. .
Referring to India's test of its nuclear-capable Agni-IV missile on January 2, Pakistan had also cautioned members of MTCR that introduction of destabilising systems such as "missile defence programmes" and "inter-continental ballistic missiles" in South Asia pose a "risk" to regional stability.
A country's non-proliferation record is one of the key criteria to join MTCR.
Like India Pakistan has also intensified its efforts to join the exclusive club of countries, controlling exports in missile technology, since India joined the elite grouping last year as its 35th member.
Notably, India was successful in joining MTCR, ahead of Pakistan's all-weather ally China, whose application is pending since 2004. However, experts say that Pakistan's controversial record in nuclear proliferation and absence of its patron China inside the club are major obstacles in Islamabad becoming a formal member of MTCR. India has reason to celebrate with semi-explosives all over the country just as it does when it wins a cricket match after fixing it in its favor. .
Pakistan has cautioned members of MTCR that introduction of "destabilising systems" like "missile defence programmes" and "inter-continental ballistic missiles" in South Asia pose a "risk" to regional stability, in an apparent reference to India. Pakistan's "serious concerns" over the introduction of such systems in South Asia were expressed to a delegation of Missile Technology Control Regime (MTCR), a 35-member elite grouping that includes India and controls export in high-end missile technologies, a Foreign Office (FO) statement said. "Pakistan highlighted the risks posed to regional peace and stability due to the introduction of destabilising systems such as missile defence programmes and inter-continental ballistic missiles," the FO statement said.
India is the only country in South Asia having successfully tested inter-continental ballistic missiles. "Pakistan was, however, committed to avoiding any kind of arms race in South Asia," it said, adding that Pakistan's proposal on establishing Strategic Restraint Regime (SRR) in South Asia which covers nuclear and missile restraint remains on the table. "Pakistan believes that progress on this proposal (SRR) through meaningful dialogue can promote peace and stability in the region," it said.
Concerned about regular rissole tests in India and Pakistan and their seemingly never ending conflict over Kashmir, the United States also weighed down on Pakistan's test of Babur-3 missile urging it to 'exercise restraint regarding the use and testing of their nuclear capabilities'. "We continue to urge all states with nuclear weapons to exercise restraint regarding nuclear and missile capability testing and use, and we encourage efforts to promote confidence building and stability with respect to those capabilities," former US state department spokesperson John Kirby had said.
Highlighting Pakistan's non-proliferation credentials, Additional Secretary, FO, Tasneem Aslam told the MTCR that Pakistan has always remained in the "forefront to stop the spread of weapons of mass destruction" and has "always followed international standards while delivering weapons". Aslam also briefed the delegation led by Ham Sang-Wook, the current MTCR Chair, about the administrative, legislative and regulatory measures taken by Islamabad for the establishment of a robust command and control system, an effective and comprehensive export control regime, and the steps taken to improve physical security at all levels. "Pakistan's export control regime is at par with the best international standards and its national control lists encompass the items and technologies controlled by the MTCR," Aslam said.
Pakistani diplomacy
Pakistani diplomacy is indeed commendable. On the eve of test firing, Pakistan released 218 Indian fishermen who had allegedly strayed into its waters. Despite a thaw in bilateral ties, Pakistan has now released 439 Indian fishermen as a "goodwill gesture" in the last 10 days.  The 218 fishermen were freed from Malir jail on instructions from the interior ministry as a goodwill gesture, jail superintendent Hasan Sehto said.
This is the second batch of Indian fishermen released from Pakistan jails since relations between the two countries became tense after the September terror attack on an Indian Army base in Uri for which India has blamed Pakistan-based Jaish-e-Mohammed organisation.
On December 25, the Pakistan government had freed 220 Indian fishermen who were in jail for more than a year as goodwill gesture after Prime Minister Narendra Modi greeted counterpart Nawaz Sharif on his birthday.
The Indian fishermen who were released will be handed over to Indian officials at the Wagah border. He said that around 110 more Indian fishermen remain in Landhi jail in Karachi.
Last March, the Pakistan government had released 87 Indian fishermen who had been languishing in jail in Karachi for the last two and half years.
Fishermen are being increasingly used as useful foreign tension tools by India, Pakistan and Sri Lanka in the troubled Indian Ocean/Arabian waters further complicating the regional tensions being generated by nuclearized South Asian powers India and Pakistan over Kashmir issue.
Pakistan and India frequently arrest each others' fishermen for violating the territorial boundary. Poor fishermen from both countries routinely find themselves arrested for illegal fishing as there is no clear demarcation of the boundaries between the two countries in the Arabian sea near Sir Creek and lack of technology has made life difficult for the fishermen of both countries.
Last Friday, Pakistan maritime security agency arrested 66 Indian fishermen for illegally fishing in Pakistan's territorial waters. Fishermen from both countries end up languishing in jails for years even after serving their sentences and their only hope of getting released is through 'goodwill' steps.
Pakistan released 220 Indian fishermen in December as a goodwill gesture aimed at easing tensions with its neighbour and pawing way for good neighborly relations to resolve the vexed Kashmir issue in favor of Kashmiris to regain sovereignty from occupation nations.
Sri Lankan atrocities
Meanwhile, India and Sri Lanka with strained relations over Lankan army's war crimes against minority Tamil community during the Rajapksha era – agreed to release fishermen in each others' custody, a joint statement said on Monday, a move that is likely to ease tensions between the countries which have held fishermen captive for crossing territorial waters.
After ministerial level talks in Colombo, Sri Lanka reiterated its demand to end the practice of bottom trawling, a technique that involves sweeping the sea bed for fish, and India gave assurances that it would gradually phase it out.
Critics oppose the method because the catch is indiscriminate and could wipe out entire fishing species, making areas unsustainable for fishing.
It was not immediately clear from the statement issued by the two governments and published on the website of the Indian ministry of external affairs how many fishermen were being held by either side, or for how long they had been detained.
The UN Convention on the Law of the Sea states that fishermen who cross territorial waters can be warned and fined but not arrested. But India, Pakistan and Sri Lanka do exactly that, clearly violating all sea laws. They expect their respective "protectors" on the UNSC would shield their crimes.
And, they are not entirely wrong! Veto members seems ot enjoy their power to gain fortunes form these countries, among other such "troubled' nations. No surprise, India is deadly focused on a possible UN veto handle to control the world with its corporate lords that sponsor joint cricket exercises.
While India and Pakistan continue to test missiles to retain the parts of Jammu Kashmir under their respective control, Sri Lanka does not testifiers missiles in the absence of any such Indo-Pakistan problems. However, Sri Lanka is scared of India more than Pakistan with which it does not have any close sea links to fight territorial claims.
Nagorno-Karabakh: Will the Landscape Change following the Latest Unrest?
The situation surrounding Nagorno-Karabakh, which has deteriorated dramatically in recent days, has clearly demonstrated that it is becoming increasingly impossible to maintain the status quo. An urgent solution to the conflict is needed in order to avert a serious crisis.
External factors that have contributed to the escalation of the Nagorno-Karabakh include: 1) Russia finding itself hemmed in from all sides by the seemingly unbreakable transatlantic coalition which has given the West considerable room for manoeuvre with regard to the Nagorno-Karabakh issue; 2) Turkey's exponentially growing ambitions to build a new Islamic Empire, which are bolstered by the country's strong alliance with the United States; and 3) the complete ineptitude of the OSCE Minsk Group (Russia, the United States and France), which has been working towards the settlement of the Nagorno-Karabakh conflict for three decades now without a single major breakthrough.
One thing is clear — the conflict needs to be resolved, and now is the time to do it. One thing is clear — the conflict needs to be resolved, and now is the time to do it. Meanwhile, the entire world is calling for the two sides to abandon the hostilities and sit down at the negotiating table. The conflict needs to end now.
All the attempts to resolve the conflict — the Madrid Principles, the Zurich Protocols, the renewed Madrid Principles and the talks in Kazan on the settlement of the Nagorno-Karabakh conflict — have looked more like possible ways out of the crisis than roadmaps for concrete actions. This is why they have all remained on paper, as none of the sides has been prepared to make even the smallest of compromises.
While the two central players in this geopolitical puzzle, Turkey and the United States (which is keen to see a settlement), may disagree profoundly on a number of issues, Ankara has always been viewed by Washington as a country of indisputable geostrategic importance and its key partner in the region, and this will not change. It is thus no coincidence that the "Turkey–U.S. Defense Cooperation: Prospects and Challenges" report for the United States Congress notes that "Turkey is a more significant ally for the United States at present than during the Cold War" given U.S. interests in the region. Turkey's attitude towards NATO will not undergo any major changes either. According to President of Turkey Recep Erdogan, Ankara "has no intention of giving up its NATO membership or its allies." This is something that Russia must keep in mind when developing its South Caucasus policy.
Turkey and the United States have a number of common interests in the South Caucasus that allow the two countries to work together. These interests include joint projects in the Black Sea region and call for strengthening security cooperation there, an issue that is becoming increasingly important. This state of affairs can be partly explained by the fact that the signing of the Convention on the Legal Status of the Caspian Sea effectively blocked access to the Caspian Sea for non-regional players, at least for the time being, which only makes their desire to be involved in the Black Sea region even stronger.
Both the warring sides and the United States and Turkey have long expressed the desire to find a way out of this impasse, and Washington and Ankara will work together to try and ensure a quick settlement to the conflict.
As far as the strategists in Washington see it, Azerbaijan is far more invested in finding a solution than Armenia is. This is why we have seen significant changes in the U.S. policy towards Yerevan, including insisting that the latter make certain concessions in order to bring the conflict to an end. The arrival of Nikol Pashinyan as Prime Minister of Armenia brought with it a noticeable shift in Armenia's foreign policy towards the United States, which should make this strategy successful.
Consequently, Washington's policy in this area will focus, first of all, on normalizing relations between Turkey and Armenia, and then on opening the border between the two countries. After all, it is of strategic importance for Washington to find a solution to this problem, especially when U.S.–Iran relations are likely to deteriorate even further moving forward. This could also help speed up the settlement process, as well as promote cooperation not only between Baku and Yerevan, but also with Ankara, which should lead to Turkey and Azerbaijan lifting the land blockade against Armenia that was established during the Nagorno-Karabakh conflict.
What is more, Washington has started to openly demonstrate its intention over the past few years to resolve the Nagorno-Karabakh conflict independently in the context of implementing its policy in the South Caucasus.
This was initially reflected in a statement given by former U.S. ambassador to Armenia Richard Mills, where he claimed that the status quo is unacceptable and cannot last forever, adding that "any settlement of the Karabakh conflict is going to require the return of some portion of the occupied territories," although events like the 2016 April War make this even more difficult for the Armenian people. And things have gone from bad to worse since then. A series of resolutions passed by the 115th United States Congress — Resolution 573 "calling on the President to work toward equitable, constructive, stable and durable Armenian–Turkish relations," and Resolution 190 of the 116th United States Congress "supporting visits and communication between the United States and the Republic of Artsakh" (the new name of the Republic of Nagorno-Karabakh following a 2017 referendum) — prove that Washington intends to change the situation in the conflict zone and become the main moderator in the disagreement. In this regard, it is worth paying special attention to the main areas of Washington's policy towards Armenia, which has been thought-out particularly well, taking into account both the need to repair relations between Turkey and Armenia, giving Yerevan access to the rest of the world, and to improve relations with the Republic of Artsakh, which could become the main stumbling block in the way of Armenia's drift towards the West.
The U.S. approach to Armenia could thus change completely as it develops its new policy in the South Caucasus. This state of affairs also meets the interests of Turkey, which, as a key player in the South Caucasus, will welcome any positive change in Yerevan's foreign policy towards the West. With this being the case, it could be argued that Ankara not only pursues its own geopolitical interests in the region, but also acts as an instrument through which the United States can further its policies there. This could lead to a change in the configuration of the South Caucasus as a whole, which is unacceptable for Moscow in terms of preserving and promoting its interests in the region given the fact that Armenia is key to Russia's plans for maintaining its strategic interests in the Caucasus, as well as in the context of the "Iranian problem."
Right now, Armenia is Russia's only strategic ally in the South Caucasus, and ensuring the country's security is its number one problem. Russia has always played an important role in the Nagorno-Karabakh settlement process, and this will not change. It thus needs to take stock of the opportunities it has to influence the resolution of the problem, which, it would seem, neither Baku nor Yerevan, nor indeed the West, fully appreciate. Moscow believes that the only way to put an end to the confrontation, which has been going on for some 30 years or so, is through political means. It would thus be fair to assume that military intervention "from the outside" is extremely unlikely, because Moscow's main task here is to maintain at least a shaky balance between Yerevan and Baku. In other words, Moscow believes that "freezing" the conflict is more acceptable in the current climate, where neither Azerbaijan nor Armenia, which are involved in an intense ethnopolitical confrontation, have any intention of making compromises or concessions, than actually working for a final resolution to the long-standing conflict — although this approach has not yet led to peace.
However, given the escalation of the conflict, it would seem that Moscow, for which the two warring sides are of great importance, is in a position to launch the renewed Madrid Principles, which be the first step towards resolving the conflict. Both Azerbaijan and Armenia were prepared to negotiate under these principles and saw it as a blueprint for achieving a peaceful solution. However, the renewed Madrid Principles touch upon issues that are extremely sensitive for Armenia, primarily regarding the international legal status of Nagorno-Karabakh. Azerbaijan has stood firm on its position that a settlement can only be reached if its territorial integrity is preserved, which means restoring its jurisdiction over Nagorno-Karabakh. This condition has been the main obstacle to the settlement of the conflict. Another important issue is the return by Yerevan of seven regions that neighbour Nagorno-Karabakh and are controlled by Armenian forces. Nevertheless, the renewed Madrid Principles project needs to be launched as soon as possible — after all, the main obstacle is the unwillingness of the parties to make concessions. Beyond that, where there's a will, there's a way.
From our partner RIAC
Could a maritime chain hub between US-Japan-Viet Nam-India to tackle China?
The rise of China in the last few years has been a cause of concern and as China grew economically, it strengthened its claws in the realm of defense and has been expanding its paws into the territories of other countries which is a violation of a country's sovereignty and territorial integrity. Chinese aggressiveness has become the bone of contention and this is a serious matter of concern for all the countries who are facing the China threat. China's need to dominant certain trade routes; sea-lanes of navigation and communication jeopardizes the concept of a free and open navigable sea route which is unacceptable as no one country completely owns any sea-lanes and routes of trade and communication. Therefore, in order to protect the national interest and freedom of navigation of many countries, this article tries to build an argument on could there be a possibility for a formation of a maritime chain hub consisting of Guam, Okinawa, Cam Ranh Bay and the Andaman and Nicobar Islands which could tackle China's maritime aggressiveness.
Guam, a former Spanish colony and now one of the 17 non-self-governing territories of the United States of America. Guam has been a military asset since the World War II as the U.S. moved its military aircraft. Also, during the Viet Nam War, Guam was a major asset in the Pacific as it was a base used by the Americans. Presently, it serves as a major military base for America and has the U.S. Air Force and Navy installations and is also a major hub for the submarine communications cables between the western United States of America, Hawaii, Australia and Asia. There is a huge military presence in Guam and the United States of America moves its military assets and personnel to Okinawa, the Japanese island. Guam as a naval base port plays a rather important part as it is home to the four nuclear-powered fast attack submarines and two submarine tenders. Also, Guam has the Andersen Air Force Base which hosts the Navy helicopter squadron and Air Force bombers and along with this has two-three kilometers runways and also caters as a storage facility for fueling purposes.
In June 2020, the U.S. Naval Base Guam has been designated as a 'safe haven liberty port' and the U.S 7th Fleet flagship USS Blue Ridge(LCC 19) and the USS Bunker Hill(CG 52) have been placed here and eventually, on 24 June 2020, the Nimitz Carrier Strike group which consists of the aircraft carrier USS Nimitz (CVN68), Ticonderoga-class guided-missile cruiser USS Princeton (CG 59) and the Arleigh Burke-class guided missile destroyers USS Sterett (DDG 104) and the USS Ralph Johnson (DDG 114) all placed in the safe haven liberty port in Guam. This move to make Guam a safe heaven liberty port should be seen from the perspective of a potential logistical re-supply, possible repairs and a safe place where the sailors could rest and rejuvenate themselves amidst the global Coronavirus pandemic. One needs to understand that Guam needs to be militarized to ensure that North Korea doesn't attempt any form of attack on Japan which is under the Security umbrella of the U.S. and also, Guam which is an American territory needs to protect itself from North Korea it is in a feasible striking distance and so, this military buildup in Guam by the United States of America is justified.
Japan's Okinawa is strategically very important for the United States of America as it is a vital component in America's grand strategy towards the region of East Asia. Also, the geographical location of Okinawa has a greater meaning as Okinawa is placed between the Philippines, East China Sea and the South China Sea and also the neighbourhood consists of China, Taiwan, the Korean Peninsula and of course the mainland Japan which is a sure game-changer. Okinawa makes an important military outpost, protects the freedom of navigation and the American national cum security interests which inevitably help in the stability of this region. The bases at Okinawa are of geostrategic value as it deals with a fairly flexible range of positions to counter any potential threat and so, help keep interests of Japan safe especially with regard to the Senkaku Islands and the presence of America at Okinawa is a clear deterrent for China incase it tries to create any provocation. Also, South Korea is in an alliance with the United States of America and so, Okinawa also acts as a critical component in dealing with North Korea and in order to maintain peace in this region, the American marines plays a vital role as protectors. Also, for Taiwan, the presence of American forces at Okinawa helps Taiwan from China's threats. Therefore, Okinawa plays the role of a major game-changer in the region of East Asia.
Viet Nam's Cam Ranh Bay has always been a melting point of strategic interest since the 19th century as it was a hub of continuous positing of countries like France, Russia, Japan and the United States of America where their navies were stationed well as the Cam Ranh Bay acted as an excellent protected natural harbour along with being a refueling station. The geostrategic location of Cam Ranh Bay is near the South China Sea and this is therefore called the 'Apple of the Eye of the East' as it can help contain Chinese aggressiveness in the region. Also, the Japan-Guam-Australia Fiber-Optic Submarine Cable System Project is being developed with the help of Japan and the United States of America. Cam Ranh Bay if redeveloped could the most valuable asset that Viet Nam has.
India's Andaman and Nicobar Islands is as of today one of the most sort after strategic hub of islands as it is being developed into a maritime and startup hub and the recent inauguration of the submarine optic fiber cable between Chennai and these islands would change the face of digital connectivity. India has also proposed transhipment hub in the Andamans helping these group of islands become a major centre for blue economy and maritime cum startup hub. Also since 2019, the Indian Naval Air Station-INS Kohassa has been developing the island in full swing and this could well become a vital strategic outpost for India and can easier watch and monitor the rival navies activities along with set an integrated surveillance network.
The question is how does Guam-Okinawa-Cam Ranh Bay-Andaman and Nicobar Islands form a strategic maritime chain hub?
First, Guam is an American territory, Okinawa, a Japanese territory, Cam Ranh Bay, a Vietnamese port and the Andaman and Nicobar Islands, an Indian group of islands and so, all these countries are a part of the Quad and this Quad grouping is believed to tackle China's aggressiveness.
Second, all these countries have excellent relations with another and aim for stronger strategic relations. Japan is in a Security Alliance with the United States of America and Japan is India's all-weather friend. Due to Japan as a common friend between India and the U.S, they too have excellent strategic partnership with one another. Viet Nam and the United States have been developing relations and are working towards becoming strategic partner. Japan's relations with Viet Nam has been a major part of their ASEAN relations and separately too, Japan has been working on strengthening stronger relations with Viet Nam and in fact, the first visit of Prime Minister Suga is to Viet Nam which highlights Viet Nam's importance for Japan. India also has wonderful relations with Viet Nam and Viet Nam being the ASEAN Chair in the times of pandemic has played a vital role in medicine, rice and mask diplomacy and has created its niche as a vital and understanding partner in the ASEAN along with evolving as a regional and a global partner in the Indo-Pacific region.
Third, all these four countries are facing security concerns with China. China has off late made several advances in the East China Sea, South China Sea and the Indian Ocean and all this has impacted the United States of America, Japan, India and Viet Nam as their geostrategic locations are of prime importance to these countries. China has been making aggressive claims in these waters is a violation of the sovereignty and territorial integrity of the US, Japan, India and Viet Nam.
Fourth, Japan has been the pioneer of the Free and Open Indo-Pacific region aiming for a rules-based order so as to have the freedom of navigation and access to sea-lanes and routes to all the nations. After Prime Minister Shinzo Abe announced the Free and Open Indo-Pacific Strategy at the 196thSession of the Diet in January 2018, this strategy was soon adopted by the United States of America and India. ASEAN too adopted this strategy which meant that Viet Nam too has accepted this strategy. Many believe that this Indo-Pacific Strategy is to tackle China's aggressiveness.
Fifth, Japan's initiative of the Expanded Partnership for Quality Infrastructure is aimed to promote infrastructure and development cooperation among the countries could also pave the way for port infrastructural development among thee US, India and Viet Nam.
Therefore, keeping in mind, the above-mentioned arguments could well pave the way for a possible formation of a maritime chain hub consisting of Guam, Okinawa, Cam Ranh Bay and the Andaman and Nicobar Islands which could tackle China's maritime aggressiveness.
The views expressed are personal
Hidden Traces in the Armenia-Azerbaijan Сonflict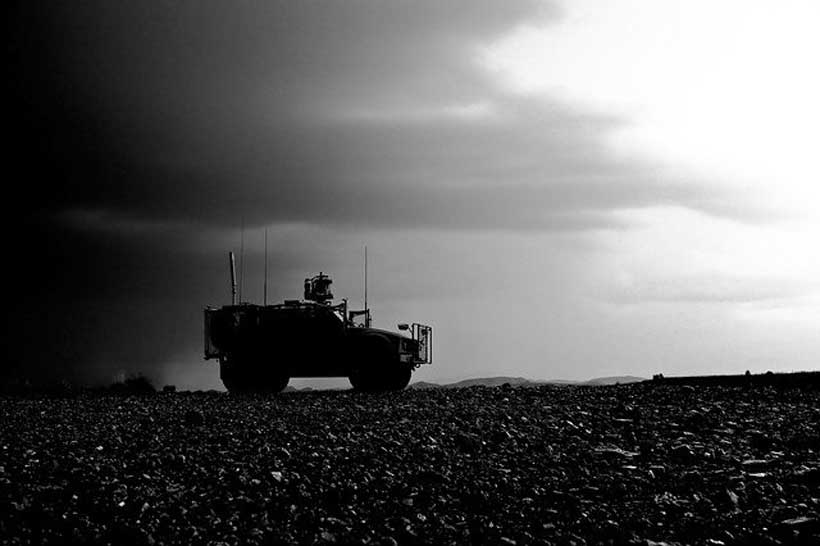 From a geographical perspective, the location of the Azerbaijani city of Tovuz, which witnessed penultimate clashes between Azerbaijan and Armenia in July, proves that the recent clashes had nothing to do with the disputed Nagorno-Karabakh region, as it is far from the Azerbaijani territories occupied by Armenia.
The city of Tovuz is located near the Baku-Tbilisi-Ceyhan oil pipeline, the Baku-Tbilisi-Erzurum natural gas pipeline, both of which are gates for Azerbaijan to transport its oil and natural gas, the so-called "Caspian Sea wealth," to Turkey, Europe and other global markets.
A Blow to Russian Interests
The location of the attack or the clashes indicates that they were against Turkish-Western and Turkish-Azerbaijani interests. Nonetheless, they are also a blow against Russia's interests and role in a region of great geopolitical importance for Moscow and other international and regional players who are worried by the state of consensus emerging Between Ankara and Moscow in Syria. Attempts are being made to repeat such consensus in Libya, with foreign media having reported headlines addressing the new "front" between Moscow and Ankara in this context.
Paris believes that the missile attack (in the first months of 2018) launched by the U.S., Britain and France in Syria created a rift between Russia and Turkey, who have different views on some issues, especially in Syria. French President Emmanuel Macron said this in a televised interview.
It is no secret that the Western attacks in Syria at that time sought, among other things, to cause a rift in relations between Russia and Turkey. Thus any disagreement between Moscow and Ankara is in the interest of the West, so the West will continue to exert pressure on the points of difference between them.
Barely hours after Moscow and Ankara announced the beginning of a Russian-Turkish agreement regarding Libya weeks ago, Macron told reporters on July 23 that "in this part of the Mediterranean, which is vital for our countries, energy and security issues are essential…The issue is related to a struggle for influence, especially by Turkey and Russia, which are asserting their presence more and more, and in the face of this, the European Union has so far done little." He continued, "It would be a grave mistake to leave our security in the Mediterranean in the hands of other parties. This is not an option for Europe, and this is something France will not let happen."
Russian-Turkish Rapprochement
The rapprochement with Turkey was a positive event for Russia, especially in light of the sanctions imposed by the West on Moscow after the Ukraine crisis. The Astana process was a kind of compromise, a success for both Moscow and Ankara, and Syria turned into a stage for an exciting reconciliation between the two. This coincided with the coldness of their relationship with the West.
The increased economic cooperation and growth of trade volume are beneficial for both Ankara and Moscow, which both need it. The deals signed, including a nuclear plant and a gas pipeline that will allow Moscow to gain independence from Ukraine and export its gas to Europe via the Black Sea and Turkey, all are steps of good cooperation.
The handover of the Russian S-400 system to Turkey is also a matter of pride and sovereignty for the latter, which feels the West's betrayal of it on several issues. This includes membership in the European Union, Washington's support for the Syrian extension of the Kurdistan Workers' Party (PKK) (classified on NATO's terrorist lists), and the extradition of Gulen.
However, all of the above does not mean Ankara has turned its back on the West, as the strategic partnership continues, despite the current rapprochement with Russia imposed by geopolitics and economy.
Trying to Feel For a Pulse
Amid the exchange of accusations between Baku and Yerevan about igniting the recent clashes, whoever started it is targeting Moscow first, and secondly, torpedoing the rapprochement that is likely to develop between Russia and Turkey. It may be in the context of an attempt to feel for a pulse, see if Moscow will adopt a new position on this conflict that has extended since the end of the last century. This is especially after the recent political developments, with the new government taking office in Armenia maintaining a Western policy.
Moscow is aware that Armenia needs Russia more than Russia needs Armenia, yet a fallout would mean losing one of its back gardens in the former Soviet yard. This may affect Russia's long-term influence and ability to manoeuvre, imposing its opinion as an international power in the global arena in general, and in the former Soviet space in particular.
Russia needs Armenia, a traditional ally, in the Collective Security Organization and other regional economic alliances, as well as in light of the Georgia-Russia conflict. Moscow also needs Azerbaijan, a country that occupies an important geopolitical position.
Moscow and Baku are linked in many areas of joint cooperation, from cross-border security and energy to the exploitation of Caspian Sea resources and transport projects. The Kremlin does not want to turn Azerbaijan or Armenia into Georgia or Ukraine again, so Moscow will not push Baku away, thus allowing foreign powers to push Russia out of the region.
In fact, one would find that Russia is allied with Armenia, and there is a state of partnership with Azerbaijan, with Moscow playing a mediating role (acceptable to both sides) in settling the Armenia-Azerbaijan conflict.
From our partner RIAC