Today as I write this the voice of Mahatma Gandhi is inside my head grooming me I think in ways that are imagined and unimagined. I want to be the change and transformation that I want to see in the world.
We must continue to talk about this topic. Exhaust this subject until kingdom come. All inconvenient truth. Hold its wreck and ugliness up to the light of goodwill and human nature.
There is only one choice. That we must follow our paternal roots. Our mysterious maternal routes. Fashion the perfect candidate for our next presidency out of clay and we must, we must forget about the monsters (see under rug swept).
What we all want now as a nation are credible people with the powers of sense and sensibility to rule and nurture the legacy of President Nelson Mandela. This is the time now for out potential to be great and become great in future seasons. In the time of this great, great country, the unforgettable President Thabo Mbeki, the dapper philosopher who coined the term "the African Renaissance" there is grace and mercy.
It is the prowess of the pen that will defeat all. This 'trigger' is wired into the methodology of our psychology. Some in today's society will always have their finger on the money. Always. Believe me. Then there will be those who will forget but not forgive in their hearts.
The youth and the followers of the Fees Must Fall Campaign have their hearts set on fulfilling their potential. Who are we, I say again this time vehemently, WHO ARE WE to stand in their way. To stand in the way of a quagmire of potentialities.
Where is South Africa today? Where will South Africans find themselves in the future? What will happen not only to "Future South African"
generations but "Future Africa", "Future Global" generations?
Order comes from order. Chaos comes from chaos. Reconciliation will come from reconciliation and the reoccupation of our thoughts.
Daily we are measured against the world. Our faith is tested when we are confronted by the scourge of apartheid (RACISM).
What is holding us back from the making sacred and universally great strides in (DARE I SAY IT, BANTU) education? Would you send you kid, your flesh and blood, to a school that has no sanitation, no running water, and no roof to shield him from the elements, no desk to place his textbooks on, to rest his pen (see again THE POWER OF THE PEN WILL DEFEAT ALL) who rise against it.
The youth are made of a brave substance. This was revealed in the media on campuses nationwide. They were a collective. They are a collective. They were a people. They are a people. They were a tribe.
They are a tribe. They are "my" tribe.
And so the second African Renaissance marks the second African revolution (yes, yes, yes, mark my words because these words are going down in history as I write this).
I am angry but I hope you will think and feel that I am choosing my words with care not to cause injury, hurt to anyone, damage or sabotage. I do not want to leave you devastated and to numb to think and feel anything but that I am taking up your personal space with dogma.
This is not only "my" South Africa. It belongs to all of us across the colour line. Black and white and whatever you want to feel free to call yourself because that is what race has come to these days. Making a cross. Ticking that box. Can't you see? Can't you see? "We" ("we" as in South Africans) have become products.
Our democracy, President Jacob Zuma, Julius Malema, Patricia de Lille, Dulcie September, Winnie Mandela are all interfaced with the hope we had in our first democratic election. Can you see that?
I don't want to advocate that you accept my personal opinion as your own. You can make of it what you want. That is of course your prerogative. Perhaps I write like a journalist or speak like a political analyst. I don't know. I don't know anymore. Sometimes it just becomes too much for me. This succession debate.
Who is going to be the next president of our country? We can't live with each other in this country it seems but we also can't live without each other. This is a letter to the editor about so many things. Every single one of us has potential. The potential to become a criminal or the potential to become a teacher. Just take a moment to think about what I wrote just there. If you did, I think that we would all become new image people in split second.
I think that all of us still feel brave and shameful in so many different ways in South Africa especially about our democracy. We accept the west. Western ideology because it is so different from our adopted culture (BLACK, AFFIRMATIVE ACTION, those kind of LABELS) that we have to quietly "adjust our behaviour accordingly to".
I want to speak so let me speak. I want to speak my mind. So let me speak my mind. Let me be frank with you.
Politics will speak to our hearts forever and forever and in the end what will that change? Where will the transformation come but from doing good for all and living a kind life with our potential.
Remembering that order comes out of order and chaos from chaos as the political analyst, Prince Mashele, said on the 15th of January 2017 on Interface on SABC 3, one Sunday evening in South Africa.
We should all become good listeners to our domestic housekeepers ("kitchen girls") and landscape architects ("garden boys"). We still think of people in "that" way. It's been twenty years people. COME ON!
Saudi Arabia, UAE footprint in Eritrea- Ethiopia rapprochement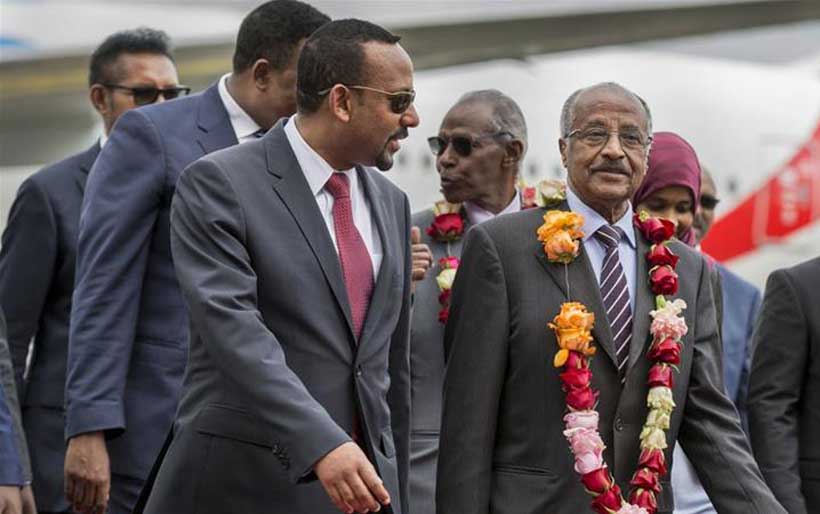 In a landmark visit, Ethiopia's Prime Minister Abiy Ahmed landed in the Eritrean capital, Asmara, on Sunday, for a bilateral summit, aimed at repairing relations between the two countries. Eritrean President Isaias Afwerki warmly greeted Abiy at the airport, Eritrea's state television showed.
The visit comes a month after Abiy surprised people by fully accepting a peace deal that ended a two-year border war between the two countries. The meeting sparkled hope for the halt of one of the most difficult African crises.
Eritrea became independent in 1993 after three years of war, but again the conflict between Asmara and Ethiopia in 1998 arose over disagreement on border delineation, primarily at Badme, and that was the end of diplomatic relations between the two states. However, Eritrea has a permanent delegation in Addis Ababa, representing the African Union.
Then the conflict flared into armed clashes. Although Badme was being administered by Ethiopia, with an MP and an administration, Eritrea said maps clearly showed the territory to be Eritrean and in May sent in troops to occupy the area.
From 1998 to 2000, the border wars claimed some 80,000 lives from both sides, but the Algiers Agreement ended the conflict.  However, the president of Eritrea broke international law and triggered the war by invading Ethiopia, abusing the Ethiopian opposition to the verdict on the borders, taking repressive measures such as imprisoning dissidents and refraining from implementing law and adopting strict military rules.
Eritrea, Ethiopia economic interests in resolving the conflicts
Some analysts have argued that, the border conflicts had halted Eritrean affairs over the past 20 years, and all the issues were overshadowed by these clashes. The Ethiopian prime minister took the first step in resolving the conflict in June, announcing that his troops would withdraw from the Badme region and other border areas.
A high-level Eritrean delegation led by Foreign Minister Osman Saleh had earlier visited the Ethiopian capital, Addis Ababa, last month for peace talks, a meeting that was followed by a news conference.
Eritrea and Ethiopia are among the least developed countries in the Horn of Africa. Although the Ethiopian economy has grown significantly in recent years, the Eritrean economy was suffering and had dropped to a record low. Analysts believe that although realization of peace between the two states is in the interest of both, Eritrea's economy will enjoy a greater benefit of the rapprochement.
In addition, the peace talks can attract foreign investors to Eritrea. The end of "state of war" will help Ethiopia solve its problem of not having a sea passage, because after the independence of Eritrea overlooking the Red Sea in 1993, the issue aroused for Ethiopia.
The war between the two countries has caused much difficulty for Ethiopian trade through the ports of Eritrea and the Red Sea, and this peace will help rebuild economic activities to the time prior to conflicts.
At first glance, it seems as if the two countries realized the necessity of bilateral relations, but the fact is there was involvement of foreign countries in the peace talks. Some believe that Washington, an ally of Ethiopia, does not require the country to adhere to the border agreement.
Perhaps the U.S. has come to the conclusion that it is time to make a new alliance as Djibouti, located in the vicinity of Ethiopia and Eritrea, has allowed China to build a military base on its territory. So, given the geopolitical developments in the Red Sea and the Chinese military presence in the United Arab Emirates, America sees its interest in improving relations with Eritrea.
Saudis and Emiratis footprint in African conflicts
In general, the African continent is of great importance to Saudi Arabia and the United Arab Emirates, and these two countries have set their strategic interests on the continent. In many cases, Riyadh and Abu Dhabi have benefited from the support of their African allies in regional conflicts. For example, they have called on African countries, to cut off relations with Iran and Qatar or to engage in military aggression in Yemen in their support.
The poor African states, relying highly on Saudi and Emirati donations, bow down to the two Arab states' demands. Out of fear of losing alliance and leaving a positive image on the world, Riyadh and Abu Dhabi acted as a mediators in the built up tensions among African states, namely Eritrea and Ethiopia. That would also fulfill their objective of preventing the African states side with Iran or Qatar.
In recent years, Eritrea has improved relations with Saudi Arabia and the UAE has too set up a military base in southern harbor of Eritrea.
Riyadh and Abu Dhabi, both Ethiopia's allies, played an active role in Ethiopian prime minister's decision to negotiate with Eritrea with their financial sponsorship.
The unprecedented and controversial trip of Abu Dhabi's crown prince to Ethiopia last month, in the light of the agreement between the two African states, as they poured in $3 billion was a proof of the UAE push in the two states peace talks.
In any case, it appears that the Arab states of the Persian Gulf and, above all, the UAE and Saudi Arabia are making attempts to establish a new regional system based on which the security of the Persian Gulf region is tied to the security of the Horn of Africa region, and for the same reason strengthening their foothold on the African continent and, in appearance, pursuing peace and reconciliation among its political and economic allies.
First published in our partner MNA
African development relies on education and literacy
Key to a successful education, literacy remains one of sub-Saharan Africa's top public priorities, now more than ever. Thanks to the progress achieved in recent years, book publishing is gaining more and more traction in African economies and cultures.
To underestimate the role of books, particularly in sub-Saharan Africa, would be to disregard the many issues surrounding this commonplace yet valuable item. Literacy not only allows children and adults to develop their imagination, but also facilitates learning in other areas of the educational system. By extension, literacy plays a role in expanding education, in training youth, in reducing inequality, and ultimately, in developing a nation.
These aspects sit at the heart of the Children of Africa Foundation, which I created in 1998 and preside over to this day. The foundation has worked tirelessly for 20 years to promote literacy and reading among our children. Today more than ever, amidst a rapidly growing population, it is crucial that we rely on books and all they offer to craft a better future. Towards this end, our ivorian and international partners provide an essential and valuable service. On May 2nd of this year, at the Embassy of the United States in Côte d'Ivoire, I received 1,500 books destined to expand the Foundation's Bibliobus collection. Several months earlier, the village of Smallburgh in Great Britain presented the Foundation with a new bus as part of a humanitarian project, baptized "Smallburgh 2 Abidjan". This new, very typically English bus is a great attraction for young and old alike, and a unique library resource centre for introducing our youth to the English language. I look forward to the benefits it will provide, as the english language has become an essential part of the professional world in this day and age.
The Foundation's Bibliobuses, today numbering nine, will serve to advance both reading and computer literacy even further throughout the Ivory Coast. To this end, we can also count on the support of players in the publishing industry, who came together for an international conference in Abidjan on January 25th of this year. This unprecedented event was held for the purpose of identifying solutions to promote a love of literacy among students, improve the quality of books, and ensure their availability to students.
In this way, going forward, the African publishing industry will be able to adapt to the different languages, cultures, and educational tools used throughout the continent. I commend the initiative of this gathering put together by the Association for the Development of Education in Africa (ADEA) and the United States Agency for International Development (USAID). Over twenty African countries were in attendance to rethink the role books can play in order to support education.
Quality education, a profitable investment
Education through reading is a challenge I've personally adopted. According to the most recent report by the French Development Agency (Agence Française de Développement, AFD) on sub-Saharan education, the number of students facing severe difficulties has significantly decreased over the last ten years in French-speaking African countries. From 1999 to 2016, the rate of literacy among 15-24-year-olds has actually increased from 67.6% to 75.5%, and that of adults from 54% to 60%. But there is much work still to be done for the majority of students to achieve a mastery of the basic reading and math skills crucial to pursuing a quality education.
Make no mistake; education has positive impacts on health, employment, social involvement and well being. The return on investment of higher literacy rates can also be seen in the social and economic development of countries through technical progress and innovation, corporate investment, health and safety, trust in public policies and institutions, and civil engagement. Numerous studies have shown that improved education goes hand-in-hand with economic growth.
But the impact literacy rates can have on economic growth relies more on a quality education than on the number of years spent receiving it. Guaranteeing the development of students' basic skills is one of the indisputable benefits of literacy, key to a successful education and starting life on the right foot. The Children of Africa Foundation endeavours to make this ambition possible through its educational programs. The more our children read, the more they will benefit from their studies, enabling them to become economically, socially and culturally well-rounded adults. And with them, in the long run, so will society at large.
How China and Europe Can Set a New Model for International Cooperation in Africa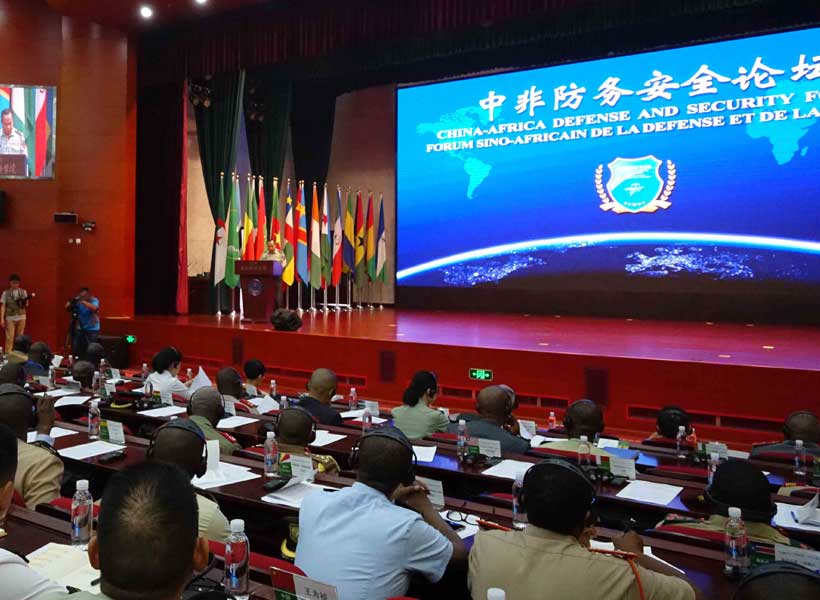 This past Tuesday, the first China-Africa Defense and Security Forum, attended by high-ranking officials from 50 African countries, concluded in Beijing. On that same day in Cascais, Portugal, former European Commission President Jose Manuel Barroso, Portuguese President Marcelo Rebelo de Sousa, 20 African ministers, and more than 400 African and European leaders kicked off the first EurAfrican Forum.
While the two summits took place more than 6,000 miles apart, their purpose and goals could not be more similar: global powers like China and Europe, as well as India, Turkey, and Russia, see an opportunity to help accelerate the economic advancement of Africa while exerting greater global influence, especially as the United States withdraws from engagement in the continent and pursues its America First foreign policy agenda.
Make no mistake, Africa is on the verge of a major transformation. The continent today is home to 226 million youths between the ages of 15-24, or 19 percent of the global youth population. By 2035, the number of young Africans of working age will exceed that of the rest of the world combined. Around that same time, nearly 45 percent of all Africans are expected to join the middle or upper class.
This critical moment, however, offers both great promise and great risk, not just for Africa, but for the global powers that seek to play a larger role in the region. If China, Europe, and other nations hope to co-create with Africa a shared, sustainable, and prosperous future, it is critical that they learn from the mistakes of the past by collaborating with Africa instead of exploiting it. By building partnerships based on mutual trust, respect, and transparency, Africa, China, and Europe can create a new model for 21st-century international cooperation.
Much has been made of how China has vastly expanded its footprint in Africa over the past two decades while avoiding the pitfalls of past imperial powers. It has largely been a "win-win" partnership, with China gaining access to Africa's natural resources and African nations getting help to build much-needed infrastructure. China is now the continent's largest trading partner. More than 10,000 Chinese firms are operating on the continent. China's massive infrastructure project, the Belt and Road Initiative, will eventually connect China by land and sea to critical points around the world – from Southeast Asia to the Middle East to Africa.
As China continues to make capital investments in the continent, it is critical that African nations not become burdened with huge debts, which can make them susceptible to outside influence on their economies and politics. China can become a trusted lender by adhering to international standards that ensure the transparency and viability of its loans, and by implementing tried-and-true programs established by The Paris Club with the IMF that return borrowers to sustainability.
This type of trust-building and accountability will also be essential if Europe is to take advantage of the vacuum left by the United States and play a greater role in shaping Africa's future. In order to succeed, Europe must deal head-on with the role it played in dividing, occupying, and colonizing the continent in the 19th century.
One way to build respect between regions and trust between leaders is for Europe to act collectively as the European Union rather than as individual states. Priority should be placed on building a more coordinated approach between the EU and the African Union, as this will also help address the African migration challenge currently facing Europe.
With the UK consumed by Brexit, Italy implementing a populist agenda, and Spain still reeling from corruption scandals, the EU must look to leadership from France and Portugal in building a modern-day partnership with Africa.
France has a complicated and fraught history with Africa, whose last former French colonies achieved independence in the 1960s. But French President Emmanuel Macron has made it a priority of his presidency to reimagine a collaborative relationship between France and Africa. This year, France has committed 200 million euros for schools in African countries and 65 million euros to promote digital startups throughout the continent. At the same time, Portugal is also stepping up its efforts with a range of initiatives, from Portugal and Morocco setting up an undersea power connection, which would be the second Europe-Africa lin, .to Portuguese construction company Mota-Engil announcing this week that it is looking at $1.8 billion in projects in Nigeria, in what would mark its entry into Africa's largest economy and the continent's biggest oil producer.
In a rapidly changing global landscape, Europe, China, and Africa have an opportunity to create a new world order that will benefit all three regions. By cooperating on not just economic and infrastructure project, but also pressing issues like migration, climate change, and globalization, leaders from all regions can build a collaborative and sustainable relationship that will improve the quality of life of all of their people in the 21st century.