A Humanist's Perspective on What it means to be Human
"Impoverished is he who can predict economic trends but who does not well understand his own self." ~ Christian Smith
There is a book, which came out some six years ago, which ought to be read by every person concerned with the sorry trend that our civilization has taken in the last twenty years or so. The author of the book is the William R. Kenan professor of sociology Christian Smith of Notre Dame University.
He directs the Center for the Study of Religion and Society as well as the Center for Social Research at the same institution. The title of the book is What is a Person? Rethinking Humanity, Social Life and the Moral Good from the Person Up.
Here are a few particularly meaningful excerpts from Smith's book: "When we look at the models of the human operative in, say, exchange theory, social control theory, rational choice, functionalism, network theory, evolutionary theory, sociobiology, or sociological Marxism, we may recognize certain aspects of our lives in them. Otherwise the theories would feel completely alien and implausible to us. But I suspect that few of us recognize in those theories what we understand to be most important about our own selves as people. Something about them fails to capture our deep subjective experience as persons, crucial dimensions of the richness of our own lived lives, what thinkers in previous ages might have called our 'souls' or 'hearts'… There is nothing new under the sun. And so the case I build contains no particularly novel ideas… I mostly weave together certain perspectives and insights that others have already expressed… In the wake of the postmodernist critique from the humanities in the face of the rapidly growing power of biotechnology and genetic engineering in the natural sciences, many people today stand uncertain about the meaning or lucidity of the very notion of a coherent self or person, unclear about what a person essentially is or might be whose dignity might be worth preserving, as technological capabilities to reconfigure the human expand."
Those short excerpts give us a concise idea or the essence of the book. No doubt some critics, especially those who tend to superficially remain at the surface of the human condition, may well turn them against its author and end up branding him as deficient in originality, a sort of reinventing of the wheel; but that would be quite shortsighted and may hint at a desire to sidestep the issue.
In point of fact what Smith is doing is debunking the mistaken idea that science, morality, politics, and philosophy are separate matters, separate compartmentalized universes that don't, and need not intersect — a byproduct of the ill-conceived paradigm demanding the social sciences emulate the natural sciences. This is commonly known as the problem of the two cultures going back to mid-19th century and even to Vico's baroque era.
What Smith is actually proposing is a compelling case for cross-disciplinary curiosity as a testament to the power of the synthesizer as a storyteller, weaving together existing ideas to illuminate the subject for a new angle and in richer light. He is proposing a bridge by which to cross the abyss separating the two cultures; a refreshing alternative view from the orthodox "scientific" one peddled by today's logical positivists concerned with the how and the instrumentality of things and blissfully ignorant and unconcerned with the why. His is a holistic approach to reality.
This view was nothing novel in the Renaissance when the likes of Leonardo and Michelangelo easily perceived the interrelation not only between the arts but also between the sciences and the arts. Smith is proposing nothing short than a remixing of culture as applied to intellectual inquiry and the sciences in the style of the medieval and Renaissance florilegium, not to speak of the Socratic injunction "know thyself" or the Socratic warning that "the unexamined life is not worth living."
The book will immediately appeal to anyone who thinks, or at least suspects, that natural science can offer only limited insight on religion, mind, and emotions. We have far more and different ways of knowing than the logic of the experiment and the determinism of behaviorism. People are more complex and dynamic than that. As Vico, Kant, Croce and Erick Fromm have shown us moderns and post-moderns, man can be understood but not explained like a machine. Similarly this book challenges the crude reductionism and materialism of logical positivism reducing everything past and present, including religion, to a rational choice and conceiving the mind as nothing but a computer of flesh called brain.
But being human involves more than rational choices and genetic compulsions. In short the book is a scholarly valiant attempt to overcome the wide disjuncture between what much of our research claims and assumes about the world and what we are, as persons, who undertake such research to begin with. It confronts the usually sidestepped question "what are we as human beings?"
None other than Nicholas Wolsterstorff, a renowned professor of philosophy and theology at Yale University, currently the Noah Porter Emeritus professor of Philosophical Theology and Religious Studies and a member of Yale's Institute for Advanced Studies in Culture, has praised the book as a sterling example of a social scientist who boldly employs the resources of philosophy to deepen, clarify, and enrich his own field. He further tells us that "it is lucidly organized, philosophically sophisticated, written in clear prose. For me, a philosopher rather than a social scientist, Smith's way of typologizing and critiquing the main options in his field was extraordinarily illuminating. It's a terrific contribution to a topic of fundamental importance."
Indeed, the book (especially in chapter 7) provides an account of the human good that underpins the humanistic endeavor of sociology and it does so relying on Aristotelian Personalism. It is thus able to uncover the moral projects that are smuggled into sociological accounts.
The logical positivist loves to claim that his work is value-neutral. Yet even the father of value-neutrality, Weber, clearly recognized in his Objectivity essay that all scientific endeavor presupposes specific value-commitments. The ineluctable fact remains that despite its pretensions at value-neutrality, sociology assumes some conception of the human good, justice, and human dignity. Such theories have a responsibility to articulate their hidden visions and the hidden aspirations of the good, and put an end to the deep incoherence and self-delusion which this denial by modern man involves.
Thus, finding much current thinking on personhood to be confusing or misleading, Smith looks for inspiration in critical realism and personalism and he begins with Aristotle's personalism. Drawing on these ideas, he constructs a theory of personhood that forges a middle path between the extremes of positivist science and relativism.
As Aristostle has well taught us, virtue lies in the middle between extremes and dwells in harmony. Which is to say, the search for the self is hardly a search to be conducted by a neuroscientist's research into the human brain. What unfortunately obtains nowadays is the postulating of the dichotomy of psychology/cognition with sometimes a nobles oblige sort of concession granted to cognition as being buttressed by emotions. But the controlling paradigm remains one of desire and sheer utility heavily influenced by schemas of economic entrepreneurship and opportunity.
What is sadly lacking in all this is a serious meditation on the grand existential questions supplied by philosophy and theology, the answers to which determines our view of ourselves, our expectation of others, and our conception of what makes a good society. This book is an attempt at correcting such an omission in the sense that it confronts the basic paradox of the social sciences — their preoccupation with describing and analyzing human activities, cultures, and social structures but falling short on the core understanding of the human condition — and tackles the four fundamental flaws of social science in defining personhood.
The first disconnect Smith addresses head on is that of social science theories. As we have observed in the initial excerpts from the book, Smith contends that despite their interesting and illuminating principles about social life, they fail to fully represent our actual complex dimensions as human beings.
The second disjoint deals with the gap between the social sciences' depiction of human beings and the moral and political beliefs that many social scientists embrace as individuals, yet few of their theories actually reflect those beliefs. Smith writes that "much theory portrays humans as essentially governed by external social influences, competing socially for material resources, strategically manipulating public presentations of the self, struggling with rivals for power and status, cobbling identities through fluid assemblies of scripted roles, rationalizing actions with post hoc discursive justifications, and otherwise behaving, thinking, and feeling in ways that are commonly predictable by variable attributes and categories according to which their lives can be broken down, measured, and statistically modeled."
Smith's third focal point explores sociologists' preoccupation with conceptualizing social structures at the expense of understanding what actually gave rise to them, or how the nature of individual personhood effects them. He writes that "Much of sociology simply takes social structures for granted and focuses instead on how they shape human outcomes… but a good theory of the origins of social structures needs to be rooted in a larger theory about the nature of human persons."
An finally Smith takes on what's perhaps the greatest gap of all — our modern uncertainties about the human self and person as we grapple with concepts like humanoid robotics, synthetic biology, and other technology-driven facets of mankind's evolution which tend to make us think of the self as nothing else than a machine or a computer. There is little doubt that Smith has dared to address some crucial questions in social theory and philosophy and has done it from a very original perspective. He has introduced into sociology a systematic discussion of ontological issues. It is to be hoped that this book will make sociologists realize that they will not be able to move forward unless they come to grip with Smith's questions and consider alternatives to neo-positivist sociological orthodoxy and political correctness.
Personhood and the question "what is a person" has been a perennial concern of philosophers and theologians from times immemorial. But, Christian Smith argues that it also lies at the center of the social scientist's quest to interpret and explain social life. In this ambitious book, he presents us with a new model for social theory; one that does justice to the best of our humanistic visions of people, life, and society. He demonstrates the importance of personhood to our understanding of social structures. From there he broadens his scope to consider how we can know what is good in personal and social life and what sociology can tell us about human rights and dignity.
Those reflections by Smith offer nothing short than an inspiring vision of a social science committed to the pursuit of interpretive understanding and general knowledge in the service of truth and the moral good rather than in the service of mere profits and economic prosperity. Socrates, Plato and Aristotle would heartily approve.
N.B. This article appeared in Ovi magazine on May 18, 2013. It was relevant three years ago, it is even more relevant today, the era of alternate facts and post-truth.
Modernizing Higher Education for Economic Growth
Malawi has fewer affordable universities than it has students who want to go to them, leaving college out of reach for many. Enrollment in tertiary education is low, but more and more Malawians hunger for it. With IDA financing from the World Bank, Malawian citizens now have more options.
The five-year, $51 million Skills Development Project is helping public universities to strengthen and increase public access to programs that cater to sectors critical to Malawi's economic growth. These include engineering, natural resources extraction, agriculture, construction, health services, tourism, and hospitality.
Beyond the establishment of the National Council for Higher Education, project funding supports a range of activities at institutions, including improving course offerings and staff skills, renovating infrastructure, and setting up satellite facilities.
Market-relevant course offerings
To expand the range of scientific skills and mid-level technicians needed to fuel Malawi's economy, 39 new programs have been developed by universities, with the participation of the private sector ensuring their relevance to the economy. By 2017, these programs contributed 44 percent of the new student intake to public universities.
Diploma programs at universities have also been bolstered to increase the training of mid-level career personnel needed by various trades. For example, the University of Malawi's Polytechnic now offers 10 technician-level engineering diploma programs in subjects like mining, telecommunications, and health. By 2019, these programs are expected to have enrolled 750 diploma students.
Modernized facilities
One of the major constraints to increasing student enrollment at public universities has been space. At Chancellor College, where most of Malawi's secondary school science teachers are trained, more and better infrastructure is expected to make it possible to boost student intake by 65 percent. This includes modernized laboratories and four new lecture halls seating 350 students each.
This will go a long way toward meeting an increase in the demand for science teachers, following the introduction of physics and chemistry as separate subjects in the secondary school curriculum.
Mzuzu University is heading to be the country's center of excellence in tourism training. It is constructing a purpose-built tourism and hospitality facility that will produce graduates who are industry-ready.
Online and distance learning
The Lilongwe University of Agriculture and Natural Resources (LUANAR) and Mzuzu have introduced online and distance learning (ODL), resulting in increased enrollment at both. At LUANAR, online students make up 10 percent of the total student population. Between 2014 and 2016, Mzuzu increased its intake of online students tenfold. With more affordable fees and flexible options, the ODL system has helped to open access to higher education for many people nationwide.
"I enrolled through ODL because of its flexibility. I continue with my everyday life and yet I am studying at the same time. This is wonderful," says 45-year-old Joe Mwenye, a father of five and a teacher in Ngabu in Chikwawa district. He is studying at LUANAR for a Bachelor of Science in Agricultural Extension.
LUANAR has three ODL centers: one in the town of Mzuzu, another in Lilongwe, and another in Blantyre. Mzuzu University is opening satellite centers in Balaka, Karonga, Mulanje, and Lilongwe.
The Depth of Taboo: Social Issues in South Asia
Rarely does a geopolitical handbook also make such large and important contributions to uncomfortably critical social issues. This handbook is that rare example. The author Aryal takes our MD readers deep into some disturbing discussions – caste systems, systematic violence against women, rape, honor killings, gender stigmatizing, and societal sexism – not to just anecdotally expose people to some of the continued living horrors afflicting important regions of the world but to systematically analyze such atrocities so that their long-term political, economic, social, and diplomatic consequences are revealed.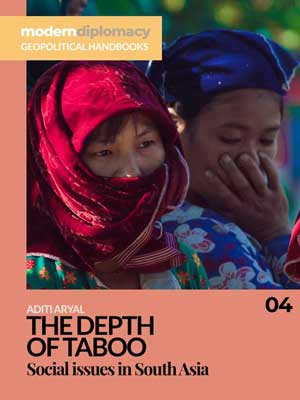 What many around the world do not realize is how crippling these gross abuses of human decency can be for a nation and region writ large: these are not just individual crimes to be noted and then forgotten. The failure of societies, the failure of GLOBAL society, to make more effective progress and take a more rigid stand against injustice is a black mark on all countries, on all of us. This handbook in its own small way strives to be a light within that darkness and as such it is both informative and courageous. While the readers of MD will not find the content of this particular handbook for the faint of heart, the importance of acquiring this knowledge, of becoming more aware of the world that we live in as it truly is in so many places, should be considered a duty of all those fortunate enough to not be born into states where such systemic violence still exists and largely goes unchallenged.
The title of this work is no accident and no shameless marketing attempt to attract more readers. Rather, it is exposing in a single word the reason why overcoming systemic violence based on gender is so difficult. Social taboos run deep in every region, state, city, town, village. We will likely not succeed in eliminating them from the social conscience of people. But the attempt to ameliorate the power of taboo, its power to push rationality out and pull insanity in, is a noble one that all of us at the editorial staff at MD recognize as silently essential for the cause of future peace on so many different levels. The battle against taboo is the secret front end of the war against gender violence and oppression. Ultimately, the criminal justice systems of societies must improve to remedy those actions not prevented from occurring. But the real long-term comprehensive solution will be the effort to eliminate the fear of social taboos, to eliminate the stigma that drives many to commit ignorant violence in the first place.
Women and girls with autism must be empowered to overcome discrimination they face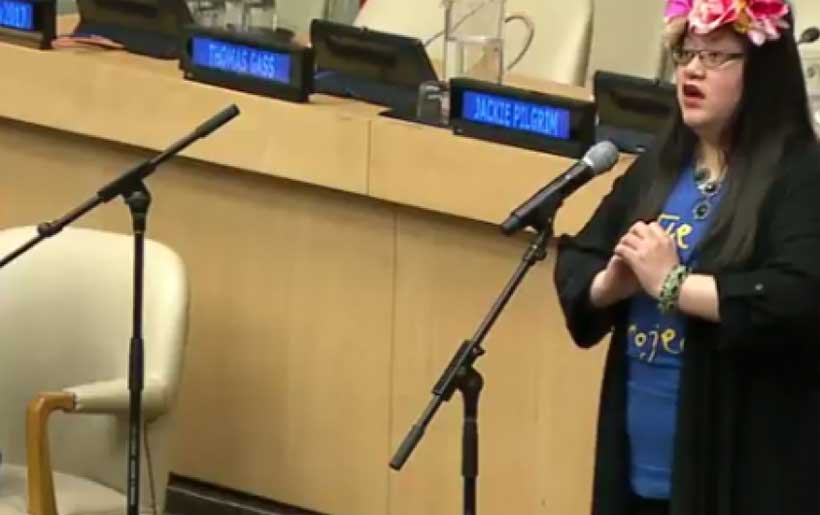 On World Autism Awareness Day, United Nations Secretary-General António Guterres has joined the global call to empower women and girls with autism and involve them and their advocates in policy and decision-making to address the discrimination and other challenges they face.
"They face […] barriers to accessing education and employment on an equal footing with others, denial of their reproductive rights and the freedom to make their own choices, and a lack of involvement in policy making on matters that concern them," said the Secretary-General in his message on the Day.
Emphasizing that "our work for gender equality and women's empowerment must reach all the world's women and girls," he stressed that the international community's efforts to achieve the Sustainable Development Goals (SDGs) must uphold the 2030 Agenda's core promise to leave no one behind.
The Goals and the landmark framework from which they emerged were adopted by UN Member States three years ago. Together they aim to wipe out poverty and boost equality by putting the world on a more sustainable economic, social and environmental path by 2030.
"On World Autism Awareness Day, let us reaffirm our commitment to promote the full participation of all people with autism, and ensure they have the necessary support to be able to exercise their rights and fundamental freedoms," concluded the Mr. Guterres.
Autism is a lifelong neurological condition that manifests during early childhood, irrespective of gender, race or socio-economic status. The term Autism Spectrum refers to a range of characteristics.
Autism is mainly characterized by its unique social interactions, non-standard ways of learning, keen interests in specific subjects, inclination to routines, challenges in typical communications and particular ways of processing sensory information.
The rate of autism in all regions of the world is high and the lack of understanding has a tremendous impact on the individuals, their families and communities.
The World Day is marked annually on 2 April, and this year's official UN commemoration will be on Thursday, 5 April, with a half-day programme in New York entitled Empowering Women and Girls with Autism, that will feature a keynote address from Julia Bascom, Executive Director, Autistic Self Advocacy Network.