Illusions like self-esteem, self-worth, the Sigmund Freud's ego, superego, ID, and our body image. Those images are not real. Nothing really of substance. They are not worth anything really. What does culture mean to the youth in childhood, boyhood, the sister act, adolescence and adulthood? In the beginning the mind's eye, psyche and intellect of the youth is like a Doris Lessing's golden notebook.
Everything that hurts, that wounds, that increases faith, loyalty that challenges, goals, dreams, desire, wants, needs, the gap that brings closure when facing loss, denial, death, defeatism is written in that golden notebook (the mind's eye, psyche and intellect). And then the culture from childhood is still by some pure stroke of genius still there. It announces itself briefly in adolescence. Now other ideas are formulating themselves. Character and personality. Pride in one self not necessarily arrogance. Pride in one's appearance or pride in one's sporting prowess or pride in one's academic achievements.
When it comes to identity and culture there is no one identity and yet there is one moral code. Multiculturalism has changed the order of history, moral ambiguity, and cast a well-meaning phenomenological spell on the ancient doctrines of religion. The major spiritual trend that is forecasting globally right now is that we all carry pain within ourselves. We all carry a denial a love within ourselves. We call it many things. All cultures are experiencing this at this moment in history. To me a culture, any culture is extraordinary. The heritage of different cultures is a beautiful and dissociative wonderland grounded in the intelligence of heritage and indigenous knowledge systems. For example, a woman carries a purse and white quiet. A man carries a blank slate where his head should be. And now I come to children of different faiths and races. Children are the most vulnerable of all human life on earth. They are also the most
Children, they do not see prejudice as adults do whether they live in a ghost house (for example, an orphanage, juvenile detention centre, whether they are living with a foster family) or a house made out of a heart of gold (born with the proverbial golden spoon in their mouth, born into wealth, prosperity which will ultimately mean progress and success in their future lives if they follow a particular path, the straight and narrow path). There are primitive wonders in the most ancient of cultures in the world. The purpose of culture is for us to learn how truly different we are from each other. The homosexual, the transgendered, the lesbian, the family man, daughter, lover, feminist, father, son, mother and understand that in all these cultures and underground cultures these role players are found. It should be the task of every man, woman and child to taste worldly and rural experience without fear, without arrogance and with humility, and tolerance.
For us to experience and not experiment with God's interaction with humanity, with human life. We have a new 'culture' now. A new identity now it seems. It is called technology. We think words like 'tech' and 'savvy' are cute. It seems to mean that now pilgrimage, religion, mainstream religion, the church has come to an end, conquering the world, hitting the beach, Europe on a gap year (or has it really). It has come to mean for man, woman and child of different faiths and races, different cultures stopping engaging, interacting with the human and the animal world. How sad. This is what modern society has come to. Loneliness. Aloneness. Finding the innerness in a 'pomegranate' primordial soup whirlpool of solitude. Humanity is already spending far too much time alone with her thoughts. The paradigm shift in the world today is a negative, darkness visible, black dog of mental illness one. The black dog of depression, of mania, of hypomania and of addiction. Are we becoming counterfeit images?
What is happening to the third wave in feminism? Is feminism not a part of culture? What would happen if we did not have a Naomi Wolf?
What would happen to young undergraduate women if they did not have Susan Sontag or Sylvia Plath? I watched Gentlemen Prefer Blondes, Some like It Hot, All about Eve. Marilyn Monroe went from extra, naïve ingénue to bankable Hollywood movie star. Films are part of our culture too. If films are violent is that not a reflection of the state of mind of the youth in society today. Gangs and mob justice.
Pornography unveils the education of what a woman feels and thinks about her own physical body. Her sexuality. Her desire to be needed and wanted and loved. Cherished. I am talking about the sexual transaction here now in biblical terms. What does pornography really unveil? It has absolutely nothing to do with a Christian or any other woman of a different faith's sexuality and sensuality. It is a voyage out. It is a voyage inwards into a man's empire.
The world when it comes to visual media wants you to reach out and touch a woman's sexuality viscerally and that is point blank wrong.
Just plain wrong. It is very, very difficult for me to imagine why women would want to be portrayed in that way. Some do it for money and there is always a power struggle. They either want to be dominated (by the director or their sexual partner/s) or I presume they feel that they have all the power, all the status in the world. For me, they are literally destination anywhere, stuck at that fork in the road with no place else to go. Music, (food as I mentioned before), literature, especially literature, charity, philanthropic work are all a part of our culture, my culture and I am proud of it. Of being a Coloured South African of Khoi descent. Whatever happened to the suffragist cities across the world in the different cultural groups and how did it begin to manifest itself? I believe I was a feminist even when I was a small child. Always under my father's shadow not my mother's apron strings.
What would happen to the sensitive philosophy in the music of that genius Billy Joel that engenders itself in the spirit of my younger brother when he puts on that CD? There is even culture in the bittersweet squalor, burning in the rain, the comfort of strangers, blood orange of poverty, a bonhomie amongst these stalwarts. Every country in this, the well of this wide, crazy beautiful world of ours has their own cosmopolitan culture just like in the days of Jesus, the days of fishermen, the barley loaves, and fish. Culture is an adventure. Different cultures are meant to be experienced with a lot of bellyaching joy and sweetness and completely uninterrupted. No culture as much as they would like to be presumptuous and think it is far superior to the next culture. America is America. Africa is Africa. Australia is Australia. South America is South America and so forth. Do not let your culture wither away. Of course, in adolescence it does but do not let it wither away.
Modernizing Higher Education for Economic Growth
Malawi has fewer affordable universities than it has students who want to go to them, leaving college out of reach for many. Enrollment in tertiary education is low, but more and more Malawians hunger for it. With IDA financing from the World Bank, Malawian citizens now have more options.
The five-year, $51 million Skills Development Project is helping public universities to strengthen and increase public access to programs that cater to sectors critical to Malawi's economic growth. These include engineering, natural resources extraction, agriculture, construction, health services, tourism, and hospitality.
Beyond the establishment of the National Council for Higher Education, project funding supports a range of activities at institutions, including improving course offerings and staff skills, renovating infrastructure, and setting up satellite facilities.
Market-relevant course offerings
To expand the range of scientific skills and mid-level technicians needed to fuel Malawi's economy, 39 new programs have been developed by universities, with the participation of the private sector ensuring their relevance to the economy. By 2017, these programs contributed 44 percent of the new student intake to public universities.
Diploma programs at universities have also been bolstered to increase the training of mid-level career personnel needed by various trades. For example, the University of Malawi's Polytechnic now offers 10 technician-level engineering diploma programs in subjects like mining, telecommunications, and health. By 2019, these programs are expected to have enrolled 750 diploma students.
Modernized facilities
One of the major constraints to increasing student enrollment at public universities has been space. At Chancellor College, where most of Malawi's secondary school science teachers are trained, more and better infrastructure is expected to make it possible to boost student intake by 65 percent. This includes modernized laboratories and four new lecture halls seating 350 students each.
This will go a long way toward meeting an increase in the demand for science teachers, following the introduction of physics and chemistry as separate subjects in the secondary school curriculum.
Mzuzu University is heading to be the country's center of excellence in tourism training. It is constructing a purpose-built tourism and hospitality facility that will produce graduates who are industry-ready.
Online and distance learning
The Lilongwe University of Agriculture and Natural Resources (LUANAR) and Mzuzu have introduced online and distance learning (ODL), resulting in increased enrollment at both. At LUANAR, online students make up 10 percent of the total student population. Between 2014 and 2016, Mzuzu increased its intake of online students tenfold. With more affordable fees and flexible options, the ODL system has helped to open access to higher education for many people nationwide.
"I enrolled through ODL because of its flexibility. I continue with my everyday life and yet I am studying at the same time. This is wonderful," says 45-year-old Joe Mwenye, a father of five and a teacher in Ngabu in Chikwawa district. He is studying at LUANAR for a Bachelor of Science in Agricultural Extension.
LUANAR has three ODL centers: one in the town of Mzuzu, another in Lilongwe, and another in Blantyre. Mzuzu University is opening satellite centers in Balaka, Karonga, Mulanje, and Lilongwe.
The Depth of Taboo: Social Issues in South Asia
Rarely does a geopolitical handbook also make such large and important contributions to uncomfortably critical social issues. This handbook is that rare example. The author Aryal takes our MD readers deep into some disturbing discussions – caste systems, systematic violence against women, rape, honor killings, gender stigmatizing, and societal sexism – not to just anecdotally expose people to some of the continued living horrors afflicting important regions of the world but to systematically analyze such atrocities so that their long-term political, economic, social, and diplomatic consequences are revealed.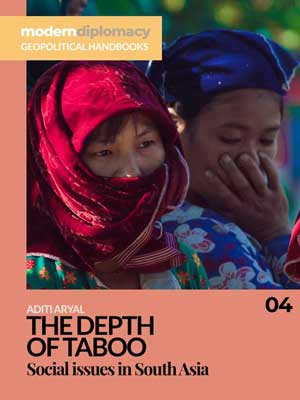 What many around the world do not realize is how crippling these gross abuses of human decency can be for a nation and region writ large: these are not just individual crimes to be noted and then forgotten. The failure of societies, the failure of GLOBAL society, to make more effective progress and take a more rigid stand against injustice is a black mark on all countries, on all of us. This handbook in its own small way strives to be a light within that darkness and as such it is both informative and courageous. While the readers of MD will not find the content of this particular handbook for the faint of heart, the importance of acquiring this knowledge, of becoming more aware of the world that we live in as it truly is in so many places, should be considered a duty of all those fortunate enough to not be born into states where such systemic violence still exists and largely goes unchallenged.
The title of this work is no accident and no shameless marketing attempt to attract more readers. Rather, it is exposing in a single word the reason why overcoming systemic violence based on gender is so difficult. Social taboos run deep in every region, state, city, town, village. We will likely not succeed in eliminating them from the social conscience of people. But the attempt to ameliorate the power of taboo, its power to push rationality out and pull insanity in, is a noble one that all of us at the editorial staff at MD recognize as silently essential for the cause of future peace on so many different levels. The battle against taboo is the secret front end of the war against gender violence and oppression. Ultimately, the criminal justice systems of societies must improve to remedy those actions not prevented from occurring. But the real long-term comprehensive solution will be the effort to eliminate the fear of social taboos, to eliminate the stigma that drives many to commit ignorant violence in the first place.
Women and girls with autism must be empowered to overcome discrimination they face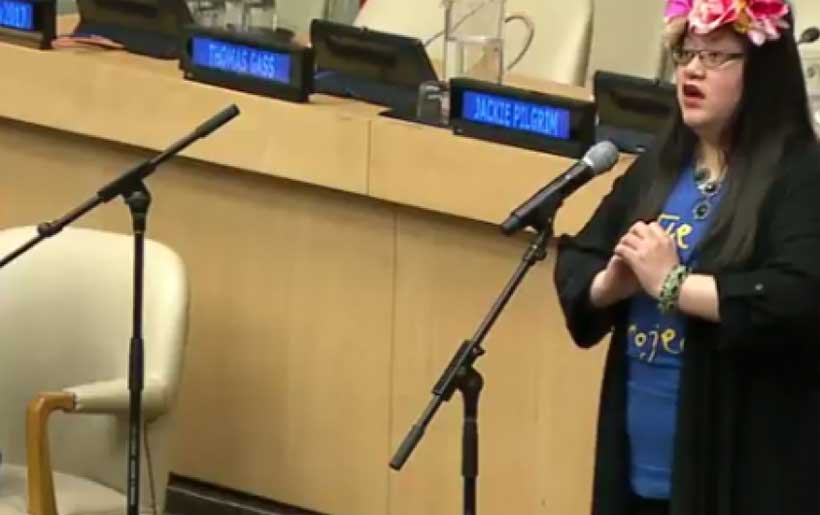 On World Autism Awareness Day, United Nations Secretary-General António Guterres has joined the global call to empower women and girls with autism and involve them and their advocates in policy and decision-making to address the discrimination and other challenges they face.
"They face […] barriers to accessing education and employment on an equal footing with others, denial of their reproductive rights and the freedom to make their own choices, and a lack of involvement in policy making on matters that concern them," said the Secretary-General in his message on the Day.
Emphasizing that "our work for gender equality and women's empowerment must reach all the world's women and girls," he stressed that the international community's efforts to achieve the Sustainable Development Goals (SDGs) must uphold the 2030 Agenda's core promise to leave no one behind.
The Goals and the landmark framework from which they emerged were adopted by UN Member States three years ago. Together they aim to wipe out poverty and boost equality by putting the world on a more sustainable economic, social and environmental path by 2030.
"On World Autism Awareness Day, let us reaffirm our commitment to promote the full participation of all people with autism, and ensure they have the necessary support to be able to exercise their rights and fundamental freedoms," concluded the Mr. Guterres.
Autism is a lifelong neurological condition that manifests during early childhood, irrespective of gender, race or socio-economic status. The term Autism Spectrum refers to a range of characteristics.
Autism is mainly characterized by its unique social interactions, non-standard ways of learning, keen interests in specific subjects, inclination to routines, challenges in typical communications and particular ways of processing sensory information.
The rate of autism in all regions of the world is high and the lack of understanding has a tremendous impact on the individuals, their families and communities.
The World Day is marked annually on 2 April, and this year's official UN commemoration will be on Thursday, 5 April, with a half-day programme in New York entitled Empowering Women and Girls with Autism, that will feature a keynote address from Julia Bascom, Executive Director, Autistic Self Advocacy Network.