The Programmable Diplomatic Kill Switch
If indeed "War is a mere continuation of policy with other means" [1] the metaphoric kill switches that have made their way into strategic weapons by arms manufacturers give Clausewitz's nearly two-hundred-year-old observation new meaning. The ability of states that manufacture complex strategic networked weapons systems to simply turn off or at least partially disable such systems, on demand, is not really new.
This capability is not simply to ensure such weapons cannot be turned and used against states that manufacture them. It can and will be used when it is in the interest of third-party states to modulate a conflict. International relations could be steered down a path that was once traveled down by surrogates of superpowers.
Surely, a kill switch is not a marketing feature, nor will one have its tutorial in the training manuals of the U.S. FA-18 Hornet's Target Acquisition System, Israel's Hermes and Heron UAVs (Unmanned Aerial Vehicles, or drones), or in Russia's Iskander guided ballistic missile, among other systems. Such compromised access is made through backdoors, allowing unauthorized remote access to the computer control hardware. These backdoors are not hacked into but rather are designed into the system, analogous to the Trojan Horse tale of subterfuge.
We are not talking about the future. When the U.S. sold FA-18 jets to Australia three decades ago, they would not supply the system codes necessary to acquire enemy targets the Australians wanted them to. These jets would only lock on targets the U.S. would allow [2]. Subsequently, the Australian military developed their own Electronic Warfare Self Protection, a Radar Warning Receiver known as ALR-2002 [3]. It has been also claimed that Australian programmers discovered the codes the U.S. would not provide them [4], but both of these indigenous efforts might be the same although announced and interpreted differently. The Australian Defense Minister at the time noted "The radar of our Hornet could not identify most of the aircraft in this region as hostile … so our frontline fighter could not shoot down people who might be the enemies in this region" [5]. By 2006 Australia's ALR-2002 project was being phased out in favor of Raytheon's ALR-67 (V3) as this unit provided necessary access to radar signatures the Australians required, and it was fully operational whereas the ALR-2002 was still in its qualification stage. For fifteen years, the U.S. arbitrarily denied an ally access to full system capabilities.
There have been reports [6] that during a specific politically contentious period between Turkey and Israel, 2014 or before, Israel sent a strong message to the Turks through a surrogate, Azerbaijan, when some of Azerbaijan's Israeli-manufactured UAVs were unexpectedly unable to launch. This would not be surprising as Israel's Elbit weapons manufacturer and other IAI (Israel Aerospace Industries) have tended to use unified UAV control and data centers, robustly connected via networks and satellites [7].
On September 6, 2007, when the Israeli Air Force destroyed a purported Syrian nuclear research facility, Syrian early warning radar wasn't just jammed but it appears their entire network was disabled to such an extent that the Syrians never saw the Israeli jets violate Syrian air space. As with the Azerbaijani incident, no official mission report was made public. Much of the Syrian military only knew of the events after the facility deep inside Syria was destroyed. It seems that a combination of techniques was used, including speculation that the Israelis were able to incapacitate key pieces of computer technology using Syria's own command and control infrastructure, including algorithm injection and infecting systems that may have actively compromised CPU (Central Processing Unit or microprocessor) function. The latter is conjecture in this case, although not without precedent. The French manufactured CPUs with the ability to be shut down remotely when used in military equipment they export [8]. Spiegel [9] wrote that a Syrian official, during a trip to England in late 2006, frivolously provided access to his laptop, allowing Israeli agents to place a Trojan Horse malware on the laptop, eventually revealing the inner workings of the purported nuclear facility. Some details can be found in the November 26, 2007, Aviation Week and Space Technology article [10] and any role the U.S. technology may have played.
Some argue that it is costly and even a security risk to incorporate kill switches in high-tech weaponry [11]. However, such an argument loses its price-performance claims as the systems move from anti-tank weapons and shoulder-launched surface-to-air missiles (such as Stingers) to strategic drones and ballistic missiles. Besides, it is well-known that the U.S. and other major nuclear powers install safeguards not only on their nuclear arsenal (known as Permissive Action Link) but also on items such as jets and strategic bombers. For example, upon receiving a series of codes embedded in part of its target acquisition system, an F-16 will shut off its weaponry if part of its return signal information includes codes determined to be coming from a targeted U.S. asset. Its radar may send a coded pulse and listen for a specific response. This is nothing new and is used to prevent such aircraft from attacking a real U.S. piloted aircraft or other military facilities. This capability extends to other large weapons manufacturing states.
The following is taken verbatim from The Economist's Technology Quarterly, November 30, 2013 [12]:
"Kill switches" or "backdoors", as these features are sometimes known, have so far been associated with expensive weapon systems that must send and receive data to operate. David Kay, America's most senior arms inspector in post-Saddam Iraq, has noted that one of the reasons why Russia's best air-defence systems have not been installed in Iran is probably because the Iranians fear that Russia might be capable of countermanding missile launches against certain countries' aircraft. Now similar "override" systems are being applied to small arms, too."
Major strategic weapons manufacturers would be remiss if they did not add such a capability to control the use of their weapons.
It has been suggested that military-class GPS navigation or a time limiter be added to tactical weaponry, allowing their use in a limited geographic area and only for certain time periods, or both. A satellite overhead could reset the weapon's timer with a stroke of a remote keyboard. If this is within the realm of possibility, the same mechanism easily becomes a kill switch, thus turning on or off the ability to exercise the weapon effectively. Worse, such a capability could permanently disable on-board computer circuitry. Even certain cell phones turn into bricks if lost or stolen. A 2011 Brookings study [13] notes how UAVs are basically networked flying computers and "on-board computer systems on drones can be equipped with kill switches that could be tripped remotely if the drones go missing" and, thus, can easily be turned into inoperable bricks by remote fiat.
Claims of disabling or altering CPU function do come with empirical evidence. A state-of-the-art Intel- or AMD-powered Windows computer comes with the ability to update its microcode. The microcode is used to translate, internally within the CPU, the individual instruction in the running software into actual operations within the CPU. Such operations could be arithmetic, logical, and/or other. This means there is access to core internals of these microprocessors, regardless of "guaranteed" safeguards. In addition, most integrated circuits over the past 25 years or so can be tested as a functional unit using JTAG (Joint Test Action Group) pins. Further, these and similar JTAG lines are available on motherboards. JTAG offers access to the internals of integrated circuits, since its function is to test subsections of finished products. Unless these JTAG lines are physically disconnected from the user, they provide sources of backdoor access.
A very convenient integrated circuit known as an FPGA (Field Programmable Gate Array) is specifically designed to power-up without any real operational capability; it simply awaits initialization, programming, and loading of other operational procedures into the FPGA upon boot-up. In military systems, every effort is made to verify and securely feed proper instructions into the FPGA, but many of these FPGAs have been subcontracted to entities outside the borders of weapons manufacturing states, which is asking for trouble. A case in point is the American-designed, but Chinese-manufactured, ProASIC3 FPGA (also known as PA3) by Actel (now Microsemi) used in products spanning automotive to aerospace to U.S. military applications, which was purported to have a deliberate backdoor. This was demonstrated by researchers at the University of Cambridge and Quo Vadis Labs in England [14]. Some dispute a deliberate intent claiming that no evidence has been brought forth that it was an intentional design-in [15]. Others claim backdoors are everywhere waiting to be exploited [16].
Former U.S. counter-terrorism czar, Richard Clarke, stated in the Smithsonian Magazine [17] that "logic bombs" and "trap doors" exist in the U.S. supply chain of chips, routers and hardware imported from China. Clarke also stated in the same interview, "Every major company in the United States has already been penetrated by China." This may be an extreme view, but he also suggested in memos to national security advisor Condoleezza Rice on January 25, 2001 and September 4, 2001 that something on the scale of 9/11 may be in the planning [18].
In any case, since claims of backdoors, malware, and CPU accesses peaked in 2012, U.S. government agencies have intensified the search for and programs to detect such traps, backdoors, kill switches, etc. Such activity began even as early as 2005 and 2007 [19]. By mid-2013, it was reported in Security Affairs that "spy agencies reportedly have a long-standing ban on Lenovo PCs due to backdoor vulnerabilities", stating "the research allegedly documented the presence of hardware and firmware backdoor vulnerabilities in Lenovo chips" [20].
It turns out that Intel, the maker of the most popular series of microprocessors in the world, the x86, has added a second tiny processor to its latest chipsets [21]. The prevailing explanation for the function of this added processor, which cannot be seen by the main CPU or the operating system, is to aid in remote management. This is an enhancement to an older subsystem called Intelligent Platform Management Interface (IPMI). However, Intel's Management Engine (ME), a 32-bit ARC processor, in conjunction with Intel's Active Management Technology (AMT), runs in the background even when the system is powered down, has the ability to monitor network traffic with its own dedicated network stack, runs its own firmware secured with 2048-bit RSA encryption, and has access to system RAM [22]. While probably not designed to be a backdoor, it can be used as one [23].
The diplomatic nature of this metaphorical kill switch could determine the outcomes of conflicts. Of course, such manipulation of military hardware has its limits. Military secrets are most fleeting and, as such, kill switches must be used in a manner that would make their effects appear somewhat innocuous. As demonstrated by the effort put forth by the Australians on their F-18s, it will only be a matter of time before the capabilities of kill switches are overcome. In response, the controlling "diplomats" may simply increase the errors in the trajectory of projectiles, slow down the sampling rate of sensors, etc., lest the military-industrial complexes of the world lose their markets to indigenous development.
---
[1] "Der Krieg isteinebloßeFortsetzung der PolitikmitanderenMitteln" Everything You Know About Clausewitz Is Wrong
[2] Beazley tells of U.S. code crack
[3] Economics of War and Peace: Economic, Legal, and Political Perspectives, Ben Goldsmith, JurgenBrauer, Emerald Group Publishing, 2010. Chapter 4: Arms Export Controls and the Proliferation of Weapons Technology, pages 59-66
[4] Australia 'cracked top-secret U.S. jet fighter codes'
[5] See ref #3, Economics of War and Peace, page 63
[6] No hard documented empirical evidence has been presented to this author to conclude causation. However, the correlation between the near absence of Israeli-manufactured Azerbaijani drone sorties with the peak in political tension encountered by Israel (in at least one specific case) is rather interesting.
[7]   Hermes™ Universal Ground Control Station (UGCS) and UAV command, control & communications
[8] High-tech weapons sow fears of chip sabotage and New Technique Detects Hardware Trojans, many others such as, The Hunt for the Kill Switch
[9] How Israel Destroyed Syria's Al Kibar Nuclear Reactor
[10] Aviation Week and Space Technology
[11] The Case for Kill Switches in Military Weaponry
[12] Kill switches and safety catches
[13] Cyber-Physical Attacks and Drone Strikes: The Next Homeland Security Threat
[14] Breakthrough silicon scanning discoversbackdoor in military chip
[15] Experts dispute threat posed by backdoor found in Chinese chip
[16] Back Doors Are Everywhere
[17] Condo Lied: Declassified memo from Clarke
[18] Richard Clarke on Who Was Behind the Stuxnet Attack
[19] Defense Science Board Task Force on High Performance Microchip Supplyand DARPA "TRU.S.T in IC's" Effort
[20] Spy agencies ban on Lenovo PCs due to backdoor vulnerabilities
[21] Intel x86s hide another CPU that can take over your machine (you can't audit it)
[22] Intel ME Secrets; Hidden Code in your Chipset and How to Discover What Exactly it Does
The Baltic States are Target Number One
From 1 January 2020 security of the Baltic airspace is ensured by three Command and Reporting Centers designed for specific national airspace surveillance, based in Tallinn, Lielvarde, and Karmėlava, instead of one joint unit.

It is said that they enhance capabilities of NATO's Integrated Air and Missile Defense System, regional interoperability, and reliability of protection of the Alliance airspace. On December 19 the new BALTNET (Baltic Air Surveillance Network and Control System) configuration and three national centers in Lithuania, Latvia and Estonia were inaugurated at a ceremony in Kaunas.

According to the Baltic States' officials, three countries have moved from the defensive to offensive measures in order to provide their security and defence.
The more so, the three Baltic Allies have launched the cooperative project of the BALTNET future configuration to further enhance their contribution to NATO's collective defence effort and architecture.

Major Pärn, senior Estonian officer at Baltic Control and Reporting Centre (CRC) Karmelava said that "a before-and-after comparison clearly shows that we are moving from peacetime construct with just one joint Baltic CRC to the crisis-and-conflict-capable architecture of three Control and Reporting Points, including back-up capabilities and clear responsibilities increasing support for Allies and enhancing our national skills in special fields such as surface-based air defense, integration of ground forces and intelligence."

This sounds like a very proud statement to any who is not accustomed with the situation.
At the moment, the Armed Forces of the three states are deprived of modern air defense systems. The main reason for this, as Estonian Defence Minister Jüri Luik admitted, is the lack of money.

For example, the Estonian Armed Forces continue to use the Soviet 23mm Anti-aircraft Cannon ZU-23-2, despite the supply of other systems. Thus, Tallinn has been purchasing the Mistral portable air defense missile systems. In 2018, the Ministry of Defence of Estonia signed a contract with the European company MBDA for the supply of these systems. However, the Mistral missiles have a range of 6km only.

In the coming years, Lithuania will remain the only owner of medium-range air defense systems in the region. In 2017, the Lithuanian Air Force was set to procure NASAMS mid-range air defense systems for $ 122.4 million from Norway. The missile is able to hit targets at the range of up to 40 km and at the height of up to 14 km. However, NASAMS, developed in the early 1990s, can't be named the most advanced air defense system.

Washington provides financial assistance to the Baltic States but the amount of funds allocated for the needs of air defense is small: as Luik previously reported, in 2020 Estonia, Lithuania and Latvia will receive a total of $ 50 million from the Pentagon's budget.
Generally speaking, the United States is interested in developing the air defense system of the Baltic region, but is not ready to invest substantial financial resources in it. For this reason, Russia doesn't consider BALTNET to be a serious threat.

At the same time, Russia is not going to tolerate the Baltic States' attempts to enhance NATO military strength near its borders. Moscow considers these measures as demonstration of readiness to attack. Its reaction is unpredictable and the Baltic States with its population have become real targets. BALTNET will help to detect a threat, but will not defend. On the other hand, three Baltic States are the NATO's shield, aimed to stop Russia in case of war. On the other hand, NATO, probably, could stop Russia in the Baltic States, but these countries in this case will cease to exist. They will be Target Number One with no chances.
India's Evolving Nuclear Posture: Implications for Pakistan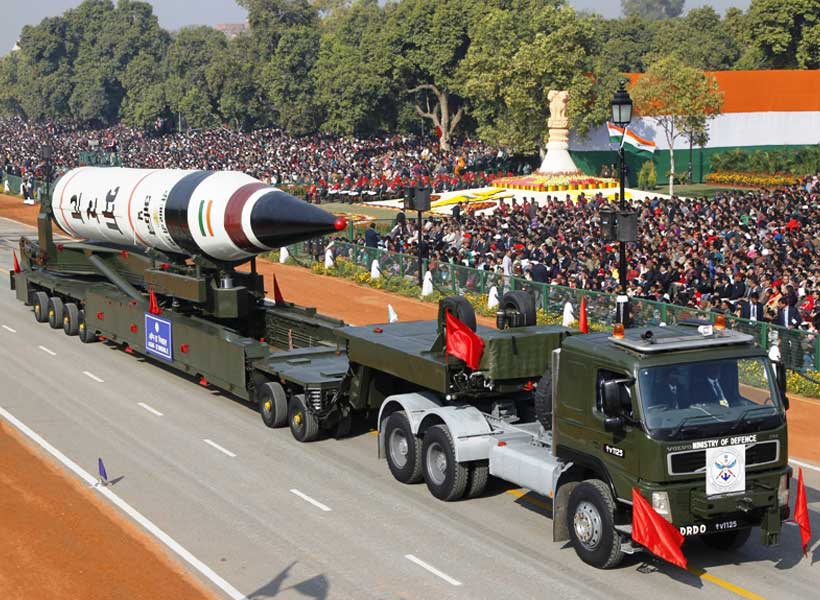 It's been twenty one years to the emergence of India, as an explicit nuclear weapon state (NWS), yet India needs to express the details about the core elements of its nuclear posture or nuclear doctrine like the policy of NFU, policy of minimum credible nuclear deterrence, massive retaliation and assured survivability of its retaliatory forces. India has ambitious plans for the acquisition of robust triad of nuclear forces, which includes the land-based ballistic missiles, fighter bomber aircrafts, and submarine launched ballistic missiles (SLBMs). India is rapidly building up its nuclear and strategic capabilities, which is a part of its grand strategy of attaining the status of regional and global power.[1]However, India is also strengthening its nuclear force by the introduction of new generation of short-range ballistic missiles which are nuclear capable in nature along with building up its naval nuclear force. These advancements are a threat to the nuclear threshold of Pakistan and will generate the probability of accidental nuclear escalation between the major states of South Asian region, India and Pakistan. Consequently, these advancements will have severe repercussions for the region.
Since 2003 it has been observed that no official up gradation has been made by India in its nuclear doctrine, showing its commitment to the NFU policy and the posture of massive retaliation as a result of a nuclear attack and credible minimum deterrence (CMD) force posture.[2]Though, the nuclear force of India, kept on changing from the time it released its nuclear doctrine. Critical examination of nuclear forces of India depicts that India will go on modernizing its nuclear arsenals by the introduction of at least four new weapon systems, which will complement the existing nuclear- capable aircrafts, land and sea based delivery systems and is also effectively working on the expansion of nuclear missiles with short range.[3]
According to the officials of India, the nature of the nuclear and conventional challenges has been changed since India released its nuclear doctrine in 2003. India's stance on building up its conventional and nuclear capable ballistic and cruise missile system vis-à-vis China, is an element of its force posturing. As India claimed, the development of SSBN is for the conventional naval deterrence purposes[4] but these developments by India have great implications for the twin born state of Pakistan.
Despite of such shifts and development made by India, yet the nuclear doctrine of India has not been amended, since 2003. India is unable to assess the implications of these developments pose to the neighboring state of Pakistan. A growing debate has been observed with in India regarding the shift in the main principles of its nuclear doctrine i.e. India should move away from the NFU to FU and should opt more offensive posture. In the recent years proposals have been made at different platforms about the review of Indian nuclear doctrine. The idea of revision of the nuclear policy has been presented by Associate Professor Vipin Narang. He mentioned that Delhi is shifting its long held policy of NFU, the main pillar of its nuclear doctrine.[5] However, India has adopted the moderate nuclear posture of minimum retaliatory capability for deterring the adversaries to refrain from nuclear attack. Indian nuclear experts and officials have been criticizing the effectiveness of NFU policy. The Indian defense Minister Manohar Parrikar suggested India to move away from NFU by opting the offensive policy of first strike to fully disarm the nuclear capabilities of Pakistan.[6]
Indian nuclear program and strategic shifts along with the technological advancements will have several allegations in broad for international community and specifically on Pakistan. Firstly, the vying state of India, Pakistan; it is determined to continue to scrutinize the strategic situation of India and will respond accordingly. For Pakistan its nuclear program is an essential element of survival, because of the massive conventional discrepancies lie between them. And Pakistan is also busy in its own advancements and arsenal up gradation plans due to the expanding missile and nuclear capabilities of India.[7] India continues to modernize its nuclear force by acquiring technological reforms and also shifting its nuclear policy from NFU to FU or first strike capability, it has been indicated by the successful launch of Nirbhay cruise missile that India is trying to enhance its first strike capability by abandoning the NFU policy vis-à-vis Pakistan.[8]Consequently, it will create a security spiral between the two nations to counter each other by taking the actions accordingly. This spiral will lead towards an arms race which will impact the global proliferation enormously and will have negative repercussions on the strategic stability of South Asia.
For Pakistan, the recent developments/ build ups of India are a matter of great concern. Especially, the developments made in the missile technology in addition to Ballistic Missile Defense (BMD) System and Indian collaboration with super powers like US and Russia along with the Jewish state of Israel have given a new dimension/ facet to the security situation of the region. These new developments especially the introduction of BMD system has posed negative implications to the neighboring state of Pakistan. And to counter India in these developments, Pakistan is also developing its nuclear arsenals, missile program and tactical nuclear weapons which is giving rise to the arms race in the region creating an action-reaction spiral.
In response to the nuclear developments and missile program of India, Islamabad is also up grading its nuclear forces and building up its missile program. Pakistan already possesses an extensive array of nuclear capable ballistic missiles with short and long ranges.[9] This includes the nuclear proficient aircrafts, ballistic missiles as well as cruise missiles. Additionally in order to counter Indian developments, Pakistan is also working on its sea based nuclear missiles. Pakistan has launched all weathers, nuclear payload capable ballistic missile Shaheen II in response to the successful launch of Indian fastest cruise missile Brahmos– which has the capability to act as a anti-ship weapon –­­­­­­­­­­­­­­­­­­­­­­­­­­­­­­which can pose serious threats to the Pakistan's land and naval assets.[10]
If India opts the more aggressive nuclear posture of first strike capability, it will lead Pakistan towards the revision of its nuclear posture by opting more aggressive nuclear posture to deter India. The nuclear build ups by India especially the experiment of Agni V, SLBM, and the purpose behind the acquisition of Theater Missile Defense (TMD) and becoming the member of Missile Technology Control Regime (MTCR) is bothersome thing for Pakistan. Being the member of MTCR, India achieved the waiver of exporting its missile and space technology to the nations, which are adhered to the missile group principles, India is already a member of missile club which provides it an easy access to the sophisticated missile technology.[11] So, all of these aspects have negative implications for Pakistan. And to counter India in such domains Pakistan needs to work a lot. And in this regard Pakistan is also building up its nuclear arsenals, its cruise missiles, its ballistic missiles, aircrafts and naval buildups for its security and survivability and to deter India from its hegemonic goals and to ensure the stability and peace in the region.
India's evolving nuclear posture is manifested by the modernization of its nuclear forces by the acquisition of new technology. And, ostensibly it is also shifting its doctrine from NFU to FU. These developments will have grave implications on the state of Pakistan and on the region of South Asia. The emerging nuclear posture of India i.e. shift from NFU to FU will have serious implications for Pakistan; leading to an arms race and instability in the region.
The shifts in Indian nuclear doctrine will encompass severe implications on South Asian region especially on Pakistan. If India shifts away from the NFU to first use capability then Pakistan will have to review its nuclear doctrine and has to take action accordingly. Secondly the nuclear buildups and strategic developments by India are also impacting the peace, harmony and stability of South Asia and is having negative repercussions for Pakistan. Due to such developments Pakistan is also forced to take measures by developing the same technology of strategic buildups to deter India.
Delhi has also advanced its aircrafts like Su-30MKI to carry BrahMos cruise missile, which perhaps will be nuclear capable and will also extend the strike range capability of the Indian air delivered platforms.[12]Such modifications will improve the viability of the striking capabilities of the Indian aircrafts as nuclear deterrents.
India has shown most of the improvements in its ballistic missiles quality. Only one category of equipped ballistic missiles was occupied by India in 2002 that is the short range Prithvi I with a range of 150kms.[13] Now India has multiple ranges of ballistic missiles like short range, medium range and intermediate range ballistic missiles as an element of its operational force. India possess Agni I which has a range of 700km, whereas Agni II which is a medium range missile with a projectile range of 2000 km.[14] The highest array of operational missile of India is Agni III, which has a projectile of 3000 km and has ability to cover long distant areas of China. India has been successful in conducting the test of Agni V with an ICBM and it covered a range of 5000 km, which is considered to be less than that of the internationally recognized standard for an ICBM. It is believed that in future, India will possess Agni VI missile, which will have MIRV technology.[15]
Ballistic submarine is thought to be the most survivable leg of nuclear triad, India has also made a lot of progress in this sense. India's indigenous nuclear submarine, INS Arihant, its construction was initiated in 1997,[16]but in 2013, it was experienced that the onboard nuclear reactor of it went critical[17]due to which this vessel didn't get the operational status. Submarines are likely to be equipped with 12 Sagarika k-15 missiles, and it is also accounted that India is also building up a long-range missile with the name of K-4 for the INS Arihant, which will have an expected range of more than 3000 km.[18]India already acquired a surface naval platform which is used for the ballistic missile known to be the Dhanush, which might be nuclear capable. If India reached the INS Arihant's operational status then it will truly acquire the technology of nuclear triad. This will enable India to become a part of the exclusive club of nations, which only comprised of U.S., China and Russia.
Because of the India's goal of becoming a hegemony in the region which has been followed by it with the initiation of CIRUS reactor have left negative impacts not only on the strategic stability of the South Asian region in general but also on the belligerent state of Pakistan in particular. Along with it the nuclear deal between India and U.S. and the waiver to NSG also have negative consequences which add up more salt and pepper to the destabilization of situation among India and Pakistan. The gradual change in the nuclear policy of India has certain strategic implications on the subcontinent which also impacts the strategic environment of the Pakistan. India has already shown a shift in its nuclear policy without any of the confirmations from the leadership of India.[19] It creates a more mistrust in region and if India makes any of the gradual changes in its nuclear policy, it will automatically pulls Pakistan into the arms race. Due to the gradual increase in the strategic forces of India, it will also drag the region into an unending arms race and will also make Pakistan and China to think of their own deterrent forces modernization.[20]It might lead the region towards a nuclear war. It looks like India is opting a more aggressive nuclear posture as India is developing more deterrent forces and also developing a triad which will impact the stable condition of South Asia as Pakistan do not afford such option because of its poor economic development. Gradual policy transformation in Indian nuclear posture to "launch on warning" or "launch under attack" which will provide India with the option of FU/ first strike capability and it will direct India to move from NFU to first use option, which will be a worrisome thing for Pakistan. Due to the absence of NFU option in South Asia would raise the reliance of states on the nuclear weaponry.[21]
Due to the strategic build ups and the missile program developments by India will lead the South Asian region in to the arms race. As these developments have negative effects on the stability of this strategic geographical entity. And have great implications for Pakistan. Pakistani strategic thinkers will also consider these repercussions serious or one of the main risk to the security of their state so Pakistan will also build its strategic arsenals to counter India. These missile and strategic developments of India has given birth to security dilemma in the region which is leading towards arms race. India's shifting away from no first use to first use is also having severe implications for Pakistan. If India ever goes to aggressive nuclear posture, as a result Pakistan will opt a more aggressive nuclear posture than India.
---
[1]National Security Advisory Board, "India's Draft Nuclear Doctrine," Arms Control Today, July/August 1999, www.armscontrol.org/act/1999_07-08/ffja99
[2]Ibid.
[3] Hans M. Kristensen and Robert S. Norris, "Indian nuclear forces, 2017," BULLETIN OF THE ATOMIC SCIENTISTS 73, no. 4, July 5, 2017 : 205.
[4] O'Donnell and Joshi, "Lost at Sea: The Arihant in India's Quest for a Grand Strategy," Comparative Strategy 33, no. 5 ( November-December 2014): 476
[5]GurmeetKanwal, "India's Nuclear Doctrine: Reviewing NFU and Massive Retaliation," Institute of Peace and Conflict Studies, New Delhi, January 7, 2015, http://www.ipcs.org/article/india/indias-nuclear-doctrine-reviewing-nfu-and-massive-retaliation-4798.html.
[6] "Why Bind ourselves to 'No First Use Policy', Says Defence Minister Parrikar on India's Nuclear Doctrine," The Times of India, November 10, 2016, http://timesofindia.indiatimes.com/india/Having-a-stated-nuclear-policy-means-giving-away-strength-says-Parrikar/articleshow/55357107.cms.
[7] Hans M. Kristensen and Robert S. Norris, "Pakistan's Nuclear Forces, 2011," Bulletin of Atomic Scientists 67, no. 91 (2011): 93, DOI: 10.1177/0096340211413360.
[8]SyedaSaiqa Bukhari, "Implications of Indian's Nirbhay Missile Test," Daily Times, May 22, 2019. Accessed on July 15, 2019.
[9]Musawar Sandhu, "The BrahMos Test and Its Implications For Current State of Strategic Relations Between Pakistan and India," Eurasia review, June 4, 2019.
[10] Ibid.
[11]Asma Khalid, "Implications of India' Missile Program and Non- Proliferation Regime," Foreign Policy News, June 24, 2017.
[12] Rakesh Krishnan Simha, "How the Su-30 MKI Is Changing the IAF's Combat Strategy," Indrus, January 5, 2014, http://indrus.in/blogs/2014/01/05/how_the_su30_mki_is_changing_the_iafs_combat_strategy_32099.html.
[13]Norris , "India's Nuclear Forces, 2002," 71.
[14]Kristensen and Norris, "Indian Nuclear Forces, 2012," Bulletin of The Atomic Scientists, 98.
[15]Ajai Shukla, "Advanced Agni-6 Missile with Multiple Warheads Likely by 2017," The Business Standard, May 8, 2013,Acessed September 16, 2018, http://www.business-standard.com/article/economy-policy/advanced-agni-6missile-with-multiple-warheads-likely-by-2017-113050800034_1.html.
[16] Norris, "India's Nuclear Forces, 2002," 72.
[17]Jyoti Malhotra, "How India's Pride INS Arihant Was Built," The Business Standard, August 12, 2013, http://www.business-standard.com/article/specials/how-india-s-pride-ins-arihant-was-built113081100745_1.html
[18]Kristensen and Norris, "Indian Nuclear Forces, 2012," 99.
[19] Zafar Khan, "Emerging Shifts in India's Nuclear Policy: Implications for Minimum Deterrence in South Asia," Strategic Studies 34, no. 1(Spring 2014).
[20] Ibid
[21]Ibid.
India-Pakistan: Stitched in Multilateral Interests
Bilaterally botched relationship, Pakistan and India would be working together in an economic and strategic multilateral forum of Eurasia's Shanghai Cooperation Organization (SCO). The China-led Organization has eight members – India, Kazakhstan, China, Kyrgyzstan, Pakistan, Russia, Tajikistan and Uzbekistan – and four observer states, Afghanistan, Belarus, Iran and Mongolia. Both were given the membership in 2017.
Founded on June 15, 2001, the SCO characterizes the inter-governmental interaction to provide an institutional platform for broad regional economic cooperation within the context of the new realities of globalization and regional integration. As such the interlacing of relations between countries and regions is significantly augmented with the paradigm shift of increasing interdependency and commonly accessible communication. The major objective is to encourage a more cohesive global community for development and prosperity.
However, locked in unrelenting hostility, to establish a non‐securitized culture with collective security through conflict resolution between India and Pakistan is blocked by their parochial politics. The teaming up when encountering transnational challenges, as members of a multilateral forum, such as the SCO, presents a ray of hope despite the antiquated politics of Indo-Pak relations. Nationalism and politics of 'otherness' or populism has mainly kept the basic conflict dynamics unchanged between India and Pakistan so far. It is painfully being exacerbated even further with Modi's Hindutva ideology.
Similarly, one of the characteristics of regional cooperation is strengthening conflict management to ensure security. The Composite Dialogue initiated between the two states, way back in 1998, with reference to "all outstanding issues including Jammu and Kashmir" never reached its conclusion. A brief rethought of holding the "Comprehensive Bilateral Dialogue' in 2015, also got scuttled by ever soaring tensions.
Likewise, geo‐economic collaboration in the region, with autonomy for individual countries is dependent upon its political and security conditions. The South Asian Association for Regional Cooperation (SAARC) is perhaps the only regional forum which has not been able to provide a much needed platform for discussing security‐related issues.
Hence the question whether Prime Minister Imran Khan will attend the SCO summit when India would host the event in October this year, is one of extreme consternation for Pakistan against the backdrop of the deteriorating bilateral relations between both countries. Especially since India has revoked Article 370, keeping the Kashmiris under siege for more than 150 days, an emboldened Modi's recent Bill on Citizenship, and the erstwhile incident of February27 when Pakistan's borders were violated, with its opposing hostile narratives all present an 'incandescent panoply' of South Asia's collective security concerns. Already deep rooted and agonizing for the people of both India and Pakistan, the territorial disputes between both countries have significantly stampeded the possibility of cordial bilateral relations between both neighbors.
Mr. Raveesh Kumar, the spokesman for India's Ministry of External Affairs has already declared that "India will be hosting the heads of government summit later this year. As per established practice and procedure within SCO, all eight members, as well as four observer states and other international dialogue partners, ."
South Asia is desperately negotiating its place in an arena of global interconnections within the throes of rapid change. Within the purview of both immediate and distant history where relentless confrontation between two major nuclear armed nations has played a defining role, how would one geographical unit benefit from a multilateral venture? Where would India and Pakistan start as co‐members of the SCO, in the absence of the complementarity of political interests? Who would step forward to challenge the prevailing incongruity both internally and externally? To borrow from the Theory of Transcendence for conflict resolution, proposed by Johan Galtung, India and Pakistan have the following three options to respond to the changing world of multi‐ polarity and regional integration:
1. To give up in advance on the outstanding issues,
2. Content oneself at the expense of the other,
3. Or reach some compromise.
Hence, would their presence in the SCO this year impart a new momentum towards a more coherent and effective exercise in conflict management? Is it an opportunity? Or would it deepen their already existing strains and widen their ancient rivalries further afield to Afghanistan and Central Asia?
Through the SCO, China and Russia are building a decidedly multi‐polar "Eurasian" point of view. Its strategic aims are to condemn any efforts to achieve a "monopoly in world affairs", divide the world into "leaders and followers" and "impose models of social development." This obviously reflects China's insistence on "multi‐polar" world as against the US persistence of "uni‐polar" international order.
Agreeably, the SCO does provide an opportunity to both India and Pakistan to transcend from their parochial politics. It has historically provided a platform to its member states to sign such crucial agreements like the Treaty on Deepening Military Trust in Border Regions and the Treaty of Good‐ Neighborliness and Friendly Cooperation, amongst its member states. The transformation of the regional and global security paradigm amidst the growth of new economic centers also necessitates a qualitative change. The world looks askance at teamwork.
Though the forum is too feeble to bear the consequent shocks of Indo-Pak hostility, the converging interests of the member states offer an opening for an effective intermediary role to resolve the Kashmir issue as well. The presence of unimplemented resolutions in the United Nations and now universally noticeable human rights violations has already given it an international status.
Conclusively, a final decision on whether Prime Minister Imran Khan attends the meeting, scheduled for October, is yet to be made by Islamabad. Placing cooperation above conflict in the conduct of interstate relations is certainly a viable solution however, without compromising on its principled stance. As an alternative there is already is a precedent from the past to have the foreign ministers representing the national interests in such multilateral forums should the Prime Minister choose to abstain.