Report: Making New Silk Road 'Smart' Can Boost Region's GDP by 4%-7%
Small and medium-sized enterprises along the routes of the "One Belt, One Road" initiative – often referred to as the New Silk Road – can boost the GDP of their countries by 4% to 7% as a result of increased market access, a new World Economic Forum study finds. Lack of access to global markets is currently their main impediment to growth.
Moreover, by focusing on the adoption and implementation of new technologies that improve infrastructure efficiency, companies could achieve real-time supply chain visibility, eliminate inconsistencies in customs clearance procedures, reduce overall operating costs and increase the speed of goods transported along routes between Europe, Asia and beyond, the new World Economic Forum study finds.
"Everything from the planning of services to the execution of supply chain operations can be improved by providing countries with new IT infrastructure able to manage small and big data for a steady flow of goods across this vast region," said Wolfgang Lehmacher, Director, Head of Supply Chain and Transport at the World Economic Forum.
The paper, How Technology Can Unlock the Growth Potential along the New Silk Road, has recommendations for accelerating the digital enablement of stakeholders to increase market access, including:
• Facilitating direct access to markets for SMEs with online platforms designed to connect them with distant customers
• Creating improved market intelligence reports for SMEs that could enable much better understanding of product supply/demand dynamics, more agile adjustments to production plans and improved tracking of prices and their trends
• Standardizing clearance procedures and transforming human decision-making into machine intelligence with lower risk of corruption in customs clearance processes
IT infrastructure advances and innovative digital capabilities could significantly lower labour and other direct costs for companies. Potential cost savings for labour in customs clearance, warehousing and inventory management could be achieved through automated document verification. In addition, reduction in the costs of delay and increased resilience for supply chains in the face of disruption could be achieved with supply chain risk management systems.
"Having the right technology in place is the only way that the New Silk Road will define the future of trade between East and West," said Gerry Mattios, Principal, Bain & Company, People's Republic of China, and co-author of the report. "We are hopeful that, by delivering practical insights to stakeholders, more people will benefit from the explosive growth of new and exciting possibilities, such as the sharing economy."
Through the One Belt, One Road initiative – one of the biggest infrastructure projects of the 21st century – China and partnering countries aim to transform and develop a region that holds 70% of the global population and 55% of the global GDP through improved trade and technology.
Impact Investment needs global standards and better measurement
Social impact investment, which aims to improve well-being as well as earn a financial return, could be more effective if it were more clearly defined internationally with more measurable outcomes, according to a new OECD report.
Social Impact Investment: The Impact Imperative for Sustainable Development calls for international standards to be applied on collecting data and measuring impact. Currently, most impact investment goes to areas with relatively easy returns, such as financial services, energy and housing as perceptions persist of a trade-off between social and financial returns.
The OECD has proposed defining social impact investing as targeting core development, social and environmental areas that help people and countries most in need in underserved or developing regions, and stipulating that the primary focus should be on delivering measurable impact. No such definition is being universally applied, however, and there is little rigour in setting boundaries on what should count as impact investment and a lack of internationally comparable data and evaluation tools.
"The challenge lies in defining and measuring impact," said OECD Development Co-operation Director Jorge Moreira da Silva. "Different countries, public and private organisations are using different yardsticks to measure different elements. To counter the risk of 'impact washing', public authorities have a responsibility to set standards and ensure they are adhered to."
The number of social impact investment funds has quadrupled in two decades to over 200 funds with USD 228 billion invested, more than half of that in emerging markets, according to the Global Impact Investing Network. The phenomenon is spreading to mainstream investment funds as wealthy investors and philanthropists increasingly want their money to also have a positive social or environmental impact.
Impact investing is proving to be key for channelling new resources – primarily funding but also innovation, accountability and sustainability – towards the UN Sustainable Development Goals. For example, a GBP 10 million bond that funded a UK non-profit, Golden Lanes Housing, that has provided adapted housing and related services for around 1,500 people with learning disabilities was also able to return 4% interest to investors. In the developing world, investment firm Sarona Asset Management provides growth capital to small businesses in developing countries and frontier markets including Egypt, India, Nigeria and Tunisia.
The OECD report says 45 countries have adopted public instruments related to impact investing, with the European Union, United Kingdom, Malaysia and France leading the way, and 20 have adopted a legal definition for social enterprises.
It says governments should now do more to improve fiscal and regulatory incentives for impact investing and put in place the necessary legal structures for the market to function well. This could include updating financial and fiscal regulation, establishing reporting standards, and increasing flexibility into corporate legislation so that rather than having to identify as being a for-profit or a non-profit, companies can be hybrids.
Improved standards for social impact investment funds should lead to more effective impact investment by mainstream funds.
Thailand's Human Capital Key to Long-Term Growth and Reduced Inequality
Amid a global slowdown and elevated trade tensions, the Thai economy is projected to grow by 3.8 percent in 2019 and 3.9 in 2020, according to the World Bank's Thailand Economic Monitor released today. Investing in human capital and pursuing economic reforms is critically important for Thailand to become a high-income nation with equal opportunities for all citizens.
In 2018, despite external shocks to trade and tourism, growth of the Thai economy is estimated to have accelerated to 4.1 percent, the report says. The Thai economy proved to be resilient in the face of strong global headwinds due to strengthening domestic demand stemming from an upswing in private consumption and private investment.
In line with trends in the global economy, a slight economic slowdown is expected in 2019. Public infrastructure spending in expected to accelerate in 2019 and pick up in 2020 as the Eastern Economic Corridor projects are being implemented.
"Weaker global growth will likely impact the export performance of Thailand and restrain manufacturing activities in export-oriented industries," said Kiatipong Ariyapruchya, World Bank Senior Economist for Thailand. "In this context, continued implementation of public infrastructure projects and economic reforms can help catalyze domestic demand in 2019 and support medium-term growth."
Last October, The World Bank launched the Human Capital Index, which measures the productivity level for the next generation of workers relative to their full potential if all education and health outcomes were maximized. While Thailand scores in the upper half of the various indicators compared to ASEAN countries and other upper-middle income country peers, there remains room for improvement.
In Thailand, a child born today will reach only 60 percent of potential, in terms of productivity and lifetime income. Unequal education quality in Thailand is one of the biggest challenges, with poorer areas being underserved. Due to under-resourced small schools, with inadequate infrastructure and education materials, the 12.4 years of basic schooling expected for a child born today in Thailand are equivalent to just 8.6 years – a learning gap of 3.8 years. The high burden of non-communicable diseases and road traffic injuries has negatively affected the country's adult survival rates, which is lower than half of the average global rate.
"Sustaining the pace and quality of structural reforms will be crucial for reducing poverty and raising Thailand's long-term growth path above 4 percent in the face of demographic challenges caused by rapid aging," said Birgit Hansl, World Bank Country Manager for Thailand. "To build a better future for all Thais, an emphasis on human capital investment is key. Addressing priority areas in education and health can go a long way in equalizing opportunities for the next generation."
Priority areas for improving human capital in Thailand include addressing challenges faced by small schools where approximately one million poor children are currently getting inferior quality education. To do so, efforts should focus on improving school-based management, and increasing the efficiency of public education expenditures, the report argues. Promoting healthier outcomes, particularly focusing on prevention and reducing risk factors, is essential to increase Thailand's adult survival rate.
The Thailand Economic Monitor, published twice a year, is the World Bank Thailand's office's flagship report, analyzing the country's economic performance and outlook. The January 2019 edition focuses on Thailand's challenges and opportunities in enhancing human capital and reducing inequality.
Renewable Energy the Most Competitive Source of New Power Generation in GCC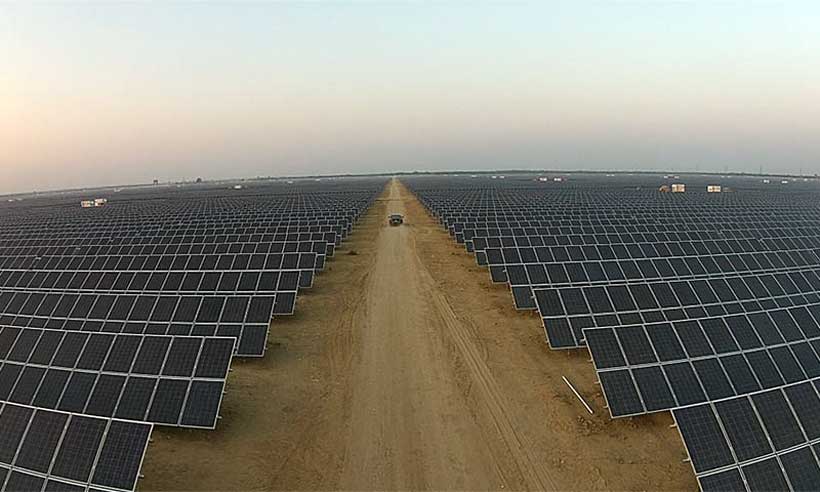 Renewable energy is the most competitive form of power generation in Gulf Cooperation Council (GCC) countries, according to a new report published today by the International Renewable Energy Agency (IRENA). Abundant resources, together with strong enabling frameworks have led to solar PV prices of below 3 cents per kilowatt hour and dispatchable concentrated solar power (CSP) of 7.3 cents per kilowatt hour, which is less than some utilities in the region pay for natural gas.
IRENA's new 'Renewable Energy Market Analysis: GCC 2019' launched during Abu Dhabi Sustainabilty Week, says achieving stated 2030 targets can bring significant economic benefits to the region including the creation of more than 220 000 new jobs whilst saving over 354 million barrels of oil equivalent (MBOE) in regional power sectors. The targets could reduce the power sector's carbon dioxide emissions by 136 million tonnes (22 per cent reduction), while cutting water withdrawals in the power sector by 11.5 trillion litres (17 per cent reduction) in 2020.
The findings come as GCC economies seek to diversify their economies against the backdrop of fast-growing domestic energy demand and a desire to safeguard hydrocarbon export revenues for the future.
"The GCC is among the most attractive regions in the world to develop large-scale solar and wind energy projects as a result of resource abundance and a favourable policy environment, a fact that is backed up by record low prices," said IRENA Director-General, Adnan Z. Amin. "As a fossil-fuel exporting region, the GCC's decisive move towards a renewable energy future is a signal to global investors and to the energy community that we are experiencing a step-change in global energy dynamics and a true energy transformation."
"The UAE's commitment to diversifying the energy mix is central to our long-term economic growth and sustainable development objectives," said H.E. Suhail Al Mazrouei, UAE Minister of Energy. "IRENA's GCC analysis provides further evidence of the strong socio-economic case for renewable energy deployment, from job creation to emission reductions. As we look to add generation capacity to serve growing populations and expanding economies, renewables will increasingly serve as central pillar of low-carbon development."
At the end of 2017, the region had some 146 GW of installed power capacity, of which renewable energy accounted for 867 megawatts. Around 68 per cent this capacity was in the UAE. This represents a four-fold increase on capacity in 2014. Following the UAE are Saudi Arabia with 16 per cent and Kuwait with nine per cent of regional capacity.
With renewable energy targets now in place across the region, the GCC is poised for a significant acceleration in renewables deployment as countries pursue national goals. Under current plans, the region will install a total of almost 7 gigawatts (GW) new power generation capacity from renewable sources by the early 2020s.
Solar PV dominates the region's renewables outlook, accounting for three-quarters of the regional project pipeline, CSP and wind accout for 10 per cent and nine per cent respectively. Solar-assisted enhanced oil recovery in Oman is also expected to contribute about 1 gigawatt-thermal (GWth) in 2019.
Proactive policies are central to accelerating renewable energy deployment, per the report, suggesting that lessons can be drawn from the GCC countries where substantial inroads have been made thanks to firm government commitments and credible, time-bound targets with a clear focus on a supportive business environment for investments.