The Gambian crisis unfolded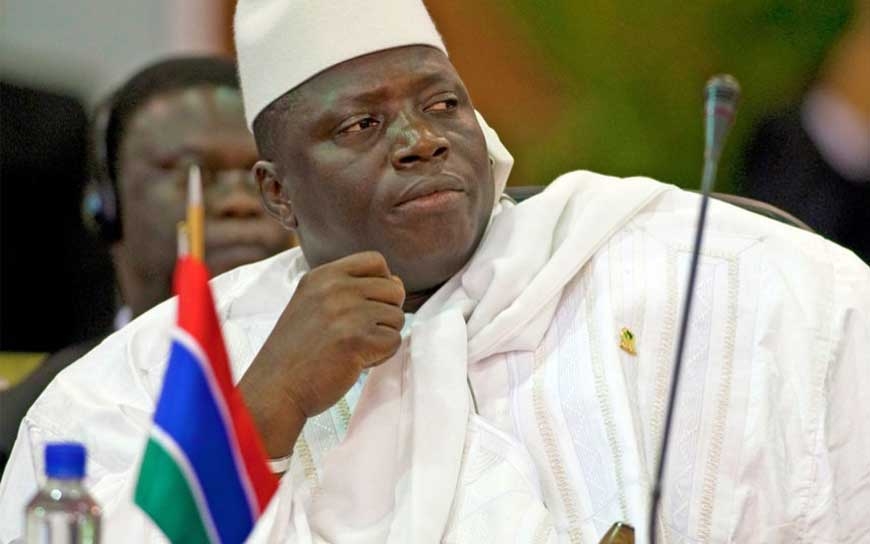 Gambia is in crisis currently with Yahya Jammeh refusing to step down as President after election results were announced. He suffered a shock defeat to Adama Burrow. Gambia is a tiny country in West Africa with a population of 1.8 million which is popular for its beaches. It is surrounded on three sides by Senegal. The major religions of the country are Islam and Christianity. It attained independence from the United Kingdom (U.K.) in 1965. Lieutenant Yahya Jammeh took over power through a military coup in 1994. In 1996, he won elections in a contest where three major political parties were barred from contesting. In total, he has won four "multi-party elections" (much criticised).
On December 1 of last year after the results were announced, Jammeh, to everyone's surprise, conceded defeat and agreed to step down. However, after one week, on December 9, Jammeh took to air waves and reversed his decision saying that he would not be stepping down. His "complaint" was that the Independent Electoral Commission (IEC) was not all that independent but under foreign influence. Jammeh carried on bantering that many of his supporters were denied their right to vote, providing bogus reasons by alleging misinformation, intimidation and systematic exclusion of some of his polling agents, particularly in the Central River Region.
The Economic Committee of Western African States (ECOWAS) tried unsuccessfully to find a solution to the crisis. A delegation of four Presidents from ECOWAS even went to Gambia to convince the losing President from stepping down. This delegation also included Ghana's ex President John Dramani Mahanama, who graciously conceded defeat in Ghana's presidential elections. Unfortunately, they were not successful in their attempts to convince Jammeh to step down.
If at all Jammeh had any complaints about the manner in which the elections were conducted or the results, he should have taken the proper course to do it – which was to do it through the Supreme Court Panel. By the way, the Supreme Court Panel currently does not exist due to politicisation of the Judiciary which has led to a gradual breakdown of the rule of the law. Full credit for this achievement would have to go to Jammeh himself. Jammeh is also reputed to be one of the world's most eccentric leaders. He believes that homosexuality threatens human existence. He decided to withdraw Gambia's membership from the Commonwealth when they began to push for reforms. In 2007, he claimed that he could cure AIDS with herbs, prayer and a banana.
The African Union (AU) described Jammeh's actions as an unconstitutional change of government, the definition which allows it to suspend a country's membership. Its Peace and Security Council met on December 13, 2016 and although it condemned Jammeh's attempt to reverse the election results, it stopped short of suspending it. Not that it would have had any effect on Jammeh. For he seems to be bothered only about his own clinging to power. Why would it bother him that his country is stripped of its AU membership? He has also tried various tactics to consolidate his position. He summoned various religious heads to the state house and tried to persuade them to promote "peace and reconciliation." But his plan boomeranged when the 67 clerics from the Gambia Supreme Islamic Council and Gambia Christian Council unanimously told him to step down in the interests of peace.
Over 20 organisations including the Gambia Chamber of Commerce, the Bar, the Medical Practicioner's Association and a raft of labour Unions have all asked Jammeh to quit and move on. The president of the ECOWAS commission has said that a military option was on the table. On December 20 of last year, Jammeh made a TV appearance and derailed everyone including the ECOWAS, the United Nations (UN), the commonwealth and the European Union (EU) and also challenged the ECOWAS to intervene.   Apart from leaving Commonwealth, under Gammeh, Gambia quit the ICC.
Coming to Adama Barrow, the opposition candidate who won a surprising victory in this elections, he is a property developer who has won this elections with 45 per cent of the vote. Barrow's promises include free basic education, affordable higher education and affordable health care even in rural Gambia. He has also said that he would put an end to the imprisonment of government critics which has been the norm under Jammeh's rule. During his younger days, he was employed as a sales manager in a gas company when he decided to move to London to study and save up funds to start his own firm. Even after building up his business, he still works for 12-14 hours a day. Currently he is in Senegal. It is a tragic fact that he was not even able to attend his son's funeral ceremony who died because of a dog bite on January 15, 2017.
Gambia's intelligence officers have arrested several opposition sympathizers and have shut down three independent radio stations. Meanwhile, Jammeh announced a 90 day emergency. Nigeria has reportedly deployed a warship in the coastline of Gambia to put pressure on the Gambian President to step down. Jammeh's aides including the ministers of finance, foreign affairs, trade, information, environment and tourism & culture have resigned. There are also reports that Jammeh has assembled mercenaries from countries like Liberia, Sierra Leone, Mali and Casamanca in Senegal for a possible showdown with ECOWAS. Gambia's entire armed forces is made up of only 2,500 people. The Gambian army chief has declared support for Gammeh. The elite section of the army is fiercely loyal to Jammeh. But the other sections of the army might not be so loyal.
On January 19, Jammeh refused to step down. Hence Senegal has entered Gambia. It is important that Jammeh should be made to step down since he has not done so voluntarily. Meanwhile, Barrow was sworn in Gambia's embassy in Senegal. Barrow also has called on the military to remain loyal and has also warned that any soldiers possessing firearms without his order would be considered rebels. The United Nations Security Council has pledged support for Adama Barrow and called upon Jammeh to respect the election mandate. The Gambian military will do well to back Adama Barrow instead of Jammeh which they have done until now. With the West African countries set to intervene and ensure that Jammeh steps down (Senegal, Ghana, Togo and Mali have assured that they would provide the required military support), it would be a matter of time before the Gambian military gets defeated.
As for the African continent too, if the President of a small country like Gambia can ensure that he can get away by refusing to step down, it would send out a wrong message to the other countries and their leaders too might undergo 'a change of mind'. That is already an issue in many countries like Burundi, the Democratic Republic of Congo (DRC) and Burkina Faso. The situation in Gambia is eerily similar to the Ivory Coast situation in 2010 when France had to attack the Presidential Palace in order to make Laurent Gbagbo step down after he refused to quit following the announcement of election results. One hopes that better sense prevails upon the mind of Jammeh. If it does not, it is the duty of the African and the international community to see to that.
Disclaimer: Views expressed in this article are those of the author
Economic and investment potential of Gambia
The Gambia is a small country in West Africa and is entirely surrounded by Senegal except for its coastline on the Atlantic Ocean. English language is the official language. The Gambia's economy is dominated by farming, fishing and has excellent natural spots for tourism. Previously, the United Kingdom and many EU countries constituted its major domestic export markets. However, in recent years, the United States, China and Japan have become significant trade partners of The Gambia. Despite that, The Gambia looks forward to developing a strong economic partnership with Russia and former Soviet republics.
In this interview, Alieu Secka, the CEO of The Gambia Chamber of Commerce and Industry, (who is also an accomplished corporate governance expert, industry leader, entrepreneur and business practitioner), recently shares his thoughts about opportunities available for potential foreign investors in his country with Kester Kenn Klomegah, an independent researcher and policy consultant on African affairs in the Russian Federation and Eurasian Union.
In your objective assessment, what can you say are the current achievements or gains in the economic sphere under President Adama Barrow? 
Since last year, The Gambia's economy has begun to rebound. Firstly, the foreign exchange rates have been steady throughout. Secondly, inflation is contained, and most importantly, The Gambia's export cover has risen from 1 month to over 4 months. Economic growth is expected to continue to rise up to 4% in the coming year.
How has your organization promoted the country's business and investment potentials abroad, especially towards Russia and Eurasia (for example, Kazakhstan, Belarus) direction? 
The Gambia Chamber of Commerce is the private sector partner to the government. It has direct links with many Chambers of Commerce worldwide and is member of the International Chamber of Commerce, and receive enquiries throughout the globe. We have attended various state missions and business forums with the both President Adama Barrow to Belgium, France and Turkey, as well as with Ministers elsewhere. We share stories of business opportunities, plus our work with partners and give interviews to media houses throughout. Last year, we signed an MOU with Belarus Chamber of Commerce and hope we can expand to Russia and other Eurasian countries.
Can you discuss the main economic sectors that are currently attracting foreign investors to The Gambia?  
The Gambia has tremendous potential for businesses from Russia and Eurasia in many sectors such as infrastructure, agribusiness, health services, tourism and education. As The Gambia prepares to host the next Organization of Islamic Countries (OIC) in 2019, foreign direct investment is expected to peak including the Airport, Gambia Ports Authority, industries for agri-processing and packaging, and new luxury hotels to be built.
I should also mention that tourism is one of the biggest foreign exchange in The Gambia contributing some 18% of our Gross Domestic Product (GDP), and we have tried to work with some Russian travel companies to bring Russians to come enjoy the beautiful sandy beaches on the Atlantic Ocean and tropical weather year-round, build resorts to Russian taste etc. Cement production also has huge potentials as we see building construction expansion expanding each year.
What challenges still remain in order to make way for optimizing foreign involvement in various economic sectors? 
Air access is still a challenge for many entrepreneurs, even though we have regular schedule flights on Brussels airlines 4 times weekly and on Royal Air Maroc daily, and some 50 flights weekly from our tourism source markets. Unfortunately, these tourist flights mainly from England, Holland and Spain are seasonal, and therefore I believe this further provides an opportunity to invest for direct flights to Banjul.
What investment incentives and kinds of business support have been made available for foreign investors in the country?
The Gambia offers an attractive package to FDIs including tax holidays from 5 to 8 years, duty-free on equipment, access to land and affordable labour, 500 hectares of arable land for agriculture. Both The Gambia Chamber of Commerce and Industry, and Gambia Investment Promotion Agency, plus many other ministries and agencies will support investors to achieve their target goals including business registration and permits within 24 hours.
Over the past few years, which external countries have been active in The Gambia? Can you also discuss the kind of economic spheres there are engaged in and possible reasons why?
The traditional investors in The Gambia have been the British, Lebanese and Indians. Increasingly, more Turkish and Chinese companies are showing interest and investing in The Gambia. Many foreign businesses are in the real estate, tourism services and hotels, infrastructure development, renewable energy, fisheries, trading in essential commodities like rice, sugar, oil, building materials etc. Many products are imported from Asia, South America and re-exported or transited to neighbouring countries, making The Gambia the supermarket of southern Senegal, Guinea Conakry, Bissau, Mali and others in ECOWAS.
Do you see Russians as potential investors and/or partners for business and investment in your country? As the CEO of the Chamber of Commerce and Industry, would you advocate for a broader economic cooperation between Russia and The Gambia?
The Gambia and Russia have recently opened an embassy and consulate respectively, meaning that there is political will to strengthen relations between the two countries. It is now for Russian businesses to come and enjoy the sun, peace and paradise that The Gambia offers in all sectors of the economy as we have seen them invest in Turkey and elsewhere.
There are good reasons why there are so many British tourists flock to The Gambia, and 1 out every 3 return many times. Also, there is a new free economic zone being developed that can yield tremendous returns for processing and imports to the region with a market of more than 300 million, despite our small population of 2million. The Gambia is also presently considering applications in the oil industry.
At Gambia Chamber of Commerce, it is our obligation to support all businesses and where necessary to introduce local partners. We will welcome the strengthening of economic cooperation between Russia and The Gambia, and will work with the embassies to facilitate and receive business leaders so that they can experience the warmth and benefit from our unique location known as the "smiling coast of Africa." As CEO, I look forward to the first delegation of Russian entrepreneurs, as we had welcomed Russian travel agents and media to The Gambia, when I was Chairman of The Gambia Hotel Association.
South Africa: Better Education & Spatial Integration Crucial for Reduced Inequality, Job Creation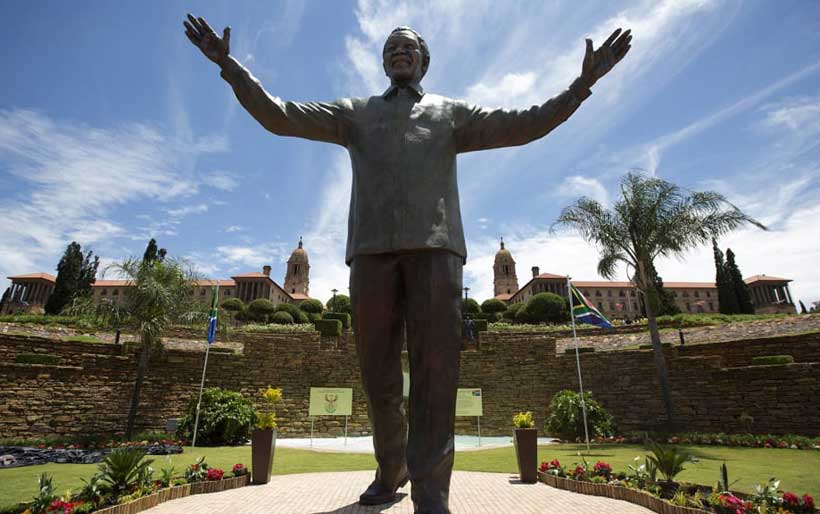 In an environment of accelerating but still modest growth, government policies that stimulate competition and create the fiscal space needed to build a skilled labor force from the poor population of South Africa, would create jobs and help reduce inequality, according to the South Africa Economic Update released by the World Bank today.
The World Bank expects real growth in gross domestic product (GD) to accelerate from 1.3 percent in 2017 to 1.4 percent in 2018, supported by a rise in confidence, global growth and benign inflation. For 2019, the forecast is 1.8 percent and 1.9 percent in 2020. But despite this modest rebound, growth in South Africa remains constrained and continues to lag behind its peers. Overall, South Africa is projected to remain largely below the average growth rate of 4.5 percent in 2018 and 4.7 percent in 2019 in emerging markets and developing economies.
"This outlook calls for fundamental policy action to turn the economy around through policies that can foster inclusive growth and reduce inequality," said Paul Noumba Um, World Bank Country Director for South Africa.  "Creating labor demand and fiscal space to finance improved education as well as reinforcing spatial integration will enhance the ability of the poor people of South Africa to participate meaningfully in the economy".
The special focus section of this 11th edition of the South Africa Economic reviews the evolution and nature of South Africa's inequality – among the highest in the world– arguing that it has increasingly been driven by labor market developments that demand skills the country's poor currently lack. It suggests that significantly raising South Africa's economic potential will require breaking away from the equilibrium of low growth and high inequality in which the country has been trapped for decades, discouraging the investment needed to create jobs.
Simulations assessing the potential impact of a combination of various policy interventions on jobs, poverty, and inequality suggest a scenario in which the number of poor people could be brought down to 4.1 million by 2030, down from 10.5 million in 2017. This would be driven by increasing the skilled labor supply among poor households through improved education and spatial integration as well as increasing labor demand through strengthened competition.
In this scenario, the Gini index of inequality would be reduced from 63 today to 56 in 2030. An additional 800,000 jobs would be created with higher wages for workers from poor households, and cheaper goods and services contributing to these outcomes, according to the report.
"In the short term, these policy interventions would include, getting the implementation of the recently granted free higher education right, continuing to address corruption, improving the competitiveness of strategic state-owned enterprises, restoring policy certainty in mining, further exposing South Africa's large conglomerates to foreign competition and facilitating skilled immigration," said Sebastien Dessus, World Bank Program Leader.
In the longer term, the report suggests that improving the quality of basic education delivered to students from poor backgrounds and reinforcing the spatial integration between economic hubs, where jobs are located, and underserviced informal settlements, would reduce poverty and inequality and support job creation.
Can Insurance Help Low-Income Ethiopians Cope With Risk?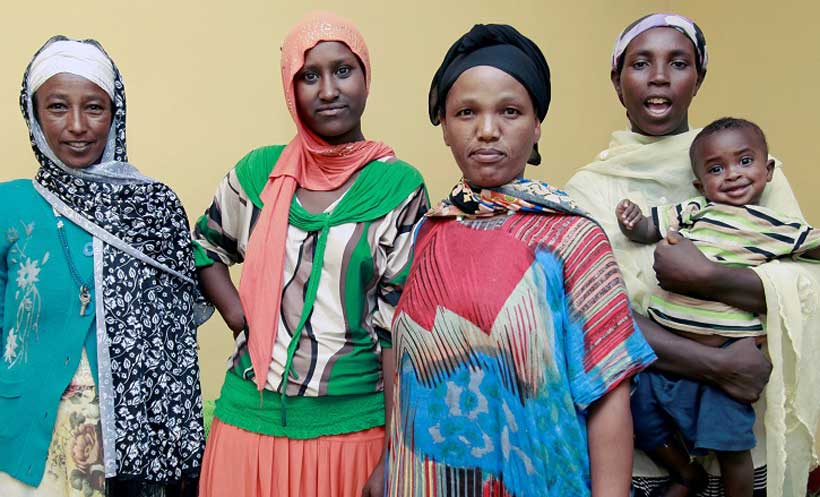 The loss of crop or livestock as well as concerns about illness and accidents are key financial expenses on the minds of low-income Ethiopians.
Unexpected expenses associated with these issues are relatively common. A third of low-income Ethiopian households experienced at least one major health issue in the previous year, often paying for it out-of-pocket.
In rural areas, almost 50% of households experienced some agricultural loss in the previous year. For three-quarters of these households, these financial losses accounted for more than half of their income in a typical year.
Yet even though these crises affect a large number of the population, Ethiopians don't have adequate mechanisms in place to cope with the financial hardship they bring.
"People don't put money aside to deal with risk. Instead, they rely on cash and savings, if they have them, borrow money from family, if possible, or as a last resort, sell livestock to cope with these unexpected shocks," said Craig Thorburn, a Lead Financial Sector Specialist with the Finance, Competitiveness and Innovation Global Practice of the World Bank Group, and the technical lead for a FIRST Initiative funded project that produced the new report What People Want: Investigating Inclusive Insurance Demand in Ethiopia.
Informally borrowing money is a common coping strategy as loans from formal financial institutions are expensive and hard to get. However, when a crisis, such as drought, affects an entire community, informally borrowing money from relatives isn't a viable option. And selling livestock may inject rural households with quick access to cash, but this approach ultimately leaves families poorer and less resilient.
Last year, the World Bank Group conducted a demand-research study in Ethiopia to examine risks low-income households face and see whether insurance could be a tool that Ethiopians could tap into to reduce and better manage these financial burdens.
This country-wide survey reached close to 3000 households, totaling 13,000 people, from both rural and urban areas.
"Understanding the needs of underserved populations, including low-income households, is key to developing quality insurance products and expanding insurance markets," Thorburn said. "Without this knowledge, potential insurers wouldn't understand the real and perceived risk of this unserved market segment."
The survey found that people had little knowledge or experience with insurance, and that 50% of surveyed households never heard of insurance. However, people expressed interest in it if insurance products were devised as accessible and inexpensive.
Ethiopians have unserved needs that could be met with affordable products they actually want.
For example, 97% of focus group participants indicated they would buy a proposed prototype crop insurance product if it were available to them, as it would allow them to replace lost income and buy inputs for the next crop cycle.
And for health-related issues, the survey found that while many people fear a high-cost illness, they could manage many basic expenses with their existing resources, with 75% reporting that they were able to fully recover from financial hardship. This indicated that a well-designed insurance product could leverage existing strategies such as savings, and provide peace of mind. Interest in a hospital cash prototype was high, with close to half of participants willing to pay an actuarially sound premium.
This openness to insurance could provide a great opportunity for insurers, particularly if they can customize and tailor their products to suit customers' needs.
While this initial research indicates that low-income households are interested in insurance, it would require insurers, the government and other stakeholders to work together to develop insurance products that are accessible, affordable and appropriately designed for people's needs. Other aspects related to extending the insurance market would need to be considered as well. These include adapting the regulatory framework to motivate insurers to enter this market and devise financial education programs to educate people on insurance.
"Ethiopia provides a significant opportunity for insurers to expand their businesses, the government to improve the overall stability of the low-income population, and low-income people to stabilize their economic status," said Thorburn.
Focus group participants indicated they would be most likely to purchase insurance from formal financial institutions, such as banks or microfinance institutions, which would bring stability and financial capacity. They indicated that they would be less likely to purchase insurance through informal formal groups, such as savings and credit cooperatives or Edirs, which are well-ingrained local community-based organizations created to help cover funeral expenses.
The World Bank is working in Ethiopia to create an enabling environment for inclusive insurance.
These survey findings are part of a broader World Bank study that that looked at supporting more inclusive insurance markets in Ethiopia.
This study and the report were done jointly with MicroInsurance Centre at Milliman and EA Consultants. The study and the report were funded by the FIRST Initiative.