Restoring the Compact between Business and Society
Business leaders at the World Economic Forum Annual Meeting agreed that there is an urgent need to restore the compact between business and society, ensuring that companies are responsive and responsible to all their stakeholders. There is a crisis of confidence in leadership, said Jim Hagemann Snabe, Member of the Board of Trustees, World Economic Forum. "We have an opportunity to reinvent how we do business, to refocus our efforts towards ensuring long-term sustainability," he added.
To restore trust, we need a consistent North Star, stressed Frans van Houten, President and Chief Executive Officer, Royal Philips, Netherlands, and a Co-Chair of the World Economic Forum Annual Meeting 2017. "Global companies need to rally around a multistakeholder approach to doing business," he added. At Royal Philips, an internal values system is focused on shared responsibilities to investors, employees, suppliers and broader society. The company actively pursues a life-cycle concept for its products and has committed to achieve carbon neutrality in its global operations by 2020.
The Fourth Industrial Revolution is putting lower- and medium-skilled jobs at risk. More than 60% of jobs and 30% of activities can be automated today, said Dominic Barton, Global Managing Partner of McKinsey & Company, USA. "We can't rely on government to reskill people in the face of rapid technological change and automation; business will have to drive this," he added. In this regard, McKinsey & Co has announced the Generation Initiative, a philanthropic commitment of $75 million across five countries to develop an approach to getting unemployed and unskilled youth into jobs.
Lubna S. Olayan, Chief Executive Officer and Deputy Chairperson, Olayan Financing Company, Saudi Arabia, stressed the dangers of short-termism. "Social responsibility and philanthropy must be at the core; it's the only way to be sustainable," she said. Olayan was one of the first private-sector companies to employ women in Saudi Arabia 15 years ago. This decision, although difficult in the short-term, has delivered enormous long-term benefits.
Collaboration is key, said Hiroaki Nakanishi, Executive Chairman, Hitachi, Japan. Challenges such as climate change, inequality and social cohesion are global in nature and need a joint effort between business and government. "Sustainability is the overarching goal for us; we want to be a solution-based business," he added.
At the Annual Meeting, The Compact for Responsive and Responsible Leadership, sponsored by the International Business Council of the World Economic Forum, is being proposed for signature to all participants of the Annual Meeting 2017. These leaders include chief executive officers, chairs and members of corporate boards, as well as leading investors and asset managers. The goal is to create a corporate governance framework with a focus on the long-term sustainability of corporations and the long-term goals of society.
African nations leading the way on 'food systems transformation'
African countries are at the vanguard of a vital transformation of food systems to simultaneously address food security, nutrition, social and environmental protection – all while boosting resilience – said the UN chief on Thursday.
António Guterres was addressing the start of a high-level policy dialogue at UN Headquarters in New York, part of the Africa Dialogue Series 2022, convened to strengthen resilience in food supplies across the continent, at a time when "decades of progress on hunger are being reversed."
Deep connections
He said for too long, nutrition, food security, conflicts, climate change, ecosystems and health have been treated as separate concerns, "but these global challenges are deeply interconnected. Conflict creates hunger. The climate crisis amplifies conflict", and systemic problems are just getting worse.
He noted that after more than a decade of improvements, one in five Africans were undernourished in 2020, while 61 million African children are affected by stunting. Women and girls bear the brunt, and when food is scarce, "they are often the last to eat; and the first to be taken out of school and forced into work or marriage."
Mr. Guterres said that UN humanitarians and partners were doing their utmost to meet Africa's needs amidst crisis, but aid "cannot compete with the systemic drivers of hunger."
Other "external shocks" were exacerbating the situation, such as an uneven recovery from the pandemic and the war in Ukraine, with African countries among the most heavily impacted by grain shortages and rising debt.
Climate crisis frontline
Building resilience also requires addressing the climate crisis.
"African farmers are on the frontlines of our warming planet, from rising temperatures to droughts and floods," he said.
"Africa needs a massive boost in technical and financial support to adapt to the impact of the climate emergency and provide renewable electricity across the continent."
He added that developed countries must deliver on their $100 billion climate finance commitment to developing countries, with the help of international financial institutions, so African countries, in particular, can invest in a strong recovery from the COVID-19 pandemic, on the tide of renewable energy.
Food systems, said the Secretary-General, "connect all these challenges", as highlighted at last September's UN Food Systems Summit.
"Many African Member States led the call for fundamental change, through inclusive transformation pathways, which aim to address – simultaneously – food security, nutrition, social protection, environmental conservation and resilience to shocks."
He welcomed the African Union (AU) decision to designate 2022 as the Year of Nutrition – a pledge to act on the strong commitments made at the Summit.
Collective expertise
"Through national, regional and global cooperation, we must build on lessons learned and harness collective expertise. Together, we must deliver on these pathways", Mr. Guterres added.
"The international community must rise to the occasion", he declared, adding that scaling back support when demand is at an all-time high, was "not an option."
Official Development Assistance, or ODA, based on a percentage of available public funds, is more necessary than ever, he said.
"I urge all countries to demonstrate solidarity, invest in resilience, and prevent the current crisis from escalating further."
The UN chief said that during his recent visit to Senegal, Niger, and Nigeria, he had been inspired by the resilience and determination of the people he met.
"Women and young people in particular were committed to lasting, sustainable solutions that enable them to live in peace with their neighbours and with nature."
"If we work together, if we put people and planet before profit, we can transform food systems, deliver on the Sustainable Development Goals (SDGs) and leave no one behind."
The ambitious goals, he concluded, of ending hunger and malnutrition by the fast-approaching 2030 deadline, were realistic, and achievable.
"The United Nations stands by your side, every step of the way." 
World's richest countries damaging child health worldwide
Over-consumption in the world's richest countries is creating unhealthy, dangerous, and toxic conditions for children globally, according to a new report published on Tuesday by the UN Children's Fund (UNICEF).
"Not only are the majority of rich countries failing to provide healthy environments for children within their borders, they are also contributing to the destruction of children's environments in other parts of the world," said Gunilla Olsson, Director of the UNICEF Office of Research – Innocenti.
Urgent policy shift
The latest Innocenti Report Card 17: Places and Spaces compares how 39 countries in the Organization for Economic Co-operation and Development (OECD) and European Union (EU) impact children's environments.
Indicators include exposure to harmful pollutants, such as toxic air, pesticides, damp and lead; access to light, green spaces and safe roads; and countries' contributions to the climate crisis, resource consumption, and e-waste dumping.
The report states that if the entire world consumed resources at the rate of OECD and EU countries, the equivalent of 3.3 earths would be needed to keep up with consumption levels.
If it were at the rate at which people in Canada, Luxembourg and the United States do, at least five earths would be needed, according to the report.
Not in your own backyard
While Spain, Ireland and Portugal feature at the overall top of the list, all OECD and EU countries are failing to provide healthy environments for all children across all indicators.
Based on CO2 emissions, e-waste and overall resource consumption per capita, Australia, Belgium, Canada and the United States are among other wealthy countries that rank low on creating a healthy environment for children within and beyond their borders.
Meanwhile, Finland, Iceland and Norway are among those that provide healthier environments for their country's children but disproportionately contribute to destroying the global environment.
"In some cases we are seeing countries providing relatively healthy environments for children at home while being among the top contributors to pollutants that are destroying children's environments abroad," attested Gunilla Olsson, Director of UNICEF Office of Research
In contrast, the least wealthy OECD and EU countries in Latin America and Europe, have a much lower impact on the wider world.
Harmful exposures
Over 20 million children in this group, have elevated levels of lead – one of the most dangerous environmental toxic substances – in their blood.
In Iceland, Latvia, Portugal and the United Kingdom, one in five children is exposed to damp and mould at home; while in Cyprus, Hungary and Turkey, that number rises to more than one in four.
Many children are breathing toxic air both in and outside of their homes.
More than one in 12 children in Belgium, Czech Republic, Israel and Poland and are exposed to high pesticide pollution, which has been linked with cancer – including childhood leukaemia – and can harm vital body systems.
"We owe it to ourselves and to future generations to create better places and spaces for children to thrive," Ms. Olsson said.
Improve children's environments
Children in poor families tend to face greater exposure to environmental harm –entrenching and amplifying existing disadvantages and inequities.
"Mounting waste, harmful pollutants and exhausted natural resources are taking a toll on our children's physical and mental health and threatening our planet's sustainability," said the UNICEF official.
As such, UNICEF has urged national, regional, and local governments to improve children's environments by reducing waste, air and water pollution, and ensuring high-quality housing and neighbourhoods.
Children's voices count
Governments and businesses must immediately honour their commitments to reduce greenhouse gas emissions by 2050. And climate adaptation should also be at the forefront of action across various sectors – from education to infrastructure.
Child-sensitive environmental policies must ensure that children's needs are built into decision making and that their perspectives are considered when designing policies that will disproportionately affect future generations.
UNICEF's report outlines that although children are the main stakeholders of the future and will face today's environmental problems for the longest time, they are the least able to influence the course of events.
"We must pursue policies and practices that safeguard the natural environment upon which children and young people depend the most," Ms. Olsson said.
UNICEF urges leaders to keep schools safe following deadly Texas shooting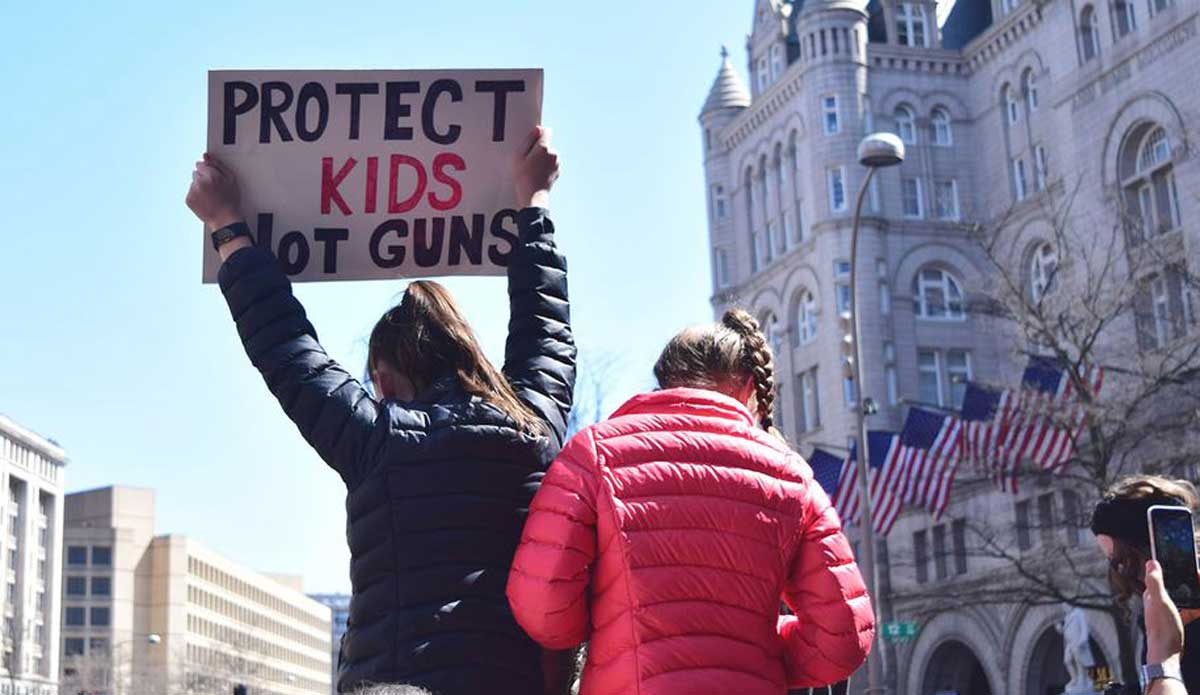 Governments must take greater action to ensure school remains a safe place for boys and girls, the head of the UN children's agency, UNICEF, said on Wednesday, following the latest deadly school shooting in the United States.
At least 19 children and two teachers were killed on Tuesday when 18-year-old gunman Salvador Ramos opened fire at Robb Elementary School in the small city of Uvalde, Texas, located near the border with Mexico.
How many more?
Catherine Russell, UNICEF's Executive Director, said there have already been "horrific attacks" this year on schools in Afghanistan, Ukraine, the US, West Africa and beyond.
"Tragedy after tragedy, shooting after shooting, young life after young life: how many more children will die before government leaders act to keep children and their schools safe? Because until they do, these horrors will continue," she said in a statement.
Ms. Russell emphasized that outside of their homes, school is the one place where children should feel safest.
She noted that in addition to the lives lost, "many more children, teachers and school staff who witnessed the carnage will bear the emotional and psychological scars for the rest of their lives."
Shock and sadness
UN Secretary-General António Guterres was deeply shocked and saddened by "the heinous mass shooting", saying it was particularly heart-wrenching that most of the victims are children.
Mr. Guterres has extended his heartfelt condolences to the families and loved ones of the victims and to the entire community, his Spokesperson said in a statement issued on Tuesday.
UN Deputy Secretary-General Amina Mohammed expressed her outrage in a post on Twitter.
"When children go to school, they should only be concerned about learning," she wrote. "Children should not go to school fearing for their lives!"
Ms. Mohammed said her heartfelt prayers are with the families, classmates and teachers who are mourning this "devastating loss".