Closing the Gender Gap through Quotas and Technology
"In the last few years, progress has slowed down," said Christine Lagarde, Managing Director, International Monetary Fund (IMF), Washington DC, adding that gender inequality is not conducive to good inclusive economic growth. According to the Forum's Global Gender Gap Report 2016, the slowdown is partly due to chronic imbalances in salaries and labour force participation.
Isabel de Saint Malo de Alvarado, Vice-President and Minister of Foreign Affairs of Panama, said that women should have the opportunity to be in positions based on merit and not quotas, but admitted that it may take quotas to change the situation. "I don't think it will happen unless there are quotas," she said. Lagarde added that gender quotas are in place at the International Monetary Fund (IMF).
Robert E. Moritz, Global Chairman, PricewaterhouseCoopers International, PwC, USA, a strong advocate of gender equality in the workplace, stressed that disruptive leadership is needed to improve diversity in the boardroom. He recommended, however, that gender programmes within a company are the way to go as opposed to quotas. PwC is a supporter of the UN HeForShe initiative to promote gender equality around the world. But Moritz cautioned: "If males are not in the conversation, you will miss it [reducing the gender gap]."
Cynthia Castro, Vice-President, RBA – Reinventing Business for All, Costa Rica, agreed. "Gender inequality affects men because they think it is an issue about women," she said. Castro also underlined the importance of addressing gender bias in the recruitment process, paternity leave and equal parenting, and educating consumers. "You can't be gender-blind in 2017; you have to be gender-smart."
Sharmeen Obaid-Chinoy, Documentary Filmmaker, SOC Films, Pakistan, and a Co-Chair of the World Economic Forum Annual Meeting 2017, said she took offense when people labelled her a female filmmaker. "I am a filmmaker, not a female filmmaker. What's a female filmmaker?" The award-winning documentary maker also credited technology for improving women's lives and business opportunities. "Women are starting their own businesses using social media, forming networks online."
Mortiz added that technology is useful to manage the balance of professional activities with family responsibilities, and provides data to identify gender problems within a company or organization. "With this information, we can change policies and get to individuals from that information to have an intervention." At a more basic level, de Saint Malo de Alvarado said that mobile phones can provide family planning information for rural women in developing countries who never previously had access.
IRENA's Collaborative Framework on Hydropower Takes Shape
Advancing the discussion from June 2020, the International Renewable Energy Agency (IRENA) held its second meeting of the Collaborative Framework on Hydropower. With more than 100 attendees from 49 Members and States in Accession, the virtual meeting witnessed a high level of engagement to take advantage of the knowledge and expertise that exists within the Agency and its global Membership. The two-hour session was moderated by H.E. Mr. Jean-Christophe Fueeg, Head of International Energy Affairs at the Federal Department of the Environment, Transport, Energy and Communications of Switzerland.
Today, hydropower is the largest source of renewable energy worldwide, and its development is considered essential in driving the energy transition forward. IRENA Members have, over the years and as recently as the last Assembly, requested IRENA to expand its work on hydropower and facilitate targeted collaboration for the continued deployment of hydropower technologies.
Providing the opening remarks, IRENA's Director-General Francesco La Camera said: "As an enabler for integrating higher shares of renewable energy into power systems, hydropower is set to play an important role in the energy transition and will be critical to the decarbonisation of economies. Promoting the continued deployment of hydropower has been, and remains, an important part of IRENA's work."
IRENA launched the Collaborative Framework on Hydropower to address pressing challenges and seize potential opportunities. During its kick-off meeting in June, Members agreed on the thematic scope of the Collaborative Framework, including the need to ensure the continued development of hydropower in a sustainable manner, the relevance of hydropower as flexibility provider and enabler for the integration of high shares of variable renewables (VRE), the need for adequate remuneration of services through business models and market structures and the role of hydropower in climate resilience. Other topics of interest included innovative solutions and operation and maintenance practices.
Member countries also decided to bring in hydropower stakeholders from the public and private sector as well as intergovernmental and non-governmental actors. In response, the International Hydropower Association (IHA) and the World Bank were invited to the second meeting to discuss their future engagement in the Collaborative Framework with the IRENA membership.
On the basis of proposals by IRENA, Members agreed on the modalities for future meetings, enabling the Collaborative Framework on Hydropower to take further shape.
Renewable Energy Jobs Continue Growth to 11.5 Million Worldwide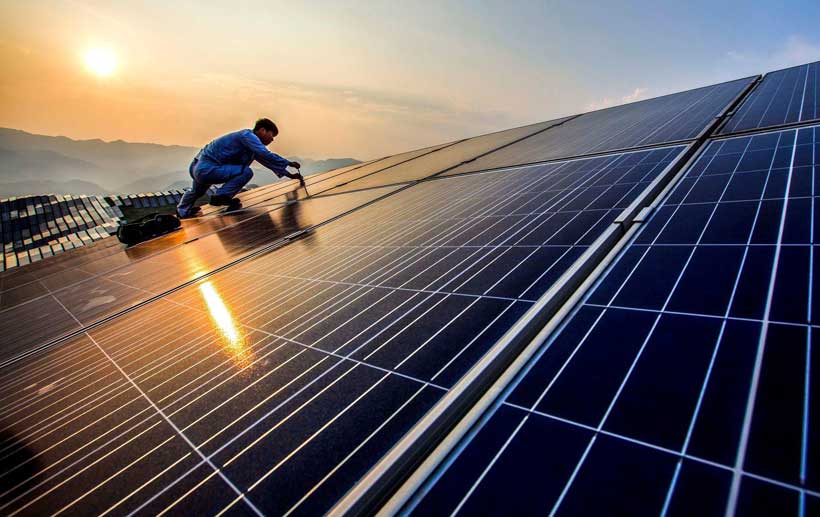 Renewable energy continues to bring socio-economic benefits by creating numerous jobs worldwide, according to the latest figures released by the International Renewable Energy Agency (IRENA) today. The seventh edition of Renewable Energy and Jobs – Annual Review shows that jobs in the sector reached 11.5 million globally last year, led by solar PV with some 3.8 million jobs, or a third of the total.
"Adopting renewables creates jobs and boosts local income in both developed and developing energy markets," said IRENA's Director-General Francesco La Camera. "While today we see a handful of countries in the lead, each country can harness its renewable potential, take steps to leverage local capabilities for industrial development, and train its workers."
Last year, sixty-three per cent of all renewables jobs were recorded in Asia, confirming the region's status as a market leader, the new report reveals. Biofuels jobs followed closely behind solar PV, reaching 2.5 million. Many of these jobs are in the agricultural supply chain, particularly in countries like Brazil, Colombia, Malaysia, the Philippines and Thailand, with labour-intensive operations. Other large employers in the renewables sector are the hydropower and wind industries, with close to 2 million and 1.2 million jobs, respectively.
Renewables jobs have shown more inclusion and a better gender balance than fossil fuels. The report highlights that women held 32 per cent of total renewables jobs, as opposed to 21 per cent in fossil fuels sectors.
Although precise estimates remain scarce and absolute numbers are small for now, off-grid renewables are creating growing employment, led by solar technology. Decentralised renewable energy can also propel productive uses in rural areas. This job multiplier effect can be seen in farming and food processing, healthcare, communications, and local commerce.
Comprehensive policies, led by education and training measures, labour market interventions, and industrial policies that support the leveraging of local capacities, are essential for sustaining the renewables jobs expansion.
The 2020 edition of the Annual Review highlights promising initiatives to support the education and training of workers. Such efforts revolve around vocational training, curricula-building, teacher training, the use of information and communications technology, promotion of innovative public-private partnerships, and recruitment of under-represented groups such as women.
Policymakers must also prioritise reskilling for fossil fuel sector workers who have lost or are at risk of losing their livelihoods. Many have considerable skills and expertise to contribute to a reoriented, clean energy industry.
The world has seen encouraging growth in renewables jobs. But it can bring about much larger employment by adopting a comprehensive policy framework that drives the energy transition. Never has the importance of such a push been clearer than at this momentous juncture. Even as the world is still dealing with the COVID-19 pandemic, humanity receives near-daily reminders of what lies in store if we fail to address the gathering climate disruptions.
The need to chart a different course is undeniable, as are the benefits to be reaped. IRENA's recently-released Post-COVID Recovery Agenda found that an ambitious stimulus programme could create up to 5.5 million more jobs over the next three years than a business-as-usual approach. Such an initiative would also allow the world to stay on track for creating the 42 million renewables jobs that the agency's Global Renewables Outlook projects for 2050.
Read the full report
Pakistan Making Shift to Clean Power Production and Lower Energy Costs
Today, the World Bank's Board of Executive Directors approved $450 million in financing to support Pakistan's transition to renewable energy resources that reduce its reliance on fossil fuel imports and lower costs of electricity production.
The Khyber Pakhtunkhwa Hydropower and Renewable Energy Development Project will help shift the national energy mix to domestic clean resources by investing in renewable energy generation, including hydropower and solar, in Khyber Pakhtunkhwa province. It will also help strengthen energy sector institutions to better manage a growing portfolio of renewable energy projects across the province.
"This project supports Pakistan's goal to become a low-carbon, renewable energy-reliant economy by 2030 and contributes to its national target in reducing greenhouse gas emissions to combat climate change," said Najy Benhassine, World Bank Country Director for Pakistan. "It will facilitate the expansion of renewable energy in Khyber Pakhtunkhwa by identifying and preparing solar and hydropower projects that are technically sound, environmentally and socially sustainable, and investment ready."
The project will provide low-cost and low-carbon electricity to consumers and will support the economic development of those communities near the hydropower and solar projects by revitalizing infrastructure, creating jobs, and supporting the development of tourism activities.
"To scale up renewable energy in Khyber Pakhtunkhwa, the project includes a comprehensive skills training program to build technical capacity in identifying investment opportunities, preparing projects, and mobilizing commercial financing," said Mohammad Saqib, Task Team Leader for the Khyber Pakhtunkhwa Hydropower and Renewable Energy Development project. "In addition, by installing solar photovoltaic systems onto hydropower assets, production capacity is expected to rise and generate greater return on investments."