Xi Jinping: China will continue its economic reforms and opening up
Chinese President Xi Jinping delivered a robust defence of globalization to business, government and civil society leaders in the opening plenary session of the 47th World Economic Forum Annual Meeting. China, Xi said, is committed to fulfilling its international responsibilities and contributing to addressing pressing global challenges, including climate change, the need for new drivers of economic growth and creating jobs in the face of the emerging technologies of the Fourth Industrial Revolution.
"Many of the problems troubling the world are not caused by economic globalization," Xi pointed out, citing the global refugee crisis as an example. "There is no point in blaming economic globalization for the world's problems, as that is not the case and will not help with solving the problems," he said.
But, Xi warned, "We should recognize that economic globalization is a double-edged sword. The pitfalls of economic globalization have been laid bare and we need to take these seriously." He added: "Nothing is perfect in the world. It is true that economic globalization has created new problems. But this is no justification to write off economic globalization altogether." Xi recalled that China had at first doubted the wisdom of joining the World Trade Organization, but had bravely gone ahead with membership and determined that it was the right strategic choice. "If one is always afraid of the bracing storm, one will get drowned in the ocean sooner or later," he said.
Xi called for efforts to rebalance economic globalization so that all people share in its benefits. This will require more effective international cooperation and new models of global governance, bold action and a commitment to avoid protectionism. "We should not develop the habit of retreating to the harbour whenever encountering a storm." Referring to the threat of protectionism, he predicted that "nobody will emerge as a winner in a trade war."
President Xi also stressed that China will continue its economic reforms and opening up, and will maintain its high level of economic growth while pursuing sustainable development. "We know only too well that there is no such thing as a free lunch in the world and that no pie will fall from the sky."
Reacting to Xi's speech, Klaus Schwab, the World Economic Forum's Founder and Executive Chairman, told participants that it is crucial that globalization leads to a fair, innovative, open and inclusive world. "We cannot go back to old policies," he said. "We cannot take recipes which may have worked in the old world but are not working anymore in the new world."
Earlier, in welcoming remarks, Doris Leuthard, President of the Swiss Confederation 2017 and Federal Councillor of the Environment, Transport, Energy and Communications of Switzerland, warned that nationalism and protectionism, as well as the rise of extremism and conflict, are gaining and challenging the cohesion of the international community. "Each of these problems leads us to perceive the world as more fragile – and the insecurity is spreading."
With the turbulence created by the Fourth Industrial Revolution, Leuthard advised: "Digitization must be democratized, just as knowledge was democratized when the printing press was invented." She underscored the importance of investing in education. "We need to have responsive and responsible leadership to draw the right conclusions and make the right decisions," She concluded. "To achieve this, we have to rid ourselves of the idea that there is a global solution to these problems. There is never going to be a one-size-fits-all solution."
4 Crucial Factors That Helps in Selecting the Ideal FX Expert Advisor
The forex market is increasingly expanding at a rapid pace with millions of active traders executing trades daily. The use of advanced technology is also preferred among traders who are involved in active trading. As automation is slowly taking over most industries and businesses, the forex market is also noticing a rise in the use of FX expert advisors to execute a trade on behalf of an investor.
But even with the tons of perks that these FX EAs are capable of, you must consider certain factors before investing in one.
But before we jump into discussing the factors that indicate an EA's reliability, let us get a clear understanding of what forex EAs are and how they work.
Explaining FX Expert Advisors
An EA is a software program that offers the benefit of automated trading to investors worldwide. A forex EA is responsible for identifying the best possible timings for opening a position with the help of certain in-built algorithms and indicators. As the market is active for 24-hours straight, using an EA will certainly be useful; it is immune to any emotional factors and can facilitate you to make high-profitable trades by identifying the ideal entry points.
Developed in MQL, an EA can operate on MetaTrader 4 or 5 and comes up with complex strategies of trading based on a certain mathematical pattern. The ways expert advisors tend to outperform manual trading practices involve their high-accuracy results along with faster data-processing technology which aids in better analysis.
Although being quite similar and often mistaken as the same, a forex EA slightly differs from a forex robot in terms of its functions. While forex robots can take care of executing a trade on behalf of you, and EA will simply advise you when to initiate a trade allowing you to have full control over initiating a trade.
Points to consider before investing in an EA
Investing in an expert advisor requires certain factors to keep in mind that will help you to maximize your success rate with the benefit of automation.
Performing a thorough background check
The security factor should be on your priority list while opting for an expert advisor. Thorough research along with a complete background assessment is necessary to determine the authenticity of the EA. You can rely on reviews and testimonials of other users as well as checking the credentials of the vendor. Some factors that decide the genuineness of the EA include secure payment options, refund guarantees in case of false claims, transparent business practices, and development by trustworthy programmers.
Conduct satisfactory research
It is common to come across many catchy claims of instant and guaranteed profit while opting for an EA. But these commercials fail to mention that expertise is the most critical asset you will need to succeed in this industry. You can immediately notice risk factors when anyone makes exaggerated and unreasonable statements if you have a good understanding of how the foreign exchange market works. While many appropriate automated trading systems are useful in leveraging your trading career, you may also come across many fraudulent scenarios in this industry. Thus only proper learning will provide you with the information you need to prevent being a target of these frauds.
Get familiar with basic EA stats
Reliable expert advisors are generally introduced to the market after a long process of backtesting performed by the developers. While selecting an EA you will most likely come on certain statistics including the profit factor, drawdown and expected payoff that demonstrate its performance. As an investor, you need to be knowledgeable about these stats, what they mean and how they can impact your trading style before finalizing an EA.
Perform independent testing
The final step will always be to verify the capabilities of an expert advisor along with checking the backtested results. You can rely on a demo account or a trial version of that EA easily before making the final call.
Selecting the ideal forex EA can be challenging irrespective of the level of experience you have in this. However, following these tips as well as your experience can make this process easier and worthwhile.
No pathway to reach the Paris Agreement's 1.5˚C goal without the G20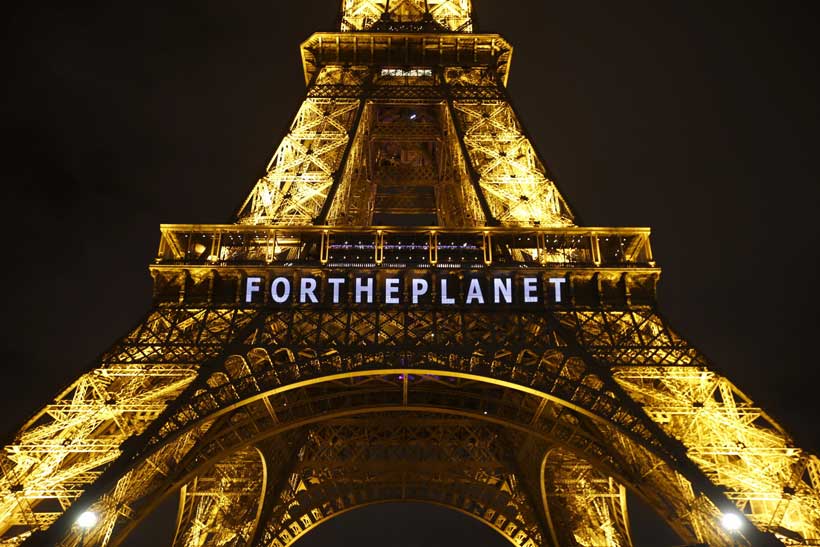 "The world urgently needs a clear and unambiguous commitment to the 1.5 degree goal of the Paris Agreement from all G20 nations", António Guterres said on Sunday after the Group failed to agree on the wording of key climate change commitments during their recent Ministerial Meeting on Environment, Climate and Energy.
"There is no pathway to this goal without the leadership of the G20. This signal is desperately needed by the billions of people already on the frontlines of the climate crisis and by markets, investors and industry who require certainty that a net zero climate resilient future is inevitable", the Secretary General urged in a statement.
The UN chief reminded that science indicates that to meet that 'ambitious, yet achievable goal', the world must achieve carbon neutrality before 2050 and cut dangerous greenhouse gas emissions by 45 % by 2030 from 2010 levels. "But we are way off track", he warned.
The world needs the G20 to deliver
With less than 100 days left before the 2021 United Nations Climate Conference COP 26, a pivotal meeting that will be held in Glasgow at the end of October, António Guterres urged all G20 and other leaders to commit to net zero by mid-century, present more ambitious 2030 national climate plans and deliver on concrete policies and actions aligned with a net zero future.
These include no new coal after 2021, phasing out fossil fuel subsidies and agreeing to a minimum international carbon pricing floor as proposed by the International Monetary Fund (IMF).
"The G7 and other developed countries must also deliver on a credible solidarity package of support for developing countries including meeting the US$100 billion goal, increasing adaptation and resilience support to at least 50% of total climate finance and getting public and multilateral development banks to significantly align their climate portfolios to meet the needs of developing countries", he highlighted.
The UN Chief informed that he intends to use the opportunity of the upcoming UN General Assembly high-level session to bring leaders together to reach a political understanding on these critical elements of the 'package' needed for Glasgow.
A setback for Glasgow
The G20 ministers, which met in Naples, Italy on July 23-25, couldn't agree to a common language on two disputed issues related to phasing out coal and the 1.5-degree goal, which now will have to be discussed at the G20 summit in Rome in October, just one day before the COP 26 starts.
Economic Recovery Plans Essential to Delivering Inclusive and Green Growth
EU member states must ensure careful and efficient implementation of economic recovery plans that support inclusion and growth to bounce back from the worst impacts of the COVID-19 pandemic, says a new World Bank report.
The World Bank's latest EU Regular Economic Report – entitledInclusive Growth at a Crossroads – finds that the unprecedented and exceptional policy response of governments and EU institutions has cushioned the worst impacts on employment and income. However, the pandemic has exposed and exacerbated deep-seated inequalities, halting progress in multiple areas including gender equality and income convergence across the EU member states. A further three to five million people in the EU today are estimated to be 'at risk of poverty,' based on national thresholds benchmarked before the crisis.
The report highlights that effective recovery programs can reinforce progress on the green and digital transitions underway across the region. With the crisis continuing to unfold, government support schemes and the rollout of vaccines in a timely manner will remain essential to bolstering the resilience of firms, workers, and households. Given the longevity of the crisis and the impact on the most vulnerable, many governments have opted to extend the duration of support throughout 2021.
"A green, digital and inclusive transition is possible if economic policy is increasingly geared towards reforms and investment in education, health and sustainable infrastructure," said Gallina A. Vincelette, Director for the European Union Countries at the World Bank.
With an output contraction of 6.1 percent in 2020, the COVID-19 pandemic has triggered the sharpest peacetime recession in the EU. Governments will need to ensure targeted and active labor market policies are in place to support an inclusive recovery. The report highlights that special attention should be given to already vulnerable workers such as youth, the self-employed, and those in informal employment. These groups are more likely to face employment adjustments during the crisis and may face longer spells of unemployment or periods outside the labor force.
Women have been disproportionately impacted by work disruptions during the pandemic, particularly in the sectors facing the worst effects of the crisis. This was also highlighted in the 2020 Regular Economic Report produced by the World Bank, which found that at least one in five women will face difficulty returning to work compared to one in ten men. It has been harder for women to resume work due to the sectors and occupations that they are working in and because of the additional care burdens that have fallen disproportionately on their shoulders – a manifestation of increasing inequities in home environments.
"As recovery takes hold, it will be important for carefully targeted and coordinated policy support to continue to mitigate the impact of the crisis, with measures increasingly targeted towards vulnerable households and viable firms. Policy makers will also need to strike a balance between helping those that need it most, while enhancing the productivity of the economy and keeping debt at manageable levels," added Vincelette.
World Bank's Regional Action in Europe and Central Asia
To date, the World Bank has committed more than $1.7 billion to help emerging economies in Europe and Central Asia mitigate the impacts of COVID-19. Since April 2020, around $866 million has been approved through new emergency response (MPA/Vaccines) projects. In addition, up to $904 million is being reallocated, used, or made available from existing projects and lending, including additional financing, to help countries with their COVID-19 response.
The World Bank's Global Economic Prospects suggests that growth will be strong but uneven in 2021. The global economy is set to expand 5.6 percent—its strongest post-recession pace in 80 years. The recovery largely reflects sharp rebounds in some major economies.