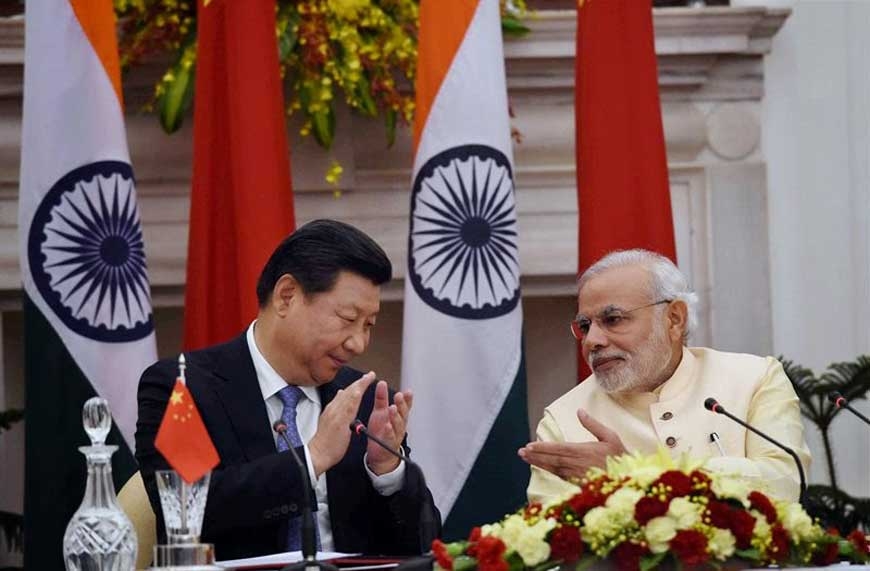 China and India- the world's two most populous nations comprise more than one-third of global humanity. Memories of border battles — the most recent in 1962 — fester, and the 4,000-km frontier, which cuts through disputed territory, remains tense.
They share a border, have fought a bitter war and continue to compete for geopolitical supremacy in the region. Political ambitions and distrust on either side have sometimes been at the cost of better economic sense.
Both have a long and chequered history dating back thousands of years. The two neighbours fought a short border war in 1962 and since then, although much water has flowed down the Yangtze, a sense of mistrust has consistently dogged their bilateral ties. Both are shy of each other.
On the positive side, India has been cooperating with China in many areas. It was one of the first countries to join the China-led Asian Infrastructure Investment Bank. Besides, India and China are part of the BRICS, along with Brazil, Russia and South Africa. They have also teamed up at global forums on climate change to resist demands from developed nations to agree to binding emission cuts. China and India, however, fear that agreeing to binding emission cuts would force them to jettison their ambitious growth targets.
New Delhi is loath to take on Beijing directly. This is seen in the recent case of India cancelling the visa issued earlier to a Uighur activist, Dolkun Isa, the Executive Committee Chairman of the World Uyghur Congress to attend a conference in India. The granting of the visa to the Uighur activist was seen as New Delhi's riposte to being snubbed by Beijing on the Masood Azhar issue. t has shown that New Delhi is wary of upsetting Beijing, especially given its enormous clout at international forums as a permanent Security Council member and NSG entry- both China has blocked.
India and China jointly occupy parts of Jammu Kashmir along with Pakistan. India now asks Pakistan to vacate and hand over Azad Kashmir to India but it has not asked China also do the same. The reason is obvious. In fact, it was Pakistan which always demanded Kashmir region from Indian occupied Jammu Kashmir while India refused to budge and in order to retain Kashmir India even fought war with Pakistan, leading to the creation of LOC. India first acquired nukes followed later by Pakistan, further complicating the tensed situation in the region and bilateral relations between India and Pakistan.
A UN veto member China is possibly the largest global economy while as largest South Asian regional economy India tries to somehow catch the distance. Between Beijing and New Delhi, nonstop flights only run three times a week. There is not a single direct flight between two of Asia's financial capitals, Shanghai and Mumbai. In 2013, 175,000 Chinese went on holiday in India. Thailand, meanwhile, attracted 4.6 million Chinese visitors in 2014.
Tensions
The Indian government recently has expelled three journalists of the Chinese official news agency, Xinhua. This is the first time for New Delhi to expel Chinese journalists that could kick off a diplomatic row between China and India.
India's military buildup near Chinese border also shows that the situation has become a tinderbox. It has been revealed that the Indian Army has moved over 100 Russian tanks T-72 to Ladakh, a disputed border between Indian occupied state of Kashmir and Tibet under Chinese rule. Both countries are preparing for the worst situation they could face in the midst of deteriorating relations. In addition, Indian Navy has sent three warships to the disputed South China Sea to plan training with Malaysian Navy, showing that there's nothing strange with seeing any military conflicts between the two countries.
India thinks it should be on the UNSC with veto handle to control the world and is annoyed that China has not supported India's pitch for permanent membership of the UNSC (United Nations Security Council) and is the only one of the P5 members trying to stymie India's bid. Sparks flew when in the days leading up to India's second round of nuclear tests in May 1998, the then Indian defence minister George Fernandes, termed Beijing as India's "potential enemy No 1" worse than Pakistan or USA.
The stumbling blocks between India and China are hard to budge. China's historic friendship with Pakistan hasn't helped, nor has India's decades-long hosting of the Dalai Lama, the exiled Tibetan spiritual leader living in India newly sworn in PM Modi invited to his inauguration in 2014. Then there are other issues too working against any credible ties to which NSG issue has been added last year to sustain the bilateral tensions. India seeks membership of NSG without signing the NPT. USA just pretends as a "terror victim" and strategic partner against terror wars, it promotes Indian interests in nuclear domains.
In recent years there have been attempts to mend and strengthen the relationship through bilateral visits from both heads of state. And while Indian manufacturers, like their counterparts elsewhere, complain about inexpensive Chinese products flooding the market, Indian consumers are lapping up everything from cheap Chinese phones and toys to clothes made in China.
India's military buildup near Chinese border also shows that the situation has become a tinderbox. It has been revealed that the Indian Army has moved over 100 Russian tanks T-72 to Ladakh, a disputed border between Indian occupied state of Kashmir and Tibet under Chinese rule. Both countries are preparing for the worst situation they could face in the midst of deteriorating relations. In addition, Indian Navy has sent three warships to the disputed South China Sea to plan training with Malaysian Navy, showing that there's nothing strange with seeing any military conflicts between the two countries.
The Indian government recently has expelled three journalists of the Chinese official news agency, Xinhua. This is the first time for New Delhi to expel Chinese journalists that could kick off a diplomatic row between China and India.
Fruitless effort
Narendra Modi made his first visit to China as Prime Minister of India in May 2014. One of his first stops will be the Wild Goose Pagoda in the central Chinese city of Xi'an, which, legend has it, was originally built to store first Chinese pilgrim to India in 7th Century Xuanzang's Buddhist treasures from India.
Much before he became India's prime minister, Narendra Modi was already a self-professed admirer of China. "China and its people have a special place in my heart," Modi said in 2011 while he was on his fourth visit to the country as the Gujarat chief minister. "I admire their hard working, disciplined and resilient nature and above all, their sense of history."
So, after he took control of the government in New Delhi last May, Modi wasted little time to try and strengthen ties with Beijing. Within days of taking office, he promptly invited Chinese president Xi Jinping to India. But by the time Xi arrived in September, the tricky nature of the India-China relationship was in full display: The Chinese president conducted a state visit in India while troops from both countries squared off in Ladakh.
Though relations between these two Asian behemoths warmed up in the aftermath of the visit of the Chinese President Xi Jinping to India in September 2014 and the visit of the Indian Prime Minister Narendra Modi to China in May 2015, the relations have once again hurtled downhill as they pursue their respective foreign policy agendas. Mutual trips by Indo-China leaders therefore have not been able to improve the tensed relations.
Through the "Maritime Silk Road" initiative, China has been trying to reach out to countries such as Sri Lanka and Maldives, right in India's immediate neighborhood. Besides, of late, relations between China and Nepal have warmed up, particularly in the aftermath of the visit to Beijing by the Nepalese Prime Minister Khadga Prasad Sharma Oli. Although China has asked India to be part of the Maritime Silk Road, New Delhi is in two minds over whether to join owing to the suspicion of India and other nations. Moreover, China put a "technical hold" over India's attempts to designate the Jaish-e-Mohammed chief, Maulana Masood Azhar, as a terrorist since New Delhi views him to be the mastermind behind a host of terror attacks in India, with the most recent being the Pathankot terror attacks in early January this year.
China accused Modi of "playing little tricks" over border disputes and security issues, hoping to boost his domestic prestige while increasing his leverage in negotiations with China and went on to criticize the Indian elites' blind arrogance and confidence in their corrupt democracy, as well as "the inferiority of India's ordinary people."
Political economy
China is India's largest trading partner and like with many other countries, this relationship too is imbalanced. Trade between the two countries has been expanding annually at 15 percent since 2007. The bilateral trade between the two countries stood at $70.4bn last year with India reeling under a huge trade deficit of $52.67bn. Unfortunately for India, so has its trade deficit with China. In the financial year 2016 that ended March 31, India exported a little over $9 billion worth of goods to China, while it imported goods worth $61.7 billion, taking the trade deficit to a whopping $52.7 billion. Therefore trade experts said India's dependence on China for export oriented growth is limited.
India mainly exports raw materials to China such as cotton and copper and as the Chinese economy rebalances to become more consumer led, there will be a further fall in exports. This is evident from the 2015-2016 figures that show Indian exports to China fell by over 24 percent.. China is a huge market for Ayurvedic and agro products and IT services India is eager to expand there in a big way.
The bilateral trade hovers around $70 billion, less than half the dollar figure of commercial ties between China and Australia. When President Xi visited India last September, the trip was hailed as groundbreaking — the first time a Chinese President had stepped on Indian soil in eight years. Yet Xi's visit resulted in an underwhelming $20 billion in promised Chinese investment over a five-year period. By contrast, Xi vowed $46 billion in infrastructure spending for ally Pakistan during a trip there last month. As Xi was in India, the Chinese People's Liberation Army reportedly dispatched hundreds of soldiers past the Line of Actual Control to a remote section of the India-China frontier.
Over the past 13 years, 142 Chinese companies have invested a total of $27 billion in India in sectors such as automotive parts and consumer electronics, according to CII. Top Chinese companies investing in India include Huawei Telecommunications, ZTE, Alibaba and Xiaomi. During the same period, 139 Indian companies have invested $12 billion in China, largely in the software and Information technology (IT) services sector. Many small manufacturers are sourcing products as diverse as firecrackers and religious idols from China. During Indian PM Narendra Modi's visit to China, 24 agreements worth $22 billion were signed between Indian and Chinese companies to finance and invest in projects across sectors.
Meanwhile, China's relations with its "all-weather friend" Pakistan are at an all-time high, with Beijing announcing that it will invest $46bn in the China-Pakistan Economic Corridor, which will connect Kashgar in China's Xinjiang province with the port of Gwadar in Pakistan.
Large Indian firms have traditionally been more interested in looking for mergers and acquisition in the West rather than investing in China. Dependence on China to fund the budget deficit is far more limited compared to some global peers. India's total external borrowing as of the end of 2015 stood at $480 billion and the share of sovereign debt was just 19 percent with the rest made up of commercial borrowings and nonresident Indian deposits, according to government data.
Tourism is an area of cooperation and many Buddhists from China come to India while visiting the birthplace in neighboring Nepal of Shakyamuni Buddha, the founder of the religion.
American link
The relations between China and India are worsening rapidly as India supports US pivot in Asia against China. Unless the situation changes dramatically, the two countries could even go through armed conflict against each other. It would be no strange thing if this really happens, because they really went through armed conflict due to Sino-Indian border dispute in the early 1960s.
Part of the reason for the growing bonhomie between India and the USA is China's growing belligerence. India and the USA say they have a common interest in ensuring the safety and security of the sea lanes of communication in the Indo-Pacific region which was reflected in the joint statement released by the two sides during the visit of the US President Barack Obama to India in January last year.
And under Modi, India has slowly, but surely, moved away from its traditional stance of non-alignment to multi-alignment. He has given a vigorous push to India's "Act-East Policy" which aims at improving India's ties with its neighbours in Southeast and East Asia. His first visit outside the Indian subcontinent after taking charge was to Japan, which has seen frayed ties with Beijing, of late.
The US-India Joint Statement notes that they "affirm the importance of safe-guarding maritime security and ensuring freedom of navigation and over flight throughout the region, especially in the South China Sea."
Chinese leadership advocates free trade, while US President-elect Donald Trump and his team appear committed to carrying out an economic policy based on protectionism. Trump has repeatedly blamed free trade agreements for damaging the US economy. The US president-elect has announced that he will withdraw from the controversial Trans-Pacific Partnership (TPP)
Chinese President Xi Jinping warned Trump and any other country intent on pursuing protectionism against such policies in a speech at the World Economic Forum held in Davos, Switzerland. He compared such efforts to attempts to "divert a river into lakes and creeks" and said that it was not possible.
China will be hit the hardest if countries hide behind trade barriers and if globalization is seen as the root cause of all evil. While the shadow of a credit bubble looms large over its economy, China, driven by a low-wage, enormous workforce, has become the global factory for low-cost products which it badly needs to market. It must have noted Donald Trump's protectionist rhetoric with horror.
Observation
The reason behind such confrontation between the two countries is not complicated. First, their disputed borders are the major cause of tensions between them. They even had a war against each other 50 years ago, but failed to make any progress on the border dispute. Besides, the gap between the positions of China and India over Tibet is wide. While China sees Tibet as one of its local governments, India sees it as a government in exile.
Other reasons such as China's expanding footprint in Nepal and its ambition to keep Southeast Asia under its control are also driving the bilateral relationship to the gate of armed conflict. Perhaps, the relations between the two countries should pass the crisis in order to find a string of efforts for normalization.
The bilateral relationship cannot be very good unless the border dispute is solved. Yes, not just that. In order to facilitate the bilateral ties on a large scale, India has to solve the Kashmir issue as Kashmir nation lies between India and China.
China's has opposed India's entry into the 48-member grouping, which is one of the irritants in Sino-India ties. China on January 16 warned India's entry into the Nuclear Suppliers Group (NSG) cannot be a "farewell gift" to the outgoing US President Barack Obama. Beijing's reaction came after US Assistant Secretary of State for South and Central Asia Nisha Desai Biswal of Indian origin described China as an "outlier" in the process of letting India joining the nuclear trade bloc. "Regarding India's application to the Nuclear Suppliers Group, regarding non-NPT countries admission to the NSG, we have made our position clear before so I will not repeat it," Chinese Foreign Ministry spokesperson Hua Chunying said here. "I just want to point out that NSG membership shall not be some kind of farewell gift for countries to give to each other," Hua said, obliquely referring to Obama who will be succeeded by Donald J. Trump. The US government, under Obama, has strongly backed India's membership in the NSG, which regulates the global nuclear trade. Beijing objects to New Delhi's inclusion in the bloc, citing rules that India's non-signatory status to the nuclear non-proliferation treaty.
While it is unlikely that India will be a part of any Western-led attempts to bandwagon against Beijing any time soon, it also wants to ensure that Beijing does not seize the initiative in India's backyard.
Of course, China is also preparing for the worst. According to military sources in Beijing, China has deployed more troop along the India border, showing off its will to respond immediately if the worst really happens.
India cannot take the foreign cricketers and badminton or other sports/entertainments coming to play joint sport exercises as a victory for foreign policy, after all, they come to play for money and they are trained to do exactly what the sponsors expect and the mafias want. Don't the English cricketers now do exactly what Indian sponsors and government agencies want? Governments promote their sportsmen also to be top billionaires by all possible means.
India requires prudence and pragmatism in dealing with countries with different economic and political systems, like China and Pakistan, while core media in the country should shed extra elements of arrogance and over confidence.
U.S.- China Strategic Competition in The East Asia
East Asia has been the most dynamic region where development has been internationally recognized. The regional politics of the region has developed a paradox that has flamed up the economic environment of the region. The trends have shown the increased intensifying security issues along with the strategic completion that has spread the security and economic tensions across the East Asian Region. In a global circle, China is known as the revisionist state. The historical manners suggest the reclaim of East Asia by the Chinese. This claim has intensified the relations between the US and China in East Asian Region. The main challenge for China is to shift the US intervention from the East Asian region for the balanced equation at the strategic level. This might provoke the US and its allies in East Asia such as Japan that will help the US to jeopardize the Chinese rule from the region. The challenge for the US and its allies in the East Asian Region is more complicated because of the economic stability of China at the International Level. This might be a proxy war for both the superpowers in the East Asian region where the conflict may rise compromising the strategic stability of the region. The strategic location of the US lies in the actual form of ability and project power over great sustainable intervals. The strategic behavior increases the policies and shapes the allies.
One prevalent belief in the United States about China's long-term policy goals in Asia is that Beijing aspires to be the regional hegemon and wants to restore a Sino-centric order in the region.
First, Beijing favors unipolar ties at both the global and regional levels and believes that with ongoing economic growth, this trend will continue intra-regional political consultation in Asia, influence on regional affairs is going to be more diversified and more evenly distributed. Secondly, although China expects some relative increase in its influence in Asia, it understands that thanks to the boundaries of its hard power and particularly its soft power, China can never achieve a grip cherish its role within the ancient past or to the U.S. role within the region at the present.
Beijing's perspective:
From Beijing's perspective, the US is an East Asia power, although not an Asian power, and its political, economic, and security interests within the region are deep-rooted, as are its commitments to regional stability and prosperity. Beijing has always welcomed a constructive U.S. role in regional affairs. At the identical time, however, Beijing also feels uneasy with certain aspects of U.S. policy. As a superpower, The US has been too dominant and intrusive in managing regional affairs. It fails to pay due regard to the voices of other regional players and sometimes gets too involved within the internal affairs of other states, lacking an understanding of their culture, history, and values.
The US and European aspects towards the South China Sea and East Asia should involve long-term perspectives of engaging ASEAN states. Such impacts will create room for the US to tackle China in the East Asian region. The development of any comprehensive strategic security policy is the need of the hour that assures one's interest in the region. Both the states perceive a threat from each other and try to further advance their capabilities for the sake of safety and security. The US is not in a position to deal with the other power far away from its homeland, sustaining its military and protecting allies. Aggressive behavior in strategic competition can lead to unwanted results. The US would have to accept the strategic realities of China to normalize the relations. China on the other hand should rethink its policies in East Asia and Indo Pacific. However, as yet, deterrence has played its part by keeping states from a large-scale action. States running in the race of acquiring arms conventionally due to uprising strategic competitions are worsening any likely condition of conflict.
Key points for US:
In terms of identifying specific actions for a U.S. strategy for competing strategically with China in East Asia, a key element would be to possess a transparent understanding of which actions are intended to support which U.S. goals, and to take care of an alignment of actions with policy goals. Cost-imposing actions are actions intended to impose political/reputational, institutional, economic, or other costs on China for conducting certain activities within the East Asian Region, with the aim of persuading China to prevent or reverse those activities. Such cost-imposing actions need not be limited to the East Asian Region only.
Conclusion:
The development of any comprehensive strategic security policy is the need of the hour that should involve joint military maritime exercises. The US and China have set their limits in coordinating military to military joint cooperation due to their desired interests and competition. Both the states perceive a threat from each other and try to further advance their capabilities for the sake of safety and security.
Summit for Democracy Attempts to Turn Multicolor Modern World into Black and White Divisions
One of the most important takeaways from the recent sixth plenary session of 19th CPC Central Committee is that Beijing flatly rejects Westernization as the path to modernize the Chinese society and the national economy. Instead, as it was underscored in the plenary Communiqué, the country will continue to stick to "socialism with Chinese characteristics in the new era." The leadership will preserve and further develop the system that served the people so well over last more than 70 years.
This statement did not come as a surprise to numerous China watchers all over the world. In fact, the critical choice between socialism and Western-type liberalism was not made in November of 2021, but decades ago.
One can argue that the outcomes of the sixth plenary session are yet another manifestation of a more general global trend: The world has been and will continue to be very diverse in terms of political systems, social models and economic patterns of individual nation states. Moreover, the odds are that this diversity will increase further literally in front of our eyes. Instead of the "end of history," we will observe more intense multifaceted competition between different types of social development.
One way to react to this emerging reality is to accept it as a positive trend that enhances the overall stability of the global social system. The more diverse and complex the system is, the more resistant it is to various shocks and disturbances. To make a rough analogy with biology, a natural forest, which is a very diverse and complex ecosystem, is much more resistant to whims of the weather and natural disasters than a man-cultivated monocultural field. Accepting the trend, we should focus on how to manage competition within the increasingly diverse and complex world so that this competition will ultimately benefit all of us.
The other way to deal with this reality would be to start fighting against social, political and economic diversity by trying to advance one single model over all others. This is exactly what the Joe Biden administration is committed to doing by launching an ideological crusade against China, Russia and other nations that dare to deviate from the fundamentals of the Western development model. To make its case, the White House has announced a virtual Summit for Democracy to be hosted by the US on December 9–10 with the goal "to renew democracy at home and confront autocracies abroad."
This vision reduces the multi-color palette of the modern world to a minimalist black and white graphics of a global fight between "democracies" and "autocracies." It divides the international system into "us" and "them," into "good" and "bad," into "legitimate" and "illegitimate." Such a reductionist system, if constructed, cannot be stable and shock-resistant by definition: Any major international crisis or a regional conflict could spark high risks of implosion.
It goes without saying that the nations of the world should firmly oppose corruption, abuses of power by state authorities and gross violations of human rights. If the goal of the Summit for Democracy were to confront these evils on a global scale, there would be no need to make the event exclusive by inviting mostly US friends and allies. If the goal is to advertise the US political, social and economic model, Washington should probably delay the summit and put its house in order first. If the goal is to isolate Beijing and Moscow in the world of politics, this is not likely to work well for the US.
Nations of the world have a right and even a duty to experiment with their political and social development paths. This experimenting contributes to the overall social experience of the humankind. Only history is in a position to judge what models turn out to be efficient, productive and fair and what models will find their place at the dump of human delusions. And history has a lot of means at its disposal to punish leaders, who believe that they possess a "one size fits all" model, which could successfully replace the existing diversity with an imposed universalism.
From our partner RIAC
The Chinese diplomatic force in the IAEA to confront Western leadership
At the level of international relations, through China's presence in all the relevant international organizations, and its membership in all of the United Nations organizations, specifically in the International Atomic Energy Agency "IAEA", China aims to play the role of the (international balancer), in light of its quest to maintain a certain level of competition with the United States of America politically and economically, this is in line with its desires to constantly play the role of the pole calling for (multipolarity and multilateral international pluralism through the Chinese political speeches of Chinese President "Xi Jinping"), in order to oppose American hegemony over the world and Washington's policies to maintain its position as a single pole in the international community. China's increase in its foreign investments, in order to enhance its economic hegemony over the world through its political and diplomatic tools with countries that have equal economic power with it in a number of (trade, scientific and technological issues, in addition to military and intelligence tools, as a reference for China's new foreign political center).
We note that the patterns of Chinese foreign policy is (the pattern of dependence, which is based on the high level of foreign participation in all current global issues), to restrict the attempts of the United States of America to pass its decisions internationally, and therefore China is trying to enter the membership of all international organizations so that China's foreign policies remain more comprehensive, broader and more effective in the global change, and to change all directions of these issues and control them in the United States, and this is one of its new political tools that serve its global expansion through the (Chinese Belt and Road Initiative).
In the same context, China focuses its external and competitive strength on its presence in effective international organizations, and rapprochement with the European Union, especially (France, Germany), despite not denying their relations with Washington, because of their strong influence in the global economy. In addition to China's reliance on the plan of foreign and foreign investments in countries that influence American influence through the Belt and Road projects, as well as China's resort to the import policy of many resources necessary to develop its economic capabilities from certain European countries to open influential relations with them, leading to (the Chinese strategy to obtain political support through the policies of alliances, consulates, representations, and its membership of international organizations), with the aim of influencing countries' policies economically to pass important international decisions regarding the US challenge to China, such as: (the Iranian nuclear file, North Korea, Myanmar, Afghanistan, Syria, Venezuela, etc.), to increase with this The level of external penetration of China economically and politically).
China is mainly aiming to increase its membership in international organizations and the International Atomic Energy Agency, to (create a new balance of power and get rid of unipolarity restrictions through the medium powers and small states that the international system prevails with real pluralism, instead of the current state of American unipolarity).
In my personal opinion, the countries of the Middle East may find in the rise of China and Russia, and perhaps other international powers to re-compete the United States, as a (real opportunity to advance the effects of the pluralism of the international system at the regional level, and this would create more space for movement and opposition or bargaining and flexibility of movement for all to confront the policies of American hegemony, according to Chinese planning with Russia), and this also works to alleviate those restrictions and American dictates, and perhaps the sanctions and pressures it imposes on opponents of its approach internationally.
The strategy of competition between China and the United States has become China's long-term strategy, which is based on (the necessity of a heavy Chinese presence in all international organizations and forums, which allows China to communicate with various global powers and balance its relations with them compared to Washington), as well as diversifying the People's Republic of China for its relations and distribution of its power among the competing countries, which allows China to show wide options on all important issues, and the most dangerous is that this Chinese presence, which (allows Beijing to prejudice the foundations of its relationship with the United States of America and the other various powers around the world).
China and Russia also aim to form an alliance into all international and regional organizations to change the current provocative approach of the American policies in their confrontation, especially those related to mobilization policies and American alliances against them around the world. The Chinese alliance with Russia was so clear with the (Russian Foreign Minister "Sergey Lavrov's visit" to Saudi Arabia, the UAE and Qatar, while on the other hand, both Kuwait and Qatar have received a member of the Political Bureau of the CPC Central Committee and Director of the Office of the Foreign Affairs Committee of the CPC Central Committee "Yang Jiechi").
On the other hand, China is among the Security Council countries that have the largest number of (Chinese peacekeeping forces around the world), and China is at the forefront of the (most contributing countries to the international peacekeeping budget, in addition to sending naval fleets to carry out maritime guard missions according to according to the UN Security Council resolutions), and therefore China may play an important role in establishing security in many countries in the world, and this is perhaps what China plans to ensure its use, in the event of a decline in American interest in the security of many regions in the world, within the framework of (the strategy of pressure of the American expenditures, retreat and withdrawal from many places around the world and devote its concern to the American interior issues and its worsening economic crises).
The point is worthy to be considered here, is the report issued in July 2021 by the (International Atomic Energy Agency), entitled "Nuclear reactors around the world", in which he analyzed China's plan to (establish the dream of nuclear sovereignty around the world by starting to build and establish about 11 reactors). There are other Chinese nuclear reactors under construction, as well as the (new Chinese planning to build other 29 nuclear reactors), while the International Atomic Energy Agency's work report on the other hand indicated that the known total number of reactors that are actually in service, other than those planned for construction, and other reactors under construction, is up to About 50 Chinese nuclear reactors, a step that confirms that "China is clearly shifting towards nuclear energy in the production of electricity, and depends on it directly in its industrial renaissance during the coming period, especially as it is the number one country in the world that is expanding in the establishment of nuclear plants, followed by Russia, which plans to build other 20 new nuclear reactors, while it has 38 nuclear reactors in active service". Some leaks indicate the presence of Chinese nuclear reactors, exercises and tests in the "Doklam Desert" region on the borders of "Xinjiang" province in northwest China.
It also notes that, from the reality of the report issued by the International Atomic Energy Agency "IAEA", its confirmation regarding (Chinese planning to become the first country in the world in the production of nuclear energy during the next ten years, in return for the decline in the share of the United States of America in nuclear reactors, which continues to the continuous decrease with the exit of new American numbers of reactors annually), as the future plan of the United States of America does not include the establishment of new reactors, which indicates that (the expansion of this type of energy tends towards China and Russia during the coming period, and these countries will have accumulated experiences, enabling them to dominate and control this new nuclear industry in various countries of the world, and this is what is actually common happening in the region). Knowing that its uses will be mainly peaceful and to serve the interests of peoples and countries, so we may witness the coming period intensifying the role of the International Atomic Energy Agency in many files around the world to study them, inspect different regions and various other areas to ensure (their peaceful uses of nuclear energy in many development projects around the world).
Hence, we almost understand (the importance of the Chinese presence and presence and its membership in the International Atomic Energy Agency in the first place), given that it actually owns 50 nuclear reactors in service, and its contribution to the production of electricity and providing energy to one and a half billion citizens, and China also has new nuclear reactors under construction, so (China seeks to be near the International Atomic Energy Agency, to embarrass, restrict and limit the American influence on the one hand against Beijing's allies, led by Iran and then North Korea. Therefore, China has developed a strategic plan in the coming years, which is based on the intensity of the Chinese international presence and passing its foreign policies and decisions with the help of its Russian ally internationally).