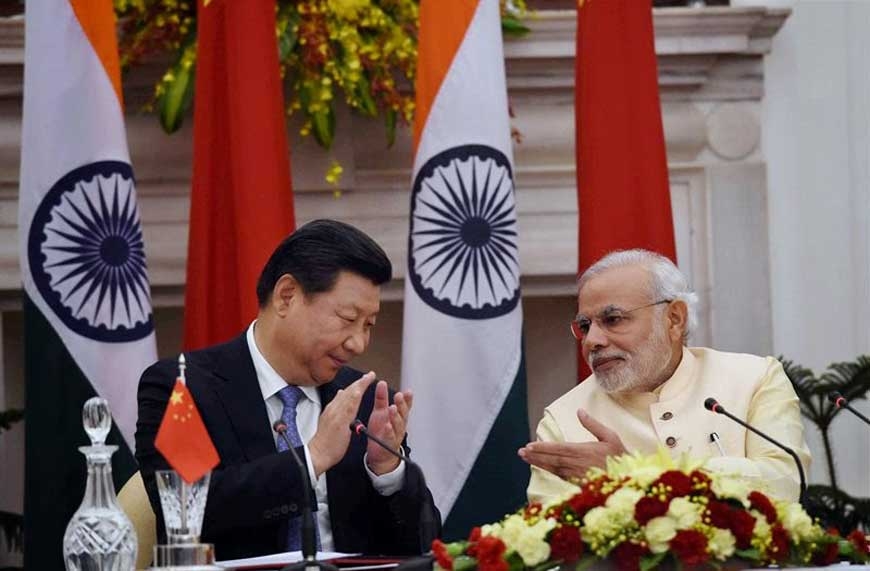 China and India- the world's two most populous nations comprise more than one-third of global humanity. Memories of border battles — the most recent in 1962 — fester, and the 4,000-km frontier, which cuts through disputed territory, remains tense.
They share a border, have fought a bitter war and continue to compete for geopolitical supremacy in the region. Political ambitions and distrust on either side have sometimes been at the cost of better economic sense.
Both have a long and chequered history dating back thousands of years. The two neighbours fought a short border war in 1962 and since then, although much water has flowed down the Yangtze, a sense of mistrust has consistently dogged their bilateral ties. Both are shy of each other.
On the positive side, India has been cooperating with China in many areas. It was one of the first countries to join the China-led Asian Infrastructure Investment Bank. Besides, India and China are part of the BRICS, along with Brazil, Russia and South Africa. They have also teamed up at global forums on climate change to resist demands from developed nations to agree to binding emission cuts. China and India, however, fear that agreeing to binding emission cuts would force them to jettison their ambitious growth targets.
New Delhi is loath to take on Beijing directly. This is seen in the recent case of India cancelling the visa issued earlier to a Uighur activist, Dolkun Isa, the Executive Committee Chairman of the World Uyghur Congress to attend a conference in India. The granting of the visa to the Uighur activist was seen as New Delhi's riposte to being snubbed by Beijing on the Masood Azhar issue. t has shown that New Delhi is wary of upsetting Beijing, especially given its enormous clout at international forums as a permanent Security Council member and NSG entry- both China has blocked.
India and China jointly occupy parts of Jammu Kashmir along with Pakistan. India now asks Pakistan to vacate and hand over Azad Kashmir to India but it has not asked China also do the same. The reason is obvious. In fact, it was Pakistan which always demanded Kashmir region from Indian occupied Jammu Kashmir while India refused to budge and in order to retain Kashmir India even fought war with Pakistan, leading to the creation of LOC. India first acquired nukes followed later by Pakistan, further complicating the tensed situation in the region and bilateral relations between India and Pakistan.
A UN veto member China is possibly the largest global economy while as largest South Asian regional economy India tries to somehow catch the distance. Between Beijing and New Delhi, nonstop flights only run three times a week. There is not a single direct flight between two of Asia's financial capitals, Shanghai and Mumbai. In 2013, 175,000 Chinese went on holiday in India. Thailand, meanwhile, attracted 4.6 million Chinese visitors in 2014.
Tensions
The Indian government recently has expelled three journalists of the Chinese official news agency, Xinhua. This is the first time for New Delhi to expel Chinese journalists that could kick off a diplomatic row between China and India.
India's military buildup near Chinese border also shows that the situation has become a tinderbox. It has been revealed that the Indian Army has moved over 100 Russian tanks T-72 to Ladakh, a disputed border between Indian occupied state of Kashmir and Tibet under Chinese rule. Both countries are preparing for the worst situation they could face in the midst of deteriorating relations. In addition, Indian Navy has sent three warships to the disputed South China Sea to plan training with Malaysian Navy, showing that there's nothing strange with seeing any military conflicts between the two countries.
India thinks it should be on the UNSC with veto handle to control the world and is annoyed that China has not supported India's pitch for permanent membership of the UNSC (United Nations Security Council) and is the only one of the P5 members trying to stymie India's bid. Sparks flew when in the days leading up to India's second round of nuclear tests in May 1998, the then Indian defence minister George Fernandes, termed Beijing as India's "potential enemy No 1" worse than Pakistan or USA.
The stumbling blocks between India and China are hard to budge. China's historic friendship with Pakistan hasn't helped, nor has India's decades-long hosting of the Dalai Lama, the exiled Tibetan spiritual leader living in India newly sworn in PM Modi invited to his inauguration in 2014. Then there are other issues too working against any credible ties to which NSG issue has been added last year to sustain the bilateral tensions. India seeks membership of NSG without signing the NPT. USA just pretends as a "terror victim" and strategic partner against terror wars, it promotes Indian interests in nuclear domains.
In recent years there have been attempts to mend and strengthen the relationship through bilateral visits from both heads of state. And while Indian manufacturers, like their counterparts elsewhere, complain about inexpensive Chinese products flooding the market, Indian consumers are lapping up everything from cheap Chinese phones and toys to clothes made in China.
India's military buildup near Chinese border also shows that the situation has become a tinderbox. It has been revealed that the Indian Army has moved over 100 Russian tanks T-72 to Ladakh, a disputed border between Indian occupied state of Kashmir and Tibet under Chinese rule. Both countries are preparing for the worst situation they could face in the midst of deteriorating relations. In addition, Indian Navy has sent three warships to the disputed South China Sea to plan training with Malaysian Navy, showing that there's nothing strange with seeing any military conflicts between the two countries.
The Indian government recently has expelled three journalists of the Chinese official news agency, Xinhua. This is the first time for New Delhi to expel Chinese journalists that could kick off a diplomatic row between China and India.
Fruitless effort
Narendra Modi made his first visit to China as Prime Minister of India in May 2014. One of his first stops will be the Wild Goose Pagoda in the central Chinese city of Xi'an, which, legend has it, was originally built to store first Chinese pilgrim to India in 7th Century Xuanzang's Buddhist treasures from India.
Much before he became India's prime minister, Narendra Modi was already a self-professed admirer of China. "China and its people have a special place in my heart," Modi said in 2011 while he was on his fourth visit to the country as the Gujarat chief minister. "I admire their hard working, disciplined and resilient nature and above all, their sense of history."
So, after he took control of the government in New Delhi last May, Modi wasted little time to try and strengthen ties with Beijing. Within days of taking office, he promptly invited Chinese president Xi Jinping to India. But by the time Xi arrived in September, the tricky nature of the India-China relationship was in full display: The Chinese president conducted a state visit in India while troops from both countries squared off in Ladakh.
Though relations between these two Asian behemoths warmed up in the aftermath of the visit of the Chinese President Xi Jinping to India in September 2014 and the visit of the Indian Prime Minister Narendra Modi to China in May 2015, the relations have once again hurtled downhill as they pursue their respective foreign policy agendas. Mutual trips by Indo-China leaders therefore have not been able to improve the tensed relations.
Through the "Maritime Silk Road" initiative, China has been trying to reach out to countries such as Sri Lanka and Maldives, right in India's immediate neighborhood. Besides, of late, relations between China and Nepal have warmed up, particularly in the aftermath of the visit to Beijing by the Nepalese Prime Minister Khadga Prasad Sharma Oli. Although China has asked India to be part of the Maritime Silk Road, New Delhi is in two minds over whether to join owing to the suspicion of India and other nations. Moreover, China put a "technical hold" over India's attempts to designate the Jaish-e-Mohammed chief, Maulana Masood Azhar, as a terrorist since New Delhi views him to be the mastermind behind a host of terror attacks in India, with the most recent being the Pathankot terror attacks in early January this year.
China accused Modi of "playing little tricks" over border disputes and security issues, hoping to boost his domestic prestige while increasing his leverage in negotiations with China and went on to criticize the Indian elites' blind arrogance and confidence in their corrupt democracy, as well as "the inferiority of India's ordinary people."
Political economy
China is India's largest trading partner and like with many other countries, this relationship too is imbalanced. Trade between the two countries has been expanding annually at 15 percent since 2007. The bilateral trade between the two countries stood at $70.4bn last year with India reeling under a huge trade deficit of $52.67bn. Unfortunately for India, so has its trade deficit with China. In the financial year 2016 that ended March 31, India exported a little over $9 billion worth of goods to China, while it imported goods worth $61.7 billion, taking the trade deficit to a whopping $52.7 billion. Therefore trade experts said India's dependence on China for export oriented growth is limited.
India mainly exports raw materials to China such as cotton and copper and as the Chinese economy rebalances to become more consumer led, there will be a further fall in exports. This is evident from the 2015-2016 figures that show Indian exports to China fell by over 24 percent.. China is a huge market for Ayurvedic and agro products and IT services India is eager to expand there in a big way.
The bilateral trade hovers around $70 billion, less than half the dollar figure of commercial ties between China and Australia. When President Xi visited India last September, the trip was hailed as groundbreaking — the first time a Chinese President had stepped on Indian soil in eight years. Yet Xi's visit resulted in an underwhelming $20 billion in promised Chinese investment over a five-year period. By contrast, Xi vowed $46 billion in infrastructure spending for ally Pakistan during a trip there last month. As Xi was in India, the Chinese People's Liberation Army reportedly dispatched hundreds of soldiers past the Line of Actual Control to a remote section of the India-China frontier.
Over the past 13 years, 142 Chinese companies have invested a total of $27 billion in India in sectors such as automotive parts and consumer electronics, according to CII. Top Chinese companies investing in India include Huawei Telecommunications, ZTE, Alibaba and Xiaomi. During the same period, 139 Indian companies have invested $12 billion in China, largely in the software and Information technology (IT) services sector. Many small manufacturers are sourcing products as diverse as firecrackers and religious idols from China. During Indian PM Narendra Modi's visit to China, 24 agreements worth $22 billion were signed between Indian and Chinese companies to finance and invest in projects across sectors.
Meanwhile, China's relations with its "all-weather friend" Pakistan are at an all-time high, with Beijing announcing that it will invest $46bn in the China-Pakistan Economic Corridor, which will connect Kashgar in China's Xinjiang province with the port of Gwadar in Pakistan.
Large Indian firms have traditionally been more interested in looking for mergers and acquisition in the West rather than investing in China. Dependence on China to fund the budget deficit is far more limited compared to some global peers. India's total external borrowing as of the end of 2015 stood at $480 billion and the share of sovereign debt was just 19 percent with the rest made up of commercial borrowings and nonresident Indian deposits, according to government data.
Tourism is an area of cooperation and many Buddhists from China come to India while visiting the birthplace in neighboring Nepal of Shakyamuni Buddha, the founder of the religion.
American link
The relations between China and India are worsening rapidly as India supports US pivot in Asia against China. Unless the situation changes dramatically, the two countries could even go through armed conflict against each other. It would be no strange thing if this really happens, because they really went through armed conflict due to Sino-Indian border dispute in the early 1960s.
Part of the reason for the growing bonhomie between India and the USA is China's growing belligerence. India and the USA say they have a common interest in ensuring the safety and security of the sea lanes of communication in the Indo-Pacific region which was reflected in the joint statement released by the two sides during the visit of the US President Barack Obama to India in January last year.
And under Modi, India has slowly, but surely, moved away from its traditional stance of non-alignment to multi-alignment. He has given a vigorous push to India's "Act-East Policy" which aims at improving India's ties with its neighbours in Southeast and East Asia. His first visit outside the Indian subcontinent after taking charge was to Japan, which has seen frayed ties with Beijing, of late.
The US-India Joint Statement notes that they "affirm the importance of safe-guarding maritime security and ensuring freedom of navigation and over flight throughout the region, especially in the South China Sea."
Chinese leadership advocates free trade, while US President-elect Donald Trump and his team appear committed to carrying out an economic policy based on protectionism. Trump has repeatedly blamed free trade agreements for damaging the US economy. The US president-elect has announced that he will withdraw from the controversial Trans-Pacific Partnership (TPP)
Chinese President Xi Jinping warned Trump and any other country intent on pursuing protectionism against such policies in a speech at the World Economic Forum held in Davos, Switzerland. He compared such efforts to attempts to "divert a river into lakes and creeks" and said that it was not possible.
China will be hit the hardest if countries hide behind trade barriers and if globalization is seen as the root cause of all evil. While the shadow of a credit bubble looms large over its economy, China, driven by a low-wage, enormous workforce, has become the global factory for low-cost products which it badly needs to market. It must have noted Donald Trump's protectionist rhetoric with horror.
Observation
The reason behind such confrontation between the two countries is not complicated. First, their disputed borders are the major cause of tensions between them. They even had a war against each other 50 years ago, but failed to make any progress on the border dispute. Besides, the gap between the positions of China and India over Tibet is wide. While China sees Tibet as one of its local governments, India sees it as a government in exile.
Other reasons such as China's expanding footprint in Nepal and its ambition to keep Southeast Asia under its control are also driving the bilateral relationship to the gate of armed conflict. Perhaps, the relations between the two countries should pass the crisis in order to find a string of efforts for normalization.
The bilateral relationship cannot be very good unless the border dispute is solved. Yes, not just that. In order to facilitate the bilateral ties on a large scale, India has to solve the Kashmir issue as Kashmir nation lies between India and China.
China's has opposed India's entry into the 48-member grouping, which is one of the irritants in Sino-India ties. China on January 16 warned India's entry into the Nuclear Suppliers Group (NSG) cannot be a "farewell gift" to the outgoing US President Barack Obama. Beijing's reaction came after US Assistant Secretary of State for South and Central Asia Nisha Desai Biswal of Indian origin described China as an "outlier" in the process of letting India joining the nuclear trade bloc. "Regarding India's application to the Nuclear Suppliers Group, regarding non-NPT countries admission to the NSG, we have made our position clear before so I will not repeat it," Chinese Foreign Ministry spokesperson Hua Chunying said here. "I just want to point out that NSG membership shall not be some kind of farewell gift for countries to give to each other," Hua said, obliquely referring to Obama who will be succeeded by Donald J. Trump. The US government, under Obama, has strongly backed India's membership in the NSG, which regulates the global nuclear trade. Beijing objects to New Delhi's inclusion in the bloc, citing rules that India's non-signatory status to the nuclear non-proliferation treaty.
While it is unlikely that India will be a part of any Western-led attempts to bandwagon against Beijing any time soon, it also wants to ensure that Beijing does not seize the initiative in India's backyard.
Of course, China is also preparing for the worst. According to military sources in Beijing, China has deployed more troop along the India border, showing off its will to respond immediately if the worst really happens.
India cannot take the foreign cricketers and badminton or other sports/entertainments coming to play joint sport exercises as a victory for foreign policy, after all, they come to play for money and they are trained to do exactly what the sponsors expect and the mafias want. Don't the English cricketers now do exactly what Indian sponsors and government agencies want? Governments promote their sportsmen also to be top billionaires by all possible means.
India requires prudence and pragmatism in dealing with countries with different economic and political systems, like China and Pakistan, while core media in the country should shed extra elements of arrogance and over confidence.
Importance of peace in Afghanistan is vital for China
There are multiple passages from Afghanistan to China, like Wakhan Corridor that is 92 km long, stretching to Xinjiang in China. It was formed in 1893 as a result of an agreement between the British Empire and Afghanistan. Another is Chalachigu valley that shares the border with Tajikistan to the north, Pakistan to the south, and Afghanistan to the west. It is referred to as the Chinese part of the Wakhan Corridor. However, the Chinese side of the valley is closed to the public and only local shepherds are allowed. Then there is Wakhjir Pass on the eastern side of the Wakhan corridor but is not accessible to the general public. The terrain is rough on the Afghan side. There are no roads along the Wakhjir Pass, most of the terrain is a dirt track. Like other passages, it can only be accessed via either animals or SUVs, and also due to extreme weather it is open for only seven months throughout the year. North Wakhjir Pass, also called Tegermansu Pass, is mountainous on the border of China and Afghanistan. It stretches from Tegermansu valley on the east and Chalachigu Valley in Xinjiang. All of these passages are extremely uncertain and rough which makes them too risky to be used for trade purposes. For example, the Chalagigu valley and Wakhjir Pass are an engineering nightmare to develop, let alone make them viable.
Similarly, the Pamir mountain range is also unstable and prone to landslides. Both of these routes also experience extreme weather conditions. Alternatives: Since most of the passages are risky for travel, alternatively, trade activities can be routed via Pakistan. For example, there is an access road at the North Wakhjir that connects to Karakoram Highway.
By expanding the road network from Taxkorgan in Xinjiang to Gilgit, using the Karakoram Highway is a probable option. Land routes in Pakistan are already being developed for better connectivity between Islamabad and Beijing as part of CPEC. These routes stretch from Gwadar up to the North.
The Motorway M-1, which runs from Islamabad to Peshawar can be used to link Afghanistan via Landi Kotal. Although the Karakoram highway also suffers from extreme weather and landslides, it is easier for engineers to handle as compared to those in Afghanistan.
China is the first door neighbor of Afghanistan having a common border. If anything happens in Afghanistan will have a direct impact on China. China has a declared policy of peaceful developments and has abandoned all disputes and adversaries for the time being and focused only on economic developments. For economic developments, social stability and security is a pre-requisite. So China emphasizes peace and stability in Afghanistan. It is China's requirement that its border with Afghanistan should be secured, and restrict movements of any unwanted individuals or groups. China is compelled by any government in Afghanistan to ensure the safety of its borders in the region.
Taliban has ensured china that, its territory will not use against China and will never support any insurgency in China. Based on this confidence, China is cooperating with the Taliban in all possible manners. On the other hand, China is a responsible nation and obliged to extend humanitarian assistance to starving Afghans. While, the US is coercing and exerting pressures on the Taliban Government to collapse, by freezing their assets, and cutting all economic assistance, and lobbying with its Western allies, for exerting economic pressures on the Taliban, irrespective of human catastrophe in Afghanistan. China is generously assisting in saving human lives in Afghanistan. Whereas, the US is preferring politics over human lives in Afghanistan.
The US has destroyed Afghanistan during the last two decades, infrastructure was damaged completely, Agriculture was destroyed, Industry was destroyed, and the economy was a total disaster. While, China is assisting Afghanistan to rebuild its infrastructure, revive agriculture, industrialization is on its way. Chinese mega initiative, Belt and Road (BRI) is hope for Afghanistan.
A peaceful Afghanistan is a guarantee for peace and stability in China, especially in the bordering areas. The importance of Afghan peace is well conceived by China and practically, China is supporting peace and stability in Afghanistan. In fact, all the neighboring countries, and regional countries, are agreed upon by consensus that peace and stability in Afghanistan is a must and prerequisite for whole regions' development and prosperity.
Shared Territorial Concern, Opposition to US Intervention Prompt Russia's Support to China on Taiwan Question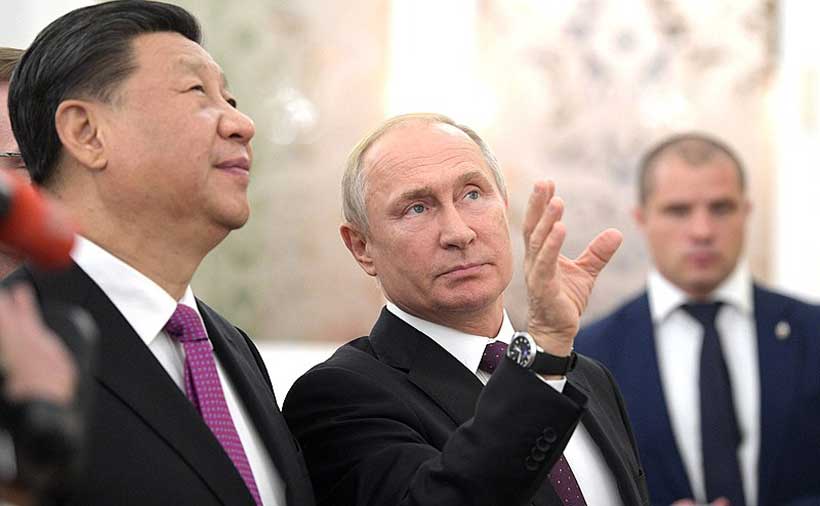 The situation around the island of Taiwan is raising concerns not only in Chinese mainland, Taiwan island or in the US, but also in the whole world. Nobody would like to see a large-scale military clash between China and the US in the East Pacific. Potential repercussions of such a clash, even if it does not escalate to the nuclear level, might be catastrophic for the global economy and strategic stability, not to mention huge losses in blood and treasure for both sides in this conflict.
Earlier this week, Russian Foreign Minister Sergey Lavrov stated that Moscow continued to firmly support Beijing's position on Taiwan as an integral part of China. Moreover, he also underlined that Moscow would support Beijing in its legitimate efforts to reunite the breakaway province with the rest of the country. A number of foreign media outlets paid particular attention not to what Lavrov actually said, but omitted his other remarks: the Russian official did not add that Moscow expects reunification to be peaceful and gradual in a way that is similar to China's repossession of Hong Kong. Many observers of the new Taiwan Straits crisis unfolding concluded that Lavrov's statement was a clear signal to all parties of the crisis: Russia would likely back even Beijing's military takeover of the island.
Of course, diplomacy is an art of ambiguity. Lavrov clearly did not call for a military solution to the Taiwan problem. Still, his remarks were more blunt and more supportive of Beijing than the standard Russia's rhetoric on the issue. Why? One possible explanation is that the Russian official simply wanted to sound nice to China as Russia's major strategic partner. As they say, "a friend in need is a friend indeed." Another explanation is that Lavrov recalled the Russian experience with Chechnya some time ago, when Moscow had to fight two bloody wars to suppress secessionism in the North Caucasus. Territorial integrity means a lot for the Russian leadership. This is something that is worth spilling blood for.
However, one can also imagine that in Russia they simply do not believe that if things go really bad for Taiwan island, the US would dare to come to its rescue and that in the end of the day Taipei would have to yield to Beijing without a single shot fired. Therefore, the risks of a large-scale military conflict in the East Pacific are perceived as relatively low, no matter what apocalyptic scenarios various military experts might come up with.
Indeed, over last 10 or 15 years the US has developed a pretty nasty habit of inciting its friends and partners to take risky and even reckless decisions and of letting these friends and partners down, when the latter had to foot the bill for these decisions. In 2008, the Bush administration explicitly or implicitly encouraged Georgian leader Mikheil Saakashvili to launch a military operation against South Ossetia including killing some Russian peacekeepers stationed there. But when Russia interfered to stop and to roll back the Georgian offensive, unfortunate Saakashvili was de-facto abandoned by Washington.
During the Ukrainian conflicts of 2013-14, the Obama administration enthusiastically supported the overthrow of the legitimate president in Kiev. However, it later preferred to delegate the management of the crisis to Berlin and to Paris, abstaining from taking part in the Normandy process and from signing the Minsk Agreements. In 2019, President Donald Trump promised his full support to Juan Guaidó, Head of the National Assembly in Venezuela, in his crusade against President Nicolas when the government of Maduro demonstrated its spectacular resilience. Juan Guaido very soon almost completely disappeared from Washington's political radar screens.
Earlier this year the Biden administration stated its firm commitment to shouldering President Ashraf Ghani in Afghanistan in his resistance to Taliban advancements. But when push came to shove, the US easily abandoned its local allies, evacuated its military personal in a rush and left President Ghani to seek political asylum in the United Arab Emirates.
Again and again, Washington gives reasons to conclude that its partners, clients and even allies can no longer consider it as a credible security provider. Would the US make an exception for the Taiwan island? Of course, one can argue that the Taiwan island is more important for the US than Afghanistan, Venezuela, Ukraine and Georgia taken together. But the price for supporting the Taiwan island could also be much higher for the US than the price it would have paid in many other crisis situations. The chances of the US losing to China over Taiwan island, even if Washington mobilizes all of its available military power against Beijing, are also very high. Still, we do not see such a mobilization taking place now. It appears that the Biden administration is not ready for a real showdown with Beijing over the Taiwan question.
If the US does not put its whole weight behind the Taiwan island, the latter will have to seek some kind of accommodation with the mainland on terms abandoning its pipe-dreams of self-determination and independence. This is clear to politicians not only in East Asia, but all over the place, including Moscow. Therefore, Sergey Lavrov has reasons to firmly align himself with the Chinese position. The assumption in the Kremlin is that Uncle Sam will not dare to challenge militarily the Middle Kingdom. Not this time.
From our partner RIAC
Russia-Japan Relations: Were Abe's Efforts In Vain?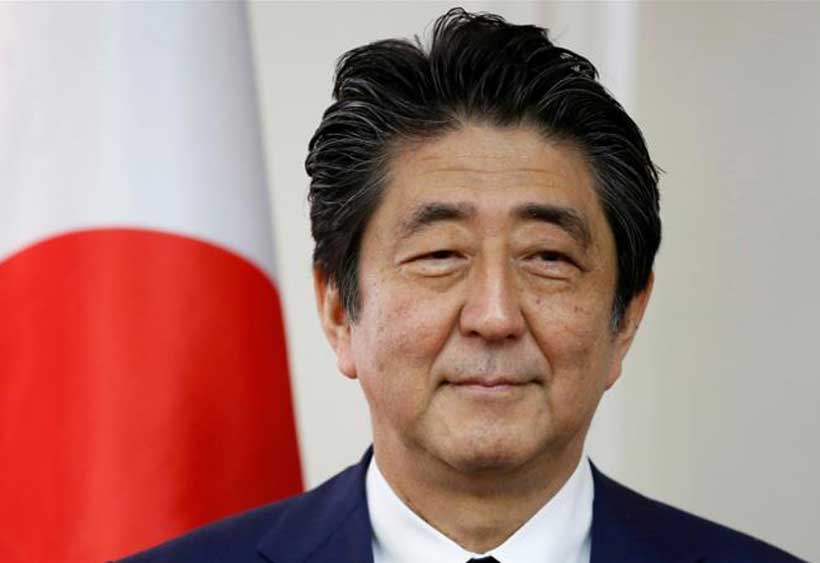 Expanding the modest elements of trust in the Japan-Russia relationship, talking through reciprocal concerns before they lead to conflict, avoiding bilateral incidents, and engaging in mutually beneficial economic cooperation is the way forward.
One year after the end of Shinzo Abe's long period of leadership, Japan has a new prime minister once again. The greatest foreign policy challenge the new Japanese government led by Fumio Kishida is facing is the intensifying confrontation between its large neighbor China and its main ally America. In addition to moves to energize the Quad group to which Japan belongs alongside Australia, India, and the United States, U.S. President Joe Biden's administration has concluded a deal with Canberra and London to provide Australia with nuclear-powered submarines which in future could patrol the Western Pacific close to Chinese shores. The geopolitical fault lines in the Indo-Pacific region are fast turning into frontlines.
In this context, does anything remain of the eight-year-long effort by former prime minister Abe to improve relations with Russia on the basis of greater economic engagement tailored to Moscow's needs? Russia's relations with China continue to develop, including in the military domain; Russia's constitutional amendments passed last year prohibit the handover of Russian territory, which doesn't bode well for the long-running territorial dispute with Japan over the South Kuril Islands; and Russian officials and state-run media have been remembering and condemning the Japanese military's conduct during World War II, something they chose to play down in the past. True, Moscow has invited Tokyo to participate in economic projects on the South Kuril Islands, but on Russian terms and without an exclusive status.
To many, the answer to the above question is clear, and it is negative. Yet that attitude amounts to de facto resignation, a questionable approach. Despite the oft-cited but erroneous Cold War analogy, the present Sino-American confrontation has created two poles in the global system, but not—at least, not yet—two blocs. Again, despite the popular and equally incorrect interpretation, Moscow is not Beijing's follower or vassal. As a power that is particularly sensitive about its own sovereignty, Russia seeks to maintain an equilibrium—which is not the same as equidistance—between its prime partner and its main adversary. Tokyo would do well to understand that and take it into account as it structures its foreign relations.
The territorial dispute with Russia is considered to be very important for the Japanese people, but it is more symbolic than substantive. In practical terms, the biggest achievement of the Abe era in Japan-Russia relations was the founding of a format for high-level security and foreign policy consultations between the two countries. With security issues topping the agenda in the Indo-Pacific, maintaining the channel for private direct exchanges with a neighboring great power that the "2+2" formula offers is of high value. Such a format is a trademark of Abe's foreign policy which, while being loyal to Japan's American ally, prided itself on pursuing Japanese national interests rather than solely relying on others to take them into account.
Kishida, who for five years served as Abe's foreign minister, will now have a chance to put his own stamp on the country's foreign policy. Yet it makes sense for him to build on the accomplishments of his predecessor, such as using the unique consultation mechanism mentioned above to address geopolitical and security issues in the Indo-Pacific region, from North Korea to Afghanistan. Even under Abe, Japan's economic engagement with Russia was by no means charity. The Russian leadership's recent initiatives to shift more resources to eastern Siberia offer new opportunities to Japanese companies, just like Russia's early plans for energy transition in response to climate change, and the ongoing development projects in the Arctic. In September 2021, the annual Eastern Economic Forum in Vladivostok did not feature top-level Japanese participation, but that should be an exception, not the rule.
Japan will remain a trusted ally of the United States for the foreseeable future. It is also safe to predict that at least in the medium term, and possibly longer, the Russo-Chinese partnership will continue to grow. That is no reason for Moscow and Tokyo to regard each other as adversaries, however. Moreover, since an armed conflict between America and China would spell a global calamity and have a high chance of turning nuclear, other major powers, including Russia and Japan, have a vital interest in preventing such a collision. Expanding the still very modest elements of trust in the Japan-Russia relationship, talking through reciprocal concerns before they lead to conflict, avoiding bilateral incidents, and engaging in mutually beneficial economic cooperation is the way forward. The absence of a peace treaty between the two countries more than seventy-five years after the end of the war is abnormal, yet that same unfinished business should serve as a stimulus to persevere. Giving up is an option, but not a good one.
From our partner RIAC