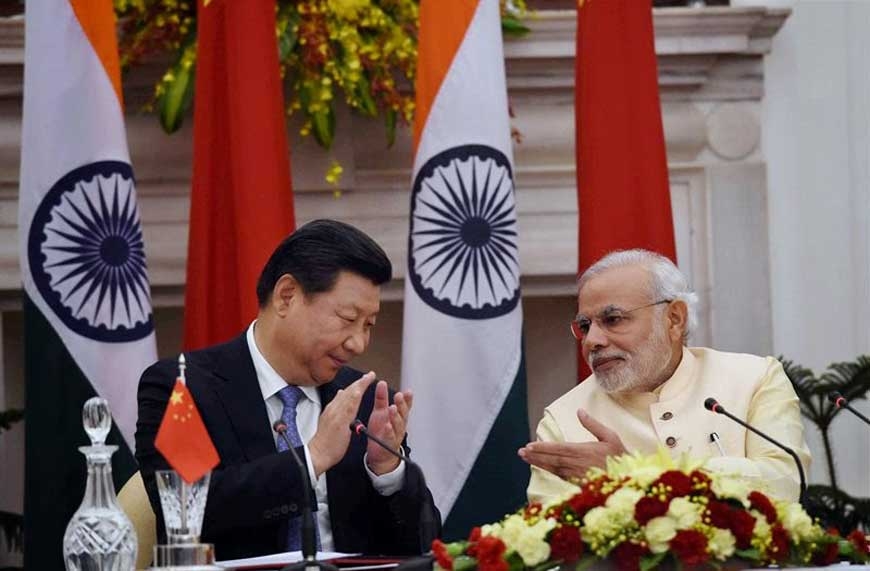 China and India- the world's two most populous nations comprise more than one-third of global humanity. Memories of border battles — the most recent in 1962 — fester, and the 4,000-km frontier, which cuts through disputed territory, remains tense.
They share a border, have fought a bitter war and continue to compete for geopolitical supremacy in the region. Political ambitions and distrust on either side have sometimes been at the cost of better economic sense.
Both have a long and chequered history dating back thousands of years. The two neighbours fought a short border war in 1962 and since then, although much water has flowed down the Yangtze, a sense of mistrust has consistently dogged their bilateral ties. Both are shy of each other.
On the positive side, India has been cooperating with China in many areas. It was one of the first countries to join the China-led Asian Infrastructure Investment Bank. Besides, India and China are part of the BRICS, along with Brazil, Russia and South Africa. They have also teamed up at global forums on climate change to resist demands from developed nations to agree to binding emission cuts. China and India, however, fear that agreeing to binding emission cuts would force them to jettison their ambitious growth targets.
New Delhi is loath to take on Beijing directly. This is seen in the recent case of India cancelling the visa issued earlier to a Uighur activist, Dolkun Isa, the Executive Committee Chairman of the World Uyghur Congress to attend a conference in India. The granting of the visa to the Uighur activist was seen as New Delhi's riposte to being snubbed by Beijing on the Masood Azhar issue. t has shown that New Delhi is wary of upsetting Beijing, especially given its enormous clout at international forums as a permanent Security Council member and NSG entry- both China has blocked.
India and China jointly occupy parts of Jammu Kashmir along with Pakistan. India now asks Pakistan to vacate and hand over Azad Kashmir to India but it has not asked China also do the same. The reason is obvious. In fact, it was Pakistan which always demanded Kashmir region from Indian occupied Jammu Kashmir while India refused to budge and in order to retain Kashmir India even fought war with Pakistan, leading to the creation of LOC. India first acquired nukes followed later by Pakistan, further complicating the tensed situation in the region and bilateral relations between India and Pakistan.
A UN veto member China is possibly the largest global economy while as largest South Asian regional economy India tries to somehow catch the distance. Between Beijing and New Delhi, nonstop flights only run three times a week. There is not a single direct flight between two of Asia's financial capitals, Shanghai and Mumbai. In 2013, 175,000 Chinese went on holiday in India. Thailand, meanwhile, attracted 4.6 million Chinese visitors in 2014.
Tensions
The Indian government recently has expelled three journalists of the Chinese official news agency, Xinhua. This is the first time for New Delhi to expel Chinese journalists that could kick off a diplomatic row between China and India.
India's military buildup near Chinese border also shows that the situation has become a tinderbox. It has been revealed that the Indian Army has moved over 100 Russian tanks T-72 to Ladakh, a disputed border between Indian occupied state of Kashmir and Tibet under Chinese rule. Both countries are preparing for the worst situation they could face in the midst of deteriorating relations. In addition, Indian Navy has sent three warships to the disputed South China Sea to plan training with Malaysian Navy, showing that there's nothing strange with seeing any military conflicts between the two countries.
India thinks it should be on the UNSC with veto handle to control the world and is annoyed that China has not supported India's pitch for permanent membership of the UNSC (United Nations Security Council) and is the only one of the P5 members trying to stymie India's bid. Sparks flew when in the days leading up to India's second round of nuclear tests in May 1998, the then Indian defence minister George Fernandes, termed Beijing as India's "potential enemy No 1" worse than Pakistan or USA.
The stumbling blocks between India and China are hard to budge. China's historic friendship with Pakistan hasn't helped, nor has India's decades-long hosting of the Dalai Lama, the exiled Tibetan spiritual leader living in India newly sworn in PM Modi invited to his inauguration in 2014. Then there are other issues too working against any credible ties to which NSG issue has been added last year to sustain the bilateral tensions. India seeks membership of NSG without signing the NPT. USA just pretends as a "terror victim" and strategic partner against terror wars, it promotes Indian interests in nuclear domains.
In recent years there have been attempts to mend and strengthen the relationship through bilateral visits from both heads of state. And while Indian manufacturers, like their counterparts elsewhere, complain about inexpensive Chinese products flooding the market, Indian consumers are lapping up everything from cheap Chinese phones and toys to clothes made in China.
India's military buildup near Chinese border also shows that the situation has become a tinderbox. It has been revealed that the Indian Army has moved over 100 Russian tanks T-72 to Ladakh, a disputed border between Indian occupied state of Kashmir and Tibet under Chinese rule. Both countries are preparing for the worst situation they could face in the midst of deteriorating relations. In addition, Indian Navy has sent three warships to the disputed South China Sea to plan training with Malaysian Navy, showing that there's nothing strange with seeing any military conflicts between the two countries.
The Indian government recently has expelled three journalists of the Chinese official news agency, Xinhua. This is the first time for New Delhi to expel Chinese journalists that could kick off a diplomatic row between China and India.
Fruitless effort
Narendra Modi made his first visit to China as Prime Minister of India in May 2014. One of his first stops will be the Wild Goose Pagoda in the central Chinese city of Xi'an, which, legend has it, was originally built to store first Chinese pilgrim to India in 7th Century Xuanzang's Buddhist treasures from India.
Much before he became India's prime minister, Narendra Modi was already a self-professed admirer of China. "China and its people have a special place in my heart," Modi said in 2011 while he was on his fourth visit to the country as the Gujarat chief minister. "I admire their hard working, disciplined and resilient nature and above all, their sense of history."
So, after he took control of the government in New Delhi last May, Modi wasted little time to try and strengthen ties with Beijing. Within days of taking office, he promptly invited Chinese president Xi Jinping to India. But by the time Xi arrived in September, the tricky nature of the India-China relationship was in full display: The Chinese president conducted a state visit in India while troops from both countries squared off in Ladakh.
Though relations between these two Asian behemoths warmed up in the aftermath of the visit of the Chinese President Xi Jinping to India in September 2014 and the visit of the Indian Prime Minister Narendra Modi to China in May 2015, the relations have once again hurtled downhill as they pursue their respective foreign policy agendas. Mutual trips by Indo-China leaders therefore have not been able to improve the tensed relations.
Through the "Maritime Silk Road" initiative, China has been trying to reach out to countries such as Sri Lanka and Maldives, right in India's immediate neighborhood. Besides, of late, relations between China and Nepal have warmed up, particularly in the aftermath of the visit to Beijing by the Nepalese Prime Minister Khadga Prasad Sharma Oli. Although China has asked India to be part of the Maritime Silk Road, New Delhi is in two minds over whether to join owing to the suspicion of India and other nations. Moreover, China put a "technical hold" over India's attempts to designate the Jaish-e-Mohammed chief, Maulana Masood Azhar, as a terrorist since New Delhi views him to be the mastermind behind a host of terror attacks in India, with the most recent being the Pathankot terror attacks in early January this year.
China accused Modi of "playing little tricks" over border disputes and security issues, hoping to boost his domestic prestige while increasing his leverage in negotiations with China and went on to criticize the Indian elites' blind arrogance and confidence in their corrupt democracy, as well as "the inferiority of India's ordinary people."
Political economy
China is India's largest trading partner and like with many other countries, this relationship too is imbalanced. Trade between the two countries has been expanding annually at 15 percent since 2007. The bilateral trade between the two countries stood at $70.4bn last year with India reeling under a huge trade deficit of $52.67bn. Unfortunately for India, so has its trade deficit with China. In the financial year 2016 that ended March 31, India exported a little over $9 billion worth of goods to China, while it imported goods worth $61.7 billion, taking the trade deficit to a whopping $52.7 billion. Therefore trade experts said India's dependence on China for export oriented growth is limited.
India mainly exports raw materials to China such as cotton and copper and as the Chinese economy rebalances to become more consumer led, there will be a further fall in exports. This is evident from the 2015-2016 figures that show Indian exports to China fell by over 24 percent.. China is a huge market for Ayurvedic and agro products and IT services India is eager to expand there in a big way.
The bilateral trade hovers around $70 billion, less than half the dollar figure of commercial ties between China and Australia. When President Xi visited India last September, the trip was hailed as groundbreaking — the first time a Chinese President had stepped on Indian soil in eight years. Yet Xi's visit resulted in an underwhelming $20 billion in promised Chinese investment over a five-year period. By contrast, Xi vowed $46 billion in infrastructure spending for ally Pakistan during a trip there last month. As Xi was in India, the Chinese People's Liberation Army reportedly dispatched hundreds of soldiers past the Line of Actual Control to a remote section of the India-China frontier.
Over the past 13 years, 142 Chinese companies have invested a total of $27 billion in India in sectors such as automotive parts and consumer electronics, according to CII. Top Chinese companies investing in India include Huawei Telecommunications, ZTE, Alibaba and Xiaomi. During the same period, 139 Indian companies have invested $12 billion in China, largely in the software and Information technology (IT) services sector. Many small manufacturers are sourcing products as diverse as firecrackers and religious idols from China. During Indian PM Narendra Modi's visit to China, 24 agreements worth $22 billion were signed between Indian and Chinese companies to finance and invest in projects across sectors.
Meanwhile, China's relations with its "all-weather friend" Pakistan are at an all-time high, with Beijing announcing that it will invest $46bn in the China-Pakistan Economic Corridor, which will connect Kashgar in China's Xinjiang province with the port of Gwadar in Pakistan.
Large Indian firms have traditionally been more interested in looking for mergers and acquisition in the West rather than investing in China. Dependence on China to fund the budget deficit is far more limited compared to some global peers. India's total external borrowing as of the end of 2015 stood at $480 billion and the share of sovereign debt was just 19 percent with the rest made up of commercial borrowings and nonresident Indian deposits, according to government data.
Tourism is an area of cooperation and many Buddhists from China come to India while visiting the birthplace in neighboring Nepal of Shakyamuni Buddha, the founder of the religion.
American link
The relations between China and India are worsening rapidly as India supports US pivot in Asia against China. Unless the situation changes dramatically, the two countries could even go through armed conflict against each other. It would be no strange thing if this really happens, because they really went through armed conflict due to Sino-Indian border dispute in the early 1960s.
Part of the reason for the growing bonhomie between India and the USA is China's growing belligerence. India and the USA say they have a common interest in ensuring the safety and security of the sea lanes of communication in the Indo-Pacific region which was reflected in the joint statement released by the two sides during the visit of the US President Barack Obama to India in January last year.
And under Modi, India has slowly, but surely, moved away from its traditional stance of non-alignment to multi-alignment. He has given a vigorous push to India's "Act-East Policy" which aims at improving India's ties with its neighbours in Southeast and East Asia. His first visit outside the Indian subcontinent after taking charge was to Japan, which has seen frayed ties with Beijing, of late.
The US-India Joint Statement notes that they "affirm the importance of safe-guarding maritime security and ensuring freedom of navigation and over flight throughout the region, especially in the South China Sea."
Chinese leadership advocates free trade, while US President-elect Donald Trump and his team appear committed to carrying out an economic policy based on protectionism. Trump has repeatedly blamed free trade agreements for damaging the US economy. The US president-elect has announced that he will withdraw from the controversial Trans-Pacific Partnership (TPP)
Chinese President Xi Jinping warned Trump and any other country intent on pursuing protectionism against such policies in a speech at the World Economic Forum held in Davos, Switzerland. He compared such efforts to attempts to "divert a river into lakes and creeks" and said that it was not possible.
China will be hit the hardest if countries hide behind trade barriers and if globalization is seen as the root cause of all evil. While the shadow of a credit bubble looms large over its economy, China, driven by a low-wage, enormous workforce, has become the global factory for low-cost products which it badly needs to market. It must have noted Donald Trump's protectionist rhetoric with horror.
Observation
The reason behind such confrontation between the two countries is not complicated. First, their disputed borders are the major cause of tensions between them. They even had a war against each other 50 years ago, but failed to make any progress on the border dispute. Besides, the gap between the positions of China and India over Tibet is wide. While China sees Tibet as one of its local governments, India sees it as a government in exile.
Other reasons such as China's expanding footprint in Nepal and its ambition to keep Southeast Asia under its control are also driving the bilateral relationship to the gate of armed conflict. Perhaps, the relations between the two countries should pass the crisis in order to find a string of efforts for normalization.
The bilateral relationship cannot be very good unless the border dispute is solved. Yes, not just that. In order to facilitate the bilateral ties on a large scale, India has to solve the Kashmir issue as Kashmir nation lies between India and China.
China's has opposed India's entry into the 48-member grouping, which is one of the irritants in Sino-India ties. China on January 16 warned India's entry into the Nuclear Suppliers Group (NSG) cannot be a "farewell gift" to the outgoing US President Barack Obama. Beijing's reaction came after US Assistant Secretary of State for South and Central Asia Nisha Desai Biswal of Indian origin described China as an "outlier" in the process of letting India joining the nuclear trade bloc. "Regarding India's application to the Nuclear Suppliers Group, regarding non-NPT countries admission to the NSG, we have made our position clear before so I will not repeat it," Chinese Foreign Ministry spokesperson Hua Chunying said here. "I just want to point out that NSG membership shall not be some kind of farewell gift for countries to give to each other," Hua said, obliquely referring to Obama who will be succeeded by Donald J. Trump. The US government, under Obama, has strongly backed India's membership in the NSG, which regulates the global nuclear trade. Beijing objects to New Delhi's inclusion in the bloc, citing rules that India's non-signatory status to the nuclear non-proliferation treaty.
While it is unlikely that India will be a part of any Western-led attempts to bandwagon against Beijing any time soon, it also wants to ensure that Beijing does not seize the initiative in India's backyard.
Of course, China is also preparing for the worst. According to military sources in Beijing, China has deployed more troop along the India border, showing off its will to respond immediately if the worst really happens.
India cannot take the foreign cricketers and badminton or other sports/entertainments coming to play joint sport exercises as a victory for foreign policy, after all, they come to play for money and they are trained to do exactly what the sponsors expect and the mafias want. Don't the English cricketers now do exactly what Indian sponsors and government agencies want? Governments promote their sportsmen also to be top billionaires by all possible means.
India requires prudence and pragmatism in dealing with countries with different economic and political systems, like China and Pakistan, while core media in the country should shed extra elements of arrogance and over confidence.
Ongoing India China Confrontation in the Himalayan Region
China and India are two of the most populous countries in the world with ancient civilizations that date back over 4000 years. Since independence, the two countries have enjoyed cooperative diplomatic and trade relations. However, the undertow of territorial disputes and several border skirmishes have kept the relations strained. The relations between China and India became tense fifty‑eight years ago, when beset by tensions over territorial disputes, China attacked India on 20th October 1962 after India attempted to define the borders unilaterally – this was when the world's gaze was fixed on nuclear tensions between Soviet Union and the US. The attack followed a string of allegations with India accusing China of suppressing Tibetan regional autonomy, while China charged India with attempts to weaken its rule in Tibet.
Although the war over Tibet after a brief period of clashes was over soon with China emerging as the victor, the conflict over the Line of Actual Control (LAC) as a disputed border between China and India remained unsettled. The repeated clashes over territorial disputes and disagreements on demarcation of LAC led to increased militarization and deployment of troops in the region. This came with the consequence that violation of the imaginary and undecided LAC by either military during border patrols and surveys ignited standoffs. It also triggered military confrontations between the two whenever there was an increase in border militarization or development of logistical infrastructure close to the disputed border by either side. For instance, in 1975, clashes resulted in the death of four Indian soldiers when Chinese troops established camps in the Daulat Beg Oldi sector 10 km on their side of LAC. In 2013, President Xi Jinping at the BRICS Summit in Durban expressed his desire to settle the Himalayan border dispute as early as possible. However, again in 2014, China and India were face‑to‑face on LAC, when Indian workers started construction of a canal in a border village. In 2017, both militaries came to another stand‑off when Chinese brought heavy road‑building equipment near the Doklam region and started road construction in the disputed area.
Likewise, on 16 June 2020, a clear provocation that escalated into a military engagement between China and India in the rugged terrain of Galwan Valley seemed to be India's infrastructure development in the disputed Ladakh region. Especially, the construction of the north‑south road leading to the airfield in northern Ladakh signified a threat for the Chinese. The construction of road appeared serious to PLA as it could transport troops and supplies to the disputed area and destabilize the LAC balance. The current turn of events that left around 20 Indian and some Chinese soldiers dead and many injured on both sides while several Indian soldiers taken hostage was a Chinese attempt to freeze the construction of Indian infrastructure. The deaths were the first fatalities in four decades from the simmering conflict along the 2000 km undemarcated LAC.
China expected India to put a halt to the construction projects in the disputed area like China did at the tri‑junction region, where China, Bhutan, and India meet, after the 2017 Doklam stand‑off as it was a critical geostrategic location for India. China asserted India to respect the LAC, as there was no clear‑cut demarcation of it and stressed on the need to develop a mechanism to resolve the border dispute. The Chinese Foreign Office spokesperson, after the military engagement stated that they want peace and tranquility, while upholding the so‑called Wuhan spirit of 'mutual understanding, trust, and predictability'.
Both states have made several attempts at confidence‑building measures (CBMs) in the past. The first attempt to foster good neighbourly relations was signed in 1993 titled as "Agreement on the Maintenance of Peace and Tranquillity along the Line of Actual Control in the India‑China Border Areas". Later in 2012, another agreement titled 'Working Mechanism for Consultation and Coordination in India‑China Border Affairs' was signed. This agreement was designed to develop political contacts to prevent border incursions on LAC. In 2019, during the 14th meeting of the CBMs, both states reiterated their intent to actively negotiate the border‑related issues. Although CBMs were fortified but due to lack of attention on a conflict resolution mechanism a new cycle of tensions and accusations ignited, making peace at the moment a dim and distant possibility.
As tensions remain high, if the conflict escalates, it could do so to a point of no return as it could engulf the strategic partners on both sides. With both states adopting an aggressive stance, confidence‑building measures or a peace agreement would be unattainable. Although both states have expressed a wish to resolve the issue through dialogue, neither side has disengaged militarily. The satellite imagery obtained by Reuters showed that military build‑up is strong on both sides of LAC, as 30‑40 Indian vehicles and over 100 vehicles on the Chinese side were spotted near the Galwan River. Both sides have prepared troops and heavy weapons anticipating further escalation. Some analysts have argued that the strategic location of the conflict is in India's favour, but one aspect not to be neglected here is that China's People Liberation Army (PLA) though not having as many bases in the Western theatre as India, does have a stronger backup, and PLA's military is equipped with highly advanced capabilities; hence the balance of military power is heavily tilted in China's favour. According to the 2020 SIPRI Military Expenditure Database, between 2010‑19 China increased military expenditure by 85 percent, while in comparison India increased it by 37 percent. The Indian construction projects that triggered the current conflict was an attempt to shift this balance in its favour, which has so far backfired.
However, to restore the balance of power, the Indian government could move further close to its strategic partner, the US. While the US would continue to provide diplomatic support, on the military front, an increase in military hardware sale to India would intensify a potential arms race in the region. Since the clash has buffeted the esteem of the Indian government that had surged to power on populist and nationalist sentiments India is likely to continue its military modernization pitching it as the need of the hour since the crisis is on‑going. It might even further engage with China militarily to diminish China's growing soft power image enhanced with its role in the global pandemic crisis, the Belt and Road Initiative (BRI) projects, and its technological ventures of covering the world with its 5G technology. India could be under the impression that military engagement would shake China's reputation as a soft power turned into a military aggressor, and negate the impression of 'peaceful rise of China' while supporting the general precept that rise of a power cannot be peaceful in an anarchic world. Standing up to China would support India's aspiration of becoming a regional power, if not global.
Nonetheless, the two advanced nuclear countries should realize the grave danger of a military confrontation. While both have agreed on diffusing tensions as early as possible, they might exert additional pressure on each other by increasing their military presence in the region, or through diplomatic means. In that case, the course of events would go beyond immediate recovery or spread to other domains of warfare. This is what the world least needs at this time as it struggles to save lives and economies from collapse in the wake of coronavirus crisis which continues to take its deadly toll across the world.
The situation should especially be a wakeup call for Modi government which has destabilized the region with a series of recent provocations against most of its neighbours. To give peace a chance, the agreements should be respected and both states should agree to develop a conflict resolution mechanism. For this India would have to give up its political chest‑thumping, which may be enchanting to a section of its domestic audience for the time, but continues to be an intolerable nuisance abroad.
China's Post-COVID strategy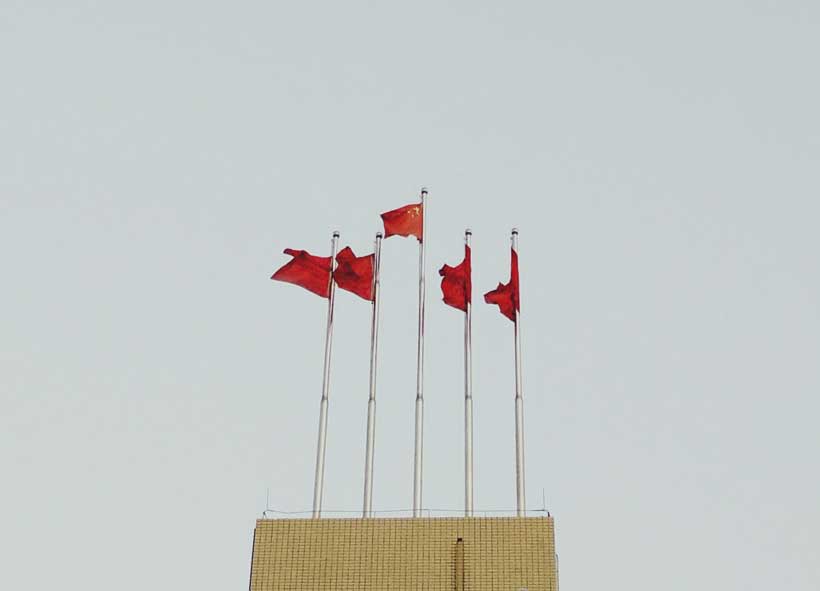 In the aftermath of the covid19 pandemic, the increasingly belligerent behaviour exhibited by China in South Asia and South East Asia and China's imposition of the National Security Law in Hong Kong, it is interesting, to see the tone of the English media of China. While there is not an iota of doubt, that for a genuinely comprehensive peek into the Chinese view on crucial political, economic and geo-political issues, a perusal of the Chinese language papers is imperative. The Global Times,the mouth piece of the Communist Party is important, because it covers the views of Chinese academics, strategic analysts who through their opinion pieces provide a deep insight into China's approach towards crucial economic and geo-political issues.
From the opinion pieces of the past few months, the Global Times one thing is evident, that with the US becoming increasingly unpredictable under Trump, it is virtually invincible. There is a growing belief, that Beijing is formidable both in the economic and strategic context. Strategic Analysts and journalists writing for the English speaking daily, have also tried to drive home the point, that Beijing is in a position to take on the US and its allies and that any attempt to isolate China would not be taken lying down. On the other, articles in the Global Times warn against Anti-China alliances, and also argue against why they will not be possible, pointing to the fault lines between the US and other countries. It has also not refrained from using strong language against countries like Australia and Canada by insinuating that they are acting as mere appendages of the US.
Aggressive stance vis-à-vis countries which blamed China for lack of transparency with regard to the outbreak of the pandemic
If one were to look at the newspaper's labelling of countries which took a firm stand against China, with regard to blaming it for suppression of crucial information pertaining to the pandemic, Beijing was scathing not only in it's criticism of the US, but also lashed out at Australia, for asking for an enquiry into the origins of the deadly pandemic. The newspaper labelled Australia as a mere appendage of the US, even dubbing it as a 'poodle' and 'dog of the US'.
It has also warned other countries, especially Australia, of the economic consequences of taking on Beijing. An article titled, 'Australia's economy cannot withstand Cold War with China' written by Wang Jiamei concludes by saying
'…..If a new Cold War leads to a China-Australia showdown, Australia will pay an unbearable price. Given Australia's high dependence on the Chinese economy, an all-around confrontation will have a catastrophic effect on the Australian economy'
The fact that Beijing did not take kindly to Australia's criticism of China, and a demand for a probe was strongly reiterated by the point, that China imposed sanctions on imports of certain Australian commodities like barley and suspended the import of beef. China has also issued warnings to students and tourists to reconsider travelling to Australia.
This was done days after China's envoy in Australia Cheng Jingye in an interview to an Australian media outlet had warned of strong economic repercussions (the envoy was referring not just to the impact on Australia-China trade, but on Chinese students pursuing education in Australia and tourists visiting Australia) if Australia continued to adopt a strong stance against China on the issue of an enquiry into the origins of the covid19 pandemic (Australia reacted very strongly, to this threat).
Beijing unsettled by emerging alliances?
One interesting point is, that while commentaries and reportage in the Global Times try to send out a message, that China's rise is inexorable and that Beijing is not daunted by emerging alliances and the narrative of reducing economic dependence upon China, it seems to be wary of partnerships and alliances which seek to challenge it. The newspaper repeatedly warns India, UK, Australia, EU member states about the perils of strengthening ties with the US. Even in the midst of recent tensions between India and China, Global Times tried to argue, that India would never openly ally with the US and if it did so, this would be damaging. An article in the Global Times states
It won't be in the interest of India, if it really joins the Five Eye intelligence alliance. the role of a little brother of the US within a certain alliance is not what India really wants.
The article also tries to dissect differences between US and India over a number of issues, which are not wrong, but what it forgets is which two countries do not have differences over strategic and economic issues.
Strong language against Canada
It is not just US, Japan, Australia, EU and India, Global Times has also adopted an aggressive posture vis-à-vis Canada. An article in the Global Times, 'China-Canada ties wane further as Ottawa becomes Washington's puppet over HK' dubbed Justin Trudeau was in pole position of bootlickers castigating him for the measures he has taken, after China tightened its control over Hong Kong via the imposition of National Security Law. Steps taken by Trudeau include suspension of the extradition treaty with Hong Kong and a decision to end the export of sensitive military items to the region.
Cracks in the bilateral relationship had begun to emerge between Canada and China, after Canada detained CFO of Huawei, Meng Wanzhou on a US extradition warrant (in the end of May, a Canadian court had ruled that Wanzhou could be extradited to the US much to the chagrin of the Chinese), while Beijing in return had detained two Canadians Michael Kovrig and Michael Spavlor (both were charged with espionage in June 2020). It would be pertinent to point out that Beijing has signaled it's displeasure with Canada by reducing imports of Canadian products like pork and canola oil.
Conclusion
While Beijing itself is becoming more aggressive and belligerent, it can not expect other countries to stick to their earlier position on crucial strategic issues. While it is unfair to assume that The Global Times can cover the fact is that China is on the defensive, because it is for the first time that other countries are finding common ground in the strategic and economic sphere. While the results may not come overnight, partnerships are likely to concretize and gather momentum, because Beijing seems in no mood to give up on its hegemonic mindset and patronizing approach. Yet, other countries and regional blocs also need to have a clear vision to counter China and divergences over minor issues will not help. It is true, that a zero-sum approach vis-à-vis China is not beneficial, but for that to happen Beijing too needs to act responsibly, which seems doubtful given its behavior on a number of issues.
Why does the Dragon do what it does
The recent stand-off between China and India has been the headlines around the world, especially since the stand-off went ugly with 20 Indian soldiers and an unknown number (probably less than 20) Chinese soldiers losing their lives in a vicious hand to hand combat. Since then, nationalistic sentiments in India are running high with immense public pressure to account for the Chinese for what happened in Galwan Valley. In order to understand the motives behind the recent clashes, one has to go back to 1962 or even before that.
This is not the first time that tensions along the LAC (Line of Actual Control) have flared up and definitely this is not the end of such events. Strategically, what was true in 1962, is true today. The real bone of contention is still Aksai Chin. Aksai Chin is the Dragon's hanging sword on Delhi, which can be unleashed anytime keeping India continuously in a state of passive defensive. As long as China adheres to its strategy on Aksai Chin, it will always have the strategic initiative, and India's "great power ambition" will continue to lay in the abyss of the Indian Ocean.
Aksai Chin indeed was a part of the State of Kashmir but since Kashmir already was being fought over between India and Pakistan and the region being far from both India and Pakistan was inaccessible to both claimants. Beijing saw an opportunity and with tacit approval from Pakistan, went ahead to control this "Sand Sea of China" which is the literal translation of Aksai Chin in Turkic.
Aksai Chin is strategically very important for China. It is the only possible land route that connects China's Xinjiang Region to Tibet. China's G219 Highway and the New Tibet Railway Line both pass through Aksai Chin. If there was not to be an Aksai Chin, the Chinese had to cross the hard terrain of the Kunlun Mountains to connect China's two big landmasses. In 1962 when China took the initiative to cross the LAC, Beijing had several things on its mind. Firstly, it had to secure Aksai China so that a land link between Xinjiang and Tibet can be established. Secondly, China knew that controlling the heights over India is going to give it a long term strategic advantage and through it, it could always keep the initiative in its hands, keeping Delhi in a defensive position for an unprecedented time in the future. Thirdly, it wanted to support Pakistan which was having its own problems in the Kashmir sector. In case of any future Indo-Pak conflict, China would be in a better position to intervene. Lastly, and most important of all, Beijing wanted to ensure no future disturbances along the LAC. The main objective of the 1962 War was made very clear by Chairman Mao at the Xiangshan meeting: "At least 30 years of peace must be guaranteed."
One may wonder that what does thirty years of peace do. What merited the risk of crossing over the LAC by the Chinese? The answer is rather simple: Integration of Tibet! Tibet was having internal problems and especially after the Dalai Lama fled Tibet it was getting harder for Beijing to keep it under control, but that couldn't be possible unless and otherwise New Delhi would be completely knocked out of the Tibetan game and this is exactly what the 1962 War did.
Some analysts believe that instead of focusing on Aksai Chin which is a rugged piece of land, China should've gone for the Arunachal Pradesh, which the Chinese call "Southern Tibet". The area is also much richer in natural resources than Aksai Chin. The point made then by Beijing was that Arunachal Pradesh was a more difficult terrain to be defended plus the aim was to stabilize the whole of Tibet, instead of just Southern Tibet. Another interesting reason why Beijing kept mum about Southern Tibet was that it was the "Granary of Tibet", the absence of which meant that Tibet had to rely on Beijing for its basic necessities. Another well-calculated move by Beijing to reign in Tibet.
All along the 1962 War, Beijing was clear of its objectives. It was not expansionism that drove the war but rather strategic interests. The war was initiated by China, and China itself took the initiative to end it. It was clear to the Chinese planners that any War with India had to be swift, decisive and must set the tone for future engagements. That is why after the PLA took over control over large swathes of land across the LAC and the "McMahon Line", then quickly retreated back to the "McMahon Line". Since the battleground is usually too cold for battle, the PLA had only a two-month window to launch an offensive
Prior to the war, at the Beijing Xiangshan meeting in which it was decided to fight the 1962 War, Zhou Enlai specifically instructed that "logistics must be done well, and we must never increase the number of casualties due to logistical factors like in the Korean War."
Learning on the lessons of 1962, India unilaterally decided not to build any infrastructure in the region surrounding the LAC, fearing that the same infrastructure might be used by the Chinese to come into the Indian mainland. Since now New Delhi is ascertaining its regional and global power, it is constructing new roads and infrastructure along the LAC and China is clearly not happy with India changing the status quo. Previously, the status quo maintained gave Beijing a strategic advantage. One border issue had pinned India for decades, wasting a lot of India's national power, and has allowed China to develop with peace of mind for decades.