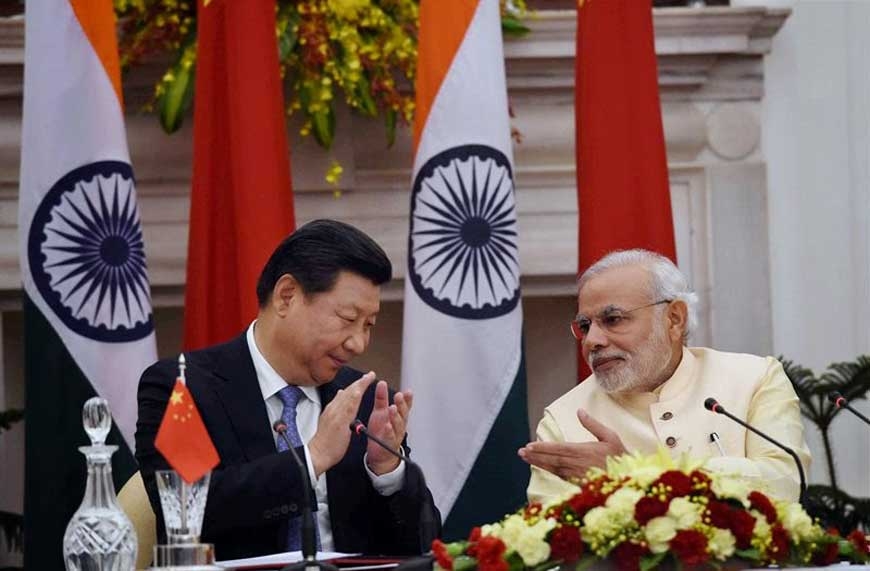 China and India- the world's two most populous nations comprise more than one-third of global humanity. Memories of border battles — the most recent in 1962 — fester, and the 4,000-km frontier, which cuts through disputed territory, remains tense.
They share a border, have fought a bitter war and continue to compete for geopolitical supremacy in the region. Political ambitions and distrust on either side have sometimes been at the cost of better economic sense.
Both have a long and chequered history dating back thousands of years. The two neighbours fought a short border war in 1962 and since then, although much water has flowed down the Yangtze, a sense of mistrust has consistently dogged their bilateral ties. Both are shy of each other.
On the positive side, India has been cooperating with China in many areas. It was one of the first countries to join the China-led Asian Infrastructure Investment Bank. Besides, India and China are part of the BRICS, along with Brazil, Russia and South Africa. They have also teamed up at global forums on climate change to resist demands from developed nations to agree to binding emission cuts. China and India, however, fear that agreeing to binding emission cuts would force them to jettison their ambitious growth targets.
New Delhi is loath to take on Beijing directly. This is seen in the recent case of India cancelling the visa issued earlier to a Uighur activist, Dolkun Isa, the Executive Committee Chairman of the World Uyghur Congress to attend a conference in India. The granting of the visa to the Uighur activist was seen as New Delhi's riposte to being snubbed by Beijing on the Masood Azhar issue. t has shown that New Delhi is wary of upsetting Beijing, especially given its enormous clout at international forums as a permanent Security Council member and NSG entry- both China has blocked.
India and China jointly occupy parts of Jammu Kashmir along with Pakistan. India now asks Pakistan to vacate and hand over Azad Kashmir to India but it has not asked China also do the same. The reason is obvious. In fact, it was Pakistan which always demanded Kashmir region from Indian occupied Jammu Kashmir while India refused to budge and in order to retain Kashmir India even fought war with Pakistan, leading to the creation of LOC. India first acquired nukes followed later by Pakistan, further complicating the tensed situation in the region and bilateral relations between India and Pakistan.
A UN veto member China is possibly the largest global economy while as largest South Asian regional economy India tries to somehow catch the distance. Between Beijing and New Delhi, nonstop flights only run three times a week. There is not a single direct flight between two of Asia's financial capitals, Shanghai and Mumbai. In 2013, 175,000 Chinese went on holiday in India. Thailand, meanwhile, attracted 4.6 million Chinese visitors in 2014.
Tensions
The Indian government recently has expelled three journalists of the Chinese official news agency, Xinhua. This is the first time for New Delhi to expel Chinese journalists that could kick off a diplomatic row between China and India.
India's military buildup near Chinese border also shows that the situation has become a tinderbox. It has been revealed that the Indian Army has moved over 100 Russian tanks T-72 to Ladakh, a disputed border between Indian occupied state of Kashmir and Tibet under Chinese rule. Both countries are preparing for the worst situation they could face in the midst of deteriorating relations. In addition, Indian Navy has sent three warships to the disputed South China Sea to plan training with Malaysian Navy, showing that there's nothing strange with seeing any military conflicts between the two countries.
India thinks it should be on the UNSC with veto handle to control the world and is annoyed that China has not supported India's pitch for permanent membership of the UNSC (United Nations Security Council) and is the only one of the P5 members trying to stymie India's bid. Sparks flew when in the days leading up to India's second round of nuclear tests in May 1998, the then Indian defence minister George Fernandes, termed Beijing as India's "potential enemy No 1" worse than Pakistan or USA.
The stumbling blocks between India and China are hard to budge. China's historic friendship with Pakistan hasn't helped, nor has India's decades-long hosting of the Dalai Lama, the exiled Tibetan spiritual leader living in India newly sworn in PM Modi invited to his inauguration in 2014. Then there are other issues too working against any credible ties to which NSG issue has been added last year to sustain the bilateral tensions. India seeks membership of NSG without signing the NPT. USA just pretends as a "terror victim" and strategic partner against terror wars, it promotes Indian interests in nuclear domains.
In recent years there have been attempts to mend and strengthen the relationship through bilateral visits from both heads of state. And while Indian manufacturers, like their counterparts elsewhere, complain about inexpensive Chinese products flooding the market, Indian consumers are lapping up everything from cheap Chinese phones and toys to clothes made in China.
India's military buildup near Chinese border also shows that the situation has become a tinderbox. It has been revealed that the Indian Army has moved over 100 Russian tanks T-72 to Ladakh, a disputed border between Indian occupied state of Kashmir and Tibet under Chinese rule. Both countries are preparing for the worst situation they could face in the midst of deteriorating relations. In addition, Indian Navy has sent three warships to the disputed South China Sea to plan training with Malaysian Navy, showing that there's nothing strange with seeing any military conflicts between the two countries.
The Indian government recently has expelled three journalists of the Chinese official news agency, Xinhua. This is the first time for New Delhi to expel Chinese journalists that could kick off a diplomatic row between China and India.
Fruitless effort
Narendra Modi made his first visit to China as Prime Minister of India in May 2014. One of his first stops will be the Wild Goose Pagoda in the central Chinese city of Xi'an, which, legend has it, was originally built to store first Chinese pilgrim to India in 7th Century Xuanzang's Buddhist treasures from India.
Much before he became India's prime minister, Narendra Modi was already a self-professed admirer of China. "China and its people have a special place in my heart," Modi said in 2011 while he was on his fourth visit to the country as the Gujarat chief minister. "I admire their hard working, disciplined and resilient nature and above all, their sense of history."
So, after he took control of the government in New Delhi last May, Modi wasted little time to try and strengthen ties with Beijing. Within days of taking office, he promptly invited Chinese president Xi Jinping to India. But by the time Xi arrived in September, the tricky nature of the India-China relationship was in full display: The Chinese president conducted a state visit in India while troops from both countries squared off in Ladakh.
Though relations between these two Asian behemoths warmed up in the aftermath of the visit of the Chinese President Xi Jinping to India in September 2014 and the visit of the Indian Prime Minister Narendra Modi to China in May 2015, the relations have once again hurtled downhill as they pursue their respective foreign policy agendas. Mutual trips by Indo-China leaders therefore have not been able to improve the tensed relations.
Through the "Maritime Silk Road" initiative, China has been trying to reach out to countries such as Sri Lanka and Maldives, right in India's immediate neighborhood. Besides, of late, relations between China and Nepal have warmed up, particularly in the aftermath of the visit to Beijing by the Nepalese Prime Minister Khadga Prasad Sharma Oli. Although China has asked India to be part of the Maritime Silk Road, New Delhi is in two minds over whether to join owing to the suspicion of India and other nations. Moreover, China put a "technical hold" over India's attempts to designate the Jaish-e-Mohammed chief, Maulana Masood Azhar, as a terrorist since New Delhi views him to be the mastermind behind a host of terror attacks in India, with the most recent being the Pathankot terror attacks in early January this year.
China accused Modi of "playing little tricks" over border disputes and security issues, hoping to boost his domestic prestige while increasing his leverage in negotiations with China and went on to criticize the Indian elites' blind arrogance and confidence in their corrupt democracy, as well as "the inferiority of India's ordinary people."
Political economy
China is India's largest trading partner and like with many other countries, this relationship too is imbalanced. Trade between the two countries has been expanding annually at 15 percent since 2007. The bilateral trade between the two countries stood at $70.4bn last year with India reeling under a huge trade deficit of $52.67bn. Unfortunately for India, so has its trade deficit with China. In the financial year 2016 that ended March 31, India exported a little over $9 billion worth of goods to China, while it imported goods worth $61.7 billion, taking the trade deficit to a whopping $52.7 billion. Therefore trade experts said India's dependence on China for export oriented growth is limited.
India mainly exports raw materials to China such as cotton and copper and as the Chinese economy rebalances to become more consumer led, there will be a further fall in exports. This is evident from the 2015-2016 figures that show Indian exports to China fell by over 24 percent.. China is a huge market for Ayurvedic and agro products and IT services India is eager to expand there in a big way.
The bilateral trade hovers around $70 billion, less than half the dollar figure of commercial ties between China and Australia. When President Xi visited India last September, the trip was hailed as groundbreaking — the first time a Chinese President had stepped on Indian soil in eight years. Yet Xi's visit resulted in an underwhelming $20 billion in promised Chinese investment over a five-year period. By contrast, Xi vowed $46 billion in infrastructure spending for ally Pakistan during a trip there last month. As Xi was in India, the Chinese People's Liberation Army reportedly dispatched hundreds of soldiers past the Line of Actual Control to a remote section of the India-China frontier.
Over the past 13 years, 142 Chinese companies have invested a total of $27 billion in India in sectors such as automotive parts and consumer electronics, according to CII. Top Chinese companies investing in India include Huawei Telecommunications, ZTE, Alibaba and Xiaomi. During the same period, 139 Indian companies have invested $12 billion in China, largely in the software and Information technology (IT) services sector. Many small manufacturers are sourcing products as diverse as firecrackers and religious idols from China. During Indian PM Narendra Modi's visit to China, 24 agreements worth $22 billion were signed between Indian and Chinese companies to finance and invest in projects across sectors.
Meanwhile, China's relations with its "all-weather friend" Pakistan are at an all-time high, with Beijing announcing that it will invest $46bn in the China-Pakistan Economic Corridor, which will connect Kashgar in China's Xinjiang province with the port of Gwadar in Pakistan.
Large Indian firms have traditionally been more interested in looking for mergers and acquisition in the West rather than investing in China. Dependence on China to fund the budget deficit is far more limited compared to some global peers. India's total external borrowing as of the end of 2015 stood at $480 billion and the share of sovereign debt was just 19 percent with the rest made up of commercial borrowings and nonresident Indian deposits, according to government data.
Tourism is an area of cooperation and many Buddhists from China come to India while visiting the birthplace in neighboring Nepal of Shakyamuni Buddha, the founder of the religion.
American link
The relations between China and India are worsening rapidly as India supports US pivot in Asia against China. Unless the situation changes dramatically, the two countries could even go through armed conflict against each other. It would be no strange thing if this really happens, because they really went through armed conflict due to Sino-Indian border dispute in the early 1960s.
Part of the reason for the growing bonhomie between India and the USA is China's growing belligerence. India and the USA say they have a common interest in ensuring the safety and security of the sea lanes of communication in the Indo-Pacific region which was reflected in the joint statement released by the two sides during the visit of the US President Barack Obama to India in January last year.
And under Modi, India has slowly, but surely, moved away from its traditional stance of non-alignment to multi-alignment. He has given a vigorous push to India's "Act-East Policy" which aims at improving India's ties with its neighbours in Southeast and East Asia. His first visit outside the Indian subcontinent after taking charge was to Japan, which has seen frayed ties with Beijing, of late.
The US-India Joint Statement notes that they "affirm the importance of safe-guarding maritime security and ensuring freedom of navigation and over flight throughout the region, especially in the South China Sea."
Chinese leadership advocates free trade, while US President-elect Donald Trump and his team appear committed to carrying out an economic policy based on protectionism. Trump has repeatedly blamed free trade agreements for damaging the US economy. The US president-elect has announced that he will withdraw from the controversial Trans-Pacific Partnership (TPP)
Chinese President Xi Jinping warned Trump and any other country intent on pursuing protectionism against such policies in a speech at the World Economic Forum held in Davos, Switzerland. He compared such efforts to attempts to "divert a river into lakes and creeks" and said that it was not possible.
China will be hit the hardest if countries hide behind trade barriers and if globalization is seen as the root cause of all evil. While the shadow of a credit bubble looms large over its economy, China, driven by a low-wage, enormous workforce, has become the global factory for low-cost products which it badly needs to market. It must have noted Donald Trump's protectionist rhetoric with horror.
Observation
The reason behind such confrontation between the two countries is not complicated. First, their disputed borders are the major cause of tensions between them. They even had a war against each other 50 years ago, but failed to make any progress on the border dispute. Besides, the gap between the positions of China and India over Tibet is wide. While China sees Tibet as one of its local governments, India sees it as a government in exile.
Other reasons such as China's expanding footprint in Nepal and its ambition to keep Southeast Asia under its control are also driving the bilateral relationship to the gate of armed conflict. Perhaps, the relations between the two countries should pass the crisis in order to find a string of efforts for normalization.
The bilateral relationship cannot be very good unless the border dispute is solved. Yes, not just that. In order to facilitate the bilateral ties on a large scale, India has to solve the Kashmir issue as Kashmir nation lies between India and China.
China's has opposed India's entry into the 48-member grouping, which is one of the irritants in Sino-India ties. China on January 16 warned India's entry into the Nuclear Suppliers Group (NSG) cannot be a "farewell gift" to the outgoing US President Barack Obama. Beijing's reaction came after US Assistant Secretary of State for South and Central Asia Nisha Desai Biswal of Indian origin described China as an "outlier" in the process of letting India joining the nuclear trade bloc. "Regarding India's application to the Nuclear Suppliers Group, regarding non-NPT countries admission to the NSG, we have made our position clear before so I will not repeat it," Chinese Foreign Ministry spokesperson Hua Chunying said here. "I just want to point out that NSG membership shall not be some kind of farewell gift for countries to give to each other," Hua said, obliquely referring to Obama who will be succeeded by Donald J. Trump. The US government, under Obama, has strongly backed India's membership in the NSG, which regulates the global nuclear trade. Beijing objects to New Delhi's inclusion in the bloc, citing rules that India's non-signatory status to the nuclear non-proliferation treaty.
While it is unlikely that India will be a part of any Western-led attempts to bandwagon against Beijing any time soon, it also wants to ensure that Beijing does not seize the initiative in India's backyard.
Of course, China is also preparing for the worst. According to military sources in Beijing, China has deployed more troop along the India border, showing off its will to respond immediately if the worst really happens.
India cannot take the foreign cricketers and badminton or other sports/entertainments coming to play joint sport exercises as a victory for foreign policy, after all, they come to play for money and they are trained to do exactly what the sponsors expect and the mafias want. Don't the English cricketers now do exactly what Indian sponsors and government agencies want? Governments promote their sportsmen also to be top billionaires by all possible means.
India requires prudence and pragmatism in dealing with countries with different economic and political systems, like China and Pakistan, while core media in the country should shed extra elements of arrogance and over confidence.
Implications of French President's Visit to China on the International Arena
French President Emmanuel Macron pursues a policy of opening up to China and solving problems that may arise peacefully and diplomatically. France and Germany are the main pillars of the European Union, and the French opening to China is a European recognition of the importance of China's role internationally.
Last Monday, the French president paid a three-day official visit to China amidst the US-China trade war. The French president has previously promised to visit China once a year throughout his term. These official exchanges between China and France strengthen China's international standing, and prove the theory that China is a peaceful country seeking cooperation and opening up to the world.
Fifty-five years after the establishment of diplomatic relations between China and France, a bilateral relationship based on respect and friendship despite some differences in regimes or strategic alliances. The Chinese model is mainly based on people-to-people communication and peaceful cooperation, and these are the main pillars of the Belt and Road Initiative launched by Chinese President Xi Jinping in 2013.
Despite Washington's withdrawal from the Paris climate agreement in 2015, Beijing and Paris have kept their promises to contain global warming, a positive point in the bilateral relationship. The French president considered that China and France should lead the climate agreement. Cooperation between the two countries has emerged considerably in the industrial sector, such as the development of nuclear energy, aerospace, and the automotive industry. Academic cooperation between the two countries has also been boosted through student exchange programs and the high demand for Chinese language learning in France, which was previously rare.
Commenting on the importance of trade exchanges between China and the EU, the Chinese Ministry of Commerce showed that trade between China and the EU exceeded 322.5 billion US dollars in the first half of 2018, up 13 percent year on year. Chinese Ambassador to France Zhai Jun recently expressed that China and France are to expand cooperation in agriculture, energy, advanced manufacturing and artificial intelligence.
From the ancient city of Xi'an, the French president announced that an alliance between Beijing, Europe and Paris should be established for a better future for the world, and Macron stressed the need for a balanced relationship between China and Europe. The French president praised the Belt and Road Initiative and called for its activation in order to enhance the trade role of Asia and Europe.
France was the first Western country to recognize the People's Republic of China. In a meeting with French ambassadors, the French president stressed that the West is in a moment of decline and China is progressing at a tremendous speed. During his visit to China, the French president took advantage of the trade war between the United States and China and worked to develop France-China trade relations, increase French trade partners to China, and promoting the French tourism, agriculture and services sectors.
France is seeking to strengthen Sino-European relations because of its great benefit to the European economy, but it is contrary to the Western orientation. China is also a beneficiary of good relations with France, because France has influence in Africa and many regions in the world and is a permanent member of the Security Council and it is a developed country at the military, technological and technical levels. China's cooperation with a powerful country like France will bring many benefits and opportunities.
China's great economic, technological and military progress indicates that China has become an important country in international relations, and it is in the interest of any country in the world to establish good relations with China. The best evidence is that France is seeking to establish good relations with China, as well as the European Union countries to make their relationship with China distinctive.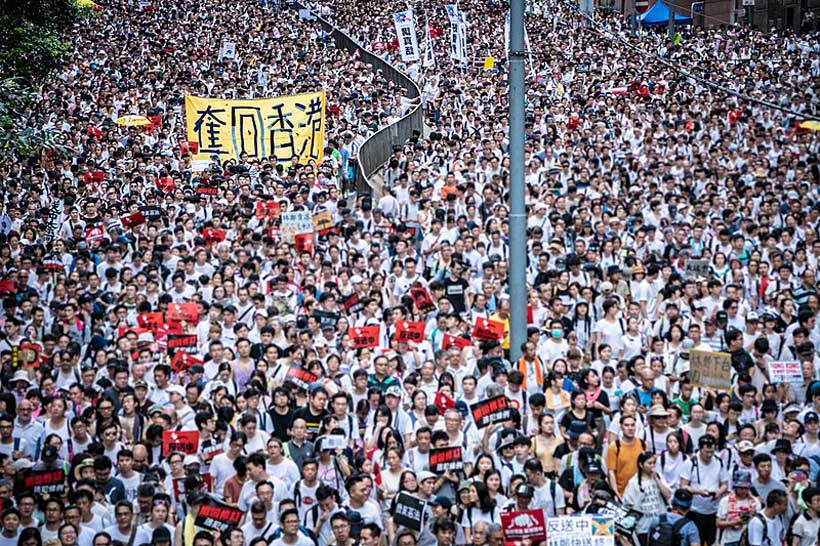 After about three months of riots, often particularly violent and destructive, on October 23, 2019 the Chief Executive of Hong Kong, Carrie Lam, aliasChen Yuet-Ngor, withdrew the bill on mandatory extradition to China, which had sparked protests in the former British colony.
Never evaluate a mass protest on the basis of the reason triggering it, which can often be irrelevant.
The extradition bill, announced in September, was withdrawn a few days after the resumption of works in Hong Kong's Parliament.
With a view to partially repressing the insurgency, the now former Chief Executive of the city-state resorted to emergency legislation, by mainly using the colonial law of 1922, which prohibits the use of masks and disguises during public demonstrations.
The protesters were and still are approximately one million, out of about eight million inhabitants.
The subsequent riots, designed to last well beyond the bill withdrawal, strained the always tense relations between the former British colony and China, with the result of throwing into crisis also the Chinese governance of the city-State and, in particular, the traditional Chinese model of "One Nation, Two Systems".
If this model fails, the formula devised by Deng Xiaoping will not even apply to Taiwan, or possibly to the North Pacific islands, and it will anyway undermine the current Chinese idea of peaceful expansion and win-win collaboration between the Chinese motherland and all the bordering areas both in the Pacific and in Central Asia.
Since 1977 – when the Fragrant Harbour came under Chinese control – all riots in Hong Kong have been triggered by strong dissatisfaction with the Chinese motherland.
The deep economic and social dissatisfaction has always been targeted against China and never towards local power elites. In psychoanalysis, this phenomenon is called transference.
In 2003 many thousands of people living in the former British colony had protested against a law that, in their opinion, would make it difficult to express opinions and feelings defined as "anti-Chinese" and the law was postponed indefinitely.
Further riots broke out in 2012, when a clearly pro-Chinese school program was proposed and once again the local authorities (upon direct instructions from the national government) avoided implementing that law.
In 2014, there were the sit-in street protests of the Occupy Central movement, the so-called "Umbrella Revolution", which lasted three months to ask – this time unsuccessfully – for the Chief Executive of Hong Kong to be elected by universal suffrage.
Currently, however, the real reason underlying the protests in Hong Kong is not so much the request for implementing – in the former British colony – democratic mechanisms typical of the Western culture, but rather the tension resulting from great economic inequalities.
Not to mention the broken social elevator, which is probably the real trigger of the youth rebellion in the Fragrant Harbour.
People, especially the skilled workers, cannot be ensured acceptable wages and salaries. This is the reason why many inhabitants of the old city-state migrate to Canada or Taiwan. Another blow to China.
Young graduates' wages and salaries have dropped by at least 10% compared to 25 years ago. There is a very severe housing crisis, but anyway the choice to create a local oligarchy that tries to convince the other inhabitants is an old British idea.
In Hong Kong an oligarchy of very few families dominates the local economic system, which is worth a GDP of 343.5 billion US dollars.
The five most powerful families are still those led by Li Ka-shing, Kwong Siu-hing, Lee Shau-kee, Henry Cheng and Joseph Lau.
These five families alone control 70% of the entire Hong Kong market, including real estate and telecommunications, as well as TV channels.
The 21 leading families in Hong Kong control a wealth equal to 1,893 billion US dollars.
Obviously in China no family controls such a huge amount of wealth. In the People's Republic of China the five major real estate operators put together control only 9% of the entire Chinese construction market.
China, however, has tried to gain support in Hong Kong, especially among entrepreneurs, with the Greater Bay Area plan, i.e. the new megalopolis on the Pearl River Delta between Hong Kong, Guangdong and Macao.
This is, in fact, Hong Kong's infrastructure aggregation to the Autonomous Economic Zone of the Pearl River Delta, between Guangzou, Shenzhen, Zhuhai, Foshan, Zhongshan amd Jiangmen, which are the most dynamic economic areas in China.
Taxes are very low in Hong Kong, as in all business-friendly countries but, coincidentally, there is no inheritance tax.
The administrative machinery is therefore very simple: Hong Kong'sgovernment does not gain sufficient revenue from taxation and hence has no funds to invest in schools, hospitals and infrastructure.
A city like Hong Kong, with over seven million inhabitants, provides for a statutory minimum wage of 4.82 US dollars per hour. Almost all flats are illegal and, considering the cost of rents and properties, they are so small that they are about half of the "tiny apartments" in large U.S. cities, which are already very small.
The average size of Hong Kong flats per inhabitant is 16 square metres, while in Shanghai the average size per inhabitant is 36 square metres.
45% of Hong Kong's inhabitants live in state-owned or subsidised apartments, while 90% of the Chinese people own at least their own houses.
Hong Kong's tax reserves are at least 147 billion US dollars, but the local political system is too fragmented – even from the viewpoint of the complex electoral system – to mediate between different interests and to really solve the main problems of the city-state, namely housing, health and education costs.
Those who are ill must wait an average of 150 weeks before being examined, with 43 public hospitals that, however, employ 40% of the doctors available, since the private sector attracts many of the best professionals.
The solution of employing doctors from abroad is not very practicable, considering the low attractiveness of Hong Kong's wages and salaries and the poor quality of health facilities.
One in six people living in Hong Kong suffers from mental disorders due to social, economic and health conditions.
The graduates' average wages and salaries in the former British colony have fallen by over 10% compared to a decade ago. Nowadays graduates are easily paid the best salaries and wages of workers without university qualifications.
As already said, there is no social elevator.
The cost per square metre is much higher in Hong Kong than the average price in a central neighbourhood of New York.
As happens also in the West, the career prospects of young graduates in Hong Kong are very limited. They never have a house of their own and their prospects are much worse than those of their colleagues who lived in Hong Kong a few decades ago.
In Hong Kong the Gini Index, which is used as a gauge of economic inequality, is 5+, one of the highest and most unequal indexes in the world.
This is the real political core of the issue: for those who protested in Hong Kong – as currently happens everywhere in the world – "democracy" in the Euro-American sense means above all greater social equality, many opportunities and efficient public services.
This is obviously not true, but it is the model that took to the streets the crowds of the Arab Spring, the Euromaidan citizens in Ukraine and the "colourful" rebellions in Georgia.
Paradoxically, just when Western democracies are turned into States based on unearned income and the extent and quality of their Welfare diminish, they are mythicized as efficient and open.
In this case, Vilfredo Pareto would have spoken of "residues", i.e. memories of a time that no longer exists, but that are still in action in the crowds' deep psyche.
In 1997, at the time of unification based on the "One Country, Two Systems" model, Hong Kong's GDP accounted for 18% of whole China's GDP.
Currently, after China's fast growth, the importance of the Fragrant Harbour is the same as the relevance of Guangdong or Shenzhen.
The current protests, however, have also put Hong Kong's business community in severe difficulty.
The majority of Hong Kong's leading companies do most of their business with China. It is not by chance that last August the Chinese authorities gathered 500 of the most important businessmen and political leaders in Shenzen to support the Hong Kong government and, possibly, sufficiently improve the social situation of the city-state, which, however, remains explosive.
Hong Kong's financial market has suffered the greatest damage.
The Chinese company Alibaba has postponed its listing on the local Stock Exchange until the uprising has finally abated, while Fitch has lowered Hong Kong's rating.
Pending a systemic integration with the regulatory network of mainland China.
Another problem that the riots in the Flagrant Harbour may cause is migration.
Last year 24,300 highly-skilled young people left the country and the rate of migration requests has risen by 15% per year.
Where do they go? To Canada, Australia, New Zealand and Taiwan.
On the other hand, the number of Chinese people migrating to Hong Kong has decreased by 14,000 per year.
Furthermore, this November there will be the Hong Kong District Council elections and it is very likely that youth discontent will find a way to assert itself in the polls.
A fragmented society under crisis creates many problems for those planning business cycles and Hong Kong is likely to see its growth rate decrease by at least 3%.
Where will capital go? Obviously in the Chinese area bordering on Hong Kong, with an expected investment growth of almost 6.5%, largely consisting of capital outflows from Hong Kong.
The differences between Hong Kong and China, however, are much wider than those shown with violence during the recent long protests, which often followed the same tactics of the color revolutions organized by the US Services, according to the old model developed by the Einstein Institute.
For China, Deng Xiaoping's criterion "One Country, Two Systems" means that China takes over Hong Kong despite the differences in political and economic systems, which will eventually tend to overlap. Conversely, for Hong Kong leaders the "Country" is just lip service paid in view of maintaining the separation from China, both from a cultural as well as an economic and political viewpoint.
China has so far controlled Hong Kong with the same logic with which it has supervised its "dangerous" territories, namely Tibet, Xinjiang and Manchuria.
The current Chinese centralization stems from the analysis of the inglorious collapse of the almost federalist Soviet Union. In this regard, suffice to recall the ironic smiles that welcomed Gorbachev on his visit to China, just when the Tiananmen Square protests had reached their climax.
It does not matter that the right to secession was established in Lenin's Sacred Texts. The fact is that, for the Chinese leadership, the unity of the Country and the repression of every regionalist secession is fundamental to the permanence of the State – and of the Party.
China, however, still depends on the financial hub of Hong Kong, the only one completely open to the world capital flows.
According to 2018 data, the Hong Kong Stock Exchange capitalizes 29.9 trillion local dollars.
Shenzhen and Shanghai cannot replace Hong Kong in this respect.
Therefore, China could not intervene in Hong Kong because otherwise it would have destroyed on its own the way connecting China to international capital flows.
Furthermore, the repression of the Hong Kong movements would have destroyed the model "One Country, Two Systems", which is exactly the one that will be applied to Taiwan, at the right time.
Nor should we forget that, pending the New Silk Road promoted by China, the Western Powers are conceiving political mechanisms for disrupting and possibly stopping the "Road", by organizing rebellions and anti-Chinese parties and movements in the various countries where the passage of the Chinese One Belt One Road (OBOR) is planned.
Obviously China does not stand by and wait to see.
From this viewpoint, the Hong Kong uprising is a model that will soon be imitated and that China will oppose exactly with the same political tactics.
As is recommended in the Thirty-Six Stratagems, "Befriend a distant State and strikes a neighbouring one".
The final front in the South China Sea: Vietnam against China
A few years back, political tensions in the South China Sea was rife. China was seen as the main aggressor in trying to claim island areas for resource extraction. Now, the political climate in the rich region is changing at the expense of Vietnam's interest. More so, in the legitimate interest of Vietnam. In the past few years, Chinese diplomacy has managed to take both Malaysia and the Philippines into its plans. Both the nations are on the verge of sanctioning new energy deals with China. On the other hand, Vietnam is resisting. In the midst of Chinese bullying, it is standing alone.
The South China Sea is making news again for a good reason. In what would best describe an economic proxy tool, foreign companies from the USA and Spain are investing on Vietnam's share of resources, in the sea. China asserts itself with its self-designed nine-dash line, which separates its sphere of influence along the coastal borders, circling all three nations. Because of foreign interests in the region, it is not nations themselves, indulging into a confrontation. Exxon Mobil, which is the world's largest energy enterprise, has entered into the picture. While Exxon's initial plans were backed up by America's political meddling; now, the multinational is facing a crisis that does not seem to escape from the China-Vietnam row.
Legitimately, the blue whale oil block, is a region inside the Vietnamese jurisdiction. As much as the oceanic geography is tricky to comprehend, China is closely monitoring Vietnam's deal with Exxon, in order to extract natural gas reserves. Scientifically, the resources belong to Vietnam, but there could be possible twists in the favour of China. For instance, oceanic topographies have a history of breeding territorial tussle between coastal nations. Turkey and Greece are yet to settle their own set of similar crisis. The point of the matter is that Vietnam's gas rich rocks might emanate inside the seabed leading to or from the Chinese territory. The Chinese government is not protesting the Exxon deal, but there is no prize for an obvious guess. They are saving the topographic argument for and if the need arises.
In fact, China is keeping peace under Exxon's own credit problems. There are reports of the company facing capital crunches to fund similar projects in South America. A couple of years after it signed a deal with the Vietnamese government, the energy giant is looking to exit the troubled high seas. Exxon will also be looking to avoid the kind of embarrassment that PetroVietnam forced upon RepsolSA, a Spanish energy giant. While the Chinese started cruising their military vessels around the area, Vietnam succumbed to pressure and decided to end their extraction plans. Although the exact trade-offs cannot be accrued, the Spanish company incurred losses of more than $200 million after the exit. These events will be playing on the minds of Exxon hierarchy. A similar fate is possible in the face of Chinese intimidation. Exxon is also not sure if the Trump administration would come for a rescue; if things go horribly wrong.
Nevertheless, Vietnam is resisting. With more than $2.5 trillion at stake, China is succeeding in its pursuit to persuade both Malaysia and the Philippines for joint benefits. The Blue Whale project is important to Vietnam, as it would meet energy demands for the next twenty years. Amid its own financial problems and geopolitical standoff, Exxon will also be considering selling the project. The South China Sea is inviting another international standoff in the coming time. This time, the stakes are high. China is on the verge of controlling the waters, on its will.