To be veiled or not to be veiled?
2016 was one of the bloodiest years in the recent history of Europe. European states increased their security measures in order to prevent and protect their peoples from Islamic terrorists and Islamic extremism. Europe and West found a new phenomenon without precedent and now they are called to battle with it.
However, the real nightmare is not the constant fear of terrorists but the rising fear of our Muslim neighbor. How many times have you suspiciously watched a Muslim imam during the boarding time of your flight? How many times have you felt in sorrow or in anxiety about a Muslim woman wearing a niqab? How many times have you found yourself thinking that all women in Muslim countries get married before their teens or that all men beat their wives? Religion has started to set boundaries, bridge walls and bring hostile feelings into the surface: hostile feelings against our religious and cultural "unknown".
Living permanently in Greece, I came face to face with the refugee crisis. Greece had to deal with thousands of Syrians coming from a different cultural, political and religious background. This was the breaking point where we understood the impact and the power of the Greek Orthodox Church in the Greek political and social life. First of all, in order to understand all these facts, I should mention the privileged position of the Church in the Greek Constitution. According to the Article 3, which governs the relations between the State and the Greek Orthodox Church, of the Greek Constitution (1986), the Greek Orthodoxy is the prevailing religion and the Greek Orthodox Church has the full autonomy to run all the operations related to the religious affairs. The Greek Orthodox dealt with the refugee and migrant crisis in really bad terms. Many bishops referred to them as a miasma for the Greek society and a crusade against them has to be started in order not to let them convert Christians into Islam. In September 2016, when the first refugee children would go the Greek primary schools, some Church's representatives condemned this action and put the blame on the State that these children should not sit next to the Greek young generation. The ex-Minister of Education, Mr. Nikos Filis made an effort to change thecourse of religion in High Schools and introduce the course of World religions. The reaction of the Church led to replacement from another Minister who would follow the instructions of religious leaders and would maintain the course in the form of indoctrination as it is since the late '50s. The specific form of the course puts in the margin, students from different religions, humanists or atheists and does not provide an inclusive school community.
Moreover, Greece is one of the countries that have not yet built a mosque for the Muslim communities. Muslim communities gather and pray in their own apartments or basements which serve religious purposes. The building of a mosque is one of the most problematic debates in Greece, especially after the pressure by the Turkish government in order to reopen the Theological School of Halki (closed since 1971).
As I already mentioned, both secular and less secular states of Europe such as Greece, are called to deal with problems and difficulties arising from religions and their embodiment in the field of politics and of human rights. This paper is going to discuss some of the most alarming issues in the current public debate related to religious expression. A special emphasis will be put on the relations between Islam and Christianity.
This article is divided in the following parts: The first part is going to examine the secular character of Europe and its challenges and consequences in a multireligious society. The second part is going to examine the issue of Muslim women veil and its ban from National Laws as well as women rights in both Muslim and Christian communities. Both primary sources and secondary sources have been selected in order to investigate the issues from various perspectives. A special attention has been paid on the decisions of the European Court of Human Rights on cases related to freedom of religion and freedom of expression.
A Secular Europe
According to the study of Pew Research Center which was conducted in 2010, Europe counted 550, 2 millions of Christians, 139,9million Non-religious and 43,3million Muslims. The prevailing religion in every single country in Europe was Christianity except for Estonia and Czech Republic where the majority of population was non-religious (59.6 % and 76.4 % respectively). Only in Albania, Islam is the prevailing religion counting 80.3% of the population. Following this study, in 2015, European Commission conducted a research related to values and European spirit. For Europeans, the most important things are the human rights, peace, life respect, individual rights and religion. Instead, they believe that the followings things represent most European Union and are less important for them: respect for other cultures, Law of the State (l' état de droit) and democracy.
What is secularism and secular identity?
According to Casanova, secularization of Europe is an undeniable social fact. Religion does not play a key role in the fate of people and a new social model emerged in the recent decades of European history. According to Ferrari, secularization is the process where decisions affecting politics, law and economics must be based on reason, not on the faith of one or other citizen. The private and the public life are completely separated. In the era of secularization, religion belongs to the sphere of private life and public life has no room for religious affairs. Taking into account the flux of foreign minorities in Europe which carried with them new cultures and religions, secularism was the ideal solution to create inclusive societies without discrimination on the grounds of those cultural elements. To prevent the danger of a clash and to ensure the equal treatment of all religions, it is essential to ground the public sphere on a principle that is universal and neutral and therefore capable of being accepted by all people regardless of their religion: this principle is human reason. Consequently, Church and State are two different entities with different goals and different means which sometimes may cooperate for the social and common good.
Secularization has been a new and universal concept which according to Weber is a unique feature of European thought. But how has secularization emerged and prevailed in European societies? According to Linda Woodhead, there have been numerous social and political changes which favored the emergence of secularism after the 1970's. First of all, individual rights gained ground and people determined their lives as they wished without letting anyone get involved in their decisions. Other changes such as late capitalism and consumer capitalism, tertiary knowledge open to large part of people, urbanization, globalization of economy in the post-colonial era, well — educated and skillful young people from all the social classes, women rights and women emancipation, sexual revolution and feminist movements, political emancipation constituted the fertile ground where secularism built its own building. Linda Woodhead offers two definitions for secularization. The first one is the social secularization which is the process whereby religion loses its power and influence over and within society while personal secularization has to do with the decline of individual allegiance and commitment to religion. State marginalized Church in Western states but still lays on its support in cases of emergency. Church still has impact on many people lives and its messages are strong enough even if many people decide not to follow strictly these guidelines and instructions.
A secular Christian identity
Someone would wonder how European and enlightened, secular societies are compatible with the rates of the study by Pew Research center where the majority identify themselves as Christian. As Casanova mentions, large numbers of Europeans even in the most secular countries still identify themselves as "Christian", pointing to an implicit, diffused and submerged Christian cultural identity. According to Casanova, "secular" and "Christian" identities are intertwined in complex and rarely verbalized modes among most Europeans. However, scholars coming from different backgrounds, support the view that European secularism is selectively secular and is more friendly towards Christianity and less tolerant towards other religions and especially Islam. According to them, European secularism is a result of Christian cultural identity which still applies its standards and ignores other cultures and religions. Ferrari mentions related to that view that this secularism is double-standard secularism where the conditions of access to the secular public sphere, apparently the same for all religions, are actually more demanding for non-Christians religions whose doctrinal and organizational characteristics are less compatible with the secular profile that distinguishes the public sphere. The secular character of the current European societies has a lot been under doubt by the leaders of the Church and of various religions. The Ecumenical Patriarch Bartholomew I in his message towards the "Le Parti Populaire Européen" for its 21st Congress writes " The history of Europe which contains some common features has been abandoned by modernity. We have to take into consideration the religious dimension if we want cohesion…and this is why our Church and PPE have started a fertile dialogue since 1995".
Le Foulard Islamique and Women rights in Christianity & Islam
During summer 2016, mainstream and social media were full of images from arrests of Muslim women wearing burkini in French beaches. Burkini is officially banned by French Law and these arrests generated a wave of protests by human rights activists and Muslims all over the world. These protests had to do with the freedom of expression of Muslim women and Muslims in general and if finally the French secular state treats equally everybody without discrimination. On the other side, secularists talked about respect to the secular state of France and its laws of forbidding ostentious religious symbols.
France is the first European secular state where the State and Religion were separated and where the neutrality (Laïcité) of the State towards religion was applied. The Government passed the Law of 9 December 1905, installing in France a regime of Separation of Church and State which remains the current regime. The State must provide to everyone the possibility of attending at the ceremonies of his Church and of being instructed in the beliefs proper to his chosen religion. Equality between the various religions implies that there is no state religion, no "official" or dominant religion, no recognized Churches..No religion has a particular public status. Toleration must be extended to all religions, and even to unbelief. What is more, the church must be subject to political control.
These values have been reflected also on the European Convention of Human Rights and especially on the Article 9, paragraph 1 which protects the freedom of religion. The second paragraph sets the limits between the public and the private sphere where religion belongs Article 9 (2) allows governments to limit "manifestations" of religion or belief, albeit "only to such limitations as are prescribed by law and are necessary in a democratic society in the interests of public safety, for the protection of public order, health or morals, or the protection of the rights and freedom of others" The wearing of veil brought initially in France a clash of cultures and traditions. As Ferrari writes, "On the one hand, immigration have brought into Europe an increasing number of people who follow religions that are not traditional in the Old continent (in particular, Islam): on the other hand an increasing number of citizens claim the right to follow publicly the tenets of their religion in matter of dress codes, gender relations, family law and so forth, and this is outside the private domain to which religion had been confined.
The veil of Muslim women reflected a symbol of oppression in European secular societies and lack of human rights. In 2004, the French National Assembly passed a legislation which makes it illegal for Muslim women to wear headscarves within French public schools. To be precise the legislation refers to the banning of ostentatious religious symbols within the secular domain of the public school system. The Jewish kippa (yarmulke) as well as "oversize" crosses are prohibited with the Muslim headscarf.The ultimate objective was the complete assimilation of these religious groups to the French values and principles and the creation of a more cohesive and inclusive society. The scarf only gradually became a charged political symbol of the presence of Islam in France. The beginning was made in 1989 where a principal in secondary school in Creil (a suburb in Paris) expelled three girls because they wore the headscarf. After this, a series of social battles in favor of the scarf or against the scarf was followed for many years. Cultural differences were brought into the surface. Muslim women who wear a hijab often being represented as agents of "fundamentalism" or "terrorism" and as indicators of the inassimilable nature of Muslims in Europe. On the one hand, people defended the cultural and religious traditions and the freedom of religious expression and on the other hand, people defended the secular values, the place of religion in the private sphere, the freedom of Muslim women from oppression, violence and patriarchal structures. Each side accused the other of ignorance or xenophobia but both sides defended human rights from a different perspective.
But what Muslim women say about this? Islam as every religion is internally diverse and has many branches with different views, more or less strict, towards human rights and women rights. In the study of Sara Silvestri, 132 Muslim women living in European countries took part in order to reach some conclusions regarding how they embody their Islamic tradition in their daily lives. Young generations are eager to access Islamic knowledge, to intellectually, spiritually and critically "own" their religion. Many women seek personal empowerment through close and conscious adherence to religious performance, by studying the Quran and Arabic independently, by attending lectures, by becoming able to challenge tradition and to dispute male leadership from within. Also, many women reject the male dominant and traditional forms of Islam and stop belonging to institutions and conservative communities. Consequently, they live their own spirituality in their own unique way even when they do not follow religious practices (non organized Islam). In the study of Nadia Jeldtoft, where she interviews people who do not belong to organized Islam, she states " The practices have been adapted to fit into everyday life. They are spiritual because they provide interviewees with a space of their own to practice Islam on their own terms." As Jeldtoft mentions, the nature of this form of religion is private and internalized with an individual approach. Many Muslim women believe that headscarf is a symbol of universal values and modesty and they feel better wearing it and not oppressed.
It is of crucial importance to make a short comparison with the liberty that women enjoy in Christianity. Europe has its roots in Catholicism and later some countries were led by Lutheranism and Protestantism. After the Early Christianity, the position of women got deteriorated and they became objects under the ownership of their family male members or second class citizens. Lutheranism place the male in the position of everybody's master (paterfamilias) and women were confined in the domestic sphere with no public speech or influence. A new model of civic order where women were excluded, was promoted by Lutheran theology. Apart from their marginal role as care takers of their family, women also were depicted as devils who try to bring troubles (witch hunting).
After many centuries, women started playing a more crucial role in the Church and its operations. In a money based economy, men were absolutely interested in the profit making and women took care of charity affairs. In the last decades, modernity paved the way for Christianity. Its traditional and conservative methods were not tolerant by young people and radical measures should be taken in order to find an effective balance. Female autonomy led to the first steps for the change in the traditional typology of gender models in Christianity. In November 2016, Pope Francis extended power to priests to forgive abortion. This is the next big step of Roman Catholicism to the female reproductive autonomy which was unconceivable some years ago. Female reproductive autonomy was established as a human right in international law by the Convention of the Elimination all Forms of Discrimination against women, in force since 1981 ratified by 168 states. The Holy See, along with eight Muslim States has not signed this Convention, nor the 1952 Convention on the Political Rights of Women.
Europe tells Biden "no way" to Cold War with China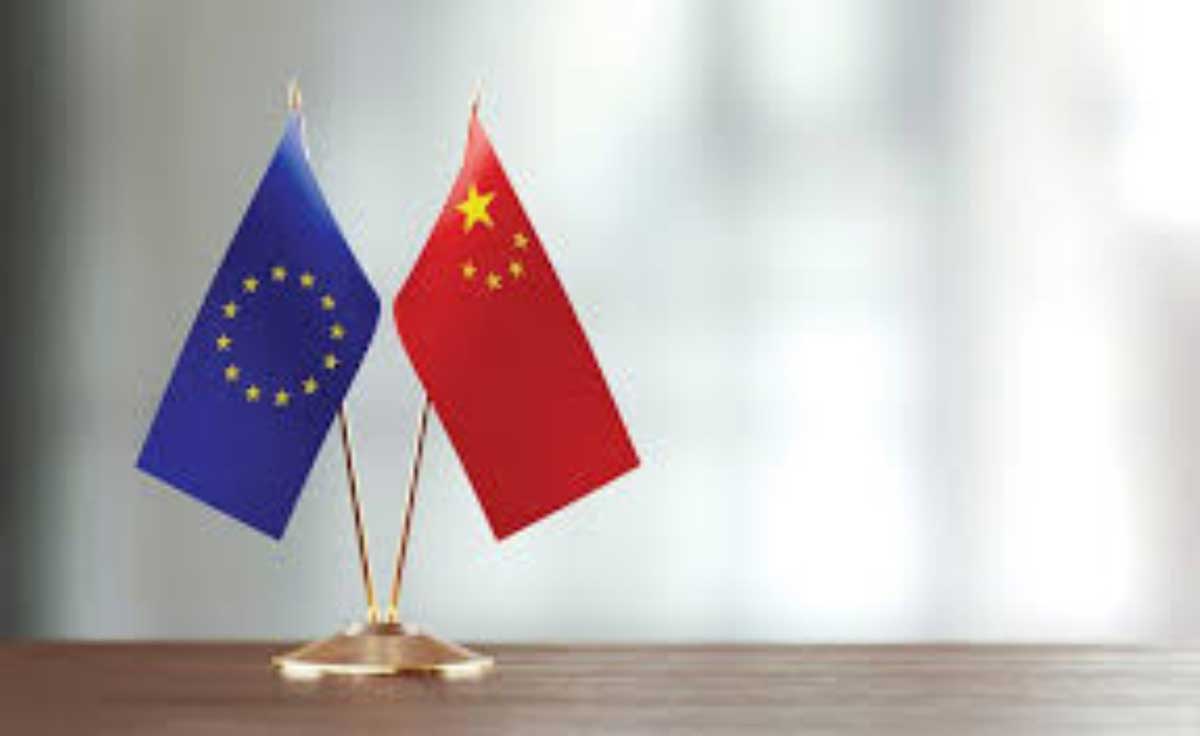 Amidst the first big transatlantic tensions for the Biden Administration, a new poll shows that the majority of Europeans see a new Cold War happening between the United States and China, but they don't see themselves as a part of it.
Overwhelmingly, 62% of Europeans believe that the US is engaged in a new Cold War against China, a new poll just released by the European Council on Foreign Relations found. Just yesterday US President Joe Biden claimed before the UN General Assembly that there is no such thing and the US is not engaging in a new Cold War. So, Europeans see Biden's bluff and call him on it.
The study was released on Wednesday by Mark Leonard and Ivan Krastev at the European Council on Foreign Relations and found that Europeans don't see themselves as direct participants in the US-China Cold War. This viewpoint is most pronounced in Bulgaria, Hungary, Austria, Portugal and Italy, according to the study. The prevailing view, in each of the 12 surveyed EU member states, is one of irrelevance – with respondents in Hungary (91%), Bulgaria (80%), Portugal (79%), and Austria (78%) saying that their country is not in a conflict with Beijing.
Only 15% of Europeans believe that the EU is engaged in a Cold War against China. The percentage is so low that one wonders if there should even be such a question. It is not only not a priority, it is not even a question on the agenda for Europeans. Even at the highest point of EU "hawkishness", only 33% of Swedes hold the view that their country is currently in a Cold War with China. Leonard and Krastev warn that if Washington and Brussels are preparing for an all-in generational struggle against China, this runs against the grain of opinion in Europe, and leaders in Washington and Brussels will quickly discover that they "do not have a societal consensus behind them".
"The European public thinks there is a new cold war – but they don't want to have anything to do with it. Our polling reveals that a "cold war" framing risks alienating European voters", Mark Leonard said.
The EU doesn't have the backing of its citizens to follow the US in its new Cold War pursuit. But unlike the views of the authors of the study, my view is that this is not a transatlantic rift that we actually have to be trying to fix. Biden's China policy won't be Europe's China policy, and that's that, despite US efforts to persuade Europe to follow, as I've argued months ago for the Brussels Report and in Modern Diplomacy.
In March this year, Gallup released a poll that showed that 45% of Americans see China as the greatest US enemy. The poll did not frame the question as Cold War but it can be argued that Joe Biden has some mandate derived from the opinion of American people. That is not the case for Europe at all, to the extent that most of us don't see "China as an enemy" even as a relevant question.
The US's China pursuit is already giving horrible for the US results in Europe, as French President Macron withdrew the French Ambassador to the US. The US made a deal already in June, as a part of the trilateral partnership with the UK and Australia, and stabbed France in the back months ago to Macron's last-minute surprise last week. Max Boot at the Council on Foreign Relations argues that it is Macron that is actually arrogant to expect that commitments and deals should mean something: "Back in February, Macron rejected the idea of a U.S.-E.U. common front against China. Now he complains when America pursues its own strategy against China. What's French for chutzpah?" What Boot does get right is that indeed, there won't be a joint US-EU front on China, and European citizens also don't want this, as the recent poll has made clear.
The US saying Europe should follow the US into a Cold War with China over human rights is the same thing as China saying that Europe should start a Cold War with the US over the bad US human rights record. It's not going to happen. You have to understand that this is how ridiculous the proposition sounds to us, Europeans. Leonard and Krastev urge the EU leadership to "make the case for more assertive policies" towards China around European and national interests rather than a Cold War logic, so that they can sell a strong, united, and compelling case for the future of the Atlantic alliance to European citizens.
I am not sure that I agree, as "more assertive policies" and "cold war" is probably the same thing in the mind of most Europeans and I don't think that the nuance helps here or matters at all. Leaders like Biden argue anyway that the US is not really pursuing a Cold War. The authors caution EU leaders against adopting a "cold war" framing. You say "framing", I say "spin". Should we be in engaging in spins at all to sell unnecessary conflict to EU citizens only to please the US?
"Unlike during the first cold war, [Europeans] do not see an immediate, existential threat", Leonard clarified. European politicians can no longer rely on tensions with China to convince the electorate of the value of transatlantic relations. "Instead, they need to make the case from European interests, showing how a rebalanced alliance can empower and restore sovereignty to European citizens in a dangerous world", Mark Leonard added. The study shows that there is a growing "disconnect" between the policy ambitions of those in Brussels and how Europeans think. EU citizens should stick to their sentiments and not be convinced to look for conflict where it doesn't exist, or change what they see and hear with their own eyes and ears in favor of elusive things like the transatlantic partnership, which the US itself doesn't believe in anyways. And the last thing that should be done is to scare Europeans by convincing them they live in a "dangerous world" and China is the biggest threat or concern.
What the study makes clear is that a Cold War framing against China is likely to repel more EU voters than it attracts, and if there is one thing that politicians know it is that you have to listen to the polls in what your people are telling you instead of engaging in spins. Those that don't listen in advance get the signs eventually. At the end of the day it's not important what Biden wants.
Germany and its Neo-imperial quest
In January 2021, eight months ago, when rumours about the possibility of appointment of Christian Schmidt as the High Representative in Bosnia occurred for the first time, I published the text under the title 'Has Germany Lost Its NATO Compass?'. In this text I announced that Schmidt was appointed to help Dragan Čović, the leader of the Croatian HDZ party, to disrupt the constitutional structure of Bosnia-Herzegovina and create precoditions for secession of the Serb- and Croatian-held territories in Bosnia and the country's final dissolution. I can hardly add anything new to it, except for the fact that Schmidt's recent statements at the conference of Deutsche Atlantische Gesellschaft have fully confirmed my claims that his role in Bosnia is to act as Čović's ally in the latter's attempts to carve up the Bosnian Constitution.
Schmidt is a person with a heavy burden, the burden of a man who has continuously been promoting Croatian interests, for which the Croatian state decorated him with the medal of "Ante Starčević", which, in his own words, he "proudly wears" and shares with several Croatian convicted war criminals who participated in the 1992-1995 aggression on Bosnia, whom Schmidt obviously perceives as his ideological brethren. The question is, then, why Germany appointed him as the High Representative in Bosnia?
Germany's policy towards Bosnia, exercised mostly through the institutions of the European Union, has continuously been based on the concept of Bosnia's ethnic partition. The phrases that we can occassionaly hear from the EU, on inviolability of state boundaries in the Balkans, is just a rhetoric adapted to the demands by the United States to keep these boundaries intact. So far, these boundaries have remained intact mainly due to the US efforts to preserve them. However, from the notorious Lisbon Conference in February 1992 to the present day, the European Union has always officially stood behind the idea that Bosnia-Herzegovina should be partitioned along ethnic lines. At the Lisbon Conference, Lord Carrington and Jose Cutileiro, the official representatives of the then European Community, which has in the meantime been rebranded as the European Union, drew the maps with lines of ethnic partition of Bosnia-Herzegovina, along which the ethnic cleansing was committed, with 100.000 killed and 1,000.000 expelled, so as to make its territory compatible with their maps. Neither Germany nor the European Union have ever distanced themselves from the idea they promoted and imposed at the Lisbon Conference as 'the only possible solution' for Bosnia, despite the grave consequences that followed. Nor has this idea ever stopped being a must within their foreign policy circles, as it has recently been demonstrated by the so-called Janša Non-Paper, launched a couple of months ago, which also advocates the final partition and dissolution of Bosnia-Herzegovina. Such a plan is probably a product of the powerful right-wing circles in the European institutions, such as Schmidt's CSU, rather than a homework of Janez Janša, the current Prime Minister of Slovenia, whose party is a part of these circles, albeit a minor one. To be sure, Germany is not the original author of the idea of Bosnia's partition, this author is Great Britain, which launched it directly through Lord Carrington at the Lisbon Conference. Yet, Germany has never shown a will to distance itself from this idea, nor has it done the European Union. Moreover, the appointment of Schmidt, as a member of those political circles which promote ethnic partition as the only solution for multiethnic countries, testifies to the fact that Germany has decided to fully apply this idea and act as its chief promoter.
In this process, the neighbouring countries, Serbia and Croatia, with their extreme nationalist policies, can only act as the EU's proxies, in charge for the physical implemenation of Bosnia's pre-meditated disappearance. All the crimes that Serbia and Croatia committed on the Bosnian soil – from the military aggression, over war crimes, ethnic cleansing and genocide, up to the 30 year-long efforts to undermine Bosnia's sovereignty and territorial integrity – have always had a direct approval and absolute support of the leading EU countries. During the war and in its aftermath, Great Britain and France were the leaders of the initiatives to impose ethnic partition on the citizens of Bosnia-Herzegovina, and now Germany has taken up their role. In such a context, the increasing aggressiveness of Serbia and Croatia can only be interpreted as a consequence of the EU's intention to finish with Bosnia for good, and Schmidt has arrived to Bosnia to facilitate that process. Therefore, it is high time for the citizens of Bosnia-Herzegovina to abandon any ilussions about the true intentions of the European Union and reject its Trojan Horse in the form of the current High Representative.
Should there be an age limit to be President?
The presidential elections in Bulgaria are nearing in November 2021 and I would like to run for President of Bulgaria, but the issue is the age limit.
To run for President in Bulgaria a candidate needs to be at least 40 years old and I am 37. I am not the first to raise the question: should there be an age limit to run for President, and generally for office, and isn't an age limit actually age discrimination?
Under the international human rights law standard, putting an age limit is allowed in the context of political participation under the right to vote and the right to run to be elected. Human Rights Committee General Comment No.25 interpreting the International Covenant on Civil and Political Rights states that an age limit has to be based on objective and reasonable criteria, adding that it is reasonable to have a higher age requirement for certain offices. As it stands, the law says that having an age limit for president is not age discrimination, but is 40 actually a reasonable cut-off? National legislations can change. We need to lower the age limit and rethink what's a reasonable age for President, and not do away with all age limits.
We have seen strong leaders emerge as heads of state and government who are below 40 years of age. Sanna Marin, Prime Minister of Finland, became Prime Minister at 34. Sebastrian Kurz, the Prime Minister of Austria, was elected at 31. Jacinda Ardern, Prime Minister of New Zealand, assumed her position at 37. So perhaps it is time to rethink age limits for the highest offices.
The US has plenty of examples where elected Senators and Congressmen actually beat the age limit and made it despite the convention. The age limit for Senator in the US is 30 years old. Rush Holt was elected to the US Senate at 29. In South Carolina, two State Senators were elected at 24 years old and they were seated anyways. The age limit for US president is 35 years old.
In Argentina, the age cut-off is 30. In India, it is 35. In Pakistan, it is 45 years old. In Turkey, it is 40 years old. Iceland says 35 years old. In France, it is 18.
Generally, democracies set lower age limits. More conservative countries set the age limit higher in line with stereotypes rather than any real world evidence that a 45 year-old or 55 year-old person would be more effective and better suited to the job. Liberal countries tend to set lower age limits.
40 years old to be a President of Bulgaria seems to be an arbitrary line drawn. And while it is legal to have some age limits, 40 years old seems to be last century. Changing the age limit for president of Bulgaria could be a task for the next Bulgarian Parliament for which Bulgarians will also vote on the same date as they vote for President.