The Threat of "Salafi Sufism": An Opportunity for Regional Cooperation in Central Asia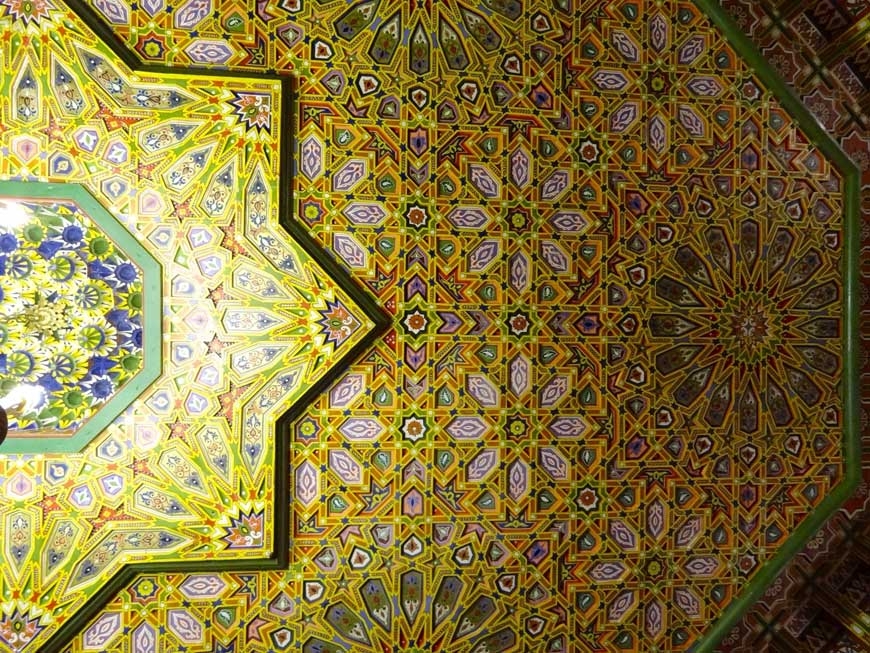 Sufism, a philosophy whose most distinctive feature is tolerance, and its followers have been always known for their forbearance. It has been accepted and respected over time by people, groups, and even governments. At the same time, regardless of the political and apolitical functions of this intellectual movement or the historical background of some of its leaders and followers who have played significant roles in various political junctures, the spread of Sufism is often regarded only as a consequence of political shrinkage and/or social dormancy.
This is too limiting and inaccurate. Thankfully, Sufist movements have recently attracted much scholarly attention. A growing research literature is emerging and multiple analyses have been made about its socio-political capacities. As it so happens, Sufism forms a part of the most traditional layers of social life in many Muslim communities. But why have the potential capacities and influence of Sufist movements been taken more seriously only in recent years? The answer centers around the rather unique spread and adaptations of this movement over recent time and space.
Central Asia has become the central arena of important Sufist movements, including Yasawiyya, Kubraviyah, Naqshbandiyah, Qadariyya, Chishti order, and even Zinyya. The region has served as the geographical hub for the emergence of well-known elders such as Khawaja Ahmad Yassawi, Sheikh Najmuddin Kubra, Sayeed Amir Kalal, Bahauddin Naqshbandi, Khwaja Allahyar Sufi, and Khwaja Ubaidullah Ahrar. (Pakatchi, 2013). During the domination of Tsarist Russia and then Communism, Sufism did not lose its traditional position and even in the middle decades of the twentieth century served as a mobilizing force under the command of Basmachi movements such as Junaid Khan (Qurban Nazar Serdar). The Soviet central planning system and communist propaganda policies failed to drive Sufism out. In addition, the independence period for Central Asian republics provided one of the most appropriate contexts for the revitalization of Sufism, what with the ideological and identity vacuum caused by the Soviet collapse, along with heavy social, political, and economic problems. Thus, Central Asia once again became an arena of prosperity for Sufist thought and practice, with widespread public acceptance of its teachings. But something is happening today in the religious life of Central Asia in that there is a discernable difference between the quality of contemporary Sufism and its historical precedent. In other words, despite the relative awareness of the etiquette and emergence of Sufi orders, it seems that sometimes there is distorted knowledge about the true history and accumulated experience of the formal Sufi school. This can serve as a turning point for Sufist movements in the life of modern Muslim Central Asian communities. But that turning point can bring about both wanted and unwanted developments.
In recent years, Sufism in Central Asia has been raised as a serious object of study in many think tanks. It is arguably the only viable rival for regional political leaders to create an alternative socio-political system to the more prominent and worrisome "political Islam." Consequently, influencing and co-opting strong Sufist movements became executive policy for many Central Asian governments. Simultaneously, Sufism, with great ability to mobilize followers, has received much attention from regional and transregional actors. But to achieve full political capacity and social influence, Sufism's inherent spirit of tolerance and humility was counter-effective: its ability to absorb other ideas and its potential rapid penetration of external teachings, along with its hierarchical structure and compliance system of Sufi orders, allowed for some degradation of fundamental Sufi principles. This resulted in the mobilization of some 'Sufi' orders that were deprived of "tolerance" and equipped with "Takfiri" teaching. This trend prevents such modern Sufi movements from realizing their maximum political and social capacities.
In this new era, various leaders and groups in Central Asia, including "Ibrahim Hazrat" in Buwayda, Uzbekistan, (a charismatic Naqshbandi Sufi), "Sheikh Ismatullah" in Kazakhstan (the leader of the Sufi group of Jahriyah which represents a legacy composed of Yasawiyya and Qadariyya teachings), "Sheikh Zaharuddin Ghori Shahrikhany," another influential Naqshbandi figure in Uzbekistan, "Ismail Abdul Wahab Zadeh" in Dushanbe, Tajikistan, (known as Sufi Qadariyya), "Sheikh Qurban Ali" in Kazakhstan, "Haji Ismail Pir Mohammadzadeh" a Naqshbandi leader in Tajikistan, and "Davoud Khan Ghori Artykev" in Namangan, figure most prominently. According to Olcott (Olcott, 2007), the revival of Sufism in this area began in two main ways: first in the form of active political movements and then in the form of a conscious denial of political participation. Davoud Khan Ghori Artykev in Namangan and "Adil Khan" in Andijan led groups supporting political activity, while denial of political participation is led by Ibrahim Hazrat and his followers. Addressing the unique details of diverse Sufi movements in Central Asia requires more opportunity and support for better research. What I address here is an aspect of Central Asian Sufist modernity that, so far, has received less attention: namely, the creeping conflation of many of these movements' teachings with Takfiri and Salafist beliefs.
Furthermore, the 21st century spread of Salafist and Wahhabist movements in Central Asia is well-known. It is interesting that some Sufi leaders have received their religious training in non-Central Asian countries such as Pakistan and have experienced a coexistence in such countries with an embracing of Wahhabism. Recently, clear signs of change have been seen amongst the various Sufi orders in Central Asia – both in appearance and social behavior – that in most cases are copacetic to Salafist and Wahhabist teachings. In addition, different inter- and intra-Sufi groups compete in the region, thus increasing the severity of this detrimental conduct. Sufist leaders have often expressed severe criticism towards each other and some attacks (often in the form of calling others heretical and claiming that they are not on the true path of Islam) are made by these leaders toward other Sufis.
These conditions create an environment that can be classified as very close in style and character to radical Islamist and Takfiri movements. Thus, it seems Central Asia could very well gradually witness the rise of Salafism and Wahhabism under the formal cover of Sufism. This must be dealt with by trying to intensify and institutionalize the formal Sufist movements, maintaining their traditional socialization practices and deepening their epistemological teachings. The Sufi leaders of Central Asia need to be better acquainted with the accumulated experience of historical virtue and power in Sufism. This goal is best achieved through regional cooperation amongst countries that already enjoy more moderate, rational Islamic institutions. This can even serve as an introduction for visualizing multilateral diplomacy in Central Asia that comes from the common need to combat extremism and develop true cooperative diplomatic initiatives. Thus, Sufism in Central Asia seems to have two potential future pathways. One leads to rationality, tolerance, and diplomatic cooperation. The other leads to fallacious teachings, intolerance, and judgmental condemnation. Hopefully the former path with win out over the latter.
Turkmenistan, the heart of the Silk Road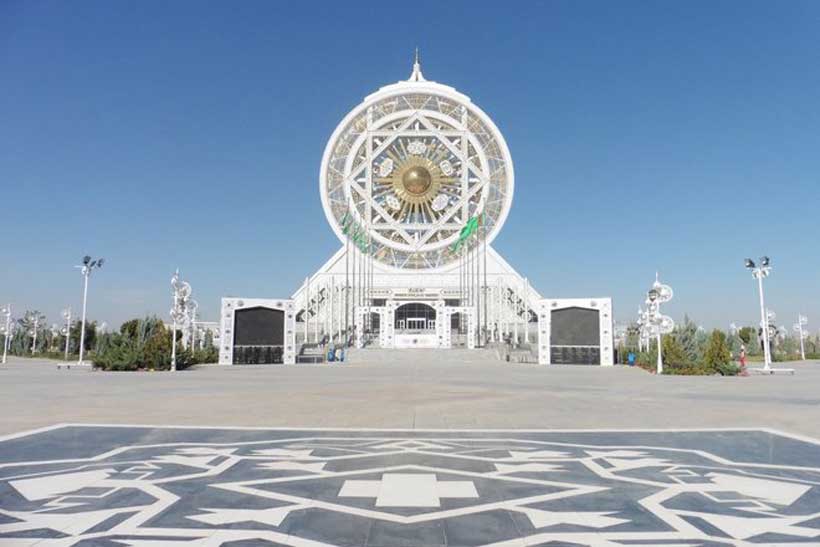 Over 140 years have passed since Ferdinand von Richthofen, a German geologist, geographer and traveler and the president of the Berlin Geographical Society, coined the term Silk Road. Several more decades had passed before scholars in different countries became seriously interested in this phenomenon of the antique and medieval world and began to study specific routes of caravan trade where Turkmen land had an important place. The Silk Road era, which lasted for more than 15 centuries, has left thousands of monuments and landmarks along the entire route from the Mediterranean to the Far East. Many of them are located on the territory of Turkmenistan.
In the modern era, the legendary route is being restored in a new quality, carrying the idea of revitalizing and strengthening trade, economic, humanitarian, and cultural ties between states and peoples. In his book, "Turkmenistan, the Heart of the Silk Road," Turkmenistan President Gurbanguly Berdymukhamedov, citing facts of national history, ancient tales and legends, as well as events and developments from the country's modern life, notes that a fundamental role in the evolution and active use of the Silk Road, each of its branches being on the UNESCO List of World Heritage Sites, belongs to, among others, the Turkmen people.
Thus, as our state carries out major transport projects of the century, a modern history is being written and the idea of restoring the Silk Road – the heart of which is independent and neutral Turkmenistan – is being revisited.
The Kazakhstan-Turkmenistan-Iran transnational railway line that has been put into operation can carry up to 10-12 million tons of cargo and makes it possible to connect to transport infrastructure in the east and south, gaining access to dynamically developing markets. Turkmenistan believes it is essential to focus efforts on ensuring that the opportunities for Central Asian and Caspian states arising in connection with these major transit projects be used to the maximum degree possible.
Convenient and safe international corridors using rail, motor, air, and water transport ensure the sustainable development of the entire region, foster neighborly relations between nations, strengthen cooperation, expand the volumes of trade turnover and help address a number of social issues. As a strategic goal defining the contours of a new, large-scale format of cooperation on the continent, they help create wide-ranging and promising geoeconomic configurations. In this context, it is important to note that an international sea port in the city of Turkmenbashi is due to be put into operation in the very near future.
The state invests heavily in modernizing the material and technical base of the transport sector and improving management through modern technology. High priority is given to developing sea and river transport infrastructure. Active work is under way to improve passenger and cargo transportation, develop ports and port facilities, and streamline state oversight over the safety of shipping and navigation.
Central and South Asia is a space for active international cooperation. Ancient trade routes passed across these territories for centuries, bringing Asia and Europe closer together. At present, countries in these regions play an important role in expanding global economic partnership. The implementation of projects in these areas opens up great prospects for the optimization of transport, energy and cultural ties in the Eurasian space. Therefore, as Turkmenistan President Gurbanguly Berdymukhamedov noted, our region is emerging as a major link in the formation of a new trade and economic partnership model on the continent, which, in turn, opens up opportunities for creating a platform for more wide-ranging cooperation. This is a vivid example of deeply innovative thinking in the global geoeconomic configuration and a vision of strategic perspectives for its development.
First published in our partner International Affairs
Kazakhstan Needs Robust Reforms to Boost Productivity and Growth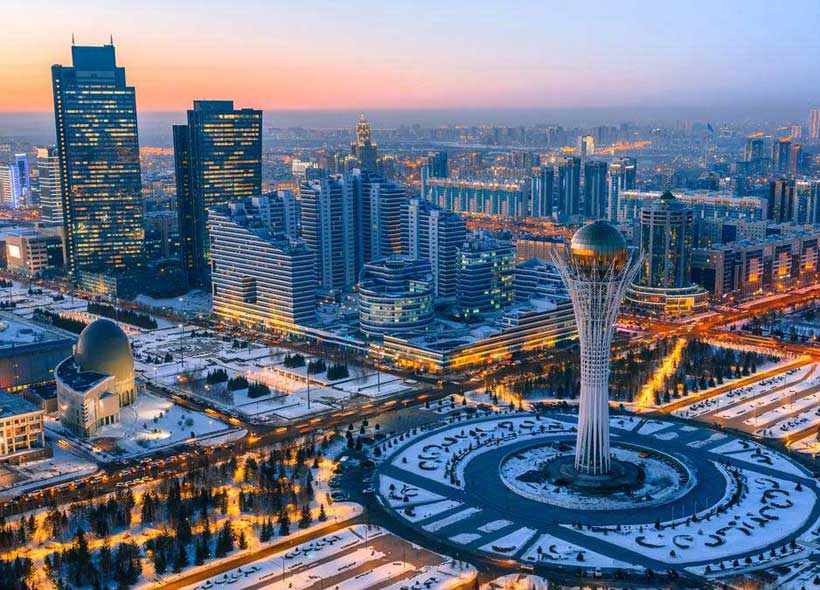 Kazakhstan needs to boost productivity to reverse the slowdown in economic growth, says a new World Bank report released today.
The new Country Economic Memorandum "Kazakhstan: Reversing the Productivity Stagnation", underlines that increasing productivity and growth will require robust reforms to strengthen the private sector, including strengthening the competitiveness of companies, reducing the role of the state in the economy, strengthening the rule of law, and fighting corruption.
In the 2000s, Kazakhstan had experienced exceptional economic growth — supported by rising oil and gas prices, rapid growth of domestic demand and soaring investments. During this time poverty and inequality declined significantly. However, since the global economic downturn of 2008, Kazakhstan's growth has slowed markedly from over 10 percent in 2000-07 down to 4 percent in 2008-17.
"Kazakhstan's productivity growth has witnessed a significant slowdown in recent years, curbing the rise of incomes and limiting welfare gains for most of the population" said Julio Revilla, World Bank Lead Economist for Central Asia. "This calls for ambitious reforms to strengthen the private sector as they can lead to greater overall productivity in the economy through diversification and competitiveness."
It is projected that, without higher productivity, Kazakhstan will face continuously declining rates of income per capita. To achieve its goal of entering the top-30 global economies by 2050, Kazakhstan would need to invest over 60 percent of its GDP – an unrealistic level – to compensate for lack of productivity improvements.
"The productivity agenda has become even more important as Kazakhstan is now one of the top-30 countries in the Doing Business rankings. It is high time for the country to concentrate on productivity – which can take economic growth in Kazakhstan to the next level," said Francis Ato Brown, World Bank Country Manager for Kazakhstan.
The report calls for ambitious reforms in three main areas:
Creating a level playing field for all firms. This means reforming long-standing structures that protect state-owned and other well-connected firms, and handicap new ones. The fact that older, less productive firms are able to stay in business shows that the process of creative destruction—whereby less productive firms exit the market, making room for newer and more productive ones—is not happening.
Strengthening the rule of law and dealing with corruption more aggressively. The judicial system is seen as one of the biggest barriers to an efficient and highly productive economic system. The World Bank Enterprise Survey data identify corruption as the top obstacle for private businesses in Kazakhstan across all sectors. The government should consider reforming public procurement procedures, as well as revising the burdensome and costly trading procedures, and border administration, to improve transparency.
Introducing structural changes in the economy. This is critical to boost private investment and reduce a disproportionately large role of the state in the economy. The strong presence of state-owned enterprises (SOEs) results in inefficient prices, quota-based production, and a number of other market distortions that serve to suppress the domestic private sector. Reducing the role of the state requires addressing private-sector distortions and eliminating the favorable treatment of SOEs.
A Country Economic Memorandum is an analytical report by the World Bank, which provides a comprehensive analysis of a country's economic developments, prospects, and policy agenda, identifying policy reforms for key economic sectors.
Great game in Central Asia: Rivalry persists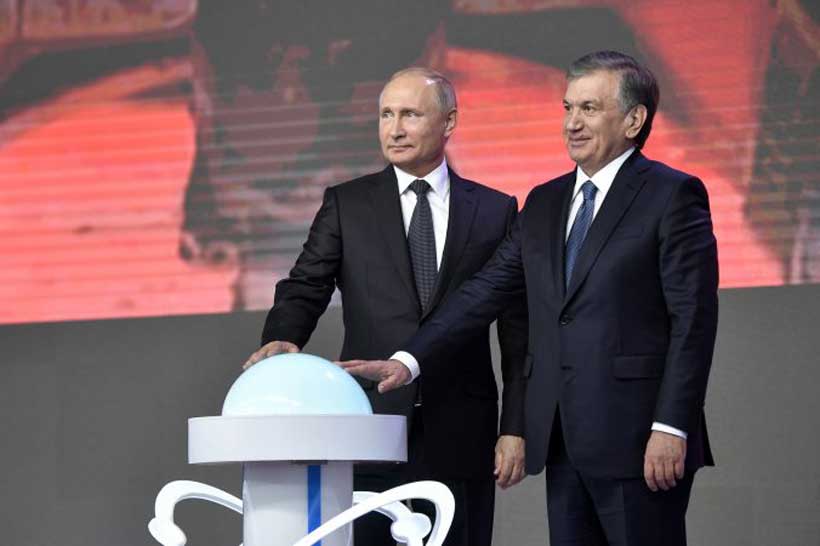 On October 19, Russia's President Vladimir Putin visited Uzbekistan. According to media reports, Moscow and Tashkent focused on "prospects for further strategic partnership," cooperation in military technology, and economic ties between the two countries. Moscow is investing billions of dollars and is planning to open more branches of top Russian universities in Uzbekistan. On the same days, October 17-19, Tashkent played host to the VIII Central Asian Trade Forum, organized by the United States Agency for International Development (USAID). As they spoke at the event, the US representatives announced Washington's interest in providing duty-free access to its domestic market for several thousand products from Central Asian states. This approach reflects the policy of bilateral cooperation which the two parties agreed upon during a visit of the President of Uzbekistan Shavkat Mirziyoyev to the United States in May this year, which resulted in $ 4.8 billion contracts.
Central Asia has been a zone of geopolitical rivalry between the world's top players for centuries. Even when the main part of this territory was part of the USSR, the USA, China and other countries tried to influence the Soviet "soft underbelly". After 1991, the region quickly moved to the sidelines of the military-strategic interests of Moscow, Beijing and Washington . At present, the three powers are concerned about the threat of Islamic extremism and an increase in drug trafficking in the region. While sharing the same concerns, the parties interpret the causes of these threats in different ways. In general, regional competition of external powers is moderate, being visible mainly in the economic sphere. For now, two integration projects are developing at fast pace in Central Asia – the Eurasian Economic Union (EEU), promoted by the Russian Federation, whose members are Kazakhstan and Kyrgyzstan, and the Chinese Silk Road Economic Belt (SREB), targeted at all Central Asian countries. In the mid-2010s, the United States unveiled its conceptual vision of the future of the region — the New Silk Road Initiative, which, however, has not yet seen any substantial progress.
At present, countries of the region are pursuing the policy of building secular national states. Searches for national identity in the values of Islam or Pan-Turkism is a thing of the past. Meanwhile, for a part of the population, religious principles still prevail over the national and civil ones. Also, there are a number of other challenges to the stability and security of the region. Russian International Affairs Council experts say that political institutions are weak, the economy is poorly diversified, heavily corrupt, hinging largely on "shadow" schemes and smuggling. Social and economic problems, disputes over the distribution of water resources, and inter-religious and inter-ethnic conflicts are acute. On top of all this comes the rapidly aggravating problem of uneven economic development of  countries. The main external threats are proximity to Afghanistan and the Middle East with a high degree of border penetrability.
In general, the ruling circles of the states of the region are trying to maintain power and property and evade serious socio-economic upheavals. The financial and economic interests of the elite are largely oriented at the West. However, the current challenges to domestic and regional stability, as well as the nature of the existing regimes, are what scares Western investors the most. As a result, countries of Central Asia are drifting between globalization and regionalization, between economic projects that benefit primarily the elites themselves, and the need to guarantee an increase in the living standards of wide sections of society,  "between efforts to preserve a niche in the "old" world economy and secure niches in the "new" one".
Over the past few years, Russia has been promoting its interests in the region within the framework of the CSTO, the EAEU and the Customs Union. Until recently, the majority of projects with the participation of Russian investors were concentrated in the oil and gas sector. Meanwhile, representatives of local elites and business communities would prefer to see Russian investments in the energy sector, in the creation of cross-border "transit transport routes." There is a high demand for projects that would develop interstate economic cooperation within the framework of the EEU, and projects whose products would be oriented at markets beyond the post-Soviet space. These areas include the military industry, the mining sector, and the supply of agricultural products. At the same time,  experts point out "excessive" "coordination and regulation of economic relations" within Russian regional initiatives.
Nevertheless, Russia maintains a significant potential to secure its economic influence in the region. Most enterprises and agricultural facilities in Central Asia date back to the Soviet days and most of the infrastructure, railways and highways are focused on Russia. The Russian media are popular in the region, supporting the idea of stability and sovereignty. Until early 2010s, the "Soviet legacy" enabled the Russian Federation to remain a major economic partner for all the Central Asian countries. However, in recent years, Moscow has been losing its leading economic position to China, mainly, for lack of investment.
China's rapidly growing economy requires more and more resources. Given that Central Asia is rich in oil, gas, minerals and cotton, Beijing has been trying to promote economic projects in the region since the early 2000s. At the end of 2017, trade turnover between China and countries of Central Asia reached $ 30 billion, whereas trade between Russia and the region was less than two thirds of this figure. China overtook Russia in trade with all countries in the region, except Kazakhstan. Now, China is pursuing multibillion-dollar projects in transport and pipeline infrastructure as part of the strategy of the Silk Road Economic Belt (SREB), and is increasing investment in industrial facilities and joint ventures. There are plans to build three railway corridors: between the Chinese port of Lianyungang and Kazakh Almaty, and two between the south of China and Central Asia. By the end of 2017, the Chinese investments in Central Asia had exceeded $ 100 billion. Investment plans until 2030 are estimated at several hundred billion dollars.
Meanwhile, according to most Western analysts, Russia and China have been pursuing a coordinated and well-balanced policy of extensive cooperation in Central Asia. China has been focusing on economic projects in the region, while Russia, besides the economic sphere, has taken the lead in ensuring military and anti-terrorism security and regional stability. According to Western estimates, Central Asia has been picked by Moscow and Beijing as number one site to practice strategic interaction, which can then be used in other parts of Eurasia. This cooperation hinges on an agreement reached by the Russian Federation and the People's Republic of China at top level in 2015 on integration between the EAEU and the SREB. The economic role of the Shanghai Cooperation Organization is also expected to increase after Kyrgyzstan assumes the SCO presidency in 2019. Both countries are fully aware of the strategic mutual benefit from participation in these projects and neither pursues economic or regional security initiatives that could be detrimental to the other party.
In 2011, Washington launched the New Silk Road Strategy (NSR), which initially focused on the economic revival of Afghanistan through its integration into regional development projects. In autumn 2015, as the US Secretary of State, visited all five Central Asian countries in the course of his first tour, the Samarkand Declaration was adopted to promote the New Silk Road, which declared the widest possible range of areas of cooperation between the United States and countries of the region. Gradually, the United States began to shift from the still idealism-ridden policy of supporting the "development of democracy" in Central Asia towards a more pragmatic course, aimed at reducing the influence of the Russian Federation while simultaneously moderating the presence of China.
So far, the extent of the Trump administration's interest in Central Asia is uncertain. It looks like the United States is ready to encourage local authorities to "soften" domestic policies, including on the expansion of international contacts, by boosting economic assistance and cementing ties between representatives of the business community. In particular, moves of this kind have been reported to come from the USA in the direction of Uzbekistan and Kazakhstan. USAID enjoys a significant influence on public associations in Kyrgyzstan, Kazakhstan and Uzbekistan. As for region-wide economic projects under the patronage of the United States, most of them are stalling, because they are made dependent, to this or that extent, on stabilization in Afghanistan.
Another important tool for strengthening the US positions in the region after 2001 is the promotion of a counter-terrorism agenda, a military presence, primarily in Afghanistan, and the development of military and defense ties with the Central Asian states. Preventing the spread of radical movements in Central Asia meets the interests of both Washington and all countries of the region.
In the meantime, the interests of Central Asian countries spread beyond the bounds of financial assistance and economic cooperation as they are unequivocally making it to understand that they are looking for new partners and security guarantors capable of balancing the United States, Russia and China.
This encourages countries of Central Asia to develop contacts with a whole range of external players that have noticeable interests in the region. The influence of the European Union in Central Asia decreased, after the promising projects of the previous decades fell through. EU experts argue that the Union lacks the resources to compete with Russia and China. Therefore, they call for "focusing on specific projects" that would contribute to raising the living standards across a wide section of society. As for China's SREB initiative, the EU sees it as a significant destabilizer, given the insufficient involvement of local, particularly human, resources, and a dramatic increase in Central Asia's political and debt dependence on Beijing. Therefore, the EU is seeking to "fit" "into the current situation with a view to influence further developments from within."
Since 2012, Japan has been stepping up its political efforts in Central Asia. As he visited the region in 2015, Prime Minister Abe signed $ 27 billion agreements, including on cooperation in the fuel and energy sector, in infrastructure projects, and in measures to combat terrorism and extremism. While doing this, Japan reiterates its readiness to maintain extensive ties with other powers, including Russia, China and Turkey. The latter persists in its claims to play a leading role in Central Asia, nurturing ambitions to become the leader of the Turkic world. However, Ankara's positions have suffered a blow in recent years. President Erdogan has faced a lot of criticism for not providing enough support for the Turkic communities in Russia and in the west of China.
Thus, the leading circles of the Central Asian countries are pursuing a "purely pragmatic" policy. Among the priorities are structural economic reforms, attracting more investments, primarily to the production sector and high-tech industries, and the development of "human capital."  As global players demonstrate renewed interest in the region, Central Asia has an option to pursue an increasingly varying and multi-vector policy. In spring this year, Uzbekistan and Kazakhstan made a bid to form a community of five Central Asian states without participation of external powers. At last, the transformation of Central Asia is taking place against the background of the arrival of a relatively new generation of leaders, fewer and fewer of whom see Moscow as a major historical partner. Given these conditions, Russia, if it wants to maintain its positions in Central Asia, ought to devise new approaches to regional policy. In our opinion, a strategy that should take center stage in Central Asia in the near future is one that would provide countries of the region with an economic cooperation agenda that does not require a clear geopolitical choice.
First published in our partner International Affairs