The year of 2016 was a tough one for Brazil. Within a political and economic crisis expressed in worrying numbers – 1 impeachment, 51% of rejection towards the new president, 24 Ministries initially led homogeneously by the white male elite, 11,9% of unemployment rate and an expectation of a growth of less than 1% in the following year -, Brazilians refrained their optimism and hoped for a more favourable time in 2017.
What was not mentioned (nor was it an issue to the average citizen) was our historic, long-lasting and neglecting posture towards the penitentiaries in Brazil. The country has included and highlighted human rights in its last Constitution (1988) and signed various Treats concerning the theme, at the same time it always assumes the inhumane treatment dispensed to the inmates – many of them, not convicted yet. This is also a reflection of a never-ending discussion about the concept of detention and punishment.
According to the subsection 47, Article V of the Brazilian Constitution, death penalty only exists in a situation of declared war. In a more ironic than informative way, it could be said that death penalty does exist in Brazil, especially in those places where reintegration is just an aspiration and hazard is a constant.
One of the major difficulties for the country is handling the ever-growing number of criminals that exceed the prisons' capacities. The average of 66% overcrowding is alarming, however some penitentiaries reach unbelievable marks, such as those in the state of Pernambuco (184%). What happens next is what is called 'silent deaths', as it was spotted in Rio de Janeiro – one does not call them slays, because they are not massive; on the other hand, no ventilation, overheating, the lack of hygiene conditions and the super population are potentially lethal.
In the beginning of the year, prisons in the states of Amazonas and Roraima (both in the low densely populated North of the country) lost in a brutal manner almost one hundred inmates in a slaughter – all the conflicts were linked to the confrontation between PCC and Comando Vermelho, two of the biggest criminal factions in Brazil, and, thus, to the fight for power. The number of the dead – ten of them decapitated and carbonized in Roraima – already reached 25% of the total prison deaths last year and the massacre in Roraima is considered to be the worst since Carandiru (1992).
Part of the society and also their President – who referred to the barbarian situation as a "regrettable accident" – do not seem to give the appropriate importance to the situation in Brazil. Mr Temer announced the construction of five new prison systems. Those would be filled with a little more than 1,000 detents, which is not in the slightest enough for the exceeding imprisoned population and is also part of previous measures already announced, what makes it pretty ineffective and expansive. Hopefully, those will not be all of his measures, since it is a priority for the new Minister of the Supreme Court, Ms. Carmen Lúcia Rocha.
It is to understand the conservative profile the first man of Brazil assumes in a scenario of deep recession. Given that he rose to power to the fall of former president Mrs Rousseff (whose difficulties, attacks suffered, political inabilities and questionable conduct were already explored here), it seems like he believes he cannot toy with luck, nor political support, if he wants to be in command until 2018. Moreover, he comes to represent a social layer that was once less favoured by the elected president: the middle class, the one eager to feel their Executive power is fighting the crisis.
This sort of planning must be very carefully implemented in long-term, though. The shocking lines said by (now, ex) Youth Secretary Bruno Júlio – that there should be such a killing per week – are, under no conditions, acceptable. And that is for strategic, democratic, political, economic, ethical, moral and, above all, humane reasons.
First, they are citizens and, if not because of their representative power once they are at large or for the obligation the country has to protect all of its citizens, one must consider that they depend on reintegration to join the workforce again and help reestablish the Economy (especially when projections show that one in three unemployed in the world in 2017 will be Brazilian – but that is a topic for another discussion).
Also, the system does not act correctly when it comes to 'keep' the prisoners – in the country, about 40% of the 607,731 (datum from 2015) detents were preventively arrested, which means that the Judiciary power has not decided (sometimes for years) whether they are guilty or not.
Finally, as surprising as it may seem at a first blush, penitentiaries lack security. Across the country, one can find bizarre situations that go from the free use of mobiles inside the cells – which characterizes a totally incompetent way of stopping crime and arresting a criminal – to vexing inspection applied to visitors – the combination of no suitable devices for detecting irregularities allied to humiliating practices towards the detents' families are widely reprehended. That also touches a very sensitive point in the discussion on the theme, whether or not prisons should be privatized.
In a nutshell, knowing and solving the issue Brazil has in its prisons is a long, painstaking, arduous job that will not end now. Not only must the practical aspects of keeping human beings under custody be taken into consideration, but also a whole social mindset needs to be worked on to realise the need for dignified treatment, in times when, as it is widely spread on the internet, "a good criminal is a dead criminal".
Trump's and Putin's Responses to Mueller's Russiagate Indictments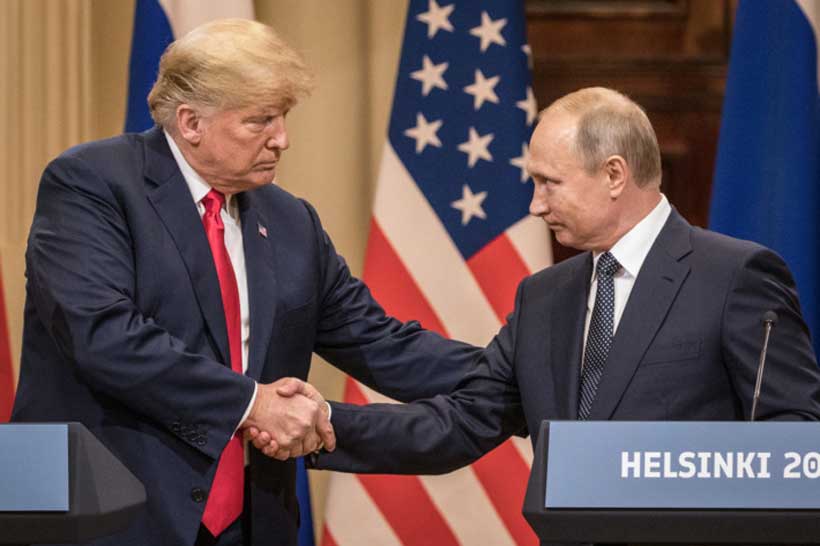 In the July 16th joint press conference between U.S. President Donald Trump and Russian President Vladimir Putin, the question arose of U.S. Special Counsel Robert Mueller's recent indictment of 12 Russian intelligence officials for allegedly having engineered the theft of computer files from the Democratic National Committee and from John Podesta, Hillary Clinton's campaign chairman. Here is that part of the press conference, in a question that was addressed to both Presidents (and I boldface here the key end part of Putin's presentation, and then I proceed to link to two articles which link to the evidence — the actual documents — that Putin is referring to in his response):
REPORTER (Jeff Mason from Reuters): For President Putin if I could follow up as well. Why should Americans and why should President Trump believe your statement that Russia did not intervene in the 2016 election given the evidence that US Intelligence agencies have provided? Will you consider extraditing the 12 Russian officials that were indicted last week by a US Grand jury.
TRUMP: Well I'm going to let the president [meaning Putin] answer the second part of that question.
As you know, the concept of that came up perhaps a little before, but it came out as a reason why the Democrats lost an election, which frankly, they should have been able to win, because the electoral college is much more advantageous for Democrats, as you know, than it is to Republicans.
[That allegation from Trump is unsupported, and could well be false.] We won the electoral college by a lot. 306 to 223, I believe. [It was actually 304 to 227.] That was a well-fought battle. We did a great job.
Frankly, I'm going to let the president speak to the second part of your question. But, just to say it one time again and I say it all the time, there was no collusion. I didn't know the president. There was nobody to collude with. There was no collusion with the campaign. Every time you hear all of these 12 and 14 — it's stuff that has nothing to do — and frankly, they admit, these are not people involved in the campaign. But to the average reader out there, they are saying, well maybe that does. It doesn't. Even the people involved, some perhaps told mis-stories. In one case the FBI said there was no lie. There was no lie. Somebody else said there was. We ran a brilliant campaign. And that's why I'm president. Thank you.
PUTIN: As to who is to be believed, who is not to be believed: you can trust no one. Where did you get this idea that President Trump trusts me or I trust him? He defends the interests of the United States of America and I do defend the interests of the Russian Federation. We do have interests that are common. We are looking for points of contact.
There are issues where our postures diverge and we are looking for ways to reconcile our differences, how to make our effort more meaningful. We should not proceed from the immediate political interests that guide certain political powers in our countries. We should be guided by facts. Could you name a single fact that would definitively prove the collusion? This is utter nonsense — just like the president recently mentioned. Yes, the public at large in the United States had a certain perceived opinion of the candidates during the campaign. But there's nothing particularly extraordinary about it. That's the normal thing.
President Trump, when he was a candidate, he mentioned the need to restore the Russia/US relationship, and it's clear that certain parts of American society felt sympathetic about it and different people could express their sympathy in different ways. Isn't that natural? Isn't it natural to be sympathetic towards a person who is willing to restore the relationship with our country, who wants to work with us?
We heard the accusations about it. As far as I know, this company hired American lawyers and the accusations doesn't have a fighting chance in the American courts. There's no evidence when it comes to the actual facts. So we have to be guided by facts, not by rumors.
Now, let's get back to the issue of this 12 alleged intelligence officers of Russia. I don't know the full extent of the situation. But President Trump mentioned this issue. I will look into it.
So far, I can say the following. Things that are off the top of my head. We have an existing agreement between the United States of America and the Russian Federation, an existing treaty that dates back to 1999. The mutual assistance on criminal cases. This treaty is in full effect. It works quite efficiently. On average, we initiate about 100, 150 criminal cases upon request from foreign states.
For instance, the last year, there was one extradition case upon the request sent by the United States. This treaty has specific legal procedures we can offer. The appropriate commission headed by Special Attorney Mueller, he can use this treaty as a solid foundation and send a formal, official request to us so that we could interrogate, hold questioning of these individuals who he believes are privy to some crimes. Our enforcement are perfectly able to do this questioning and send the appropriate materials to the United States. Moreover, we can meet you halfway. We can make another step. We can actually permit representatives of the United States, including the members of this very commission headed by Mr. Mueller, we can let them into the country. They can be present at questioning.
In this case, there's another condition. This kind of effort should be mutual one. Then we would expect that the Americans would reciprocate. They would question officials, including the officers of law enforcement and intelligence services of the United States whom we believe have something to do with illegal actions on the territory of Russia. And we have to request the presence of our law enforcement.
For instance, we can bring up Mr. Browder in this particular case. Business associates of Mr. Browder have earned over $1.5 billion in Russia. They never paid any taxes. Neither in Russia nor in the United States. Yet, the money escapes the country. They were transferred to the United States. They sent huge amount of money, $400 million as a contribution to the campaign of Hillary Clinton.
[He presents no evidence to back up that $400 million claim.] Well, that's their personal case. It might have been legal, the contribution itself. But the way the money was earned was illegal. We have solid reason to believe that some intelligence officers guided these transactions. [This allegation, too, is merely an unsupported assertion here.] So we have an interest of questioning them. That could be a first step. We can also extend it. There are many options. They all can be found in an appropriate legal framework.
REPORTER (Jeff Mason from Reuters): Did you direct any of your officials to help him [Trump] do that [find those 'options']?
PUTIN: Yes, I did. Yes, I did. Because he talked about bringing the US/Russia relationship back to normal.
The evidence regarding that entire matter, of Bill Browder and the Magnitsky Act, can be seen in the links and the other evidences that are presented in two articles that I published on that very subject, earlier this year. One, titled "Private Investigations Find America's Magnitsky Act to Be Based on Frauds", summarizes the independently done private investigations into the evidence that is publicly available online regarding Bill Browder and the Magnitsky Act. The Magnitsky Act was the basis for the first set of economic sanctions against Russia, and were instituted in 2012; so, this concerns the start of the restoration of the Cold War (without the communism etc. that were allegedly the basis of Cold War I). The other article, "Russiagate-Trump Gets Solved by Giant of American Investigative Journalism", provides further details in the evidence, and connects both the Magnitsky Act and Bill Browder to the reason why, on 9 June 2016, the Russian lawyer Nataliya Veselnitskaya, met privately at Trump Tower, with Donald Trump Jr., Paul Manafort, and Jared Kushner — the reason was specifically in order to inform them about the documentation on this case, so that Trump, if elected, would be aware of the contents of those documents. She had used the promise of dirt on Hillary so as to enable Trump, who effectively became the Republican nominee on 26 May 2016, to learn about the actual documents in this crucial case.
The Russian government has been legally pursuing Mr. Browder, for years, on charges that he evaded paying $232 million taxes that were due to the Russian government. These private investigations into this matter — regarding whether or not the Magnitsky Act was based on fraudulent grounds — have all found that Mr. Browder has clearly falsified and misrepresented the actual documents, which are linked to in those two articles I wrote. These might be the very same documents that she was presenting on June 9th.
So: this is a matter of importance not only to the validity (or not) of the Magnitsky Act economic sanctions against Russia, but to the Russiagate accusations regarding U.S. President Donald Trump. In my two articles, the general public can click right through to the evidence on the Magnitsky case.
Delusions of U.S. Hegemony In A Multi-Polar World: Trump Visits Europe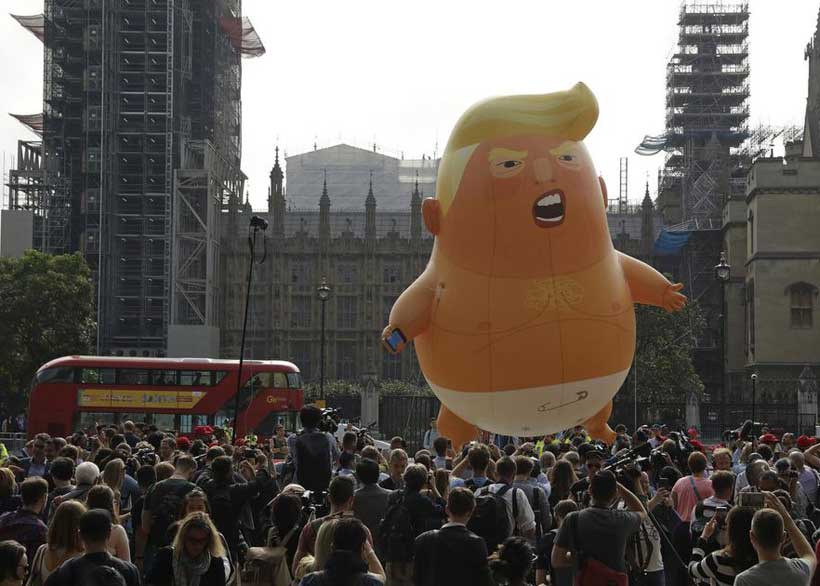 To say that US foreign policy is delusional is not an exaggeration.  It seeks political hegemony and a relationship with China and Russia akin to what it has had with Japan and Germany, that is, go ahead and develop in the economic sphere but don't try to flex political or military muscle.
There are at least two problems with this scenario:  China is now the world's largest economy on a purchasing power parity basis, and the Russians have the nuclear capacity to make a wasteland out of the US.  Russian weapons systems can also be superior.
Take the S-400 in comparison with the US Patriot missile defense system — the purpose of these surface-to-air systems is to shoot down incoming missiles or aircraft.  The S-400 has a more powerful radar, double the range, is faster (Mach 6 vs Mach 5), takes five minutes to set up against one hour for the Patriot, and is cheaper.  China has just bought 32 launchers and is expected to buy more, thereby challenging Japan, Taiwan (which it claims) and other neighbors for control of the skies, as it is doing over the seas bordering itself.  NATO member Turkey has recently signed a purchase deal, and Iran wants to, as does Qatar after its recent spat with Saudi Arabia.  If Russia supplies Iran, any attack planned by the US or Israel would prove to be very costly and politically infeasible.
In our world of instant and continuous news feeds, one can imagine a bemused Vladimir Putin listening to Trump exhorting NATO members to increase contributions to NATO — an organization designed to counter the Russian threat — specifically castigating Germany's Angela Merkel for being beholden to Russia with her country's reliance on Russian natural gas.
Early next week he meets Mr. Putin in Helsinki, fresh from his soft power World Cup triumph as the world beat a path to Russia.  What does Mr. Trump tell the leader of the world's largest country covering eleven time zones?  US political hegemony is a non-starter.
Europeans clearly want access to China, its labor, its markets, even finance, and with it comes Russia and their numerous initiatives together including the Asian Infrastructure Investment Bank (AIIE) their answer to the US-sponsored World Bank.  That Britain joined AIIB contrary to US wishes is a clear sign of China rising as the US declines comparatively;  Britain, having faced up to the US, was followed by a rush of European countries.
Russia wants sanctions lifted.  What does the US want?  Crimea is a non-starter.  Help with Iran?  For the Russians, it has become an important ally both with regard to Syria and as a Mideast power in its own right.  Mr. Trump's instincts are right.  But what he achieves is another matter.  Childish petulance accompanied by a different story for different leaders would leave an observer with little optimism.
Meanwhile, Mr. Trump manufactures and markets his own reality; this time on his popularity ('I think they like me a lot in the UK') despite avoiding roads and traveling by helicopter when possible during his pared down UK visit.  Hordes of demonstrators undeterred have a giant parade balloon several stories high of a bloated child with the trademark blonde hair.  It is one the largest demonstrations ever outside the US against a sitting president.
This 70-year-old program prepares young women for leadership
A record number of women are running for public office this year. In the near future, we can expect more female public servants representing the American people — from local chambers to Capitol Hill. In light of this exciting trend, it is important to highlight programs that help develop young women to become the next generation of female leaders. One such program? American Legion Auxiliary (ALA) Girls Nation.
ALA Girls Nation is a weeklong mock experiential learning program, one that positions high-potential teens for a lifetime of public service to our country. This summer, 100 female high school seniors — two from each of our 50 states — will convene in Washington, D.C., for the 72nd Annual ALA Girls Nation. Each teenage girl represents her state as a "senator" — mirroring the structure of government at the federal level. During this transformative weeklong program, these senators form a fictitious nation, become "Nationalists" and "Federalists," enthusiastically campaign to hold office, and — perhaps most important — accept and celebrate the outcome of these elections and come together to serve for the good of the nation.
ALA is a nonpartisan organization committed to advocating for veterans' issues, promoting patriotism, mentoring America's youth and proudly presenting ALA Girls Nation for over 70 years. The ALA Girls State and ALA Girls Nation are privately-funded and presented by members of the organization. The world's largest women's patriotic service organization, ALA was chartered in 1919 to support the mission of The American Legion.
More than 6,500 young women have attended ALA Girls Nation since its inception in 1947. Each participant leaves the program informed about the fundamentals of U.S. government — and the rights, privileges and responsibilities of citizens. It lasts for one short week. Yet the seven-day experience — one that champions the legislative process and serious collaboration — has laid the foundation for thousands of bright futures.
Many alumnae have chosen careers in public service, putting their ALA Girls State and ALA Girls Nation experience into action to serve the people. The lessons learned about teamwork, resilience and the democratic principles that guide the republic in which we live are applied in real life by many alums who have gone on to serve at the local, state and national level — including high-ranking members of the judiciary.
Justice Lorie S. Gildea began her tenure as chief justice of the Minnesota Supreme Court in 2010. She participated in the state-level version of ALA Girls Nation, known as ALA Girls State in 1979 — and the program, Gildea said, "empowered her to embark upon a lifetime of service and leadership."
"At ALA Girls State, we learn that every voice has value and that every woman needs to use her voice," said Gildea. "We also learn that we need to be courageous and confident enough to take life up on the opportunities that present themselves to us."
"An informed citizenry is essential to the success of our democracy. ALA Girls State [and ALA Girls Nation] plays a vital role in informing and educating our future leaders," Gildea said. "It is a wonderful opportunity to learn about and see firsthand how the three branches of our government work. I am so grateful to the American Legion Auxiliary for presenting ALA Girls State and teaching me and thousands of Minnesota's young women about the value of participation and the possibility of leadership."
Other alumnae have gone on to hold leadership roles in industries spanning government, military, media, education and law. Notable alumnae include Jane Pauley, national media personality; Stephanie Herseth Sandlin, president of Augustana University and former South Dakota U.S. representative; Susan Bysiewicz, former Connecticut Secretary of State; Lt. Gen. Michelle D. Johnson, superintendent of the U.S. Air Force Academy and former Air Force aide to the president; Ann Richards, former governor of Texas; and Susan Porter-Rose, former chief of staff to First Lady Barbara Bush — among countless others.
For some girls, it is their first opportunity to connect with peers with common interests. For others, it is the first time they encounter students whose perspectives differ from their own. For all, it is a moment in time when a select few teenage girls from all over the country come together to discover and celebrate the honor and importance of participating in our democracy. To learn more, visit www.ALAforVeterans.org.