India's energy supply security: prospects and challenges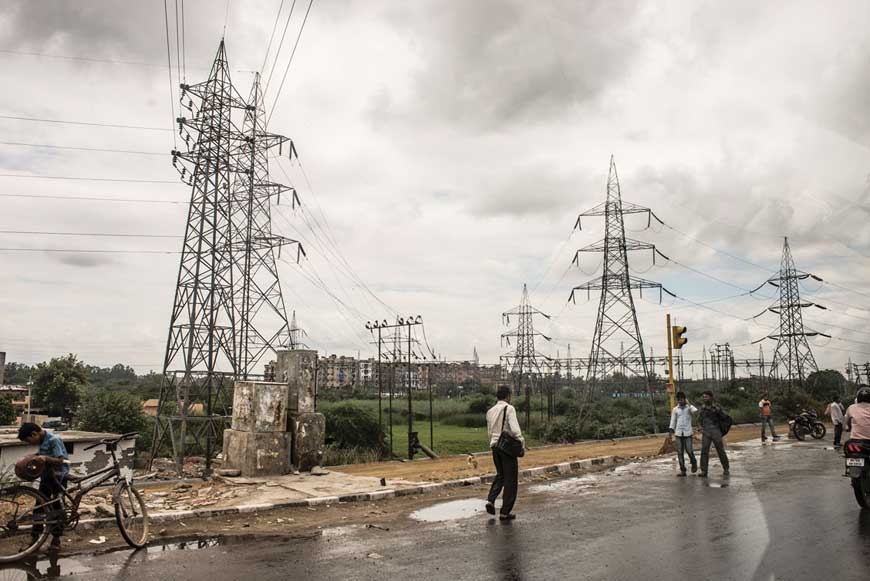 Authors: Sanjay Kumar Kar and Prajit Goswami
India is one of the fastest growing economies in the world. It had been growing at a rapid rate of 7 percent for the last 10 years. Further, it is expected to grow over 7% percent in the coming decade. To fuel projected economic growth and cater growing energy needs, India requires a lot of energy.
With an area of 1.26 million square miles with diverse landscape and difficult terrain, India comprises around 1.2 billion people and their ever increasing needs. Currently India imports 70-80% of its oil and 30-40% of its natural gas requirements. Historically India's energy import dependency rests on Middle East.
Coal is the most important and widely available fossil fuel in India. It supplies 55 percent of the country's primary energy needs. According to BP Statistical Review, 2016 at the end of 2015, India had 60600 million tons of coal reserves with a global share of 6.8% and R/P ratio of 89 years. Compared to other fossil resources like oil & gas, India is better placed with coal resources for future production and use.
India intends to reduce coal imports by exploiting its own reserves. Import of coal has already decreased, by around 19 percent to 16.38 million tons in the month of May 2016 as compared to around 20.29 million tons in May 2015.
India's current renewable energy capacity, 45 GW, is just about 14.7% of total installed grid connected electricity generation capacity of 306 GW in the country. Some of the major challenges faced by renewable sector are lower capacity utilization, lack of evacuation infrastructure, and funding for large scale expansions. Coal still the cheapest source for power production with per unit tariff in the range of Rs. 2.3-4.00. However, renewable sources like wind and solar are competing well to achieve grid parity. Current wind tariff is in the range of Rs. 3.39-Rs.5.92/kWh and recently solar tariff reached as low as Rs.4.34/kWh. In the beginning Government encouraged feed-in tariff but now the market is moving towards competitive bidding tariff. Therefore, renewable tariff is moving closer to grid parity.
Despite all kind of limitations the Government targets to achieve renewable installation capacity of 175 GW by 2022. Further, multiple initiatives are being taken by the Government to promote off-grid or captive renewable energy along with decentralized renewable applications. The Government is actively pushing installation and production of renewable energy through schemes like accelerated depreciation, generation based incentives (GBI), and viability gap funding. The Government already funded Rs. 25075 million under the GBI scheme for solar and wind power production.
Decentralized renewable applications are expected improve livelihood of millions of Indians in the rural as well as urban India. Because holds will have access to energy which would be helpful for enhancing scope of economic activity, thereby improve economic productivity and revenue generation. Further, affordable energy accessible to all citizens could improve situation of primary education in the country.
As India needs to diversify its energy mix and reduce dependence on imported fossil fuel nuclear energy could play a very important role in ensuring energy security of the country. Application of nuclear for electricity generation needs to be actively pushed forward. Media reports suggest that nuclear power cost is in the range of Rs.9-12/kWh.
India's largely indigenous nuclear power program resulted in capacity installation of 5780 MWe. With the support of Russia and many other partnering countries India is expected to achieve 14.6 GWe nuclear capacity by 2024. It is high time for India to intensify strategic measures to address its energy security challenges like: making energy accessible, affordable, and available to all its citizens.
At least, India could aim to manage energy supply security if not complete energy security. One of the important source of energy could be natural gas as a transit fuel for meeting emerging energy needs. Natural gas can gradually reduce: (i) use of diesel and petrol in the transport sector, (ii) use of coal in the power sector, (iii) use of liquefied petroleum gas (LPG) in the domestic cooking, heating, and cooling; and (iv) use of coal and liquid fossil fuel in various industries like ceramic, textile, steel, etc. Further, natural gas could be used to produce hydrogen used in the refineries and in the transport sector.
India's domestic natural gas production remains a big concern and future addition of new gas reserves provide no better comfort. As a result India's import dependency continue to grow and we believe that the import trend may very much continue in future too. Unless domestic unconventional sources of gas offer some surprise, import of liquefied natural gas (LNG) would continue to play a critical to bridge the demand-supply gap.
For the time being India's over dependence on Middle-East for fossil energy is not a concern from supply point of view. However, India should expand its energy sources basket carefully and strategically to avoid any future supply constraints. Considering the current supply glut of fossil fuel, this is the right time to expand the range of sourcing destinations. In the recent past, India actively searched for alternative or complementary destinations for sourcing natural gas. In the process, emerging destinations like the US and Australia were added.
India's domestic gas production fallen from about 51 billion cubic meter (BCM) in 2010-11 to 31 BCM in 2015-16. As a result the gap between demand and supply has been widening. As results natural import dependency has been increasing which is evident from increase in LNG import from 12.9 BCM in 2010-11 to 21.3 BCM in 2015-16.
Natural gas is certainly tipped as the transition green fuel especially in the transport in sector. It has comparatively lower carbon footprint-thus more environment friendly compared to coal and oil. The uses of gas in cooking, heating and power generation stand to benefit millions of stakeholders. Apart from the above purposes use of natural gas for mobility sector addresses many concerns including the environmental concerns faced by urban cities. So, city gas distribution is poised to offer green energy solution to many struggling cities and upcoming smart cities.
In the present scenario India imports gas only through LNG carrier. It is believed that transporting natural gas through pipelines is found be cost effective over LNG carriers. For example, in 2013 China received pipeline gas imports at an average price of US$ 9.78 per MMBtu compared to average price of LNG import price of US$ 13.8 per MMBtu. LNG is costlier because the gas has to be liquefied to reduce its volume and transported using specially designed cryogenic tanks. Also at the receiving end specialised LNG terminals have to be built to store and re-gasify. Essentially the countries which import natural gas through pipelines enjoy cost advantage over import of LNG.
India has been pushing for transnational pipelines with limited success. However looking at India's strategic location it would be viable for India to take gas from gas rich Iran, and Turkmenistan through pipelines. India already has agreed upon much talked about Turkmenistan–Afghanistan-Pakistan-India (TAPI) pipeline which starts from Turkmenistan and passes through Afghanistan & Pakistan before reaching India. TAPI pipeline with a length of 1124.68 miles passes through terror affected areas of Kandahar and Herat. Thus this makes it a very risky project to operationalize. Although NATO forces stationed in Afghanistan would ensure to protect the part of the pipeline passing through terror prone territories but future sabotage and attack may not completed ruled out. The project is due to be completed by 2019 and India would receive 1341.78 million cubic feet per day of gas. Operationalization of TAPI would certainly improve gas supply security for India.
Another transnational pipeline project namely Iran-Pakistan-India couldn't happen due to very many reasons including sanctions on Iran, geopolitical pressure, and security concerns. In a report published in the Indian Express on 22nd April 2016 the Iranian Ambassador was stated saying that this project should be forgotten.
Discussions with Iran is on for a deep sea 868 miles pipeline via the Oman Sea and Indian Ocean. Iran-Oman-India pipeline from Iranian port of Chabahar to India's Gujarat Coast would transport 1098.141 million standard cubic feet of gas per day. This might compensate for the almost failed IPI project and also there would be no issue of any other transit country conflict.
India has also invested for the development of the Chabahar port and also funding a rail link between Chabahar and Zahedan in Iran. The completion of the rail link would connect Chabahar to North South Transport Corridor (NSTC). These investments are moulding the bilateral ties of India and Iran. This deep sea pipeline will not only connect India to Iran's Gas fields but Oman is also slated to join the pipeline at a later stage. This would give India a strong foothold to the Gas trade in both Iran and Oman. Also it would boost India's stand in comparison to China's One Belt One Road Program (OBOR).
Besides Iran, Oman and Turkmenistan, India also has a potential import source towards its north-eastern side which is Myanmar. The main advantage with Myanmar is its proximity to India and that it shares its borders with North-eastern part of India. Myanmar large untapped reserves. According to BP statistical review report 2016 Myanmar has 18.7 trillion cubic feet of natural gas with an R/P ratio of 27 years. But until now the investments that India has made in Myanmar although substantial are very less in comparison to China. According to a report in Journal Of Energy Security India's investment in Myanmar Oil and Gas sector is around US $1.6 billion while Chinese investments is around US$ 8 billion. The 1.04 US$ Sino-Myanmar gas pipeline has been functional since 2013 transporting 423.72 billion cubic feet (bcf) gas to China annually. Lack of proper funding and coordination between public and private owned firms has resulted in India loosing important bids to other countries. Therefore, impacting India's intention to secure long term energy supply.
Further, India failed to bring to table Myanmar-Bangladesh-India transnational pipeline because of Bangladesh's unwillingness to act as a transit country. Although an alternative to this route was by bypassing Bangladesh and building a pipeline through North-East India that could connect to pipelines of East India. This deal also never came to reality due to multiple reasons including lack of funding. And thus China took advantage of this situation and entered into the gas pipeline market of Myanmar and built a similar transnational pipeline to China's comparatively less developed Yunnan province.
However, an agreement with Myanmar through North-eastern states may increase the pipeline costs but it would also give India long term gas sourcing from Myanmar. The problems that India faces on its north-western part because of hostile relationships with Pakistan and with issues of pipeline security in both Pakistan and Afghanistan. This however is not the case with Myanmar. Therefore having a gas trade relationship with Myanmar is much secure and mutually beneficial. In-case any problem occurs in the north-western side this may act as a contingency plan. This also has another benefit; the gas pipeline from Myanmar via North-East India can be used to develop the region which otherwise due to its difficult terrain is not easy to develop. Development of North-East provides a major strategic advantage to India in dealing with China in terms of monitoring and also preparing required infrastructure to handle any unforeseen situation.
To ensure long-term energy security for its all citizens India should continue to actively pursue multi-pronged strategies. Currently, the Government is focussing on exploiting domestic fossils fuel and renewable energy resources to address ever increasing demand. Simultaneous, New Delhi's energy diplomacy with energy resource rich countries like the US, Russia, Qatar, Saudi Arabia, Iran, and Australia has been unfolding. Even Prime Minister Mr. Modi's look Africa energy policy adds new dimensions to India's interest in securing energy equity in Africa and enhancing India's energy security. Further, clean coal technologies are being pushed to improve supply of much greener energy.
So in order to secure India's energy future it is necessary for India to explore and exploit domestic fossil resources but seriously acquire fossil resources outside India. To improve energy supply security emphasis should be given to energy diplomacy, international collaborations, and efficient trade partnership. Building necessary energy infrastructure like LNG terminal and pipeline should be pursued with utmost priority. India should take advantage of global supply glut to improve accessibility, affordability, and availability of energy for its citizens. Further, creating investment climate for renewable energy should be facilitated at all levels to bring renewable energy revolution at the earliest.
Decontrol of petroleum product pricing especially petrol and diesel prices takes energy pricing toward market determined pricing. Even gas pricing is more market oriented than ever before. Direct cash transfer on use liquefied petroleum gas (LPG) for domestic cooking purpose is a step forward to address energy accessibility and affordability. Judiciary and environment regulatory authorities are seriously pushing use of natural gas or green fuels to improve air quality in metro cities. Within a decade the Government intends to increase city gas distribution to 200 geographical areas from current level of 70 geographical areas.
India is certainly capable of addressing existing and future challenges to improve its energy security in the long-run. Moreover, green and renewable energy would play an important role to improve future energy security in the country.
Indonesia's 'Superheroines' Empowered with Renewables
About a third of Indonesians, roughly 80 million people, live without electricity and many more with only unreliable access. In the country's eastern Solor archipelago, a programme is looking to tackle this issue with an innovative approach, by empowering women with renewable solutions for rural and remote communities.
"In rural Indonesia, energy poverty affects men and women differently and there is a clear and important intersection between energy access and gender equality," says Sergina Loncle, the Communications Manager at Kopernik, a non-profit organisation headquartered in Indonesia. "Although women have been traditionally restricted from access to information, assets and resources, in many cases they generally are the decision makers on energy issues at the household level, which makes the inter-linkages between energy and gender more pronounced."
Kopernik believes that empowering women to become micro-social-entrepreneurs will help boost incomes and make clean energy technologies available in off-grid communities. To support this, the organisation launched Wonder Women, or in Indonesian, Ibu Inspirasi, which literally means inspirational women and mothers, says Loncle. The Wonder Women programme gives Indonesian women solar technologies on consignment and shares a margin on every sale — boosting the  ability of women to support their families, helping to reduce the problems associated with inadequate and dangerous energy technologies, and improving the quality of life within the community.
A Kopernik survey suggests the programme is working. Reports show that after 12 months 26% of 'Wonder Women' know how to run a business and 21% become more empowered within their families — taking on a greater role in household decision making. Almost half of the survey's respondents perceived an improvement in their self-status and 19% have increased their empowerment within the community.
Women in the programme are inspirational figures in their villages as they help make clean energy technology available to friends, relatives and neighbours, explains Loncle. Wonder women often become a pillar of support and inspiration for other women in the village, encouraging them to join the programme or support other business ventures.
"I am grateful because people in my community now use affordable, clean energy technologies," says Maria Nogo, a Wonder Woman in Larantuka, East Flores who has been a part of the programme since March 2015. "By becoming a Wonder Woman, besides saving money, I also have opportunities to introduce these technologies to the people in my community, so I can support them to have a better life."
A better life with renewables
In its market analysis for Southeast Asia, IRENA supports the Wonder Women programme and advocates for the host of socioeconomic benefits renewables bring to Indonesia and the countries in its region. IRENA shows that renewable energy solutions can reduce fuel expenditures — which drains the limited resources of the poor — and decentralised renewable energy access can substantially reduce poverty by empowering individuals and communities to gain control over their energy supply and reduce their energy spending.
"Over 206,000 Indonesians are directly employed in the renewable energy sector, but there is growing body of evidence that renewable energy solutions support income generation and job creation beyond the energy supply chain," says Rabia Ferroukhi, Head of IRENA's Policy Unit and Deputy Director of its Knowledge, Policy and Finance Centre. She says renewables enable technologies that contribute to improved health, access to education, clean water and good nutrition, and can increase economic productivity.
To better assess the economic benefits of decentralised renewable energy in rural areas, poor urban communities, and remote islands of South East Asia, IRENA advises policy makers to look beyond the consumptive uses of energy (e.g. household lighting, cooking) and to also consider its productive uses.
"In remote and rural areas, like those found in Indonesia, renewables are not only the most cost-effective way to provide energy access, they're a reliable way to support social services and economic development, and that's a strong reason for governments in the region to support programmes like Wonder Women," Ferroukhi adds.
Economic value of energy efficiency can drive reductions in global CO2 emissions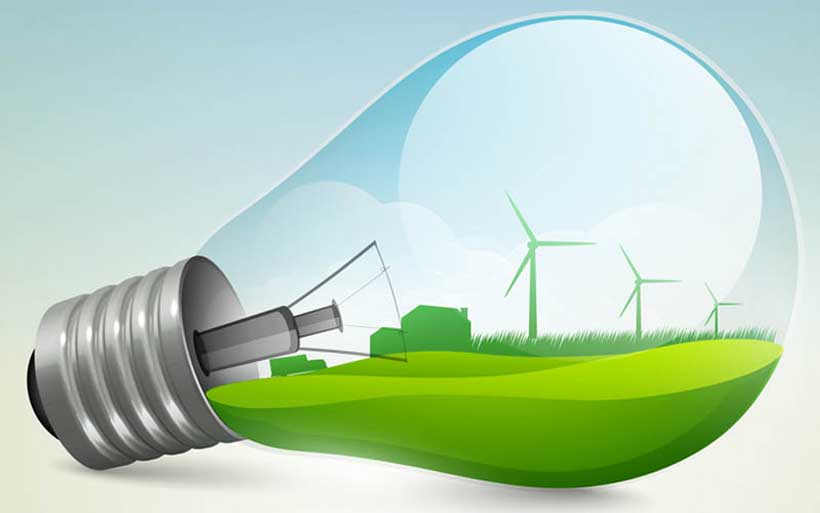 Ambitious energy efficiency policies can keep global energy demand and energy-related carbon-dioxide (CO₂) emissions steady until 2050, according to a new report by the International Energy Agency. Perspectives for the Energy Transition: The Role of Energy Efficiency shows that despite a near-tripling of the world economy and a global population that increases by nearly 2.3 billion, end-use energy efficiency alone can deliver 35% of the cumulative CO₂ savings through 2050 required to meet global climate goals.
Global energy demand grew by 2.1% in 2017 according to IEA estimates, more than twice the growth rate in 2016. At the same time, global energy-related CO₂ emissions increased for the first time in three years, as improvements in global energy efficiency slowed down dramatically to 1.7%.
"Among all energy trends in 2017, the one that worries me the most is the slowdown in energy efficiency improvements," said Dr Fatih Birol, Executive Director of the International Energy Agency. "The rate of improvement that we saw is around half of the rate that is required to meet clean energy transition goals."
IEA analysis in Perspectives for the Energy Transition: The Role of Energy Efficiency demonstrates that on top of a wide range of benefits including cleaner air, energy security, productivity and trade balance improvements, there is a compelling economic case for energy efficiency. But, without further policy efforts, these benefits are unlikely to be realised as less than a third of global final energy demand is covered by efficiency standards today.
Realising the full potential of energy efficiency will require a step-change in investments on the demand side of the energy equation, rising to USD 1.7 trillion per year through 2050, the majority of which is for energy efficiency and the electrification of transport. On the supply side, the focus is on reallocating investments towards renewables and other low-carbon technologies such as nuclear and carbon capture, utilisation and storage.
While the scale of the demand-side investment required may appear challenging, fuel cost savings over the lifetime of most technologies are larger than the investment required, which implies a strong economic benefit that arises from energy efficiency investment. Although there are still many low-hanging fruits that can pay back their initial investment quickly, payback periods are often too long to attract investment from consumers and businesses. Effective policy frameworks are needed to overcome economic and non-economic barriers to energy efficiency and to incentivise adoption of more efficient technologies.
Perspectives for the Energy Transition: The Role of Energy Efficiency demonstrates a compelling economic case for energy efficiency as being essential to make the energy transition affordable, faster and more beneficial to all. The IEA recommends that governments adopt a strategic approach to energy efficiency, supported by well-designed efficiency policies and a strong focus on implementation and enforcement.
Report: Powerful New Policy Options to Scale Up Renewables
A new report by the International Renewable Energy Agency (IRENA), the International Energy Agency (IEA), and the Renewable Energy Policy Network for the 21st Century (REN21), Renewable Energy Policies in a Time of Transition, is an unprecedented collaboration that sheds new light on the policy barriers to increased deployment of renewables and provides a range of options for policymakers to scale-up their ambitions.
Since 2012, renewable energy has accounted for more than half of capacity additions in the global power sector. In 2017 alone a record-breaking 167 GW of renewables capacity was added worldwide. 146 million people are now served by off-grid renewable power, and many small island developing states are advancing rapidly towards targets of 100% renewables.
One of the main rationales behind the call for a higher share of renewables in the energy mix is the urgent threat posed by climate change. Of the 194 parties to the United Nations Framework Convention on Climate Change 145 referred to renewable energy in their nationally determined contributions (NDCs), and 109 included quantified renewable energy targets. Air pollution is also a pressing issue, with an estimated 7.3 million premature deaths per year attributable to household and outdoor air pollution. Energy security is another influencing factor, with small island states particularly affected by security issues and resilience in the face of natural disasters. Finally, countries looking to expand energy access in rural areas are increasingly turning to renewables as the most cost-effective, cleanest and most secure option.
But the pace of the energy transition needs to be substantially accelerated to meet decarbonisation and sustainable development objectives. As outlined in IRENA's recently-released Global Energy Transformation: A Roadmap to 2050, to achieve the two-degree goal of the Paris target, the share of renewables in the primary global energy supply must increase from 15% today to 65% by 2050. Gains in the electricity sector must be matched in end-use sectors such as heating and transportation, which together account for 80% of global energy consumption.
Renewable Energy Policies in a Time of Transition provides policymakers with a comprehensive understanding of the diverse policy options to support an accelerated development of renewables across sectors, technologies, country contexts, energy market structures, and policy objectives, to scale up renewable energy deployment. An updated joint classification of renewable energy policies to illustrate the latest policy developments around the world.
Key areas of focus:
Heating and Cooling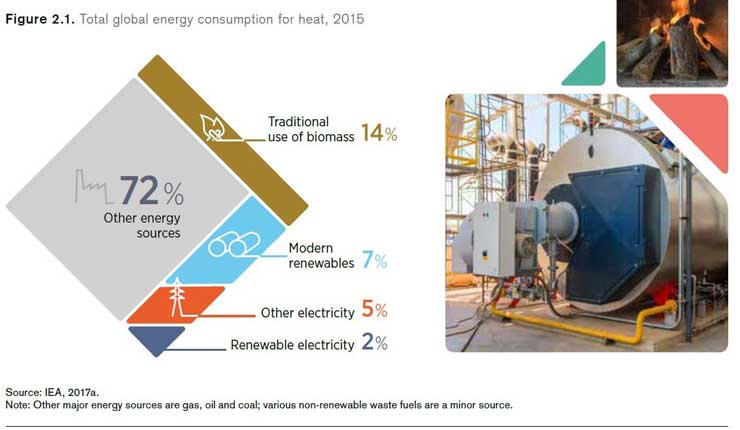 Heating accounted for over 50% of total final energy consumption in 2015, with over 70% of that met by fossil fuels. To increase the use of renewables, a range of policy instruments are required. These include mandates and obligations, which can offer greater certainty of increased deployment; building codes, which implicitly support renewable heating and cooling from renewables by setting energy performance requirements; renewable heat and energy efficiency policies that are closely aligned to leverage synergies and accelerate the pace of transition; fiscal and financial incentives, which reduce the capital costs of renewables; and carbon or energy taxes, which provide important price signals and reduce externalities.
Transport
Transport is the second largest energy end‑use sector, accounting for 29% of total final energy consumption in 2015, and 64.7% of world oil consumption. With the exception of biofuels, there is little practical experience of fostering renewables in transport. Policies and planning should help overcome the immaturity or high cost of certain technologies, inadequate energy infrastructure, sustainability considerations and slow acceptance among users as new technologies and systems are introduced. They should also build improved understanding between decision makers in the energy and transport sectors, so as to enable integrated planning and policy design. Removal of fossil fuel subsidies is also essential, especially in shipping and aviation.
Power sector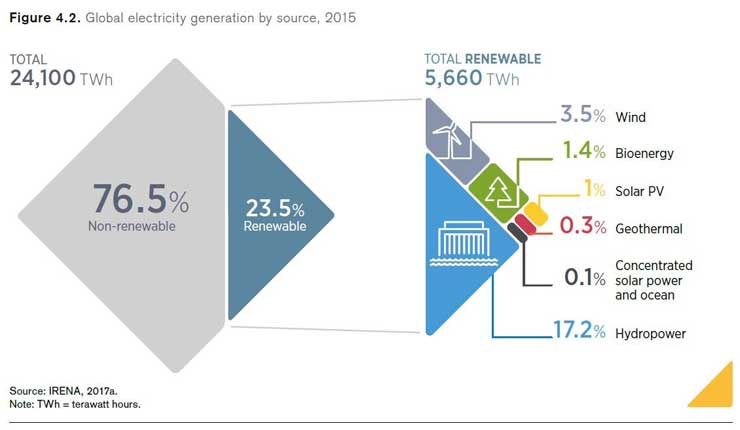 Although the power sector consumed only about a fifth of total final energy consumption in 2015, it has received the most attention in terms of renewable energy support policy. Investments in the sector are largely driven by regulatory policies such as quotas and obligations and pricing instruments, supported by fiscal and financial incentives. Quotas and mandates cascade targets down to electricity producers and consumers, but require a robust framework to monitor and penalize non-compliance. Administratively set pricing policies (like feed-in tariffs and premiums) need to continuously adapt to changing market conditions and the falling cost of technology. Auctions are being increasingly adopted, given their ability for real-price discovery, and have resulted in a five-fold price reduction between 2010 and 2016, though auction design is crucial.
System integration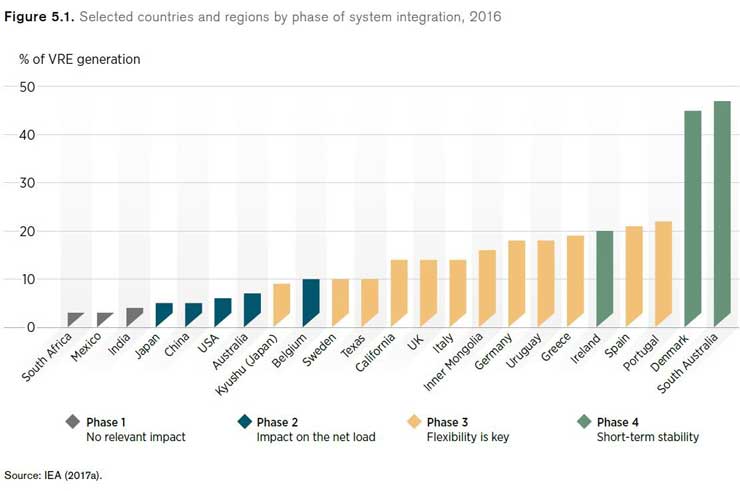 A number of countries and regions are reaching high penetrations of VRE in their power systems, and implementing policies to facilitate their system integration. Strategies for system integration of renewables are crucial to minimise negative impacts, maximize benefits and improve the cost effectiveness of the power system. As VRE shares grow in the power system, so do the challenges of system integration.
A wide range of policies have been adopted to support the growth of renewable energy around the world. The nature of those policies in a given country depends on the maturity of the sector, the particularities of the market segment, and wider socio-economic conditions. As this report shows, as deployment of renewable energy has grown and the sector has matured, policies must adapt and become more sophisticated to ensure the smooth integration of renewables into the wider energy system – including the end-use sectors – and a cost-effective and sustainable energy transition.