Honor, Ethics, Shame, Guilt and Civilization
A shame culture, as the dictionary defines it, involves a society putting "high emphasis on preserving honor" and not being publicly disgraced." People conform to societal norms, independent form the fact that those norms may be just social customs having little to do with ethics, for the mere fear of being shamed or dishonored publicly.
In contrast to that we have a guilt culture which the dictionary defines as "the internalization of a moral code." This conformity to a moral code occurs through the free will of man rather than by the public approval of society.
For example, in Homer's epic The Iliad, what is most valued is honor. To obtain it and the honor that goes with it one must do glorious deeds (such as fighting as a great warrior would), or, more intellectually, be a great orator, speaking well in the assembly and being highly skilled with words; or being a great philosopher like Socrates or Plato or Aristotle. Thus one acquires goods and rewards that publicly signify and represent the honor conferred: medals, certificates, diplomas, honorary titles, etc., attesting to the merits and the superiority of one individual man over another.
In contrast we can observe that in The Histories of Herodotus the social world is less dominated by aspects of shame; more emphasis is placed on guilt. Instead of being publicly shamed into following certain social norms, the individual compels a code of conduct or morality on him/herself, motivated by the guilt she/he feels for not observing society's condoned behaviors. He may even observe such a code even were he living in isolation from any kind of organized governed society, even absent punishments by the police and the justice system for infractions of the law.
This difference can even be easily observed in the depictions of the gods within those two disparate societies: one based on shame and honor, the other based on guilt and duty to oneself and one's human nature. For example, in Homer's Iliad the gods are present everywhere anthropomorphically, with all the weaknesses and defects of men, to be sure, albeit their powers and virtues are superior to man, idealized, so to speak. It's the modern Nietzchean "Uberman" or the Freudian "Superego" being actualized mythically and poetically. The gods are almost "beyond good and evil," above moral norms, transcending mere human customs and behavior. Hence the famous Platonic question: are the gods good because they observe the law, or are they good because they are above the law; are they obliged by the law and morality as humans are? But in Herodotus' Histories, the gods appear very rarely and, rather than being depicted as humans with extraordinary superpowers, are strangely portrayed in ways that would suggest human behavioral norms.
Jumping now to modern times, Giambattista Vico in his New Science (1725) teaches us that a sign of a decaying civilization is the degradation and impoverishment of language, language being a sine qua non of any sort of civilization and indeed an integral part of being human. But there are two other important characteristics which are also part of human nature: the ability to laugh and the ability to feel shame. Here too, when those two characteristics wane, so does civilization.
I'd like to reflect briefly on the latter within the context of our present cultural predicaments. The initial inquiry is this: is shame natural to man or is it something acquired with culture? The answer to that question is crucial since it determines whether or not it is shamelessness that is the acquired trait. To put it another way: could it be that the beauty that we humans are capable of as we live with each other derives from the fact that man is naturally a blushing creature; the only creature in fact capable of blushing?
Plato for one, saw a connection between self-restraint and self-government or democracy, and therefore he saw a political danger in promoting the fullest self-expression or indulgence. That may explain his suspicions of artists in general. For Plato, to live together requires rules and a governing of the passions. Those who live without shame are unruly and unrulable. That is to say, they have lost the ability to restrain themselves by the observation of the rules they collectively have given themselves. One can easily extrapolate from The Republic that tyranny is the natural mode of government for the shameless and the self-indulgent; the government of those who have carried liberty beyond any sort of restraint, be it natural or conventional.
What the ancient Greeks were saying basically, was that democracy, more than any other form of government requires self-restraint to be inculcated through moral education and imposed through laws. Those laws include the manner of public amusement. Indeed, it would be enough to think of Rome under such tyrannical emperors as Caligula or Nero. Those emperors allowed the people to freely indulge themselves with bread and circus, for indulgence did not threaten their rule which did not depend on citizens of good character. The formula is here inverted: the more debased the citizenry, the more they are distracted by pleasurable activities, the safer the tyrant's rule is.
And here we come to what is obscene and offensive. What are we to make of the obscenity employed by some of the greatest of our poets, the likes of Aristophanes, Dante, Chaucer, Shakespeare and Swift, never mind the Marquis de Sade, just to mention a few. They wrote a good deal of obscenity. How do we account for that? Aristotle in his Poetics hints at a plausible answer: comedy makes us laugh at what is ludicrous in ugliness, and its purpose is to teach, just as tragedy teaches by making us cry before what is destructive in nobility. For Aristotle they are equally serious and Shakespeare would agree, for he was both a comic and a tragic poet. Which is not to imply that both Aristotle and Shakespeare were unable to discern the emperor wearing no clothes, and performing unnatural acts to boot. Nowadays we have an emperor who goes around naked of any moral sensibilities but want us to believe that he is wearing splendid clothes. A few people, the more courageous among us, have dare to yell "the emperor is naked,"
What artists such as Mapplethorpe have attempted in the brave new world of present day Western civilization is to aestheticize the obscene by deliberately choosing subjects that shock the normal sense of decency. Those artists count on and exploit a dual reaction: to create tension in the viewer so that what is indecent and immoral becomes beautiful and therefore especially disturbing. The pretension is that the emperor is not naked, that obscenity is not there; that it resides only in the dirty minds of the viewers who are unable to appreciate beauty. What those artists are doing in effect is to deny the viewers their right to be shocked when they try hard to do exactly that. It's having the cake and eating it too.
The "enlightened" modern art connoisseur and practitioner will of course retort: but this is art and art is free of any constraints! Indeed, it is but let us be honest with ourselves and admit that indeed great art may be used immorally for the furtherance of an ideology or for propaganda purposes (remember the film about Hitler Triumph of the Will?), just as a saint may produce banal art, for as Emmanuel Kant has taught us in his Critique of Judgment there is no strict nexus between the moral and the aesthetic and there is no need for morality to slavishly submit to the claims of Art. The public ought to remain free to subsidize or not to subsidize those "enlightened" modern artist without being branded "cultural philistines" by those who think that anything goes in art.
The ancient Greeks were also aware that those aspects of the soul that makes man truly human require political life. Man's virtues and their counterparts, man's vices, require that he be governed and to govern. But the poet knows with Rousseau and the romantics that there is a beauty beyond the polity, the beauty of the natural order. The world of convention is not the only world. Here obscenity may play a part. Obscenity can indeed be used to ridicule the conventional. In the hands of a poet obscenity can serve to elevate above the conventional order in which most of us are forced to live our mundane lives full of quite desperation; lives who never dare ask that dreadful existential question: what is the point of it all, which the Greeks rendered with one word: the Logos. Which is to say, in the hands of a poet, obscenity's purpose becomes that of teaching what is truly beautiful, not what convention holds to be beautiful.
How to express a distinction between the justified and the unjustified use of obscenity in a rule of law is easier said than done. Certainly children are not capable of the distinction, they cannot grasp irony, and need to be protected. One thing is sure though, there are dire consequences resulting from he inability to distinguish between the proper and the improper use of obscenity. When the distinction is forgotten, when we conclude that shame itself is unnatural, that we must get rid of our hang ups and give up the conventions devised by hypocrites, that there are no judgments to be made, that nothing that is appropriate in one place is inappropriate in another place (for just as a dog is not prevented from copulating in the market place, so it is unnatural to deprive men of the same pleasure were it only that of the voyeur in a theater) we will then also have forgotten the distinction between art and trash; that is to say, we will have made ourselves shameless.
N.B. This article, in a slightly modified form first appeared on May 4, 2009 in Ovi magazine. It was relevant then, it is even more relevant today. Obviously things are not progressing morally.
Solok Literacy Community held a discussion for Indonesia in the future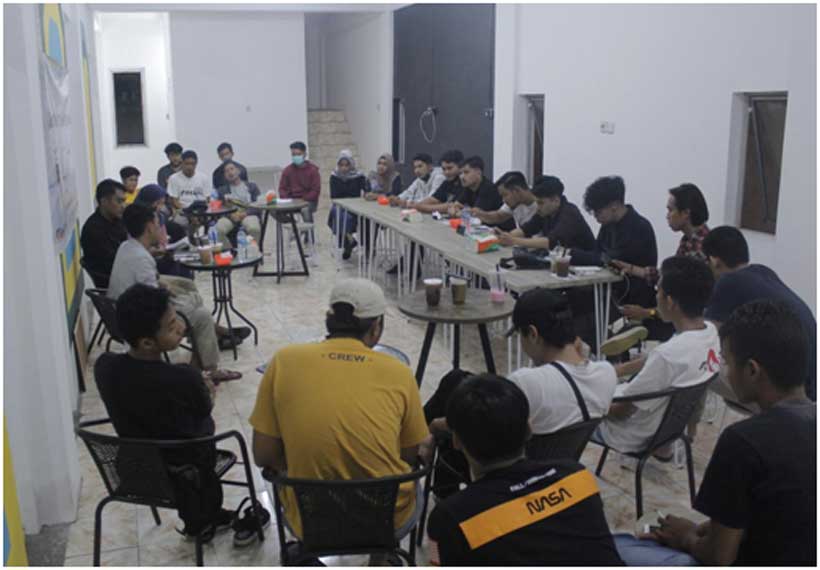 As one of the youth mobilizers in Solok and surrounding areas, Solok Literacy Community once again held one of its flagship activities or programs, 'Ngopi Discussion'. With a proactive discussion format that involves the activeness of the audience on a participatory basis, the discussion that was held on Sunday (11/4) then went interesting and very uplifting.
In his event, Solok Literasi invited an extraordinarily dedicated and accomplished presenter, Al Mukhollis Siagian a cross-continent writer and Yulenri Arif Hidayat as vice chairman of GenBi West Sumatera. Through the theme "Dreaming of a long and steep road to Indonesia gold 2045", Al Mukhollis began the discussion by explaining the problems faced by the community ranging from global, national, regional to regional levels.
Followed by building a problem map or roadmap that occurs around the community, Arif tried to find equiblirium problems of youth today so that later can be found a joint solution. At the end of the discussion it can be concluded that complex problems around the community have unconsciously turned out to have caught the youths off guard today.
Indonesia gold 2045 itself is a great dream of indonesian youth in productive age in forming a nation and country that is able to compete with other nations. Besides of course can first solve the fundamental problems that exist in the country of Indonesia. Whether it's about democracy, legal supremacy, emancipation of education, health, poverty to have a vocal point as a maritime country.
After counseling and finding the real problem point, Dinda Kusuma Putri as moderator can conclude that the core solution of the problem is how we jointly build synergistic mutualism by building a network of partnerships and then move smartly to educate every element of society.
Although shortly before the event there was heavy rain but did not discourage the intentions of soliters friends who want to attend the coffee discussion this time. Held in Hikari Cafe where the atmosphere and background of the place is very supportive for the holding of discussion forums. The coffee discussion lasted for 3 hours and ended a joint pledge regarding the integrity of the future movement to be much better.
The discussion of Solok Literacy Community coffee was also attended by various communities in Solok City and its surroundings, including Solok Millennial Creative (SMC), SolokMuda and Solok Student Alliance (AMS). The proliferation of movement of various youth communities in Solok also has a significant impact on the development of intellectual mindsets formed in every young person solok.
Coffee discussion itself is an activity with almost the same format as FGD (Focus Group Discussion) which studies an issue to be reviewed and found a solution together. Coffee discussion activities are identical to the discursus patterns held in coffee shops a la the current trend of young people and then always have a clear outcome after the course of the discussion.
Approximately 7 months since its establishment on September 21, 2020, Solok Literacy Community consists of 61 solok young people consisting of various basic vocational education. Solok Literacy crystallizes its movement through 4 excellent programs, namely coffee discussion; free reading stalls; surgical film; and classes of interests and talents.
Moving as a literacy promoter in Solok and its surroundings, The Solok Literacy Community has a desire to be able to print great narrators who are able to tell how extraordinary the resources owned by Indonesia to the international world. This long-term goal certainly begins with small, structured and systematic movements from now on.
To see the movement of Solok Literacy Community itself in order to educate the public about the importance of early literacy can be seen together on @solok_literasi Instagram account. The presence of Solok Literasi Community is also known to re-encourage other young people in West Sumatra to re-voice useful things and devote themselves to the benefit of the nation and the country.
Solok Literacy Community hopes that in the future it can continue to be consistent in improving the scalability of literacy among the community. In addition, also how the government is also aware and aware of the problems facing young people so that both the government and the organization/ community around it is able to build a synergy of partnerships that benefit the community.
Athletes knock the legs from under global sports governance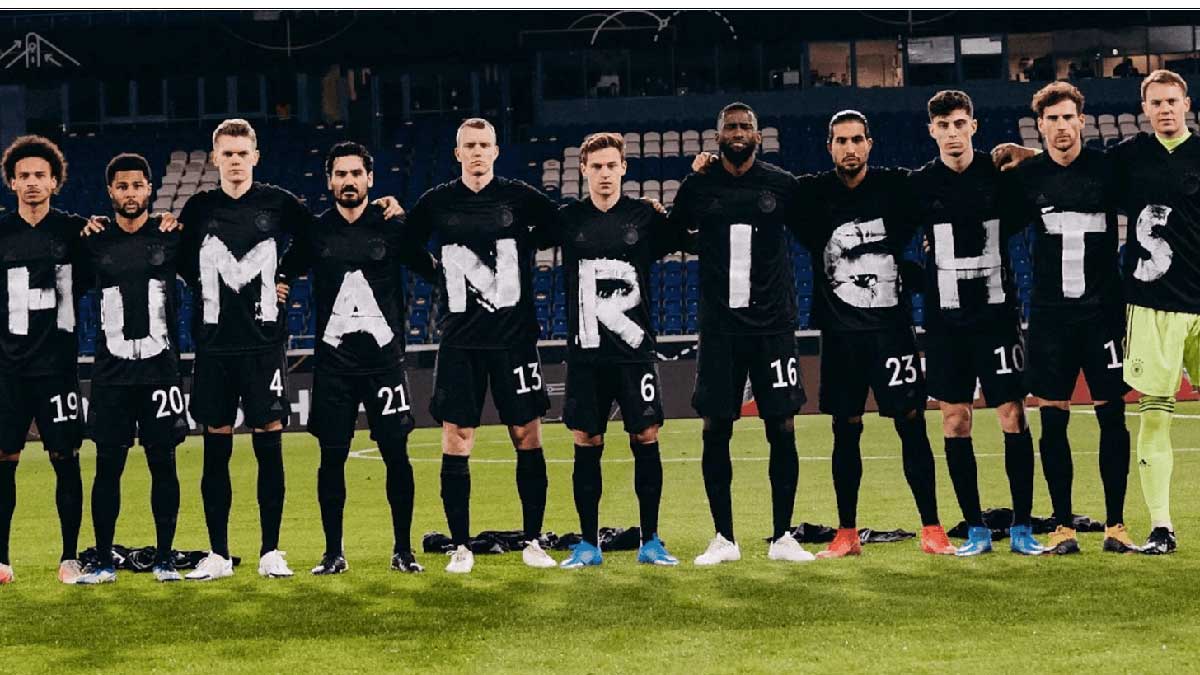 Sports governance worldwide has had the legs knocked out from under it. Yet, national and international sports administrators are slow in realizing the magnitude of what has hit them.
Tectonic plates underlying sports' guiding principle that sports and politics are unrelated have shifted, driven by a struggle against racism and a quest for human rights and social justice.
The principle was repeatedly challenged over the last year by athletes as well as businesses forcing national and international sports federations to either support anti-racist protest or at the least refrain from penalizing athletes who use their sport to oppose racism and promote human rights and social justice, acts that are political by definition.
The assault on what is a convenient fiction started in the United States as much a result of the explosion of Black Lives Matter protests on the streets of American cities as the fact that, in contrast to the fan-club relationship in much of the world, US sports clubs and associations see fans as clients, and the client is king.
The assault moved to Europe in the last month with the national soccer teams of Norway, Germany, and the Netherlands wearing T-shirts during 2022 World Cup qualifiers that supported human rights and change. The Europeans were adding their voices to perennial criticism of migrant workers' rights in Qatar, the host of next year's World Cup.
Gareth Southgate, manager of the English national team, said the Football Association was discussing with human rights group Amnesty International tackling migrant rights in the Gulf state.
While Qatar is the focus in Europe, greater sensitivity to human rights appears to be moving beyond. Formula One driver Lewis Hamilton told a news conference in Bahrain ahead of this season's opening Grand Prix that "there are issues all around the world, but I do not think we should be going to these countries and just ignoring what is happening in those places, arriving, having a great time and then leave."
Mr. Hamilton has been prominent in speaking out against racial injustice and social inequality since the National Football League in the United States endorsed Black Lives Matter and players taking the knee during the playing of the American national anthem in protest against racism.
In a dramatic break with its ban on "any political, religious or personal slogans, statements or images" on the pitch, world soccer governing body FIFA said it would not open disciplinary proceedings against the European players. "FIFA believes in the freedom of speech and in the power of football as a force for good," a spokesperson for the governing body said.
The statement constituted an implicit acknowledgement that standing up for human rights and social justice was inherently political. It raises the question of how FIFA going forward will reconcile its stand on human rights with its statutory ban on political expression.
It makes maintaining the fiction of a separation of politics and sports ever more difficult to defend and opens the door to a debate on how the inseparable relationship that joins sports and politics at the hip like Siamese twins should be regulated.
Signalling that a flood barrier may have collapsed, Major League Baseball this month said it would be moving its 2021 All Star Game out of Atlanta in response to a new Georgia law that threatens to potentially restrict voting access for people of colour.
In a shot across the bow to FIFA and other international sports associations, major Georgia-headquartered companies, including Coca Cola, one of the soccer body's longest-standing corporate sponsors, alongside Delta Airlines and Home Depot adopted political positions in their condemnation of the Georgia law.
The greater assertiveness of athletes and corporations in speaking out for fundamental rights and against racism and discrimination will make it increasingly difficult for sports associations to uphold the fiction of a separation between politics and sports.
The willingness of FIFA, the US Olympic and Paralympic Committee (USOPC) and other national and international associations to look the other way when athletes take their support for rights and social justice to the sports arena has let a genie out of the bottle. It has sawed off the legs of the FIFA principle that players' "equipment must not have any political, religious or personal slogans."
Already, the US committee has said that it would not sanction American athletes who choose to raise their fists or kneel on the podium at this July's Tokyo Olympic Games as well as future tournaments.
The decision puts the USOPC at odds with the International Olympic Committee's (IOC) staunch rule against political protest.
The IOC suspended and banned US medallists Tommie Smith and John Carlos after the sprinters raised their fists on the podium at the 1968 Mexico City Olympics to protest racial inequality in the United States.
Acknowledging the incestuous relationship between sports and politics will ultimately require a charter or code of conduct that regulates the relationship and introduces some form of independent oversight akin to the supervision of banking systems or the regulation of the water sector in Britain, alongside the United States the only country to have privatized water as an asset.
Human rights and social justice have emerged as monkey wrenches that could shatter the myth of a separation of sports and politics. If athletes take their protests to the Tokyo Olympics and the 2022 World Cup in Qatar, the myth would sustain a significant body blow.
Said a statement by US athletes seeking changes to the USOPC's rule banning protest at sporting events: "Prohibiting athletes to freely express their views during the Games, particularly those from historically underrepresented and minoritized groups, contributes to the dehumanization of athletes that is at odds with key Olympic and Paralympic values."
Disability policies must be based on what the disabled need
Diversity policies, especially when it comes to disabled people, are often created and implemented by decision makers with very different life experiences to those who their policies affect most.
We would never expect economic policy to be crafted without input from economists and bankers. We should demand the same for disability policies, if we want to create the change needed to produce inclusive societies.
Starting in 2017, I was humbled to be given an opportunity to develop the first multi-media, audio dictionary translating Bangla to English. As a disabled individual who is visually impaired, I was uniquely placed to design such a programme, based on my lived experience. The principle of entrusting service design to those who have the most experience in that area is a logical, common-sense approach to policy, yet many governments can do more in this area.
This has been particularly true throughout the pandemic, where it has been even more important to respond quickly and appropriately to the needs of citizens.
For example, school children have been failed in many countries through poor or non-existent education provision. Medical professionals have been let down due to poor access to PPE.
This begs the question, why haven't teachers created public policy regarding schools? Why haven't Doctors and nurses been a bigger part of public policy with regards to hospital management and equipment?
Those who have direct, lived experience should be able to formulate policy. I'm grateful that in Bangladesh and other nations, this is what is increasingly happening, with some groundbreaking results.
If nothing else, this approach is consistent with other professions: When applying for a job, an employer will always demand evidence of past experience. There is no reason why this should not apply to policy and politics.
You would never hire a builder to work on your house if they had never set foot on a building site: at most, you could hire an experienced interdisciplinary project manager if he or she was relying on the expertise of seasoned builders.
The benefit of applying lived experience to problem-solving has long been established in business – governments should follow suit.
The founders of the 'Lean methodology' are a great example of this, where they developed a process of continuous improvement and waste elimination that saw a failing car production company, Toyota, turn into a global market leader.
This methodology's pioneers, Kiichiro Toyoda and Taiichi Ohno, would demand that those working on the camper van, for example, would travel themselves in the vans they were trying to improve. This enabled them to uncover the sources of discomfort created through poor design, in a way that would have been impossible in a design office in Tokyo.
This cannot be directly applied to disability policy – it would be unethical and impossible to ask someone to be 'blind' for a period of time, in order to develop better policy.
The next best thing is for policy makers to engage with those who have the experience.
This isn't about denigrating the policymaking experience of those in government, but it is about helping them empathise with those whom their decisions impact. When public services are not designed with empathy for the people who use them, they are useless, or even potentially harmful.
The a2i empathy training programme, for example, arranges for relatively senior government officers to act as secret shoppers and visit citizens' access points for services outside of their ministry or area of expertise. This exercise puts them in "citizens' shoes" since they are forced to navigate public systems without any official or intellectual privileges. This experience helps participants develop a critical eye that they use to scrutinise their own agency's delivery systems and improve the overall quality of services.
This kind of real-world experience (either through engaging with service users, or by putting policy makers' in service users' shoes), as well as high-level expertise, should be part of governance as we move towards a 'new normal'.
There is no reason why Ministers for health shouldn't be ex-Doctors, and Ministers for education can't be ex-teachers. And there is no reason why disability policy cannot be informed by disabled people.
Public service is not rocket science, but if it was, it would make sense to entrust it to the rocket scientists.