The Palestinians Fabrications Concerning Jerusalem: What the Islamic Scriptures and Islamic History Instruct Us (C)
From the above list contains the most reliable Islamic classical exegetes clearly sums up the issue and refute all political propaganda raised by Muslim and Palestinian politicians. These exegetes acknowledge that it was well-known Muhammad had night dreams and visions, but as about the Jewish Temple Mount there are no evidence and proofs relating to his political and religious activities.
Muhammad did not know anything about Jerusalem, let alone visiting it, and moreover building a mosque there. It is of note that during most of Muhammad's prophetic career, Jerusalem was under Persian control (614-628). Byzantines returned triumphantly to Jerusalem only in 629.
Indeed, all Palestinian-Islamic assertions are fabrications based on myths with the aim of gaining political targets. The formula is crystal clear: as long as Jerusalem is under Islamic control, it is neglected and comes under oblivion. However, when Jews and/or Christians take control of the city, Muslim raise its artificial fabricated sanctity.
Furthermore, there is also the geographical terminology. The name al-Aqşā means "the most distant," "the furthest," cannot be tied or related to Jerusalem or anywhere in the Land of Israel for that matter, because it contradicts the Qur'an's statement which calls the Land of Israel "the nearest place," termed Adna al-Ard.
The phenomenon of denying Jewish history in Jerusalem and the existence of its two Temples is particularly perplexing since this denial contradicts the Qur'an itself. The Qur'an specifically mentions the Jewish Temple in Jerusalem and states that the Children of Israel enjoyed two periods of political autonomy in the Land of Israel, and that during those periods they built the First and Second Temples which were destroyed because of their sins.
And we gave Moses the Scripture, and made it a guide for the Children of Israel. Take none for protector other than me… And we conveyed to the Children of Israel in the Scripture: You will commit evil on earth twice, and you will rise to a great height. When the first of the two promises came true… It was a promise fulfilled. Then we gave you back your turn against them, and supplied you with wealth and children, and made you more numerous… Then, when the second promise comes true, they will make your faces filled with sorrow, and enter the Temple as they entered it the first time, and utterly destroy all that falls into their power.
The problem with these false claims is also that they expose an important Arab-Islamic cultural traits which reveal ethnocentric views and claims. It presumes that everything belongs to Islam and nothing will be shared with others. Jerusalem is only sacred to Islam, and since it isn't sacred to the Jews, they don't have any rights to it.
History, Religion, and Politics Refute Any Ties of Islam to Jerusalem
Muhammad and the Sahābah
If Jerusalem was so important to Islam religiously; and if Muhammad reached the city and established a mosque on the Temple Mount, called al-Aqşā; and if Jerusalem is indeed the third Ḥaram and the first Qiblah; then
How that is nobody knew of it among his friends (Sahābah), and even Muhammad himself did not know about it? He did not mention Jerusalem at all in his sermons and commandments; he did not tell his followers to worship Jerusalem, and above all, he did not send forces to conquer it from the infidels. He did nothing concerning Jerusalem. Is it possible?
The absence of Jerusalem is doubly surprising in light of the fact that in the 90 of 114 Meccan Sūwar the Qur'an frequently refers to stories from the Bible. Muhammad relates to many adventures of the Children of Israel, from Abraham and his sons in the Land of Israel and Egypt; continuing with Moses and the Children of Israel in Sinai, and the conquest of the Land of Israel; and ending with Kings David and Solomon and other Jewish prophets and figures. Kings David and Solomon resided in Jerusalem, the city of the Holy Temple. Nevertheless, Jerusalem is not mentioned, nor the Temple Mount in the Islamic Scriptures.
To comprehend how utterly strange is this phenomenon we must recall that the cities holy to Islam, Mecca and Medina, are described frequently, and these descriptions are accompanied by mention of historical events. Moreover, before Muhammad began his prophecy he engaged in commerce and once visited Damascus. Jerusalem was well known. Commercial caravans to Syria passed near Jerusalem. Still, total silence.
Moreover, one of his biographers, al-Wākidi, that his book, Kitāb al-Maghāzī details very carefully and authentically all of Muhammad's wars and the places he visited and stayed. How that al-Wākidi does not mention this glorious event of Muhammad in Jerusalem and the mosque he erected there, if it was true? In two occasions the Hadīth mentions a city named Ilia, Madīnat Bayt al-Maqdis, but only in a geographic context and not in a political sense, and certainly not in a religious one concerning Islam.
He who is acquainted with Arab-Islamic political culture exactly knows this scenario is impossible. The admiration to Muhammad among the Muslims is total and absolute. If Jerusalem was important to Muhammad and if he had been there, his generation and later on all the believers would have known it and warship it.
None had happened, because nothing should have happened. The Sīrah (Muhammad's biography) and the Ḥadīth (stories associated with Muhammad or about him as related by his confidants), which are an integral part with the Qur'an to comprise the Sharī'ah, contain extensive descriptions of Muhammad stories, declarations and activities. Still, Jerusalem is not mentioned at all. How could Mecca and Medina be mentioned so many times, while Jerusalem, which Islamic propagators establish as the third holiest city to Islam, is not mentioned?
'Umar bin al-Khattāb, the Conqueror of Jerusalem
If Jerusalem was so important to Islam religiously; and if Muhammad reached the city and established a mosque on the Temple Mount called al-Aqşā; and if Jerusalem is indeed the third Ḥaram and the first Qiblah; then
How that is the Land of Israel was conquered by 'Umar bin al-Khattāb in 634, but the Muslims did not bother to conquer Jerusalem until four years later? That is certainly an indication of the unimportance of Jerusalem as far as Islam is concerned. Had Jerusalem been of any real religious significance for Islam, it certainly would have been conquered as first priority.
Is it possible that 'Umar bin al-Khattab, one of Muhammad's closest confidantes, did not know there was a mosque on the Temple Mount that allegedly erected by Muhammad? Moreover, he entered the Temple Mount with a Jewish convert, Ka'ab al-Akhbar, as an instructor. 'Umar turned to him to find the direction to pray towards Mecca. If there was already a mosque there that Muhammad had ostensibly built, wouldn't 'Umar have known about it, and wouldn't he have prayed there?
Sure, there was no mosque there whatsoever. When Ka'ab, the Jewish convert, took off his shoes [in deference to the holiness of the Jewish shrine], suggested to build a mosque on the place of the Jewish Temple, 'Umar angrily responded that Ka'ab had never really left his Jewish faith. He insisted that the Muslims are required to pray solely toward the Ka'aba in Mecca, and did not even listen to the idea of building a mosque on the Temple Mount.
In addition to the absence of any real significance of Jerusalem in the eyes of Islam, immediately after it was conquered, the Muslims reached an agreement of surrender with the Christian leadership and thereupon proceeded to leave Jerusalem and ignore it, preserving its Christian character. Had Jerusalem occupied an important religious role in Islam, the Muslims would have not abandoned it to the Christians immediately following its conquest and granted the Christians far-reaching autonomy in it.
These facts bring the Islamic propagation concerning Jerusalem to absurd and ridicule. If the al-Aqşā mosque indeed was located on the Temple Mount, could we imagine that 'Umar bin al-Khattāb would belittle it and, by so doing, deny the validity of its source in the Qur'an? Obviously not. The fact is that there is no reference in the Qur'an to al-Aqşā or to any particular sanctity of the Temple Mount.
Moreover, After 'Umar left the Temple Mount and signed a treaty of protection with the Christians, called Dhimma, he decided to establish the Muslim capital in Caesarea. Later on the capital moved to Ramle, the only city the Muslims built in the Land of Israel. Does it sound logical from Islamic perspective that had al-Aqşā been located in Jerusalem built by Muhammad, could 'Umar or any Muslim blatantly disregard it and erect the capital in other cities? Indeed, 'Umar did so because there was nothing out there in Jerusalem sacred to Islam.
Jerusalem under the Umayyad Dynasty (al-Khilāfah al-Umawiyyah)
If Jerusalem was so important to Islam religiously; and if Muhammad reached the city and established a mosque on the Temple Mount called al-Aqşā; and if Jerusalem is indeed the third Ḥaram and the first Qiblah; then
How that is Jerusalem continued to be in oblivion and negligence, and that the Umayyad's capital was established in Damascus, and that still there was no prayer toward Jerusalem and even no known mosque there?
However, the internal war between Muhammad's family and the Mecca-oriented group against the Umayyad's Damascus-oriented Dynasty, brought a change. Due to the circumstances the Umayyads had to choose an alternative to the Ḥājj in Mecca, and Jerusalem was chosen just because of its location.
For that reason, the Umayyad ruler, 'Abd al-Malik (685-705) built the first mosque ever, only in 691, in Jerusalem, called the Dome of the Rock, Qubt al-Sakhra', on the Temple Mount. There was no religious decree or orientation there but pure politics. Why the Temple Mount? Because Jerusalem at that time was only a small part of what is known today as 'the Old City.' Another reason, the Umayyads wished to act against the Christians, where there was a church on the foundations of the Jewish Temple.
Only in 715 a second mosque was built by Suleiman, al-Walid's son, called Masjid al-Aqşā. It was built 83 years after Muhammad's death. From the emergence of Islam until 691 the Muslims built many mosques in all the lands they have conquered but not in Jerusalem. Is it something to consider?
A number of factors contributed to the decision to choose Jerusalem: First, the rebel forces of 'Abdallah ibn al-Zubayr controlled the Ḥijaz (Arabia) and prevented the Umayyad from taking part in the Ḥājj (pilgrimage to Mecca). Furthermore, the Umayyad Dynasty sought to legitimize their control of Syria: they had competitors in Arabia as well as in Iraq for the control of Mecca. Finally, in the absence of a spiritual center, the Umayyad needed a location like Jerusalem.
The power struggle within Islam itself has brought Jerusalem to the core. The Damascus-based Umayyad Caliphs who controlled Jerusalem wanted to establish an alternative holy site if their rivals blocked access to Mecca. That was important because the Ḥajj to Mecca was one of the Five Pillars of Islam. As a result, they built what became known as the Dome of the Rock shrine and the adjacent mosque. Indeed, all Umayyad's sources reveal that Jerusalem was chosen for its geographical location and not for any Islamic reason connected to Muhammad.
Ya'qubi, the 9th century historian describes the issue: at that time 'Abd al-Malik forbade the people of Syria to make a pilgrimage to Mecca because Ibn Zubeir, in Mecca revolted against him and forced the pilgrims the swear allegiance to him. Therefore, he built a dome over the Rock on Bayt al-Maqdis. Indeed, on the place of Jerusalem in Islamic tradition, S. D. Goitein takes issue about the role of the Umayyads in promoting the sanctity of Jerusalem.
It was not easy to change the Muslims' consciousness concerning Jerusalem and Ḥājj. That is why a new religious-educational orientation was established, called Fadā'il al-Quds literature. The target was clear: to make Jerusalem a place of sanctity for the masses under the Umayyads. However, when reading the material written on Fadā'il al-Quds the conclusion is clear: it does not say anything about Muhammad in Jerusalem and the erection of mosque there during Muhammad's life. There was only a new invention of Jerusalem as a holy city deserves to serve the Ḥājj ritual.
In this context, and for obvious political reasons, several clerics active during the period of the Umayyad dynasty set this holiness rating for Bayt al-Maqdis. They stated as follows: "prayer in Mecca is like one hundred thousand prayers, prayer in Medina is like one thousand prayers, and prayer in Bayt al-Maqdis is like five hundred prayers."
According to al-Muqaddasi (985), an historian in Jerusalem (as his name testifies, referring to the Jewish name of Jerusalem), the Dome of the Rock sought to elevate and sanctify Jerusalem, thus serving as a counterweight to the Christian churches that dominated the city, such as the Church of the Sepulcher. That is why there sprung up an entire literature about the "praise of Jerusalem" (Fadā'il al-Quds). Still it was of note that the region's capital was al-Ramlah and not Jerusalem. Moreover, this sanctity remained for only 60 years. When the Umayyad dynasty fell in 750, Jerusalem also fell into near obscurity for 350 years, until the Crusades.
Jerusalem Under the Abbasid Dynasty (al-Khilāfah al-'Abāssīyah)
The House of Umayyad fell in 750, and the entire ruling family were slaughtered by the Abbasids. For 350 years, up to the conquest of Jerusalem by the Crusaders, no Islamic entity displayed any interest in the city. The "Praise of Jerusalem" literature, that emerged for political reasons during the Umayyad dynasty and lasted at most 60 years, disappeared, and a new contradictory literature appeared that belittled the importance of Jerusalem.
If Jerusalem was so important to Islam religiously; and if Muhammad reached the city and established a mosque on the Temple Mount, called al-Aqşā; and if Jerusalem is indeed the third Ḥaram and the first Qiblah; then
How that is a new Islamic literature considered Jerusalem a source of heresy and rejection of Islamic sacred writings? How that is in 1033 the Dome of the Rock, most symbolically, collapsed and no one bothered to restore it as a holy site of worship? In 1173 Benjamin of Tudela visited Jerusalem. He described it as a small city full of Christian groups with two hundred Jews dwelt under the Tower of David. No Muslim community was mentioned.
The Fatimid control of Jerusalem ended when it was captured by the Crusaders in July 1099. The capture was accompanied by a massacre of the Muslim and Jewish inhabitants. Jerusalem became the capital of the Christian Kingdom of Jerusalem. The Church of the Holy Sepulcher was rebuilt, and Muslim mosques on the Jewish Temple Mount were converted for Christian purposes.
At the beginning, even the conquest of Jerusalem by the Crusaders failed to arouse any sense of shock or cultural-religious humiliation around the Islamic world. The Christian Crusaders destroyed mosques and synagogues, and built churches on those sites. Most of all, they pointed to Jerusalem as the pinnacle of their religious campaign. Moreover, the Ayyubid Dynasty destroyed the walls in expectation of ceding the city to the Crusaders as part of a peace treaty.
The Muslims did not refer to the conquest of Jerusalem as a goal. Only a few voices mentioned the city, and only few sources can be cited in the reports of travelers of that period who barely mention Jerusalem in a religious context and certainly not as an important site for tourism. The religious side was much less even mentioned let alone practiced. It was pure politics. Infidels occupying a Muslim land, and from social-economic perspective impoverishment and misery of Jerusalem were at their peak.
However, through time there emerged some different voices, such as that of Ali the son of Tahir al-Sulami, a cleric who resided in Damascus, who preached the need for Jihad against the Crusaders. The 12th century Nur al-Din, the ruler of Aleppo and Mosul pressed hard for a Jihad against the infidels. For that he employed the religious motifs used by the Umayyads such as Fadā'il al-Quds. The Praises of Jerusalem literature had returned, and a new slogan flourished, to be used extensively later on against the State of Israel: "liberating al-Aqsa" from the infidels.
A genuine change in the attitude toward Jerusalem emerged only when Salah al-Din al-Ayyubi was dubbed the "liberator of al-Quds" in 1187, a cornerstone event founded in religious belief. The main motifs defined on the basis of the city's sanctity deriving from the mosques found on the Temple Mount, and the fact that Jerusalem was the first Qiblah and the third Haram in Islam.
The Kingdom of Jerusalem lasted until 1291, however, Jerusalem itself was recaptured by Salah al-Din al-Ayyubi in 1187. Yet, Salah al-Din al-Ayyubi made no real efforts to make Jerusalem a religious center. No significant religious institutions were built in Jerusalem during his reign, and very soon he called on the Jews to return to their holy city. His success was more political than religious: he invested efforts in the struggle against the infidels, to gain sovereignty over what was called Islamic territory.
Upon termination of the Crusader era, Jerusalem again sank into relative oblivion and negligence. The rise of puritanical trends within Islam also contributed to the neglect of Jerusalem. The Ḥanbali exegete, Ibn Taymiyah (1263-1328) is identified with this trend more than anyone else. He was active in abolishing Jerusalem's elevated status. He strenuously asserted that Jerusalem occupied no important religious role in Islam, and that the city's prominence derived exclusively from Judaism and Christianity. In his Great Compilation of Letters, he stated that directing prayer toward Bayt al-Maqdis (the Jewish Holy Temple) was nullified, and whoever does so is a heretic, becoming an apostate (Murtad). If he doesn't retract, he is to be executed. No later scholar could disagree with this rule nor with the traditions did he observe.
In fact, beginning with the 12th century, Islam became increasingly rigid and ceased absorbing new ideas. The gates of innovation (Ijtihād) were closed, and the era of Muhammad and the four Righteous Caliphs became the perfect way of life Muslims must follow and imitate. First and foremost among these was the notion that Jerusalem was not sacred. In any way it has become null and void, even heresy.
Though the short-period change of Jerusalem as being religious in Islamic conceptions was raised during the Umayyad's rule and the Ayyubi's, it was solely political, targeted against their enemies than religious feelings. It reappeared in the 20th century in the political struggle against the Jews and the State of Israel. It was not and still is not the mixture between religion and politics, but the political use of religion for political ends.
Jerusalem under the Ottoman Empire (Osmanlī Devletī)
If Jerusalem was so important to Islam religiously; and if Muhammad reached the city and established a mosque on the Temple Mount, called al-Aqşā; and if Jerusalem is indeed the third Ḥaram and the first Qiblah; then
How that is the trends revealed during the Abbasid rule became apparent during the reign of the Mamlūks who came from Egypt and secured their control over the Land of Israel and Syria after their victory over the Mongols in 1260? That fact is that Jerusalem once more fell into awe-full neglect and poverty with no economic or political support. Many public buildings constructed during the reign of the Mamlūks fell into disrepair or were closed. Even Safed and Gaza, small cities at that time, were granted status as independent provinces but not Jerusalem.
The rule of Suleiman and the earlier subsequent Ottoman Sultans brought an age of religious peace, were Jew, Christian and Muslim enjoyed the freedom of religion in Jerusalem. However, from Muslim perspective the four hundred years of the Ottoman rule, 1517-1917, Jerusalem remained in its inferior and impoverished status under the regional rule of Damascus (Villayet-province).
Though Suleiman the Magnificent rebuilt the walls of Jerusalem, and reinforced public structures, soon after its conquest, these steps were taken merely because Jerusalem serviced the pilgrims on their way to Mecca. Cairo (Fustāt), Damascus (as-Shām), Constantinople (Istanbul), and other metropolitan centers were considered to be of religious significance and places of warship. Jerusalem was not part in this list. Jerusalem was certainly not on the same status as Mecca and Medina.
By the 19th century, Jerusalem had been so neglected by Islamic rulers that several prominent Western writers who visited Jerusalem were moved to write about it. French writer Gustav Flaubert, for example, found "ruins everywhere" during his visit in 1850. In Innocents Abroad, 1869, chapter LIII, Mark Twain described the condition of Jerusalem under Ottoman Muslim rule: "Rags, wretchedness, poverty and dirt, those signs and symbols that indicate the presence of Moslem rule more surely than the crescent-flag itself, abound… Jerusalem is mournful, and dreary, and lifeless… In chapter LVI: "Renowned Jerusalem itself, the stateliest name in history, has lost all its ancient grandeur … the wonderful temple which was the pride and the glory of Israel, is gone, and the Ottoman crescent is lifted above the spot where, on that most memorable day in the annals of the world, they reared the Holy Cross."
Egypt's search for a fig leaf: It's not the Handball World Championship
Hosting major sports tournaments can confer prestige on a country, but in the case of Egypt, the 2021 Handball World Championship will do little to repair its relations with the US, Italy and states in the Gulf, argues James M. Dorsey in this analysis.
***
Egyptian general-turned president Abdel Fattah Al-Sisi sees the 2021 men's handball world championship in Cairo and Alexandria as an opportunity to put his best foot forward at a time when Egypt's relations with its closest regional and global partners are encountering substantial headwinds.
Successful hosting of the championship, the first to involve 32 rather than 24 competing teams, would also serve to counter criticism of the government's handling of the coronavirus pandemic. Egyptian health minister Hala Zayed recently admitted that many more Egyptians contracted the virus than the government has so far reported. A successful hosting would further put a crown in the feather of Egyptian-born International Handball Federation (IHF) president Hassan Moustafa.
Egypt has put strict pandemic-related precautionary heath measures in place for the tournament from the moment teams, officials, and journalists arrive at Cairo International Airport. The measures apply to training, lodging and media arrangements as well as the transport to and from hotels and the championship's four designated match venues. Egypt is determined to ensure that the championship does not turn into a spreader of Covid-19.
That concern prompted the IHF and Egyptian authorities at the last minute to shelve a plan to allow fans into the four venues that include the Cairo Stadium Sports Hall, the New Capital Sports Hall in Egypt's newly built desert capital east of Cairo, the Dr Hassan Moustafa Sports Hall in Giza, and the Borg Al Arab Sports Hall in Alexandria.
The IHF said the decision was taken "considering the current COVID-19 situation as well as concerns that have been raised, amongst others by the players themselves."
Critics charge that Egypt is hosting the tournament even though it seems unable to meet the basic requirements of medical personnel who are on the frontline of the fight against the pandemic.
Doctors and nurses have protested against the high number of infections in their ranks because they lack access to sufficient personnel protection equipment and are threatened with imprisonment if they fail to report to work despite the risk to their lives.
Symptomatic for Mr. Al-Sisi's brutal crackdown on any kind of criticism, several doctors have been arrested on terrorism charges for voicing their grievances.

Putting aside the fact that the impact of a handball tournament pales when compared to the prestige of hosting a mega-event like the World Cup or the Olympic Games, the handball tournament is unlikely to provide much of a fig leaf for Mr. Al-Sisi's hardhanded repression of anyone voicing an opinion but his sycophantic supporters.
That is particularly true for the incoming administration of US President-elect Joe Biden that has not only promised to emphasize human rights in its foreign policy but also needs to do so in its bid to repair America's image and restore its credibility, severely damaged by four years of Donald J. Trump, widely viewed as an authoritarian who undermined foundations of democracy.
Similarly, the tournament will not change perceptions in Italy and much of Europe that hold Mr. Al-Sisi's intelligence service and law enforcement responsible for the kidnapping, torture and killing of Giulio Regeni.
A 28-year-old postgraduate student at Cambridge University, Mr. Regeni had been researching Egypt's independent unions before he went missing in late January 2016. His body was found in a ditch so badly mutilated that his mother could only identify her son by the tip of his nose. He reportedly had sustained a broken neck, wrist, toes, fingers, and teeth before his death, while initials were carved into his severely burned and bruised skin.
Relations between Egypt and Italy last month deteriorated further when Egypt's public prosecution closed its investigation into Mr. Regeni's murder, rejecting Italian prosecutors' findings that accused four Egyptian security officials of responsibility for his death.

Mr. Al-Sisi's abominable human rights record may not be of concern to the United Arab Emirates and Saudi Arabia but equally the tournament will do little to repair cracks in his relationship with the two Gulf states, his main financial backers.
In a move that will not have gone unnoticed in Gulf capitals, Egypt anointed the newly opened, Qatari-owned St. Regis hotel on the banks of the Nile River in Cairo as one of the tournament's key logistics nodes, including its media center.
Qatari Finance Minister Ali Sharif al-Emadi landed in Cairo last week to inaugurate the hotel hours after a Gulf Cooperation Council (GCC) summit lifted a 3.5-year long Saudi-UAE led economic and diplomatic boycott of Qatar, in which Egypt as well as Bahrain participated. Mr. Al-Emadi was the first Qatari Cabinet official to visit Egypt since the boycott was imposed in 2017.
Showcasing the hotel was meant to counter-intuitively signal to Saudi Arabia and the UAE Egypt's concern that reconciliation with Qatar involved far too many concessions, including dropping demands for the closure of Qatar's state-funded, freewheeling Al Jazeera television network and a halt to support of political groups like the Muslim Brotherhood.
Egypt was forced to reluctantly agree to lifting the boycott even though it accepted continued Qatari investment and Qatari gas supplies over the last 3.5 years.
Egypt also felt sidelined by the UAE and Bahrain's establishment of diplomatic relations with Israel. The move deprived Egypt of its role as Israel's primary official diplomatic conduit to the Arab world at a moment that the Al-Sisi regime is seeking to put its best foot forward in anticipation of Mr. Biden taking office.
Mr. Al-Sisi's concerns are compounded by Emirati support for Ethiopia with which he is at odds over the construction of a dam on the Nile that threatens Egypt's water supply; the UAE's growing influence in neighboring Sudan; plans to link the UAE and Israel through a pipeline that would compete with Egypt in selling gas to Europe; and Emirati interest in the port of Haifa that could create an alternative to the Suez Canal.
All of this could undermine Egypt's position as a key pillar of US Middle East policy and persuade the US to further shift the focal point of its broader Middle East and North Africa policy to the Gulf.
Mr. Al-Sisi has sought to pre-empt an incoming Biden administration by releasing prisoners, highlighting his good relations with Egyptian Christians, and hiring US lobbying firms to plead his case to the Biden camp as well as Capitol Hill.
Hosting a handball world championship is a minor maneuver in the mountain that Mr. Al-Sisi is trying to move, particularly one that Mr. Trump tarnished by describing the Egyptian leader as "my favorite dictator." That is a label a handball tournament is unlikely to alter.
Author's note: This article first appeared on Play the Game
Looming Large: The Middle East Braces for Fallout of US–China Divide
China would like the world to believe that the Middle East and North Africa region does not rank high on its totem pole despite its energy dependence, significant investment and strategic relationships with the region. In many ways, China is not being deceptive. With relations with the United States rapidly deteriorating, China's primary focus is on what it views as its main battleground: the Asia–Pacific. China is nonetheless realising that remaining aloof in the Middle East may not be sustainable.
In assessing the importance of the Middle East and North Africa region to China, the glass seems both half full and half empty with regard to what it will take for China to secure its interests. In the final analysis, however, the glass is likely to prove to be half full. If so, that will have significant consequences for Chinese policy towards and engagement in the region.
Indeed, measured by Chinese policy outputs such as white papers or level of investment as a percentage of total Chinese overseas investment, the Middle East and North Africa region does not emerge as a priority on Beijing's agenda even if virtually all of it is packaged as building blocks of its Belt and Road Initiative (BRI).
It was only in 2016 that China published its first and only Middle East-related white paper, devoted to the Arab states rather than the region as a whole. Apart from rehashing China's long-standing foreign policy principles, the paper highlighted opportunities for win-win cooperation in areas ranging from energy, trade and infrastructure, but also technology, nuclear development, and space.[1]
Investment figures tell a similar story. Of the US$2 trillion in Chinese overseas investment between 2005 and 2019, a mere US$198 billion or under 5 per cent went to the Middle East and North Africa.[2]
The region is unlikely to climb Beijing's totem pole any time soon, given the dramatic decrease in Chinese foreign investment in the last four years to about 30 per cent of what it was in 2016[3] and expectations that Middle Eastern and North African economies will significantly contract as a result of the coronavirus pandemic and sharp downturn in energy markets.[4]
Half Full Rather Than Half Empty
What turns the glass half full is the fact that the Middle East fulfils almost half of China's energy needs.[5] Moreover, some of China's investments, particularly in ports and adjacent industrial parks in the Gulf, Egypt and the eastern Mediterranean,[6] are strategically important. What was once primarily a Belt and Road "string of pearls" linking Indian Ocean ports has evolved into a network that stretches from Djibouti in east Africa through Oman's port of Duqm and the United Arab Emirates' Jebel Ali port into a near dominant position in the eastern Mediterranean and onwards into the Indo–Pacific.
China already exerts influence in the eastern Mediterranean region through its involvement in ports in Greece, Turkey, Israel and Egypt. It has expressed interest in the Lebanese port of Tripoli and may well seek access to the Russian-controlled ports of Tartus and Latakia if and when it gets involved in the reconstruction of war-ravaged Syria. This was one reason that the Trump administration warned the Israelis that China's engagement in Haifa, where they have built their own pier, could jeopardise continued use of the port by the US Sixth Fleet.[7]
Asserting the importance of the Middle East, Niu Xinchun, director of Middle East Studies at China Institutes of Contemporary International Relations (CICIR), wrote back in 2017: "The politics and security of the Middle East [are] inextricably related to China. This is the first time in history that China has possessed political, economic and security interests in the Middle East simultaneously."[8] CICIR is widely viewed as China's most influential think tank.
More recently, however, Niu has taken what seems like an antipodal position, maintaining that the Middle East does not feature prominently in China's strategic calculations. In a webinar in May 2020, he said: "For China, the Middle East is always on the very distant backburner of China's strategic global strategies … Covid-19, combined with the oil price crisis, will dramatically change the Middle East. [This] will change China's investment model in the Middle East."[9] Niu emphasised that China considers the Asia–Pacific rather than the Middle East as its primary battleground for differences with the United States.
This shift was part of a game of shadow boxing to subtly warn the Gulf, and particularly Saudi Arabia, to dial down tension with Iran to a point where it can be managed and does not spin out of control.
To ensure that its message is not lost on the region, China could well ensure that its future investments contribute to job creation, a key priority for Middle Eastern states struggling to come to grips with the economic crisis as a result of the pandemic and the sharp fall in oil demand and prices. Middle East political economy scholar Karen Young noted that Chinese investment has so far focused on a small number of locations and had not significantly generated jobs.[10]
Subtle Messaging
Subtle Chinese messaging was also at the core of China's public response to Iranian leaks that it was close to signing a 25-year partnership with the Islamic republic that would lead to a whopping US$400 billion investment to develop the country's oil, gas and transportation sectors.
China limited itself to a non-committal on-the-record reaction and low-key semi-official commentary. Foreign Ministry spokesman Zhao Lijian, a "wolf warrior" or exponent of China's newly adopted more assertive and aggressive approach towards diplomacy, was exceptionally diplomatic in his comment. "China and Iran enjoy traditional friendship, and the two sides have been in communication on the development of bilateral relations. We stand ready to work with Iran to steadily advance practical cooperation", Zhao said.[11]
Writing in the Shanghai Observer, a secondary Communist party newspaper, Middle East scholar Fan Hongda was less guarded. Fan argued that the agreement, though nowhere close to implementation, highlighted "an important moment of development" at a time that US–Chinese tensions allowed Beijing to pay less heed to American policies. In saying so, Fan was echoing China's warning that the United States was putting much at risk by retching up tensions between the world's two largest economies and could push China to the point where it no longer regards the potential cost of countering US policy as too high.[12]
Diplomacy with "Chinese Characteristics"
Nonetheless, China's evasiveness on the Iran agreement constituted a recognition that the success of its Belt and Road initiative and its ability to avoid being sucked uncontrollably into the Middle East's myriad conflicts depends on a security environment that reduces tension to manageable proportions and ensures that disputes do not spin out of control.
"Beijing has indeed become more concerned about the stability of Middle Eastern regimes. Its growing regional interests combined with its BRI ambitions underscore that Middle East stability, particularly in the Persian Gulf, is now a matter of strategic concern for China," said Mordechai Chaziza, an expert on China–Middle East relations.[13]
Reflecting what appears to be a shift in China's approach to regional security, Chinese scholars Sun Degang and Wu Sike described the Middle East in a recently published article as a "key region in big power diplomacy with Chinese characteristics in a new era". Sun and Wu suggested that Chinese characteristics would involve "seeking common ground while reserving differences", a formula that implies conflict management rather than conflict resolution. The scholars said Chinese engagement in Middle Eastern security would seek to build an inclusive and shared regional collective security mechanism based on fairness, justice, multilateralism, comprehensive governance and the containment of differences.[14]
A Blunt Rebuke
But China's conflict management diplomacy may not go down well with the Gulf Arabs, notably Saudi Arabia, judging by what for Saudi media was a blunt and rare recent critique of the People's Republic. In a game of shadow-boxing in which intellectuals and journalists front for officials who prefer the luxury of plausible deniability, Saudi Arabia responded bluntly in a column authored by Baria Alamuddin, a Lebanese journalist who regularly writes columns for Saudi media.
Alamuddin warned that China was being lured to financially bankrupt Lebanon by Hizballah, the Iranian-backed Lebanese Shi'a militia. She suggested in a column published by Arab News, the kingdom's primary English-language newspaper, that Hizballah's seduction of China was occurring against the backdrop of a potential massive 25-year cooperation agreement between the People's Republic and Iran. "Chinese business and investment are welcome, but Beijing has a record of partnering with avaricious African and Asian elites willing to sell out their sovereignty. Chinese diplomacy is ruthless, mercantile and self-interested, with none of the West's lip service to human rights, rule of law or cultural interchange", Alamuddin charged.[15] She quoted a Middle East expert from a conservative US think tank as warning that "vultures from Beijing are circling, eyeing tasty infrastructure assets like ports and airports as well as soft power influence through Lebanon's universities."[16]
Abandoning Saudi official and media support for some of the worst manifestations of Chinese autocratic behaviour, including the brutal crackdown on Turkic Muslims in Xinjiang and the repression of democratic expression and dissident, Alamuddin did not mince words.
Alamuddin went on to assert that "witnessing how dissident voices have been mercilessly throttled in Hong Kong, Tibet and Xinjiang, Lebanese citizens are justifiably fearful that their freedoms and culture would be crushed under heavy-handed, authoritarian Chinese and Iranian dominance, amid the miserable, monolithic atmosphere Hizballah seeks to impose."[17]
A Hair in the Soup
Further complicating Chinese efforts to nudge the Middle East towards some degree of stabilisation are China's technology and military sales with no constraints on their use or regard for the potential geopolitical fallout. The sales include drone and ballistic missile technology as well as the building blocks for a civilian nuclear programme for Saudi Arabia, which would significantly enhance the kingdom's ability to develop nuclear weapons should it decide to do so at some point in future.
These sales have fuelled fears, for different reasons, in Jerusalem and Tehran of a new regional arms race in the region.[18] Israel's concerns are heightened by the Trump administration's efforts to limit Israeli dealings with China that involve sensitive technologies while remaining silent about Chinese military assistance to Saudi Arabia.[19]
Washington's indifference may be set to change, assuming that the recent rejection by the US Embassy in Abu Dhabi of an offer by the UAE to donate hundreds of Covid-19 test kits for screening of its staff was a shot across the Gulf's bow. A US official said the tests were rejected because they were either Chinese-made or involved BGI Genomics, a Chinese company active in the Gulf, which raised concerns about patient privacy.[20]
The American snub was designed to put a dent in China's "Silk Road" health diplomacy centred on its experience with the pandemic and predominance in the manufacturing of personal protective and medical equipment as well as pharmaceutics.
A Major Battlefield
Digital and satellite technology in which Chinese telecommunications giant Huawei's 5G cellular technology rollout is but one component seems set to be a major battlefield. US officials have warned that the inclusion of Huawei in Gulf networks could jeopardise sensitive communications, particularly given the multiple US bases in the region, including the US Fifth Fleet in Bahrain and the forward headquarters of the US military's Central Command, or Centcom, in Qatar.[21]
US Assistant Secretary of State for Near Eastern Affairs David Schenker said the United States had advised its Middle Eastern partners in the region to take "a careful look at investment, major contracts and infrastructure projects." He warned that certain engagements with China could "come at the expense of the region's prosperity, stability, fiscal viability and longstanding relationship with the United States."
Schenker cautioned further that agreements with Huawei meant that "basically all the information and your data is going to Huawei, property of the Chinese Communist Party". The same, he said, was true for Chinese health technology. "When you take a Covid kit from a Chinese genomics company, your DNA is property of the Chinese Communist Party, and all the implications that go with that."[22]
The rollout of China's BeiDou Satellite Navigation System (BDS), which competes with the United States' Global Positioning System (GPS), Russia's GLONASS and Europe's Galileo,[23] sets the stage for battle, with countries like Saudi Arabia, the UAE, Egypt and Turkey having signed up for what is known as China's Digital Silk Road Initiative.[24] So far, Pakistan is the only country known to have been granted access to BeiDou's military applications, which provide more precise guidance for missiles, ships and aircraft.[25]
Promoting "the development of the digital service sector, such as cross-border ecommerce, smart cities, telemedicine, and internet finance (and) … technological progress including computing, big data, Internet of Things, artificial intelligence, blockchain, and quantum computing," the initiative will enable China to enhance its regional influence and leverage in economics as well as security.[26] China's state-owned international broadcaster, China Global Television Network (CGTN), implicitly anticipated US resistance to its Middle Eastern partners being roped into a Chinese digital world when it declared that "a navigation system is like a gold key of your home that should be kept only in your own hands, not others."[27]
The successful launch in July of a mission to Mars, the Arab world's first interplanetary initiative, suggested that the UAE was seeking to balance its engagement with the United States and China in an effort not to get caught in the growing divergence between the two powers. The mission, dubbed Hope Probe, was coordinated with US rather than Chinese institutions, including the University of Colorado Boulder's Laboratory for Atmospheric and Space Physics and NASA's Mars Exploration Program Analysis Group (MEPAG). It launched from Japan's Tanegashima Space Center.[28]
You Can Run, But You Can't Hide
A continuously deteriorating relationship between the United States and China is a worst-case scenario for Middle Eastern states. It would progressively reduce their ability to walk a fine line between the two major powers. That would be particularly true if US efforts to force its partners to limit their ties to the People's Republic compel China into defiance by adopting a more geopolitically assertive posture in the region.
Ironically, the US desire to recalibrate its engagement with the Middle East and a realisation on the part of Saudi Arabia and Iran that their interests are best served by a reduction of tension rooted in an arrangement based on a non-aggression agreement could serve as a catalyst for a new Gulf security architecture. This could involve embedding the US defence umbrella, geared to protect Gulf states against Iran, into a multilateral structure that would include rather than exclude Iran and involve Russia, China and India.
A more multilateral security arrangement potentially could reduce pressure on the Gulf states to pick sides between the United States and China and would include China in ways that it can manage its greater engagement without being drawn into the region's conflicts in ways that frustrated the United States for decades.
None of the parties are at a point where they are willing to publicly entertain the possibility of such a collective security architecture. Even if they were, negotiating a new arrangement is likely to be a tedious and tortuous process. Nonetheless, such a multilateral security architecture would ultimately serve all parties' interests and may be the only way of reducing tension between Saudi Arabia and Iran and managing their differences, which would in turn help China secure its energy and economic interests in the region. This reality enhances the likelihood that the glass is half full in terms of China ultimately participating in such a multilateral security arrangement, rather than half empty, with China refraining from participation.
Author's note: This article first appeared in Middle East Insights of the National University of Singapore's Middle East Institute
End Notes
[1] Ministry of Foreign Affairs, People's Republic of China, "China's Arab Policy Paper", 13 January 2016, https://www.fmprc.gov.cn/mfa_eng/zxxx_662805/t1331683.shtml#:~:text=Since%20the%20establishment%20of%20diplomatic,fields%20has%20been%20constantly%20deepened.&text=The%20Chinese%20government%20has%20issued,development%20of%20China%2DArab%20relations.
[2] American Enterprise Institute, "China Global Investment Tracker", https://www.aei.org/china-global-investment-tracker/.
[3] Agatha Kratz speaking on "China and the Mediterranean Region in and Beyond the Pandemic, German Marshal Fund", 3 July 2020, https://www.gmfus.org/events/china-and-mediterranean-region-and-beyond-pandemic.
[4] James M Dorsey, "Turning Gulf Security Upside Down", Insight 238, Middle East Institute Singapore,  6 July 2020, https://mei.nus.edu.sg/publication/insight-238-turning-gulf-security-upside-down/.
[5] Michal Meidan, "China's Energy Security at 70", The Oxford Institute for Energy Studies, October 2019, https://www.oxfordenergy.org/wpcms/wp-content/uploads/2019/10/Chinas-energy-security-at-70.pdf.
[6] James M Dorsey, "Syria lures but will China bite?", The Turbulent World of Middle East Soccer, 12 June 2020, https://mideastsoccer.blogspot.com/2020/06/syria-lures-but-will-china-bite.html.
[7] Dorsey, "Syria lures but will China bite?"
[8] Niu Xinchun, "China's Middle East Strategy under the 'Belt and Road' Initiative", Foreign Affairs Review 04/2017.
[9] Niu Xinchun speaking on "How are China's Relations with the Middle East Evolving During the COVID-19 Pandemic?", Chatham House, 19 May 2019, https://www.facebook.com/watch/?v=2721841274725780.
[10] Karen Young, "The false logic of a China–US choice in the Middle East", Al-Monitor, 30 June 2020, https://www.al-monitor.com/pulse/originals/2020/06/false-logic-china-us-choice-mideast-economic-political-power.html.
[11] Ministry of Foreign Affairs, People's Republic of China, Foreign Ministry Spokesperson Zhao Lijian's Regular Press Conference on 6 July 2020,  https://www.fmprc.gov.cn/mfa_eng/xwfw_665399/s2510_665401/2511_665403/t1795337.shtml.
[12] "Iran announced a 25-year comprehensive cooperation plan with China. Can China–Iran relations get closer?", Shanghai Observer, 20 June 2020, (观察家 | 伊朗宣布与华25年全面合作计划,中伊关系能否进一步走近?)https://www.shobserver.com/news/detail?id=264494.
[13] Mordechai Chaziza, "Religious and Cultural Obstacles to China's BRI in the Middle East", The Begin-Sadat Center for Strategic Studies, 12 June 2020, https://besacenter.org/perspectives-papers/china-middle-east-obstacles/.
[14] Sun Degang and Wu Sike, "China's Participation in Middle East Security Affairs in the New Er: -Ideas and Practice Exploration" (中东研究】孙德刚 吴思科:新时代中国参与中东安全事务-理念主张与实践探索), Shanghai International Studies University, July 2020.
[15] Baria Alamuddin, "Chinese and Iranian vultures circling over Beirut", Arab News, 2 August 2020, https://www.arabnews.com/node/1713456.
[16] Danielle Pletka, "Lebanon on the Bbrink", American Enterprise Institute, 9 May 2020, https://www.aei.org/op-eds/lebanon-on-the-brink/.
[17] Baria Alamuddin, "Chinese and Iranian vultures circling over Beirut".
[18] Phil Mattingly, Zachary Cohen and Jeremy Herb, "US intel shows Saudi Arabia escalated its missile program with help from China", CNN, 5 June 2020, https://edition.cnn.com/2019/06/05/politics/us-intelligence-saudi-arabia-ballistic-missile-china/index.html.
[19] Mattingly, Cohen and Herb, "US intel"; Timothy Gardner, "US approved secret nuclear power work for Saudi Arabia", Reuters, 28 March 2019, https://www.reuters.com/article/us-usa-saudi-nuclear/us-approved-secret-nuclear-power-work-for-saudi-arabia-idUSKCN1R82MG.
[20] Interview with author, 8 June 2020.
[21] Interview with author, 10 July 2020.
[22] Middle East Institute, "Shifting Dynamics and US Priorities in the Middle East: A Conversation with David Schenker", 4 June 2020, https://www.mei.edu/events/shifting-dynamics-and-us-priorities-middle-east-conversation-david-schenker.
[23] Ben Westcott, "China's GPS rival Beidou is now fully operational after final satellite launched", CNN Business, 24 June 2020, https://edition.cnn.com/2020/06/24/tech/china-beidou-satellite-gps-intl-hnk/index.html.
[24] Belt and Road News, "China's Global Digital Silk Road is arriving in the Middle East", 16 September 2019, https://www.beltandroad.news/2019/09/16/chinas-global-digital-silk-road-is-arriving-in-the-middle-east/.
[25] Maria Abi-Habib, "China's 'Belt and Road' Plan in Pakistan takes a military turn", The New York Times, 19 December 2018, https://www.nytimes.com/2018/12/19/world/asia/pakistan-china-belt-road-military.html.
[26] Huang Yong, "Construction of digital Silk Road lights up BRI cooperation", People's Daily, 24 April 2019, http://en.people.cn/n3/2019/0424/c90000-9571418.html.
[27] Kristin Huang, "China's answer to GPS complete as final BeiDou satellite launches", South China Morning Post, 23 June 2020, https://www.scmp.com/news/china/science/article/3090186/chinas-global-aspirations-lift-beidou-satellite-launches-orbit?utm_source=Twitter&utm_medium=share_widget&utm_campaign=3090186.
[28] Jesse Yeung, "The UAE has successfully launched the Arab world's first Mars mission", CNN, 21 July 2020, https://edition.cnn.com/2020/07/19/middleeast/uae-mars-hope-launch-intl-hnk-scn-scli/index.html.
JCPOA Implementation Amid a Tug of War between Rhetoric and Facts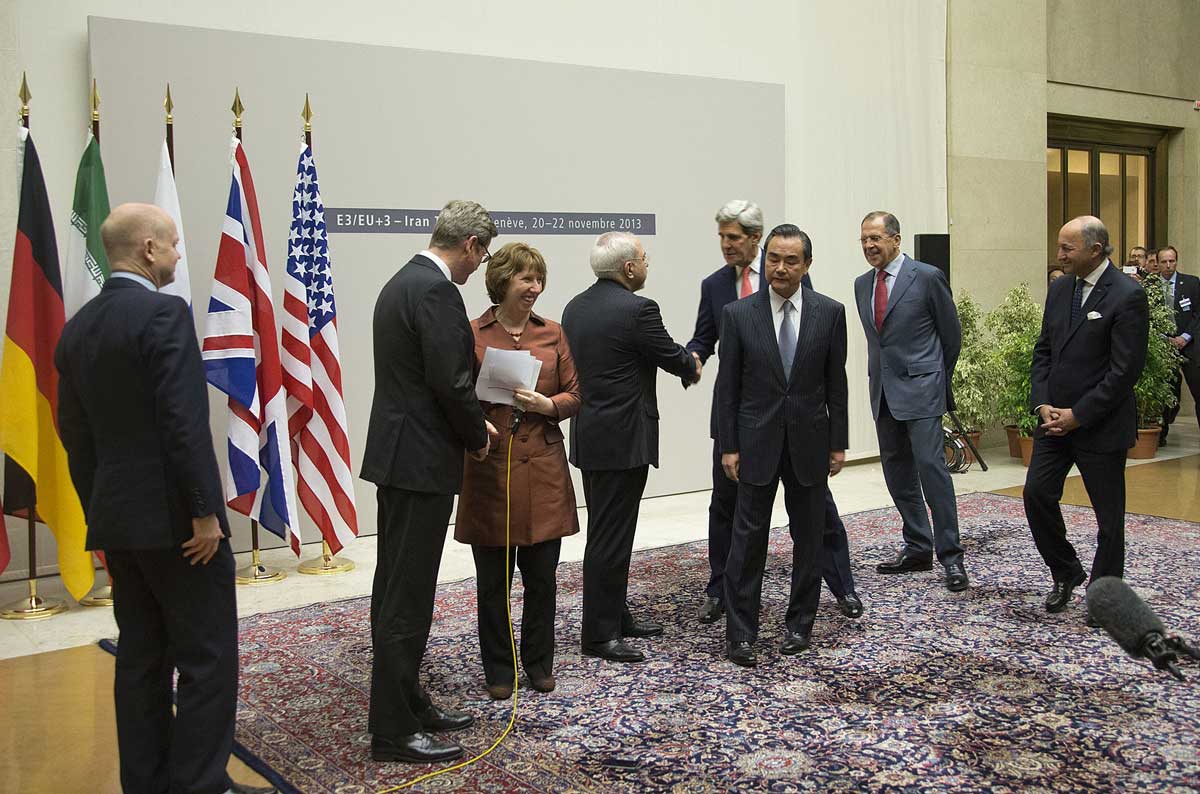 The man behind the insurrection at home and disarray abroad!
A few days before the fifth anniversary of Implementation Day of the JCPOA on 16 January 2021, U.S. House handed Trump a second impeachment. What is important in this regard is the fact that Trump was basically indicted by the U.S. legislature for violating the rule of law. The Article of Impeachment clearly states that the president is impeached for high crimes and misdemeanors and the president stands accused of violating the Constitution of the United States. According to the Article of Impeachment he remains a threat to national security, democracy and the constitution. The truth is, Trump has been a threat not only to U.S. national security, but an abominable menace against international peace and security all along; what Iran has clearly understood and signaled to the world since the early days of this outgoing -or the soon-to-be-removed- Trump administration, the international community only secretly admitted and quietly wished for change.
Although the establishment in the United States put a stop to Trump, his unbridled bullying on the international scene persisted for the full duration of his term with little or no practical opposition at all. By his sheer disregard for all established principles and institutions Trump threw the anarchical nature of international relations in stark relief and all the U.S. traditional allies in Europe under the bus as well! Though Trump is now history in the U.S., some worrying signs in the past weeks suggest proper lessons have not been learned by some Europeans and Trumpism towards Iran might persist for quite a while.
Post-Trump JCPOA
The post-election developments in the U.S. were the source of considerable consternation among the European leaders; therefore, the impeachment was saluted in Europe as they could finally breathe a sigh of relief. Although the impeachment and power transition occur nationally in the U.S., it has nonetheless huge global ramifications. Jo Biden promised in Munich Security Conference of 2019 that they would be back! They are back now. The U.S. president-elect put out words that he would return to the nuclear deal with Iran provided that Iran returns to compliance. In this regard there are a few elements that require prompt attention.
First and foremost, Iran was the victim in the past two years; the victim of an unrestrained bully who made no secret of his disdain for the longest established principles of international conduct, chief among which pacta sunt servanda. Thus, any attempt to twist the facts and portray Iran as the actor who undermines the diplomatic process is grossly irresponsible and highly provocative. Second, unlike the Trump administration's whimsical and unpredictable conduct, all the reversible steps undertaken by the Iranian side have been communicated in a transparent manner to all parties. Third, for every step there has been the element of predictability and nothing came as a surprise so as to ensure good faith throughout the process. Fourth, the reversible steps taken by Iran in the past year, much to the dismay of Europeans, were the inevitable result of Europeans' inaction and non-performance of commitments which deprived Iran of billions of dollars and prevented the normalization of trade and economic relations specifically during the last year when the Covid-19 outbreak inflicted a huge human cost on Iran. Last but not least, the IAEA monitors every step of the way and has mounted one of the most rigorous monitoring and verification regimes in the Islamic Republic of Iran. This all means that the "concerns", regardless of the scale of their intensity, as expressed by the European parties to the deal in their statements of 6 and 11 January, are only a reflection of the discursively constructed culture against Iran's nuclear program.
With the IAEA in Iran enjoying full access under the Additional Protocol for now, and considering Iran's status as an NPT member state, it is difficult to understand European's "deep regrets" and their "repeated calls" to "reverse all action that are inconsistent with Iran's JCPOA commitments". It is also impossible not see the hypocrisy of it all; for instance, a regional ally of Europe, while sitting atop a vast nuclear arsenal, openly boasts their nuclear weapon capacities and asserts that they do not need to explain themselves on their nuclear warheads simply because they are not NPT member states. Moreover, there are other regional allies of Europe who are NPT member states, yet they have not even signed the Comprehensive Safeguards Agreement, let alone the Additional Protocol.
All through the past two years, Iran has pursued a measured nuclear diplomacy and avoided any action that might hint at provocation or escalation in the nuclear field. The term reversible has been purposefully chosen by Iran in description of its reduced commitments and if Europeans want to see a reversal of actions, they know what Iran expects; it is nothing more than the EU/E3 commitments expressly spelled out in the JCPOA.
Recent postures by the EU and the E3 do not help mainly because they portray Iran as the main culprit of the current nuclear standoff whereas it is only defending its natural interests in a matter of high security stakes. Such statements also ignore one very important fact, or at least tone it down significantly and that is the destructive role that the U.S. withdrawal played in the post 8 May 2018 drama.
A tug of war between rhetoric and facts
One might ask why it has been the case that Iran's nuclear program is conceived of as a proliferation threat! To find the answer, we should take stock of the security context of the early 2000's when discursive constructs of threat significantly outweighed factual analyses and calculations of the Bush administration. Iraq is a vivid example of such disregard for facts where Bush's blind insistence on the existence of weapons of mass destruction in Saddam's arsenal, based on flawed cherry-picked intelligence despite all internationally verified evidence to the contrary, led to the U.S. invasion of Iraq the scourge of which is still fresh in the region.
It is a peculiar fact that Discourse shapes realities in foreign policy, and it has often been the case that discursive constructs play a far more effective role than substantial facts. The U.S. administration back in early 2000's paid no heed neither to the IAEA expertise, not to words of warning by American senior politicians. At the time of Operation Iraqi Freedom, Bush's claims were unconfirmed and to this day, not a trace of weapons of mass destruction has been found in Iraq. It was maybe for good reason that William Burns, recently tapped by President-elect Biden to lead the C.I.A. laments not "tak[ing] a hard stand against war altogether" and recounts the build-up to Iraq war and failure in mounting and effective opposition to it as his "biggest professional regret".
In that light, it is safe to assert that Iran's nuclear crisis was the direct product of such securitized foreign policy discourse which portrayed Iran's nuclear program as a proliferation threat. Such frame of mind has poisoned everything related to Iran and its non-proliferation policies. From foreign policy circles to intelligence communities, from think thanks to centers of academic excellence, from press to media the rhetorical and constructed notion of "Iran as a proliferation threat" permeates debates and what seems to
be taken for granted is that whatever Iran does, even within the confines of the Comprehensive Safeguards Agreement and the Additional Protocol, is inevitably linked to weaponization efforts! This construct has become an open wound that the U.S. and others in the region find easy to poke anytime their powerful lobbies deem it necessary to further their regional agenda of aggression and war mongering.
A return to the facts
In my capacity as ambassador, and so far as Covid-related restrictive measures would allow, I have been trying hard to accentuate the factual element in Iran's nuclear program to European diplomats. The IAEA is present in Iran and its inspectors have access under the Additional Protocol to the places they might deem worthy of inspection. All nuclear activities in Iran are declared to the Agency and unfold before the eyes of IAEA inspectors. Besides, in sharp contrast to what the U.S. did on 8 May 2018, in the past two years Iran has had a transparent, verifiable and predictable and reversible course of action in its nuclear program. Let's be clear, though, Iran agreed on a provisional basis to take confidence- building measures as stipulated under the JCPOA. You cannot build confidence forever, neither can such measures be taken for granted!
In the end, I would like to invite the European parties to the JCPOA to play a constructive role and acknowledge the fact that Iran was the victim of Trump administration's policies in the past two and a half years. Secondly, I call upon the EU/E3 not to be part of this securitized discourse on Iran and not to tug at the rhetoric end of this discursive war and take the public opinion and its impact into serious consideration. Pursuing a policy of sanctions and coercion failed in the past and it is doomed to fail in the future as well. Finally, with the upcoming U.S. administration and the talks here or there in Washington about a prospective Biden administration return to the JCPOA it is important to build on this momentum rather than to create obstacles to the diplomatic process.