Obama's legacy and a confused future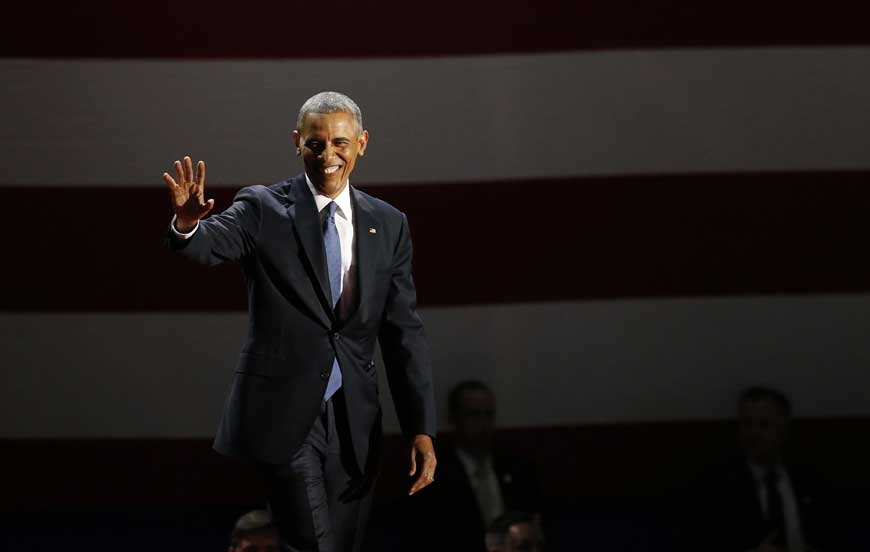 President Obama's farewell address focusing on the state of our democracy offered a lofty perspective coupled with a homily on the responsibility of citizenship. Thrown in were elements of legacy seized upon by numerous commentators from the left and right.
The trouble is an aloof president on a lofty perch is unlikely to get much of anything done in the rough and tumble of American politics. One can recall the vivid counterexample of Lyndon Johnson and his personal arm-twisting to push through his 'Great Society' programs.
This president came into office in the wake of two disasters: an economic crisis caused by neoliberal policies of deregulation, and wars inherited from the neocons and George W. Bush. The first was handled with a gentle touch — no fraudsters went to jail — of weak regulation and copious financial largesse; the second with a surge in Afghanistan and eventual withdrawal of forces from Iraq.
The result has been a tepid economic recovery, its weakness allowing it to continue — the expansion not sufficient as yet to cause the usual contraction in an economic cycle. Median U.S. household income after undergoing a reduction has returned to the 2008 levels: $58,827 in 2008 to $58,221 in 2016. On the other hand, income inequality worsened as a disproportionate share of gains went to the top one percent.
On the war front, the surge failed in Afghanistan. At 15 years, the longest war in U.S. history continues as the Taliban display increased strength. Playing the ethnic card, as the U.S. did, unseated the Taliban quickly but delegitimized the central government in the eyes of the Pashtun population. It holds on ethnic plurality and an easy majority when including their kin in Pakistan across a notoriously porous and artificial Durand Line marking an ignored British colonial border. Afghanistan was part of the Mughal Empire, like India and Pakistan, before the British arrived.
Troops were withdrawn from Iraq at the latter's behest but Special Forces are now back fighting IS/Daesh. In fact Special Forces were deployed in 138 countries globally in 2016.
This president might have inherited two wars but has bequeathed seven to his successor. An astounding 26,171 bombs were dropped last year or approximately three per hour. These are wars fought from the skies, safer in terms of U.S. military casualties, but by their nature, deadly on civilian populations.
Attempts to undermine the Trump presidency continue unabated. A dossier leaked to the press claimed the Russians had a hold on Trump through evidence of deviant sex, and in addition were going to offer profitable deals to the Trump organization. A simple question: Why would they need to offer financial inducement if they already had a hold on Trump?
Prepared by Christopher Steele, a former MI6 operative, for apparently Democrat and Republican opponents of Trump, the dossier contains almost no evidence of its assertions and was soon proven to be false. Mr. Steele meanwhile is in hiding. He believes his life to be in danger.
If all of the above is not enough, the Justice Department has announced an investigation of FBI Director, James Comey, by the Inspector General for his handling of the Clinton email affair just before the election.
While little can be remembered about Vice President Joe Biden other than plagiarism when he ran for president plus a capacity to endure the rudest insults and disrespect from Benjamin Netanyahu and his government, he has been awarded the Medal of Freedom by his dear friend Barack Obama — the nation's highest civilian honor, becoming as depleted in value as the Nobel Peace Prize awarded to his boss. Bemedaled, he was dispatched to Ukraine. What could be more urgent than more trouble for Trump?
In the meantime, the odious and politically naive continue their confirmation hearings, proving to be either gutless or reversing Trump's policy pronouncements in the case of Rex Tillerson, the Secretary of State nominee. He is already issuing ultimatums to China and Iran seemingly unaware of their close relationship with Russia.
The old joke remains truer than ever: In America anyone can be president … and anyone usually is.
Socio-Economic Implications of Canadian Border Closure With U.S.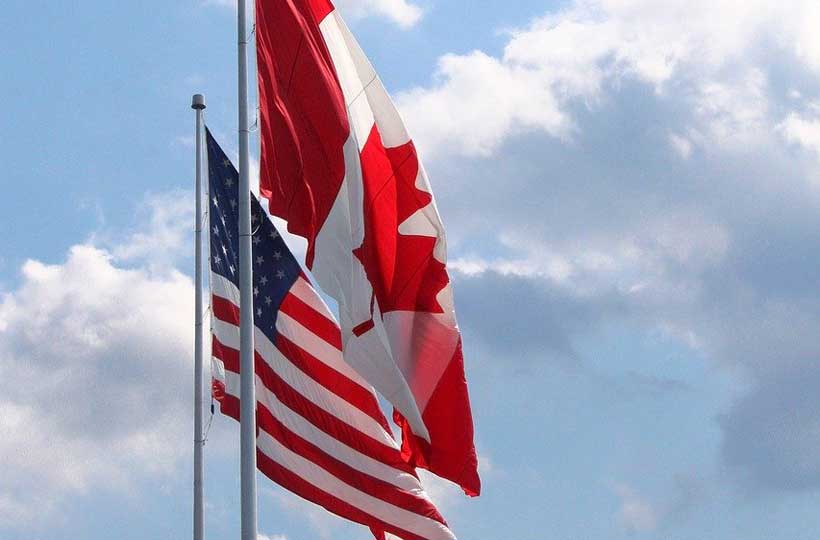 After doing a detailed analysis of situation emerging from the closure of the border between Canada and US, it could be assessed that how damaging the decision is for the Economy of Canada, and how beneficial, it will be for Canada, if it decides to re-open the Border which is closed over the fears of an outbreak of Covid-19 Pandemic.
Since, some people think that given the maximum number of Covid-19 cases and several deaths worldwide, the decision should stay as there are thousands of cases and deaths over covid-19 in the US. They deem it a good step to keep the border shut over the fears of Novel Corona Virus with the US and Mexico.
Though some sections consider the move as a right decision based on the covid0-19 statistics some experts term it very dangerous for Canadian Economy as it will be affected as major industries such Tourism and Travel, Immigration affected very badly and economic cannot be put on hold for long as the numbers show that 75% to 80% Canadian exports go to the US while 30% to 40% US exports make their way in Canada.
Thus the economy has been hit very badly due to this prolonged closure and shutdown of Economic activities will ultimately pose a grave threat to falling in Recession and Falling of Reserves.
The Canadian authorities will have to swallow a hard pill to re-open the b border for essential and non-essential travel since both types of entries in the country contribute to the economy of the country.
At the moment, Canada has limited Covid-19 infections as compared to the US that has a massive number of infections in the world.
According to the Border Management Experts, this could be the only problem that might have prompted Canadian Prime Minister to extend the closure for another month until some SOP's may be developed to ensure on border covid-19 Testing and Scanning so that preventive measures should be taken to keep the infection ratio low in Canada.
The World economies are affected very badly over the lockdowns announced to prevent Covid-19 outbreak and their economy has been under pressure already and the financial experts predict the worst type recession shortly.
The people of both countries are of the view that the Prolonged border closure has caused an economic crisis and several Industries such as Hotel Industry, Travel Tours and Immigration, Food and beverages Industry, sports Industry, Education have been affected very badly and both Canada and the US cannot afford to sustain more jolts to their economy as economic activities have dropped to almost 80% and ring the alarm bells for the leadership to decide immediately what their next plan will for the border.
Whether they will reopen it in phases or provide restrict access to essential travel such health workers, Airline Crew, Food and Goods services, People visiting ailing relatives and other related activities that fall within the purview of " essential".
Although, the global Pandemic has created a situation like recession which is going from bad to worse each Passing day, yet in such scenario "keeping borders Closed" for trade and Business Opportunities and other travel, entertainment industry, will incur an irreparable loss to the Economy of both Canada and US as both countries have signed several Trade Agreements and US has been losing millions of Dollars in terms " US Entry Waivers" and this is putting pressure on world's biggest economy.
Even it is a great blow to the Immigrants who wish to travel to neighbouring countries.
Both Canada and the United States are providing millions of dollars to people as relief package, Health and social security and other procurements such Covid-19 testing kits and establishing new isolation and Quarantine centres as the infections surge in the US and worldwide.
In such circumstances halting economic activities are suicidal for Canada and Virus affected the US by keeping borders close for non-essential or optional purposes despite putting some curbs on essential travels such putting immigrants in 14 days quarantine and other immigration-related curbs.
The economists fear that what would be the consequences if the covid-19 vaccine was unavailable till the end of the year 2021, will they still keep the border closed, sounds like insensible and disastrous for all types Industries and Sectors including Immigration and Border services.
So, it would be prudent on the part of Both Canada and US to think over the re-opening of their border so that people intending to visit their relatives on both sides of borders may have uninterrupted access and they must be facilities at the border checkpoints for covid-19 so that the fears of Canadian authorities about getting soaring infections may be dispelled by assuring them safety measures at border crossing points.
Furthermore, the fears cannot be treated with medicines but they could be soothed with confidence-building measures as the statistics show that 65% Canadian fear to get contracted by Virus while over 60% US people have a similar situation for contracting virus.
Despite all this, nobody knows that when these borders will reopen for general people apart from essential travel as most people are in the grip of fear and prefer staying at home as per WHO guidelines, that may be the issue that both Canadian and US Governments are lingering on the issue and prefer extending closure as both nations enjoy cordial relation and the closure is a mutual decision of both countries.
Recently, though some Tour industry groups recorded their protest and demanded to re-open the border. The decision could not be influenced until the general public presses their respective Governments to review the decision and take some bold steps to save their economies falling to prey to this pandemic.
Both Canada and the US cannot afford to lose millions of Dollars in border trade and border revenues such as Entry waivers, customs etc to boost their economies.
Countries Ranked on 'Democracy' in 2020
NATO and its supporters and member-nations are hiding the fact that the predominant belief in many of these nations is that they're dictatorships that merely pontificate 'democracy' to other nations.
NATO, which is America's propagandistically 'pro-democracy' military alliance against Russia and against China, polled the people in 53 countries — some of which are in NATO and some of which aren't — and asked them whether they believe "My country is democratic," and found that NATO's own core country, U.S., was, itself, #38 down from the top, and China was #5, and Russia (NATO's main target or 'enemy' nation) was #48, and that two of the most anti-Russian countries on the list were near the very bottom: the rabidly anti-Russian NATO member Poland was #49, and the NATO-aspiring Ukraine was #47. Anyway, since NATO hid their results, instead of publicizing them, the complete list, with the indicated rankings, are finally being published here (wherever that will be effectively allowed), for the very first time anywhere.
The rankings have been figured out only by a careful analysis of the visuals that the NATO-affiliated polling organization did publish. The NATO-affiliated organization that paid for the polls of those 53 countries was the billionaires-founded group that calls itself the "Alliance For Democracy," and they issued a report on the poll's findings, but excluded from their report the rankings, and made very difficult for a reader to figure out what the rankings were. No one till now went to the trouble of finding out what the rankings were. The NATO-affiliated international-corporate advisory organization, the Rasmussen Group, had selected the German corporate PR firm Dalia Research to do the polling, and the data were presented by them as being "based on nationally representative interviews with 124,000 respondents from 53 countries conducted between April 20th and June 3rd 2020." So: this was a major research-endeavor for NATO-affiliates (agencies of U.S.-and-allied billionaires); and, since the scores and rankings were hidden by them, instead of having been published by them, the information that is being published here may reasonably be considered to be American samizdat, or prohibited to publish in the United States and in its NATO vassal nations. In other words, publication of this information is effectively blocked in all NATO countries, though the information comes basically from NATO. Publication of this information is effectively banned throughout the U.S. empire, but perhaps this information will become published in whatever news-media are not controlled by the billionaires who control the U.S. Government. Presumably, media such as CNN, New York Times, Fox News, and The Atlantic, will reject this article, which is being simultaneously submitted to virtually all English-language news media throughout the U.S. and its allied countries.
Here are the findings, and the rankings:
% saying yes to 'My country is democratic'
(ranks shown are out of the 53 countries that were surveyed):
78% Taiwan #1
77% Denmark #2
75% Switzerland #3
75% S. Korea #4
73% China #5
73% Austria #6
71% Vietnam #7
71% India #8
71% Norway #9
69% Argentina #10
69% Sweden #11
67% Germany #12
66% Netherlands #13
65% Philippines #14
65% Portugal #15
64% Canada #16
63% Singapore #17
61% Malaysia #18
61% Greece #19
60% Ireland #20
59% Israel #21
57% Indonesia #22
56% Spain #23
56% Australia #24
56% UK #25
56% Turkey #26
55% Belgium #27
55% Peru #28
54% South Africa #29
54% Romania #30
54% Italy #31
53% Saudi Arabia #32
53% Pakistan #33
52% France #34
52% Mexico #35
51% Brazil #36
49% Kenya #37
48% U.S. #38
46% Japan #39
46% Colombia #40
45% Thailand #41
45% Algeria #42
43% Nigeria #43
42% Chile #44
41% Egypt #45
40% Morocco #46
40% Ukraine #47
39% Russia #48
38% Poland #49
37% Hong Kong #50
36% Hungary #51
28% Iran #52
24% Venezuela #53
Here is the background, after which will be presented more information from this poll, and from polls on related issues:
On June 15th, the NATO-allied (that's to say anti-Russian and anti-Chinese) "Alliance of Democracies", and the neoconservative or Rhodesist (pro-imperialist UK-U.S. "Special Relationship") German corporate PR firm Dalia Research, released their annual "Democracy Perceptions Index" surveys that were taken in 53 countries, regarding the extent to which each country's population considers its Government to be a democracy. The secretive "Alliance of Democracies" was founded with international megacorporate donations in 2014 (not in 2017 as Wikipedia alleges), by the ideologically libertarian (or anti-socialist, pro-megacorporate) former NATO Secretary General Anders Fogh Rasmussen, who had been Denmark's Prime Minister, who had tried, during his time leading Denmark, to weaken his own country's socialism, and to strengthen the control of Denmark by U.S.-and-allied international corporations (especially Lockheed Martin and the other U.S. Government contractors that sell only to the U.S. Government and to its vassal governments).
Rasmussen Global (which likewise was founded in 2014 by Anders Fogh Rasmussen) "advise[s] clients on transatlantic issues, international affairs and public policy management" and funded these surveys (which are part of "public policy management" or, as they say, "cutting through the noise" — by boosting only such "noise" as they want their publics to hear). Among the 53 surveyed countries are U.S., UK, Canada & Australia, but not New Zealand (which Rhodesists consider to be part of the core of the empire, but apparently it isn't a big enough nation to be included in these surveys). Here can be seen the official published summary of the latest year's survey findings:
"Democracy Perception Index – 2020"
The surveys poll these 53 countries on "My country is democratic," and on "My government serves only a minority." (Also covered are some other issues, which will be covered subsequently here.) The United States ranks slightly below the good side and toward the bad side — and below 50% good — on both. China ranks near the top on both: 73% of Chinese answer "My country is democratic," and only 13% say "My country serves only a minority." However, since the "Alliance of Democracies" is Rhodesist and therefore intends ultimately to conquer China (it's a target of NATO, instead of a member of NATO), this "Alliance" nonetheless categorizes China as being "Not Free," and categorizes U.S., UK, Canada & Australia as "Free" (even though the poll found that a vastly higher percentage of Chinese think they live in a democracy than of people in U.S., UK, Canada, or Australia, do). The "Not Free" category includes only the following few countries among the 53 surveyed: China, Vietnam, Saudi Arabia (for once, their opinion is correct on Saudi Arabia, but 53% of Saudis have a different view and say "My country is democratic"), Algeria, Egypt, Russia, Turkey, Iran, and Venezuela. (All of those are countries that Rhodesists especially want to conquer, or — in the case of Saudi Arabia — have already conquered but which is too blatantly dictatorial not to include in the "Not Free" category. On 15 July 2016, NATO unsuccessfully attempted — or else merely assisted — a coup against NATO-member nation Turkey, aiming to restore Turkey to its prior control by the U.S. Government, such as Turkey had been when it was admitted into NATO in 1952.)
Venezuela is an outlier like Saudi Arabia, in that both countries' populations have an unrealistic view of their Government. For example: by an overwhelming net margin of +42%, the residents of Venezuela (which the U.S. regime keeps trying to conquer) say that the U.S. helps democracy around the world. (Most countries' populations predominantly say that the U.S. regime hurts democracy around the world, and this belief includes the publics not only in China, Russia and Iran, but in Canada, UK, and Australia. So, U.S. imperialism is widely feared, but not in Venezuela.) Only 24% of Venezuelans say "My country is democratic." 74% of Venezuelans say "My Government serves only a minority." So, Venezuelans overwhelmingly want the U.S. regime's coup-efforts to overthrow their Government to succeed. Apparently, the U.S. regime's propaganda saying that the economic depression in Venezuela was caused by Venezuela's Government instead of by America's economic blockade against Venezuela has overwhelmingly succeeded. Venezuelans trust the U.S. Government more than they trust their own.
39% of Russians say "My country is democratic," and 59% say "My government serves only a minority." And 40% of Ukrainians say "My country is democratic," while 70% of Ukrainians say "My government serves only a minority." (Only one of the 53 surveyed countries had a higher percentage — it was 71% — who said their Government "serves only a minority": Brazil.) Therefore, clearly, around 10% of Ukrainians are confused about what "democracy" even means. (If a country's Government "serves only a minority," then how can it be "democratic"?) As regards Russia, surveys of Russians have shown that most Russians distrust the Government but trust its President, Vladimir Putin. Surveys in the U.S. show that most Americans distrust the President, Donald Trump, but distrust Congress even more than that. 52% of Americans in this survey by Dalia Research said that their Government "serves only a minority." 49% said "My country is democratic." So, only around 3% of Americans were confused about what "democracy" means. (Scientifically minded political scientists aren't at all confused about that: the measure that they use in order to determine whether or not a nation is a democracy is the extent to which its Government serves the majority of its residents. What they have found regarding the United States is that it definitely isn't a democracy.)
As I summarized all of the data from other sources as-of 2018, on 6 May 2018, "Although one can reasonably debate the degree to which any nation is a democracy, the United States certainly stands rather low on that factor, and stands well below China, and is perhaps lower than Russia, but none of these countries is among the world's worst — except, perhaps, the U.S., for its having the world's highest percentage of its people in prison." All of that is still true today.
In any case: not even America's allies are fooled any longer about the U.S. Government's posturings that it is a democracy. And there is extensive history also documenting that Americans are less and less fooled about this. But, because America is not a democracy, this article probably won't be published in any major media inside America, though it is being submitted to all of them. So, if you're not seeing it in U.S. media, that's the reason why.
Also, recently, the "2020 Edelman Trust Barometer" results were published. The methodology in that was "Randomly selected 1,150 respondents in each of 28 countries around the world, surveyed by Edelman Worldwide, between 19 October and 18 November, in 2019." It showed how much the people in each of the 28 countries trust their Government, and also how much they trust the news-media in their country. What it found was that trust in the country's Government was the highest, 90%. in China, and was only 39% in U.S., 33% in Russia, and 20% in South Africa. Also: trust, by the people, in the given country's media, was the highest, 80%, in China, and was 48% in U.S., and the lowest, 28%, in Russia, but South Africa wasn't shown on that particular question.
Furthermore, the polling by Dalia Research found that these nations were rated by their residents the highest, and the lowest, in regard to the coronavirus challenge:
1. China
2. Vietnam
3. Greece
4. Malaysia
5. Ireland
6. Taiwan
7. Australia
8. Denmark
9. S. Korea
10: Austria
…
44. Hong Kong
45. Mexico
46. Russia
47. Italy
48. U.S.
49. Japan
50. Spain
51. France
52. Chile
53. Brazil
Moreover, though the residents in U.S., and also in Japan, low-rated the coronavirus-performance of their own Government, those people were profoundly deceived by their newsmedia regarding how well China's Government had handled this challenge. This polling report stated:
"Nearly all countries say that China's response to the COVID-19 is better than the US's"; but that:
"When asked to assess China's and the US's response to the COVID-19 pandemic, almost all countries rate China's response as much better. The only countries that think the US's response is better are Japan (+17% in favor of US) and the US itself (+13% in favor of the US)."
In other words: the 'news'-media in Japan and in the United States are (and this is proven in the latest data concerning all nations) grossly misrepresenting the reality (which is that China's response has been enormously more effective than America's has, in controlling the spread of this infection), and the news-media are far less deceptive in all of the other nations surveyed — far higher percentages of the people in all of those other nations recognize that the performance of China's Government regarding the coronavirus challenge has been vastly more effective at controlling this plague than America's Government is
Fighting Existential Angst: Vainly Seeking "Therapy" On The Social Networks
"The crowd is untruth."-Sören Kierkegaard, Point of View, That Individual
Early philosophical explorations of anxiety are best traced to Sören Kierkegaard in the nineteenth century. For the seminal Danish thinker, this concept – often referred to colloquially as angst – has its core origins in existential dread; that is, a literal fear of "not being."[1] Whether or not such a primal view of anxiety ought still obtain (Freud, for example, introduced several important "modifications"), one corollary remains certain:
Therapeutic benefits are increasingly being sought on the computer, smart phone or some other crowd-oriented gadget.
This is hardly a mysterious or controversial corollary. These days, we can all casually witness the reassuringly deep pleasures bestowed by any shiny new communications "device." Indeed, for seemingly uncountable souls, little can meaningfully compare to the palpable joys of some impending or imminentmessage. Reciprocally, however, nothing can produce a more pervasive private darkness or despair than the dreadful reverberations of extended machine silence.
"It is getting late," remarks the poet W.H. Auden knowingly in The Age of Anxiety, "shall we ever be asked for? Are we simply not wanted at all?"
Explanations, though lamentable, are nonetheless obvious. Personal devices, expressly interlinked, promise us more than suitably efficient routings to enhanced personal safety or some accessible method to "stay in touch." However inconspicuous, conversing or messaging can grant the communicating individuals a satisfyingly easy and convenient "therapy." Above all, they can permit both sender and recipient to feel needed, valuable, less anonymous, and – most importantly, always – less alone.
If there has ever been reason not to doubt the perceived importance of avoiding aloneness, of being "asked for" or "wanted," one need only consider American risk-taking behavior during the ongoing pandemic. Even now, when the high dangers of disease transmission have been well-publicized and the grievous consequences of Covid19 well-established, millions of our fellow citizens seek out glaringly unprotected public spaces. On both Memorial Day and July 4th, the urge to be "less alone" generated wide swaths of misplaced conviviality and corresponding fatalities.
Ultimately, a diminished sense of aloneness is what the social networks are all about. There are even certain "macro" or "cosmological" issues discoverable in every conceivable mix of plausible explanations. The known universe is probably billions of light years "across." Yet, here, in a rapidly dissembling America and virtually everywhere else on this imperiled planet, most human beings lack the will[2] to become individuals.
Plainly lack this will.
"…it must be in every man's power to become what he is, an individual….," reminds Sören Kierkegaard in Point of View, That Individual. "From becoming an individual no one, no one at all, is excluded, except he who excludes himself by becoming a crowd."
The ironies are several, and bitter. "Why bother?" the American crowd seems to reason. "Why even take the existential (or near-existential) risk of becoming a person?" Better just to "fit in" and do what is expected. And what is the most evident result of such cowardly thinking?
In a distillation, it is the patently deranged presidency of Donald J. Trump.[3]
There is more. The cell phone and its related social networks have not actually "caused" users to suffer, exhibit or confront any "fear and trembling" (a mesmerizing conjunction earlier made famous by Kierkegaard). These devices remain "just" tell-tale instruments of assessment, "diagnostic tools" that can – at least in principle -help one to identify and conquer any deeply primal angst. Without this prosaic but still-satisfying tool, such core apprehensions might otherwise lie undetected and infinitely dormant.
In all pertinent instances of philosophic reflection, a revealing leitmotif must finally make itself known and understood. Most regrettably, there exists a more-or-less universal human wish to remain inconscient, unaware, not only of myriad external or "systemic" threats, but also of oneself. Minute by minute, this very conspicuous wish leads millions of anxious souls[4] to stray dangerously far from the redemptive potential of authentic personhood, toward the more easily cultivated but always-deceptive security of one or another "herd."
Often, especially in generally affluent societies, we humans fear personal exclusion more than anything else, sometimes (as we can recall perilous personal behaviors on Memorial Day and July 4), more fearfully than personal death. This evanescent fear uncovers a critically important decisional calculus, one that may be responsible for manifestly assorted instances of war, terrorism and genocide. Incontestably, the human need to belong can become so utterly overwhelming that many will literally killvarious others –at times, any others and many others – rather than face prolonged personal isolation or some presumed social ostracism.[5]
"Shall we ever be asked for….?" asks the poet Auden, knowingly.
The inner fear of loneliness so keenly expressed by social networking gives rise to still another problem, one with a distinctly special significance for high school and university students. To begin to understand this special significance, one must first understand that nothing important in science or industry or art or music or literature or medicine or philosophy can ever take place without at least some already endured measure of personal loneliness. So as to exist apart from the mass – that is, to be tolerably extracted from what Freud had called the "primal horde" or what Nietzsche termed the "herd," or Kierkegaard the "crowd" – is indispensable to any exceptional intellectual development.
If it were different, Americans would be getting their medical and scientific counsel from the all-too-numerous political hucksters, and not from the acclaimed epidemiologists. Recently the Lt. Governor of Texas urged Americans not to listen to Dr. Anthony Fauci about the pandemic, but instead to a president still shrieking at his incoherent "rallies" that the virus will soon simply "disappear."
I belong. Therefore I am. Turning philosopher René Descartes' famous reasoning on its head, this now pitifully twisted mantra best expresses the sad credo common to all social network "addictions." Among other things, it reveals a not-so-stirring manifesto that recognizable social acceptance is not merely vital, but immanent to one's own personal survival.
Today, quite easily, the noisy and uneasy mass has infested our solitude. Upon most of us, the telltale traces of "herd life" (the Swiss psychologist Carl G. Jung would have called it a "mass" life) may have become indelible. Accordingly, we have already prodded entire societies to nurture their own intellectual and ethical declensions.
There is more. Unambiguously, human life is always death's prisoner. Until we can face this ultimately overriding truth, we can never experience our carefully limited and numbered moments with any sincere pleasure. Presently, despite our manifold efforts to stay connected with cellular telephone calls, tweets and texts, our bewildering personal doubts have become cheerless and inexhaustible. In essence, this is because we continue to look "outside," to others, to define (1) who we are; and (2) what we might still become.
In part, at least, the immense attraction of cell phones and related social networking derives from our manifestly breathless and machine-like existence. Now, "We the people" typically celebrate any available expressions of a convenient push-button metaphysics. Now, absolutely every hint of personal passion must expectedly follow a narrowly uniform pathway.
Always, we are expected to become each other, fully compliant and duly homogenized.
Nonetheless, in glaring disregard for truth, we stubbornly insist that we can still remain in full control of our machines.
Credo quia absurdum! "I believe because it is absurd."
Always, such insistence is shallow and unsupportable.
Wherever we might choose to turn, we witness an implicit reciprocity between creator and creation, an elaborate pantomime between users and used. Predictably, our multiple and intersecting techno-constructions are making a machine out of both Man and Woman. In what amounts to a prospectively unforgivable inversion of Genesis, we humans now generally behave as if we had been created in imago machina, in the image of the machine.
Could there be any greater "blasphemy?"
There is more. Preoccupation with personal devices and social networking is merely the most visible symptom of a much deeper pathology. Accordingly, the basic "disease" that we now suffer is a variously painful incapacity to be at peace with ourselves. In the United States, where this particular sort of corrosive primal illness can choke off the future as well as the present, Ralph Waldo Emerson's earlier call for "high thinking" has gone unheeded; it has already been supplanted by the insufferably banal syllogisms of a barren national politics[6] and by an "everyone for himself" ethos of entrepreneurial or professional logic.
Any such ethos is inherently self-destructive and prospectively lethal. In the exact words of distinguished Jesuit philosopher Pierre Teilhard de Chardin in The Phenomenon of Man. this corrosive ethos must inevitably prove "false and against nature." Today, as the United States shamelessly expresses an orientation much too casually described as "America First," this country has become the reductio ad absurdum of what the seventeenth century English philosopher Thomas Hobbes had earlier called "a war of all against all."
In any such war – which Jefferson and the American Founding Fathers had recognized as a bellum omnium contra omnes – there can be no tangible victories. To wit, under the crumbling Republic of Donald J. Trump, America's status and power in the world have descended to once-unimaginable levels.
We live at a moment of genuine "plague," of pestilence, of rapidly spreading viral disease that threatens each and every one of us with extinction, as individuals. It follows that angst may now have a new and less subjective source of justification.[7] It follows also that incrementally available therapies will stem not from any tangible locations on a beloved "device," but from the more traditional drug-based remedies of contemporary medical science. This will hardly represent the long-term societal cure that is required, but it would at least allow us more time to cumulatively build back what we have so shamelessly neglected and dismantled. As Americans, the survival imperative is unambiguous. It is an overriding obligation to fight against existential angst not under the hypnotizing banners of any "crowd," but as individuals accepting a common national obligation to think seriously.
This last point now needs to be made emphatic. In a nation where the current president made his 2016 Convention acceptance speech in conjunction with Duck Dynasty, and who campaigned on the bewildering principle of "I love the poorly educated," citizens have a fundamental obligation to combat the stubbornly complacent American ethos of anti-thought. Looking ahead, if we should continue to abide the instrumental notion of education as an adornment, or as narrowly vocational preparation, we will continue to be led by grotesque charlatans and fools. To halt such a lethal continuance is still in our residual power, but only if we can first finally reject the suffocating anti-intellectualism of a "crowd."[8]
Always, we must recall the singular wisdom of Sören Kierkegaard, "The crowd is untruth."
---
[1] Such fear is not necessarily analogous to death fear. It is more far-reaching because it precludes any "mitigating" forms of resurrection, eternality or re-birth.
[2] Modern philosophic origins of the term "will" lie in writings of Arthur Schopenhauer, especially The World as Will and Idea (1818). For his own inspiration (and by his own expressed acknowledgment), Schopenhauer drew freely upon Johann Wolfgang von Goethe. Later, Friedrich Nietzsche drew just as freely (and perhaps more importantly) upon Schopenhauer. Goethe. also served as a core intellectual source for Spanish existentialist Jose Ortega y' Gasset, author of the prophetic work, The Revolt of the Masses (Le Rebelion de las Masas (1930). See, accordingly, Ortega's very grand essay, "In Search of Goethe from Within" (1932), written for Die Neue Rundschau of Berlin on the occasion of the centenary of Goethe's death. It is reprinted in Ortega's anthology, The Dehumanization of Art (1948) and is available from Princeton University Press (1968).
[3] Seem by this writer, Louis René Beres/https://moderndiplomacy.eu/2020/06/01/donald-trump-the-crowd-and-a-nations-bitter-despair/
[4] Both Sigmund Freud and Carl Jung thought of "soul" (in German, Seele) as the very essence of a human being. Neither Freud nor Jung ever provides a precise definition of the term, but clearly it was not intended by either in any ordinary religious sense. For both, it was a still-recognizable and critical seat of both mind and passions in this life. Interesting, too, in the present context, is that Freud explained his already-predicted decline of America by various express references to "soul." Freud was plainly disgusted by any civilization so apparently unmoved by considerations of true "consciousness" (e.g., awareness of intellect and literature), and even thought that the crude American commitment to perpetually shallow optimism and material accomplishment at any cost would occasion sweeping psychological misery.
[5] This brings to mind Ernest Becker's famous paraphrase of Elias Canetti: "Each organism raises its head over a field of corpses, smiles into the sun, and declares life good." See Ernest Becker, Escape from Evil (1975).
[6] See, by this writer, at Princeton, Louis René Beres, https://www.dailyprincetonian.com/article/2018/02/emptiness-and-consciousness
[7] In this connection, notes José Ortega y' Gasset, the Spanish existentialist philosopher: "Each of us is both the subject and the protagonist of his own nontransferable life." (Man and Crisis, 1958).
[8] In this connection, "Resistance to the organized mass," says Swiss psychologist Carl G. Jung in The Undiscovered Self, "can be effected only by the man (or woman) who is as well-organized in his individuality as the mass itself." Plainly, Jung was intellectually indebted to Kierkegaard as well as to Schopenhauer and Nietzsche.