Jakarta Gubernatorial Election 2017: Who Will Be Eliminated?
Approaching the polls February 15, 2017, competition has been increasingly rigorous among the three candidates who are contesting in the Jakarta Gubernatorial Election (Pilgub) 2017, namely, incumbent duet Basuki Tjahaja Purnama-Djarot Saiful Hidayat (Ahok-Djarot), Agus Harimurti Yudhoyono-Sylviana Murni (Agus-Sylvi), and Anies Baswedan-Sandiaga Uno (Anies-Sandi).
Many said that the fight in Jakarta gubernatorial election this time is a 'proxy war' of the rivalry among the political elites Megawati Soekarno Putri, Susilo Bambang Yudhoyono and Prabowo Subianto. Ahok-Djarot is supported by the Indonesian Democratic Party of Struggle (PDIP), the People's Conscience Party (Hanura), The Functional Group Party (Golkar), and the National Democratic Party (Nasdem). Agus-Sylvi is supported by the Democratic Party, the United Development Party (PPP), the National Awakening Party (PKB) and the National Mandate Party (PAN). Whereas Anies-Sandi is supported by the Great Indonesia Movement Party (Gerindra) and the Prosperous Justice Party (PKS). Presently, the Jakarta gubernatorial election is entering the stage of formal debate among the candidates that will begin on January 13, 2017. In the previous informal debate that was aired by some private televisions, the Anies-Sandi duet looked dominating over other candidates.
Predictably the Jakarta Gubernatorial Election 2017 will take two rounds, because the winner is required to get 50%+1 vote. Agus-Sylvi, Ahok-Djarot, and Anies-Sandi are having equal opportunity to win and at the same also potentially to lose, or will not qualify for the second round. Support to the three pairs of candidates are still fluid and attitude of the voters tend to be still able to change until the end days before the voting day February 13, 2017. Supporting votes for the three pairs of candidates is nearly the same in number. Electabilities of the three pairs of candidates who will compete are still overlapping each others within the margin of error. Statistically, no certainty can be made on which pair of candidates will win.
Despite of Good Performance's of Ahok, Jakarta's Residents Want New Governor
From the results of survey conducted by SPIN (Survey & Polling Indonesia) during August-December 2016, it was revealed that Ahok is still considered by the public as the figure who best understands the problems in Jakarta (73%), compared to Anies (40%), or Agus (33% ). The pair of incumbent governor Ahok-Djarot has had the advantage in selling the programs they have achieved.
On the other hand, his two contenders focused on issues that have not been covered yet by Ahok-Djarot. Anies-Sandi pairing, for example, developed issues of job availability, basic stuff price control, and clean water availability in Jakarta. These issues were raised as a criticism against Ahok's policies that were more physical, rather than human oriented. Anies-Sandi also intends to stop the policy on reclamation in Jakarta Bay which has been being contested by many environmental activists. Meanwhile, Agus-Sylvi's programs highlighted more the provision of financial assistance, such as the granting of Rp 5 million per poor family, or Rp 1 billion per RW (Rukun Warga) in Jakarta. It is obvious that the 2017 Jakarta gubernatorial election will be the momentum to evaluate the incumbent governor's performance and to draft the overall improvement.
Significantly, the trend of favorability to Ahok as the incumbent has decreased. Only as low as 30% believe that Ahok deserves to be re-elected Governor, while 55% want a new figure for Jakarta governor. Ahok's positive popularity is equal to his negative popularity. Negative sentiment against Ahok is also prevalent in various segments of Jakarta voters due to the alleged religious defamation case which has resulted in a commotion and protest by Muslim community. Presently, Ahok is the accused (defendant) on the religious defamation case before the court for quoting a Quranic verse in surah Al-Maidah 51 during his working visit in the Thousand Islands. As at January 10, 2017, the case of alleged religious defamation by Ahok was entering the fifth trial round.
Despite, in one side, majority of Jakarta people being rational voters, but on the other hand they are in fact unable to escape from the political choice based on primordialism. The anti-Ahok struggle is stronger due to the religious motive. Ahok is at a disadvantaged position because he comes from minority ethnic and religion. Ahok is now in trouble with a sensitive issue of religious defamation. His status as the accused becomes a psychological barrier for the public from reelecting him. Primordial identity has been used for political benefit and gaining support. Ahok's weakness is none of Muslim-based parties supports him. However, for Ahok's supporters, he was merely a victim of religion politicization. Although it is possible, but somewhat difficult, for Ahok to rebound his electability within this remaining one month.
In contrast, Anies Baswedan is seen as a figure who is more caring to the Jakarta people (57%), than Ahok (52%), or Agus (47%). Anies is also considered more as representing the entire strata of Jakarta people (52%), compared to Ahok (41%), and Agus (39%). Jakarta's public is indeed expecting a new leader who has respect and integrity, represents all strata of the Jakarta people, capable of creating jobs, and has the ability to improve education of his residents.
Agus Harymurti Yudhoyono is today very popular as a candidate for Jakarta Governor. His personal branding as a young man and handsome has heavily attached in Jakarta's people. By hearsay, human is an eye animal. A candidate who is physically attractive may earn 3 times more votes, particularly from the first-time and female voters segment. This is because the first impression that begins from physical appearance of someone is usually difficult to change. Theoretically, one's first image is usually based on visual aspect. Furthermore, human's mind is limited, thus the voters' perception tends to be filtered by a physiological filter. This is the advantage of Agus Harimurti Yudhoyono that is also possessed by Sandiaga Uno.
This differs with Ahok who has controversial leadership style in the public eye. The voters in Jakarta presently give Anies Baswedan and Agus Harimurti an opportunity to be the new governor of Jakarta. However, Anies Baswedan is very vulnerable to be rushed by negative religious issues, such as allegation as a follower of Shia or Liberal Islam. Whereas Agus Harymurti Yudhoyono is deemed lack of experience and as a part of a political dynasty or a son of former President Susilo Bambang Yudhoyono.
Closing Remark
In 2017, the Jakarta people will predictably have a new Governor on February 15. He will be either Agus Harimurti Yudhoyono, Anies Baswedan, or Djarot Saiful Hidayat. This means, if the incumbent Ahok-Djarot pair even wins, there will be very little chance for Ahok to be the Jakarta Governor for the second period because of his accused status and potential imprisonment related to the religious defamation proceeding to which he is now subjected. Ahok will remain able to survive if there is a gigantic power intervening his case. However, this may trigger a national political uproar that is even greater. Jakarta Gubernatorial Election 2017 indeed correlates with the process and decision of Ahok's court trial that is still current.
Approaching the voting day February 15, 2017, each of the candidates will be campaigning more actively to grab undecided votes and swing voters, particularly of first-time voters, Muslim voters, Javanese voters, and the urban middle class. In the capital Jakarta, social media can be used as a tool to grab supports and influence these voters. However, undeniably, the Ahok's religious defamation case indeed gave benefit and opportunity to Anies-Sandi and Agus-Sylvi pairs to win on the Jakarta gubernatorial election on February 15, 2017. Even if Ahok loses the election, the public will still look at Ahok's performance that has been deemed good as a work barometer for anyone who will succeed him, no matter whether he is a polite Muslim or not.
Cambodian Prime Minister's Visit to Myanmar: Weakening Role of the ASEAN?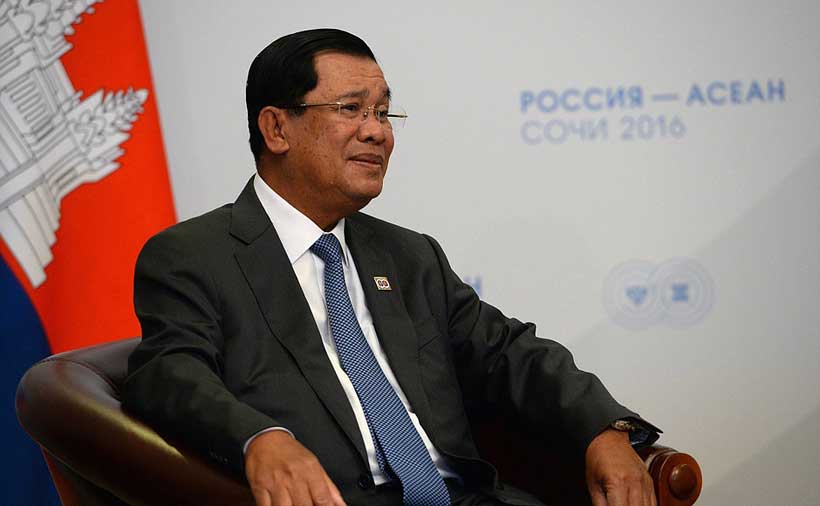 Cambodian Prime Minister Hun Sen recently visited Myanmar for two days despite a wave of condemnation that his visit undermines ASEAN and legitimizes Myanmar's deadly regime. Hun Sen is currently the chair of Association of Southeast Asian Nations (ASEAN) in 2022, and is expected to lead ASEAN in diplomatic activity on how to navigate Myanmar's political situation. As expected, Hun Sen was welcomed by the Myanmar officials, including Foreign Minister Wunna Maung Lwin, and was given a guard of honor. Accompanying Hun Sen are donations of medical equipment to fight Covid-19, comprising three million face masks, 200,000 N95 masks, 100,000 goggles, 30,000 personal protective equipment (PPE) suits, 30,000 face shields, 3,000 plastic boots, 50 ventilators appropriate for an ICU setting, 50 patient monitors and 50 oxygen concentrators. He was the first foreign leader to visit the country since the Myanmar military overthrew the democratically elected party and jailed it's leaders, including Aung San Suu Kyi. Since Feb 1, at least 1,435 people have been killed by the Tatmadaw in ruthless crackdowns on democracy protests. Conflict has also escalated in the nation's border zones creating a humanitarian disaster where tens of thousands of people have been fleeing for their lives. Prompted by Myanmar's exclusion from the bloc's summit in 2021, the premier has repeatedly signaled his intent to bring the country back into the ASEAN fold, arguing that the economic union was "incomplete".
Why has the Cambodian Prime Minister visited Myanmar, a nearly pariah nation in the world? Traditionally, Cambodia is a time-tested ally of Myanmar. This country has remained behind Myanmar solidly in times of crisis and challenges. Particularly, the current Hun Sen leadership is close to the military Junta of Myanmar. Cambodia has a different view about Myanmar and it's a deeply pro-Junta as Hun Sen believes that ASEAN did not operate very smoothly in 2021 on the Myanmar issue. As the ASEAN chair, Hun Sen is determined to find a way to halt the violence and maintain the "ceasefire" in Myanmar while pursuing the bloc's five-point consensus and bringing in humanitarian assistance. In his words, we cannot stand by passively while Myanmar falls apart and that we must find a way to resolve the stand-off between the opposing sides there and take advantage of all opportunities to pursue negotiations.
Although apparently the Cambodian leader focuses on political crisis in Myanmar, he has no concern for democracy, human rights and brutality of the military regime. He has no concern for the Rohingyas or any minority groups, which suits interests of Myanmar regime and its allies. Cambodia has launched a diplomatic blitz to rehabilitate the Junta first in ASEAN and then at the global level. Before taking over the revolving annual chairmanship of ASEAN, Hun Sen declared that he wanted the Burmese junta to be represented at the bloc's meeting. In responding to questions of whether Cambodia can resolve the issue of the Myanmar junta, Hun Sen mentioned that any resolution would have to come from Myanmar itself, saying that the regional bloc was only one part of helping the member nation find a solution. "It isn't based on whether Cambodia can resolve it or not, but Cambodia will try to compromise the situation of Myanmar to return it to a better situation.
Hun Sen is trying to use his personal influence as one of the oldest leaders in the region who is in power for more than 36 years and who even supported Vietnam's invasion of his country in 1978. His own leadership in Cambodia is also deeply criticized, so his diplomatic role can also help him legitimizing his power in one of the small but historic nations on earth, Cambodia. Hun Sen often refers to ASEAN's long-held convention of not interfering in each other's internal affairs as an excuse of not creating any pressure on the Junta government. He plainly promotes the idea that under the ASEAN charter, no one has the rights to expel another member.
Support for the Hun Sen Initiative
The visit of Hun Sen enjoys support from some members of ASEAN and outside. Cambodia enjoys strong endorsement from two powerful regional partners of ASEAN and members of ASEAN Plus Three, China and Japan. In a statement of Japan's MOFA, it is stated that Japan welcomes Cambodia's active engagement as ASEAN Chair on the situation in Myanmar, and both ministers shared the view to coordinate closely. Another close ally of Myanmar, China, is also strongly in favor of Hun Sen and Cambodia, as well as Myanmar. The Chinese foreign ministry official, Wang Wenbin states that China appreciates Myanmar's readiness to create favorable conditions for ASEAN's special envoy to fulfill his duty and [he] works toward effective alignment between Myanmar's five-point road map and ASEAN's five-point consensus. In his words, "China will fully support Cambodia, the rotating chair of ASEAN, in playing an active role and making [an] important contribution to properly managing the differences among parties of Myanmar". Members of ASEAN such as Thailand and Vietnam have strong support for Hun Sen visit. Cambodian Foreign Minister Prak Sokhonn said that ASEAN member-state Thailand's top diplomat had sent a "congratulatory message" saying, "he strongly supported the outcomes of the Cambodia-Myanmar joint press release".
Against the Visit
Rights groups are calling the visit a charade. They openly argue that by failing to insist that he would meet with all parties to the conflict, including imprisoned political leaders like Aung San Suu Kyi, PM Hun Sen has demonstrated a clear authoritarian orientation that all issues can be sorted out in closed door talks between dictators. They argue that such kind stance of Hun Sen threatens to undermine the very fragile ASEAN decision that Myanmar political authorities cannot participate in future ASEAN events unless they abide by the 5 Point Consensus agreed by junta supremo General Min Aung Hlaing in April 2021. Activists also argue that with the false confidence generated by this ill-advised visit, the serious worry is the Tatmadaw will see this as a green light to double down on its rights abusing tactics seeking to quell the aspirations of the Burmese people. The worrying fact is that ASEAN has been making some efforts to stabilise the political conflict in Myanmar since the 2021 coup, but many view Hun Sen's visit undermines this progress. Understandably, anti-coup activists and leading members of Myanmar's shadow government, the National Unity Government, have also condemned the visit across social media. The most outspoken ASEAN members against the visit are Indonesia and Malaysia who led the process in 2021 to keep the Junta leader, General Min Aung Hlaing out of ASEAN process for his blatant breach of 5-point consensus to which he was also a party.
Who has benefited from the Visit?
Undoubtedly, it is the military Junta of Myanmar who has gained exclusively from this visit orchestrated by the pro-Junta members within and outside of ASEAN. Myanmar and Cambodia are particularly happy with the outcomes of the visit. In the first place, the Myanmar Military has already achieved a huge diplomatic advantage from the visit of Hun Sen as he became the first foreign leader to visit Myanmar and meet the regime's leader, Min Aung Hlaing, since the military overthrew the country's elected government in February 2021. Meanwhile, the two leaders discussed bilateral relations in a 140-minute meeting in the capital of Naypyidaw and they agreed that the ASEAN Special Envoy could be involved in the Myanmar peace process. Myanmar believes that Cambodia will rule with fairness during its chairmanship this year of the ASEAN. To Myanmar, there were "good results" from the Cambodian leader's visit that boosted the military leadership as they argue that international pressure on Myanmar had not dialed down, but Myanmar would not bow to it.
Despite the satisfaction of Myanmar and Cambodia, Malaysian Foreign Minister Saifuddin Abdullah criticized Cambodia's Prime Minister Hun Sen for taking unilateral action in meeting the leader of Myanmar's junta. The foreign minister further added, "We would expect that he could have at least consult – if not all – a few of his brother leaders as to what he should say." He reminded that ASEAN position would not change that until there is clear progress on the five-point consensus Myanmar's representation at the Asean summit and related summits at the end of the year should remain non-political. Indonesia is another powerful member of ASEAN also criticized that visit and identified it as a futile exercise.
Another immediate outcome of the visit is postponement of the first ASEAN meeting known as The ASEAN Foreign Ministers Retreat (AMM Retreat) initially scheduled on Jan. 18-19, 2022, in Siem Reap province under Cambodia's 2022 chairmanship. Although COVID 19 was shown as a reason behind this decision, it is the division among the bloc's members over Prime Minister Hun Sen's visit to Myanmar has played a vital role behind this new development. Discords within ASEAN over Hun Sen's trip to Naypyidaw and a potential invitation to the Myanmar junta's foreign minister to attend the ASEAN diplomats' retreat might be why some ASEAN members chose not to attend the meeting. Precisely, the issue is members' intense disagreement over ASEAN chair's invitation to the Myanmar military-appointed Foreign Minister Wunna Maung Lwin have created an impasse. It may be mentioned that Brunei, Indonesia, Malaysia, the Philippines and Singapore had backed shutting out the coup leader from the regional bloc's top summit in 2021 when Brunei was the Chair of the bloc. Analysts fear that the postponement effectively delays the official endorsement of Foreign Minister Prak Sokhonn as ASEAN's new special envoy for Myanmar.
By visiting Myanmar and meeting with Min Aung Hlaing, Hun Sen legitimized him and at the same time, weakened the role of ASEAN in playing a constructive role in the Myanmar crisis. The military leader in Myanmar had promised, among other things, to end violence and give an ASEAN special envoy access to all parties in the Myanmar political crisis, but he has done none of those things. Hun Sen has reversed the stance of the previous Chair Brunei, which created positive pressure on the Myanmar regime. Now the visit has questioned the credibility and limit of ASEAN to continue its meaningful and effective diplomatic role in mitigating the crisis in Myanmar, which has adverse impact on the future of democratic movement and the possible repatriation of the Rohingyas.
Laos Prime Minister visit to Vietnam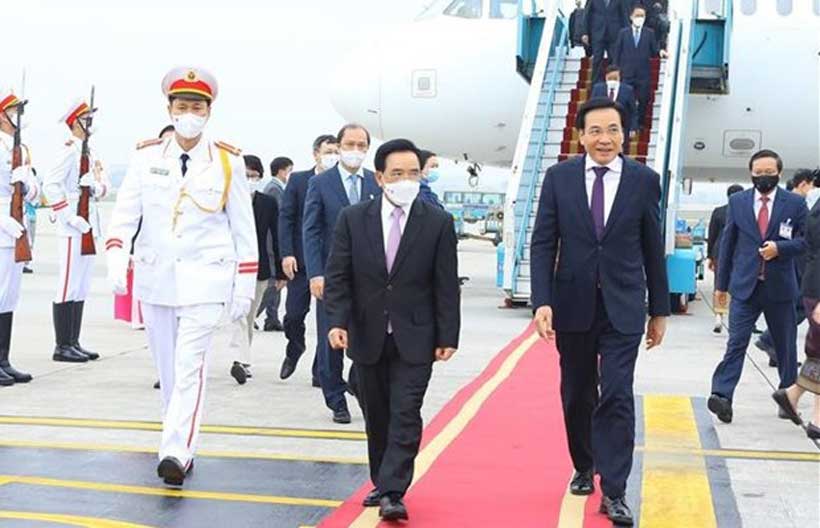 Laos Prime Minister Phankham Viphavanh along with a high-ranking delegation visited Vietnam from January 8 -10 to strengthen ties with its neighbour country. The official visit of Laos Prime Minister to Vietnam ushered in a new phase of interactions and outlook in friendship between the two neighbourly countries of Indochina. The Laotian prime minister would also usher in the era long celebration of the friendship between Laos and Vietnam in the year 2022. Given the fact that the two countries of Indochina have suffered the after effects of the pandemic COVID-19 in the year 2021, and have decided to enhance their partnership in select areas for protecting the mutual interest and forging cooperation between the parties, the government and developing people to people interactions. Vietnam has taken cognisance of the fact that the neighbouring countries require support both in terms of medicines, diagnostics and other health equipment which was required during the times of crisis.
Vietnam had given medical equipment and diagnostics kits worth US$2.2 million to Laos, and also sent a few of its medical personal to assist the Laotian patients and Vietnamese overseas citizens in Laos. At the times of crisis, even Laos has given Vietnam nearly US$300,000 for pandemic containment response and even the private sector in Laos came forward for giving 1.4 billion dollars to the Vietnamese communities located closer to the border of the two countries. Between Laos and Vietnam there has been economic and development cooperation under that there are more than 209 projects under which Vietnamese firms have invested more than $5.16 billion in Laos.
In terms of education, training and developing capacities the two countries have assisted each other and Vietnam has offered more than 1200 scholarships to Laotian officials and students for enhancing their knowledge and capacities.
Since last year the interaction between the two countries has been more profound and there has been a visit of party general secretary, presidents, and prime ministers of the two countries. In August 2021 Laos general secretary and president Thongloun Sisoulith paid an official visit to Vietnam. During the visit the discussions were held with regard to improving ties and elevating ties to the next level. One of the important agenda points which have been discussed was bringing about reforms and ensuring national construction and defence between the two countries. The party general secretary appreciated the extensive reforms which have been carried out in Vietnam in the last three and a half decades after Doi-Moi(economic reforms programme initiated in 1986). The two sides also discussed developing conducive conditions for mutual development and ensuring stability and prosperity in Southeast Asia. The issue of development in Mekong subregion and developing interactions at World Trade organizations were in the agenda too. One of the important highlights of the visit was strengthening cooperation and coordination with Cambodia so as to promote the CLV developmental triangle area. Laos and Vietnam also share the resources of Mekong River and it has become imperative for the two countries to develop institutional links and coordination mechanisms in this context. The two sides were also keen on developing defence ties and addressing challenges such as cross border crime an undertaking joint border patrol.
Following this visit, President Phuc visited Laos in his new term and the discussions were held between the two counterparts on COVID-19 pandemic cooperation and undertaking special efforts particularly in regional organisations as well as in the United Nations. During that visit nearly 14 cooperation documents were signed between the two ministries particularly in the fields of security, defence, drugs control, power exchange, and mineral exploration. The visit also opened new vistas of cooperation between the two sides and but trust the need for special solidarity and comprehensive cooperation. During the visit the 43rd meeting of the Vietnam Laos intergovernmental committee was also held and the two sides also decided on the cooperation strategy for the next decade (2021 to 2030). In fact, one of the important highlights of the visit of president Phuc has been the wide coverage which has been given by the media in Laos and also highlighting the special friendship between the two nations.
This visit of the Laos Prime Minister forms the basis of solidarity, political acknowledgement, and confidence between the two parties in the Indochina. Vietnam has also helped Laos in building its National Assembly which was worth 111 million USD dollars. Vietnam showed urgency and immediate support when Laos was facing widespread effects of COVID-19 pandemic. In one of the statements which was made by the Ambassador of Laos in Vietnam, he stated that this visit will build up foundation for a comprehensive partnership between the two nations in the year 2022. He added that this visit will help in deepening ties related to science and technology, culture, education, knowledge building security and defence ties as well as political interactions. The two countries have convergence is with regard to developing the age end of ASEAN meetings in the year 2022 as well as looking for better development avenues in the Mekong subregion. The Vietnam Laos friendship and solidarity year 2022 would help in better management of trade relationship, use of Vietnamese sea ports by Laotian businessman and exploring transport connections through the East West corridor.
Vietnam's contributions as non-permanent member of UNSC
Vietnam has joined the UN Security Council as a non-permanent member for the period 2020–2021 and during this period it was expected that Vietnam would be raising issues related to the regional development, challenges with regard to the pandemic, building consensus on sustainable development goals, and addressing issues related to maritime and regional security. In one of the statements which have been made by the permanent representative of Vietnam to the United Nations, he has clearly stated that Vietnam has been able to secure cooperation from the other members of the UNSC on issues related to objectivity, unity and transparency, and made a good case with regard to the legitimate interest of relevant parties in South China Sea. Vietnam has aspired to make the United Nations as a people centric approach and stressed on finding reasonable and sustainable solutions to settle maritime disputes through dialogue, and highlighted humanitarian challenges to the most vulnerable groups in the international society. Vietnam strongly supported the UN Charter in the maintenance of international peace and security. It was also very vocal with regard to protection of infrastructure which was critical to people's livelihood.
In one of the messages which was sent by President of Vietnam Phuc following the conclusion of Vietnam's term as non-permanent member of UNSC, it is stated that in the New Year Vietnam completed the term fulfilling the trust that was bestowed upon it by the international community when it got 192 out of and 193 votes for securing a non-permanent seat in the UNSC. He stated that Vietnam has always stressed on maintaining international peace and security and also urged the nations for building up consensus with regard to the pandemic and after effects caused by COVID-19.
Vietnam during the meeting on maritime security (held in August under the UNSC chairmanship of India) also suggested three important measures which included involvement of international organisations in regional conflict zones, undertaking consultative measures through dialogue mechanisms and also stressing on people centric approach so as to protect communities living in the coastal zones. Vietnam's President Phuc also stated that the UN Charter and international law should be protected at all times. During the two-year stint with the UNSC, Vietnam projected its foreign policy in terms of self-reliance, promoting peace and friendship among nations, strengthening multilateral structures, and expanding its relations with other countries of the world. In his message he also stated that Vietnam has now become a more active and responsible stakeholder in international dialogue and would be taking responsibilities which would strengthen institutions such as UN.
Vietnam is also aspiring to become a strong and prosperous middle power country by the year 2045 when Vietnam will be celebrating hundred years of its independence. The adroitness of the Vietnam's diplomatic community and the party cadres have helped in elevation of Vietnam's international stature and enhance ties with a number of countries representing in the UN. Vietnam steadfastly advocated for a world free from wars and conflict, and developing common objective of international peace along with removing poverty and inequalities.
During its stint as the chair of the UNSC in April 2021, Vietnam demonstrated a strong affinity to the international community and highlighted the issues which are of common concern for the mankind. Vietnam also highlighted the need for strengthening dialogue between the UN and regional organisations, and addressed one of the important issues of unexploded landmines and after effects of explosive remnants of the world wars.
Vietnam made a strong case for respect and recognition for international law and implementation of the charter enshrined under UNCLOS 1982. In fact, Vietnam also raise the issue of woman in peace and conflicts aspects and the collateral damage of the climate change in conflict zones. During the chairmanship of Vietnam, the pandemic effect became profound and, in that context, Vietnam showed diplomatic skilfulness in promoting international peace and security due to the pandemic conditions. Vietnam, during its stint as the chair of the ASEAN in 2020, has already explored the possibilities with regard to holding online and off-line activities and therefore its experience came very handy in UNSC to explore potential of online and off-line activities together.
Vietnam raised very pertinent questions with regard to the protection of civilians and critical civilian infrastructure in crises zones. One of the important achievements which was enshrined in Vietnam's tenure was the adoption of the International Day of Epidemic Preparedness. This was fully supported by all UN member states and the resolution was adopted worldwide. This International Day of Epidemic Preparedness was meant to prepare all organisations including private and public sector to address any gaps in preparedness and coordination as well as creating awareness among people.
Among the list of priorities which have been issued by the Vietnam for the year 2020-2021 tenure was primarily focused on peaceful settlement of disputes, strengthening of implementation of Chapter VI of the UN Charter, addressing the after effects of armed conflict, cooperation under the United Nations Peacekeeping Forces, and highlighting tangible solutions in mitigating the effects of climate change which are related to international peace and security. All in all, one can say that Vietnam has very deftly managed its position as non- permanent member at UNSC, and has also supported countries like India in addressing issues such as maritime security at the global level. This has generated lot of interest and international support which was instrumental in adopting common protocols and future agenda for protecting the global commons.