Follow The Money Of The Deep State
Like any other criminal enterprise, there is always a leader, or series of leaders. This is the essence of the RICO Laws, ie, the Racketeering Influenced Corrupt Organization Act, wherein the U.S. Government (in a rare overture of actual beneficence to the American People) developed, enacted, and passed a series of federal statutes which allowed them to, in a much easier fashion, take down organized crime, by attributing the criminal acts of their "lower level henchmen" directly to the man upstairs, ie, their leader, who, before the enactment of said statute, was usually able to evade liability or culpability of a sprawling criminal enterprise, which he/she, while in the shadows, was able to control and pull all of the strings.
To that end, every single patriot in America, and better yet if they are federal or state law enforcement, private investigators, lawyers, finance professionals, accountants, or anyone else trained/equipped to detect shadowy shell corporations, "hidden money trails," clandestine networks, and hidden corporate/organization structure, should immediately start and begin to attribute any and all criminal activity being felt by the masses in the United States, and throughout the world, directly to one, or several ultimate leaders.
It is no longer acceptable for the countless crimes being perpetrated against humanity to go unaccounted for, and unpunished/un-investigated.
The daily crimes that are constantly going un-investigated and unaccounted for to their ultimate leader(s), consist of one or all of the following, both in the United States and the rest of the world:
(1) false flag terrorism to get their populations to demand/accept more civil liberties violations/removal by their host governments; (2) acts of political and judicial corruption; (3) police and federal law enforcement misconduct or corruption; (4) mainstream media deceptions being passed off as "real news" in order to brainwash/influence a population; (5) war crimes or other paramilitary acts of unprovoked aggression against innocents throughout the world; (6) legal abuse and harassment using our nation's federal and state courts; (7) acts of STASI-like gangstalking or "community oriented policing" by the DHS, DOJ, FBI working in conjunction with corrupted local police or private investigators/contractors against innocent people who run afoul of the National Security State or a member thereon; and (8) countless other crimes against humanity.
Thankfully, the RICO Laws that are used to take down these types of vast organized criminal entities/conspiracies do not require the federal or state government to investigate themselves, which rarely, if ever works.
A RICO Lawsuit can also be brought by any individual, or group of individuals, using forms freely available and provided by every Pro Se ("Self Representation") webpage on each and every U.S. Federal District Court website, in what is known as a private "Civil RICO" lawsuit, ie, whereby any one person or persons aggrieved or harmed by a criminal conspiracy, having a predicate criminal act(s), can sue any one, or all, of their perceived perpetrators, usually alongside 42 § 1983 (The Civil Rights Act).
One does not even need to have all of the proof required, just a colorable and cognizable claim or series of claims wherein the aggrieved party or parties believe that sufficient evidence exists to sue any or all of those defendants responsible for said predicate criminal act.
Hopefully the summons and complaint of the lawsuit will past muster enough so that a federal judge will allow the case to continue, onwards to the Discovery stage, wherein the perpetrators of said ciminal activity will be forced to turn over, and yield, any and all information and evidence to support that lawsuit, but this is also difficult because in the vast majority of cases, the federal judge/magistrate presiding is usually completely and totally "in bed" with the corrupt and shadowy criminal figure(s) who are victimizing you in the first place.
One of the greatest proponents of the aggrieved masses suing the "pants off" of the criminal element(s) masquerading within the Deep State was none other than Eustace Mullins, one of the most under-rated and un-discovered American heroes and patriots this country has ever known.
Eustace Mullins got a great kick and sense of enjoyment suing these criminal perpetrators on a regular basis, scoring win after win against corrupted members of the criminal Deep State with his dogged persistence and laser-like focus on achieving justice against these nameless and faceless cowards hiding behind the color of law and authority, or even standing outside of it.
It was reported that Eustace Mullins, himself a non-lawyer, scored back-to-back $30-50 million dollar awards and judgments against his tormentors within the Deep State, time after time again.
This also may have been attributed to the fact that he was also an amazing and great writer, linguist, and orator, having literally been the FIRST exposer of the criminal conspiracy involving the Federal Reserve, for example, amongst myriad other Deep State revelations.
One of his seminal speeches can be found here wherein he glorifies and discusses in detail, his unsung victories against some of the criminals who hide within the Deep State, and contains many glorious tidbits and pearls of wisdom, if you too, want to sue these cowardly people into oblivion for crimes against you, your family, or your friends.
Joe Biden in 2020 Copies Hillary Clinton in 2016
The 2016 Iowa Democratic Presidential Caucuses were held on 1 February 2016 and produced 49.84% for Hillary Clinton and 49.59% for Bernie Sanders.
On 12 January 2016, Politico headlined "Sanders bests Clinton in new early state polls" and reported that "The intensifying rivalry between Hillary Clinton and Bernie Sanders spiked a few degrees on Tuesday with two new polls showing the Vermont senator catching fire in not only his regional stomping ground of New Hampshire but also in Iowa, where Clinton enjoyed a double-digit lead as late as mid-December."
The 2020 Iowa Democratic Presidential Caucuses are to be held on 3 February 2020. On 26 January 2020, Political Wire headlined "Tight Race in Iowa" and reported that "A new CBS News poll in Iowa shows Bernie Sanders is leading the Democratic presidential race with 26%, followed by Joe Biden at 25%, Pete Buttigieg at 22%, Elizabeth Warren at 15% and Amy Klobuchar at 7%."
That CBS News poll in Iowa showed also that whereas only 33% of the likely voters thought that Sanders would beat Trump if the nominee, 45% thought that Biden would beat Trump if the nominee. Biden also scored far higher than Sanders on "Prepared to be Commander in Chief": 84% on that, compared to Sanders's 68%. Also on other factors, the findings were remarkably similar for Biden as compared to what the polls at around this same time had been showing for Clinton. Also, the pre-primary polls in 2016 were showing almost identical demographics for Clinton's voters as the 2020 pre-primary polls are showing now for Biden voters — such as an overwhelming majority of Blacks supporting Clinton then and Biden now, but also on almost all other demographic factors. And, likewise, Sanders's voters in 2020 seem to be the same demographics as Sanders voters in 2016 were.
Clinton, of course, received the Democratic Party nomination and was widely expected to beat Trump but she lost to him (though she won California by 4,269,978 in the popular vote, and so beat Trump by 2,864,974 in the nationwide popular vote, while she lost all other states by 1,405,002 votes, and so she would have been California's President if she had won, but the rest of the nation wouldn't have been happy).
Among the top reasons why Democrats in primaries and caucuses voted for Clinton was that they thought she would have a higher likelihood of beating the Republican nominee than Sanders did. However, by the time when Election Day rolled around, the passion that Republicans felt for their nominee, Trump, was much stronger than was the passion that Democrats felt for their nominee, Clinton. During the Democratic primaries, polls were showing that the Democrats who were voting for Sanders to become their Party's nominee were far more passionate in their support of him than was the case regarding the Democrats who were voting for Clinton to become the Democratic nominee. And nobody questions that Trump was the passion-candidate in the Republican Party's primaries and caucuses.
On 1 May 2017, McClatchy newspapers headlined "Democrats say they now know exactly why Clinton lost" and reported that,
A select group of top Democratic Party strategists have used new data about last year's presidential election to reach a startling conclusion about why Hillary Clinton lost. Now they just need to persuade the rest of the party they're right.
Many Democrats have a shorthand explanation for Clinton's defeat: Her base didn't turn out, Donald Trump's did and the difference was too much to overcome.
But new information shows that Clinton had a much bigger problem with voters who had supported President Barack Obama in 2012 but backed Trump four years later.
Those Obama-Trump voters, in fact, effectively accounted for more than two-thirds of the reason Clinton lost, according to Matt Canter, a senior vice president of the Democratic political firm Global Strategy Group. In his group's analysis, about 70 percent of Clinton's failure to reach Obama's vote total in 2012 was because she lost these voters. …
Although Clinton has blamed her loss on Putin, and on Sanders — and perhaps if Biden wins the nomination he will likewise blame Putin and Sanders if he subsequently loses to Trump — the passion factor is actually much stronger an influence on whom the winner of an electoral contest will be than losing candidates wish to admit or publicly acknowledge; and it could turn out to be the case in 2020, just the same as it did in 2016.
Iran crisis test drives fundaments of Trump's foreign policy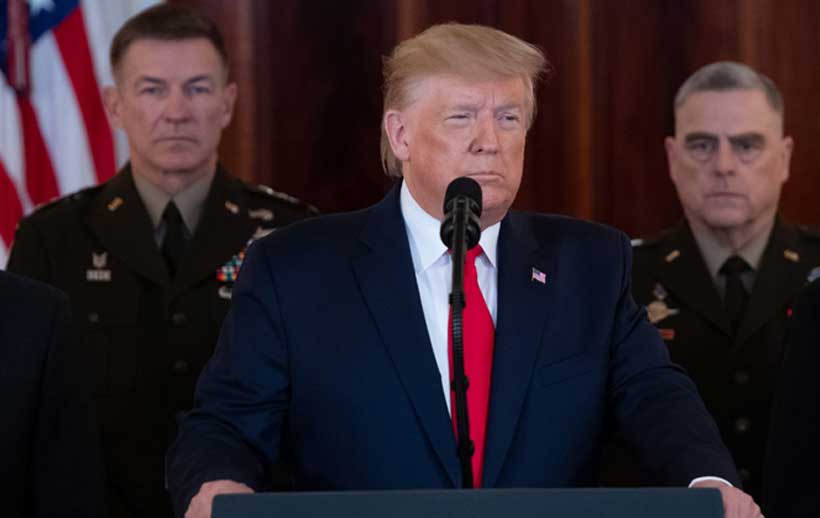 At the core of US president Donald J. Trump's maximum pressure campaign against Iran lies the belief that Iran can be forced to negotiate terms for the lifting of harsh US economic sanctions even if it has no confidence in US intentions and adherence to agreements.
The Trump administration's belief, despite the conviction of much of the international community that maximum pressure has failed and risks provoking a devastating all-out war in the Middle East, says much about the president's transactional approach towards foreign policy that rests on the assumption that bluster, intimidation and the brute wielding of power can protect US interests and impose US will.
Richard Goldberg, an Iran-hawk who this month resigned as the official on the president's national security council responsible for countering Iranian weapons of mass destruction, signalled in an op-ed in The New York Times, entitled "Trump Has an Iran Strategy. This Is It," that Mr. Trump attributes no importance to deep-seated Iranian concerns that he is gunning for regime change in Tehran and that building trust is not needed to resolve the Iran crisis.
"The Iranian regime doesn't need to trust America or Mr. Trump to strike a deal; it just needs to act as a rational actor to avoid collapse," said Mr. Goldberg, who backed by former national security advisor John Bolton, served for a year in the White House.
Mr. Goldberg appeared to ignore the fact that the US withdrawal 20 months ago from a 2015 international agreement that curbed Iran's nuclear program sparked doubts not only in Iran but across the globe about the value of a US signature on any agreement.
He also appeared oblivious to the fact that Iranian suspicions were reinforced by alllegations that his salary, while at the White House, was paid by the Foundation for the Defense of Democracies, a hardline Washington-based think tanks that is believed to have close ties to Israel and the United Arab Emirates. So did anecdotes about how his hardline views provoked clashes with other administration officials.
In his op-ed, Mr. Goldberg suggested that any new agreement with Iran could be ratified by the US Senate.
The Trump administration and Mr. Goldberg's misreading of what it would take to steer the United States and Iran off a road of more than 40 years of deep-seated mutual distrust and animosity and towards the turning of a new page in their relationship was evident in indirect responses to the former national security council official's assertions.
"Even if one day we negotiate with the US, the talks will not be with Trump, won't be strategic (no normalization of ties) and will be done only by conservatives not reformists. We need to see changes in the (US) Congress; whether Democrats will pursue a fair policy by which Iran is not under pressure over its missile program," said a regime insider.
The Trump administration has demanded among other things that Iran curb its ballistic missile program, a core element of the Islamic republic's defense strategy given that its armed forces lack a credible air force and navy.
Hardliners, who rather than moderates have proven in other Middle Eastern conflicts like the Israeli-Palestinian dispute to be the ones capable of cutting deals, are expected to win next month's parliamentary elections in Iran. The likelihood of hardline advances was enhanced by the fact that scores of moderates have been barred from running for office.
Iranian reformists argue that the accidental downing of a Ukrainian airliner Iran's Revolutionary Guards Corps demonstrates the risk of an Iranian strategy that is pre-empted on eternal hostility towards the United States.
Mr. Goldberg offered a rare indication that the Trump administration recognizes Iran's strategy of gradual escalation that, based on the assumption that neither the United States nor Iran wants an all-out war, aims to bring the two countries to the brink of an armed conflict in the belief that this would break the logjam and force a return to the negotiating table on terms acceptable to Iran.
Noting that Mr. Trump had failed in the past nine months to respond to multiple Iranian provocations, including the downing of a US drone and attacks on tankers off the coast of the United Arab Emirates and on key Saudi oil facilities, Mr. Goldberg asserted that Mr. Trump "recognized those traps for what they were and exercised strategic patience."
Mr. Trump's patience ended in December when he responded to the death of an American contractor in an attack by Iranian-backed Iraqi militias and the militias' siege of the US embassy in Baghdad by first authorizing air strikes against militias bases in Iraq and Syria and then the killing of Iranian general Qassim Soleimani.
Mr. Goldberg would likely describe the president's decision not to respond to a subsequent Iranian retaliatory attack on housing facilities for US military personnel in Iraq as a renewed act of strategic patience.
Mr. Trump's strategic patience is bolstered by his retention of options to further increase maximum pressure on Iran. "Many wrongly believe the United States has already reached full 'maximum pressure on Iran," Mr. Goldberg said.
Mr. Goldberg pointed to sanctions targeting Iranian state shipping lines that are set to take effect in June, the administration's recent identification of Iran's financial sector as a "primary jurisdiction of money-laundering concern," this month's imposition of sanctions on its construction, mining and manufacturing sectors, and Europe's triggering of the nuclear accord's dispute mechanism that could lead to the return of United Nations-mandated sanctions.
Mr. Goldberg and Mr. Trump's belief that imminent economic collapse and international political isolation could prompt Iranian leaders to suddenly place a call to the White House turns Mr. Trump's handling of the Iran crisis into a litmus test of the president's approach to foreign relations.
There is little in the torturous history of relations between the United States and the Islamic republic that suggests that pressure will persuade Iran, convinced that Washington is gunning for the fall of the regime, to gamble on an unconditional return to the negotiating table.
Nor does North Korea's failure to succumb to US pressure even if Mr. Trump, in contrast to his remarks about Iranian spiritual leader Ali Khamenei, professed his love for Kim Jong-un.
Mr. Trump's policy towards Iran, rather than reinforcing Gulf confidence in the United States' reliability as a guarantor of regional security, has sparked a wait-and-see attitude and nagging doubts about US reliability.
If anything, risky US and Iranian strategies are likely to prove that the crisis can only be defused if both sides garner an understanding of the others' objectives and some degree of confidence that both parties would remain committed to any agreement they conclude.
So far, US and Iranian policies amount to a dialogue of the deaf that is likely to perpetuate the risk of hostility getting out of hand and incentivize regional players to think about alternative arrangements that ultimately could weaken US influence and reduce tensions with Iran by including it, despite US policy, in a more multilateral security architecture.
The power of symbolism: Mexico's Foreign Policy
A few weeks ago, the president of Mexico, Andrés Manuel López Obrador (AMLO) took the decision to grant asylum to Evo Morales after he fled the country amidst allegations of vote tampering and electoral fraud. The decision of Morales to flee Bolivia clashed with several internal crisis in other Latin American countries. This has made the region highly unstable and harder to predict: Argentina is struggling with a power transition; massive demonstrations that have led to widespread violence in Chile, Colombia and Ecuador; the unlikely possibility to restore democracy in Venezuela; and an early rift between the Argentinean and Brazilian presidents that may deteriorate soon. Polarisation seems to be taking its toll on the region.
AMLO's decision should not come as a surprise. Mexico has a long tradition of providing asylum to leftist leaders that can be traced back to the 1930s: Leon Trotsky, José Martí, Fidel Castro, Spanish refugees fleeing the 1936-1939 civil war; Mohammed Reza, Rigoberta Menchu, among others. So, what made the situation of Evo Morales different?
Mexico's asylum tradition goes hand in hand with a doctrine of non-intervention: The Estrada Doctrine that means that Mexico should take no position on another's government legitimacy. AMLO violated this precept by being vocal about his support to Evo Morales and his regime in Bolivia. Secondly, while in Mexico, Morales, far from keeping quiet on politics, he simply felt at home and openly urged his supporters to boycott the new administration of Jeanine Añez.
What happened in Bolivia and the subsequent diplomatic conflict between Mexico and the new interim administration only served to further divide an already highly fragmented Latin America: There are two sides on the same matter: Uruguay, Nicaragua, Mexico and Venezuela have backed up the idea of a coup d'état; while Perú, Brazil, Colombia and the United States have endorsed the idea that it was an electoral fraud. The decision of the current administration to go to such lengths for Evo Morales contrasts sharply with the questionable treatment migrants have received in the southern and northern border of the country. Morales was soon to abandon Mexico: After just a few days in Mexico, he left for Argentina, a move that should not be taken as a surprise: Argentina is swerving away from the foreign policy the former president Mauricio Macri endorsed. This change is thought to be product of the influence of Cristina Fernández de Kirchner, vice-president of Alberto Fernández, the current president. Fernández de Kirchner was known for having a close relationship with Evo Morales. His sudden departure could also be the result of a subtle order from the United States.
The way Mexico dealt with the Morales issue highlights an important change in Mexican foreign policy if compared to the one followed by previous administrations. While AMLO has taken a decidedly non-interventionist stance towards Nicaragua, Venezuela and more recently he declined to comment on the American attack on Iran, he was very eager to make his stance clear in the Bolivian crisis.
AMLO is a president that has relied on symbolic acts to keep his electoral base satisfied. Starting from his presidential campaign, he repeatedly stated that the best foreign policy is domestic policy, and he has, since the start of his administration, stuck to this principle. AMLO has focused on numerous domestic trips that aimed at strengthening his fourth transformation project. Domestically, he has sold his presidency as transformative, however, when it comes to his stance on foreign policy, he is stuck on al old fashioned 1930s principle: The Estrada Doctrine.
If we went by what he promised during his electoral campaign, one would expect a much more aggressive foreign policy towards the United States, and specifically towards Trump. He is, however, focused on symbolic issues which will not translate unto economic or safety improvements to keep his high approval ratings. Apart from the very specific case of Bolivia, AMLO's foreign policy has remained muted and isolated. We should not confuse his sudden support for Morales as AMLO embracing a leftist foreign policy. He has never had such an inclination. By offering asylum to Morales, he tried to give the impression that Mexico was an inclusive and supportive state that has open doors. Nonetheless, with the US next door, Mexico cannot really remain completely sovereign. This asylum process was more a symbolic action than a real shift in foreign policy.
Just last week, AMLO also declared that he has reoriented his foreign policy towards gender equality. Again, another power of symbolism if one looks at Mexico's feminicide and gender-violence statistics, they are shaming. Such a foreign policy would prioritise gender equality, protect human rights of women and marginalised groups along with equal pay, and gender parity. Domestic policies again fail to provide such a framework for Mexican women. It's hardly likely this will go beyond what it is: another symbolic promise that aims to appease those critical of his administration.