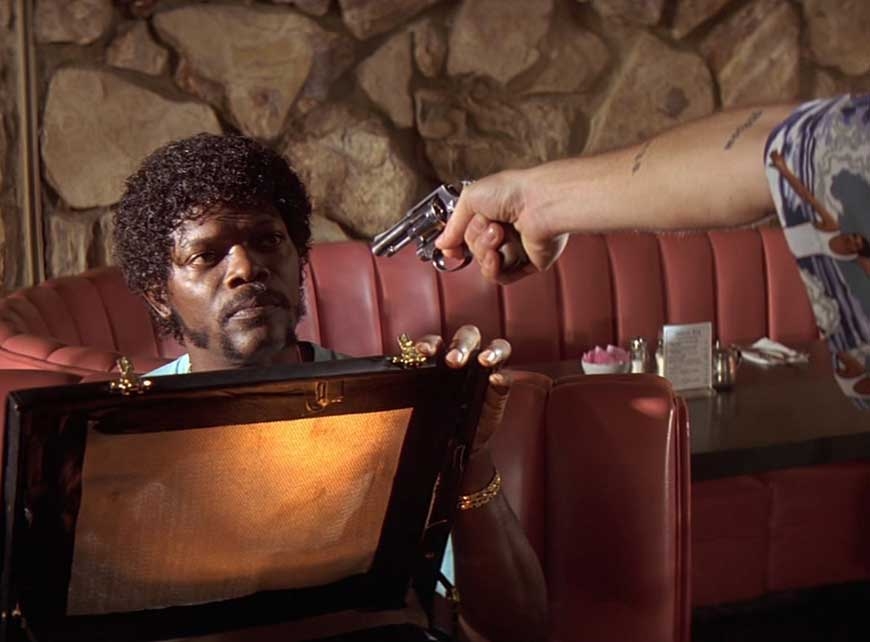 As many Americans get prepared for the End of Times on January 20th with the inauguration of President-elect Donald Trump and even larger swaths of people around the world are inspired by the eloquent dire warnings of Meryl Streep at the Golden Globes, it might be time for a single lone voice to offer a revelation: it may be big news that Donald Trump is going to be President; but it is far bigger news that the Trump Presidency is going to be the biggest MacGuffin in the history of televised action.
So get your popcorn ready, world, and remember the most important thing of all: that while a MacGuffin is usually effective in keeping the plot moving forward and maintaining your emotional peak investment, in the end it is also always intrinsically lacking any real meaning at all.
To prove this let us take and dissect several announcements that have all gone intensively viral across the web in recent weeks:
1. Trump fires all Ambassadors and Special Envoys, ordering them out by inauguration day.
The reality of this is more about being strictly rigid with the technical rule that has always been in place rather than being radically authoritarian with long-established tradition. Political appointees, which Ambassadors and Special Envoys are, usually expect to be replaced whenever one President leaves and another one enters the Oval Office, especially when that change also involves a switch in political party for the incoming President. In the past, many former holders of the Oval Office have allowed relatively slight extensions for such people to leave. What Trump has done is break with that relatively modern flexible interpretation of the rule, choosing instead to follow the actual rule in place to the letter by telling the political appointees over a month in advance that January 20th would be their final day to serve. It is also important to note that regardless of the presence or employment status of any Ambassador or Special Envoy, every single American embassy around the world has someone called the Deputy Chief of Mission. This person is almost without question a career Foreign Service Official specifically suited and experienced with running the everyday affairs of an Embassy while it undergoes the transition of a new incoming Ambassador. So the intimation that Trump is 'firing' all ambassadors and leaving our foreign missions in chaos is simply wrong.
2. House brings back the Holman rule allowing them to reduce an individual civil service or political appointee's salary to $1, effectively firing them by amendment to any piece of legislation. We now know why they wanted names and positions of people in Energy and State.
The Holman Rule actually goes all the way back to 1876 and does indeed allow lawmakers to cut the pay of individual federal workers down to $1. This viral coverage is almost universally tagged to the idea that it is a Republican attempt to be able to single out, for example, climate change scientists, for financial intimidation: if you de facto eliminate people's earnings they will have no choice but to depart from that employment and seek wages elsewhere. Therefore, the huge outcry with this so-called reimplementation of the Holman Rule is that it is going to basically 'de-science' whatever the Republican Congress does not like. All of this sounds horrifically ominous and unjust. It also happens to be hyperbolic melodrama as it leaves out one critical aspect of the process: under the Holman Rule, any such amendment against an individual cannot be an arbitrary decision. Rather, the amendment in question has to face a vote from the entire United States Congress – the House of Representatives AND the Senate – and the vote must achieve a majority affirmation in order to be in effect. As we have already seen with the in-coming Congress, even though it is 'controlled' by Republicans, the Grand Ole Party has shown itself to be remarkably NON-unified on most issues and has not been successful in achieving majority decisions, even on the issues they were supposed to be united on. The Holman Rule is no such issue and therefore the likelihood of this ever being successfully engineered is extremely low.
3. The US Senate schedules 6 simultaneous hearings on cabinet nominees and triple-books those hearings with Trump's first press conference in months and an ACA budget vote, effectively preventing any concentrated coverage or protest.
This story has already been slightly deflated as 1/3 of those hearings have already been moved to different days. Ironically, this has drawn derisive anger from the right as 'having caved' to Congressional Democrats and proving the majority party has 'no spine.' So much for the characterization of Congressional Republicans being some form of neo-Dark Side army from Star Wars mythology, haughtily strutting about and chuckling at the impotent mewlings of progressives. In addition, scheduling a press conference on the same day as tumultuous confirmation hearings is not only NOT atypical, it is political PR 101: create news where you DO control the narrative if you are worried things could be happening elsewhere in which the narrative is largely out of your control. There can be no argument that Trump appointee confirmation hearings are going to be a circus beyond all circuses, with people clearly using the opportunity to turn it into their own specific platforms and personal soapboxes. That is the nature of modern-day confirmation hearings. It happened with Obama. It happened with W. It happened with Clinton. So, the decision by the Trump team to create a 'political diversion' by finally offering up the President-elect in a news conference (something he admittedly seems loathe to do so far) is a brilliant stroke of political strategy. But the concern that a press-conference will prevent concentrated coverage or protest is an empty conceit: given the size of the contemporary media and the supposed intensity of emotion against the incoming President, if protest is truly unable to manage multiple fronts that are not even that large or disparate then it seems the anti-Trump movement is not nearly as big or as passionate as it proclaims to be.
4. House GOP expressly forbids the Congressional Budget Office from reporting or tracking ANY costs related to the repeal of the ACA.
I only need to offer a simple direct quote from someone working in the CBO as to this 'fact' that has been catching fire all over the web:
"This is false. Section 3(h) on page 25 of HRes 5 establishes a point of order against a bill that would increase net direct spending by more than $5 billion in any of the four decades AFTER the budget window used for cost estimates prepared under the Budget Act. And it requires CBO to include in its cost estimates an analysis of whether the bill increases such costs in the long term (that requirement has been in place for quite some time). That section (in 3(h)(4)(A) and (B) then exempts ACA related bills from that long-term requirement. It has nothing to do with whether CBO can provide the normal cost estimates of legislation, including those related to the ACA. Furthermore, this a House rule; it does not apply to the Senate."
She added that the reporting on this has been very uninformed. Really? "Reporting" that has been almost exclusively dominated by unvetted blog declarations online (ie, not run by accredited members of the formal media), covering aspects of internal house budget procedural rules (an arcane and insane depth of bureaucratic weed-diving if there ever was one), is 'uninformed?' The only real question is whether it is uninformed or simply purposely misleading in order to enrage people over nothing.
5. Trump continues to throw the intelligence community under the bus to protect Putin, despite the growing mountain of evidence that the Russians deliberately interfered in the election.
The misdirection in this accusation has been breathtakingly impressive. First, it was not that long ago when there was open protest and a 'throwing under the bus' of the Intelligence Community for it supposedly having too much of a political role in determining whether or not America should have gone to war in Iraq. The Intelligence Community at the time rightfully protested what was a fundamental misunderstanding by the American public as to what its true function in American democracy was supposed to be: namely, the IC is to collect information, assess and evaluate the data, and present the report findings to actual policy-makers who are then charged with deciding what they wish to do with it. Under no circumstance in the entire history of the American Intelligence Community has there ever been a clamor, from the public or the IC itself, for intelligence professionals to be the ones to exclusively commandeer or determine foreign policy. The mere thought that it may have come close to doing that in a subtle and quiet way in Iraq back in 2003 made the entire country apoplectic with the supposed breakdown of our system of checks and balances. Now apparently, because it is Trump, the public's desire is to do that very thing. It should be noted that the Intelligence Community has been the only player in this political charade to respectfully remind people that it seeks no policy-making role and only has a responsibility to report findings to the President-elect and at that point it is the privilege and responsibility of the President-elect to do with the reports whatever he deems best.
Finally, a comment really needs to be made about that so-called mountain of evidence proving 'Russian interference.' I have written extensively on this before so I will not repeat comments already made. But what does need to be emphasized is the innate danger the Democratic Party is crafting for its future political campaigns if it continues to ever more heavily lean on the Russian bogeyman as an explanation as to why it lost to Trump in 2016. The Russians almost certainly conducted some shady maneuvers that amounted to a semi-effective PAC ad campaign against Clinton. They did this because they were worried that Hillary was undoubtedly going to be the winner and her positions for several years had been decidedly and very publicly anti-Russian. Attempting to besmirch and weaken her 'incoming mandate' was not only wise, it was politically necessary from a Russian foreign policy perspective. But that interference did not rig voting machines or intimidate voters from participating in important swing states across America. It simply is not proven that Clinton lost because of the Russians. The important subtext in the IC reporting de facto makes note of this. But the increasing importance Democrats are placing on this issue, as if they have in fact proven it when they haven't, only means they are looking for expedient escapism so as to not face their own flawed approach to the presidential campaign.
6. Trump breaks a central campaign promise to make Mexico pay for the wall by asking Congress (in other words, the American taxpayers) to pay for it.
This last entry is symbolic because it represents at least a dozen other issue points Trump spoke to on the campaign trail and has subsequently walked back since being elected. What's odd is the progressive outcry about it. Since almost the entire Trump platform, point by point, was ridiculed and reviled by the Left in America during the campaign, you would think walking those points back would only mean progressives, liberals, libertarians, and moderate Republicans en masse could breathe a sigh of relief. After all, Trump KEEPING his campaign promises is what was repeatedly considered the political End of Times for these groups. Trump breaking most if not all of his campaign promises should therefore be a blessing. And yet it is not. It is instead used as another stimulus to enable garment-renting, hand-wringing anti-Trump kvetching, the intensity of which has perhaps never been seen in political America before.
And this, alas, seems to be the true nature and purpose of the MacGuffin Presidency. What Trump truly does, what he truly represents and strives to achieve is amorphous, ephemeral, immaterial. Quite honestly, it's irrelevant. A MacGuffin, remember, cannot in and of itself BE. It serves only to set and keep the plot in motion. And Trump, whether he likes it or not, whether he realizes it or not, is the MacGuffin for both left and right, for liberal and conservative, for American and global, to draw their battle lines in the sand and fight. The next four years are indeed going to be interesting. But I doubt they will be because of anything Trump actually does. Because, in the end, President MacGuffin is not seen or heard. He simply moves everyone else along their devoted paths and agendas.
In Praise of the Lioness of Law: Ruth Bader Ginsburg and her Jurisprudence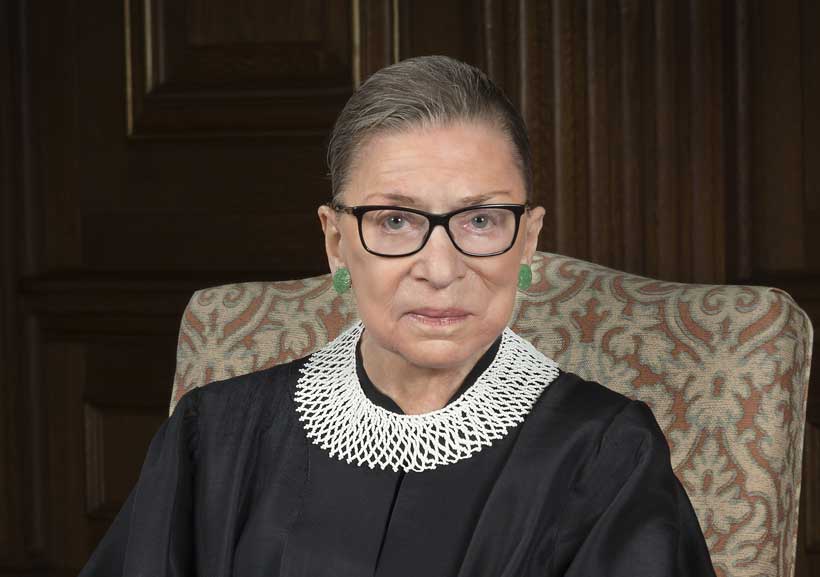 The death of the US Supreme Court Judge Ruth Bader Ginsburg has created an abyss in the court for the liberal voice where justice Ginsburg was seen as the linchpin of the liberal block of the Supreme Court at a time when that block was shrinking. Especially late judge had vociferously advocated for women 'rights, environmental issues and often came up with unique dissents in delivering her judgements which were propelled by her jurisprudence which embodied the solemn ideal in American legal system "Equal Protection under the Law ". She was on a quest to defend the delicate balance between honoring the timelessness of American Constitution and recognizing the depth of its enduring principles in new centuries and under new circumstances.
She grew up in an era where men held the helm in every aspect of social life and especially the legal profession was utterly dominated by men. Recalling her legal studies at Harvard law school in the 50's judge Ginsburg had stated later how she was once asked by the Dean of Harvard law school to justify her position as a law student that otherwise would have gone to a man. Yet she had the spunk to overcome all the obstacles stood on her way and excelled as a scholar becoming the first female member of the Harvard Law Review.
In tracing her legal career that it becomes a salient fact, Judge Ginsburg marked her name in American legal history even decades before she joined the bench. While at the American Civil Liberties Union in the early seventies she made an upheaval in American in legal system in famous Supreme Court Case Reed Vs Reed. In Reed Vs Reed the brief drafted by Ginsburg provided an astute analysis on the 14th Amendment to the US Constitution, the Equal Protection Clause. Ginsburg's brief changed the aged long practice existed in the State of Idaho on favoring men over women in estate battles by paving the path for a discourse on gender equality rights in the USA.
Judge Ginsburg's appointment to the Supreme Court in 1994 during Clinton administration marked the dawn of new jurisprudential chapter in the US Supreme Court. Two terms later, in the United States v. Virginia (VMI), Justice Ginsburg applied her lucid perspective to a sharply disputed constitutional claim. The United States challenged Virginia's practice of admitting only men to its prestigious military college, the Virginia Military Institute. Writing for six Justices, Ginsburg held this policy unconstitutional under the Equal Protection Clause. In reaching this result, Ginsburg adroitly cut away potentially confounding issues about women's participation in the military or the advantages of single-sex education.
Her robust activism in securing gender equality often attracted the admirations of the feminist scholars and activists, but it should be noted that her contribution was not only confined to the protection of gender equality. She was a robust critique of racial dissemination which still pervades in American society and she frequently pointed out how racial discrimination has marred the constitutional protections guaranteed to every citizen. Especially in the case of Gratz Vs Bollitnger, she stressed on the commitment that the state ought to fulfil by eliminating the racial biases existing employment and education. Moreover, disabled citizens. In Olmstead v. Zimring, she held that "unjustified institutional isolation of persons with disabilities is a form of discrimination" violating the Americans with Disabilities Act.45 She elaborated a two-fold concept of discrimination, noting that unneeded institutionalization both "perpetuates unwarranted assumptions that persons so isolated are incapable or unworthy of participating in community life".
In remembering the mortal departure of this prudent judge that one cannot forget her keenness in incorporating international law into her judgements regardless of the disinclination shown by conservative judges like Antony Scalia. Going beyond the mere textualism approach to the law, Ginsburg's jurisprudence was much more akin to using international law to make substantive decisions. For instance, in her concurring verdict in Grutter Vs Bollinger, Justice Ginsburg relied upon international human rights law, and in particular upon two United Nations conventions, to support her conclusions.
Indeed, the demise of Ruth Ginsburg is a major blow for the liberalists in the USA, especially in an era where liberalist values are at stake under the fervent rise of populist waves propounded by Donald Trump. Especially late judge had been one of the harsh critics of Trump even before ascendency to the Oval office. The void created by the demise of judge Ginsburg might change the role the US Supreme Court if the successor to her position would take a more conservative approach and it will fortify the conservative bloc in the US Supreme Court. Trump has already placed Justices Neil Gorsuch and Brett Kavanaugh and the third pick would more deeply entrench the conservative views in the US Supreme Court, which would inevitably undermine the progressive policies taken during Obama's administration towards issues such as the environment. The political storm appeared after the death of the late judge has already created a tense situation in US politics as president Trump is determined to appoint a judge to fill before the presidential election in November.
The Politics of (In)security in Mexico: Between Narcissism and Political Failure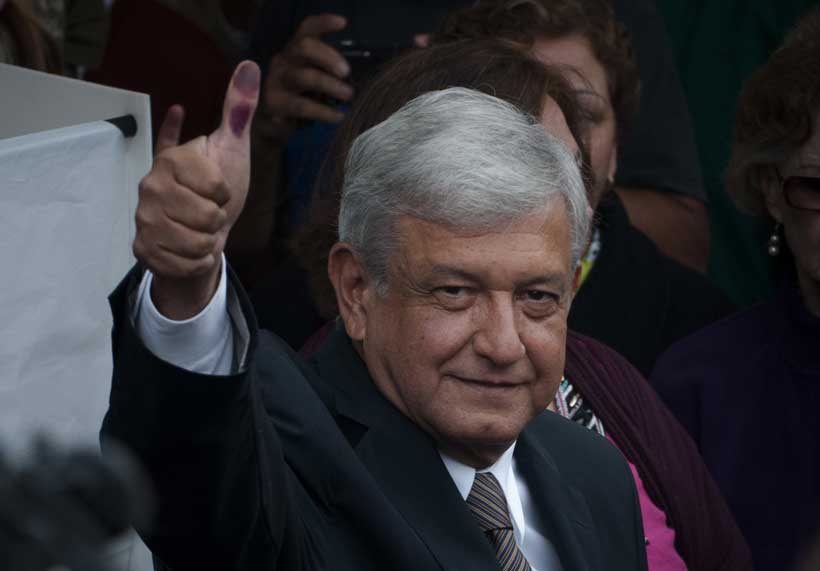 Security cannot be that easily separated from the political realm. The need for security is the prime reason why people come together to collectively form a state. Providing security is, therefore, one of the most basic functions of the state as a political and collective entity.
Last Friday, the Mexican president, Andrés Manuel López Obrador (AMLO) laughed during his daily morning press briefings over a national newspaper headline about 45 massacres during his presidency. This attitude summarises in a macabre way his approach to insecurity: it is not his top priority. This is not the first time that AMLO has showed some serious and deeply disturbing lack of empathy for victims of crimes. Before taking office, he knew that insecurity was one of Mexico's biggest challenges, and he has come to realise that curbing it down will not be as simple as he predicted during his presidential campaign.
Since the start of the War on Drugs in 2006, Mexico has sunk into a deep and ever-growing spiral of violence and vigilantism as a result of the erosion of the capacity of the state to provide safety to citizens. Vigilantism is when citizens decide to take the law into their own hands in order to fill the vacuum left by the state, or to pursue their own very particular interests. Guerrero, Michoacán, Morelos, Tabasco, Tamaulipas and Veracruz have over 50 vigilante organisations that pose substantial danger to the power of the state.
Vigilantism is not the only factor exacerbating the security crisis in Mexico: since 2006, young people have also started to join drug cartels and other criminal organisations. There are important sectors of the population who feel that the state has failed to represent them. They also feel betrayed because the state has not been able to provide them with the necessary means to better themselves. These frustrations make them vulnerable to the indoctrination of organised crime gangs who promise to give them some sort of ideological direction and solution to their problems.
As a result, it is not enough to carry out a kingpin arrest strategy and to preach on the moral duties we have as citizens as well as on human dignity. People need to be given enough means to find alternative livelihoods that are attractive enough to take them out of organised crime, Mexico can draw some important lessons from Sierra Leone who successfully demobilised and resettled ex-combatants after the armed conflict. Vigilantism, recruitment by organised crime, and insecurity have also flourished because of a lack of deterrence. The judicial system is weak and highly ineffective. A large proportion of the population does not trust the police, or the institutions in charge of the rule of law.
A long-term strategy requires linking security with politics. It needs to address not only the consequences but also the roots of unemployment and deep inequality. However, doing so requires decisive actions to root out widespread and vicious corruption. Corruption allows concentration of wealth and also prevents people from being held accountable. This perpetuates the circle of insecurity. Mexico has been slowly moving towards a borderline failed state. The current government is starting to lose legitimacy and the fragility of the state is further perpetuated by the undemocratic, and predatory governance of the current administration.
Creating a safer Mexico requires a strong, coherent, and stable leadership, AMLO's administration is far from it. His popularity has consistently fallen as a result of his ineffective policies to tackle the pandemic, worsening insecurity, and the economic crisis. Mexico has reached over 72,000 Covid-19 deaths; during his initial 20 months as incumbent president, there has been 53,628 murders, among them 1800 children or teenagers, and 5888 women (11 women killed per day) This criminality rate is double than what it was during the same period in the presidency of Felipe Calderón (2006-2012); and 55% higher than with the last president, Enrique Peña Nieto (2012-2018). Mexico is also experiencing its worst economic recession in 90 years.
Insecurity remains as the issue of most concern among Mexicans, seeing the president laughing about it, can only fill citizens with yet more despair and lack of trusts in the government and its institutions. AMLO's catastrophic performance is not surprising, though. Much of his failures and shortcomings can be explained by both ideology and a narcissistic personality. Having someone with both of those traits ruling a country under normal, peaceful times is already dangerous enough, add an economic crisis and a pandemic to the mix and the result is utter chaos.
AMLO embodies the prototypical narcissist: he has a grandiose self-image; an inflated ego; a constant need for admiration; and intolerance to criticism. He, like many other narcissists, thinks about himself too much and too often, making him incapable of considering the wellbeing of other and unable to pursue the public interest. He has a scapegoat ready to blame for his failures and mistakes: previous administrations, conservatives, neoliberalism, academics, writers, intellectuals, reporters, scientists, you name it, the list is long and keeps getting longer.
AMLO keeps contradicting himself and he does not realise it. He has been claiming for months that the pandemic is under control: it is not. He declares Mexico is ready to face the pandemic and we have enough tests and medical equipment: we do not. He says Mexico is on its way to economic recovery: it is not. He states corruption is a thing of the past: it is not. He says Mexico is now safer than ever before: it is not. When told the opposite he shrugs criticism off and laughs, the behaviour of a typical narcissist.
AMLO, alike narcissists, due to his inability to face criticism, has never cared about surrounding himself by the best and brightest. He chose a bunch of flunkies as members of his cabinet who try to please and not humiliate their leader. A further trait of narcissistic personalities is that they love conflict and division as this keeps them under control. The more destabilisation and antagonism, the better. AMLO since the start of his presidency has been setting states against states for resources and for pandemic responses, instead of coordinating a national response. He is also vindictive: playing favourites with those governors who follow him and punishing those that oppose him.
Deep down, narcissistic leaders are weak. AMLO is genuinely afraid to lead. He simply cannot bring himself to make decisions that are solely his. This is why he has relied on public referendums and consultations to cancel projects or advance legislation. He will not take any responsibility if something goes wrong: It was not him who decided, it was the people, blame them. He inherited a broken system that cannot be fixed during his term, blame the previous administrations, not him.
AMLO is a prime example of a textbook narcissist, unfortunately he is not the only one: Donald Trump, Boris Johnson, Recep Erdogan, Rodrigo Duterte are only a few more examples of what seems to be a normalised behaviour in contemporary politics. Every aspect of AMLO's and other leaders presidencies have been heavily marked by their psychopathology. Narcissism, however, does not allow proper and realistic self-assessment, self-criticism, and self-appreciation therefore such leaders will simply ignore the red flags in their administration and have no clue how despicably and disgracefully they will be remembered.
Minor Successes And The Coronavirus Disaster: Is Trump A Dead Duck?
That reminder from the Bible, 'He who is without sin, let him cast the first stone' may give us pause — but not journalists who by all appearances assume exemption. And the stones certainly bruise.
Evidence for the bruises lies in the latest poll numbers. Overall, Joe Biden leads Donald Trump 50 to 43 percent, a margin that has continued to increase since January. It is also considerably wider than the few points lead Hillary Clinton had over Trump four years ago. It gets worse for Trump.
In the industrial states of Michigan and Pennsylvania, which Trump in 2016 won by razor thin margins, he is losing by over 4 percent. Also key to his victory was Wisconsin where, despite his success in getting dairy products into Canada, he is behind by a substantial 7 percent. Key states Ohio and Florida are also going for the Democrats.
Trump was not doing so badly until the coronavirus struck and during the course of his news conferences he displayed an uncaring persona larded with incompetence. Dr. Anthony Fauci, the man he fired for correcting Trumpian exaggerations became a hero and Trump the bully.
If that bullying nature won him small rewards with allies, he hit an impasse with China and Iran … while bringing the two closer to each other. Then there is the border wall, a sore point for our southern neighbor Mexico. President Lopez Obrador made sure the subject never came up at the July meeting with Trump, Thus Mexico is not paying for it so far and will not be in the foreseeable future.
The United Arab Emirates, a conglomeration of what used to be the Trucial States under British hegemony. have agreed to formalize its already fairly close relations with Israel. In return, Israel has postponed plans to annex the West Bank. Whether or not it is in Israel's long term interest to do so is a debatable question because it provides much more powerful ammunition to its critics who already accuse it of becoming an apartheid regime. However, it had become Prime Minister Netanyahu's sop to the right wing who will have to wait. Of course, the reality is that Israel is already the de facto ruler.
If Mr. Trump was crowing about the agreement signed on September 15, although it is akin to someone signing an agreement with Puerto Rico while the United States remains aloof. As a postscript, the little island of Bahrain also signed a peace deal with Israel. Bahrain has had its own problems in that a Sunni sheikh rules a Shia populace. When the Shia had had enough, Saudi and UAE troops were used to end the rebellion. Bahrain is thus indebted to the UAE.
How many among voters will know the real value of these historic (according to Trump) deals particularly when he starts twittering his accomplishments as the election nears?
There things stand. As they say, there is nothing worse than peaking too early. Bettors are still favoring Trump with their money. The longer anyone has been in politics the more there is to mine, and for an opponent to use to his/her advantage. Time it seems is on Trump's side.