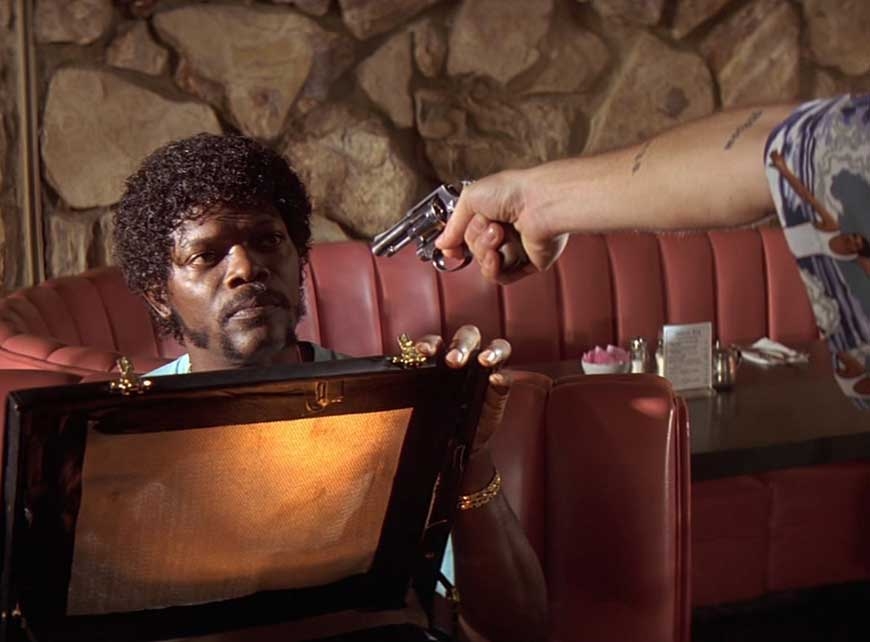 As many Americans get prepared for the End of Times on January 20th with the inauguration of President-elect Donald Trump and even larger swaths of people around the world are inspired by the eloquent dire warnings of Meryl Streep at the Golden Globes, it might be time for a single lone voice to offer a revelation: it may be big news that Donald Trump is going to be President; but it is far bigger news that the Trump Presidency is going to be the biggest MacGuffin in the history of televised action.
So get your popcorn ready, world, and remember the most important thing of all: that while a MacGuffin is usually effective in keeping the plot moving forward and maintaining your emotional peak investment, in the end it is also always intrinsically lacking any real meaning at all.
To prove this let us take and dissect several announcements that have all gone intensively viral across the web in recent weeks:
1. Trump fires all Ambassadors and Special Envoys, ordering them out by inauguration day.
The reality of this is more about being strictly rigid with the technical rule that has always been in place rather than being radically authoritarian with long-established tradition. Political appointees, which Ambassadors and Special Envoys are, usually expect to be replaced whenever one President leaves and another one enters the Oval Office, especially when that change also involves a switch in political party for the incoming President. In the past, many former holders of the Oval Office have allowed relatively slight extensions for such people to leave. What Trump has done is break with that relatively modern flexible interpretation of the rule, choosing instead to follow the actual rule in place to the letter by telling the political appointees over a month in advance that January 20th would be their final day to serve. It is also important to note that regardless of the presence or employment status of any Ambassador or Special Envoy, every single American embassy around the world has someone called the Deputy Chief of Mission. This person is almost without question a career Foreign Service Official specifically suited and experienced with running the everyday affairs of an Embassy while it undergoes the transition of a new incoming Ambassador. So the intimation that Trump is 'firing' all ambassadors and leaving our foreign missions in chaos is simply wrong.
2. House brings back the Holman rule allowing them to reduce an individual civil service or political appointee's salary to $1, effectively firing them by amendment to any piece of legislation. We now know why they wanted names and positions of people in Energy and State.
The Holman Rule actually goes all the way back to 1876 and does indeed allow lawmakers to cut the pay of individual federal workers down to $1. This viral coverage is almost universally tagged to the idea that it is a Republican attempt to be able to single out, for example, climate change scientists, for financial intimidation: if you de facto eliminate people's earnings they will have no choice but to depart from that employment and seek wages elsewhere. Therefore, the huge outcry with this so-called reimplementation of the Holman Rule is that it is going to basically 'de-science' whatever the Republican Congress does not like. All of this sounds horrifically ominous and unjust. It also happens to be hyperbolic melodrama as it leaves out one critical aspect of the process: under the Holman Rule, any such amendment against an individual cannot be an arbitrary decision. Rather, the amendment in question has to face a vote from the entire United States Congress – the House of Representatives AND the Senate – and the vote must achieve a majority affirmation in order to be in effect. As we have already seen with the in-coming Congress, even though it is 'controlled' by Republicans, the Grand Ole Party has shown itself to be remarkably NON-unified on most issues and has not been successful in achieving majority decisions, even on the issues they were supposed to be united on. The Holman Rule is no such issue and therefore the likelihood of this ever being successfully engineered is extremely low.
3. The US Senate schedules 6 simultaneous hearings on cabinet nominees and triple-books those hearings with Trump's first press conference in months and an ACA budget vote, effectively preventing any concentrated coverage or protest.
This story has already been slightly deflated as 1/3 of those hearings have already been moved to different days. Ironically, this has drawn derisive anger from the right as 'having caved' to Congressional Democrats and proving the majority party has 'no spine.' So much for the characterization of Congressional Republicans being some form of neo-Dark Side army from Star Wars mythology, haughtily strutting about and chuckling at the impotent mewlings of progressives. In addition, scheduling a press conference on the same day as tumultuous confirmation hearings is not only NOT atypical, it is political PR 101: create news where you DO control the narrative if you are worried things could be happening elsewhere in which the narrative is largely out of your control. There can be no argument that Trump appointee confirmation hearings are going to be a circus beyond all circuses, with people clearly using the opportunity to turn it into their own specific platforms and personal soapboxes. That is the nature of modern-day confirmation hearings. It happened with Obama. It happened with W. It happened with Clinton. So, the decision by the Trump team to create a 'political diversion' by finally offering up the President-elect in a news conference (something he admittedly seems loathe to do so far) is a brilliant stroke of political strategy. But the concern that a press-conference will prevent concentrated coverage or protest is an empty conceit: given the size of the contemporary media and the supposed intensity of emotion against the incoming President, if protest is truly unable to manage multiple fronts that are not even that large or disparate then it seems the anti-Trump movement is not nearly as big or as passionate as it proclaims to be.
4. House GOP expressly forbids the Congressional Budget Office from reporting or tracking ANY costs related to the repeal of the ACA.
I only need to offer a simple direct quote from someone working in the CBO as to this 'fact' that has been catching fire all over the web:
"This is false. Section 3(h) on page 25 of HRes 5 establishes a point of order against a bill that would increase net direct spending by more than $5 billion in any of the four decades AFTER the budget window used for cost estimates prepared under the Budget Act. And it requires CBO to include in its cost estimates an analysis of whether the bill increases such costs in the long term (that requirement has been in place for quite some time). That section (in 3(h)(4)(A) and (B) then exempts ACA related bills from that long-term requirement. It has nothing to do with whether CBO can provide the normal cost estimates of legislation, including those related to the ACA. Furthermore, this a House rule; it does not apply to the Senate."
She added that the reporting on this has been very uninformed. Really? "Reporting" that has been almost exclusively dominated by unvetted blog declarations online (ie, not run by accredited members of the formal media), covering aspects of internal house budget procedural rules (an arcane and insane depth of bureaucratic weed-diving if there ever was one), is 'uninformed?' The only real question is whether it is uninformed or simply purposely misleading in order to enrage people over nothing.
5. Trump continues to throw the intelligence community under the bus to protect Putin, despite the growing mountain of evidence that the Russians deliberately interfered in the election.
The misdirection in this accusation has been breathtakingly impressive. First, it was not that long ago when there was open protest and a 'throwing under the bus' of the Intelligence Community for it supposedly having too much of a political role in determining whether or not America should have gone to war in Iraq. The Intelligence Community at the time rightfully protested what was a fundamental misunderstanding by the American public as to what its true function in American democracy was supposed to be: namely, the IC is to collect information, assess and evaluate the data, and present the report findings to actual policy-makers who are then charged with deciding what they wish to do with it. Under no circumstance in the entire history of the American Intelligence Community has there ever been a clamor, from the public or the IC itself, for intelligence professionals to be the ones to exclusively commandeer or determine foreign policy. The mere thought that it may have come close to doing that in a subtle and quiet way in Iraq back in 2003 made the entire country apoplectic with the supposed breakdown of our system of checks and balances. Now apparently, because it is Trump, the public's desire is to do that very thing. It should be noted that the Intelligence Community has been the only player in this political charade to respectfully remind people that it seeks no policy-making role and only has a responsibility to report findings to the President-elect and at that point it is the privilege and responsibility of the President-elect to do with the reports whatever he deems best.
Finally, a comment really needs to be made about that so-called mountain of evidence proving 'Russian interference.' I have written extensively on this before so I will not repeat comments already made. But what does need to be emphasized is the innate danger the Democratic Party is crafting for its future political campaigns if it continues to ever more heavily lean on the Russian bogeyman as an explanation as to why it lost to Trump in 2016. The Russians almost certainly conducted some shady maneuvers that amounted to a semi-effective PAC ad campaign against Clinton. They did this because they were worried that Hillary was undoubtedly going to be the winner and her positions for several years had been decidedly and very publicly anti-Russian. Attempting to besmirch and weaken her 'incoming mandate' was not only wise, it was politically necessary from a Russian foreign policy perspective. But that interference did not rig voting machines or intimidate voters from participating in important swing states across America. It simply is not proven that Clinton lost because of the Russians. The important subtext in the IC reporting de facto makes note of this. But the increasing importance Democrats are placing on this issue, as if they have in fact proven it when they haven't, only means they are looking for expedient escapism so as to not face their own flawed approach to the presidential campaign.
6. Trump breaks a central campaign promise to make Mexico pay for the wall by asking Congress (in other words, the American taxpayers) to pay for it.
This last entry is symbolic because it represents at least a dozen other issue points Trump spoke to on the campaign trail and has subsequently walked back since being elected. What's odd is the progressive outcry about it. Since almost the entire Trump platform, point by point, was ridiculed and reviled by the Left in America during the campaign, you would think walking those points back would only mean progressives, liberals, libertarians, and moderate Republicans en masse could breathe a sigh of relief. After all, Trump KEEPING his campaign promises is what was repeatedly considered the political End of Times for these groups. Trump breaking most if not all of his campaign promises should therefore be a blessing. And yet it is not. It is instead used as another stimulus to enable garment-renting, hand-wringing anti-Trump kvetching, the intensity of which has perhaps never been seen in political America before.
And this, alas, seems to be the true nature and purpose of the MacGuffin Presidency. What Trump truly does, what he truly represents and strives to achieve is amorphous, ephemeral, immaterial. Quite honestly, it's irrelevant. A MacGuffin, remember, cannot in and of itself BE. It serves only to set and keep the plot in motion. And Trump, whether he likes it or not, whether he realizes it or not, is the MacGuffin for both left and right, for liberal and conservative, for American and global, to draw their battle lines in the sand and fight. The next four years are indeed going to be interesting. But I doubt they will be because of anything Trump actually does. Because, in the end, President MacGuffin is not seen or heard. He simply moves everyone else along their devoted paths and agendas.
Nancy Pelosi and her dual approaches
In her remarks, the United States House Speaker Nancy Pelosi, asserted that Trump's border wall campaign has nothing to do with border security. She said it's one of the US President's plans for energizing his conservative base, and in this way, he aims to distract the country from the various scandals dogging his administration.
"I don't even know if the president wants the wall. I think he just wants a debate on the wall. And he's having some difficulty with it," Pelosi said during a press briefing at the Capitol.
"He keeps increasing the amount of money; increasing the amount of beds; increasing the obstacles to finding a solution — because I don't think he really wants a solution," Pelosi said. "I think he loves the distraction that this is from his other problems," She added.
Pelosi, along with Senate Minority Leader, Chuck Schumer, noted that they disagree with Trump over building a physical border wall, which according to them, would be expensive and ineffective.
"Democrats and the president both want stronger border security. However, we sharply disagree with the president about the most effective way to do it … Most presidents have used Oval Office addresses for noble purposes. This president just used the backdrop of the Oval Office to manufacture a crisis, stoke fear, and divert attention from the turmoil in his administration," said Schumer in answer to Trump's recent remarks.
On the other hand, Pelosi is among those who are seriously standing against Trump's impeachment. This dual approach taken by Pelosi towards the White House, and the fact that the House speaker and other Democrat leaders have argued against the serious consideration of Trump's impeachment, may lead to conflicts inside the Democratic Party in the future.
"We have to wait and see what happens with the Mueller report. We shouldn't be impeaching for a political reason, and we shouldn't avoid impeachment for a political reason. So we'll just have to see how it comes," Said Pelosi.
However, Pelosi's remarks were not unprecedented! When Pelosi was the House Minority Leader in the years between 2016 and 2018, she opposed the idea of impeaching Trump. Nancy Pelosi has made it clear that she has a conservative approach towards Trump. This is while with a majority of seats in the House of Representatives, Democrats can initiate impeachment proceedings against Donald Trump. The fact that some Democrat leaders have opposed Nancy Pelosi's Minority leadership in the US House of Representatives is rooted in the same reason. In any case, it seems that Pelosi prefers scenarios such as "making a political deal with Trump" to "Confrontation with the President". Nancy Pelosi argues that Democrats' direct confrontation with Trump, and in particular the impeachment of the President of the United States, will lead to the anger of some American citizens, and the Democrats will be accused of posing a blow to the American political and social equations. However, it seems that some Democrats do not agree with Nancy Pelosi's opinion! Politicians such as Bernie Sanders believe that Trump is not politically negotiable. They believe that any compromise reached between Democrats and Trump will hold a bad result for them in the US 2020 presidential election.
At any rate, there's plenty at stake: Amid this crisis, Trump has come with the idea of declaring a national emergency at the border, a move that could free up wall funding without the Congress approval.
"If this doesn't work out, probably I will do it. I would almost say definitely," said Trump.
The US government shutdown, which is resulted from the disagreements over border wall funding, is still ongoing. Trump is demanding $5.7 billion for new wall construction; Pelosi and the Democrats have offered $1.3 billion for border security measures, but have opposed construction of any new physical barriers. In spite of this, Trump has previously claimed that he's ready to hold the shutdown for months and even years! If Pelosi surrenders in the face of Trump's demands, she would be regarded as a defeated figure inside the US political circles.
First published in our partner MNA
News sources in the United States announced that Joe Biden, the U.S. former Vice-President (from 2009 to 2017), and a prominent figure in the Democratic Party will soon announce his run for the president in 2020. Biden has previously said that he's "the most qualified person in the country" for being president.
Biden mentioned these words in a controversial interview which has attracted the attention of many American analysts. However, Biden's final decision for participating in the presidential campaigns wasn't clear. Eventually, a number of Biden's followers, including his brother Frank Biden, announced his final decision to run for the general elections. Polls conducted in the United States indicate that Biden is currently more popular than other potential candidates of the Democratic Party in the upcoming elections.
Meanwhile, Biden is probably to face rivals such as Bernie Sanders, Senator from Vermont, and Elizabeth Warren, and even Hillary Clinton. During the 2016 presidential competitions, Biden was also scheduled to attend the in-party election competitions, but he changed his mind due to his son's death and Hillary Clinton's insistence on attending the presidential campaign. Biden's remarks, however, show that he's greatly interested in defeating Trump in the 2020 election.
However, we shouldn't forget that Biden can't really count on the current polls conducted among Democrat supporters! We can all remember that during the 2008 presidential elections and inside the Democratic Party, Obama had far less chance of reaching the final round of the elections than those like Hillary Clinton. But his successful speeches in states like Iowa and South Carolina led to Clinton's final defeat and Obama's victory.
Hence, the success of Biden's rival candidates in states like Iowa and New Hampshire (where American in-party elections begin with them) can completely change the equations, and that won't be to Biden's advantage.
Accordingly, Trump's position on Biden's participation in the presidential competitions are noteworthy. In a phone interview with Fox News' Jeanine Pirro, Trump called Joe Biden "weak". He also claimed that he's not worried about a potential challenge from the former vice president in the 2020 presidential race; "You know, a lot of people say Biden's doing OK, but he was always a 1-percenter. He was a 1 percent guy. He ran two or three times, he never got above 1%, and then, Obama came along and took him off the trash heap, and he became the vice president. He's weak. So, we'll see what happens with him."
Trump's words came on the same day that Biden had told some top Democrats that he was definitely running for president. "If I'm walking, I'm running," said Biden.
Trump's literature on Biden's presence in the U.S. presidential race, reflects the U.S. President's dissatisfaction and anger with the country's former Vice President and his candidacy. Obviously, Trump preferred figures such as Hillary Clinton, Elizabeth Warren to be his potential rivals in the next general elections.
However, Trump knows well that Biden can challenge his position at the White House by maneuvering again on issues such as public medical health insurance plan. On the other hand, Trump attempts to turn the game into an emotional rivalry through using ugly words against Biden, and this is very much like Trump's populist personality and approach. However, Biden now has his main focus on Democrats' inner-party race, and he doesn't consider direct competition with Trump until he has won his victory in the competition.
First published in our partner Tehran Times
John Bolton's Hawkish Flight
The American edition of The Wall Street Journal (WSJ), citing former and currently serving politicians who wished not to be named, reported a few days ago that the US National Security Council (NSC), led by presidential adviser John Bolton, turned to the Pentagon last autumn with a request to devise several variants of striking Iran.
The reason for such a request was a mortar attack carried out in September 2018 by a pro-Iranian group against the diplomatic quarter of Baghdad, where the US embassy is located. Two days later, a similar attack was reported to have occurred in the southern Iraqi city of Basra, where the American consulate is based. No casualties or damage were reported. However, former deputy national security adviser Mira Ricardel described the shelling as an "act of hostilities" and made it clear that the United States should have responded with a "similar act."
As a result, the US national security team held a series of meetings to discuss how the American side should respond. After that, Mr. Bolton urged the Pentagon to provide options for attacking Iran.
Officials neither confirmed nor denied the WSJ reports. NSC press secretary Garrett Marquis did not provide a clear answer to the question of whether the Council had been considering a military strike against Iran. "We are considering a  full range of measures to ensure security and guarantee our interests," he said.
It should be noted here that the general staffs of the armed forces of any self-respecting country plan variants of both offensive and defensive operations against a potential adversary in advance. This work is carried out with a constant analysis of the changes taking place in the camp of the enemy, and in their own country. Therefore, undoubtedly, the Joint Chiefs of Staff (US General Staff) has in its secret vaults a variety of options for a war with Iran – the main potential opponent of the United States, as Washington has called it on more than one occasion.
Another matter is the case of John Bolton, when his personal request, even through the channels of the National Security Council, was carried out, according to observers, bypassing President Trump. Such a request took the Pentagon by surprise and put defense department officials who were used to everything "in a shock." However, the request was accepted for consideration.
According to the WSJ, the Pentagon provided a complete layout proposing some general options for the operation, including a cross-border air strike on an Iranian military facility, which would be mostly symbolic. But the then Secretary of Defense Jim Mattis and other senior military officials strongly opposed retaliatory actions, arguing that the damage from the shelling of the US diplomatic missions was insignificant. And this basically logical viewpoint eventually prevailed.
But how will acting Secretary of Defense, Patrick Shanahan, act?
Any blow on Iran may lead to a full-blown armed conflict. Hypothetically,  considering the possibility of an airstrike on an Iranian military facility, it will undoubtedly trigger a return missile strike by the Iranian armed forces on any US military base in the Middle East. The Iranian missile forces have every potential to do so. And this means a war.
Is the United States ready for such a scenario?
It has to be pointed out that even massive missile and air strikes against Iran will not force Tehran to surrender. As in any war, the winner must march over the conquered territory. This calls for a ground operation.
Is the United States ready for this?
As the Field Service Regulations the US Army recommends, in order to achieve the goal of an offensive in the direction of the main blow it is necessary to create at least 6-fold superiority over the defensive forces and facilities. The question arises whether the US Armed Forces are capable of building such a superiority at least in one direction of the Iranian theater of war?
The number of regular armed forces of Iran ranges, according to various sources, between 540 and 900 thousand. The defense doctrine of the IRI puts a major emphasis on the Basij Islamic Revolutionary Guard Corps resistance forces, a paramilitary, irregular militia and a reserve force of the regular armed forces whose main task is to participate in the defense of the country's territory. The main combat units of "Basij" are "Ashura" battalions, which consist of men, and "Al-Zohra" female battalions, numbering an average of 400 each. Currently, 2500 such battalions are formed in Iran, consisting of 1 million volunteers, well trained both militarily and ideologically. In total, Iran's "Basij" system embraces more than 12 million Iranians.
Is it possible for the United States and their allies to outnumber, if not 6-fold, then at least by 2-fold, the regular and irregular forces of Iran in the Iranian theater of military operations on the ground (without using nuclear weapons)? The answer is clear – no. And the Pentagon is fully aware of this.
For this reason, the likelihood that the United States will venture into an armed conflict with Iran is small.
John Bolton's actions can be described as dangerous amid the current situation in the top echelons of power in the United States, which is controversial, to put it mildly. The opposition Democrats are exerting a serious and effective pressure on President Trump, while the State Department (and other as significant structures) is trying, as journalists say, to prevent the president's "reckless" decisions from being put into effect.
In turn, US National Security Advisor John Bolton is making the most of the current state of affairs putting an end to internal strategic debates and discussions that could reveal the controversies within the Donald Trump administration. Mr. Bolton does not want to hear conflicting points of view, hates leaks, and wants to control the entire flow of information that is sent to the US President. This is a sure way towards excessive consolidation of power in the hands of one individual. Moreover, sometimes he acts without notifying President Trump, like in the recent case in which he appeals to the Pentagon.
John Bolton is one of the irreconcilable hardliners on the issue of Iran. Having assumed  his current position, Bolton stepped up the administration's policy of isolating and exerting pressure on Iran, thereby demonstrating his hostile attitude toward Iranian leaders, which dates back to the days when he served as an official for the administration of George W. Bush. As a private individual, he called for military strikes on Iran, as well as a change of regime. In March 2015 – three and a half months before the signing of a nuclear deal, when it became clear to everyone that the Joint Comprehensive Plan Of Action (JCPOA) was ready and its authors were busy putting the final touches to it, – Mr. Bolton published an article in The New York Times under a provocative headline "To Stop Iran's Bomb, Bomb Iran". From the very beginning, John Bolton was against the JCPOA and fully backed President Trump in his efforts to pull out of the nuclear deal.
Bolton summed up his political credo in one phrase: "There is no such thing as the UN. There is the international community that can be headed by the world's only superpower, which is the United States of America. "  This he says despite the fact that in 2005-2006, he was the US representative to the UN.
Defense department officials, The New York Times writes, express growing concerns that John Bolton may indeed provoke a serious conflict with Tehran at a time when President Trump is losing influence in the Middle East.
Concern is being voiced not only by US military and politicians but throughout the world. After all, the main danger lies in the unpredictability of actions of President Trump and his hawkish employees, like John Bolton.
first published in our partner International Affairs